Kelty Noah's Tarp 12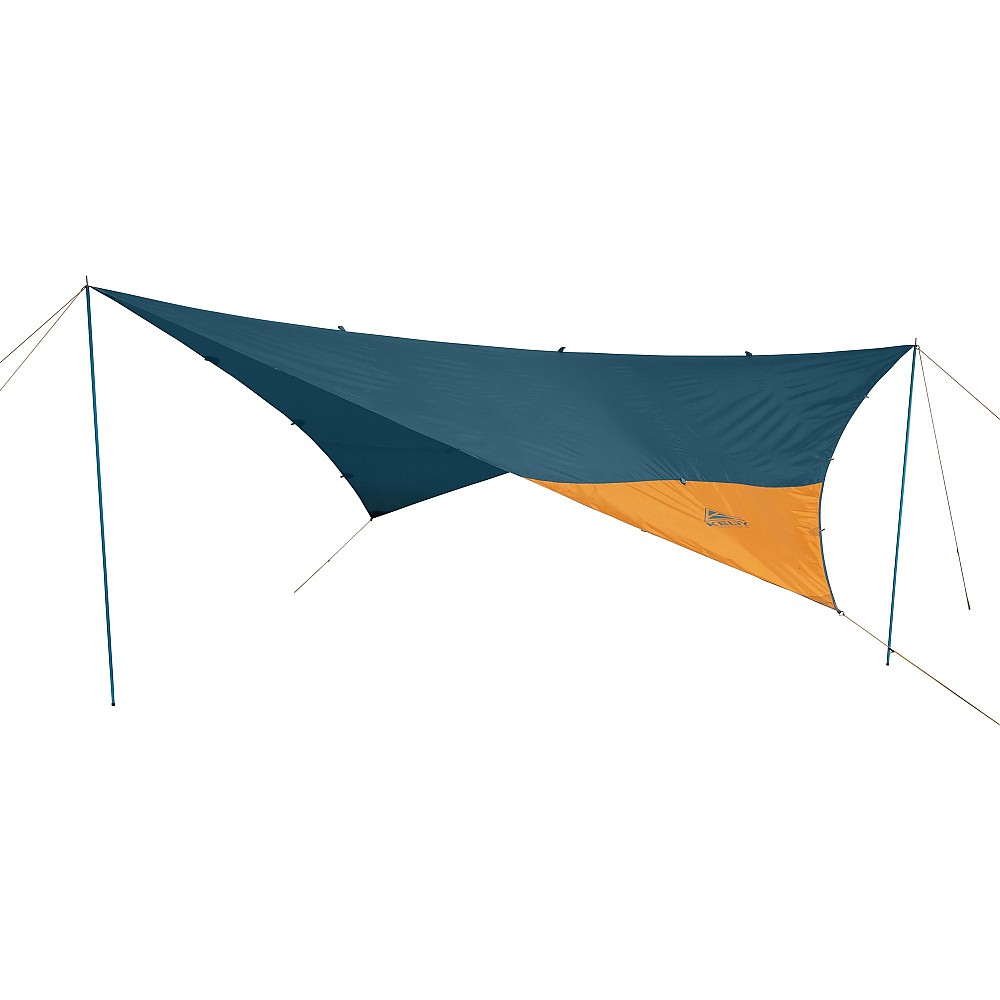 Excellent versatile tarp that is extremely rain and wind resistant. Every camper/backpacker should own at least one of these!
Pros
Strong fabric
Very waterproof
Wind resistant
Cons
Pricy
Poles have to be purchased separately
I own this tarp in the 12' and 9' size and love them so much. They can be set up in so many different ways.
There are guide loops along one diagonal seam if you want to string a rope through them. There are also loops along the edges to create a shelter in any situation. There are poles that can be purchased separately to prop up one or two corners to create a raised shelter if you don't have trees. I just purchased these poles but haven't used them yet. These tarps are light enough to bring on a backpacking trip if you know the weather is questionable.  
Every winter we go on a five-day paddling trip to on the west coast of Florida to go beach camping. On a trip two years ago, we brought two 12' Noah's Tarps and had initially set them up to create a shelter from the sun since we were camped on a treeless peninsula. We used our paddles and some driftwood to create poles.
The next day, we heard on our weather radio that a massive storm was headed our way so we tightened down all the lines and huddled under our Noah's Tarp shelter during one of the most amazing storms I've experienced. The winds were >30-40 mph. We stayed very dry under the tarp and they held up to the winds with just a single small tear in one tarp that was easily repairable.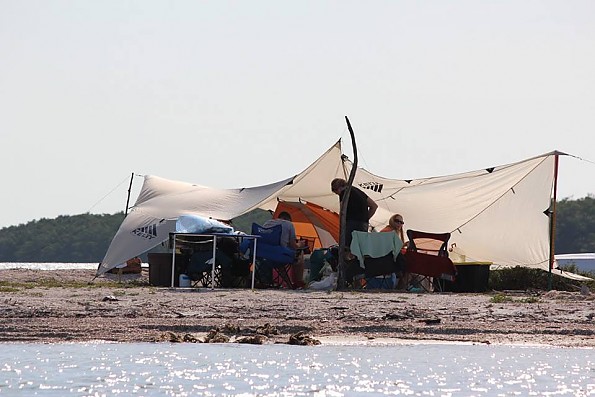 I have had my oldest tarp for over 10 years now and it is still waterproof and in great shape. I would highly recommend these to anyone!
Source: bought it new
Price Paid: $70

One of my car camping staples (and I've even taken it backpacking a few times when we needed extra shade or protection from rain). The 12' size works well for shielding 3-4 camp chairs from the sun or elements as well as creating a little privacy barrier when camping in congested areas.
Pros
12' size works well for 3-4 people
Waterproofness has been flawless
Light color creates a cooler shaded area
A lot of guy points for setting up many different ways
Cons
Heavy for backpacking even though I've done it a few times
I got this tarp originally in June 2005 for a 2,500 mile 7-day car camping trip from CO to NV, OR, ID, MO, WY and then back to Denver. This thing saw every kind of weather possible from 80s in NV to a snow storm in ID.  It worked beautifully in keeping the sun, wind, rain and snow off of us at our campsites. I also bought two of the Kelty aluminum tarp poles (one fixed length and the other adjustable) which allow us to set it up in different configurations depending on the weather.
Since then it has gone on every other car camping trip for the same reasons. In CO our weather can vary day by day and sometimes even during the day so having a reliable shelter is nice, especially when you don't what to spend the time cramped in your tent.  
As mentioned above, there have been a couple of backpacking trips where I've strapped it to my pack. It's not too heavy when I'm carrying my solo tent, so it becomes a nice haven for shade or rain when I'm able to tie it off on trees around the campsite. One of my older tents the girls use doesn't have a vestibule, so before I got this smaller 6' tarp we'd use this tarp to protect their gear too.
Highly recommended for car camping. It gets used a lot and has stood up to years of abuse. Plus the dogs like it when they can rest in the shade :-).
Source: bought it new
Price Paid: Don't recall

The Kelty Noah 12 is a great tarp for two hammocks or a lot of room for one. It's roomy and can hold its own in a downpour and keeps you dry when the rain sets in. I would recommend this to everyone.
Pros
Plenty of room
Rain proof
A lot of tie-down points
Cons
Wished it had a center tie down underneath it for a ridge line
The Kelty Noah's Tarp 12 is a great tarp for two hammocks or a lot of room for one hammock. The tarp has plenty of tie-down points for any configuration that you want. I have used this in a straight downpour rainstorm and it kept me and a friend dry the whole time.
One thing that I would change on it is a tie-down point underneath the tarp. It has one on top of it.
My tarp weighed in at 1 lb. 14 oz. just the tarp itself. Plenty lightweight for that adventure that you keep dreaming about. I will be using this on my upcoming section hike on the Appalachian Trail this summer.
Source: bought it new

I got this tarp as a rain fly for my hammock, but found many other uses as well.
Pros
Large covered area
Can use as a tent
Many ways to set it up
Cons
The lunch style box makes for harder packing
The rope is a bit bulky
I got this tarp as rain fly for my hammock. Our Boy Scout Troop went to bike ride the Va. Creeper Trail. It rained on our last night and all day Sunday. All the gear I had on the ground and my boots stayed dry. My son's gear got soaked as well as all the other Scouts who had smaller rain fly.
The 12x12 was big enough that eight of us used my tarp to stay dry and cook at the edges of the tarp. The lunch style bag it come in makes it harder to pack up. I'm using a stuff sack now. 
The Noah's Tarp has almost endless ways to set up. It's real easy to do. I also use it as a tent in the fall and am thinking about trying it out this winter as well.
Source: bought it new
Price Paid: $60

This is a great tarp for a decent price and weight. Would recommend.
Pros
Covers large area
Decent weight
Tons of eyelets
Cons
Material stretched over time
The only reason I give this product four stars is because it has stretched out over time. It's seen its fair share of rain storms, and after setting it up numerous times over the last year it has begun to stretch. This could be user error though, maybe I had it a little too taut.
But it has kept me dry more times than I can count and it's a decent weight. There are also a ton of eyelets so you can tie it up a million different ways. I would not take it backpacking though unless there was a large group involved. I've only used it for canoe and car camping. 
Source: bought it new
Price Paid: $69.95

I got the Noah's Tarp 12 to use as a dining fly/community shelter. I thought it would be useful and quick to pitch both car camping and on large group back country trips. It's certainly small and light compared to most other options we had.
My experience with it has been a little disappointing, sorry to say.
The unique and wonderful part of the Noah's Tarp design is that it's stable with only the four corners anchored, and portions of the tarp can be staked to the ground to create many sheltered configurations.
The downside is that it's huge relative to the area it shelters. To shelter a standard campground picnic table requires perhaps 20 feet from one corner stake to it's opposite corner stake, and many camp sites don't have that much open space to work with. Also the tarp has to be pitched really high (9-10 feet) at the top corners to accommodate the slope of the roof it creates, and even then it feels a little claustrophobic under there. Bottom line is we only pitch it when the chance of rain is pretty good, and we've been sorry a few times when we've been fooled and got rained on with the tarp packed up.
If I were carrying this as a primary shelter in the Sierras or somewhere else that doesn't have bug issues, I'm sure I'd be raving about how much I love it, but for my uses, it hasn't really been the right choice. I think I'd be happier with a rectangular tarp of similar weight fabric. A smaller conventional rectangular tarp could shelter a cooking and eating area without hogging the entire campsite.
All in all, I give it 3.5 out of 5. It's clearly a great product for some users, just not me.
Design: Tarp
Sleeps: 3
Ease of Setup: Medium
Weight: <2 pounds
Price Paid: $70

This is a well made, durable and easy to pack tarp made of tightly woven silicone impregnated nylon. It is best used as hammock cover, yet can be pitched in many configurations. I've not used it with an interior support, but only pitched with its built in loops.

Because of its size, it can be a complete shelter solution for yourself, your gear, and your pet. I would recommend this to any but an ultralight hiker.
Pros
Adequate size
Weatherproof construction
Ease of pitching in any configuration
Overall quality
Cons
Possibly a bit heavy for an ultralight hiker
I've used this tarp in three configurations, tailored for the environment... hammock rain cover pitched as a fly. Also, a basic plough point shelter with extra tarp edges folded under. It makes gear storage a no brainer.
I've also used it as a basic straight tarp with overhang and about a foot drop in front. It must be considered when using an alcohol stove as a sleeping area, not a cooking area.
Never had a bit of condensation in any configuration. Heavy rain just rolls off and can be gathered as a resource.
Source: bought it new
Price Paid: Full price from Kelty

I have had Noah's Tarp 12 for a couple of years now. This is a very light and adaptable tent for the backcountry. 
Since I live in the Colorado region we see a variety of conditions.  I am not sure if the tarp would do well in very high winds, you may have to be creative and have lots of pegs handy. I have to agree that rain is a little noisy but that is part of the outdoor experience, right?
Overall this is a great bargain for a very good shelter.
Price Paid: $70

A must have for group outings — will keep you dry and give you a great common area to hang out under on wet and/or windy days.
Pros
Versatile
Keeps You Dry
Sturdy
I've had a few tents in my day that I've woken up to water dripping on my face, but I tell you I've never got wet under my Noah's Tarp. This thing is so versatile too.
I was hiking last fall on the Manistee River Trail an awful day in late October — with rain, 30 mile/hour wind gusts, and bitingly bone cold. I hung this up and it held strong all night long and kept rain off my face.
It's kind of a luxury item for a campsite but I brought it up to Hoist Lakes Foot Travel Area in Northern Michigan this past September for a weekend where it rained more than it didn't and this thing was great for keeping our common area dry. We cooked and ate breakfast under it, hung out, kept the wood dry and our gear. 
I recommend purchasing and using some reflective cordage with it because it comes with black cordage that is easy to trip over.
Source: bought it new
Price Paid: $40

Great tarp
I use a hammock and use this as my tarp. It is a good size and light weight.
If you are looking to drop your pack weight, the best way to do that is by learning to use a tarp instead of a tent.
Source: bought it used
Price Paid: $40

Pros
Fairly light and compact for the size and price
Versatile
Great in severe weather if set up well
This tarp is so versatile. I typically use it as an area cover, however it makes a great bivy with no poles. The center loop on the top allows it to be suspended from above with sides and corners attached at ground. 
As a cover I have suspended it from trees, cars, signs, vines... with the right no stratch cord you can suspend this from objects quite a distance away. If you don't want poles at the corners but have no close trees, try poles 10 to 20 feet from the corners with cord to the corners and two stake lines holding the poles in place. 
It is loud during rain. That is due to the light weight mateial and the tension. It's a giant drum. You can use less tension and "shape" the angles to not allow puddling however you will lose some size when creating the angles and less tension makes it less stable in rain.
Just bought my second 12 and have a 16 on the radar. My 300 dollar MSI has not left its bag in years.
Source: bought it new
Price Paid: 35$ at Gear Revival in Atlanta, GA

I am so glad I made the jump to a tarp. Super light, super stable, a million variations on setup, can be used for a number of applications, and kept me out of the wind when the wind chill was in the teens.
I was out in bad, cold weather for an overnight and just set up a small trapezoid with three stakes and my trekking pole. The extra tarp material was then tucked under to make a two layered floor to help insulate and keep water out. It worked great aside from a little condensation due to lack airflow. I love this tarp.
Update: April 27, 2010
Sleeps: 5
Ease of Setup: easy
Weight: 2Lbs
Price Paid: $70

The Kelty Noah 12 is a huge tarp perfect for year round use, if you are not worried about weight. It can be set up in many different configurations and has plenty of tie-out points.
Pros
Many setup options
Useful as a winter tarp
Stands up to heavy rain
I bought this Kelty Noah 12 used for use over my hammock when backpacking. It provides more than enough cover for my hammock and gear to be kept out of the elements. I've even used it to cover my hammock and daughters 1-person tent while out camping and it provided plenty of coverage.
I mostly use this on a diagonal over my hammock, which gives me plenty of lengthwise coverage as well as providing enough side coverage for wind protection and rain cover.
I would highly recommend this tarp to anyone looking for a do-it-all tarp.
Source: bought it used
Price Paid: $40

I have used cheap tarps of all shapes and sizes for years to keep dry while backpacking. However, Kelty's Noah Tarp 12 has impressed me in a variety of ways. The bulky tarps from the hardware store simply don't do the job -- too bulky, too heavy, and depending on the size too little/too much coverage.
The diamond shape provides superior coverage for me in my hammock. Rain and high winds didn't dampen (no pun intended. . .) my spirits or my gear. It fully satisfies my camping needs regardless of the conditions -- rain, snow, or wind. I talked to Kelty about using seam sealer in addition to their factory-taped seams. They told me it wasn't necessary but added that it wouldn't hurt. I applied REI seam sealer, and it provides me with a little more peace of mind.
A friend of mine was going to buy one as well; however, he felt the price was too high. Personally, I feel totally comfortable paying $60 for a product that insures that I will not wake up soaking wet or covered in snow. With confidence, I recommend this tarp. . . Stay away from the Outdoor Products tarps. . .way overpriced and unreliable.
Ease of Setup: simple set-up
Weight: 2.5
Price Paid: $60

Great tarp, sturdy, waterproof, saved our trip.
Pros
Lightweight
Sturdy
Waterproof
Easy to set up
Four of us spent 23 days kayaking in Glacier Bay this past summer... It rained on us 19 days in a row!! This tarp was the difference between a challenging trip and an unbearable one.
We used it every day, it was big enough to cover us all, giving us a place to hang out protected from the rain, a place to change our clothes, and it handled the wind well, too.  Hundreds of ways to hang it (we used our kayak paddles a lot), and it was fully waterproof. 
Fantastic tarp.
Source: bought it new

Excellent tarp, durable with multiple tie-down loops.
I used this tarp in AK to shield meat in game bags and in heavy rain and 40 mph winds it held up on the Tundra. 
We also used a second one on a Browning Tent because the rain was coming in. It was essential for keeping us dry.  
Background
Was new, and my brothers and I will be buying one.
Source: borrowed it

I've camped with tarps for years, and have actually have owned my own canvas company for 12 years. I've used the 16' Noah's Tarp during a rainy week of camping, and I think it's superb in almost every way except the sound that every rain drop makes, sounds like a proverbial downpour. I would attribute this noise to the tight weave, or the treatment that Kelty places on this watertight cover.
I like it so much, I've ordered the 12' to complement the large one.
Design: Kelty Noah's ark
Price Paid: $55

Works as advertised.
Recommend buying 1 or 2 of the Kelty adjustable poles to make it work in any location. As sold, it is dependent on proper tree/support location to be effective.  A tarp makes camping in the rain much nicer.
Source: bought it new

a GREAT tarp. Lightweight, very easy to pitch and very versitile, stable in wind, drains rain very well, doesn't stretch in the rain, light in color so it doesn't get dark and dreary beneath in the rain. Far superior to square tarps. Well made and reasonably priced.
Ease of Setup: excellent
Weight: 2lb 4oz
Price Paid: $60

Very versatile! I use it everywhere! It's light, can be pitched in a million ways. Worth every penny.

Your Review
Where to Buy
Help support this site by making your next gear purchase through one of the links above. Click a link, buy what you need, and the seller will contribute a portion of the purchase price to support Trailspace's independent gear reviews.
You May Like
Specs
Price
MSRP: $99.95
Current Retail: $59.96-$74.95
Historic Range: $47.99-$99.95
Reviewers Paid: $35.00-$70.00

Seasons
3 season day use

Length
144 in / 366cm

Width
144 in / 366 cm

Minimum weight
2 lbs 3 oz / .992 kg

Packaged weight
2 lbs 10 oz / 1.2 kg

Floor area
144 ft2 / 13.38 m2

Packaged Dimensions
12 x 10 x 3 in / 30.48 x 25.4 x 7.62 cm

Recently on Trailspace