Hennessy Hammock Ultralight Backpacker Asym
Rating:


Source: I bought it new at Trail Days, at a special event price

Summary
Perfect for the solo backpacker in areas where there are lots of trees. Most comfortable sleep this side sleeper has had in the outdoors.
Pros
Light
Easy setup
Extraordinary comfort
Don't need a flat spot, just two trees.
Cons
Bit of a learning curve
Need to invest in specialized insulation
Limited to those < 6' and 200lbs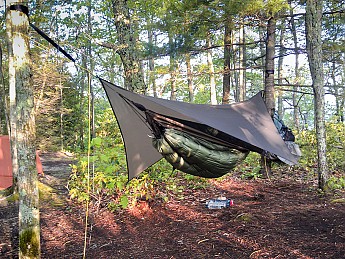 I had been hiking the Appalachian Trail, in long sections, using a lightweight solo backpacking tent. I came to realize that there are no flat tent sites in the mountains. Maybe a bit of an overstatement, but I often woke up to find myself bunched up in one corner or another of my tent, my old hips hurting from side-sleeping on the ground.
I began to see these hammocks, purpose built for backpacking. The asymmetrical design allows one to lay a bit on a diagonal, and flat! Side sleeping is absolutely not a problem (and your hip bone won't be grinding into the ground.) They have integrated bug netting held overhead by a ridgeline, and a tarp over the whole thing for inclement weather. Hang it from the right height, and it is the ultimate camp chair
They do need insulation underneath. A sleeping bag provides almost no insulation underneath you once you've compressed the insulation. True on the ground as well as in a hammock. There are many options, but the trick setup is to have an "underquilt" suspended under the hammock, and snugged up to the feet and sides, and a top quilt, or sleeping bag inside the hammock.
I hiked into Trail Days in Damascus to find Hennessy Hammock, Jacks R Better Tarps, and Dutchware set up together in the vendor area. I bought the Ultralight Backpacker Asym Zip, had some simple modifications done by Dutchware to be able to rig the tarp separately, and bought an underquilt from Jacks 'R' Better. I downloaded the kindle version of "The Ultimate Hang: An Illustrated Guide To Hammock Camping" by Derek J Hansen to my smartphone, read it twice, practiced hanging the hammock a couple of times, and mailed my tent home.
My first nights back on the trail provided me with raging thunderstorms. I stayed dry, and learned a bit about tarp camping in the process. I had previously replaced my sleeping bag with a HammockGear top quilt to lighten my load, and together with the underquilt, I was warm, dry and comfortable.  Within a couple of days, I was hanging my hammock as quickly as I had ever pitched my tent. The hammock and tarp pack down to roughly the size of my tent, and the quilts together packdown to the size of my equivalent temp-rated sleeping bag.
The Hennessy Hammock Ultralight Backpacker Asym is excellent out of the box with appropriate insulation. It is definitely built for one. Hennessy specifies a max weight of 200 lbs. It serves well as the basis of a modular system of tarps and quilts to provide year-round backpacking comfort. And there is a robust online community of owners, and of cottage-industry manufacturers, to help you achieve whatever goal you have in mind. 
I subsequently hiked 438 miles with this system, with no apparent wear or failures. I ultimately purchased a new, lighter tarp, with greater coverage from HammockGear. When I get back on the trail this spring, I will be packing my Hennessy Hammock.
Where to Buy
sponsored links
Help support this site by making your next gear purchase through one of the links above. Click a link, buy what you need, and the seller will contribute a portion of the purchase price to support Trailspace's independent gear reviews.