User Review:
Hennessy Hammock Ultralight Backpacker Asym
Rating:


Design: three season, can purchase a hammock quilt to make it 4 season.
Sleeps: 1
Ease of Setup: super easy
Weight: 1lb, 15oz.
Price Paid: $189.95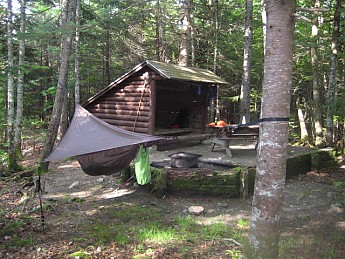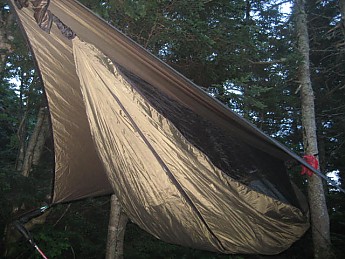 I purchased this hammock for my 2008 Southbound thru hike on the Appalachian Trail. I liked the price. Not sure what to expect but in hindsight I must say it was the best purchase I had made in years.
Setting up this hammock is a breeze. Tie each end of the hammock to included straps that go around the trees and put four stakes into the ground (two for hammock lines so you dont sway in windy conditions, and two for the hammock rainfly.
This hammock will make you into a stealth ninja (hahaha) - you can set it up anywhere there are two trees with distance enough to fit the hammock length. I have set up on the side of mountains, on top of mountains at alpine level (not recommended), in fierce rain/lightning storms, etc. - this hammock has held up through all.
The comfort level depends on each individual. It does take a couple of sleeps in it to get used to the hammock but once that's taken care of it's great.
The rainfly is made out of some really good slippery stuff that rolls rain right off it..this is a big plus.
The hammock itself has bug netting on the top portion so on nice evenings the hammock rainfly isnt needed. I found the bug netting to be 100% bug proof. The rainfly can be drapped down on each side of the hammock if wanted for privacy and/or in a bad rainstorm.
It's been a few years since I summited Springer and I still take this hammock out on the trail every chance I get. After hundreds of uses it's still in as good a shape as when I purchased it. I'd give it ten stars if I could. The Hennessy website gives in depth details on the hammock (including sizing choices) and shows you how to tie the hammock ends.
-Use a pad (Thermarest or whatever) under your sleeping bag for more stablization and comfort. Cold wind will pick up at times and you will want the pad between your sleeping bag and the hammock.
-I used two D-rings clipped onto the tree straps for even faster setup.
Make sure you use a strong brand or they will bend.
-Get snake skins for the hammock (they used to give them away free with purchase). It keeps the hammock dry until you are ready to use it. The snake skins are just protective covers for the hammock. See website for details.
Where to Buy
sponsored links
Help support Trailspace by making your next purchase through one of the links above.