Hilleberg
Nammatj 3 GT
Reviews
I trust this tent to keep my family safe on the hills…
Rating:


Source: bought it new
Price Paid: £800

Summary
I trust this tent to keep my family safe on the hills in winter.
Pros
Sheer strength
Sand colour is epic for wild camping
Vestibule space
Ease of setup
Cons
Cost — £100 less would've been nice
You'll want to buy more Hilleberg tents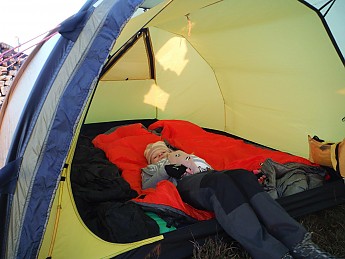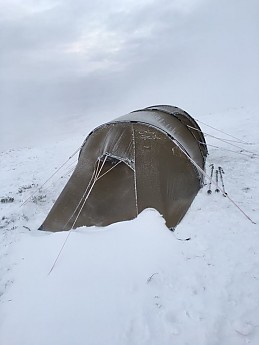 We've had this tent for a year or so now and have used it almost exclusively above the tree line. 
It's held hard and fast against whatever weather the UK's Peak District can throw at it. 
Are you going to be buffeted by 80mph winds? Get this tent.
Do you need to keep safe those that you hold dear? Get this tent. 
Do you want to look like the King of the hill? Guess what...
First off you'll notice that this tent will compress down to the size of a cheaper 2-man tent (Vango Banshee 200 for direct comparison).
it weighs 4kg so it's a dense lump in your pack, but so what? That tent problem you had is now sorted. You're going to be safe. 
When you arrive at camp and start to pitch you'll notice that all the poles are the same length so you just grab one and thread through a pole sleeve. Easy. 
It would be nice if Hilleberg gave a quick visual distinction between the front and back for the times when it's chucking down and blowing a gale and you just want to get inside as quickly as possible. Maybe a different coloured seam on the front. 
Once up, it stays put and you're all set for a good night. 
It takes three rectangular NeoAir mats, just. Lots of head height though. And the vestibule is like a cave. 
Some people complain about the pegs, I think they are decent. 
We all love this tent and we have all trusted our lives to its protection at least once in conditions we wouldn't have done in any other tent.
Sure it's expensive, but when you need something to keep your little girl safe in the hills, cost doesn't matter.
I have had many tents over the years and all of them…
Rating:


Design: 4 season tunnel
Sleeps: 3
Ease of Setup: easy, easy!
Weight: 8.5 lbs

I have had many tents over the years and all of them work fine until the proverbial #$&% hits the fan and then you get to see how well your tent works. I am new to this tunnel style of design and although I may find myself buying a smaller Hilleberg for other purposes I am very impressed with this Nammatj 3GT.
Stake down one end, stick in 3 poles, pull it taught and stake the other end. That's all there is to it! In rain you jump into it's huge vestibule with all your wet gear on, strip down and jump into a dry sleeping area!
Putting the tent up in the wind is a relative dream as well. You've staked one end down so it's not going to fly away. The fly is all part of the tent design so you don't have to chase it around in the wind and if you bought a footprint for this tent, it fits! It fits well! A couple minutes and this condo is set up! A recent trip into La Guajira Desert in northern Colombia proved the tent's ability to deal with strong wind. Threatening to push my dualsport motorcycle over the tent held strong.
I bought the green color and it blends in well with the surroundings for those times that an adventure traveler might need to "poach a camping spot".
With all your gear in the large vestibule area you could sleep 3 in this tent but like most tents, I'm sure that it would be a little tight. Palatial for 2 however. I have yet to use this tent in the winter but I am looking forward to digging out a nice kitchen area and having a great base camp.
Ok, sure these are probably one of the most expensive tents on the market today but it is evident that you get what you pay for. This is a very well made tent. Get soaked or have your tent flatten out from a bad storm and you'll agree that it is worth the extra money. If there was a down side it might be that it is so long and site selection may be tough at times but that said it is a great shelter from the elements!
Without reservation I can say that these are great tents.
I tried sooooo many winter shelters... Single wall,…
Rating:


Design: Tunnel tent
Sleeps: 2
Ease of Setup: EASY
Weight: 8.5 pounds
Price Paid: ---

I tried sooooo many winter shelters... Single wall, dome of all kinds, tarps, bivys, igloo, snow cave, name it. The Nammatj 3 GT is by far the best tent I've tried.
It is more than appropriated for winter expedition! For two persons, the Nammatj 3 GT is great! 8.5 pounds to share and A LOT of internal space. The vestibule is a god's gift in bad weather! I did McKinley with it and my partner and I did put our two 100liters inside and still had room to cook and be comfortably sit in the tent with our feet in the 1 foot deep hole in the entrance!
The fabric is ultralight and incredibly resistant. Of course, it is a tunnel tent so you have to anchor it very well but I can tell you that once it is well anchored, it won't fail!
The setup of this tent is a real joke! Three equal length poles that go in well-designed and tough sleeves. At first I tought that all the small anchoring ropes would get jammed in the setup process but it's not the case. No more fly to put on while it's snowing, both internal tent and fly are set up at the same time.
The only drawback would be rear of the tent. In heavy snowfall, the snow packs there but if the fly is tight, it won't affect the inner tent.
Overall, great constuction, great design and great material makes it a great product!! Great isn't it?!
This is the bad weather, big guy, kitchen sink guy,…
Rating:


Source: bought it new
Price Paid: $800

Summary
This is the bad weather, big guy, kitchen sink guy, sky falling, Taj Mahal of tents.
Pros
Vestibule
Easy easy setup
A cut above
Bad weather king
Bright and chearful
I wanted this tent since getting into backpacking about 10 years ago. Finally got it couple of years ago and wow. Used it 3 times. Super easy setup and the vestibule is beyond your best hopes. Two times it rained hard on these trips (both on Art Loeb Trail, N.C.), great place to hole up and lay around.
I have three other tents — REI Half Dome 2 Plus, Kelty Gunnison 2, and a Kelty 4 A-frame — and it beat them all in comfort, space, and storage by far. The Half Dome and Gunnision are its equal in the rain, but having the vestibule to sit up in and cook with all our gear and then packing up in a downpour taking down inner tent just plain tips the scale.
The tent is generally very high quality. Ropes, zippers…
Rating:


Source: bought it new
Price Paid: about 860 euro

Summary
The tent is generally very high quality. Ropes, zippers and fabric are very reliable. The tent is spacious.
Pros
Quality feeling
Spacious
If red, easy to find ;)
Cons
Gummy cords holding inner tent becomes stretched after a period of use
No lightweight tent
The tent is generally very high quality. Ropes, zippers and fabric are very reliable. Hillberg also has great service. Simply send in your tent and get damage fixed.
The tent is spacious. Sleeping three adult males, you have plenty of room for a little gasket inside the inner tent. Nor is it any trouble to sleep two adults and two children.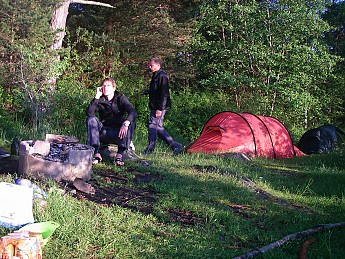 Hilleberg Nammatj 3 GT
currently retails for:
$979.00