Hilleberg
Nammatj 3 GT
3

reviews

5-star:

3

4-star:

0

3-star:

0

2-star:

0

1-star:

0
The tent is generally very high quality. Ropes, zippers…
Rating:


Source: bought it new
Price Paid: about 860 euro

Summary
The tent is generally very high quality. Ropes, zippers and fabric are very reliable. The tent is spacious.
Pros
Quality feeling
Spacious
If red, easy to find ;)
Cons
Gummy cords holding inner tent becomes stretched after a period of use
No lightweight tent
The tent is generally very high quality. Ropes, zippers and fabric are very reliable. Hillberg also has great service. Simply send in your tent and get damage fixed.
The tent is spacious. Sleeping three adult males, you have plenty of room for a little gasket inside the inner tent. Nor is it any trouble to sleep two adults and two children.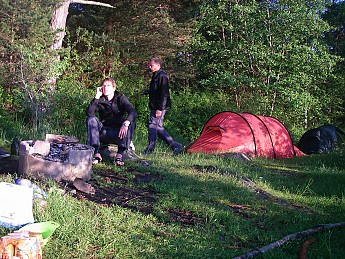 I have had many tents over the years and all of them…
Rating:


Design: 4 season tunnel
Sleeps: 3
Ease of Setup: easy, easy!
Weight: 8.5 lbs

I have had many tents over the years and all of them work fine until the proverbial #$&% hits the fan and then you get to see how well your tent works. I am new to this tunnel style of design and although I may find myself buying a smaller Hilleberg for other purposes I am very impressed with this Nammatj 3GT.
Stake down one end, stick in 3 poles, pull it taught and stake the other end. That's all there is to it! In rain you jump into it's huge vestibule with all your wet gear on, strip down and jump into a dry sleeping area!
Putting the tent up in the wind is a relative dream as well. You've staked one end down so it's not going to fly away. The fly is all part of the tent design so you don't have to chase it around in the wind and if you bought a footprint for this tent, it fits! It fits well! A couple minutes and this condo is set up! A recent trip into La Guajira Desert in northern Colombia proved the tent's ability to deal with strong wind. Threatening to push my dualsport motorcycle over the tent held strong.
I bought the green color and it blends in well with the surroundings for those times that an adventure traveler might need to "poach a camping spot".
With all your gear in the large vestibule area you could sleep 3 in this tent but like most tents, I'm sure that it would be a little tight. Palatial for 2 however. I have yet to use this tent in the winter but I am looking forward to digging out a nice kitchen area and having a great base camp.
Ok, sure these are probably one of the most expensive tents on the market today but it is evident that you get what you pay for. This is a very well made tent. Get soaked or have your tent flatten out from a bad storm and you'll agree that it is worth the extra money. If there was a down side it might be that it is so long and site selection may be tough at times but that said it is a great shelter from the elements!
Without reservation I can say that these are great tents.
I tried sooooo many winter shelters... Single wall,…
Rating:


Design: Tunnel tent
Sleeps: 2
Ease of Setup: EASY
Weight: 8.5 pounds
Price Paid: ---

I tried sooooo many winter shelters... Single wall, dome of all kinds, tarps, bivys, igloo, snow cave, name it. The Nammatj 3 GT is by far the best tent I've tried.
It is more than appropriated for winter expedition! For two persons, the Nammatj 3 GT is great! 8.5 pounds to share and A LOT of internal space. The vestibule is a god's gift in bad weather! I did McKinley with it and my partner and I did put our two 100liters inside and still had room to cook and be comfortably sit in the tent with our feet in the 1 foot deep hole in the entrance!
The fabric is ultralight and incredibly resistant. Of course, it is a tunnel tent so you have to anchor it very well but I can tell you that once it is well anchored, it won't fail!
The setup of this tent is a real joke! Three equal length poles that go in well-designed and tough sleeves. At first I tought that all the small anchoring ropes would get jammed in the setup process but it's not the case. No more fly to put on while it's snowing, both internal tent and fly are set up at the same time.
The only drawback would be rear of the tent. In heavy snowfall, the snow packs there but if the fly is tight, it won't affect the inner tent.
Overall, great constuction, great design and great material makes it a great product!! Great isn't it?!
Where to Buy
sponsored links
Help support Trailspace by making your next purchase through one of the links above.
Manufacturer's Description
The best choice for any outing in any condition where low weight is of equal importance to strength, reliability, and roominess.
The Nammatj and its extended vestibule version, the Nammatj GT, are arguably our most versatile tents. Made with our Kerlon 1800 outer tent fabric and employing 10 mm poles, they are equal in strength and stability to our Keron models, but because of their single entrance and vestibule, they are impressively light in weight. They are superb in all seasons for above tree-line use or for demanding, extended winter camping trips, yet are easily light enough for long trips in more moderate climes.
Both the Nammatj and the Nammatj GT models have smaller footprints then their Keron counterpart models, yet they have the same inner tent square footage, and so are excellent for limited-space sites such as narrow ridge lines or ledges. Both tents' Tunnel Tent design is geared more for mobile adventures, where you pitch and strike your tent every day, but both can be used quite effectively for base camp-oriented trips, as well.
Minimum weight: 7 lbs 2 oz
Packed weight: 8 lbs 7 oz
Retailers' Descriptions
Here's what other sites are saying:
THE NAMMATJ 3 is the master of both high and low country, equally suited for a high altitude expedition or a weekend walk in the local hills. This robust all-season, all-arounder pitches quickly and easily, can be taken down and moved in a flash, yet is far stronger and lighter than any other tent in its class.Because of its superb weight to strength ratio and compact footprint, the Nammatj 3 has become immensely popular with extreme users, such as polar travelers looking to save weight, mountaineers doing remote routes in the highest ranges, professional guides, and military special forces teams. But these same characteristics are just as highly prized by more regular users, as well: backpackers, cycle and paddle tourers, and anyone needing maximum strength while reducing weight.
- CampSaver.com
Free Shipping. Hilleberg Nammatj GT 3 Person Tent DECENT FEATURES of the Hilleberg Nammatj GT 3 Person Tent Kerlon 1800 outer tent fabric and 10 mm poles make for an exceptionally stable tent Pitching requires only four pegs, yet additional peg and guy line points - 14 on the Nammatj and 18 on the Nammatj GT - provide a myriad of options for increasing stability. Remarkably strong Spectra guy lines are attached to both the vestibule and back wall vents and at two points on all pole sleeves on both sides of the tent Both Nammatj and Nammatj GT have spacious interiors with full sitting height in most of the inner tent, one vertical inner tent entrance, and, thanks to the tunnel design itself, near-vertical side walls A single entrance and vestibule afford easy access and plenty of storage space, but keep the weight low. The Nammatj GT's extended vestibule provides even more storage space The entrance on the GT's extended vestibule boasts a full no-see-um mesh door (which can be zipped off completely), and a multi-slider zipper door that can be opened from the top, side, or bottom The ventilation system in both the Nammatj and Nammatj GT function regardless of the weather conditions, thanks to their integrated components Highly breathable yet water repellent inner tent fabric The inner tent door has a full no-see-um mesh panel covered with an equal sized, zipper-adjustable fabric panel for greater venting and weather protection options Large vents in the vestibule and on the back wall, placed high enough to keep air moving even if the tent is dug down into deep snow Both vents are backed with no-see-um mesh and adjustable, air-permeable snow-proof panels that are accessible either from inside the vestibule or the tent The SPECS Capacity: 3 Minimum Weight: 7 lbs 1 oz / 3.2 kg Packed Weight: 8 lbs 10 oz / 3.9 kg Inner Height: 42in. / 105 cm Inner Tent Area: 36.6 square feet / 3.4 square meter Vestibule Area: 30.1 square feet / 2.8 square meter Poles (10 mm): 3 x 129.1in. / 3 x 328 cm Pegs: 22 Y-Pegs This product can only be shipped within the United States. Please don't hate us. Moosejaw CANNOT ship Hilleberg products to Japan, Hong-Kong, Korea, or any country in Europe. Sorry about everything.
- Moosejaw
Hilleberg Nammatj 3 GT
currently retails for:
$865.00
MSRP: $735.00

where to buy: