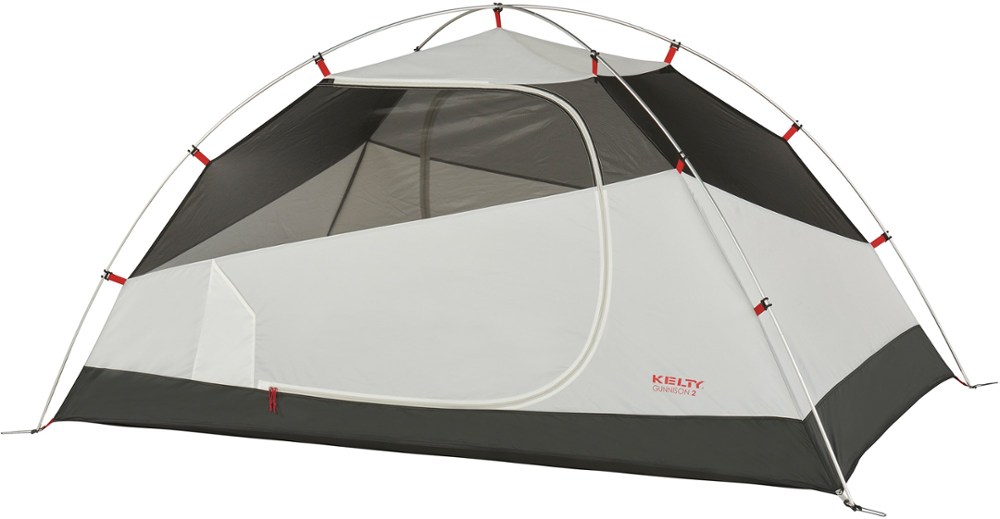 Specs
Price
MSRP: $189.95
Historic Range: $109.93-$196.99
Reviewers Paid: $89.99-$170.00

Seasons
3

Number of doors
2

Number of vestibules
2

Capacity
2

Minimum weight
5 lbs 1 oz / 2.3 kg

Packaged weight
6 lbs 1 oz / 2.75 kg

Floor area
30 ft2 / 2.79 m2

Vestibule area
14 + 8 ft2 / 1.3 + .75 m2

Length
89 in / 226 cm

Width
51 in / 130 cm

Height
43 in / 109 cm

Packed diameter
12 in / 30 cm

Packed Length
16 in / 41 cm

Reviews
22

reviews

5-star:

5

4-star:

14

3-star:

2

2-star:

1

1-star:

0
Outstanding tent for warm to moderate cold, rain, wind, and snow. Sturdy and reliable.
Pros
Entry ways on both sides of tent
Only two poles
Sets up quickly and easily by one person
Never leaks
Plenty of room for storage of small items
No need for sweeping as the free-standing dome can be picked up and shaken overhead to remove sand/dirt
Cons
Bulky to pack unless items are separated
A bit on the heavy side for light packers
Sand/dirt in strong wind can find its way under the fly and up the side of the tent, pouring into the room and can become pretty intense: wind storms are not fun in this tent, but when are they ever?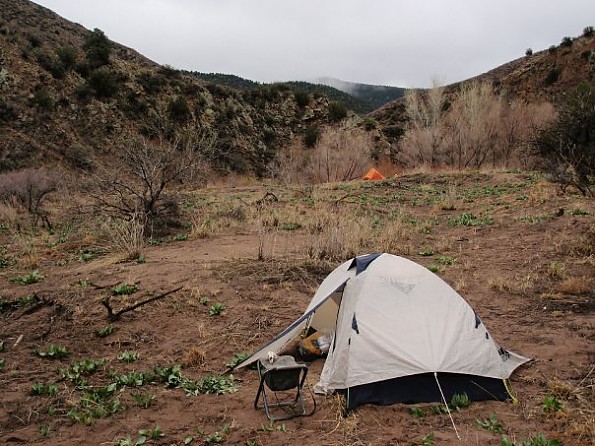 This tent lasted from around 2006 when it was purchased until the end of 2016 with heavy use in every season in Southern Arizona, and in spring, summer, and fall in Southern Utah, Northern New Mexico, and Oregon.
New bungee cords were installed in the poles in about 2012 or 2013 because they were really loose and worn. I fixed the zippers once on both entry ways in 2014 and 2015. By 2016 there were a number of small, pinholes in the mesh/netting parts of the tent. All-in-all, this is amazingly little wear and tear for the abuse the tent took over the years.
The tent was finally retired in 2016 over Thanksgiving weekend after a night of heavy wind and rain in the Chiricahua mountains that completely destroyed/damaged two other tents, ripping a brand new fly to shreds on another camper's tent and blowing another away to become a tangled mess on a barbed-wire fence. The zippers on the Gunnison didn't survive that night, after several not-so-careful emergency exits and re-entrances to help other campers, and finally after 11 years of loyal service, I didn't think it made sense to fix the zipper again and will buy another Gunnison 2.
It was used mainly as a two-person tent for most of its life, by my ex-wife and I, but it was a fantastic single-person tent for me (6' 3" 220 lbs.). As a backpacker it's a bit heavy to use as a one person tent, but if the weight and storage is split between two backpackers, and you are not ultra-light packers, it's pretty reasonable. I have used it on three occasions for moderate, single-person backpacking on 10-mile trips into Aravaipa Canyon and a 20-mile trip descending the Santa Catalina Range.
This tent was used for backpacking, car camping, and mostly, river paddling multi-night excursions. It saw over 1,500 miles of expedition river camping. This tent kept me warm and dry on some of the coldest nights I've ever experienced, well-into the 20's on one occasion, though I have other gear to thank for this as well. Those trips saw snow, sleet, wind, and rain. I've experienced several torrential downpours during monsoon season in AZ, and this tent never leaked and without any extra care given to sealing the seams or waterproofing.
In really strong wind, the Gunnison 2 can end up flattened over on you, especially if care isn't taken to affix all the Velcro straps on the fly to the poles. But even then it will keep you dry and protected. The one weakness (I'm not sure if this was changed on later models) is the design of the low venting at the head and feet of the tent. This allows for sand/silt to be blown in under the fly and up the side--into the tent--during wind storms. This is particularly a problem while camping on exposed beaches and silty areas with loose soil.
If you know this, and care is taken in the way you position the tent in relation to the general wind directions, some of it can be avoided, and this wasn't a deal breaker for me at all. You gotta accept that sometimes bad weather leads to somewhat uncomfortable situations, and that's part of experiencing the present, right?
Source: bought it new
Price Paid: $120

This thing does it all.
Pros
Size
Vestibules
Ventilation
Watertight
This was my first major backpacking purchase way back in 2004. Everything up to this tent was found at yard sales, bought from family friends, or handed down. I got it for $99 at a local shop and have gotten every bit of that money back and more. 
From 2004 to 2007 I camped out in this thing as often as I could. Couple random weeknights on the river, and about every other weekend with friends. Its been through mild snow, ridiculous rain, and beautiful summer days. Never leaked and didn't condensate as much as I thought it would. If it did condensate it was usually my fault for forgetting to unzip the vents at the top. 
2008 - 2013 I didn't use it as much as I wanted, Life kicked in and camping/ backpacking became a time issue. Plus I was living in town and getting remote was a bit of a drive to just up and go. 
Through everything, Being used and abused without a groundsheet, being packed for long periods of time, and being loaned out it was a survivor. 
When I bought it I was looking for a roomy 1 person since I was a bit of a kitchen sink weekender and for that it was fantastic, a bit heavy/ bulky but fantastic. I have plenty of headroom, a nice gear loft, I can keep my stuff inside the vestibules and have plenty of room to roll around at night. Or if I'm not using the rain fly, there is plenty of room inside to put my gear and sleep snug. 
Once I picked up a girlfriend that was willing to come out in the woods with me, I put the 2 person label to the test. Honestly, I didn't think I'd have the space we needed to do the things we did in there, but it worked great. 2 doors, and 2 vestibules made getting in and out at separate times a breeze, storing our stuff on separate sides was nice as well. No climbing over each other to get stuff we needed. The tent is plenty wide and long for average size folks such as we and had plenty of movement room for our in tent activity. It couldn't have been better honestly. 
On the opposite side of that coin, I've slept with a buddy in that tent one time, and would never do it again. Plenty of space for a couple, not enough for buddies. Then again, that is a personal thing. 
My only real gripe with this tent is packed size. But it's still fine. When i get a new tent i'm gonna look for something that packs a bit shorter. But honestly it doesn't matter. I can roll fabric up nice and small and pack the poles elsewhere. I'm just one of those people that likes to over organize and keep things all together. 
I've only had a problem with the little metal vent arch pieces breaking. The one that broke snapped right at the end so its attempting to cut through the fly. After almost 10 years of being rolled and unrolled any piece of metal would break though. 
Since I bought this tent, it's been changed a time or 2. I'm no real fan of the new colors but that is a preference. I constantly recommend this tent for couples or folks that don't mind the weight solo. 
I like mine so much, I've repaired holes, spent way too much time cleaning it and now I'm trying to save it from an outrageous case of mildew it collected after letting a friend borrow it. 
I have some pics, when I find them I'll add them. 
Source: bought it new
Price Paid: $99.99

I have had this tent for about 4 years, and it has been an outstanding tent for the price. It is rated as a 2 man, but being a fairly large person I have always used it as a one man.
I use it frequently for backpacking trips with my son and his Boy Scout troop, and I have never had any problems. The tent has been through torrential rain storms, cold temperatures and light to moderate snow and it has always kept me dry.
There is one thing about this tent which I will not call a "complaint," rather I will refer to it as "could have been done better." Unless you have extraordinarily long arms, the zippers and closure snaps on the vestibules are almost impossible for someone to fully close without brushing up against the inside of the vestibule. (During wet weather this is a little inconvenient..)
Since I almost always use this tent as a solo, I have always been able to work around the problem by using one vestibule strictly for gear, and leaving that outside door closed all the time. I then use the other vestibule for getting in and out of the tent, and I only close this one as far as my arm can reach. Not a big deal, just a little inconvenient.
It's definitely a great tent for the price.
Design: Three Season/Freestanding Dome
Sleeps: 2
Ease of Setup: Very Easy
Weight: 5 pounds
Price Paid: $150

Disappointed in zipper quality.
Pros
Easy setup
Good ventilation
Great awning
Roomy.
Cons
Footings were hard to figure out.
Zipper quality could be better.
I purchased a Kelty Gunnison 2 around late October 2019 and was very excited about setting it up. The awning and the three-season build were the selling points for me.
The tent has withstood the AZ desert weather and 68 mph wind gusts. However, by the end of Jan 2020, the front zipper began splitting. I was able to fix it to where both zippers were functional, or so I thought. As of Feb 2, 2020, the bottom zipper continues to split and I can only use the top zipper only. Dual zipper functionality is nonexistent. 
I heard so many good things about Kelty, including the reviews; unfortunately, I cannot provide a good review.
I paid approx $158 and expected it to last more than three months. I am very disappointed. I thought, and hoped, I had found "the tent". When all the zippers cease to function properly I will have move on to another brand. So disappointed.
Experience
I have tried other brands but the Kelty Gunnison 2 offered the extras, i.e., awning, extra ventilation, etc.
Source: bought it new
Price Paid: $158

I'm copying my review from backcountry.com, since I don't want to type it out again:
I got this tent about two months ago, and I've used it 3 times with great satisfaction.
I work for a conservation corps, for twice a month for 8 days my tent is my home. I researched tents for 4 months when picking my most recent tent, and I decided on the Gunnison 2.1.
For me, dual doors tents are a must-have. If you ever go backpacking with a friend or partner, one door just sucks. Someone is always walking over someone's things, and dirt is just getting everywhere. Not only does the Gunny have two doors, but it also had two very large vestibules. The vestibule space is enough to hold my 4500cu in. backpack and my boots.
When I use this for work, I keep my backpack in the tent with me, and also my daypack. When used by two people, there is enough room for people, sleeping pads and bags, pillows, and a small daypack/bag for each person.
The tent also comes with a gear loft.
I recommend getting the footprint too, because the floor doesn't seem super durable.
I like the arched floor by the doors, because not only does it keep any possible sheet flow water out, but it also keeps you from kicking dirt into the tent when you are crawling in.
The vents up top are awesome, I've never had this tent get condensation on the inside.
All in all, a very great roomy tent, doesn't weigh a lot. The setup is a breeze with the one pole on a central hub.
If you want a 2 person backpacking tent for under 200 dollars and under 6 pounds, look no further.
Price Paid: $170

I've had this tent for four years and it still holds up great. I bought it to use as a river guide in Alaska. Camping on river banks and sand bars it took all the punishment I dished out. It was the perfect size for me and my gear to live comfortably. And when necessary I let double up with someone else when their tent fail and still had room.
I did this for two years. My dad, who is a scoutmaster, has used it many times since. My brother a scout leader uses frequently too. Now my youngest brother starting into scouts uses it.
The zippers are built for heavy use.
Double doors are super convenient as are the two vestibules.
Easy, fast set up made it so I could do my job as a guide or have better yet have time to take a break!
Still keep us dry after all this time in Alaska's hard rain.
Why pay more when this is the best.
The only reason I need another is I'll let my little brother have this one!
Design: 3 season dome
Sleeps: 2
Ease of Setup: Super easy a child can do it
Weight: 5 lbs 11oz
Price Paid: $139

Great tent, if you are looking for a relatively cheap tent mixed with the great Kelty quality, look no further. Obviously made for smaller groups of campers or just yourself, the lightweight Gunnison 2 tent is a great choice for any outdoor trip. Equipped with a fly, it'll keep you dry and warm in extreme weather.
I've had this tent for 3 years now and still have no need to look elsewhere, great product.
Weight: 5lbs
Price Paid: $120

I took this tent on a 4-day trip on Oregon's section of the Pacific Crest Trail and it held up well until the last day.
In the process of shopping, I looked at Marmot's Limelight and Titan 2 tents, and Mountain Hardwear's Drifter 2 tent. They were all in the same general price range and pretty similar construction.
I liked the overall Kelty tent design better (because it has "windows" and vents), and I happened to find a good deal on it. I was a little skeptical about those stupid Jake's Foot attachments for the poles because they are plastic and just seemed ripe for breaking at the worst time imaginable.
I did not test my Kelty in very harsh conditions on the PCT, by choice. It rained all day on the hike into Three Sisters Wilderness and the tent did keep me dry during the time was erect for bad weather. The temperature hovered above freezing at night and the zippers froze the next morning. I stayed dry, even after setting up shop in the dripline of some trees (needed thermal protection).
The weather cleared the following day and it was great for the rest of the trip. As such, I can't really speak on how durable my Kelty is in the heart of the rainy season here in Oregon or how sturdy it is in strong wind. I think it will do fine in most all conditions (within the recommended season of use) and it is easy to stake out the guylines for extra support.
Weight-wise, I don't think this tent is any heavier than my partner's REI Half Dome 2 (or any other like-construction tent), so I do not have any complaints there. You can pay more and certainly get lighter tents, but this one is not a back breaker if you're just an average packer. I stuffed the poles into my pack and lashed the tent and fly in a stuff sack on the back of my pack. It rode just fine for me.
All in all, I'm satisfied with my purchase. I would be FAR happier if the folks at Kelty used regular old grommets for the tent pole attachments versus those stupid Jake's Foot.
I can only describe a Jake's Foot as something like a ball and socket joint. You insert the "ball" part of the tent pole into a plastic piece attached to the tent corners that has the "socket". Aside from the socket, the plasic tent corners also have a place for the rain fly to snap onto.
The last day of my trip, I'm breaking camp and pull the shock cord from the Jake's Foot, so the ball part is sitting in the socket. The shock cord retracts and I have pole sections at my feet. The sad part is the ball part of the assembly is held tight by a small knot using the cord tension, and you have to apply some pressure to remove the Jake's Foot.
Remember the ball part does snap into the socket part and it is pretty secure when it's in there. Meaning, you have to snap it right back out versus just wiggling it through the grommet hole.
To me, that is a product designer trying to be too innovative and make their tent "extra" different. Grommets may not be new or original, but they work and I never had a pole break threading it through a grommet.
I would also prefer male/female attachments on the rain fly because the existing plastic feels weak for a structure that gets a fair amount of usage. You do have to pull the rain fly tight and if the small plastic connector breaks, the rain fly is useless. Male/female attachments are at least stronger, more durable plastic pieces.
Aside from the horrible choice in tent pole attachments (Jake's Foot over grommets) and rain fly issues, this is otherwise a pretty good tent. I do like it and I'm not going to buy another tent yet. I will get mine fixed and we will see what happens next season.
I am leery about the Jake's Foot deal, but I'll use it until it either redeems itself or reveals itself to be a POS and I say screw Kelty's frail, useless crack-pot innovation.
Design: 3-season freestanding dome
Sleeps: 2
Ease of Setup: easy
Weight: 5 lbs and some ounces
Price Paid: $150

Great lightweight tent for the price! Super easy to set up, my six year old daughter can do it by herself in minutes while I hunt for firewood! Plenty of room for the two of us. Also plenty of room for two adults.
The two vestibules are a plus. We've used them to shelter some of our gear as well as our two dogs (one in each vestibule) from a downpour one night in Pisgah National Forest. Never have had any leaking issues. Even camped in the snow in the Smokeys with plenty of cover.
Only issue is the tie downs for the entrances to the vestibules are not designed very well. They do a poor job of holding the "doors" open if you want to be able to go in and out of the tent.
Design: Three-season freestanding dome
Sleeps: 2
Ease of Setup: Super Easy
Weight: 4.5 Pounds
Price Paid: $125

I've used this tent 60+ times during a stint with the Montana Conservation Corps, mainly on 8 day hitches. Though I'm yet to share it, it has ample room inside for gear, and the vestibules are huge and a great addition.
I never woke up wet even after several days of straight rain and sleet. Super easy to set-up and breakdown, which is great when the weather isn't cooperating. Only thing I can say is I don't really care for the colors.
Overall, a great buy, especially for the price!
Sleeps: 2
Price Paid: $140

I have 5 sons. I take turns taking each to the Porkies with me. It sleeps 2 of us with lots of extra space. The 2 large vestibules are wonderful and keep packs and gear dry in heavy rain.
Super fast easy set-up. Full fly is unbeatable. Ventilation is superb. Very light weight for packing. Overhead gear loft makes easy reach of items. Quality is wonderful at this price!
We have done weekend hikes in Sylvania Mts, the Rockies and Porkies Mts using this tent. Clean out after use is simple. Just hold it upside down and shake out. I'm getting another one for our 4 man jaunts.
Sleeps: 2
Price Paid: $120

Very nice tent for the $$$!!!
Strong aluminum poles, stable and extremely simple design, well ventilated and light weight make this a great buy. I like having the 2 vestibules too. I usually take this tent with my 5-year-old daughter on short overnights to 3 night jaunts into the woods around Pisgah National Forest, or for solo hikes along the AT.
We have plenty of room for ourselves and all our gear. Our two big dogs have even enjoyed the protection of the vestibules on one particularly rainy night, they stayed cozy and dry right beside us!
The fly has two nice windows, which lets you still check out the stars at night with it on. I've never had any leaks either. As far as ease of use goes, my daughter is in charge of setting up the tent when we make camp, she only needs a little help staking down the rain fly, other than that she's got it!
I do wish the snaps on the vestibule doors were a little easier to deal with, they snap on the outside which is difficult to secure sometimes, and the straps to hold the vestibule doors open are placed a little low on the side of the tent, so it doesn't do much to keep it open without having to stuff it under the pole. Other than that, I don't have anything bad to say about this tent.
Design: Three-season freestanding dome
Sleeps: 2
Ease of Setup: My five year old can handle it, no problem
Weight: Under 5 pounds
Price Paid: $120

So far this has been an excellent tent. Even though it is a 2 person tent, it is quite snug, but has also slept 3 full grown adult males in an emergency.
The tent is easy to set up and easy to break down. It could use a little more height. The trade-off is that the tent is fairly stable and has suited me through all four seasons.
As far as backpacking tents go, it's not the lightest tend around. For the price though the money is right on.
Only complaint with the tent: On the rain fly, the archway over one of the vents broke, during packing the tent back up. I sent the rain fly to Kelty under warranty and they had it fixed and sent back to me in a matter of a couple weeks. Just be careful how you pack up the rain fly.
Sleeps: 2
Price Paid: $120

This was my first ever tent. I bought it in the late 2004 at a price that is too good to pass. I love the roominess and the large double vestibules. Simply spacious for 2 people under 6 ft and around 180 lbs and great for solo. I was able to cram in 3 people in there with the average height of 5'7" and 160 lbs. We were shoulder to shoulder but still comfy.
The large vestibules are great. My buddies often stashed their empty packs there. Pitching was a breeze, I can easily put it up alone in under 2 minutes. I loved the color coding straps for easy pitching, and the reflective poles are really useful during nighttime pitching. The twin windows on the vestibules are also handy. It kept me dry in many rainy nights. And it did exceptionally well on a particular windy trip. In this trip, one of the pole segment actually bowed, but I ain't complaining because there were like 6 or 7 other tents with more popular brand names and cost twice as much that night whose poles snapped. Simply the best tent for its price.
My gripes, the flysheet sets up too high above the ground, easily allows cold drafts in but not a problem with rain splashes though. After a little over two years of use, the tape seam seal of one of the fly's windows started to peel. So I had to rip it out and reseal it on my own. The end-closure of the fly is a bit too far, I usually need to crawl half-way out of the tent just to completely seal the the fly. And at 5 lbs 11 oz, this tent is a tad heavy.
Design: 3-season freestanding dome
Sleeps: 2
Ease of Setup: Very easy
Weight: 5 lbs 11oz
Price Paid: $90

Engineered using the traditional cross-pole design, Kelty makes the most of it in their Gunnison 2 iteration. Their adaptation on the theme includes a very well ventilated main tent body and a full coverage fly. There are nice details abound, such as the subtly shaped poles, the adjustable fly/roof vents, and the included gear loft. The tent itself is free-standing, but you will need to support the vestibules with well anchored stakes.
At 4'10" wide on the inside, this tent is probably the smallest you would want to spend any time in with 2 full size humans, and the height also represents a reasonable minimum. The camper's price for 2 doors, 2 vestibules, and a livable size is not measured in dollars, but in pounds. Tipping the scales at around 6 pounds (including the purpose-built footprint, bought separately) you would be hard pressed to find a better all-around value in a 2 person tent at any price. Look for mine on Mt Shasta.
Design: 3-season cross-pole
Sleeps: 2
Ease of Setup: my 6 year old son can do it
Weight: under 6 pounds
Price Paid: $125

This tent is an excellent 2-man, 3-season tent. I am very pleased with the ease of setup and the overall design. This is my first Kelty purchase and I am very impressed with the quality of the product. I am 6'2" tall and weigh 220lbs. I had nearly a foot of extra length when laying in my sleeping bag. Two people fit nicely in this tent. The large vestibules are great.
Design: Three-season freestanding dome
Sleeps: 2
Ease of Setup: Simple
Weight: 5lb 11oz
Price Paid: $125

I bought this tent because of the full-coverage rain fly and very reasonable price tag. My son and I have taken it out in heavy rain and been totally dry. I especially like the way the fly is designed to fit tight enough on the frame so that it doesn't make contact with the tent body anywhere.
The only negative that I can see is that the snaps that close the bottom of the vestibule doors are a little tough to reach from inside the tent without brushing up against the inside of the fly. (...this was kind of a bummer in the rain...) Other than that, the Gunnison is a great tent at a great price.
Design: three-season freestanding dome (although the fly needs to staked out to work properly)
Sleeps: 2
Ease of Setup: very easy
Weight: 5lbs 11oz
Price Paid: $129

We bought this great little tent for a cross country motorcycle trip in '05. Set up is easy, color coded, and fool-proof, even in the dark. Roomy interior for two with huge double vestibules for the gear. A home away from home. Since then it has hiked the Antietem battle field, the Laurel Highlands trail, and the Alleghenny Natl forest. We recommend this lightweight tent without any hesitation.
Design: Free standing / Three-season
Sleeps: 2
Ease of Setup: easy
Weight: 5.5 lbs + or -
Price Paid: $129

This tent is a breeze to set up and the clip features for the fly, doors are a good design, for this I rate it a 3. Bought this tent last minute for business trip to hurricane aftermath. There were two of us, both about 6 ft. Tent too small for two people, cramped.
Dual doors good design. Tent floor is weak. Used tent one night after Hurricane Rita and two nights on a pleasure camping trip and floor has gotten small holes in it already. Used a groundcloth the first time, not the second. Tent is quite comfortable for one person and gear. Zippers also do not slide as easy as they probably should. Window at top is nice.
Price Paid: $150

This tent should be more around 4 and a half stars, but anyway...
I got this tent on sale for $110 and its quality was so good, you still get more for even at $140, I took it on a back packing trip, and I really liked the dual vestibule design. It works really well, and there's plenty of room for two people.
I didn't buy the footprint, but I would recommend it. The only thing I didn't like was the floor is rather thin. I used a heavy space blanket/tarp, and it worked perfectly.

This is one of the best tents I've ever seen, or used, im glad I bought it.
Design: Three-season free standing dome
Sleeps: 2
Ease of Setup: very easy
Weight: 5 lbs, 11 ounces
Price Paid: $110

Great three-season tent for the price. It is light and exceptionally roomy. Plenty of room for two people and gear. The double door/vestibule feature is nice to have. Setup is very fast and very easy. The only negatives are ventilation is poor with the rainfly on and guylines are needed in light wind.
Sleeps: 2
Ease of Setup: Very easy
Price Paid: $89.99

I have had many 3-season tents however this one is my favorite. I used this tent on a 2-day hiking trip on a 15.8 mile section of the Pinhoti trail in northwest Georgia. The temperature was 72f with clear skies and by night with a low in the 40s. It was just after a rain so the travel was slow and muddy.
I originally bought this tent because of the double entry feature, much to my surprise it was a better idea than I had originally anticipated. The double vestibule works well when hiking with a buddy. He kept his gear dry on his side and was able to come and go from the tent with out disturbing me and likewise. Set up was made very easy with the post 2 grommet assembly design that had locking pole tips that made it very convenient for the poles to attach. The new clip design made it fast to set up and allowed it to have better ventilation than a sleeve design. I like this far better over a sleeve design. I like this tent and would rate it an even tie with the Eureka Zeus 2 EXO tent. This tent has a 2 negative drawbacks, one is the side release buckles that hold the fly back to allow entry are delicate and easy to break. I replaced mine with snaps the instant I bought it. The second disappointment was that the rain fly is not easy to fold up as it does not square off. To fix this I added a small stuff sack just for the rain fly. With these improvements it is now the best 2-man I have had the pleasure of owning. I highly recommend this tent.
Design: Three season 2 pole dome
Sleeps: 2
Ease of Setup: Extremely Easy
Weight: 5-6lbs
Price Paid: $139

You May Like
Recently on Trailspace