Mountain House
Sweet & Sour Pork with Rice
Specs
Weight
0.57 lb

Servings
2.5

Serving Size
1 cup

Reviews
Another comfort-food staple delivered to you by Mountain…
Rating:


Source: bought it new
Price Paid: $8.50

Summary
Another comfort-food staple delivered to you by Mountain House, and while it may be without the trademark, white, paper takeout box, one bite of this and you'll swear it was delivery. The DiGiorno of Chinese food, for backpackers. My second-favorite meal, only to their Chili Mac, and a nice, rice-based alternative to the other pasta-centered dishes.
Pros
Asian food that tastes like — Asian food! Better than the Teriyaki!
The "sweet" comes from pineapple — a welcome surprise for a freeze-dried meal
Great savory, pork flavor — you not only can see the meat, but taste it, too
Brainless preparation — thanks for helping dudes in the kitchen, MH
Democratic proportioning of ingredients
Cons
MH should carry the same level of thought into all their Asian recipes
I bought this because REI was out of Stroganoff AND Lasagna, and this was the next best-looking dish they'd for sale. I tried the MH Teriyaki before, and wasn't impressed with how genuinely "Teriyaki" tasting it was. Then again, Chinese food and pizza are much the same to me — even when they're mediocre, they're still pretty damn good, hot or cold.
Pleased to say I don't regret this purchase one bit, and I place it currently behind their Chili Mac as my second-favorite MH meal.
PACKAGING
No different than any other standard package of MH food.
Here're a couple shots of the 2.5-serving bag: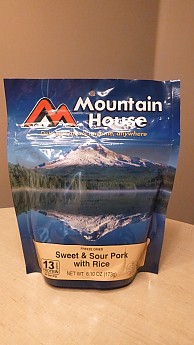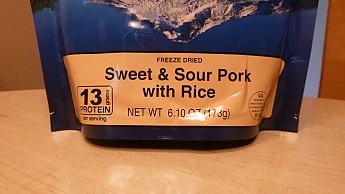 INGREDIENTS
NUTRITION FACTS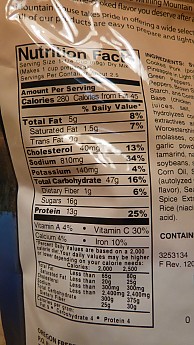 PREP AND COOKING
All I need to cook this is a stove and small pot: boil 2 cups (or 16 oz) of water, pour it inside the re-sealable pouch, and let it sit for 8-9 minutes. 
Contents prior to re-hydration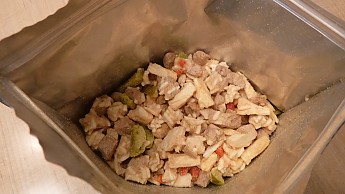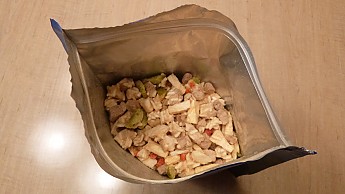 TIP: let this one rest inside the bag a little longer than the 8-9 minutes MH suggests. I've made this a cardinal rule will ALL my Mountain House and ALL my dehydrated meals. Especially for rice dishes, you're going to want to give these meals a few more minutes to soak up all that boiling water. If you're game for crunchy rice, dive on in at the suggested time, but for most folks, you're going to want that rice al dente, at the least. 
Wait 8-9 minutes, open the bag, and here's what it looks like:
All I need to eat this is a spoon: you can eat straight from the bag.
I like rice dishes because they're really easy to eat with a spoon, and you can usually get a little bit of everything into a single bite.
Rice is my preferred starch and I usually defer to it, when possible. 
FLAVOR/CLAIMS
Sweet.
And.
Sour.
Seriously, though, this is a dish that actually lives up to the name, and tastes like it should.
There is no generic "Asian-flavored" sauce. There are individual and separate flavors, here, and the combination of them makes this a really enjoyable meal.
Apart from the rice and sweet-and-sour sauce (and you can actually recognize the hint of shoyu/soy sauce, here), you've got:
Pork

Pineapple

Green Peppers

Onions

Red Peppers
It's a textbook version of S&S, but one that's well-executed and prefers tradition and simplicity to anything else.
Mountain House really does do this one justice. I could take a scoop of this from a paper takeout box, and think someone had Chinese food delivered straight to my campsite (if there are any Chinese delivery joints that do deliver to campsites, please let me know).
The texture is varied and interesting throughout, and again, why I prefer rice meals. You generally don't have to decide between noodles and the rest of the ingredients to enjoy all the flavors at once.
My favorite part was the unexpected, sweet kick from the pineapple. Sure, this is a requisite component for a "Sweet and Sour" dish, but rarely if ever do you find a fruity flavor in your backpacking, freeze-dried meals. I'm not much of a guy for fruit, and I was all about this pineapple.
The other notable flavor would be the pork. You actually, legitimately taste it, and this isn't a dish where a sauce overpowers the rest the ingredients. The savoriness balances well with the sweet ting you get from the pineapple. There're more than enough pieces of the pork, too, that you can get a little into every bite.
Here're the contents of the meal, shown plated, to give a better view of the serving size and ingredients: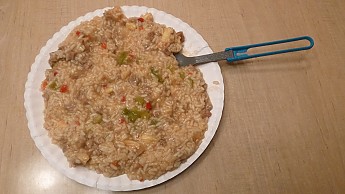 SATIETY AND ENERGY
240 calories per serving, 2.5 servings per bag.
This actually was a 2.5-serving meal, mostly because rice is an inexpensive ingredient and thy can really pack a lot of it into these pouches. Rice is a filling starch, but one I've never felt overstuffed eating. 
Suffice it to say, this one was worth the wait. Once I got home, I plopped my pack down in the kitchen, grabbed this bag and my pot, and made the meal on the stove without missing a beat.
May not have enjoyed it on the trail, but I enjoyed it, nonetheless.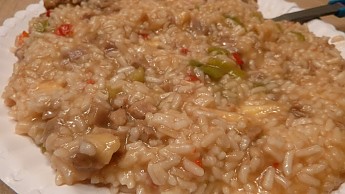 SEASONING AND TIPS
I usually sprinkle a dash (or several) of black pepper on my food, as it's an easy way to gain flavor without gaining more sodium atop an already sodium-laden dish (810 mg, in this case). Even if you don't have any, it's varied enough in flavors that you could do well without it, and enjoy it just as much. 
To get the most out of this meal, stir it both prior to adding water, and prior to eating, so you can really sample all the components at once. The ingredients are good by themselves, but really come out when you combine them all together.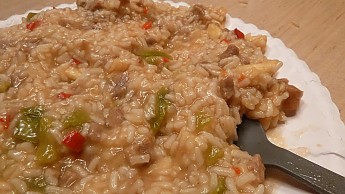 BEST FOR
5 stars. I know I've got to say something negative to make this a thoughtful review, but really, my only regret was in buying only one pouch. Would've taken this over the BP meal I had, easily. 
Pretty good. Tried this at home. Meat is a little…
Rating:


Source: bought it new
Price Paid: $7.75

Summary
Pretty good.
Tried this at home. Meat is a little chewy but that's to be expected with this kind of meal. Had little bits of pineapple even. I had no problem eating the two-person meal by myself. It said it made 20 oz. I was really full after eating it.
Where to Buy
sponsored links
Help support this site by making your next gear purchase through one of the links above. Click a link, buy what you need, and the seller will contribute a portion of the purchase price to support Trailspace's independent gear reviews.
Mountain House Sweet & Sour Pork with Rice
currently retails for:
$9.95
MSRP: $8.09

Recently on Trailspace