Mountain House Chicken Teriyaki with Rice

Top 25 in Meat Entrées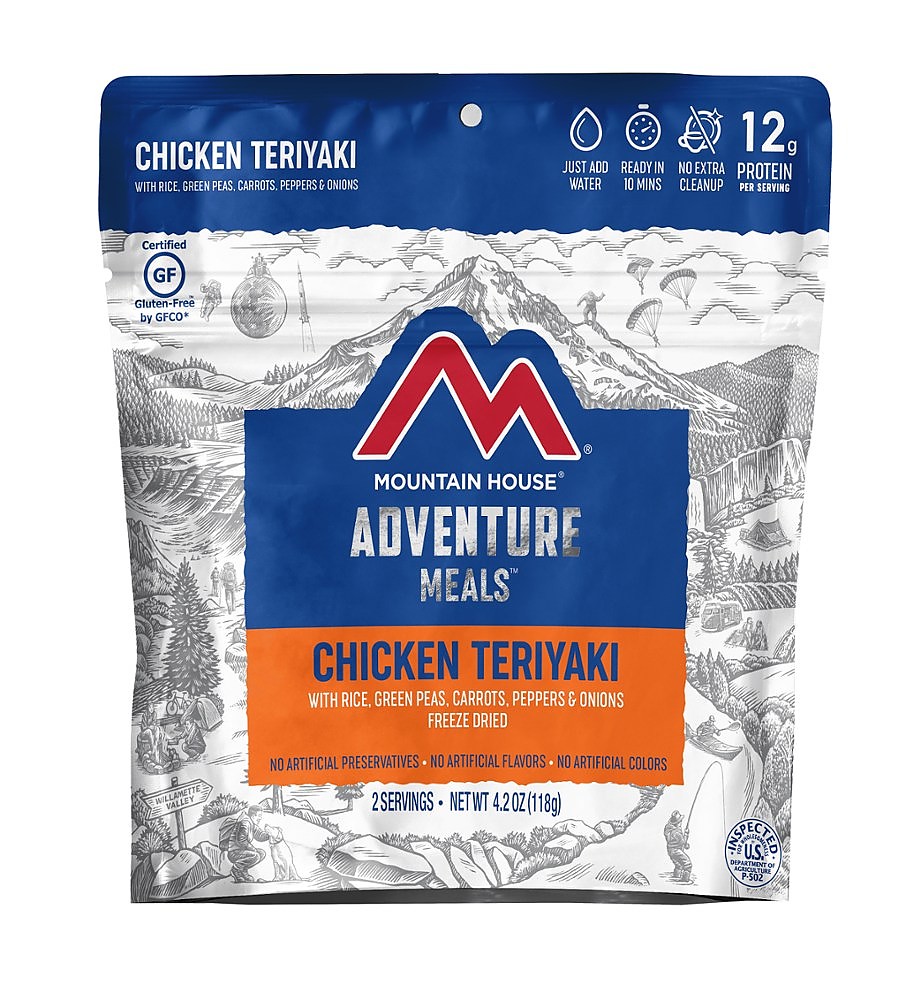 Mountain House Pro Pak meals review: Convenience and variety are the two main benefits of freeze dried Mountain House Pro Pak Meals.
Cons
Nutritional content
Salt content
Package waste
I've always prepared my own backpacking meals from real food or home made dehydrated food. However, when I was planning my first thru-hike of the John Muir Trail I decided to try the popular Mountain House Pro Pak Meals. 
I think that the main benefits of these Pro Pak meals are convenience and variety. One can order these meals online on Amazon, buy them at REI, buy them at Walmart and in various other outdoor retailers. So they have become ubiquitous. You buy them, pack them and rehydrate them—super convenient.
The other benefit is that MH has a large variety of meals. They offer breakfast, entrees, and desserts. And they offer a variety of dishes—scrambles, skillets, spaghetti, chili mac, lasagna, chicken and rice, teriyaki chicken, stews, stroganoff, casseroles, etc. I tend to favor the pasta and rice dishes.
I think that the taste is OK—maybe a 7 out of 10. The flavor profiles are pretty good. They tend to be a little salty for my taste, but that salt is often needed or wanted when you've been outdoors for an extended period of time. 
The preparation is super easy—boil 2 cups of water, add water, stir, wait, then eat.
Typically I will eat one Pro Pak for a single meal. One Pro Pak fills me up. Sharing a Pro Pak probably would not satiate me. One meal does provide sufficient calories and energy, however over an extended time of more than a week, there is probably not enough calories to replenish my calorie burn. I would need to supplement the meals or I just loose weight. 
I never take these on short weekend trips. I only use these on extended trips lasting 1 week or more. If I were to go on an extended trip of 1 month or more I would likely consider preparing a large bulk of dehydrated and freeze dried food in which I could select more nutritional ingredients. 
These meal do create a lot of waste from the used packets. Further, some backpackers combine these smaller packs into larger plastic bags to save packing space. I'm not a fan or the waste created. I started buying the larger cans and reheat my meals in a reusable silicon bag. 
Overall, the MH Pro Pak meals are convenient and offer a good variety. They may seem somewhat pricey, but I think that they do offer good value considering the quality, convenience and price.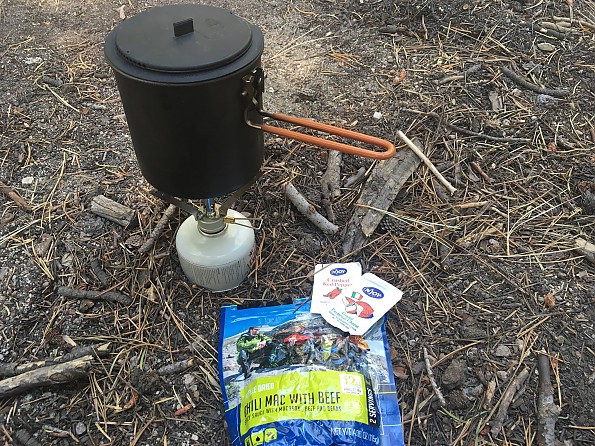 Source: bought it new
Price Paid: $7-8

Although I wouldn't consider the flavoring a genuine "Teriyaki," it does have the expected Pan-Asian flavoring zing to it. A hearty helping for one person (but no more) and a meal in which you're as excited for the last bite as you were the first. This will definitely be a staple in my backpacking meal plans.
Pros
Filling meal for one person
Easy as heck to prepare
Generous helping of chicken chunks
Big assortment of vegetables
Every bite is texturally interesting
Flavorful
Cons
"2 Serving" size unrealistic and overestimated
15-minute prep and cooking time can be tedious
Sauce too generalized to be called "Teriyaki"
PACKAGING
The package is practically bulletproof, very lightweight for a two-portion meal (5.01 ounces), and the top flap folds down easily to minimize the volume this will take up in a pack. The re-sealable packaging is doubly effective, A.) allowing you to create a seal on the bag as the boiling water re-hydrates the meal, and B.) serves as a scent-proof trash bag after you've eaten the entirety of the contents.
Here's a shot of the 2-serving bag: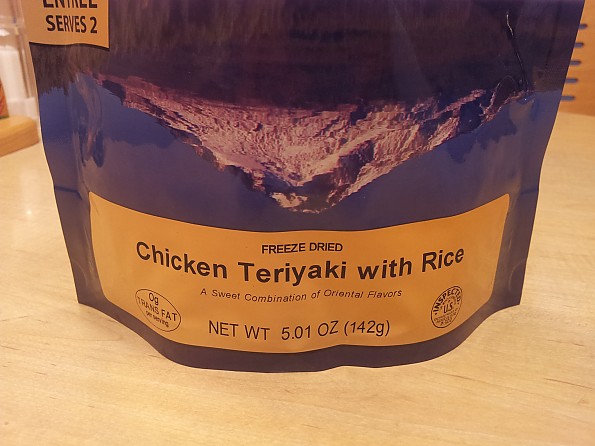 INGREDIENTS AND NUTRITION FACTS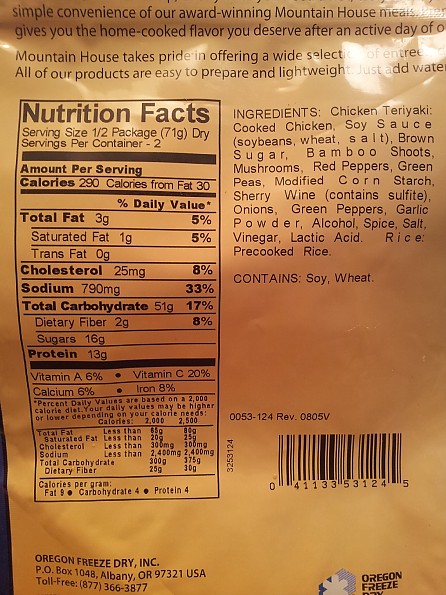 PREP AND COOKING
All I need to cook this is a stove and small pot: boil 2 cups (or 16 oz) of water, pour it inside the re-sealable pouch, and let it sit for 8-9 minutes.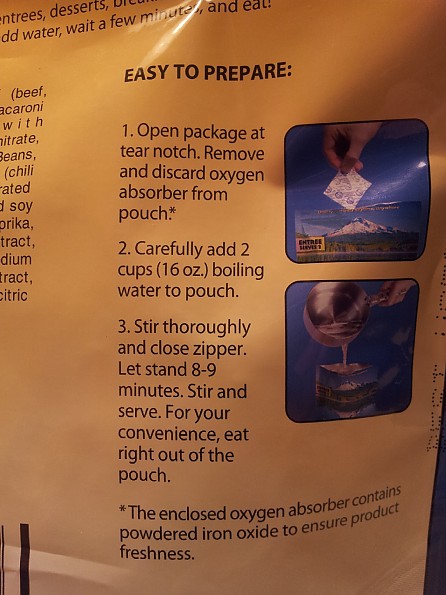 Contents prior to re-hydration: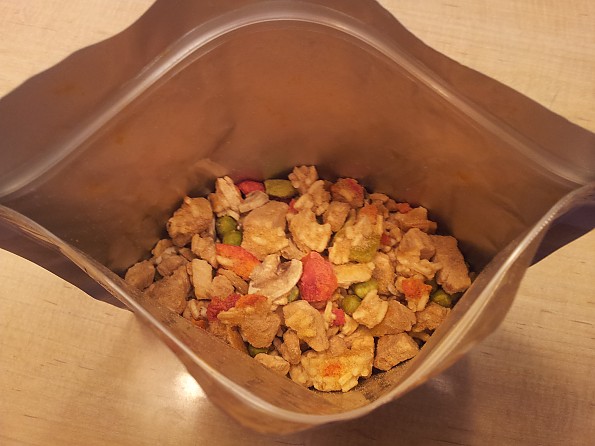 Wait 8-9 minutes, open the bag, and here's what it looks like:
All I need to eat this is a spork: you can eat straight from the bag, and better yet, once you've finished eating, you can pack your trash into the bag and seal it up to keep the scents inside. 
As many have mentioned, most sporks are shorter than these bags are deep, and in order to really dig in and get the last bite out of these pouches, you'll have to transfer the food to another container, or tilt the bag on its side and scrape the food toward the front. The latter method worked fine for me, and I only plated this meal to get a closer picture of what it looked like outside of the bag. 
If you have a separate garbage bag, I'd suggest cutting a few inches off the top of the bag and turning it into a shallower bowl to eat from. 
FLAVOR/CLAIMS
Asian-flavored? Yes.
Teriyaki? That would be arguable.
The orange-hued sauce is more reminiscent of some nondescript, homogenized, cover-all Oriental flavoring than it is any one, specific flavor of sauce. That, I'd contend, is the only way in which Mountain House promises any less than it delivers. Otherwise, it is a flavorful and diverse assembly of chicken, vegetables, and rice in "Teriyaki" sauce.
The chicken isn't any texturally different than it'd be at home, and they give a generous amount of it: practically every bite comes with a chunk of chicken in it. I loved this, because usually I eat my starches and vegetables first, and reserve the protein as an end-of-meal "dessert."
The assortment of vegetables is commendable, too: bamboo shoots, mushrooms, red peppers, green peppers, onions, and peas. These all add not only a variety of flavors, but also, a variety of textures. Especially in foods like this texture is crucial to making this a meal I'm as excited to finish as I am to start. Sometimes you find yourself finishing a meal begrudgingly or desperately, and this definitely isn't the case, here.
Here're the contents of the meal, shown plated, to give a better view of serving size and ingredients: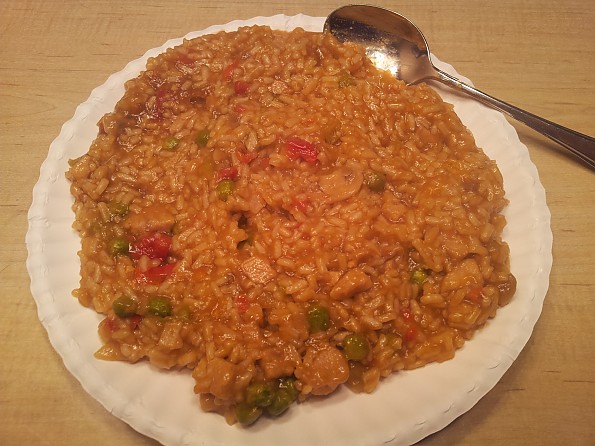 SEASONING AND TIPS
Being an oriental dish, I've the cardinal rule of never adding any salt to those meals. That said, this meal was definitely improved upon with a few dashes of cracked black pepper atop it. Considering you're consuming almost two-thirds of your daily sodium intake, I'd highly suggest adding any additional salt and would instead encourage you to take advantage of pepper. If you're the means to grind or crack it, fresh, by all means, If not, well, it certainly won't hurt to add it anyhow.
SATIETY AND ENERGY
Great. A really generous helping of food. This was a full meal for me, and although it did make for a filling meal for one, I can't say this would be enough food for two people. 
This meal's as chock-full of chicken and veggies as it is full of flavor.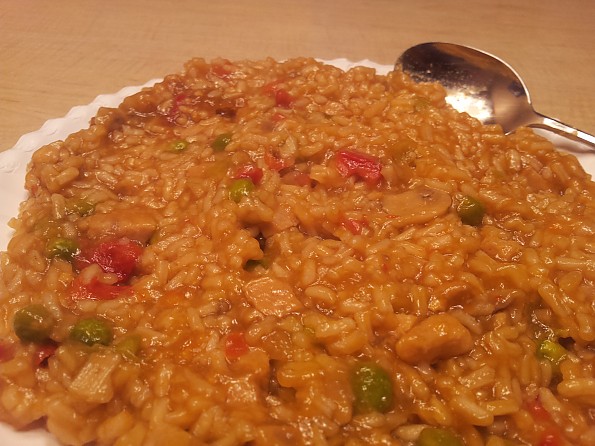 BEST FOR
Much like the capacity rating on tents is usually over-estimated, the same holds true to serving sizes with these meals. I would consider this a filling meal for one average-sized male adult, but no more than that. If you wanted a lighter lunch, I would suggest splitting it, but as a satisfying dinner, this isn't feeding any more than one person. 
4 stars, simply because I'm picky enough with my Asian food that when I order or purchase "Teriyaki," I expect the flavoring to be more specific than the generalized sauce binding this meal together. Don't get me wrong, it still tastes good, and still has an Oriental flavor, but I wouldn't call it "Teriyaki" had it not been labeled that on the bag.
Would I buy it again? You betcha. Probably before my next backpacking trip.
Source: bought it new
Price Paid: $8.99

A quick and filling meal for a backpacking adventure. Could be a little tastier
Pros
Great packaging
Easy to prepare
My son and I took this item on a backpacking adventure to use as our dinner. I like the fact that the item is vacuum packed and dried so it weighs almost nothing. It uses boiling water to re-hydrate and prepare so that makes it a snap. It was a simple process to prepare this meal and I was looking forward to it.
However, when I opened the packaging it was LOADED with RED PEPPERS!!! Why is it that manufactures insist on putting red peppers into everything? I personally do not like the flavor of red peppers and had I known that it contained them I probably would have chosen a different item. My fault for not reading the packaging more closely.  
So, after waiting the required amount of time to 'cook' the meal we dug in. It tasted OK but I really couldn't find much 'chicken' in this meal. I think I found about 5 or 6 tiny pieces of chicken throughout the entire two servings. The meal tasted OK, but I found the taste was inconsistent (perhaps I should have mixed it more). 
Overall, I probably won't get this item again.  
Source: bought it new
Price Paid: $6.49

This was not a very tasty entrée. I've had much better. I wouldn't recommend this product.

Pros
Lightweight
Easy to prepare
Good portion
Cons
Poor taste
Didn't mix well
The seasoning did not mix well. This resulted in clumps of seasoning and a very poor taste. I wouldn't have guessed it was 'teriyaki' in a blind taste test, I just would have guessed it was chicken and sauce.
The portion was good. It was filling and thick and hearty.
I won't be buying this one again. I've had other freeze dried meals that tasted good, so this one won't make it back into my menu.
Source: bought it new
Price Paid: $8

Convenient and tastes good.
Pros
Tasty
Lots of meat
Convenient
Nice stuff. Rice and veggies in a pleasant teriyaki sauce, with lots and lots of chicken.
Boil-in-a-bag convenience, and very light for backpacking. Saves fuel — just add water, reseal, and let sit. Allow more sit-time than the manufacturer recommends.
Portions are too small for my tastes, but I'm a big eater.
Source: bought it new
Price Paid: $7.75

My granddaughter at Mount Collins, GSMNP feel in love with this meal.
I found it in a #10 can for $29, thus making it a good deal for us. I'll open the can and split it up into ziplock freezer bags and it is ready to go anytime.
Price Paid: $29

Not as tasty as the MH Stroganoff, but you can't eat that every single meal. The re-hydrated chicken has an excellent texture. You could do a lot worse.
Price Paid: $7

It was okay.... Being a picky eater, this was just not quite "Sweet and Sour" enough for me. I would still eat it in the woods rather than my wife's Tamale Pie stuff.
Price Paid: $7.99

A very good meal, one of my favorites. With real chicken added from Tyson foil packs it is 5 stars.
Price Paid: $5.99

Your Review
Where to Buy
Help support this site by making your next gear purchase through one of the links above. Click a link, buy what you need, and the seller will contribute a portion of the purchase price to support Trailspace's independent gear reviews.
You May Like
Specs
Price
MSRP: $8.09
Current Retail: $11.25
Historic Range: $5.59-$45.00
Reviewers Paid: $5.99-$29.00

Recently on Trailspace