Mountain House Lasagna with Meat Sauce

Top 25 in Meat Entrées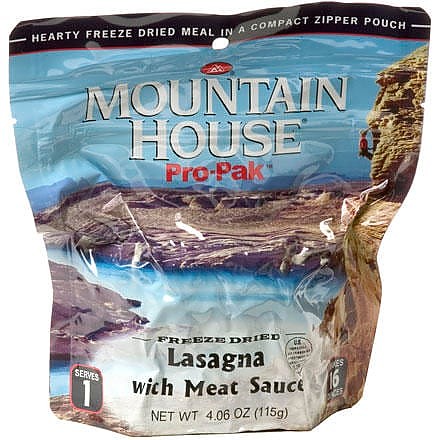 This Mountain House Lasagna with Meat Sauce is one of the better tasting freeze-dried meals I've had.
Pros
great tasting
lightweight, easy to pack
easy, no fuss preparation
30-year shelf life
Cons
does not look at all like true lasagna
Over the years I've tried many freeze dried backpacking meals, and most have been mediocre in taste and texture, but this Mountain House Lasagna with Meat Sauce is definitely one of the best tasting ones I've had.
These freeze-dried meals make a great dinner after a day of hiking. They are small and lightweight, so I am always able to carry a "spare" in case of unforeseen delays while out on our backcountry trips. I especially enjoy these hot meals while out hiking on a winter day..they warm me up and fill me up. 
I've put together a short video review:
Mountain House Lasagna - Hot Meal on a Cold Day - YouTube
Experience
Have used various brands of freeze-dried meals over the years.
Source: bought it new
Price Paid: $13 CDN

My favorite MH entree.
Pros
Taste
Lightweight
Ease of preparation
I prefer Pro-Pak versions of Mtn House entrees. The portions are just right, and the vacuum packed approach takes up less space in the pack when up high.
Otherwise, the content and taste is the same as the regular, 2-person, non-vacuum packed sizes. Boil the water, add and let sit a bit, then eat right out of the pouch, means high efficiency and zero cleanup. After use, pouches form nice closable small garbage bags for packing out.
Lasagne has a nice tomato spiciness with chunks of meat, and a cheesiness that sticks to the eating utensil.
All-in-all, it has a nice taste, is the right portion for one, and is easy to prepare and clean up after.
Source: bought it new
Price Paid: about $6

One of the most hyped and least flavorful meals from Mountain House, lacking the signature and bold Italian herbs and seasonings that set that style of cuisine apart. If Chef Boyardee could be dehydrated and put in a bag instead of a can, it probably would taste much the same as this dish. The only thing it has on the Chef? Cheese. Trouble is, it sticks so much to your utensil it winds up being more of a headache than a garnish. Not good, not bad, and still edible, it got the job done. Sorry, folks, but this one just wasn't for me.
Pros
Equal amount of pasta, meat, cheese, and sauce
1 bag is more than enough for one hungry dude (or dude-ette)
First freeze-dried meal approved by Jim Davis' Garfield the Cat
Cons
Removing this cheese from your spoon is like removing an oil spill from a duck — good luck!
Noodles small, nondescript, and on the soggy side of "al dente"
Meat — if modeled after Italian sausage — is completely devoid of seasoning
Sauce is overly sweet and smooth — could be chunkier and spicier
Needs a wider variety and range of textures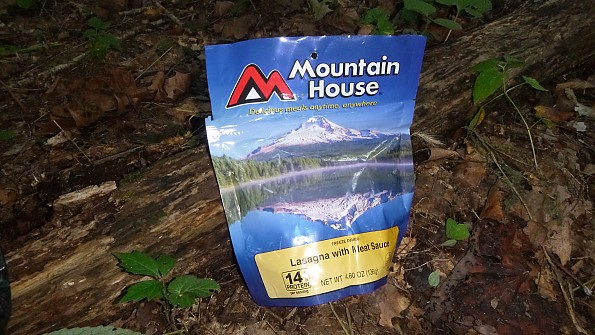 For me, there're some high standards when it comes to lasagna: my mother makes the best I've ever eaten (homemade or restaurant-made), and my girlfriend comes from an Italian family that's skilled in the kitchen. You could say MH had the odds stacked against them even before I plunged my spoon into the freezer bag, but I gave this meal the same honest chance I'd give to another.
I hate, hate, HATE not liking a meal — trust me, because neither does my stomach — but this one just wasn't the delicious Italian classic-in-a-bag I was expecting.
USE
Let it be said, too, that this was my dinner on night #2 of a three-day section hike of Shawnee National Forest. The second day's hike was, literally, twice as long as the first: 16 miles. Atop that, I was hiking twice the original distance still sore from the first day. After hiking well past my happy place and making camp, I was counting on a bang-up meal to ease my pain and warm me up - temperatures that night were forecasted to dip into the 40's. Breakfast and lunch (and snacks, too) were all definitely eaten on the day this meal was consumed. This meal didn't quite live up to the hype, nor did it meet my expectations.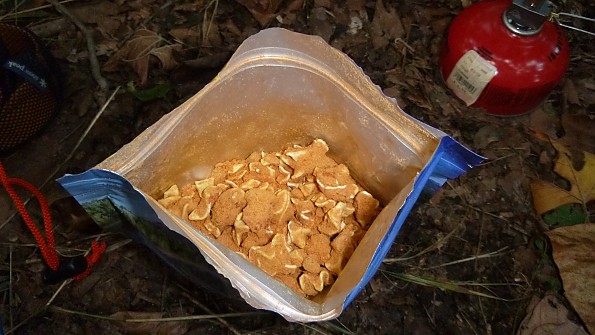 THE GREAT LASAGNA CRISIS OF 2013
Ironically, I wasn't the only guy on this trip who'd lasagna on his menu.
G00SE had a package of Backpacker's Pantry lasagna on his first night, and on the second night, both pillowthread and myself had Mountain House's lasagna for dinner.
What else did we share in common? Being completely underwhelmed by our meals.
Don't worry - we did far more than eat lasagna, and whine about eating lasagna.
PURCHASING TIPS
Vince made a smart move: he bought his from Wal-Mart.
I bought mine from Sports Authority (only shop near home that sells it), and I paid several dollars more. When it comes to the more popular MH meals, you're better off going to the big-box store than the specialty shop. 
INGREDIENTS
It has all the basic and correct components: noodles, meat, cheese, and sauce.
It's not bad, not good, but really just good enough.
INGREDIENTS, PER THE PACKAGE
Tomatoes (tomatoes, tomato juice, salt, citric acid, calcium chloride), tomato paste, enriched macaroni product (durum semolina, niacin, ferrous sulfate, thiamine mononitrate, riboflavin, folic acid), cooked beef, (beef, flavoring, salt), dehydrated onions, modified corn starch, sugar, salt, spices, garlic powder, and dehydrated parsley flakes. cheese blend: mozzarella cheese [cultured milk, salt, enzymes], calcium caseinate, corn oil, partially hydrogenated soybean oil, sodium caseinate, salt, glucono-delta-lactone, maltodextrin, sodium aluminum phosphate, butter [cream], natural and artificial flavors), and dehydrated parmesan and romano (made from cow's milk) cheeses (part-skim milk, cheese culture, salt, enzymes). Allergens: wheat, milk, soy and sulfites.
NUTRITION FACTS
Being a pasta dish, it almost goes without saying - but this one isn't Gluten-free, folks.
Serving Size: 1 Cup
Servings Per Container: 2.5
Calories Per Serving: 240
Calories From Fat: 80
Total Fat: 8g
Saturated Fat: 3.5g
Trans Fat: 0g
Cholesterol: 30mg
Sodium: 300mg
Carbohydrates: 28g
Potassium: 300mg
Dietary Fiber: 2g
Sugars: 6g
Protein: 14g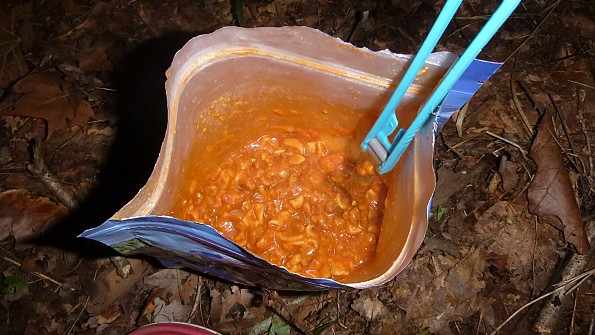 PREP
Stupid simple. By now I could prep one of these meals blindfolded with a hand tied behind my back. 
Since one of my problems with this dish was a thin sauce and soggy noodles, I actually wouldn't give my normal advice and would caution you against letting this rehydrate longer than the recommended time of 8-9 minutes. 
I would stand by my other regular tip, and suggest you under-pour the recommended 2 cups of water with the hope it'll make for firmer noodles and a thicker, chunkier sauce.
PACKAGING
Like a Ziploc bag.
Pre-filled with food.
Just add water.
You know how I feel about these things — they double as trash bags, hold heat in well, and stand up straighter than other FD meal bags. 
NOODLES
Small and on the soggier side of "al dente."
I know they're not going to shove half a pan full of lasagna in a bag and expect it to rehydrate properly. But these noodles err on the size of a larger linguine, when they could afford to be the size of a wide, ribbon-like egg noodle.
SAUCE
Strangely sweet and reminiscent of something in a Chef Boyardee can. It's not spicy, not tangy, and more plain than anything. There's no tomato-tinged acidity I'd expect in my lasagna, nor is there any chunky tomato texture to it. It's as smooth as a fresh-blended juice. 
MEAT (BEEF)
Serviceable and without much flavor or seasoning. A hint of oregano, or something like a little fennel seed would be an incredible touch, and go a long way. Small flavors like that are what make Italian food just that. MH got the big picture, but completely missed the small details.
CHEESE
And the cheese.
Oh, the cheese.
Ugh, the cheese.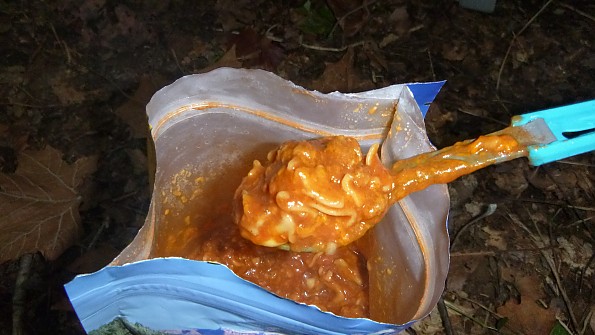 Yes, it's real, and yes, it's stringy.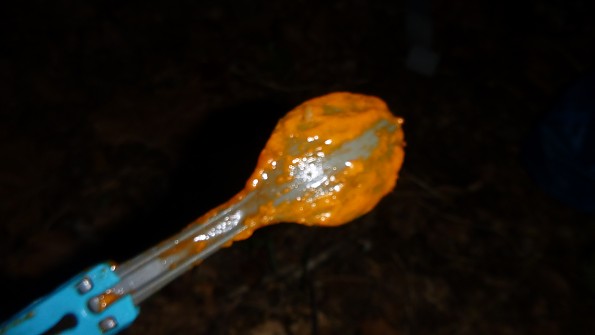 But it sticks like glue to a plastic spoon. I had to scrape the spoon off against my teeth after every bite, otherwise, I was going to make dishwashing more and more difficult with each successive bite. This is my single biggest problem with this dish. Vince (pillowthread) was "enjoying" a package of MH lasagna at the same time I was, and we couldn't help but keep grimacing at another about the cheese.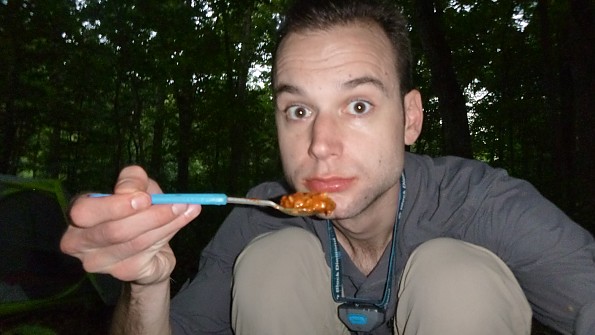 Second to that, it could use heartier noodles that're larger, a sauce with more complexity and less sweetness, and some robust Italian seasoning in the meat.
TASTE AND FLAVOR
There are no noticeable flecks of herbs or seasoning, and the dish as a whole suffers from a mediocre, homogenized flavor. Sure, I could pack in herbs and spices, but this would defeat the ease of preparation and simplicity of a freeze-dried meal. If MH threw in a packet of seasoning I could mix in, hey, problem solved.
BEST FOR
Garfield the Cat.
Your favorite house pet.
Anyone but me. Please, God, anyone but me.
3.5 stars - while not [in my own opinion] good, and while not bad, it still was edible, and still did fill me up.
It got the job done.
Source: bought it new
Price Paid: $8.99

This is my new favorite backpacking dinner. I used to swear by Chili Mac but after having this super cheesy meal I am in love. I am a cheese lover and this thing has real cheese and lots of it! It's so delicious, what else can I say.
Highly recommended for cheese lovers. The best way to clean your cheesy spork is with your mouth. If you eat it out of a container the best way to clean that is with your spork and then eat the cheese!
Price Paid: $6

Lightweight if you don't add in the water needed to (mostly) rehydrate it. Flavor is bland and nothing like I would make at home.
Pros
Easy
Compact
Available
Enough to fill you
Cons
Flavor is bland
Texture is unappetizing
Expensive vs DIY
High in sodium
It is one of the better (least bad) MH meals I've eaten. On the trail after several hours of hiking, even Mountain House is edible. Just don't expect it to be anything like what an average cook would make at home.
In general, MH and other freeze-dried pouch meals are from OK to bad. Meals you put together from grocery store products may weigh a little more but they are cheaper and can be much better tasting. Example: Annie Chun's with an added chicken pouch and peanut butter. Throw in some green onions and frozen peas. Yum!  Cost is less than $6. About 800 calories.
Experience
Been backpacking since the 1970s. (Yes, I am an Old Guy.) I have tried four different brands of freeze-dried meals. MH dinners are generally the worst tasting and least pleasing textue. Bushka's Kitchen meals are the best so far. If I want to go as light as possible, I'll take a commercial product. Saves me a few ounces per dinner.
Source: bought it new
Price Paid: $12

Easy to make and a very tasty option for long hikes and backpacking trips. It is great because it saves room and weight in your pack.
Pros
Easy to make
Lightweight
No messy cleanup
This is a great option for long backpacking trips or even quick camping trips. I got several different entrees of Mountain House meals to test in exchange for a review as a member of another website. It was easy to make and tasted great. I like the Pro-Pak versions. They seem a little light and take up less space.
I tried this meal out at a campground in Michigan at Ludington State Park. It is a lot of food. Even after a long day of hiking the two servings were too much for me to finish. Feel free to share with a fellow hiker.
It is also great because there is little to no cleanup. Zip up the bag and throw it back in your pack to take out.
Disclosure: The reviewer received a sample of this product from the brand or its representatives in exchange for a review.
Source: tested or reviewed it for the manufacturer (I received a sample of this product from the brand or its representatives in exchange for a review.)

The perfect meal to store for an unforeseen extra day on the trail.
Pros
Vacuumed packed
Small size
I always carry one breakfast and one entree for each day on the trail. The breakfast is usually a Granola and Milk. The entree always a pouch (Chili Mac, Beef Stroganoff, etc). If I have a long day of hiking  I might have a vegetable pasta entree for breakfast. Lunch is usually snacks on the move (jerky, candy, cereal bars, Clif bars, etc).
I like to carry a Pro-Pak as insurance in case I have to spend an extra night on the trail. This meal is perfect; at a little more than 4 ounces it is very light, and since it is vacuum packed, it packs very small. It folds in half to store at about the size of a large apple.
Source: bought it new
Price Paid: $6

This is a staple. I never go out without 1 of these. A very good gut filler with a reputation stretching back years.
It's hard to knock this product. In the same class as Gore-Tex in my opinion. Not as good as homemade of course, but look where you are. The pro packs are really cool.
Prep time is about average for this kinda fare. No surprises, either during or after the meal.
All this being said, this, and meal of the like are way over loaded with sodium. I wish they'd fix that.
Yeah, I'll buy this again...and again... :-)
Source: bought it new
Price Paid: $6 or $7 I think

Took this meal out while hiking the AT. It was the best meal I've ever had while out and about.
Pros: delicious. easy to cook. will feed two with no problem.very little water needed to rehydrate. light weight. easy to pack.
Cons: rehydration time is off, you'll need to let stand for twenty minutes to get complete hydration without any crunchy pasta bits. Cheese will clump on your eating utensil. Other hikers will hate you because you'll be complaining about all the cheese on your eating utensil.
Bottom line: I wish I had brought more of these on the trip, they are absolutely the best trail food money can buy. BTW they are not as expensive as some proclaim. Found mine at Walmart for ($6). Enjoy!
Price Paid: $6

You don't get much better when it comes to rehydrated meals.
As with most of these meals, avoid overwatering and stir just enough to mix in all the dry contents that hide in the corners.
Nice hearty portions (bag for 2 does).
Decent tomato flavor, good noodle flavor and LOTS of cheese. It's no Olive Garden, but I've yet to have a fellow hike say anything other than compliments/appreciation for this meal at the end of a long day of hiking.
Clean up can be a bit challenging because of all the cheese, but it's worth it.
Price Paid: $7.50

The good: Had this on a canoe trip. It looked and smelled pretty good.
The weather is still fairly cold (below freezing) at nights. Boiled some hot water and let it sit in the bag for 10 minutes. It provided a tasty hot meal on a cold night and one bag can decently feed 3 "Americans" if you add a little extra water, but, of course, it will be more like soup.
Didn't have any heartburn or ill effects after eating it. Not a lot of meat inside but not a skimpy amount either. Easy to follow instruction and you can eat right out of the bag.
This lasagna has REAL cheese in it. After I put the hot water in, there was actually stringy cheese in it. Not at all what I expected.
The bad: The downside is the price. All freeze-dried meals seem to maintain a pricey nature, so if you don't have very much spare change rattling around then you're better off with something like canned soup. But for you hiking/camping/biking fanatics with plenty of money to spare, these meals are exactly what I would recommend. As with all Mountain House products the packaging could be more compact.
The ugly: It was considerably more acidic tasting than I expected. I personally didn't really enjoy it, but I admit that it's not much worse than the frozen stuff you can pick up in a grocery store, aside from the texture (which still wasn't horrible).
Price Paid: around $8 and tax

Good stuff. The melty-cheese factor - pivotal for lasagna - actually gummed up my spork. The squiggled lasagna pasta edges were as discernable as its diced tomato.
Sauce was more sweet than savory, without being too acrid. The meat part spoke more of sausage than of ground beef, which was cool.
Don't over-stir or add too much water, otherwise this self-respecting lasagna turns into red baby food mush.
Price Paid: $5.99

Decent for a dehydrated meal. Do not put too much water in it.
Price Paid: $5

Your Review
Where to Buy
Help support this site by making your next gear purchase through one of the links above. Click a link, buy what you need, and the seller will contribute a portion of the purchase price to support Trailspace's independent gear reviews.
You May Like
Specs
Price
MSRP: $10.25
Current Retail: $10.95-$58.85
Historic Range: $5.15-$58.85
Reviewers Paid: $5.00-$120.00

Recently on Trailspace