Mountain House Beef Stroganoff with Noodles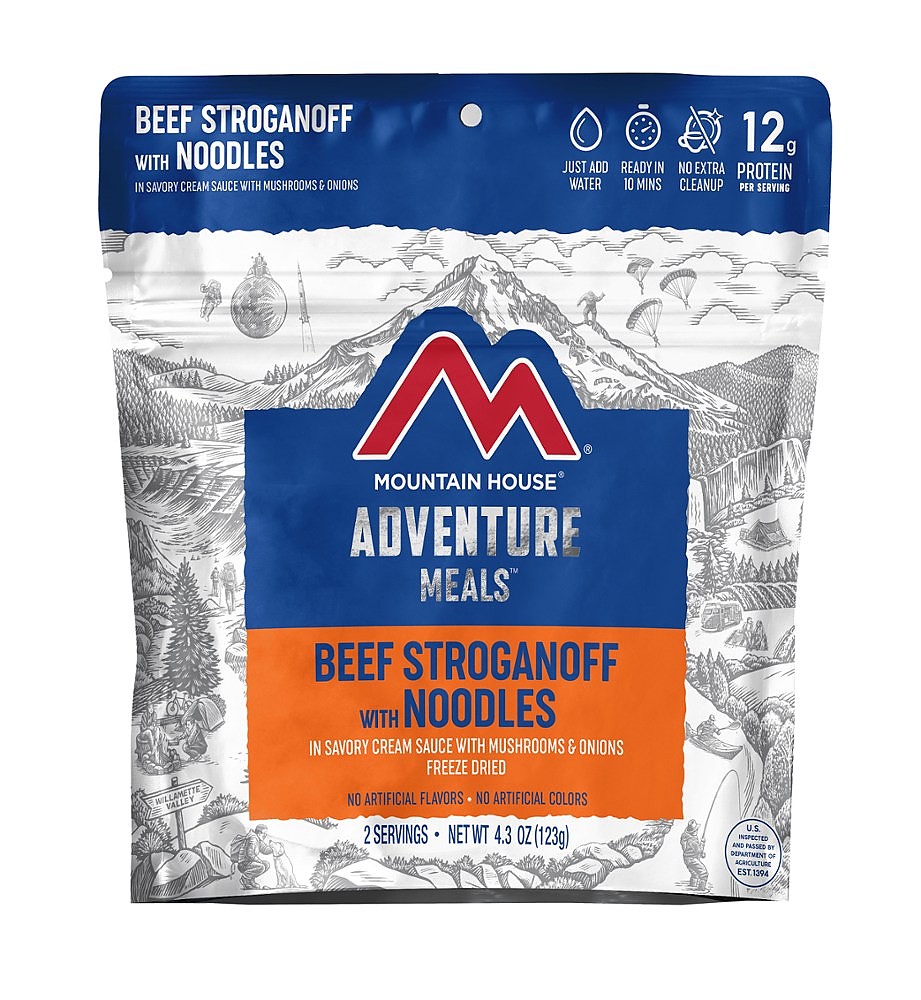 Excellent flavor and texture from a freeze dried meal. The price point is a bit heavy considering I might be able to take a spur trail to the nearest restaurant and buy a fully cooked meal from a wait staff for the same price.

Pros
Flavor
Weight
Texture
Volume of finished meal
Cooking bag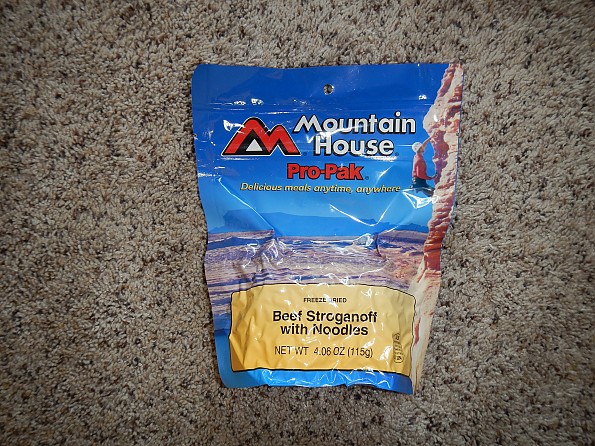 Taste: Tastes really good. The sauce is creamy and smooth. The meat reconstitutes well enough. The noodles are soft but not lumpy. Some might find it a bit heavy on sodium, but I like my food salty.
Prep: Just add boiling water and wait about 5 to 7 min. Easy enough. Creates a good consistency throughout
Satiety: 2 servings per packet and really, it does make 2 servings. Two people could have a sensible meal from one packet. If you are a big eater, you might want to test one out before you go on a trip to see if it matches your volume preference. If I was famished after 15 miles in the backcountry, I could hammer down the packet solo.
Energy: 260 calories per serving, 11g fat, 29 carb, and 11g protein make it a pretty good filler
Claims: Yes it fills you. I felt grossly full until I got on my feet and started working off that fat and high calorie intake that I'm not used to in my daily routine. It kept me going for quite a while.
Packaging: Nice. After it's done, you can re-use the packaging for other meals or zip it shut and pack it out. I usually carry in one MH meal and use that meal first. I then recycle the bag for heating up bulk meals that I've packed in zip locks. These meals are about 1/4 the cost of the MH meal.
Best for: Backpackers and thru hikers. You might consider paying less for alternative products if a small weight difference is not a big issue. 
The pics below compare the amount of "just add water" fast food you can purchase at the local grocery store compared to 10 sachets of MH meals ($75). The big swath of items were not bought on sale. They were retail.
I am not trying to attack MH. I love most every one of them I've ever eaten. I think they are slightly better than the Knorr or Pasta Roni in flavor and texture. You'd also be supporting a company other than Con-Agra or Kraft. I'm just showing a comparison to back up my comment on price.
Note: the weight differences are small (within 1-2 oz). There are a couple of meals where you need to add 2 oz. of protein or tuna (optional) so it makes the weight go up by 2 oz. Most however, are just add water. Nutrient content and calories vary but are not that far from each other. They are all 2 servings for the most part with exception of potatoes and ramen (1 serving ea.).
(UPDATE 9/2/2015)
Just came back from a week in the Wind River Range. I packed in a bunch of the cheaper stuff (see pic below) and two Mountain House meals (including beef stroganoff).
The Mountain House meals were such a welcome break from the inferior substitutes. They just taste better, are much easier to prepare, take less cooking time and therefore less fuel to pack in. In conclusion: If you can afford them, they really are a cut above the lower cost-cost alternatives. I stand corrected.
Source: received it as a sample, freebie, or prize (Trailspace!)

I love the taste, but the ingredient list is as long as my...arm.
Pros
Good flavor
Good mix of protein, fat, carbs
Super easy to make
Very little cleanup
Light weight
Easily available
Cons
Hydrolyzed protein?
Guar gum?
I prefer foods with less complex ingredients
Expensive
When I'm hungry they don't fill me up.
"What are ya doin' for lunch?"
"Stroganoff."
"Yuck dude, that's gross!"
"Not funny."
I don't often eat Mountain House (MH) foods because I find them to be too expensive compared to things I can make myself or buy off the grocery store shelves. Saying that, I occasionally eat this stuff on the trail when I want something VERY LIGHT and something that makes NO DIRTY DISHES. This simplicity comes with a price but when I need to simplify my cooking (no dishes) with as little weight as possible, I bite the bullet and bring Mountain House meals along. 
I hate doing dishes, I'm lazy. Eating the reconstituted meal straight from the pouch makes me happy. Sometimes I am also in a place where doing dishes is difficult where washing water is scarce so it can even be a necessity, at least that's what I tell myself.
The pouch these meals come in are extremely tough. I have been eating these meals occasionally for about ten years and I have never punctured one accidentally. When I am done eating the pouch makes a good garbage bag and seals to keep the stink inside. 
One of my issues with these meals is that the ingredient list is long, complex and may contain things that aren't especially good for me. Protein that has be hydrolyzed: digested in acid, makes me worry about how healthy this stuff is. Of course I eat glow in the dark mac n' cheese and gummi bears on the trail too so maybe I'm just picking on MH unfairly. 
The other issue is cost. I can buy a LOT more food for the price of one MH meal but it won't be as light or easy to prepare so I guess convenience has a cost.
One more thing I DO like about MH as a company is that they are headquartered here in the Pacific NW, in Albany OR. I like local when I can get it.
Taste:
I almost forgot this important category.  I love stroganoff anyway and I am not a picky eater so take this with a grain of salt, but I really like the taste of these things. I wish they were about 1.5x the size they currently are though because I get HUNGRY when I hike or climb. SERIOUSLY hungry. The idea that this pouch is 2 servings is laughable for me. In the field I could easily eat two, but I don't because that would equal the price of a dinner at a decent restaurant. I'm lazy and cheap.
I keep one or two of these meals in my desk at work and when I am starving and have no cash for a lunch off-site. This occurred the other day. Here are some of the pictures:
I can even find these at that great outdoor gear supplier: WalMart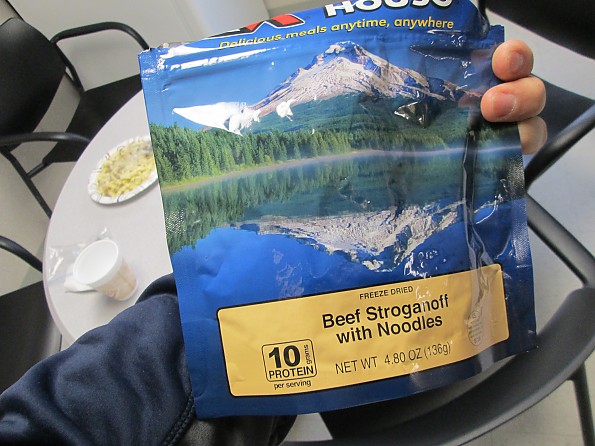 It looks almost like real food. The sauce falls to the bottom so stir it up well before eating.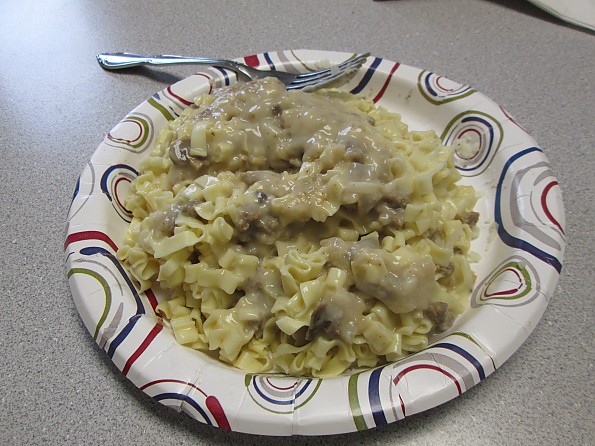 Any stroganoff near my mouth doesn't stand a chance.

Conclusion:
If you need energy, fat and protein in a light package that cooks easily with little cleanup AND you have the coin to splurge for this stuff, go for it! Not all of their meals are as yummy as this one though, so try them before you go someplace so you won't get stuck eating something you hate. 
Source: bought it new
Price Paid: $5.95

Lightweight, tasty, good texture, filling, rehydrates well.
Pros
Taste – Excellent
Good texture
Lightweight
Cons
Salt to taste
Propak version would be nice.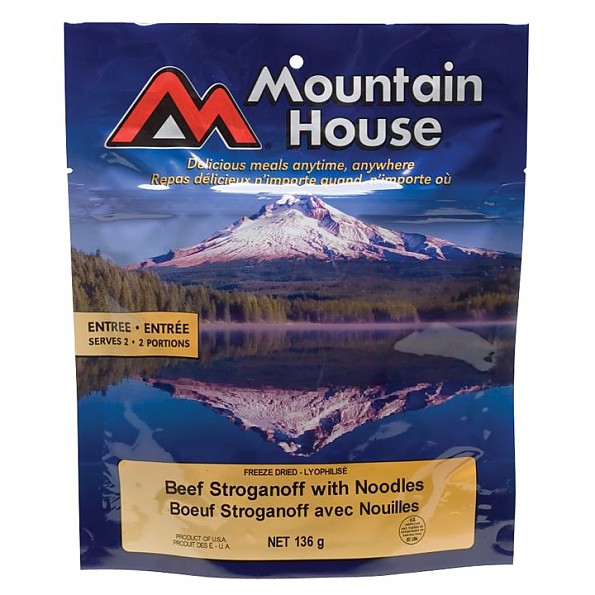 Excellent taste, good texture, filling. Lightweight and packs well. Boil-in-a-bag means no simmering, so all the dehydrated meals save on fuel. Especially on a long trip, that can be a major benefit. Excellent for backpacking, and I would even bring this one along for a campground overnighter. 
Love those Mountain House cooking times. Unlike other brands, they all seem to run to 8-9 minutes, and they never seem to overcook. I usually wrap a towel around the package to hold the heat in, but I've never had a problem with this one being fully cooked. The Beef Stroganoff is simple to prepare - just add boiling water and wait - and the result is good texture and great flavour. Ground beef seems to rehydrate fairly well, and the noodles and sour cream sauce provide something that sticks to your ribs. 
I cooked these up at 2 servings per package, and with a bun to soak up the leftover sauce, that seemed just about right. I would suggest using a bit less water than recommended (1 3/4 vs. 2 cups per pkg) but a bit of extra sauce doesn't hurt. I prefer the lower-profile bags that Mountain House uses - easier to get down into the corners than the taller Backpackers Pantry bags. 
Mountain House Beef Stroganoff is an excellent base for a complete backpacking meal. It offers 320 calories per serving at 2 servings per package, although after a long day of hiking you might want to eat one all by yourself. It's certainly tasty enough. 
Source: bought it new
Price Paid: 7.50

I admit to having limited experience with backpacking type foods, but I purchased this product and one of a different brand and was amazed at the difference in the two. Mountain House (MH) was by far a better product in both taste and appearance.

This product would easily be a satisfying meal on the trail or in the bunker and I would recommend MH as the go to for anyone who loves Beef Stroganoff.
Pros
Ease of prep
Flavor
Shelf life
Real meat
Cons
It's an instant meal. Never as good as fresh.
Big eaters be advised. This was not enough, 2 if 1 is me
I purchased this product and one of a different brand and was amazed at the difference in the two. The Mountain House (MH) brand had by far better flavor and was lower in sodium to boot, but higher in iron and other vitamins you find in REAL MEAT. Even the appearance of MH's beef stroganoff was superior with larger noodles and what I felt was a more appetizing color, or it could have been the big chunks of meat and pieces of mushroom.
Prep was very easy. Boil your H2O. Pour it in the bag and in a few minutes enjoy. Put your bag in your trash receptacle, give your spoon another lick, and boom your done.
The MH meal was listed as being for two. Not if one is a big eater like me. The meal for two was just the right size for one big eater.
This product would easily be a satisfying meal on the trail or in an emergency preparedness kit and I would recommend MH as the go to for anyone who loves Beef Stroganoff.
Source: bought it new
Price Paid: $7-ish

What can I say. How many of you have had Hamburger Helpers Beef Stroganoff? Well I think this is actually better. I was wanting/needing to try out a dehydrated and pre-packaged food so I went to the local outdoor store and saw this. I knew that I liked beef stroganoff so I thought I would give it a try.
For just boiling and adding water and waiting a few minutes this stuff is pretty tasty! Just add a little black pepper [for me at least] for flavor and enjoy. I would say that if you want pre-packaged foods for your trips, this is a no-brainer!
D
Price Paid: $7.99

Tasty. My go-to backpacking entree.
Pros
Good flavor
Easy to prepare
Cons
Alone, not a two-person dinner
I brought this on a New Years two-day backpacking trip to Harriman State Park in New York. I arrived at my site late afternoon. I boiled water, poured it into the pouch, sealed it, and due to the early winter sunset time, I let it sit as I set up camp and gathered firewood.
I got back to the meal after letting it re-hydrate for about a half hour (the temperature was about 40 degrees), and the food melted in my mouth. It was thoroughly delicious.
I always add 5-15 minutes of re-hydration time in cool or cold weather.
For backpacking, I think you need one pouch per person. If backpacking as a couple, an entree like this, a side like MH's Fire Roasted Vegetables, and a dessert like Backpackers Pantry Mocha Mousse Pie will do. 
Poke a hole near top of pouch with pin to remove air, and cover the hole with scotch tape for easier transport.
To save on these meals, buy in advance on a site like Campmor (which discounts 10% on orders of 20 plus food items). While 20 entrees alone will be expensive, sides and desserts are available at around $3.50 or so. Also, a lot of their entrees cost about $6.
Source: bought it new
Price Paid: $6

I like the large servings, the ease of preparation, and low weight. I do not like the sodium levels that are off the charts, and the bland taste. I can always add cajun seasoning to spice it up but the high sodium bothers me.
Price Paid: $6

This stuff rocks!! It's by far the best MH product I've ever had. I look forward to eating 2 servings of this at the end of a long day!! 10 in my book!
Price Paid: $5.50

This meal tastes great! Just the right amount of seasoning, and the meat/noodles taste like high-end chow.
Price Paid: $7

Beef stroganoff is one of the old stand-bys in the world of backpacking food. Generally at least tolerable, it's been around in some freeze-dried form or another for more than 35 years. (That's how long it's been since I first had it.)
Mountain House's Pro-Pack version of the dish is of the "cook in the pouch" variety--just add hot water, seal, let it sit the prescribed time, and eat from the pouch. Very convenient, little-to-no cleanup.
The flavor and texture of the meal is passably decent, though nothing to write home about. The bits of beef were rather chewy (something perhaps to be ameliorated by a bit longer "cooking time"), and the noodles, small and curly, were firm enough without also being tooth-testers. The food volume was about right for one person's entree. (This the opinion of a 75-kg male.) Packed volume is as small as can reasonably be expected.
Other Pro-Pack meals by MH seem to be as good or better, BTW.
Price Paid: $6

A classic staple of any campfire.
If you have been camping, you have probably had MH foods and of those foods, I have seen the Beef Stroganoff consumed the most by me and my campmates. It is tasty, quick and easy to prepare. The MH bag can hold the water/contents pretty well with no leakage.
The only bad thing about MH and this product is the amount of sodium, it is a LOT. Apparently MH is making lower sodium products and I have found other non-MH products with lower sodium, so just be prepared for some great tasting food that isn't necessarily good for ya. 
Source: bought it new

My absolute favorite meal!
Pros
Tastes great
Lightweight
Easy to prepare
This is my absolute favorite Mountain House dinner meal. After a long day out hiking in the mountains I couldn't wait to get back to camp and start boiling water for my beef stroganoff.
For the most part, every Mountain House meal I had on my trip was great, especially if you use slightly less water than the directions say. I did steer clear of any meal that included rice, since I have had many friends tell me the rice never gets quite cooked.
Happy Camping!
Source: bought it new

Excellent backcountry meal!
My favorite of the Mountain House variety. Have sampled 4-5 different offerings, this being the overwhelming favorite.
Honestly, it's really good. Part of that is that I could eat anything after a day of hiking, but the flavor is nice. From reading forums over the years, I'm not alone in declaring this one of the better dehydrated, readily available options.
I don't have the time or talents to prepare a fancy meal, so I lean on these for sustenance. Never been disappointed (except maybe wanting more!).
Source: bought it new
Price Paid: $9

These freeze-dried meals are the best of their kind that I have EVER tasted. They are lightweight to transport, made from quality ingredients and easy to make. We just had to boil the water needed, pour it into the bag and wait for a few minutes. The beef stroganoff tasted great; I would just make sure that you bring the water filter needed to have the water for the food.
Editor's Note: The reviewer represents an online retailer that carries this product and brand.
Price Paid: $6

Your Review
Where to Buy
Help support this site by making your next gear purchase through one of the links above. Click a link, buy what you need, and the seller will contribute a portion of the purchase price to support Trailspace's independent gear reviews.
You May Like
Specs
Price
MSRP: $6.99
Current Retail: $8.99-$11.99
Historic Range: $5.29-$38.40
Reviewers Paid: $5.50-$9.00

Weight
0.49 lb

Servings
2.5

Serving Size
1 cup

Recently on Trailspace