Outdoor Products
Ultimate Dry Sacks
Reviews
These are not dry sacks in the traditional sense,…
Rating:


Source: bought it new
Price Paid: $11.95

Summary
These are not dry sacks in the traditional sense, but they are an economical alternative when less protection will do. Not intended for submersion and labeled as merely weatherproof they make no claim to being dry sacks other than their name. Great for organizing and protecting gear inside a pack.
Pros
Cheap!!!
Durable construction
Taped seams
Actually pretty waterproof
Cons
Using "Dry Sack" in the product name is misleading
This three pack of Chinese made roll top sacks caught my eye at a local shop due to the price. I wasn't looking for bags at the time, but grabbed them simply because they cost so little and I was sure I could come up with a use for them later. So far I have found a use for the large and small bags, but I'm sure I or one of the girls will put the other to use soon enough.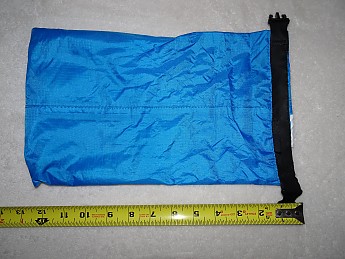 The smallest of the three is listed as holding 71oz/2.1l in a sack measuring roughly 12.5x7.5 inches. It comes in at 0.8oz/22g on my scale. I've been using this bag to carry personal smellables such as bug dope, hand sanitizer, sunscreen as well as emergency backup TP.
With the top rolled up this bag has been riding in one of my Aarn Sport Balance Pockets since late last year. It shows no signs of wear despite riding in there with items like headlamp and knife as well as snack bags that get pawed at in a frenzy from time to time.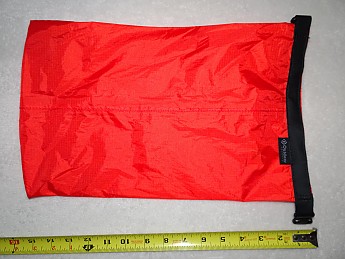 The middle bag is listed at roughly 138.5oz/4.1l and measures about 15x9 inches. It weighs 1.1oz/30g on my scale. While I haven't put it to use I can imagine it being a good size for small clothing items like extra socks and underwear. Suppose it would work well for bagging up a small amount of dirty laundry as well.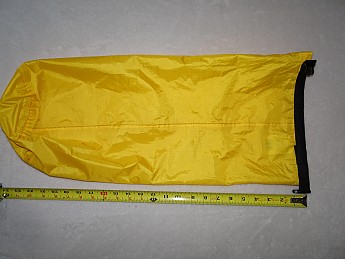 The largest bag shows a volume of about 267oz/7.9l with measurements of 21.6x10.6 listed on the package. It shows up as 1.5oz/42g on the scale. This bag would be too small for most synthetic sleeping bags, but I have found it works great for carrying either of the two down, three-season, quilts I carry along with a NeoAir Xlite and fitted sheet in its stuff sack with an Instaflator stuffed in for good measure. This gets jammed across the bottom of my pack and keeps my sleep system dry, even if some moisture finds its way into my pack during the day.
Construction and Durability: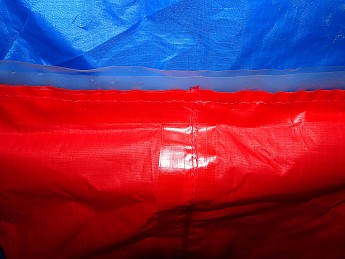 Turned inside out you can get a good look at the double stitched seams and the heavy, waterproof tape that has been applied to them. My first impression was that this tape would not hold up to use, but I have since admitted that was wrong. Both of the bags I've had in the field show no signs of that tape coming loose.
I can't find any specifics on the bag material itself other than it being listed as polyurethane coated. It seems to handle abrasion inside the pack pretty well with some cosmetic discoloration from contact with other bags, but no friction wear is visible.
The roll top is a weak spot in these bags and I find them a bit hard to get closed, especially when trying to compress air out. The buckles used are perfectly functional and easy to attach and release.

There is a disclaimer on the back of the package which says these bags are not intended for full submersion. Of course we all know that unintended submersion happens on occasion so I thought I'd do some under water testing anyway. I packed the middle sized bag with crumpled up paper towels, pressed out most of the air and then clipped it to a 20lb kettlebell before dropping it into a bucket of water.
I immediately noticed that there were a lot of air bubbles coming up from the bag. Checked after 5 minutes I was surprised to find that the paper was still dry. I let the bag sit for 10 more minutes and found some water inside. After another 15 minutes or roughly 30 minutes total submersion time I found the paper was wet and there was additional water inside the bag.
This actually exceeded my expectations but made it clear that these bags are really not dry sacks as most of us would think of the term.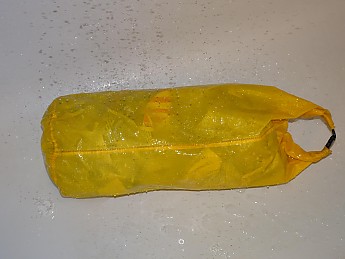 For my next test I hit the showers. After packing the large bag with paper I set it in the tub under a gentle shower stream with the seams facing the spray. After a full 30 minutes of exposure I found that the paper was completely dry and there was no water in the bag. This backed up my experience on trail when a heavy rain resulted in a small amount of water inside my pack. In that case my down quilt and the rest of my sleep system were completely dry when they came out of the bag.
Conclusions:
Once more I'll say that these are not dry sacks as I know the term. They are great if used for organization and light protection, but they are more likely to sink than float downstream if you toss them in a river fully loaded. They look a little like my larger Sea to Summit Dry Bags, but the material is much lighter feeling and I don't get the sense that they'd be good for hanging food.
They are priced right for semi disposable use, which was my intention, but so far they show no signs of wear so I think they will provide plenty of value in return for their purchase price.
The Ultimate Dry Sack is a versatile bag that will…
Rating:


Source: bought it new
Price Paid: $10 for 3

Summary
The Ultimate Dry Sack is a versatile bag that will help to keep your gear protected from the elements. They are very lightweight and roll up very small when not in use. They are a great companion to your backpack, canoe, kayak, or pretty much anything else where your gear may get wet.
Pros
Lightweight
Waterproof
Can clip on to other things
Cons
Only waterproof for a period of time
Hard to get all the air out
I bought these dry sacks from Walmart about 3 years ago and have really enjoyed having them as a part of my gear. They are the popular dry sack design where you roll the top down and close the ends together with a buckle. 
I love the buckle closure because you can easily clip these sack to something else, such as a canoe, and secure your gear. I have tipped over in a canoe before and been very glad that this  sack was clipped onto one of the cross bars of the canoe. 
The only negative that I have with the sacks is that when they are in water for a long period of time, they begin to let a little water in.
Here's an example: Some of my buddies and I went inner-tubing down a creek a couple of summer ago and I stuck my phone and a t-shirt inside one of these sacks and clipped it to the string on my inner tube (because they're "waterproof"). The sack was floating in the water for the entirety of the trip and I noticed when we got done that my t-shirt was damp and there was a little water on my phone (luckily I had a LifeProof case on it). 
For the most part, these sacks will keep your gear dry, even in heavy rainfall or the occasional dunk into the creek. However, if you leave it in water for a long period of time it eventually let water in. 
Another thing to consider is that these are not necessarily the best things to pack gear in to go inside of your backpack. The reason is because it is hard to get all of the air out of them when you are sealing it shut. This results in wasted space in your backpack. 
I would recommend this product to anyone. They are pretty cheap and come in very handy. Especially when canoeing.
Just picked these up for winter backpacking on the…
Rating:


Price Paid: $14.95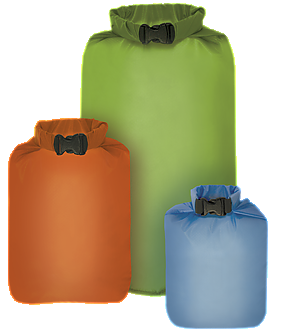 Just picked these up for winter backpacking on the Oregon coast in the winter. As many might know Oregon's coast is all about rain in the winter. I could have used zip lock bags but these are bright and will last longer.
I tested them by turning them inside out and filling them with water. Without pressure applied there was no leaks. With pressure the large bag did leak at the taped seams.
There are 3 sizes of bags 7.75"w x 13"h, 9.5"w x 15.5w" and 6.75"dia x 10.75"w x 22"h. Colors are true to the picture. They use the roll up locking system
I roll up my down sleeping bag in the large one. Extra socks, pants and shirt orange one, and camera, radio, or any other electric gear in the small one. They are light weight. For my needs they fit the bill without spending to much cash.
Where to Buy
sponsored links
Help support this site by making your next gear purchase through one of the links above. Click a link, buy what you need, and the seller will contribute a portion of the purchase price to support Trailspace's independent gear reviews.
Outdoor Products Ultimate Dry Sacks
MSRP:
$16.00

The Outdoor Products Ultimate Dry Sacks is not available from the stores we monitor.
Recently on Trailspace