Outdoor Products
Ultimate Dry Sacks
Reviews
The Ultimate Dry Sack is a versatile bag that will…
Rating:


Source: bought it new
Price Paid: $10 for 3

Summary
The Ultimate Dry Sack is a versatile bag that will help to keep your gear protected from the elements. They are very lightweight and roll up very small when not in use. They are a great companion to your backpack, canoe, kayak, or pretty much anything else where your gear may get wet.
Pros
Lightweight
Waterproof
Can clip on to other things
Cons
Only waterproof for a period of time
Hard to get all the air out
I bought these dry sacks from Walmart about 3 years ago and have really enjoyed having them as a part of my gear. They are the popular dry sack design where you roll the top down and close the ends together with a buckle. 
I love the buckle closure because you can easily clip these sack to something else, such as a canoe, and secure your gear. I have tipped over in a canoe before and been very glad that this  sack was clipped onto one of the cross bars of the canoe. 
The only negative that I have with the sacks is that when they are in water for a long period of time, they begin to let a little water in.
Here's an example: Some of my buddies and I went inner-tubing down a creek a couple of summer ago and I stuck my phone and a t-shirt inside one of these sacks and clipped it to the string on my inner tube (because they're "waterproof"). The sack was floating in the water for the entirety of the trip and I noticed when we got done that my t-shirt was damp and there was a little water on my phone (luckily I had a LifeProof case on it). 
For the most part, these sacks will keep your gear dry, even in heavy rainfall or the occasional dunk into the creek. However, if you leave it in water for a long period of time it eventually let water in. 
Another thing to consider is that these are not necessarily the best things to pack gear in to go inside of your backpack. The reason is because it is hard to get all of the air out of them when you are sealing it shut. This results in wasted space in your backpack. 
I would recommend this product to anyone. They are pretty cheap and come in very handy. Especially when canoeing.
Just picked these up for winter backpacking on the…
Rating:


Price Paid: $14.95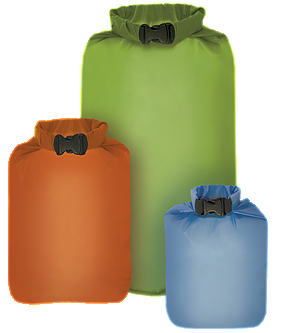 Just picked these up for winter backpacking on the Oregon coast in the winter. As many might know Oregon's coast is all about rain in the winter. I could have used zip lock bags but these are bright and will last longer.
I tested them by turning them inside out and filling them with water. Without pressure applied there was no leaks. With pressure the large bag did leak at the taped seams.
There are 3 sizes of bags 7.75"w x 13"h, 9.5"w x 15.5w" and 6.75"dia x 10.75"w x 22"h. Colors are true to the picture. They use the roll up locking system
I roll up my down sleeping bag in the large one. Extra socks, pants and shirt orange one, and camera, radio, or any other electric gear in the small one. They are light weight. For my needs they fit the bill without spending to much cash.
Outdoor Products Ultimate Dry Sacks
MSRP:
$16.00

The Outdoor Products Ultimate Dry Sacks is not available from the stores we monitor.
If you're looking for a new paddling product, check out the best reviewed current models.
Recently on Trailspace