Six Moon Designs
Gatewood Cape
Reviews
I purchased the Gatewood Cape Poncho-Tarp with the…
Rating:


Price Paid: $255

I purchased the Gatewood Cape Poncho-Tarp with the Serenity Net Tent interior screen-tent with bathtub floor. I love this concept, and in practice Six Moon Designs (SMD) nearly got it perfect. The Poncho-tarp weighs in at 11 ounces and the SNT weighs in at around 7 ounces. Talk about ultralight!

The Gatewood Cape is a poncho-tarp that is cut to be a pyramid-solo-shelter with a zipper in the middle--(where most would want it) and (of course) with the hood at the peak. There is what I call a 5-strap "spider" that clips into the neck-area of the hood with a grommet at the center of the spider for a pole. It is designed to be erected with a single walking stick, or SMD offers a 44-inch carbon-fiber pole sold separately. Worn as a poncho, there are arm-exit-slits exactly where I would want them with Velcro closures, and the tent-zipper is centered under the hood.

The Serenity Net Tent is a bug screen tent with a silicone-coated, nylon bathtub floor that is 20-inches wide at the foot and 24-inches wide at the head of the tent. It is designed to fit under the Gatewood Cape and is also pyramid-shaped with a clip-hook at the peak, and elastic loop-straps at each of the four corners for connecting to the stakes that anchor the tarp.

I used the combo on a couple of extended-weekend trips on the Ice Age Trail in Wisconsin and on the River-to-River trail in Shawnee National Forest in Illinois. I never needed to use it as a poncho on the Ice Age Trail, so only used it as a tent. Pitching a pyramid tarp is tricky--the spacing of the ground-stakes takes a fair amount of guess-work to get the walls equally-taught.
The tent inside without the net-tent feels somewhat roomy for a single-person tent (considering my 5'11" size). I wish the same could be said about the pre-2011 net-tent. The screen-pitch is hard to get taught--my best pitch droops a little. I can sit up straight in the tent, but with the net-screen touching my head which is barely tolerable. I generally only sleep and change clothes in my tent, and like most others I know, change my clothes lying down.
Once I felt caluserphobic because of a poor site-choice. Not being able to move around much in an uncomfortable spot was difficult. Next time I was sure to find a comfortable spot and a good pitch, so as to not feel claustrophobic. Also, the location and size of the door in the net-tent makes getting in and out a bit of a exercise in gymnastics. The size of the screen tent leaves a nice-sized vestibule that is just big enough to fit my backpack.

The Shawnee trip was 45 degrees Fahrenheit and rainy, and on that trip the poncho worked great, keeping me and my backpack dry while hiking. The arm-slits and zipper front gave me venting options with good air flow that helped keep me cool while hiking in the rain. It also kept my backpack dry.

My only other criticism of the Gatewood Cape, is that it does not come seam-sealed. It would be nice if SMD would factory-seam-seal the cape. The Serenity Net-Tent needs a bigger door, and would benefit from a slightly-higher floor, the half-inch or so it comes up, seems a bit miserly. And, the net tent could be redesigned to have more space if the side opposite the door, were matched to the Gatewood Cape's floor-lines. Most of these issues have been addressed in the 2011 version.

I imagine, if your much over 6', you would find it too cramped. I think SMD should offer a variation for larger people. I think if they offered an XL that was around six-inches longer all the way around, it would work well for 6'-6'5," of course with a similarly-sized net-tent.

So, I dinged this tent-combo a half-star mostly because of shortcomings of the net-tent, but only a half-star because I really love the light-weight and overall execution is superb.


Before my trip to Yosemite in early September I contemplated…
Rating:


Design: Tarp/ponch tent
Sleeps: 1
Ease of Setup: very easy, in just a few minutes
Weight: 12oz with seam sealer.
Price Paid: $150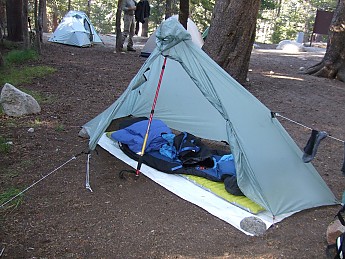 Before my trip to Yosemite in early September I contemplated a rain weather gear choice. I knew it was dry in Sept. but also didn't want to go unprepared and also be burdened with heavy gear I would only carry.
The solution was to find something that could have multiple uses (something many backpackers do to shave ounces). Since I also had to carry a 40oz bear can, I needed to make a trade-off. The tent and rain gear were my choices.
I chose the Six Moons Design Gatewood Cape as this could be my tent, my poncho, and it was light enough that even if I didn't need it I wouldn't mind carrying it. The tarp/poncho tent-like system, weighing about 12ox after seem sealing (never did that before and the company will do it for you for a fee but I didn't have the time to wait) which was less than my tent and poncho by about 2 pounds or better.
I initially set-up the tarp in the yard as a trial run. The color-coded webbing make set-up simple and fast (still not exactly certain how the front guy-line is supposed to go but used my intuition to decide). My advice is to stake the back of the tarp, opposite of the door, then use your hiking pole, then stake the remainder.
I was set-up in about two minutes. This time was pretty much the same on the trail, sans time to find rocks to help support my stakes in the very loose, sandy soil in Yosemite. Tear down was about a minute which I really enjoyed being able to pack-up so quickly in the morning.
The tarp is not for very tall hikers. Those over 6ft might feel cramped in an already tight quarters. I am just under at 5'11" and still it felt tight. You have a decent amount of room on the sides if you stage the hiking stick at an angle, but you will be a little tight on headroom so just watch it when you initially sit up.
The fact that you can stake this down completely to the ground and zip up the fly makes it feel very much like a tent. The hood acts like a great vent system in dry weather.
I did have some condensation when I sealed everything up tight and subsequently either left the hood open, door open, or both. Unfortunately I cannot say how it would hold up to rain but it did well in high winds at 9600 feet; the material is very durable for its weight.
If you are still worried about creepy-crawlies then consider the netting option designed for this tarp/poncho set-up. For me this edged me closer to 'cowboy-camping' and hopefully doing away with a tent altogether, however I might still opt for netting in the wetter summer months.
For the weight, compactness, and simple pitch and tear-down I would give this a 4plus. It is a bit pricey, but I hope the gear will last to be worth it. For multi-use gear it is an excellent choice for longer trips where weight is a factor.
Improvements? Perhaps make it a bit longer, but I know those precious ounces count.
Six Moon Designs Gatewood Cape
reviewers paid:
$150.00 - $255.00

The Six Moon Designs Gatewood Cape is not available from the stores we monitor.
If you're looking for a new tarp/shelter, check out the best reviewed current models.