Six Moon Designs
Gatewood Cape
Reviews
The Gatewood Cape is a versatile and clever piece…
Rating:


Source: bought it used
Price Paid: $85 in great shape

Summary
The Gatewood Cape is a versatile and clever piece of gear that serves multiple functions so saves a lot of weight and packing volume both by using ultralight materials and by reducing your overall gear item count.

It takes the place of some of the larger and heavier items in your pack—your shelter, your rainwear, and your pack cover.
Pros
Multi-use shelter and raingear in one item
Ultra lightweight
Good value for the money
Cons
Small compromises for each function
This is a review of the Gatewood Cape from Six Moon Designs. SMD is a cottage gear company in Oregon that makes ultralight, high quality shelters and backpacks. I am not affiliated with Six Moon Designs in any way.
The Gatewood Cape is a versatile and clever piece of gear that serves multiple functions ("multi-use"), and so saves a lot of weight and packing volume both by using ultralight materials (30D silnylon) and by reducing your overall gear item count.
And it isn't serving multiple purposes to replace smaller ditty items that don't weigh much anyway, but rather it takes the place of some of the larger and heavier items in your pack. Specifically, it serves as your shelter with decent storm coverage, your rainwear, and your pack cover. And it weighs only 12.66 oz seam-sealed on my scale.
But because it is designed to do more than one thing it comes with some compromises, which means it doesn't do any of these jobs as well as individual, single-purpose pieces of gear would. So as a shelter it would merit only about 3.5 stars and as raingear it would merit perhaps 3 stars, by doing both jobs fairly well and allowing you to eliminate at least one entire major piece of gear it would merit something higher than the 5-star scale allows. So taking everything into consideration I give it 4.5 stars.
As a shelter
The Gatewood is a shaped tarp that is supported by one trekking pole or dedicated tent pole. Coverage is about 35 sq feet and center height is 44". It needs 6 stakes and 5 two-foot segments of cord to fully set up (the front guy line is built in as part of the tarp).
Inside there is enough room for someone up to about 5'10" to stretch out. The shelter has tie-outs on the walls above the head and legs to provide the option of a little more room for taller people to stretch out as well.
Unlike shelter mode of most other poncho/tarp combo pieces of gear, the Gatewood has decent storm coverage. The front has a zippered door that can be zipped down like a very low/deep beak, providing coverage against all but the heaviest rain splashing under the front edge. Or, one side or both can be rolled back.
Note that while some people say they can pitch the front down to the ground, in my experience, the experience of most other Gatewood users, and according to the manufacturer themselves, the front does not come all the way to the ground like the sides and rear do, instead it leaves a foot or so clearance and thus is more like an extended beak that still provides pretty good coverage.
The shelter offers decent ventilation by using the cape's hood as a large top vent that you can cinch down from inside to prevent rain from getting in. The pole attaches through a grommet that is suspended in the center of this hood area by an "octopus" of straps that attach around the hood hole.
The Gatewood has a multi-use pocket built in; when set up as a shelter the pocket is on the inside front wall, giving you a place to store things you want handy like eyeglasses and headlamp.
There is room on either side of you when lying down in the shelter to store your pack, shoes, and other items.
For complete coverage I use a 30x80 groundsheet of tyvek and a Sea2Summit nano mosquito net. Pretty much any solo inner designed to attach inside of a mid-shaped tarp should work with the Gatewood, so you can add an inner with a bathtub floor if you want. The Gatewood has a couple of snap-loops on the inside walls, one above the head area and one above the legs, for attaching an inner (and these snap-loops perform double-duty, described later).
Being a shaped tarp, the Gatewood can be a little tricky to get pitched just right, but with some fiddling you learn the subtle balances and tradeoffs to get a good pitch and from then on it's pretty easy. Once pitched the fabric will relax after a while, so you may need to re-tighten.
Overall, as a shelter the Gatewood provides decent coverage, a little tight for taller people but with room to your sides for storage and plenty of headroom to sit up.
As raingear
By design, this piece of gear is a cape rather than a poncho because a poncho has full openings on the sides for the arms to come through, whereas a cape is closed on the sides and provides more protection. The Gatewood has slit openings for your arms to go through (and, these arm holes are designed to not let rain in when in shelter mode).
The cape hangs down to about the knees on someone about 5'10" so provides pretty good coverage. It has a decent hood with a drawstring. The cape is bigger in the back, designed to fit entirely over both you and your backpack, eliminating the need for a pack cover. The double zipper runs down the front of the cape and allows a variety of ventilation options. The pocket of the Gatewood in cape mode is on the inside breast, perfect for keeping maps, snacks, etc.
The snap-loops that are on the inside for connecting an bug inner when in shelter mode also come in handy in cape mode. In order to get the size it has as a shelter, the Gatewood needs panels that are too large for wearing in cape mode, so it would hang down and could trip you or drag on the ground, but these long panels can be pulled up to the snap-loops to hold them up and curtail the length.
The Gatewood does have some shortcomings as raingear. It does not cover your arms from below your elbows on down. For rain that is brief, light, or warm this may not matter much, and for wetter conditions you could supplement with your wind shirt. The body of the cape can be pretty billowy, but it's easy to use some cord around the waist to tame it a bit. And because it covers so well and is made from non-breathable silnylon the ventilation you can achieve with the front zipper is only fair.
Overall, as raingear the Gatewood certainly gets the job done, but it represents a bit more in compromises as rain gear than it does as a shelter. These compromises are fine for trips where you don't expect a lot of rain but potentially could be enough that you can't be without raingear. So if you want to thru-hike the JMT it could be a great choice, but if you want to explore the rainforests of the PNW maybe not.
Packing
To pack up the Gatewood, the pocket now assumes its third role of stuff sack — just stuff the shelter inside the inside-out pocket and zip it up. The pocket is big, so it's easy to get the whole Gatewood pulled up into it with room to spare for your guy lines, disposable poncho, etc. It then can be stuffed pretty much anywhere in your pack, I suggest you carry the Gatewood considering it as your raingear, so near the top of the inside of your pack or in an outer pack pocket.
Other considerations
One potential drawback of using one piece of gear as both your shelter and your raingear is: what do you do when you need both functions at the same time? For example, you get to camp in the rain, how do you set up your shelter without getting soaked yourself? Or, what if you need to pee during the night and it's raining?
The solution is to have other gear that can give you rain coverage in a pinch, for those brief moments that your Gatewood is busy being a shelter. The approach I use is my rain-resistant wind shirt (which I'm carrying anyway) for coverage in drizzle and light rain, and for heavier precipitation I carry a $1 disposable poncho that weighs only 0.38 oz on my scale. Finally, I often carry my LiteFlex umbrella, so then I really do have good coverage without the Gatewood if needed.
Another potential drawback is that I normally leave guy line attached to the tie-outs on my shelter, both to save time and to keep them organized. But, if rain suddenly rolls in I don't want to have to deal with cord hanging off the raingear and dragging in the mud or tripping my feet, and I don't want to have to untie it all as I'm getting soaked. On the other hand, I also don't want to have to untie and re-tie the cord every morning and night just to be prepared for rain each day that may or may not happen.
To address this I leave each length of cord attached to an ultralight mini biner, each one weighing only 0.1 oz. That way I can leave the guy lines attached to the shelter and still quick-release the cord if a rainstorm pops up, for a small weight penalty.
All in, my total weight for all shelter and rain coverage is just over 18 ounces without the bug inner or 21 ounces with it. That includes my shelter, groundsheet, guy line, stakes, rain coverage, pack cover, mini biners, and disposable poncho. I'm not including the trekking pole, the wind shirt or the umbrella because usually I carry these anyway.
Shelter mode – pitched with the door open: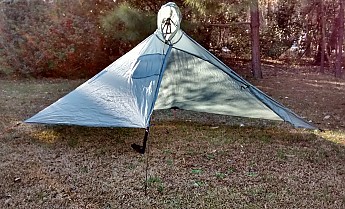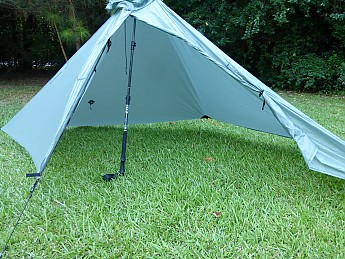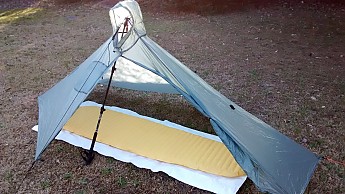 Shelter mode – top vent (which is the hood in poncho mode) can be opened or closed, from inside or outside of the shelter: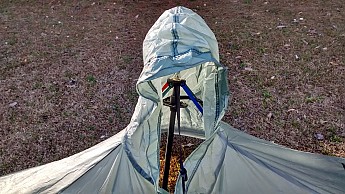 Shelter mode – clever pole support: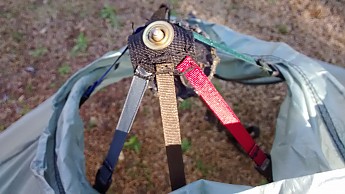 Shelter mode – tie-outs for extra head and/or foot room: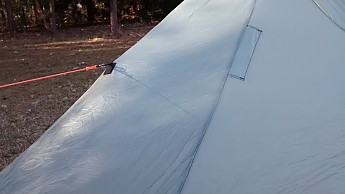 Shelter mode – interior space: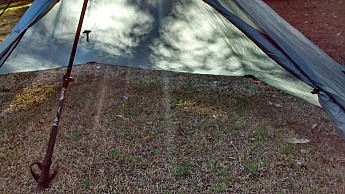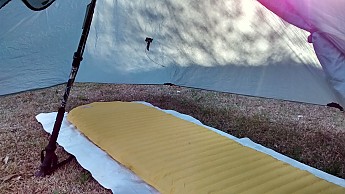 Shelter mode – pocket for eyeglasses and ditty stuff you need in your shelter: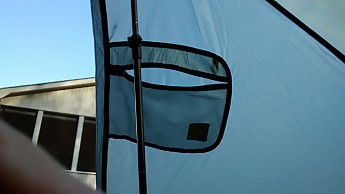 Shelter mode – snap-loops to hold up a bug inner or bivy top tie-out: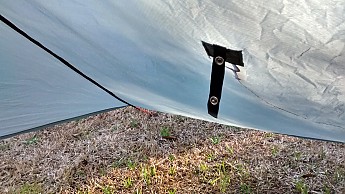 Cape mode. Note that arms are covered below the elbows but not all the way. Also note at the bottom on the sides you can see how the material is being pulled up to the inner snap loops so that the panels don't drag on the ground: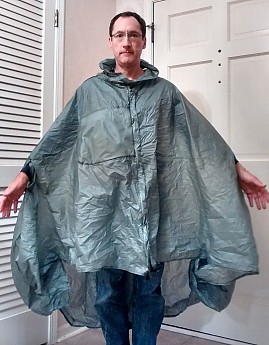 Cape mode – hood cinches down tight and can wrap around a hat brim: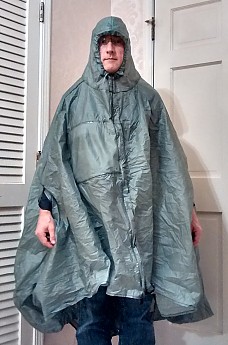 Cape mode – acts as a pack cover: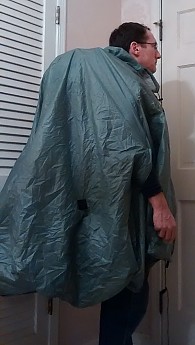 Cape mode – pocket is handy for maps, snacks, etc: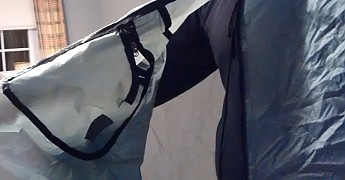 Cape mode – snap-loops hold extra length from dragging: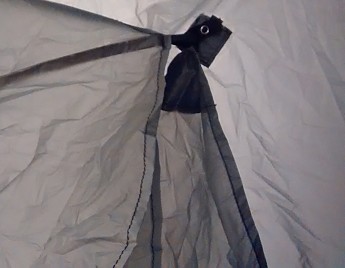 Pocket also acts as a stuff sack (that's a softball not a baseball shown for comparison):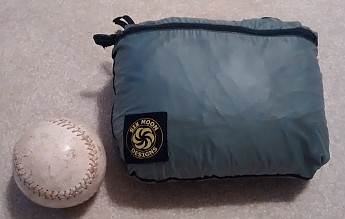 I purchased the Gatewood Cape Poncho-Tarp with the…
Rating:


Price Paid: $255

I purchased the Gatewood Cape Poncho-Tarp with the Serenity Net Tent interior screen-tent with bathtub floor. I love this concept, and in practice Six Moon Designs (SMD) nearly got it perfect. The Poncho-tarp weighs in at 11 ounces and the SNT weighs in at around 7 ounces. Talk about ultralight!

The Gatewood Cape is a poncho-tarp that is cut to be a pyramid-solo-shelter with a zipper in the middle--(where most would want it) and (of course) with the hood at the peak. There is what I call a 5-strap "spider" that clips into the neck-area of the hood with a grommet at the center of the spider for a pole. It is designed to be erected with a single walking stick, or SMD offers a 44-inch carbon-fiber pole sold separately. Worn as a poncho, there are arm-exit-slits exactly where I would want them with Velcro closures, and the tent-zipper is centered under the hood.

The Serenity Net Tent is a bug screen tent with a silicone-coated, nylon bathtub floor that is 20-inches wide at the foot and 24-inches wide at the head of the tent. It is designed to fit under the Gatewood Cape and is also pyramid-shaped with a clip-hook at the peak, and elastic loop-straps at each of the four corners for connecting to the stakes that anchor the tarp.

I used the combo on a couple of extended-weekend trips on the Ice Age Trail in Wisconsin and on the River-to-River trail in Shawnee National Forest in Illinois. I never needed to use it as a poncho on the Ice Age Trail, so only used it as a tent. Pitching a pyramid tarp is tricky--the spacing of the ground-stakes takes a fair amount of guess-work to get the walls equally-taught.
The tent inside without the net-tent feels somewhat roomy for a single-person tent (considering my 5'11" size). I wish the same could be said about the pre-2011 net-tent. The screen-pitch is hard to get taught--my best pitch droops a little. I can sit up straight in the tent, but with the net-screen touching my head which is barely tolerable. I generally only sleep and change clothes in my tent, and like most others I know, change my clothes lying down.
Once I felt caluserphobic because of a poor site-choice. Not being able to move around much in an uncomfortable spot was difficult. Next time I was sure to find a comfortable spot and a good pitch, so as to not feel claustrophobic. Also, the location and size of the door in the net-tent makes getting in and out a bit of a exercise in gymnastics. The size of the screen tent leaves a nice-sized vestibule that is just big enough to fit my backpack.

The Shawnee trip was 45 degrees Fahrenheit and rainy, and on that trip the poncho worked great, keeping me and my backpack dry while hiking. The arm-slits and zipper front gave me venting options with good air flow that helped keep me cool while hiking in the rain. It also kept my backpack dry.

My only other criticism of the Gatewood Cape, is that it does not come seam-sealed. It would be nice if SMD would factory-seam-seal the cape. The Serenity Net-Tent needs a bigger door, and would benefit from a slightly-higher floor, the half-inch or so it comes up, seems a bit miserly. And, the net tent could be redesigned to have more space if the side opposite the door, were matched to the Gatewood Cape's floor-lines. Most of these issues have been addressed in the 2011 version.

I imagine, if your much over 6', you would find it too cramped. I think SMD should offer a variation for larger people. I think if they offered an XL that was around six-inches longer all the way around, it would work well for 6'-6'5," of course with a similarly-sized net-tent.

So, I dinged this tent-combo a half-star mostly because of shortcomings of the net-tent, but only a half-star because I really love the light-weight and overall execution is superb.


Before my trip to Yosemite in early September I contemplated…
Rating:


Design: Tarp/ponch tent
Sleeps: 1
Ease of Setup: very easy, in just a few minutes
Weight: 12oz with seam sealer.
Price Paid: $150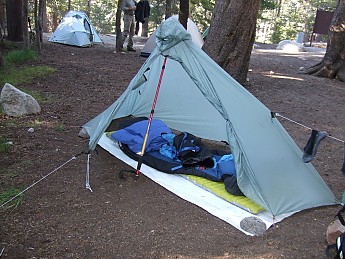 Before my trip to Yosemite in early September I contemplated a rain weather gear choice. I knew it was dry in Sept. but also didn't want to go unprepared and also be burdened with heavy gear I would only carry.
The solution was to find something that could have multiple uses (something many backpackers do to shave ounces). Since I also had to carry a 40oz bear can, I needed to make a trade-off. The tent and rain gear were my choices.
I chose the Six Moons Design Gatewood Cape as this could be my tent, my poncho, and it was light enough that even if I didn't need it I wouldn't mind carrying it. The tarp/poncho tent-like system, weighing about 12ox after seem sealing (never did that before and the company will do it for you for a fee but I didn't have the time to wait) which was less than my tent and poncho by about 2 pounds or better.
I initially set-up the tarp in the yard as a trial run. The color-coded webbing make set-up simple and fast (still not exactly certain how the front guy-line is supposed to go but used my intuition to decide). My advice is to stake the back of the tarp, opposite of the door, then use your hiking pole, then stake the remainder.
I was set-up in about two minutes. This time was pretty much the same on the trail, sans time to find rocks to help support my stakes in the very loose, sandy soil in Yosemite. Tear down was about a minute which I really enjoyed being able to pack-up so quickly in the morning.
The tarp is not for very tall hikers. Those over 6ft might feel cramped in an already tight quarters. I am just under at 5'11" and still it felt tight. You have a decent amount of room on the sides if you stage the hiking stick at an angle, but you will be a little tight on headroom so just watch it when you initially sit up.
The fact that you can stake this down completely to the ground and zip up the fly makes it feel very much like a tent. The hood acts like a great vent system in dry weather.
I did have some condensation when I sealed everything up tight and subsequently either left the hood open, door open, or both. Unfortunately I cannot say how it would hold up to rain but it did well in high winds at 9600 feet; the material is very durable for its weight.
If you are still worried about creepy-crawlies then consider the netting option designed for this tarp/poncho set-up. For me this edged me closer to 'cowboy-camping' and hopefully doing away with a tent altogether, however I might still opt for netting in the wetter summer months.
For the weight, compactness, and simple pitch and tear-down I would give this a 4plus. It is a bit pricey, but I hope the gear will last to be worth it. For multi-use gear it is an excellent choice for longer trips where weight is a factor.
Improvements? Perhaps make it a bit longer, but I know those precious ounces count.
Where to Buy
sponsored links
Help support this site by making your next gear purchase through one of the links above. Click a link, buy what you need, and the seller will contribute a portion of the purchase price to support Trailspace's independent gear reviews.
Six Moon Designs Gatewood Cape
MSRP:
$135.00

The Six Moon Designs Gatewood Cape is not available from the stores we monitor.
Recently on Trailspace