Therm-a-Rest
NeoAir XTherm
4

reviews

5-star:

3

4-star:

0

3-star:

1

2-star:

0

1-star:

0
This is a great 4-season sleeping pad. From the Manufacturer:…
Rating:


Source: received for testing via the Trailspace Review Corps (Sample provided by Therm-a-Rest for testing and review)

Summary
This is a great 4-season sleeping pad.
Pros
Warm
Durable
Light
Compact
From the Manufacturer:
New for 2012: The XTherm mattress is the warmest mattress in the NeoAir collection, allowing you to go lighter than ever in winter conditions. Patent-pending Reflective Barriers give the XTherm mattress true 4-season warmth without the weight or bulk usually found in a winter-worthy mattress. The result is a mattress that weighs less than a pound, takes up less pack space than your water bottle, and provides serious comfort in extremely cold conditions. Pump sack and repair kit included.
First Impressions
Yes, everything I've read from Thermarest about the new XTherm mattress is true in my opinion. Over the years I've owned more than a few pads for sleeping in the outdoors ranging from yoga mats to full sized four seasons inflatables. I've owned the Walmart blue mats, the "Z" pad, the '90's version of an ultra-lite inflatable from Thermarest weighing in at over 2 lb., and I have slept on pine branches spread out to look like the pad that I forgot at home. I have slept in weather down in the minus digits, and always, without exception, when I get cold at night... It is from the ground up.
I don't go out without some kind of sleeping pad. For me, it is as essential as the tent that surrounds me, and the sleeping bag that keeps everything except my big nose covered. I am not over exaggerating when I say that I love ground pads. Heat conduction from the ground is very hard to combat due to the fact that our rated sleeping bags often don't do a good job of protecting us when we smash them down under our body weight. Our bodies can only heat up the bag that has loft, and loft doesn't happen under my big butt.
Sleeping pads put a barrier between you and the ground in two ways: They give your body a cushion from the hard ground, and they give you a thermal break to stop conduction up to your body that a sleeping bag can't. Sleeping pads are rated just like a sleeping bag. Some are rated for 3-season use and are often lighter in weight and more compact.
The NeoAir XTherm has an R rating of 5.7. That is an insulation rating that is comparable to other 4-season pad on the market. The NeoAir XTherm is a true, compact, lightweight 4-season sleeping pad that has lived up to my expectations.
Opening the Box
My NeoAir came shipped from the manufacturer in perfect condition. The instructions, repair kit, inflating sack that you carry the pad in, and the pad itself were all undamaged. The fit and finish is nice. Out of the 8 pads that I've owned over the past 25 years, this is by far the nicest (and most expensive).
For a four season pad I couldn't get over the size and weight of this thing. I tested the large, full size pad and it weighed in at a more than respectable 20 oz. The regular size pad is only 15 oz.  It also packs down to the size of a water bottle, and that's not hype. It really does pack that small.
After opening the package, the first thing anyone would do is blow it up and let their 4- and 8-year-old daughters jump and play on it in the living room for an hour. That's what I did. It held up just fine, and to be honest, I probably couldn't have done that kind of torture test in the field. I left it inflated for two more days looking for any leaks. There were none.
Quality and Durability
At the time I'm writing this, I've spent 8 nights on the XTherm without any problems. The R rating for this pad is 5.7, and has I feel has lived up to the rating. It's definitely warmer than any 3-season pad you'll likely use.  The bottom has a more durable fabric, and the top is reflected to be able to use your own body heat that has escaped from your bag and push it back up to you. All the fabrics used seem sturdy as well as the valve which seems to be the standard Thermarest twist valve.  
The Thermarest NeoAir XTherm comes with a stuff sac that doubles as a inflation bag. I have used this method and found that while it wasn't as fast as using your mouth, you avoid getting condensation into the pad itself which could be a problem when using the sleeping pad in below freezing temperatures. It was a good idea to include this feature in a true 4-season pad.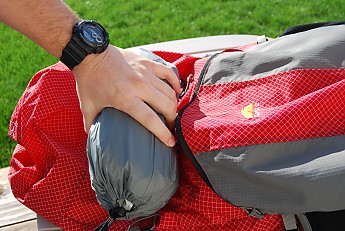 I also like the thickness of the pad. At 2.5 inches It has enough loft to it to where I can fully inflate it, then use the valve to let out air once I'm on the pad to find that "sweet spot" of comfort. I'm glad I went with the large pad over the regular. The large gives you an additional 5" of width giving you 25" overall. At 6' and 200 lb. I've never owned a more comfortable pad.
Some of my testing happened indoors. My two daughters fall asleep much faster at night if Daddy is lying on the floor in between their bedrooms. I thought this would be a good test of the NeoAir XTherm. It usually takes them about 20 minutes to fall asleep in which I lie there, checking my e-mails or playing a game on my smart phone. Once they are asleep, I go back downstairs and usually clean up from the day's events.  
To my surprise, I awoke to my laughing daughters taking pictures of me sleeping on the floor at 9 a.m. I had slept in the hallway all night which was certainly not the plan. I guess that shows just how comfortable this pad really is.
I like to talk about price in the Quality and Durability section. As of 2012, the large pad would sell for $219.  The regular pad is $189. I don't know how you might feel about those prices, but let me put it into my perspective: I've owned a $40 inflatable 3-season pad from Thermarest for 19 years, and I've never had one problem with it. It has more than paid for itself over the years, and in fact, my wife used it just last weekend and loves it.
I'm confident now after using the XTherm that this pad will also hold its value for years to come. When I first saw the price tag I was hesitant; now I feel it's properly priced. Remember, The NeoAir XTherm is a 4-season pad with advanced material and technology that makes it an ideal choice for winter outings. Sometimes the best just costs more.
Packability
I count every ounce in my pack, so it's no surprise that I like how the NeoAir XTherm is lightweight and very compact. I use my sleeping pad as structure in my backpack due in part that my packs are frameless. I've hiked with this pad both on overnight and day hikes, and it's everything the manufacturer says it is.
Let me add: Versatile for frameless packs, and small and compact enough to take along for a rest nap on a day hike.
Bottom Line
I can't see how anyone who tries the NeoAir XTherm is going to have much bad to say about it. There are always pros and cons to everything, but in my opinion the pros far outweigh the cons. Perhaps if you are used to a rectangular sleeping pad, the mummy style pad might be a con, but I found it to be adequately roomy. It gets a 5 star rating from me. 
So far I've had no leaks, I've stayed warm and toasty on some cold nights, it packs small and light for backcountry use, and Thermarest is a company known for quality, innovative products that I've trusted for years.  
I don't think you can go wrong with the NeoAir XTherm by Thermarest.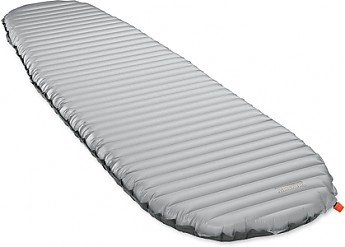 TL;DR - nice warm and light pad, best for those thinner…
Rating:


Source: bought it new
Price Paid: $169

Summary
TL;DR - nice warm and light pad, best for those thinner hikers that don't move around much at night.
Pros
Light
Warm
Tacky top surface holds sleeping bag well
Durable materials
Cons
Narrow
Loud
Tacky top surface not ideal for quilt users
Very expensive
Me: I'm not exactly a UL hiker - 5' 10" and 220 pounds. I move throughout the night sleeping on my back and both sides. I am a cold sleeper.

Use: Regular size (72 x 20), 2 nights in the 40s on a trip in northern Arizona. One night with my trusty Montbell #3 and one night with a EE quilt.

Results: 
The first night, I used the pad on slightly uneven ground (not completely flat and downslope left to right) in a sleeping bag. 
Good - Unbelievably small and robust. The fabric does not feel like it needs to be babied. The warmth was obvious. It wasn't particularly cold, but I'm still amazed that a pad with no insulation can provide such warmth. The thickness of the pad was sufficient to absorb the irregularities on the ground. The top of the pad has a sticky or tacky surface which did a great job holding my sleeping bag in place when I moved around during the night.
Not so good - with horizontal baffles, there is very little definition to the edges of the pad. Throughout the night, it felt like I really only had about 10 inches of usable pad when I rolled onto my side. I let some air out of the pad to see if I could stabilize more, but I still felt like I was essentially balancing in the middle of the pad when on my side. Noise wasn't a particular issue, but it the pad is loud compared to others I've used.

The second night, I slept on more even ground with an EE quilt on top rather than a sleeping bag.
Good: as mentioned, the pad is warm. It almost radiates heat.
Not so good: I still felt like I couldn't use the entire width of the pad when on my side. If I got too close to the side, the pad felt like it would escape. Additionally, the slightly tacky top surface that worked well with my sleeping bag, was a real issue when using a quilt. The pad kept *me* in place and made it difficult to roll onto my side. 
TL;DR - nice warm and light pad, best for those thinner hikers that don't move around much at night.
Warm, lightweight and horizontal baffles made it the…
Rating:


Source: bought it new
Price Paid: $175

Summary
Warm, lightweight and horizontal baffles made it the most comfortable pad to date IMO.
Pros
Warmth
Lightweight
Durable
Easy to inflate
Nice tacky surfaces keep you at bay
Cool colors
Packs down small
OK, so after using Big Agnes insulated and non insulated pads with vertical baffles for years, I've found what I think is the best mat around. The Xtherm large is lighter than my non insulated regular sized BA pad. It packs to the same size, but when sleeping on snow, I never felt the coldness of the ground one bit. Not the case with the non insulated mats where your expensive down sleeping bag compresses down to paper thickness and the cold air is basically a millimeter away from your body. A great sleeping bag is only as good as the pad it's on, take notes if you plan on being in cold areas.
With other pads, I would notice that I would find myself sliding towards the fall line of the slope even if it was barely any angle. With the Xtherm and the slightly rubberized finish, it holds me in place even when I roll from side to side. The horizontal baffle construction basically adds more chambers to disperse your body weight, and I felt that it conforms to the body way better equaling the most comfortable pad I've used. 
The stuff sack doubles as a fill sack, but it was discarded because it weighed a lot and was tedious. This is to eliminate putting so much moisture in via mouth. To help remove the moisture before packing up, I make sure to let about half of the air out, then let the pad sit in the sun and heat up to vaporize any moisture inside, then release again and leave the cap open. So far, so good...
I'm not a big guy at 5'9", but I think the large is the only way to go... I'm more of a comfort guy, but then again, good sleep leads to good hiking. 
This has been used in Sequoia and Mammoth for week long backpacking trips. One based on 3 feet of snow and 21 degree nights all proving that the Xtherm is no joke. Two thumbs up.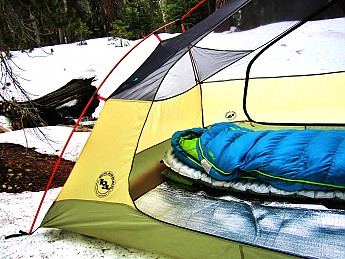 Warmer, lighter, more comfortable. I bought a regular…
Rating:


Source: bought it new

Summary
Warmer, lighter, more comfortable.
Pros
lighter
warmer with R=5.7
I bought a regular size irregular for $125. It weighs less and is longer than my older Thermarest, and it is warmer and more comfortable.
It does take a long time to inflate, but as one reviewer wrote "I have to breathe anyway."
Where to Buy
sponsored links
Help support Trailspace by making your next purchase through one of the links above.
Retailers' Descriptions
Here's what other sites are saying:
The Therm-A-Rest XTherm mattress is the warmest mattress in the Therm-A-Rest NeoAir collection. The XTherm improves on the cutting-edge combination of warmth, comfort, stability, weight and packability found in the original NeoAir mattress. Patent-pending Reflective Barrier technology gives the XTherm 4-season warmth without the added weight or bulk. If warmth, weight and comfort are you key requirments, look no further than the Xtherm.
- CampSaver.com
The new Thermarest NeoAir XTherm Sleeping Pad raises the bar for lightweight, comfortable, packable sleeping pads. Weighing just 15 oz, the four-season NeoAir XTherm(TM) sleeping pad is lighter and more packable than even the lightest backpacking pads of yesteryear. You needn't choose between a warm, heavy winter pad and a backpacking pad. Low-bulk materials allow the XTerm(TM) mattress to deflate easily and compact down to the size of a water bottle Internal air baffles and reflective barriers help the XTherm(TM) deliver an impressively high R-value of 5.7 30D High Tenacity Nylon top is lightweight and reliable Durable 70D Nylon Soft grip bottom material resists snags and prevents the pad from migrating on slick tent floors 2.5-inches of cushioning supports hips and elbows for a good night's sleep Tapered shape is designed for minimalist tapered tents Inflate your mattress in cold weather using the stuff sack pump to prevent condensation of humid air from your lungs Lightweight repair kit and stuff sack pump included Made in Seattle, USA
- OMCgear
The warmest mattress in the NeoAir collection, the MSR NeoAir Xtherm insulates you during winter expeditions while keeping the weight down.
- EMS
The Therm-a-Rest NeoAir XTherm sleeping pad lets you sleep outside in any season. The high R-value, thickness and layers of reflective barriers bring greater comfort and warmth to backcountry outings. Therm-a-Rest combines advanced, patent-pending technology and materials with decades of experience to offer a lightweight, warm and incredibly compactible sleeping pad. With double the insulating properties of the NeoAir Trekker, this pad incorporates a patent-pending Triangular Core Matrix(TM) technology for high warmth and low weight. Innovative baffling creates over 100 internal cells along with 4 layers of reflective barriers that trap warm air and return heat back to your body for year-round warmth. With an R-value of 5.7 and 2.5 in. thickness, this sleeping pad provides excellent insulation from the cold ground. Supple, yet rugged 30-denier polyester fabric on top and a durable 70-denier nylon on the bottom provide a quiet sleep surface. Therm-a-Rest NeoAir XTherm pad includes a repair kit and combination pump sack/stuff sack. 40-liter pump sack features a valve at the bottom that connects to a valve on air mattress; to use as pump, loft the sack, seal, roll and then push air into mattress.
- REI
Therm-a-Rest NeoAir XTherm
currently retails for:
$149.95 - $219.95

where to buy: