Western Mountaineering MegaLite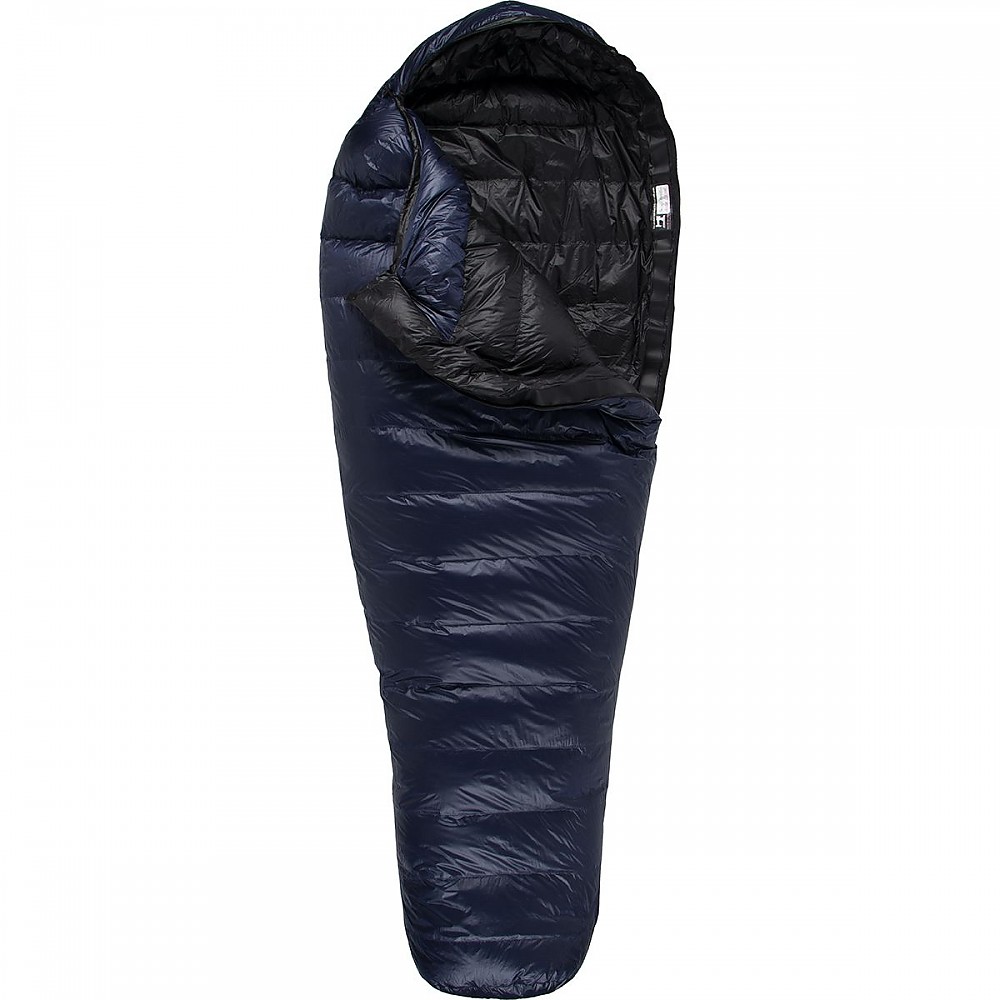 This bag is high quality, very versatile, compresses to 6x6 inches with a compression sack. Very comfortable to sleep in, not like most other mummy bags. Can be used well below 30 degrees, or up to the 70's. Well-made and a long-term investment.
Pros
Light, warm, and versatile
Roomy and very comfortable
Packs ultra-small, and retains its loft for many years
The Pertex fabric is somewhat water-resistant and quite durable
The bag has continuous baffles allowing the down to be shifted as needed
The hood fits well, and the draft tube works very well
Full-length zipper
Very high quality
Cons
Need to be a little careful so the zipper doesn't snag the fabric
Not Waterproof
I've had this bag for 17 years and have used it in a wide range of temps in tents, tarps, and shelters. I've been toasty down to 15 degrees F. and comfy up into the 70s. The bag's extra girth means you can wear fleece or whatever to extend the range for lower temps, or in the summer if it's warm you can unzip it and use it like a quilt.
A really nice bag that is still like new (except for where I snagged the Pertex with the zipper and had to make a 1" field repair which has held for a few years so far). I've used my Megalite in the US and China, and have never in the least wished that I had bought something else.
An outstanding and highly useful sleeping bag that will serve you well for many years, as it has done for me.
May 31, 2018:
This is an update to my previous review. Last August I went on a solo backpacking trip on the Tibetan Plateau in China at altitudes over 15,000 feet, with temps down to 40 or lower and rain and wind every day. I used a tarp and a bivy sack to save weight. My Megalite was doing a great job until one evening I got caught in a sudden thunderstorm. I didn't have time to pitch my tarp so I laid out my bivy sack on a flat rock with my mattress and sleeping bag inside.
I spent hours inside the bivy during the downpour trying to keep the water out but was unsuccessful. Consequently my sleeping bag and down vest were completely sodden and worthless. I found myself in the middle of my trip at high altitude in a very remote area with an unusable sleeping bag. I had to abort my trip but it still took me a couple more days to get down to a road, which meant cold misery with no sleeping bag. After I got to a road it took me five more days to get to my plane and then fly for two hours to where I live.  
When I got home I took the bag out of its sack. The bag smelled pretty bad. I hunted around town and found some Nikwax Down Wash, and used it to wash my bag. It did nothing to help the smell. I washed my bag three times and it still had the same bad smell.  I thought I was going to have to throw my beloved Megalite away.  Finally I took it to a Chinese dry cleaner and told the lady not to dry clean it. I went back to get it a few days later, expecting the worst. She gave me the bag which now had some floral smell and wasn't quite dry.
I was able to have it dried some more (you have no idea how hard it was to have it dried for another hour) and the loft came back. After a few more days the floral smell went away, and now it seems like I have my old bag back, good as new. I don't know if I need to retreat the Pertex after so many washings. I was really disappointed with the Nikwax, especially since they have such a prominent name.
The Megalite is an outstanding sleeping bag, but don't get it wet.
Source: bought it new
Price Paid: $240

This larger 3-season down bag can become a 4-season bag.
Pros
Larger girth for adding insulation W/O compressing the bag's top
VERY high quality
Made in USA
Full length zipper permits use as a quilt
WM will "overstuff" bags for a nominal fee
Cons
A bit heavier than the restricting Summerlite bag
No draft collar option
The main selling point for this bag is its larger girth for expanding the comfort range using insulated sleeping clothes or for people with wider shoulders and chest. As the Megalite comes from WM it has no left side baffle. This is to allow one to shake down to the top or bottom depending on expected night temperatures.
I purchased the Megalite after being very disappointed with the lack of loft in a Mountain Hardwear Phantom 32 bag. I have slept comfortably (with all my summer clothes on) down to 28°F.
With long johns and quilted synthetic jacket and pants and balaclava I've been very cozy at 10°F  on a Therm-a-Rest Trail Pro self-inflating mattress.
For high mountain backpacking (above 8,000 ft.) in summer where one can expect nighttime temps well below freezing this bag with some medium weight long johns and a light down jacket will be fine to the teens (Farenheit).
For warm weather backpacking (nighttime temps 80 F. or more) I zip the Megalite all the way, lay the opened bag flat on my Thermarest Prolite mattress and insert the mattress foot into the bag's foot. This secures the foot and gives you a "quilt" that is very comfortable in weather that's too warm for a mummy bag.
I sent my Megalite back to WM for the "overfill" option and for $45 got an extra few ounces of down that made it look like the Michelen Man. This was after being a bit cool on a 25°F night on the PCT. Now I have a true 20°F bag, BUT I can no longer shift down from top to bottom. For me that is not a problem.
I like the small packed size and light weight. I think my next WM purchase will be a pair of their down pants. That, poly long johns and my Eddie Bauer First Ascent light down jacket will extend my Megalite's temp range well into the single digits.
UPDATE January 2017:
Five years on and I'm still very happy with my WM Megalite. I've had it down to 15° F. wearing long johns and synthetic insulated jacket and pants. And that was before I had it overfilled. This year backpack hunting in northern Nevada at 8,500 ft. at 15° F. I wore long johns in the bag but had no need for the insulated jacket and pants. The factory overstuffing option works!
Eric B.
Source: bought it new
Price Paid: around $300

The MegaLite is an overachieving 30 degree sleeping bag. Its small packed size, wide body, 1 lb 8oz weight, warmth and breathable material make it perfect for me to use in fall and spring hikes in the Appalachians and most of the year here in Alabama.
Pros
Small pack size
Big fully lofted size
Warmth
Breathability
Weight
Cons
Zipper occasionally catches on the fabric
I have used this sleeping bag on three trips in Alabama and four section hikes on the Appalachian Trail. Temperatures have ranged from 28 to 60 degrees at night on these trips. I use a Therm-a-Rest RidgeRest or a Thermarest NeoAir Trekker sleeping pad. My shelter has been a hammock with tarp, 2-man Eureka tent, and AT 3 or 4 (once) sided shelters.
The bag has proved itself to be warmer than claimed. It packs down small and relofts quickly. On the one occasion I thought I needed to reduce the wind on the bag, the space blanket I used had a lot of condensation on the sleeping bag side. (Fortunately the space blanket was set up in an A frame so the moisture dripped to the sides.)
I have never experienced the outer or inner fabric absorbing water or a reduction in the loft of the down. While fixing breakfast, getting and purifying water, I turn the bag inside out and let it air out.
When I was at Cherry Gap shelter just north of Erwin the temperature went below 28 degrees. Just to be sure I wore a set of very light fleece pants and pullover. After 30 minutes, I had to remove the fleece and didn't put them back on until just before I got out of the bag the next morning.
I am 5' 11" and weigh about 215 lbs. I move a lot at night and the girth of this bag allows me to do so. That is the Mega part of Megalite. The 3/4 length two pull zipper is one of the reasons I wanted this bag. It provides ventilation or allows me to use it as a quilt with a footbox.
After owning the bag for three years I have not noticed any failures with the mechanisms or tears in the fabric.
Source: Work Bonus
Price Paid: $315

Quality construction, Excellent comfort, roomy and made in the U.S.A. Good to 20 degrees in a tent with light thermals and wool socks. I am 5'10", 210 lbs. With the 6' standard bag the fit was perfect with plenty of wiggle room.
Pros
Comfort
Made in U.S.A.
Hang bag and stuff sack.
My first trip was to Deer Creek (at 6800') and it got down to 20 degrees the first night. I was toasty warm wearing just ultra light thermals, wool socks and no balaclava.
This is the first bag I have with the zipper on the left side. It will take some getting used to. With a whole life of right zippers and all.
The 6'0" bag was a perfect fit for me at 210' and 5'10" height. I had plenty of room to move and wiggle. I appreciate the moisture resistant shell on the baffle that was touching my chin (It appears purple on the stock photos). I have not yet backpacked with this bag, so I cannot speak to compressibility.
The zippers are YKK, need I say more, But I will, they are flawless. With the balance between weight and usefulness so stressfully measured this day and age this bag meets a point of balance that rests on the razor's edge perfectly.
First time I used the bag, but not the last. I will see but I think I can easily take it down to 10 degrees? I will let you know the exact circumstances if it happens. I would buy this bag in a snap again and again.
Source: bought it new
Price Paid: $325

Warm and comfy to 30°, survival rating to much lower.
Pros
Incredibly light
Very packable
USA made
Cons
That sharp velcro near the chin
I thru hiked the AT with this bag, starting in April and ending in October. I saw snow, ice, hail, frost, to temperatures of 110°. When it was cold I only recall being chilly once, and it was getting caught at high altitude in the Smokies in a storm. When it was hot the bag was used as a pillow or pad top, but even in the hot humid Appalachian summers it gets chilly sometimes in those hollows and sometimes I would zip it up in summer.
The only thing that was bad about the bag was the velcro patch near the face that would always pop open and scratch your face and lips at night when sleeping. For some reason I did not remove that godforsaken velcro patch until after I got back from the trail.
The bag has gone on since to backpack, and mountaineer. For me, it was more than enough for Rainer, Baker or probably any Cascade peak in June. For July and August it was more than enough to camp out at 11.5k in the Teton range.
It is without a doubt the best bag I have ever purchased.
Source: bought it new
Price Paid: 350$

Nearly $300 for a mild temperature bag? R U nuts? Not when were talking about this baby.
For late spring to early fall backpacking (or even a broader time span in the Southern states) I look to go low volume and light. This beautifully stitched, wide shouldered (64"), full zippered bag is about as light as it gets and packs small enough (6" X 12".)
There are lighter bags, but this one uses a full-length zipper for more versatility than short zippered models. It comes with 10-11 oz of down, giving it a tad more warmth on those chillier nights, plus its wide cut allows me the option of adding a down vest for added warmth without feeling like a straight jacket. Its lightness comes from its thinner material (.85 oz/yard), but ANY bag that I pay those kind of toad hides for, I will take good care of anyway.
Although I haven't had the opportunity to push this bag to its temperature rating, I'm confident in its 30F rating based upon this company's stellar reputation. After sleeping a few nights in this comfortable down bag, I'll NEVER go back to my synthetic bags again. When factoring weight, stuff size, width, zipper length, workmanship, and quality of down, this bag flat-out excels, and I'm betting right now that five years later I'll appreciate it even more.
Design: MegaLite
Fill: 750+ fill down
Temperature Rating: 30F
Weight: 1lb, 9oz
Price Paid: $280

Super light, comfortably warm bag has you covered from early spring to early winter.
Pros
Superlight
Impressively small stuff size
Good shoulder girth (59")
Cons
What are the product's weaknesses?
At just 24 ounces the WM MegaLite qualifies as an ultralight 3-season bag that will comfortably cradle you down to freezing and below. Just a few ounces more than the box-stitched Caribou, the MegaLite features slant baffles, draft tube, and collar tube to reduce cold spots. 
The 12 ounces of 850 fill power lofts-up quickly and will provide warmth down to 30°F with no additional insulation (i.e. just skivies). But you can easily push the performance another 5-8°F wearing additional layers. Described as "unisex" the MegaLite has sufficient shoulder girth (59-60") for a guy and comfortable hip room (51-52") for a gal.  
Typical of the highest quality bags Western Mountaineering makes.
Source: bought it new
Price Paid: $350

Best three-season bag I have ever used.
Pros
Lightweight
Compressed down very well
Warm
Purchased this sleeping back for a summer canoe trip on the Allagash River in Maine. This packed down far more than a 30 degree REI bag and a 40 degree North Face synthetic bag.  The temps did not go below 40 degrees, but the humidity and rain made it feel cooler at night. 
Have used this bag on several other Boy Scout outings and have enjoyed the warm and additional space it provides. 
Source: bought it new
Price Paid: $425

Roomy, light, warm. High quality sleeping bag. Packs small.
Cons
If anything, that would be a price, but then again it is great.
Was using this bag on couple of trips, one in particular in Utah and Arizona. While temperature were not extreme, some nights were cold but bag performed great. Packs small, very light roomy and warm. Zipper is great and never snagged. Full zipper was also convenient when temperature were high. Overall well made quality bag.
Source: bought it new

I used this bag in late September at Mt Columbia in Colorado. Temps diped below 15 degrees and all was well with my fleece on. Using the bag at lower elevation at 30 degrees I was warm. I use my mid weight LJs to help keep my oils out of the bag. This was well worth the money. Construction is great. My zipper has NEVER snagged.
Design: Mummy
Fill: 850+ Down
Temperature Rating: 30 Degrees
Weight: 1lb 8oz
Price Paid: $285

Overall a good sleepinging bag. Very light, comfortable, and compactable. But, if you are looking at buying this bag check out the North Face Beeline 900. It has 900 fill down, which has better quality and is lighter (1lb 3oz). The downside is it is $40 more expensive.
Design: mummy
Fill: 600 fill down
Temperature Rating: 30 degrees farenheit
Weight: 1lb 8oz
Price Paid: $250

Have used this bag for several years and it's still going strong. It's the standard I use for a light, quality-made, and a not overly constricting cut in a three-season bag.
Highly recommended.
Temperature Rating: 32

Your Review
Where to Buy
Help support this site by making your next gear purchase through one of the links above. Click a link, buy what you need, and the seller will contribute a portion of the purchase price to support Trailspace's independent gear reviews.
You May Like
Specs
short
regular
long
Price
Current Retail: $500.00-$555.00
Historic Range: $284.00-$555.00
Reviewers Paid: $240.00-$425.00

Weight
1 lb 7 oz / 625 g
1 lb 8 oz / 710 g
1 lb 9 oz / 770 g
Fill weight
11 oz / 310 g
12 oz / 340 g
13 oz / 370 g
Loft
4 in / 10 cm
4 in / 10 cm
4 in / 10 cm
Temperature rating
30 F / -2 C
30 F / -2 C
30 F / -2 C
Fill
850 fill-power down
850 fill-power down
850 fill-power down
Shape
Mummy
Mummy
Mummy
Max user height
5 ft 6 in / 165 cm
6 ft 0 in / 180 cm
6 ft 6 in / 200 cm
Shoulder girth
63 in / 160 cm
64 in / 163 cm
65 in / 165 cm
Hip girth
56 in / 142 cm
55 in / 140 cm
56 in / 142 cm
Foot girth
39 in / 99 cm
39 in / 99 cm
39 in / 99 cm
Recently on Trailspace