Zamberlan
996 Vioz GT
Reviews
Fantastic fit. Most comfortable full leather boot…
Rating:


Source: bought it used

Summary
Fantastic fit. Most comfortable full leather boot I have ever had. But alarmingly prone to slipping on wet rocks.
Pros
Supreme comfort
Perfect support for heavier loads
Cons
Seemingly good grip then will SUDDENLY let go on wet rock!!!
I bought these for winter hiking mostly, and found them to be superb for this. In the spring I wore them on a hike with my wife and noticed that they would slip without warning on smooth rock if even slightly wet.
I do not mean the typical tendency to slip from wet conditions. I mean a solid feeling grip that would suddenly and unexpectedly let go.
I would have figured I was just having a sloppy day. But we later passed someone with the same boots who asked if mine were slippery. He was having the exact same experience. We were not on our rears all day or anything like that, but we both noticed a significant tendency for the boot to just slip on wet rock more easily than other boots.
I sent them to Zamberlan USA who I believe honestly tested them and feel that they are just fine. I strongly disagree. It is too bad.
I tried them twice more with the exact same result — great feel and sudden slips when even slightly wet. Now I will use them on snow/ice only. They work great with Microspikes and small crampons.
These boots have been around for a while, and owners are not apparently dropping like flies. But I would absolutely not recommend these except for snow conditions (where the rubber compound is not critical) or absolutely dry conditions, where they grab quite well.
Very nice looking and extremely well made boot. As…
Rating:


Source: bought it new
Price Paid: $280

Summary
Very nice looking and extremely well made boot. As Julien mentioned in his review, there is ZERO break-in period for these boots. Made in Italy.
Pros
Made in Italy
Extremely comfortable
Waterproof GoreTex
Excellent softer rubber sole
These boots are so comfortable and so good looking that I wear them day-to-day quite a bit. The soles are some of the softer Vibrams I have ever worn. The softer soles mean very good shock absorption and excellent grip especially on slick smooth rocks.
There are so many brown boots out there, but I love that these are black. The only thing I didn't care for were the drab gray boot laces, so I replaced them with bright red and they look great! These are NOT summer boots! They are very very warm.
I paid $280 for these at REI (worth every penny) and then I scored a second pair at an REI garage sale a few months later for only $100.
The materials and the construction are INCREDIBLE!! Made in Italy!!!! Totally worth what I paid for them.
Highly recommended.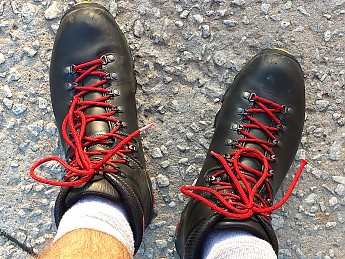 Very good backpacking boot. No break-in period for…
Rating:


Source: bought it new
Price Paid: 300 $ CAN

Summary
Very good backpacking boot.
Pros
No break-in period
Good ankle support
Cons
More heavy than synthetics but....
Leather maintenance
No break-in period for me. 

With a liner and good wool sock, it is like wearing slipper.

Stong lacing.

Nice overall grip.

I use them in warm/cold condition (5°C to 12°C) and I was very comfortable and dry. Late I will add a winter review.

Nice support with a 70 pounds backpack. 20 km hike and no blisters.
Zamberlan 996 Vioz GT
currently retails for:
$294.95 - $295.00