Lowa Baffin Pro

The Baffin Pro has been discontinued. It was replaced by the Lowa Baffin Pro LL II.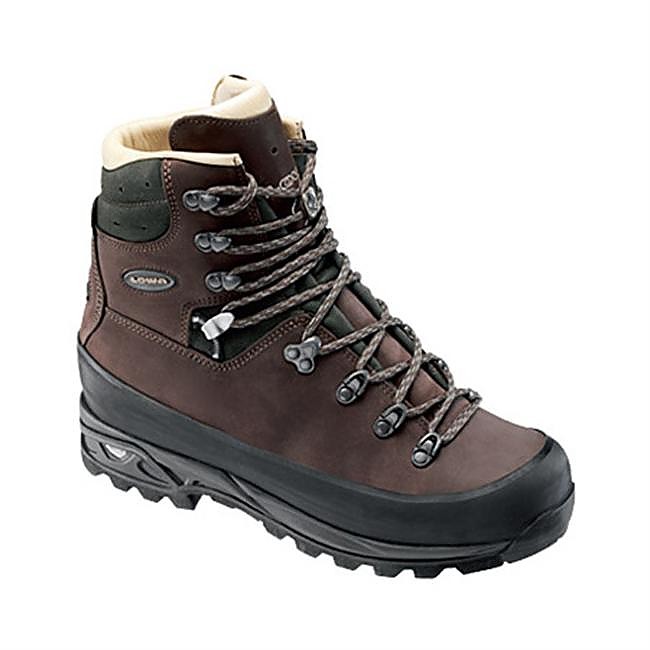 Amazing boot!
Pros
Durable
Supportive
Comfortable
I love the Baffin Pro. I realize that they are designed for hot dry areas, but I use them backpacking in northern Ontario year round. They are waterproof enough for me — I treat them with Nikwax.
I used them winter camping in -40°C and they worked well. That's not to say I would recommend these for winter camping! I used them because I couldn't afford to buy another boot that is insulated, they were fine while I was working hard but got cold toes when I stopped moving.
For shorter trips with lighter loads I use light trail shoes. I do love having these for when I'm carrying heavier loads over more difficult terrain.
The full leather design seems very durable, I have not even had them for a year yet so it's hard to comment on the long-term durability (but I have heard good things).
Leather lining is very comfortable! Molds to your feet really well and I find it handles sweat really well too.
The sole is a little bit slippery on wet rock compared to my old boot (Scarpa SL Active).
I have a normal- slightly low volume foot and this boot fits my foot well. I measure at a size 12 and I got this boot at size 12 (46). Fits true to size for me.
Source: bought it new
Price Paid: $350

I am a field engineer and I wear these to work everyday. These are very comfortable. I feel in love with these because I wear the Tibet GTX when backpacking.
Simply the best. If you can afford these buy them and I know you will fall in love as I have.  Brought them at Adventure 16.
Source: bought it new
Price Paid: $230

It's time to buy some new boots and I'm very glad to see the Baffin's are still being made by Lowa.
I have owned two pair of these boots over the last 25 years. The boots have remained nearly unchanged during that time.
I used these almost exclusively during years of heavy use in mountainous terrain all over Europe and the US while carrying loads up to 125 pounds. I would spend between 90-120 days a year wearing the boots. About the only time I would not wear them in the field was when I'd do true mountaineering work.
You can expect the boots to last for years, are very comfortable, and provide solid foot and ankle support.
I really like that they are not Gore-Tex and breath very well (I'm not a fan of Gore-Tex boots, about the worst thing you can put in footwear in my opinion). Just waterproof the boots with some Sno-Seal and you're good to go.
Worth every penny. Will last most people for a decade.
Materials: Leather
Use: Hiking, Heavy Backpacking
Break-in Period: A couple days of casual use

I purchased my Lowa Baffins 6 years ago after 4-5 months of research. I was looking for well made leather lined, leather outer hiking boot. My feet get very sweaty if I wear Goretex on my feet so no waterproof liners.
I kept coming back to the Lowa Baffin. I tried a pair on. I have never worn footwear that fit so well. Six years and thousands of kms later my Baffins are still in great shape and I can say my feet are never sore at the end of a long day of rough trails and a 40 kg pack.
If something was to happen to my boots (hurricane, tornado, tsunomi) and they where destroyed I would spend the money again and purchase another set.
Materials: Leather
Use: Hiking w/ heavy pack, winter/mountianeering
Break-in Period: 50 kms
Weight: ?
Price Paid: $360 Canadian

I used these on a hike at Mount Whitney in waist deep snow during late December with snow-shoes and cramp-ons with a 42lb pack. They worked flawlessly. My feet stayed warm and even with a pack my feet never got sore. They are leather so when they do get wet it takes a while to fully dry them.
Materials: Leather
Use: Snow hikes with pack or without
Break-in Period: Quick
Price Paid: $240

Excellent and durable four-season hiking boot. I like to hike in the winter and summer/fall seasons. This boot suits my needs.
Pros
Good support
No break-in, extremely comfortable
waterproof
Cons
Could be made an inch shorter
Over the last few years. I had used several top brand boots to accommodate my expanding foot. The Lowa Baffin Pro is by far the best all-round boot I ever had. I usually hike in the winter and summer. I never lost a step with this leather lined beauty.
Just within the last year alone I hiked the Camino de Santiago twice, that is around 1800 km in total. The boot crossed through all kind of terrains; rocky, scree, mud, up/down, asphalt, concrete etc. and weather snow, rain, ice and mud. The boot hardly shows any wear and tear. Just the lace lines around the tongue. Its Vibram outsole delivered excellent traction in all types of terrain.
Fit/comfort is outstanding, helped by the soft leather liner that prevents any pressure points due to lacing. Fully waterproof without Gore-tex. I used Nikwax occasionally to maximize water resistance. Although it is a bit pricey, worth every penny, specially if you can pick one on sale (usually at 20% off a few times a year).
Source: bought it new

I own 2 pairs of these — one for hiking and one for daily field-work wear. By far the best boots I've owned.
Pros
Quality
Support
Ability to resole
Craftsmanship and quality is outstanding. Outer soles can be refurbished through Lowa — Had it done 2x for each and very pleased. Great ankle support.
Source: bought it new
Price Paid: $300

Perfect trekking boots.
Pros
Good support & ankle protection
Good breathable
Waterproof if waxed
Cons
Outsoles a little slippy on humid rocks
So far my best backpacking shoes :
I used this shoes for trekking during summer in the most hard mountain paths in Corsica (3000ft to 6000 ft, very rocky and sharp rocks)
They give an excellent support even with high loads backpacks (you don't feel any rocks spot under shoes).
Plus they have a  flex at the foot toes, giving a good walking movement.
Lether in and out (no Gore-tex) = good breathability and totally waterprof When waxed .
Perfect for winter and summer, it's an all terrain all season boot. Not too hot, not too cold.
Outsoole can be renewed at Lowa, (I did it after one month of heavy use in very sharp gravels and rocks).
I found that the outsoole is a little slippy on humid rocks, I have seen better soles on old school shoes (all rubber, undestructible and unusable), but still it's ok for backpacking in rocks, you just need to be careful sometimes.
Lowa have a wider feet than some others brands, which is comfy for the feet.
Well designed shoes, no blister even after intensive use.
The inside leather lining is 1mm, mine has broken at the heel because of 15 days continuous intensive use.
(I wish they would make it stronger).
Source: bought it new
Price Paid: $270

I bought these boots last summer and after hundred kilometres of trekking here in Canada in The Forillon Park and The Chic Choc Provincial Park, I can tell you now that I really love my boots.
Mario
Materials: leather
Use: Rough Trail
Price Paid: 300 CAD

These are the best of the best trekking boots... All-leather. I did six months S-America, Africa, Corsica, Pyrenees etc with them... and they NEVER let you down... Just wonderfull trekking gear.
Materials: leather
Weight: 80 kg
Price Paid: 190 EUR

It's the second time I buy Lowa and it's simply great! I have this model for about two years and it looks good. Give them one month and it will soften down.
Just now I did a 6-weeks long trek with about 30 kg and they work perfectly.
I bought these Lowa boots while in Germany and have been a fan ever since. High ankle, leather, rubber guard which extends high on the boot, prevents wear on the leather very well. Although a little heavy, these boots are worth the price if you do alot of heavy pack hiking. I've got about 300 miles on these, minus break in and they are none worse for wear.
Materials: leather
Use: rough trail
Break-in Period: 1 month
Weight: 3.1 lbs
Price Paid: $250 US

Your Review
You May Like
Specs
Men's
Price
MSRP: $330.00
Historic Range: $184.83-$370.00
Reviewers Paid: $230.00-$360.00

Women's
Price
MSRP: $330.00
Historic Range: $175.43-$370.00

Recently on Trailspace