Trailspace Hats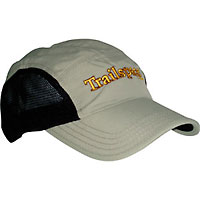 At long last, Trailspace hats are available for purchase! If you enjoy being a member of the Trailspace community, show your support by hitting the trail with a Trailspace lid on your head.
We currently have three models available:
For summer heat and humidity, our favorite is the Trailspace Trail Runner Cap, a five-panel hat with vented sides. Great for long trail runs.
For those of you in the Pacific Northwest and other perpetually rainy locales, check out the waterproof-breathable Trailspace Rain Cap.
If you're looking for something you can wear on the trail and still look good around town, check out the Trailspace Tactel Cap, a collegiate-fit cap made of water-resistant and quick-drying Tactel nylon.
All three models can be purchased from our friends at Gear for Adventure.