Meet Bill Heiser, Trailspace's Reviewer of the Month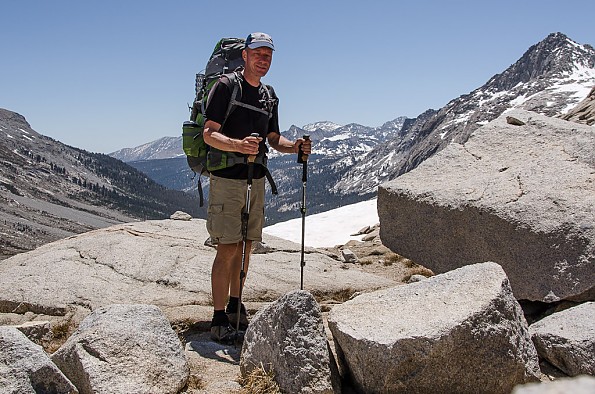 Congratulations to community member Bill Heiser, Trailspace's May Reviewer of the Month! The Trailspace community rated Bill's gear reviews (and Bill's reviewer reputation) the highest in May.
Join the Trailspace community in choosing June's most helpful reviewer by voting up the reviews you find most helpful. Check out the Top Reviewers to see who's on track to be crowned June's most helpful reviewer.
Congratulations, Bill! You win a goodie pack of gear from A3, Ibex, Injinji, Kind, ProBar, and Trailspace for your contributions.*
Write your own helpful gear reviews and you could be next month's most helpful reviewer.
---
How did you get started exploring outdoors? Any favorite stories, memories?
Growing up my family went car camping. From an early age I started using my own tent while the rest of the family stayed in the travel trailer. Often on these trip we'd go hiking, and even then I enjoyed the experience.
This eventually culminated with my spending a whole summer on my own in the White Mountains of New Hampshire at the age of 17. Having neither a driver's license nor a car, I did a combination of backpacking and bicycle camping at roadside campgrounds.
When backpacking I camped at dispersed campsites and stayed at AMC trailside shelters. I rode my bike into nearby towns to buy supplies, and my Dad drove up from Massachusetts periodically to help out with my shopping trips, laundry, and gear repair.
That summer was a tremendous learning experience and I really enjoyed it. While there I encountered lots of AT (Appalachian Trail) thru-hikers and imagined someday I'd do the same. I still haven't done that, but did finally do a thru-hike of a different kind on the John Muir Trail in 2012.
What do you enjoy doing outdoors?
I'm mostly a hiker and backpacker. I especially enjoy the feeling of freedom I get from going on multi-day backpacking trips, as I'm able to see places I wouldn't be able to reach on day hikes.
I also enjoy photography and my trips typically offer ample opportunity to practice it.
Tell us about your favorite outdoor areas/places.
While there will always be a place in my heart for New Hampshire's White Mountains, in recent years I've developed a strong affinity for the High Sierra in California. I love the wide open spaces, the rugged remoteness of many areas, and the diversity of the scenery I encounter.
On a recent trip, for example, over a period of five days I encountered trails through chaparral with expansive views, sub-alpine lakes, trails that traversed dramatic granite terrain, a remote glacial canyon, a rocky and still-snowy 11,000 foot pass, and sequoia groves.
What's your perfect outdoor day?
I think my favorite would be hiking someplace remote and quiet, in beautiful natural surroundings... someplace with great scenic views, when it's warm and sunny (and without any insects) :-).
What are your favorite pieces of outdoor equipment? Why?
In terms of favorite equipment, I tend to favor those pieces of gear that work well for me over a period of time. When I've used an item for a while, and I feel like I can count on it, it becomes a "favorite".
An example is the Kelty D4 frame pack with the Mountaineer frame that I bought in the late '70s. I retired it only recently when it finally got too worn to be reliable. But it was an old standby.
A more modern piece is the Patagonia R1 Hoody. It's ideal in a variety of conditions — as a mid-layer when it's cold, a top layer when it's just cool, or (when treated with Permethrin) a protective layer when the 'skeeters are bad. It goes with me on every trip, and if anything happens to it I will definitely replace it with another like it if they're still available.
Have any stories to share about your favorite (or least favorite) gear? Good, bad, funny gear experiences?
I have one gear experience that's funny now, decades after it happened. On one of my very first solo camping trips in my teens, I thought it would be a good idea to store fresh peaches inside my tent. This was in a roadside campground named Dolly Copp at the base of Mount Madison in the White Mountains of New Hampshire. After "safely" stowing the peaches, I went off to do some other things.
When I came back there was a huge gash in the side of my tent and the peaches were gone. As it turns out there were raccoons in the area... That was one of my first "learnings" about what not to do while camping :).
What motivated you to share your outdoor gear reviews with the Trailspace community?
I research most of my gear extensively before laying down my money to buy it. This involves reading numerous reviews written by other people. I like to think that by writing my own reviews, I'm providing a benefit to others in return.
Where does your username come from?
Well my username isn't very creative. I've spent years working in technology jobs where it is typical to have a username simply reflecting one's name. When I joined Trailspace I just followed the same practice. More recently, with my involvement in the Trailspace Gear Review Corps, I'm considering just using my real name and doing away with the "username".
Anything else you'd like to share with the Trailspace community?
I'm really glad to have this community. There's a wealth of knowledge here and bunch of great people always willing to share their experience. I've "met" some great people on the site and have even met several in person through contact established here. This support network even played a part in my 30-day John Muir Trail thru-hike last summer.
---
Great job, Bill!
*Besides Trailspace glory and appreciation, Bill gets a goodie pack with a pair of Injinji Performance Micro Socks, a selection of tasty bars from A3, Kind, and ProBar, a Trailspace-Ibex Zepher Skull Cap, a Trailspace pint glass (for après-backcountry use), and Trailspace stickers.
Wondering how you can be as lucky as Bill? Write some great gear reviews of your own. Next month the Trailspace community will recognize another reviewer (who'll win some prizes), and it could be you!
Help recognize the best reviews on Trailspace by clicking that up arrow whenever you read a truly helpful review. You'll not only recognize good reviewers, you'll help highlight the best reviews of products for other members looking for outdoor equipment.