Big Agnes
Copper Spur UL2
8

reviews

5-star:

4

4-star:

3

3-star:

0

2-star:

0

1-star:

1
Reviews
This tent is great. It's basically a 1-man castle!
Rating:


Source: bought it new
Price Paid: $300

Summary
This tent is great. It's basically a 1-man castle! I have used this tent in all types of weather and never had any problems with it.
Pros
Size
Space
Weight
Livability
The setup for this tent is a breeze. I usually do it by myself and have it done in under 5 minutes . The footprint to me is a must to preserve your tent. The poles are snap to deal with and the hubs add strength to tent. The stakes are lightweight and easily go into the ground.
Stability:
This tent will guy out with no problem and has been great every time I've used it. I've used it in thunderstorms with 20 plus mile an hour winds and stayed as snug as a bug in a rug. I have not taken in the snow because it is a 3 season tent and we don't get that much around here.
Weather Resistance:
This tent has been poured on and handles the moisture great. The vent at the top allows it to breath and avoid the dreaded condensation. This being said you will have have some amount of condensation as with any tent, so don't expect nothing on your fly!
Room and Storage:
This tent is great as a 1-man tent! I am a large man (6'4" 265) and have no problem fitting myself and all my gear in this tent. I have also camped with my 8-year-old in this tent and fit comfortably. The 2 internal pockets are money and the vestibules are massive.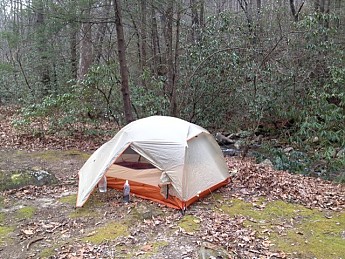 Packability:
The Copper Spur packs down to a reasonable size considering its size when pitched.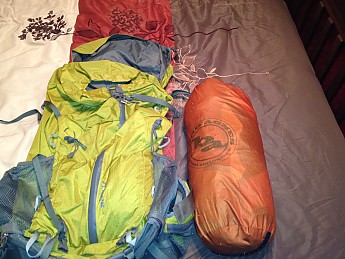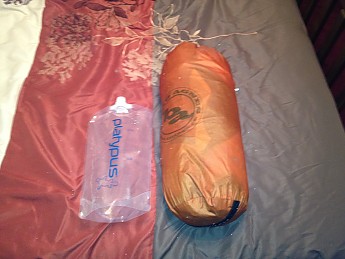 Construction and Durability:
This tent has taken a beating and kept on going. I have had it for over a year and 1/2 and had no issues with it what so ever .
Bought this tent to cut down on weight for camping…
Rating:


Source: bought it new
Price Paid: $300

Summary
Bought this tent to cut down on weight for camping trips to the Grand Canyon. Saved me over 5 pounds vs. old tent and much to my surprise the Big Agnes Copper Spur UL2 proved to be a superior tent.
Pros
Lightweight
Easy up, easy down
Good in wind and rain
Cons
Tent stuff bag easily tears
Vent system confusing
Spent two years looking for a lighter weight tent to use in the Grand Canyon. Finally purchased the Big Agnes Copper Spur UL2 and was blown away with the quality, convenience and light weight.  Easy up, easy down. Tent pole design makes it EASY to set up.  
Packs extremely well. Held up in high winds and rain. Plenty of room for two people. Reduced my pack weight by over 5 pounds and this made a difference going down and up Grand Canyon — my back, knees and ankles say THANK YOU, Big Agnes.
Only problem I had was a tear in the stuff bag from resting on rocks along the trail. If you are getting up there in age, like I am, saving weight is extremely important to the overall quality of the hike. Go get one and enjoy!
Big room in a small package! Finally, a lightweight…
Rating:


Source: bought it new
Price Paid: $300

Summary
Big room in a small package!

Finally, a lightweight tent that is redhead proof, bomb proof, and can withstand the unpredictable weather and wind of the Northwest.

Color coded pole tips and rain fly clips make setting up a snap. Two doors and vestibules make for quick in's and outs. This just over 3lbs tent can do it all!
Cons
No loft, but has 2 mesh pockets in front corners
I live in Northwest Montana where the saying is "If you don't like the weather wait 5 minutes, it'll changa." When I left on this trip to Snyder Lake in Glacier National Park 7-12-12, it was 90°. Knowing how things are, you have to be prepared for a quick change.
Thursday night I slept with no rain fly and enjoyed the stars. The mesh roof allowed me the freedom of the sky with out the bother of bugs. Friday, a couple of clouds whisped past so I decided to put the rain fly on just in case. Rained so hard that night it woke me up and was still raining the next morning. Not a drop of rain made it through!
Something I really liked is the way the rain fly vents. The foot is pulled taut at the botttom and the head has a 6" flap that can be closed or held open with a stiff velcro arm, allowing the air to flow freely but still keep out the rain and wind.
This tent is well thought out. Color coding makes it easy to set up. Lightweight poles and rain fly clips are also color coded which adds to the quick setup if the weather turns. Also has two spacious vestibules which make it easy to remove wet/dirty boots and a place to stash other items.
I would rate this tent an overall 5 of 5 across the board!
This is truly a quality, ultralight 3-season tent. I look forward to seeing how it holds up to the early fall snow. I'll keep you posted.
Love this tent. Light weight: 3lbs 12oz shaved about…
Rating:


Price Paid: $350

Love this tent.
Light weight: 3lbs 12oz shaved about 3lbs off my pack weight.
Easy set up: First time was in the dark with 30 MPH gusts.
Warm & dry: After a night with blasting snow and rain we awoke completly dry, no condensation, what a treat!
I'm 6'4" & 200lbs so, like the REI Half Dome, I wish they made a Copper Spur UL2 Plus. My feet wouldn't mind another few oz's for some toe room.
After test-driving the BA Fly Creek UL2, and not being…
Rating:


Price Paid: $299 on sale

After test-driving the BA Fly Creek UL2, and not being satisfied that it was sufficiently free-standing, I tried the Copper Spur UL2 and was favorably impressed. My first use was on a 4-day traverse in the Olympics, which contrary to the stereotype, did not allow me to test in in wet or otherwise nasty weather.  Flies and mosquitoes were the most trouble.
The good: with the exception of the need to stake it out to use the vestibules, and pitch the ends of the fly, it is strictly free-standing. I like that.  I also like the double doors.  Several nights I was able to use it without the fly, staking a corner or to to keep it from blowing away in gusts.  Allowed me to peer into the starry night sky and keep my eye on the nearly full moon. 
It has a good 2-door design and construction appears to be of high quality with considerable interior space and headroom given the smallish footprint. The hubbed pole assembly was fast and easy to put together. It's not the absolute lightest tent for it's size out there, but it's not bad at all. 
Not so good: I'm not a fan of drop-down doors (see my review of the Fly Creek UL2), I wish it were a tad lighter, and that the poles were slightly less bulky (but that's the price you pay for hubs, I suppose).
To reduce the bulk of carrying the tent in it's largish original tent bag, I put the tent body and fly into separate superlight stuff sacks, thus having three much smaller items (poles, body, fly w/stakes) to distribute in my pack without adding weight.
All in all, a nice tent. I will keep this one, as a double-wall complement to my Black Diamond Lighthouse.
Very lightweight and great for solo or two-person…
Rating:


Source: bought via a "pro deal"
Price Paid: $275

Summary
Very lightweight and great for solo or two-person backpacking.
Pros
Lightweight
Double doors/vestibules
Easy to set up
Cons
Bottom seems flimsy
Top not quite taut
Overall, I really like this tent so far. It is light and packs up quite small and is also quite easy to set up. The first time I set it up was in light rain, and it was quick enough to set up that the inside did not get wet at all. The poles are pretty easy to set up, though I'm a little concerned that the 3-way junction might be a site for future weakness, but it's a little to early to say for sure. 
So far I have only used the tent alone and it has a ton of room for one person and their gear. Depending on the size of the people involved I think it would be great for two people as well. There are two doors and two vestibules and there is room in each vestibule for a full pack and boots. The inside side mesh pockets are nice for gear storage, but I really wish there was a net on top. There are some loops up there though, which could be nice if one wanted to construct a small clothesline for drying out wet clothing.
I have not had the tent for very long (only a couple months) so I cannot say too much about the durability, but the floor of the tent seems VERY thin. I do not currently have the footprint for the tent as it is sold separately, and they were out of stock when I bought the tent, but I think I will get the footprint because I am concerned that sticks or pinecones or whatever may poke a hole in the bottom of the tent.
The top of the tent does hold water a little bit. I haven't had it out in a downpour yet, so I don't know how it will do in heavy rain. In light rain it stayed nice and dry, but I'm concerned that in heavy rain the water may pool on top a bit, which could lead to leaking over time.
Great tent. A little pricey. I just used this tent…
Rating:


Design: 3-season free standing
Sleeps: 2
Ease of Setup: Easy
Weight: 4
Price Paid: way too much

Great tent. A little pricey. I just used this tent on a solo journey in Point Reyes. It was windy the first night and I didn't have it completely guyed out. The wind made the tent lean and rock back and forth.
The second night I had it all guyed out and it didn't rock so much in the wind. I'll primarily be using this tent solo as I like to keep my gear in the tent with me. The Copper Spur is quite spacious with plenty of room to sit up and stretch. The tent is very well designed.
Cons: The poles don't break down into very small pieces. Expensive (even the footprint).
Unbelievably I was setting this tent up in the store…
Rating:


Design: 3 -season freestanding dome
Sleeps: 2
Ease of Setup: very easy
Weight: 3.8 lbs
Price Paid: $400

Unbelievably I was setting this tent up in the store and the main pole SNAPPED! No undue pressure - wasn't forcing it or anything..the MAIN tent skeleton, just snapped. Had to be a defect, but at $400 I am so glad it happened in the store and not 3 days from anywhere.
Buyer Beware! I had researched this tent and had my heart set on it...very light, but obviously at a sacrifice on toughness.
Big Agnes Copper Spur UL2
currently retails for:
$399.95
MSRP: $399.95

where to buy: