User Review:
Big Agnes Seedhouse SL1
Rating:


Price Paid: $150 (previously used twice)

Overall, I am very pleased with this tent. It's the lightest tent I've owned and it packs really small. I've even got it packed down with a compression sack so it takes up little room. I've never seen anything like it.
I've taken it to the AT a couple of times since I got it in September and only got to use it 3 times (2 nights each). Lowest temperature I ever experienced in it at night was 22 degrees and it snowed. No condensation inside, it kept me dry in both rain and snow.
I love the fact it includes the rainfly and footprint and they work extremely well together. Love the mesh pocket inside at the head of the tent; great for hanging the lamp, ipod and socks. 
Now, I was looking for something as close to ultralight as possible, but not as claustrophobic as a bivvy-style. That's what the Seedhouse SL1 provides.
The gripes in other reviews are all valid, but manageable if you ultralight backpack, or reasonable if you take the perspective I give above:
Vestibule? What vestibule? LOL, I fit my boots and jacket in the vestibule. I think its more to keep the rain out and for looks than it is functional. You put anything in there and it completely blocks your ability to get out/in.
But here's a surprise. I'm 5'9" and 190lbs. I was able to fit my Big Agnes dual-air core pad, Encampment 15 sleeping bag, Baltoro 70 pack and boots all inside no problem and slept fine.
Height limits are an issue. I would not recommend this tent for anyone taller than me. I can change it in, but my head does rub the top of the tent if I sit up or crouch inside. The pitch is also very steep. But this is not an issue at all if you are laying down inside the tent on your back or propped up on your side (which is how I like to read), or you implement the ghetto-fabulous "clothers hangar" idea from another reviewer. Also length-wise I can lay down in it fined and it fit my bag and pad without any issues. But not sure for taller folks if it would get tight in there.
Work to pitch it? Lucky for me I knew about the fabric loop that runs the length ridge line of the tent body, and how the pole has to run through it as the first step in setup before I went out on the trail. I also packed the footprint with the tent so it all unrolled together. Finally I put down the 3 stakes at each corner first then build it up from there. I had it 'formed' in seconds. The tent definitely performs and looks its best if you have the fly all guyed out. To do this you need 11 stakes or a combo or stakes and trees. I bought mine with the MSR groundhog stakes. Super light, and could use 8 to get everything done. Again this is for the rainfly and tent. Tent alone can be perfect with 5. 
I didn't have any problems with the door as some have stated, no condensation, leaking, or issues with wind gusts up to 40mph (what I've experienced).
Bottom line is I give it a 4 because the issues above are so minor compared to how awesome this tent looks when set up, how little it weighs and how little room it takes up in the pack. But if the issues are significant for you I suggest you test out the tent in a store somewhere if you can first. 
I bought this used from someone who only used it twice, but was over 6' tall so he needed something bigger. I got it for a steal at $150 and don't regret my purchase at all.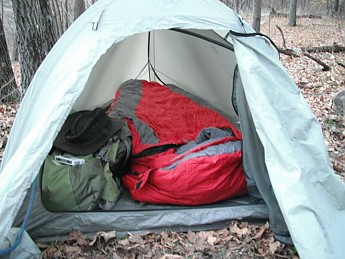 Where to Buy
sponsored links
Help support Trailspace by making your next purchase through one of the links above.