Enlightened Equipment
Revelation
Reviews
This quilt is great for those who feel too confined…
Rating:


Source: bought it new
Price Paid: $375

Summary
This quilt is great for those who feel too confined in a mummy bag and are searching for an ultralight alternative to a sleeping bag that won't sacrifice warmth.
Pros
Lightweight
Compact storage
Customizable color
Customizable insulation
Customizable size
Baffled construction
Enclosed footbox
Attaches to mattress pad
Cons
No hood
Down insulation requires special care
Down insulation can shift over time
As far back as I can remember, I was taught that mummy bags were the best (and effectively the only) way to keep warm in the woods. After all, it makes perfect sense—mummy bags decrease the amount of air around the body and capture all the body heat you can in an enclosed space.
Unfortunately, they also restrict movement while you're in them. This is less true in high-end mummy bags that feature full-length zippers, footbox zippers, etc., but I never used those. I always had bags that featured quarter or half zips on only one side. As someone who is a side / stomach sleeper, this was miserable! I can't sleep comfortably unless I can bend at least one leg for stability.  
I gave up on being comfortable while hiking years ago and just kept up the trend of using a mummy bag for a few years, deciding it isn't comfortable, and finally buying a new mummy bag (I have quite the collection now).
It wasn't until about a year ago that I discovered backpacking quilts. After doing some research, I kept coming back to EnLIGHTened Equipment. Their reviews were consistently good and they gave me the ability to customize every aspect of my quilt.
After poking around their site and asking every question I could think of, I finally decided on the EnLIGHTened Equipment Revelation Quilt (a decision that was then reenforced when CleverHiker.com named it the best sleeping bag / quilt of 2015) and I couldn't possibly be happier with my decision.
MATERIALS:  EnLIGHTened Equipment makes all their quilts to order, so you actually get to choose your own materials! For my Revelation Quilt, I chose the 20 degree 900 fill DownTek Water-Repellant Down in a 10D nylon shell with 20D weather-resistant nylon strips at the head and foot. You also have the option to choose 800 fill (duck) down, 850 fill (goose) down, and 950 fill (goose) down (950 is only available on some products) in either regular down or DownTek Water-Repellant Down.
When it comes to down fill ratings, it is important to remember that this does not (or rather, should not) affect warmth. Rather, it is a measurement of the lofting power of 1 oz of down. If everything else remains the same, it will take less 900 fill down to create a 20 degree bag than it would if you used 600 fill down. Both bags will have a 20 degree rating, but the 900 fill bag will weigh less and be more easily compressed.  
I went with 900 fill for my bag because of the weight and compression. I want to keep my pack as light weight as possible, but don't want to sacrifice warmth to do it. If weight weren't an issue, I would have saved the money and gone for an 800 fill quilt instead.
The rest of the materials were chosen for added weather resistance. I specifically chose the DownTek Water-Repellant Down. This doesn't make my quilt waterproof; indeed I still have to be careful not to get it wet. It does, however, make it somewhat more forgiving.
The same is true of the 20D weather-resistant strips. EnLIGHTened Equipment's 10D and 20D fabrics both have a Durable Water Repellant coating. However, the 10D is more breathable while the 20D is more rugged (though two of my friends have since told me that they have only the 10D on their bag / quilt and have never had issues).  
I chose to add the 20D for those days when I choose to leave the tent behind and sleep under a tarp in the summer. Like the DownTek, the 20D strips don't make my quilt waterproof, but do give me a little additional flexibility.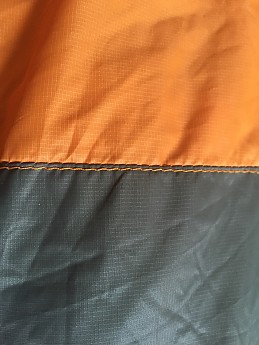 DESIGN:  The Revelation Quilt has a great design in my eyes.   
First of all, as the name suggests, this is a quilt, not a bag. On warmer nights, you can open it up fully and use it as a blanket. As the temperature drops, you can cinch the footbox closed using the attached cinch cord, zipper, and snaps to retain body heat, then attach the sides of the quilt to your mattress pad (The quilt comes with two elastic straps so you can connect your quilt to your mattress) to protect against the cold ground.  
Even when enclosed, I find the Revelation to be far more comfortable than any bag I have used in the past. It holds the warmth in wonderfully and I still get to move my legs and arms around. If it gets even colder, you can use the same attachment points on the side of the quilt to snap it into the familiar mummy shape and hold on to as much body heat as you can product.
Just make sure to do this with the opening on the bottom. That way you don't have a nice body-length vent running along your quilt. If you really want a zipper instead of these snaps, the new EnLIGHTened Equipment Convert quilt uses a full length zipper. Personally, I like the snaps as they give me more freedom to move.
One downside to the quilt design is that it doesn't include a hood. This didn't bother me too much when I ordered the Revelation since I usually sleep in a hat while camping. However, when my Revelation arrived, I found that the "long" size was longer than I had anticipated — long enough, in fact, that I could pull it completely over my head!
Next, there is the matter of baffling. Down bags, quilts, jackets, etc. will either use baffled or sewn-through designs.  Sewn-through is exactly what it sounds like — the two pieces of fabric are stitched together in order to create pockets / channels for the down. While this method saves weight, it creates small cold-spots around the stitching.  
Baffles, on the other hand, are small pieces of mesh fabric that are attached to the front and back of the bag / quilt / garment. They weigh a little more, but allow the bag / quilt / garment to have more loft and avoid cold spots. All of EnLIGHTened Equipment's quilts use mesh baffles, leading to a particularly warm quilt.  
When you unpack your quilt, you can feel the amount of space between the inner and outer fabric. It's difficult to show this in photos, but if you look at the stitching used on the inner and outer fabric, you'll notice that it is different colored thread.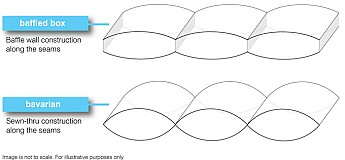 EnLIGHTened Equipment is very proud of their "Shiftless Baffle" design. When looking at the Revelation Quilt, this is the V shape that the baffles take. EnLIGHTened Equipment used vertical baffles on the sides of the quilt so as to prevent insulation from falling to the sides, leaving a cold spot for side sleepers.
However, they also wanted to ensure that insulation wouldn't evacuate the footbox during packing / unpacking, so they turned the baffles horizontal at the foot of the quilt. This "Shiftless Baffle" design gives the down less range of motion that either horizontal or vertical baffles would do on their own, but also avoids the weight of more complex baffle patters (grid, Greek key, etc.).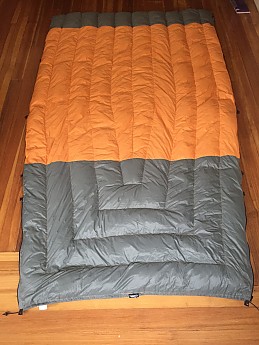 LOFT:  The loft on my 900 fill quilt is a little deceiving at first. When I unpack it, it appears to be almost flat. Within 5 minutes, however, it quickly bulks back up. All in all, the baffles seem to be doing their job as this quilt lofts up wonderfully.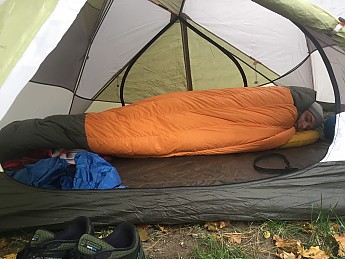 WARMTH:  The first time I took my bag out, it dropped to 22°F overnight. In any of my old bags, that would have been a miserable evening, but the Revelation did a great job. Once I got the hang of using it (it can take a little adjusting to get rid of all the drafts), I slept like a baby. Waking up wasn't quite as pleasant, but I was able to wear the Revelation as a sort of crude cape while I made my morning coffee, so that definitely helped.
COMFORT:  I am amazed at how comfortable this quilt is. This was the first time I ever really splurged and bought a high end quilt / bag — the difference in how it feels is fantastic. Granted, I normally sleep in long underwear, shorts, and a t-shirt while camping, but even when I tried this bag out at home, it felt great against the skin. The fabric is very soft and the quilt traps warmth amazingly well.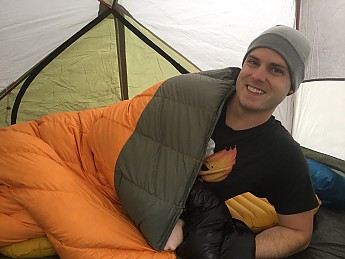 FEATURES:  
Footbox:  On cold nights, a drawstring can be used to close the foot of the quilt. A zipper and snap can then be used to create a fully enclosed footbox.
Mattress Pad Attachment:  A set of snaps on either side of the quilt allow you to attach it (using the included mattress straps) to your mattress pad. This will help to insulate you against the cold ground at night.
Fully Enclosable:  The mattress pad attachment points can also be used to seal the quilt into a bag. Two sets of snaps at the head help to seal in as much warmth as possible.
DownTek Down:  Water-repellant down can be added for an extra fee. This treatment doesn't make your down waterproof, but does add a little more water resistance to make it more forgiving.
20D Weather Resistant Strips:  Weather resistant 20D nylon strips can be added to the head and food of your quilt for added strength and weather resistance if you know you're rough on quilts / bags.
Customizable Size:  The Revelation comes in Extra Short, Short, Regular, and Long lengths (mine is a Long) and Slim, Regular, Wide, and Extra Wide widths (mine is a Regular). You can pick exactly the size that works best for you.
Customizable Down:  In addition to choosing DownTek or regular down, you can choose between 800 fill duck down, 850 fill goose down, and 900 fill goose down.
Customizable Temperature:  The Revelation comes in 50 F, 40 F, 30 F, 20 F, 10 F, and 0 F temperature ratings so you can decide how much quilt you really need.
Customizable Colors:  The ability to choose colors is really nice. I went with a black interior (shows wear less) and a neon orange exterior (great for emergency signaling). You can pick whatever color scheme strikes your fancy!
EASE OF USE:  While a quilt seems like the easiest thing in the world to use, there is a bit of a learning curve here if you want to keep out drafts. If you have ever lived in a drafty old New England house, this shouldn't be anything new for you.
Once you get comfortable, you'll want to tuck the edges of your quilt underneath yourself in order to help protect against drafts. Attaching your quilt to your mattress pad definitely helps here as it forces the edges of the quilt to roll under you somewhat.
There are two straps included with the Revelation. One is an actual mattress strap – this one is an elastic ring with two clips, one of which can be moved. This one attaches to your mattress pad and holds the quilt on top of the pad, but beneath you. The second strap is shorter and only attaches the the quilt — you'll run this one under you and attach it once you're in the quilt in order to keep the edges tucked in through the night.  
You do need to be careful here as these quilts are not designed to wrap under the mattress pad itself. Incorrectly attaching your mattress straps could damage the quilt.
PACKABILITY:  I am amazed at how well this quilt packs down. Mine weighs in at 20.47 oz and fits into a 7" x 12" nylon stuff sack (the photo makes it looks a bit larger, but it really does compress down to this size), but I normally just pack it down into the bottom of my pack in order to avoid a lumpy backpack.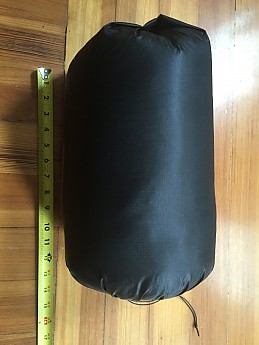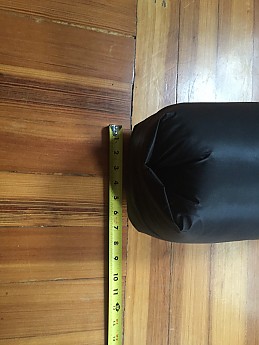 NOTES:  Each EnLIGHTened Equipment quilt is made to order, so expect a 4-6 week wait after you place your order. It isn't as convenient as picking up something from REI, but these quilts are well worth the wait!
Down does come with a few care / maintenance considerations. First, you need to be careful not to get it wet. This is true whether you have a down quilt from the '70s or a DownTek down quilt with weather resistant 20D nylon shell. No material is perfect. While modern materials make down more weather resistant, they don't make them impervious to water.  
If your quilt does get wet, make sure to dry it completely before packing it away. The best way to avoid getting your quilt wet on long hikes is to use a pack liner or a contractor bag inside your pack. Personally, I use the pack liners sold by GossamerGear. They weigh next to nothing and come in a set of two for $5.  
Excellent—my primary "bag" for about a year and…
Rating:


Source: bought it new
Price Paid: $240

Summary
Excellent—my primary "bag" for about a year and about 30 nights out, from 60°F to -10°F.
Pros
Lightweight
An essential layer (inner or external)
Comes in many temp ratings
Made in Minnesota
Responsive company
The Revelation is now an essential part of my primary sleep system. With typical season, all clothing worn and 3/4 NeoAir pad, I sleep well to 40°F (in a 40°F rated quilt).  When colder, this becomes my inner bag atop several full length pads.
My quilt's specs:
Revelation, Ready 

to ship (non-custom)

800 GDD

Hydrophobic Down (HyperDry)

Temperature: 40°F (5°C)

Size: Regular / Wide




$240.00 USD.  
My next bag will be a 0°F Engima (same as Revelation but with a sewn foot box). 
To Brett Mills' excellent review, I add:
   -- in addition to wearing a stocking cap, add a heavy-weight, fleece balaclava for a second head layer, neck protection, and a humidifying/warming layer to breathe through. (This is the least-weight way of increasing the sleep system's effective temp rating... cheaper than a down hoodie and usable during the day.)
  --  Quilts comes with a small, waterproof stuff sack and a large, breathable, storage bag.
Versatile, well made, warm and light. Comfortable…
Rating:


Source: bought it new
Price Paid: $430

Summary
Versatile, well made, warm and light. Comfortable in the desert and in the High Sierra. This quilt delivers—great for long distance backpackers/bike touring.
Pros
Ultralight
Durable
Packs up small
Warm
Drys quickly
Cons
Condensation accumulates
Expesive
Overall I loved this bag-alternative. I was very concerned with 1) lowering the base weight of my pack and 2) staying warm at night.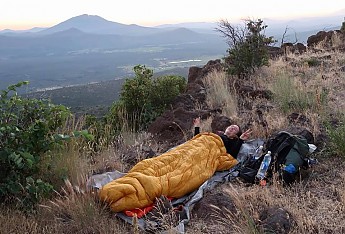 These bags are custom made, so here are my specs:
Down Fill: 950, Down Treatment: DownTek Water-Repellent Down
Temperature: 10°F (-12°C)
Length: Regular - 6', Width: Regular - 54"
Warmth - It's warm! (I am definitely a cold sleeper.) My 10°F bag worked incredibly well for me over the course of six months on the PCT. It was comfortable in the desert and in the High Sierra. That being said, there were some nights in September and October, when it definitely went below zero at night and I was very cold -- was I comfortable, not at all... was I safe and rested enough for a full day of hiking the next day, yes!! You can use this bag in shoulder seasons for sure. Just be realistic about the quality of sleep you expect from ultralight gear when you push the boundaries of temperature ratings.
Fit & Comfort - Very comfortable for a 5'9" individual. I could just cover my head if I needed to, but most people would supplement this quilt with a puffy or a hood. Comfortable on warm nights when the bag is unzipped and uncinched. Warm on cold nights when the bag in cinched, buttons are buttoned and the sleeping pad straps are on tight.
Entry/Exit - Easy when not using the sleeping pad straps, very clumsy with the straps. On colder nights I felt like an out-of-practice magician trying to either climb into the pre-strapped quit or grab and clip the elastics behind me and my sleeping pad.
Moisture - 80% of the time great, 20% of the time enLIGHTened Equipment quilts would have A TON of condensation on the outside of the quilt when other bags/quilts would not. To me, it is the most annoying thing about this bag, but it wouldn't make me look for an alternative. They dry really fast, it's just really annoying to deal with condensation when others at the same camp spots did not. This happened to other folks with enLIGHTened Equipment quits on the PCT too.
Packability - Awesome! Light and stuffs up small.
Loft - Holds up under intense use. I used this quilt every night for six months and I washed it maybe three times while on trail. It stayed nice and fluffy, but you definitely notice a difference after washing with Down Wash.
Construction & Durability - Great. This quilt took heavy/abusive use and it held up. I plan to continue using it for a long time.
Conditions: Used every night for six months, in the desert, High Sierra, and on the border of Washington and Canada.
Airing it out at an early camp spot: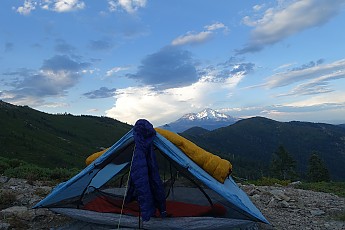 I like this quilt, mainly because when backpacking…
Rating:


Source: bought it new
Price Paid: $280

Summary
I like this quilt, mainly because when backpacking in summer months and shoulder season spring and fall temps sometimes my Western Mountaineering bag is a little overkill. This is the enLightened Equipment Revelation 20° down quilt in navy and charcoal, regular wide.
Pros
Convenience for side sleepers
Lightweight
Price
Cons
Straps need a learning curve
Not sure this quilt will match temp ratings
Need to be wider as advertised, at 58" it's 56"
The quilt for the money is unbeatable, as well as the service. Size of my quilt is regular, width wide. I'm a stocky built guy and this quilt fits me even when I toss and turn. However for a wide I think the quilt needs to be two inches wider.
The straps that attach to the pads seem to work OK, and I haven't had any issues with them, but I'm glad I watched the Enlightened video on how to attach the straps.
I tested the bag in temps down to the low 40's, but I have my doubts about temps into the 20s, we shall see.
Customer service is excellent, except I had to follow up a few times in order to get answers regarding the quilt's width. Wide is supposed to be 58" but it's actually 56" which was finally explained to me by Jacob at Enlightened and that I had the correct quilt as purchased.
I would like this quilt to be a little wider as when I turn to my side I felt a little draft sneak in. This is the reason I believe it won't be comfortable at 20° as rated since I had to wear a puffy and cinch everything down as well as wear a hat in 40° weather.
I backpack a lot here in the Utah mountains and national parks, so this quilt works well for mainly temps 40° and above, which means I won't be using this quilt in the winter months or late fall and early spring.
This product is great for ultralight backpacking.
Rating:


Source: bought it new
Price Paid: $250

Summary
This product is great for ultralight backpacking. It weighs nothing, packs down to nothing, and is a true three-season quilt.
Pros
Lightweight
Versatile
Packs small
Cons
Can be drafty
Slightly fragile
I find that the quilt is true to its temperature rating if you are out of the wind. Because it is a quilt, it tends to be a little drafty if you move around a lot in it. It's warmest if you sleep on your back, but I can sleep on my side and still be fully enclosed. Just be aware that if you toss and turn, you will likely expose the open underside and let in some cold air. 
You have length and width options to choose from so that you can get a good fit for your body. If you like to sleep on your side, consider a wider width so that you'll have plenty of room. 
Since this doesn't have a zipper, it's a little more difficult to get in and out of the bag, but I don't consider it to be any big deal. 
If you are concerned about moisture, get the optional weather resistance stripes on the top and bottom of the bag. They make a big difference. 
The quilt packs down super tiny, and so easily that I don't even have to bother with a compression sack. Then after unpacking, it lofts up again almost immediately.
All the features work great. I love the pad straps and the ability to completely open up the toe box. Just be gentle with the snaps, as the fabric is obviously thin and feels like it could tear with rough use (though I have not had any tears yet in the year I've owned it). 
The quilt has held up really well over time, and EE is really great about making repairs if the need should arise. A few months after I got the quilt I noticed that one of the seams was coming apart. EE paid shipping costs both ways and repaired the quilt for free. 
I've used this quilt for one year in all sorts of conditions—under a tarp, cowboy camping, in lean-to's, in tents, and in a huge variety of temperatures—from 20 degrees to 80 degrees. It's so versatile that it can handle any temperature above its rating, as well as a good deal below if you supplement with a liner and warm clothes. 
Lightweight, affordable comfort for the UL backpacking…
Rating:


Source: bought it new
Price Paid: $275

Summary
Lightweight, affordable comfort for the UL backpacking dude or dudette!
Pros
Weight just 19 oz
Packs down super small
Affordable
Made in USA
Cons
Can be drafty in colder temperatures
Reaffirming what has been said before. The Revelation is a great lightweight quilt for three-season backpacking. This 20-degree version is warm enough for summer cooler temperature at altitude.
I don't mess with the supplied straps and I like how small this packs down. For the price, I believe it's a good value for three-season overnights. Used it for eight nights to section hike the JMT in Yosemite.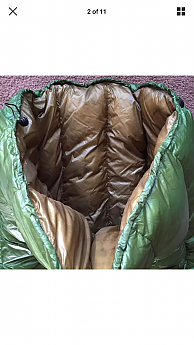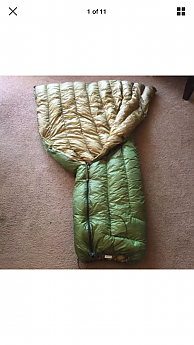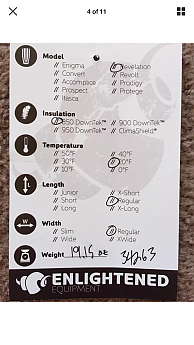 Bad customer service and policy. I hiked the PCT 2017.
Rating:


Source: bought it new
Price Paid: $375

Summary
Bad customer service and policy.
Cons
Customer service
Policy
Warmth
Right size
I hiked the PCT 2017. I had this 0-degree bag and I was freezing at night and I did strap it correctly. I came to the conclusion that the seller I called sold me a quilt too small for me. So I called them back after three weeks on trail. They told me their policy is only 40 days and I passed it (compared to a year for all other major sleeping bag companies).
They didn't want to help me at all and preferred to let me freeze than exchange it for a bigger one or give me the money back. Go for a Feathered Friends, ZPack, or REI instead.
Joel Beaudoin
Cold! Regret buying two of these. Not at all what…
Rating:


Source: bought it new
Price Paid: $565 for two

Summary
Cold! Regret buying two of these. Not at all what is advertised temp-wise.
Pros
Custom color choices
Compressibility
Cons
Cold! Nowhere near rated temps
Straps don't keep out drafts
Did I mention it's cold?!
I am a female backpacker and am super disappointed with my EE quilts and wish I'd never bought them. Mine is supposedly rate to 10 degrees but I freeze in it below 45°. I've tried every way of strapping it and the only thing that sorta works is buttoning it up like a sleeping bag and trying to sleep with the openings toward my XTherm pad.
I bought one for my son and it's supposed to be a 30° but he can't bear it even on 50+ nights. Just putting an alternative view out there to balance all of the positive ones which led me to these regrettable purchases. 
I have an issue with the Revelation quilt down moving…
Rating:


Source: bought it new
Price Paid: $250

Summary
I have an issue with the Revelation quilt down moving in the baffles and creating cold spots. If I hang the quilt to air out on a windy day the down will shift to the bottom of the quilt and it will need to be redistributed, a real pain to deal with.
Cons
Down shifts in the baffles creating cold spots
Where to Buy
sponsored links
Help support this site by making your next gear purchase through one of the links above. Click a link, buy what you need, and the seller will contribute a portion of the purchase price to support Trailspace's independent gear reviews.
Enlightened Equipment Revelation
MSRP:
$250.00

The Enlightened Equipment Revelation is not available from the stores we monitor.
Recently on Trailspace