Reviews
This is one of the best all-season tents made that…
Rating:


Source: bought it new
Price Paid: $930

Summary
This is one of the best all-season tents made that is suitable for backpacking or adventuring—top shelf materials and a superior design from an expedition tent manufacturer. This tent will handle some rough conditions, as well as a calm warm summer night. I advise combining it with the matching footprint.
Pros
High area-to-weight ratio without sacrificing strength
Easy high wind setup
Great ventilation, or close it up for winter conditions
Full sit up height anywhere in the tent
This is a full review, so hang in there, my friend. If you are interested in the Hilleberg Kaitum 3 tent, you may find my real world experience with it useful if you read this entire diatribe.
(NOTE: I'll be adding photos at the end of the review over the next month or so of some of the tent details. I've added a few already.)
As a 55-year-old cyclist, scouter, hiker, and backpacker, I've been through more tents in 40+ years than I can remember. I still have fond memories of that first nylon A type, 2-pole pup tent I used in scouting in the fall of 1971 at the tender age of 10. By my best estimate, I've owned at least 25+ tent of all types, sizes, and brands and I've borrowed probably twice that number to try out. I mention this only to give you, the reader, an idea of my experience level with tents. 
I purchased the Kaitum 3 about 1.5 years ago to replace a 20+ year old heavy double wall tent that had been ruined a few years ago. When I started looking at tents to replace the old tent, my thoughts were I'd like a four-season tent again, but one that didn't put 16+ lbs in my pack and isn't super bulky. I've found that the Kaitum meets those requirements and much more.
I've now reasonably tested the Kaitum 3. In short, it's the best "does it all" tent I've ever used or owned, if not the very best. That said, I'd like to point out that there is no such thing as the perfect tent that will work perfectly for every condition or situation, but this one comes as close as any tent I've used can come.
Below are the basic parameters I used when looking for this tent:
Attention to design detail and material quality
No need for additional seam seal / high seam quality
Ability to handle very rough weather and high winds
Setup in rough weather is simple and well thought out
As high of a space-to-weight ratio for backpacking as I can get in a four-season tent
Two-person minimum for my wife and me; potentially three-person for my two sons and me on occasion.
Good headroom in a high percentage of the tent
Good fitting custom footprint available
True 4-season adaptability
Adequate vestibule storage
Hilleberg "the Tentmaker" is best known for making high-end expedition tents of the very highest quality materials. Tents and shelters are all they make and they are still family owned. Hilleberg classifies its tents by "labels"; black for expedition 4-season grade; red for lightened 4-season grade; yellow for lightweight 3-season grade; blue for large base camp tent variations. 
The Hilleberg Kaitum tent design is based upon the time tested Hilleberg Keron expedition tent, in a lightened version. They make two sizes of the Kaitum in standard and GT variations in three colors. It is a tunnel or "caterpillar" design, meaning its structure comes from a series of arched poles held parallel to each other by its outer tent fabric, giving the tent its classic caterpillar appearance. Such structures are very simple, yet very strong holding up very well under extremely windy and harsh conditions, making the design popular for expedition and adventuring use.
Hilleberg seems to have everything I look for in tents with nothing I don't. With as many tents as I've had, I've become somewhat of a tent snob. I discovered Hilleberg a few years back when I saw a Keron setup on a bike tour. It seems the Kaitum has been designed for the backpacker that doesn't want to forego tent stability and roominess while being weight conscious. 
With Hilleberg, price point seems to be a minor concern when they design tents, including the Kaitum. The Kaitum is in its red label tent line, meaning some materials have been lightened from their black label expedition grade tents, but only enough to put it in the backpacking range of weight and not to the point of making it unduly delicate.
Hilleberg will send you samples of its tent materials if you request it. I can assure you, even their very lightest material is extremely strong and tear resistant compared to most other tent materials I owned, even though it is very thin and lightweight. 
The poles are premium grade DAC aluminum and are swedged at joints and pre-bent, increasing their strength further. The tent "tunnel" shape insures this tent is aerodynamic, even when broadsided by the wind; it will not collapse inward when hit broadside. If you've ever sat in a tent in high wind with the wall smacking you in the head from the wind, you know what I mean. 
The Kaitum has a very high number of guy points. Each of the six ropes on the sides are looped to two guy points each and the two end ropes are looped to three guy points each, making for 18 guy points with just eight ropes! All guy points are provided with ropes already attached with tensioners. All ropes have tensioners provided; not those cheap-o plastic figure-8 tensioners, but rather a high quality plastic line runner made specifically for the 3mm rope used by Hilleberg for this tent.
There are 10 stake down points on the tent body where it meets the ground for the highest wind conditions. (I normally don't use the wall stake down points in fair weather.) There are enough stakes provided for all guy ropes and stake down points. Hilleberg guy ropes are woven to their core, much like larger climbing ropes, so it does not have a separate sheath that can fray from its core. Further, the rope is true static line, meaning it does not stretch. 
The outer tent (which traditional three-season tent users would think of as a rain fly) is made of a non-breathable "Kerlon" material, in what they call 1200 weight; it is very supple and tough stuff and is completely silicone impregnated.
One thing you note when you look inside the inner tent is it is devoid of seam seal. Yikes, you say? No worries; it doesn't leak due to a special process that Hilleberg uses to sew their tents. Mine has not leaked yet at 1.5 years old with probably 20 nights of nasty rainy weather conditions accumulated on it (60+ days of total use). The inner tent is made of more traditional rip-stop nylon and is breathable, as one would expect. Zippers, zipper covers, pole cups, and strap tensioners are all very high quality.
How many times have you had to wrestle a wet tent into its stuff sack? Even the Kaitum stuff sack is sized so that you don't have to try to squeeze your tent into it. The sack is quite roomy, allowing the tent to be slipped in easily even when wet. Final compression of the tent occurs as you stuff the rest of the gear into your pack. 
I can go on, but I think you get the point; The Kaitum is made of the best materials available and is engineered to the max, right down to the stuff sack. I see no signs of the slightest corner cutting in design or manufacture.
A tent's ability to handle rough weather and wind has always been my paramount parameter when choosing a tent. Everything else is secondary. If I don't feel confident a tent it can protect me when a pop-up storm comes up, it's of no use to me. Hilleberg comes from a mountaineering/adventuring pedigree of tents and as such, its black label tents are designed to handle horrific conditions and its red label tents run a close second.
With all the guy points and materials used, the Kaitum handles some pretty tough weather. I have not been in it in more than a 40 MPH wind with driving rain, but at 40 MPH in rain heavy enough you have to almost yell to hear each other inside the tent, it is solid as a rock. Being that it is a four-season, no rain or mist blows up under the outer tent in 40 MPH wind as the outer tent goes down to the ground completely.  You confidently can sit or sleep perfectly dry with no wind whistling through your tent in your Kaitum shelter. 
Further, setting up in the wind is not difficult and the process is documented by Hilleberg on Youtube. Ever set up a self-supporting, free-standing dome type tent in a wind? If you have, you know it's a real challenge and often next to impossible. All Hilleberg tents are designed to handle high wind setup. The inner tent of a Hilleberg stays perfectly dry during setup, even if raining, due to the inner and outer being attached to each other and going up simultaneously so the outer always covers the inner. That won't happen with a typical 3-season tent, or most 4-season tents, that use a separate rain fly!
In multiple day super wet conditions, you may have your inner tent detached from the outer to insure it stays dry when packed. Since the outer tent sets up before inner tent (inner is supported by the outer and attached from the inside), you can store your inner tent in a separate dry bag and attached it from the inside of the outer tent as a last step to make sure your inner tent stays bone dry, even in the harshest conditions. Sweet! There are very few tents that are capable of this type of rough weather capability and setup, with most of them being Hilleberg tents.
Weight-to-space ratio (with structural stability) is always a big tradeoff for backpacking tents. I don't mean just square feet of floor space, but also headroom and cubic feet internally. My wife and I want a bit more room in our tent now than we did when we were 30. I had first considered the Kaitum 2. Then I noticed that the weight penalty paid to go from a Kaitum 2 to a Kaitum 3 is just 11 oz. (with footprint, 14 oz.), so I opted for the extra room of the 3-man Kaitum. 
Since we do use the footprint, we pay a 7 oz. penalty each, which I find perfectly acceptable for the incredible comfort afforded. It feels like being in a mansion on a trail. Others that have crawled in to check it out usually give me the "whoa!" once inside. With footprint, it weighs in at 8 lb, 14 oz. fully packed, so it's certainly not an ultralight for a two-person outing, but it's a great balance of "light enough", strong structure and comfort. 
The internal tent floor area is almost a perfect rectangle measuring right at 7' x 6', giving a lot of shoulder room for two people when sleeping. Further, the sitting headroom is 35" to 41" down the entire length of the floor, with a gently arched slope to the sides, making it possible for the average person sit up without hunching literally everywhere in the tent. This is one of the beauties of "caterpillar" design tents; they afford great cubic feet of internal area and headroom for their weight. 
One argument against such tents is they are not free standing, which is true, but 'tis a silly argument. But again, one has to consider high wind setup as well, for which free-standing tents are usually abysmal in. Not being free standing, but having this kind of living area, being able to handle high wind set up and overall conditions is a design trade-off I find more than acceptable.
Now if you are a person that hikes in calmer weather and on primarily rocky ground, perhaps the free standing parameter is more important to you, but I'd bet that this is not the majority of people using tents.  The space-to-weight ratio of this tent is indeed superb.
I don't use a tent without a footprint… period. Almost all tents today have custom footprints available, although the fit on some brands' footprints is questionable. For a footprint to function correctly, it must fit perfectly. Tents are expensive and the bathtub floors of tents are key to keeping you dry at night. A footprint keeps the ground moisture down and keeps you from poking holes in your tent floor's waterproofing. For this reason, I feel it is a key part of the tent system and should not be skipped to save a pound. 
The Hilleberg footprints are unique. First, they don't just lay under your tent or are held by the tent stakes.  Rather, they are installed onto the tent before you ever head out and become a part of the tent. So when you set up your tent, there is no extra step to putting down the foot print, which means even in rainy weather set-up, no water gets on top of the footprint at all! The footprint simply comes along for the ride and is magically perfectly placed every single time. Awesome sauce! 
The other unique thing is that the footprint doesn't just cover the inner tent area, but the vestibule areas as well! This is very, very NICE. Not only does it keep ground moisture down from within the tent's total area, it's great to be able to slide out of the inner tent into the vestibule in cold/wet conditions and close up the inner tent before opening the outer tent, all while sitting on a dry surface to put your shoes on. I can't say enough about that little nicety. I didn't know I was missing that feature until I had it! Best footprint design EVER.
Why do I want a true 4-season tent? Because I can close it off 100% when I need to. Never does water splash up under the rain fly edges in high winds. What else makes a 4-season tent? I define a 4-season tent as being adaptable to ANY weather condition. From a hot summer campout, to blowing thunderstorms, to the awful time of year where it goes back and forth across the freezing point in the rain, to full on blowing and accumulating snow. If a tent can handle those four conditions and keep you reasonably comfortable in them all, then it's worthy of calling itself a four-season tent. 
Unfortunately, what many manufacturers are now calling 4-season tents are nothing more than a 1-season winter tent. I'm not going to pick on any manufacturer or design, but in my opinion most tent manufacturers have went in the wrong direction for the last 20 years on 4-season tents and ended up with 1-season tents.  They usually suffer in the ventilation department.
Getting the right amount of ventilation in a 4-season tent in varying conditions is a careful exercise in opening doors and ventilation windows. If there are not enough of them, they are too small, or the convection flow isn't right, then one cannot meet all the weather conditions and the tent turns into a wet sauna, gets ice forming inside or is just simply uncomfortable. 
The ends of the Kaitum inner tents can be completely closed, left screened completely or any combination thereof. The outer tent vestibule ends can be rolled back nearly completely or left at varying levels of being open, plus there is hooded ventilation on each end of the outer tent for rainy/snowy conditions.  I've been in the Keitum in 90+ F conditions down into single digits.  The Kaitum design is truly a 4-season tent and handles those conditions with ease.
The Kaitum design has decent sized vestibules at both ends. Like most double vestibule tents I've owned, I end up using one vestibule (windward side) for storage and the other for minor storage and egress. As previously mentioned, the footprint covers the floor of both vestibules, making for nice sitting and storage areas indeed.  While I've not used the GT version of the tent, if one wants a REALLY nice big vestibule and true sitting area, the GT versions of the Kaitum design offers an extra outer tent section that increases one end of the vestibule by an entire tent section length. It adds about 1.5 lbs more weight and I don't need the room for backpacking personally, but for other adventuring like bike or canoe camping, I'd opt for the extra vestibule space in a heartbeat.
Since you can remove the inner tent from the inside, it is possible to remove it and sit inside the tent on rough weather days when you are not going to pack out. This opens it up further inside making for a lot of usable room. You can then gather a couple more people inside more comfortably. Used this way, you can easily sit 4-5 people inside a Kaitum 3.
Hilleberg makes a point of this in their manuals and I have tried it out in my backyard, although I've never used the feature in practice while camping. I suppose on a cold windy day when base camping I might do so if I were with a small group, but I just haven't had the opportunity yet. It is a unique feature to point out.
OK, so that's all the good stuff. But like I said, nothing is perfect. Below are a few neutral and negative points.  There aren't many, but to be fair, I'll point out the ones I've noticed.
Neutral Points
Zippers: The zippers on the Kaitum seem somewhat delicate, but are holding up fine thus far, so it may just be perception. This is obviously to save weight, as zippers are one of the big weight contributors on tents.  The one place where it could be problematic if you are not careful is on the inner tent. The inner tent is tensioned by guying the outer tent. If you guy it too tightly, you will put undue pressure on the inner tent's zippers on the lower right corner area when you are facing the door from the inside. If you over tighten your guy points or don't guide the door material back together properly, you can feel the zipper working hard and almost grinding on itself. 

Some practice on guying the tent to the right tension and trying to use both hands when closing the inner tent zipper should be exercised. It doesn't take long to figure out the proper tension and how to close the inner tent zipper as to not feel it "grind". As long as you are aware, this isn't a problem. For the amount I'm using the tent, it will be fine. 

The other choice would be for Hilleberg to use the Keron's heavier zippers on the Kaitum's inner tent. I can't say how much weight it would add, but it would add weight as it is a 6'+ long zipper X2. In their manual, Hilleberg makes a big deal about cleaning the tent zippers with a soft brush, especially when in sandy environments. I've not camped in sandy conditions with it, so I have not felt the need to clean them. I've not ever seen another brand of tent mention this. Because it's a weight issue, I've put this point in the neutral category. I think as long as you are aware of this, it's not a negative.
Specific rope compatible with their line runners: The ropes that Hilleberg uses is very nice stuff. However, if you cut one somehow or need to replace it, you can't just use any rope and expect it to hold with the line runners, as it needs that weaved solid core to bite into well. It's not a negative, but you should be aware. If I changed to another type of rope, I'd probably have to use an alpine adjustable loop instead of the Hilleberg line runners. But the ropes supplied seem very tough indeed, so I doubt I'll ever replace them.
Clothesline instead of attic: The Kaitum has four pockets in the lower corners of the tent. Because the inner tent is supported by the outer and the way it is help up, there is only an adjustable tension clothesline and not an "attic" in the inner tent. The line runs for one end to the other down the top of the center. It's fine by me and not an issue. It's a great way to dry your wet socks.
Must be guyed to stand: To get it to stand requires just 4 stakes; 2 at each end of the vestibules. But like any tent, guy lines should always be put in place to insure stability if weather come in unexpectedly. As mentioned, the fact it is not a "free standing" tent is a neutral issue in my book. Being able to handle high wind set-up is much more important as is storm stability. Free standing really isn't needed in 95% of the cases. I camped for 20 years before self supporting tents became the standard and had no problems back then, so it's simply not important in my opinion.
Colors: Comes in three colors, Green, Red, and Sand. I opted for green, but if I had it to do over, I'd get sand. The green is very, very dark and looks black at night, or at least mine does. In the morning, the tent stays dark inside fairly late, which I don't like. But that was just my error in color choice.
Downsides — Nothing is perfect after all!
Non-reflective guy rope: Hilleberg guy rope is super stuff strength-wise. But can't they have it made with reflective properties? We're already into some pretty rarified air price wise, so what would another $20-$30 be for it to have reflective properties added to the ropes? I like reflective guy rope so I don't trip on it at night, but more importantly, other people from other tents tripping on my guy ropes. Some people just are not observant enough or give tents a wide enough berth, usually greenhorns. (It's one of those "really?" moments when it happens.)  



I've switched all my other tents out to reflective rope over time. Because I don't want to sacrifice the holding ability of the line runners on the Hilleberg, but want light reflective quality to its ropes, I've resorted to pieces of reflective tape at strategic points on the Hilleberg ropes that end up being near the staking points.  I've even asked them about this on the phone. There is no plan to make their ropes reflective. This isn't a huge deal, but it is a negative in my book, albeit a small one and not related to the tent structure itself.

Inner screen door cover droops onto floor when opened, unless rolled perfectly: When I want the inner screens uncovered for maximum ventilation, I find it difficult to roll the inner door up and keep it rolled up properly to be held by retainers so that it doesn't drag the tent floor or get caught in the door zipper when closing. Perhaps I haven't taken the time to develop the proper rolling technique to keep it from catching, but it shouldn't be this hard to do. It's the one annoying wart in an otherwise nearly perfect design.
High price: Hilleberg tents are expensive tents. Further, this class of tent NEVER goes on sale and the stores that carry them sell them for the same price as directly from Hilleberg US. With a footprint, this tent hits a proud $1,062. It took me four months to pull the trigger on it as that is a fair amount of money to be separated from for a tent. In the world of three-man four-season tents, that's flying in the rarified air that only 1-2 other manufacturers soar to.

However, Hillebergs tents are in a class all by themselves in my opinion. Considering the balance of quality, design, area-to-weight ratio, weather performance, and overall flexibility, very little else compares regardless of price. If you can handle the price tag without hurting your budget too badly or crying yourself to sleep, you'll not regret the purchase if you use the tent often. 

If you are only going to spend two nights a year in it, it's not worth the price. That said; I would NOT want Hilleberg to cheapen their tent materials or designs in any way just to hit a price point. Quality should not be sacrificed for a lower price.
The conclusion I've come to is that the Kaitum tent is a 5-star design. There isn't much to compare it with.  Are there tents out there for half the price that are really good? Of course, but they generally don't achieve the mix of high specifications and design excellence that the Kaitum reaches. If you can manage the price, you'll agree that the Kaitum is about as good as they come.
Photos of Details: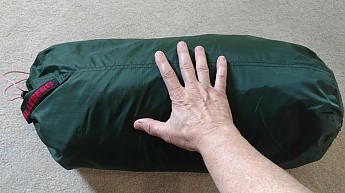 Very generously sized stuff sack. Not tight at all. Hand in photo for scale.

Adding slight squeezing with hand showing how much more it can be compressed.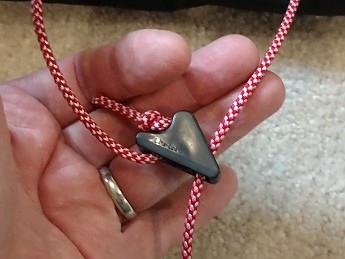 Here is the line runner used for tensioning the ropes. It is disengaged on the rope in this photo and the rope slides through a hole on the right side.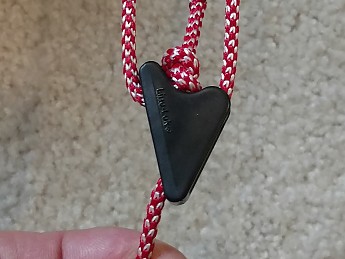 Here is a line runner engaged to hold the rope. The ropes can be tensioned and re-tensioned even with heavy gloves on with ease. I've never had one slip. Excellent design.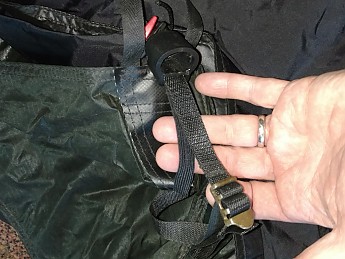 This is a pole cup and metal buckle pole tensioner. Note that the cup is oval, allowing one to add extra poles and double pole the tent for super stability in long term harsh environments. I can't imagine needing this, but if you want to minimize any rocking at all in gusty conditions in a base camp, this would be the ticket.
I have the Kaitum 3 model but it's same as the 2 model…
Rating:


Design: 4 season tunnel design
Sleeps: 3
Ease of Setup: Extremely easy, 3 poles and outdoor luxury hotel style
Weight: 3kg
Price Paid: 500 uk pounds

I have the Kaitum 3 model but it's same as the 2 model apart from size and weight.
The Kaitum is a lighter version of Keron, for 3 people with that kind of space, it's perfect unless you always hike in storms. We used it during a week long trek in the Swedish mountains, and used the separate entrances for entry/exit and storing gear. This meant we had plenty of sleeping space and did not get in each others' way. The 3 person tent weighs 3kg, so for 1kg per person it's extremely roomy.
We try to go all the way with ultralight gear, using Gossamer Gear Mariposa Plus, Golite Breeze (eg Ray Jardine backpack) and Golite Jam. I carried the tent, clothes and sleeping gear and some of the shared food, and still came under 9kg in total weight. We did not carry any water though.
The tent is fairly bulky when it's packed, for one person to carry, but I packed the poles separately so I could compress the tent itself.
I also have the Nammatj 2 for storm style hiking, but it's almost unnecessary as the Kaitum 3 is way more roomy and only 200g heavier - so for a 3 person tent it can't be beat IMHO.
Hilleberg Kaitum 3
MSRP:
$950.00

The Hilleberg Kaitum 3 is not available from the stores we monitor. It was last seen June 24, 2016 at Moosejaw.
If you're looking for a new four-season tent, check out the best reviewed current models.