Osprey
Talon 44
8

reviews

5-star:

3

4-star:

3

3-star:

2

2-star:

0

1-star:

0
Rating:


Source: bought it new
Price Paid: $120 at LL Bean

Summary
Relatively lightweight internal frame pack that is much heavier than other frameless ultralight options, but does not provide the stability/suspension of heavier internal frame pack options, so I feel that this pack choice would be an in-between option of the two alternatives listed above.

Long-term durability may be of potential concern, since wear marks began appearing after just one use after an overnight in the Angeles Forest. Belt fit is way too big (I'm 6' 150) for tall/slim builds. Side pockets are impacted by side compression straps and have limited capacity when the pack is full.
Pros
Relatively lightweight for an internal frame pack with this capacity
Good in-between compromise between UL frameless options and heavier internal frame options
Has the capacity for multi-day thru hikes depending on gear selection
Nice ventilation through the AirSpace back panel
Cons
Belt size too big for those with long torsos but slim builds
Based upon the large belt size, it takes some adjustment (as well as tightening the belt to the smallest setting) in order to correctly adjust the pack for tall/slim builds
Side pockets are impacted by side compression straps and capacity of side pockets are limited when the main compartment is at capacity
Lighter materials used on the bag scuff easily
Location of sternum strap is high
I've used this pack on a variety of trips including a recent hike up Mt. San Jacinto near Palm Springs/Idyllwild.  The pack has enough capacity, based upon gear selection, for multi-day excursions. I typically pack a Sierra Designs Ridge Runner 30 down-fill bag, a Thermarest Neo-Air Trekker, a Sierra Designs Lightning HT 2 tent in my Osprey Talon 44, which makes up my Big Three.  
The capacity of the pack is adequate for my other gear (first aid, extra puffy, base layer, socks, canister stove, and food) with sometimes room to spare (depending on the trip planned). For quick overnights, the pack capacity for the Osprey Talon 44 is perfect.
Comfort is OK and I have hypothesized that the sizing of the pack is a factor in this. I have a long torso but a very slim mid section which makes me fall in-between the two sizes offered (s/m and m/l). I went with the m/l based upon my long torso, but I will often have to tighten the hip belt to its smallest setting in order to achieve a manageable level of comfort.  
I have often thought while using this bag that if the hip belt was smaller, I could achieve a higher level of comfort when carrying the pack, while alleviating some of the pressure from my shoulders when carrying a full pack.  Furthermore, the placement of the sternum belt is quite high as compared with other packs.
The bottom zip is a nice feature for this pack as I am able to access my sleeping bag quickly when setting up my tent and sleep system. It allows easy access to materials I first like to take out while setting up camp. The side pockets have limited capacity when the pack is full. I often will stuff either baselayers or extra socks in these limited capacity side pockets, as they are the only things that fit when my pack is full.
Long-term durability may potentially be an issue since wear marks began to appear only after slight abrasions. However the bottom of the bag is made with tougher material, which aids in the durability of the bag.  I have noticed in other reviews with users that the plastic clips/snaps/closures are somewhat susceptible to damage due to the selection of lightweight materials/options used for the pack.. but so far, I have not had an issue with this.
The AirSpace back panel provides nice ventilation while carrying the pack and helps keep my back relatively cool, depending on weather conditions.  There are hip belt pockets as well as two small pockets on the shoulder straps, which are nice when stowing small energy bars for quick access.  While there are a variety of compression straps to assist adjustment of various loads, the compression straps do impact the side pockets, which are already limited in capacity when the Talon 44 is packed with full loads.
Enclosed is my photo with the pack in Mt San Jacinto (which as you've noticed.. is my profile pic as well).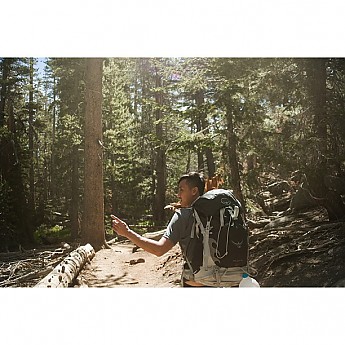 This is the pack along Fall Creek in Three Sisters, Oregon: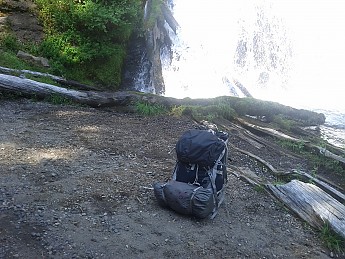 Rating:


Source: bought it new
Price Paid: $140

Summary
I just bought this pack, fits comfortably. Has great side pockets for bars and quick snacks. Plenty of room.
Nice pack with plenty of room. It is lightweight, but will hold lots of gear.
Rating:


Source: bought it new
Price Paid: $140

I bought this pack to hold all of my climbing gear (ropes/quickdraws/caribiners/shoes/harness/gri-gri etc.) it does the job perfectly!!!! Plus enough to room to pack for at least overnight.
I usually end up carrying my wife's gear also (an additional harness/shoes). I also have packed lunch in there and a lot of other goodies!
I love this bag! It is probably my favorite bag that I have. I have also used it for some travel and it has flown fine on a plane.
The internal frame makes it a lot better than better than its little brother the 33 and I am so happy with it.
Update 3/8/13
Almost a year after I purchased this pack, I was riding my motorcycle to work when I got hit by a car. I skid 13 feet across the pavement and when I got up was only a little worse for the wear. I truly believe this backpack was the reason I didn't break any bones.
Also the pack survived with only a minor scratch! That impressed me the most. Great durability, great features, overall this is still my favorite pack both for outdoor adventures and vacations!
Rating:


Design: Top loading internal frame.
Size: 44 Liters
Number of Pockets: 3
Max. Load Carried: 30 lbs
Height of Owner: 6 feet

Just completed a 113 mile trip on the Continental Divide Trail in Colorado in 4 1/2 days. Pack weight on day 1 was 30 lbs. I love everything about this pack but 1 thing, and that is the hydration "pocket". It was difficult for me to get my bladder in the pocket when the bladder was full and the pack was loaded. I was able to get the bladder in but it wasn't easy.
The pockets on the hip belt were perfect for storing many of the food bars I ate during the day. The pockets on the shoulder straps were perfect for more food bars of energy gels.
The stretchy pockets on the back and sides of the pack are nice but the side pockets didn't hold much. They were perfect to store my emergency kit in though. The back pocket was great.
I really liked the hipbelt and the way the belt is designed to be pulled. It is very easy to adjust. I thought the shoulder straps were sufficiently padded. I noticed no sore shoulders until the very last day of the trip when I did 30 miles and 5 passes. But by then my waist had gotten tighter so the hipbelt was slightly too big by then...so every couple if miles or so I would have to hoist the pack back into the proper position. On shorter trips I did not notice that problem.
If the hydration pocket between the shoulder straps was easier to use and if the side pockets could hold a bit more gear I would give this pack a 5 star rating.
Concerning weather proofness. On day 4 of the trip I got hit with s tough Colorado storm and had to hike 3 miles in pouring rain to get off an exposed pass. Since I was going lightweight I had no pack cover. I was amazed at how dry the inside of the pack was after the driving rain pounded it for just over an hour. The fabric dried really quickly once I got out of the rain.
Osprey did good on this pack.
Rating:


Design: front-loading internal
Size: 2500
Number of Pockets: 5
Max. Load Carried: 30 pounds
Height of Owner: 6 foot
Price Paid: $127.96

I picked up this pack last year but did not get a chance to use it until this fall. I did a two day trip across the Bigelows in Western Maine. I loved it! It was light and comfortable, I found that the belt fit my body better than other packs I have used in the past (no friction sores on the hips!)
The only downfall that I noticed was that the low number of external pockets makes made it harder for me to organize things the way I like to. Otherwise, the pack preformed great!
I found mine at Epic Sports in Bangor. If you are from the area you can try one on there--they have the only hip belt molder (that I know of) in Maine. They have a website too:
www.epicsportsgear.com
Rating:


Size: M/L
Max. Load Carried: 45
Height of Owner: 6'2"
Price Paid: $80

What I love most about this pack other than the impeccable construction and great styling is the fact that when I pack my stuff into my kayak's dry bay, I can roll this pack up and stuff it in with ease. Yet, when I fill this pack with a week's worth of supplies, it feels light and straight on my back during hikes.
Rating:


Size: m/l
Max. Load Carried: 30lbs
Height of Owner: 6'4"
Price Paid: $150

Best pack I have ever owned. I use the pack every day during the summer for research in the canyon lands of Utah (Zion, Capitol Reef, Cedar Mesa….). Very good in hot environments, but also use it for cross country skiing during the winter. Packs small enough for a day hike or large enough for a few days of light packing. I am 6'4", 180 and love the fit of the m/l adjustable torso.
Best use would be for overnight hikes.
Rating:


Design: Top-loading, internal frame
Size: 2500 cu. in.
Number of Pockets: 5
Max. Load Carried: 30+ pounds
Height of Owner: 5' 9"
Price Paid: $135

I used this pack on what was supposed to be a weekend backpacking trip into the Smokies that turned into an overnight trip due to our pace. The pack is really great. It's super light and versatile and has lots of loading options. It also loads and carries very well up to about 30 pounds; however, the reason I gave it 4/5 stars is because of the minimal padding in the shoulder straps.
I could really feel them on the second day and they left my shoulders a bit sore. I was probably pushing the design load though and believe that had I packed a bit more selectively, I would have had no problems. Overall, I am definitely pleased with the pack and can't wait to use it again!
Where to Buy
sponsored links
Help support Trailspace by making your next purchase through one of the links above.
Osprey Talon 44
currently retails for:
$99.99 - $149.00
MSRP: $149.00

where to buy:
Specs
| | s/m | m/l |
| --- | --- | --- |
| Weight | 2 lb 6 oz / 1.09 kg | 2 lb 10 oz / 1.18 kg |
| Capacity | 2600 cu in / 42 L | 2700 cu in / 44 L |