Osprey Talon 44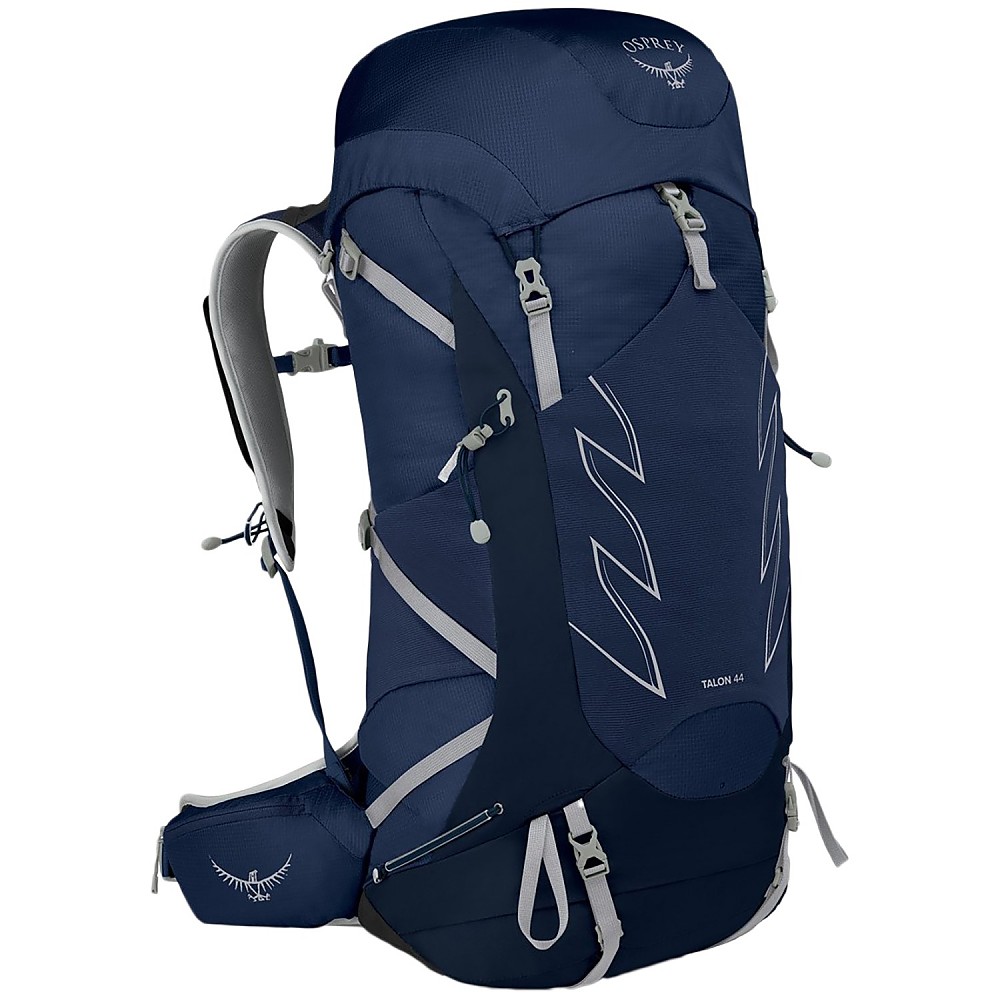 A lightweight, well constructed, and functionally designed mid-size backpack for 80% of my backpacking needs.
Pros
Functional design
Lightweight
Lifetime guarantee
Cons
Color scheme results in the lightest colored material on the bottom being exposed to dirt
Asymmetrical design elements
70D ripstop nylon construction in some areas
Thus far, I have really enjoyed using this backpack. I have used the pack for a 3-day trip to Seminole Canyon, Texas, a 3-day trip around Lake Georgetown, Texas, and a 5-day trip through the Ozark Mountains, Arkansas.  
Fit: I have an average build — 6 feet tall, 175 lbs and 34 inch waist. I tried on both the small/medium size and the medium/large size and purchased the medium/large pack. The pack length fits my body well, but I really like the fact that even with the different back sizes the pack can be micro-adjusted by moving the shoulder strap harness up or down. The waist straps fit my 34 inch waist well, but might be lacking for anyone with a waist over 40 inches.
Comfort: The padding in the back panel, waist belt, and shoulder straps are thin by most standards, but curve to the shape of my body for a comfortable fit. I've owned packs by Gregory, Mountainsmith, and Dana Designs which tend to have thicker padding, but I have found that thinner padding that shapes to my body works well for me.
Capacity: I like the size/capacity of this pack. I travel by air for many of my backpacking trips. 45 liters is the maximum legal capacity for carry-on luggage for most airlines, so this pack fits within those limitations. In addition, I can overstuff the main compartment and remove the hood/brain and still fit within the limitations for carry on.
For trail use, all of my gear and food and water for about 5 days fits easily. For longer trips, some careful packing would be required. I do tend to backpack with a hammock and tarp versus a tent, which allows me extra room for additional gear and food.
Organization: The pack is super functionally designed. The large top opening, bottom zipper opening, hood, side pockets, back pocket and side waist pockets provide excellent organization capability. In addition, the trekking pole loops and little mesh shoulder strap pockets offer addition organization capability.
I do wish that Osprey would have added symmetrical trekking pole loops and shoulder strap pockets on both sides of the pack. The double access openings on the side pockets comes in handy, but does take some getting use to.
Ride: The pack seems to distribute weight adequately. I think that loads between 20-27 lbs might be ideal. On one trip I had a load of about 30 lbs and was probably pushing the limits of the pack. Because of the light and thin shoulder straps a heavy load does tend to sway a bit. It was not unmanageable, but not as rigid as other more heavily constructed packs. Certainly the light weight of the pack creates trade offs.
Compression: There are plenty of compression straps to secure a load. A small or light load might float a bit inside the large main compartment, but it really comes down to smart packing and use. I think that this pack could be used for a day pack without the hood or a multi-day pack with the hood. It's very flexible.
Features/Ease of Use: All the features work as expected. The straps and fasteners at first seemed somewhat delicately made, but I've not experienced any failures. Again, I do wish that Osprey would have placed the trekking poles loops and the small should strap pocket on both sides for ambidextrous use. I've used every pocket and strap for some purpose or another.
Construction/Durability: The pack was built as a lightweight pack so durability might be a tradeoff. The construction is top notch. All the seams, stitches, cords, pulls, and zippers seem to work flawlessly. They also have a good tactile feel.
Osprey utilized 100D ripstop nylon on the bottom and 70D ripstop nylon on the top. I would have preferred the use of 100D throughout the pack. It would allow them to minimize stitching the two fabrics together which may create potential longterm weak points. I would be willing to sacrifice the extra weight for the added durability.
Also, one of my gripes is that they designed the color scheme so that the light colored gray material is exposed on the bottom of the pack. This is the part of the pack that most often is set on the ground and exposed to dirt and grime. I wish that they had simply constructed the entire pack with a dark color 100D ripstop nylon. I was willing to buy this pack despite the light color and weight materials because of Osprey's awesome lifetime guarantee.
Conditions: I plan to use this pack primarily for 3- to 5-day trips. I will travel with this pack on airlines so the size is conducive for carry on. I am planning to use this pack for a 21-day backpack trip on the John Muir Trail which should put this pack to the test. So far so good.
I gave this pack a 4 star rating instead of 5 star rating due to the color scheme flaw, asymmetrical design elements, and choice of fabric materials. I think that this is a very good pack, just not quite a great pack.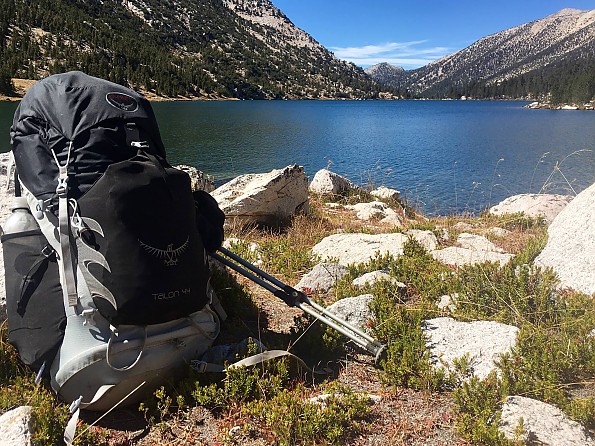 Source: bought it new
Price Paid: $150

A very light bag which doesn't sacrifice functionality and is relatively comfortable to wear. Definitely suits traveling (especially as carry-on luggage) and light camping, but probably not ideal for heavier hiking trips through rough conditions. Good overall quality.
Pros
Lightweight
Fits carry-on baggage volume limits (if packed correctly)
Sufficient amount of features
Cons
Lack of pockets in main compartment
Materials are of average durability
Lack of rain cover included (& lack of pocket to hold rain cover)
flimsy mesh pockets on straps
I was looking for a versatile pack primarily for travel, which could also handle a bit of camping. I wanted around 40 litres, to allow a decent amount of packing, while still being able to take as carry-on luggage for aeroplanes.
Other packs I looked at were: Deuter ACT Lite 40+10, Kathmandu Voltai 40, Berghaus Explorer 40, Macpac Amp Race 40.
I chose the Talon 44 as I felt it was the best compromise between being lightweight, and having a decent structure and quality workmanship.
I ruled out the Kathmandu Voltai, as although I think it is a great configuration for a travel bag with a great range of pockets, the average quality of the back support and lack of adjustability meant that I suspect that it's only suitable for carrying short distances when loaded... so it loses a lot of its functionality as a pack. I also think the full price is too expensive, but this bag is definitely worth considering when on sale.
I really liked the quality and features of the Deuter ACT Lite 40+10 and the Berghaus Explorer 40, but the extra 500g weight on both (they are both over 1.5kg each) means a pretty significant sacrifice if you want a carry-on luggage bag (especially if the weight limit is 7Kg or less!). However these are great brands and you should definitely consider these if your primary purpose is more hiking rather than travel.
The Macpac Amp Race 40 is a great bag. It only weighs slightly more than the Talon 44 at 1.3 kg for the large size, while providing more padding on the shoulder and hip straps. It has the advantage of a stretch pocket AND cord webbing on the front, as well as an internal elasticated pocket. However the one feature that was a deal killer was the open mesh top pocket on the brain compartment.
So the Talon 44 won out.


The Talon 44 has a good amount of features for a light weight.
The front elasticated pocket is secure and useful, and if you want to rig up some additional cord webbing on the front you will find a way to improvise. The side elasticated pockets are big and roomy — too big for my water bottle, but it still feels relatively stable and secure in the pocket.
The brain pockets are great and functional. The brain is detachable, but the straps tie tightly, so you shouldn't need to worry about gaps between the brain and the main compartment. I don't think I'd ever remove the brain pocket, but the option is there.
The hip strap pockets are made of very light mesh, which was a slight gripe for me as it doesn't provide much protection for the contents if you are placing the pack down on the ground momentarily, and for example you accidentally knock your camera or get it wet. Something to keep in mind—be careful putting fragile items in there.
The main compartment is very roomy when opened up. The release toggle is a bit tricky to use if you aren't used to it, but once you get the hang of it then it's great to use. The zipper on the bottom is very handy. There's no divider in the main pocket, but that doesn't matter to me.
The zips and straps are all handy and relatively functional. The compression straps can go over or under the side pockets, depending on your preference. Some of the buckles do feel a little bit on the lightweight side ... but so far no issues with them.
The back and straps feel comfortable, but they're definitely thin. I think this would reduce the functionality of this pack if you wanted to carry heavy weights for long distances. The frame itself feels sturdy, but flexible. I'm 6 foot 1 and chose the larger size ("M/L"), which I use on the smallest adjustable size. I tried the smaller size bag ("S/M"), but I didn't feel as though the hip straps sat at the right height.
The frame feels relatively flexible, and if you need to fit it into one of those carry-on bag size test cubes at the airport you should be able to bend and compress it to fit.
Overall I am happy with the bag, but I felt like a pocket or two extra here and there wouldn't have added to the weight or reduced the functionality too much. I didn't need walking stick loops and toggles so much, and I'm unlikely to ever need an ice pick, so perhaps some of the outdoors functionality could have been redirected toward travel and every day functionality. As it stands I'll probably make a few modifications myself: add some cord and maybe even a hand sewn pocket or two.
But if you're looking for a very light bag which doesn't sacrifice functionality, is made by a quality brand, and looks good too, then this is your bag.
Source: bought it new
Price Paid: AU$168

Relatively lightweight internal frame pack that is much heavier than other frameless ultralight options, but does not provide the stability/suspension of heavier internal frame pack options, so I feel that this pack choice would be an in-between option of the two alternatives listed above.

Long-term durability may be of potential concern, since wear marks began appearing after just one use after an overnight in the Angeles Forest. Belt fit is way too big (I'm 6' 150) for tall/slim builds. Side pockets are impacted by side compression straps and have limited capacity when the pack is full.
Pros
Relatively lightweight for an internal frame pack with this capacity
Good in-between compromise between UL frameless options and heavier internal frame options
Has the capacity for multi-day thru hikes depending on gear selection
Nice ventilation through the AirSpace back panel
Cons
Belt size too big for those with long torsos but slim builds
Based upon the large belt size, it takes some adjustment (as well as tightening the belt to the smallest setting) in order to correctly adjust the pack for tall/slim builds
Side pockets are impacted by side compression straps and capacity of side pockets are limited when the main compartment is at capacity
Lighter materials used on the bag scuff easily
Location of sternum strap is high
I've used this pack on a variety of trips including a recent hike up Mt. San Jacinto near Palm Springs/Idyllwild.  The pack has enough capacity, based upon gear selection, for multi-day excursions. I typically pack a Sierra Designs Ridge Runner 30 down-fill bag, a Thermarest Neo-Air Trekker, a Sierra Designs Lightning HT 2 tent in my Osprey Talon 44, which makes up my Big Three.  
The capacity of the pack is adequate for my other gear (first aid, extra puffy, base layer, socks, canister stove, and food) with sometimes room to spare (depending on the trip planned). For quick overnights, the pack capacity for the Osprey Talon 44 is perfect.
Comfort is OK and I have hypothesized that the sizing of the pack is a factor in this. I have a long torso but a very slim mid section which makes me fall in-between the two sizes offered (s/m and m/l). I went with the m/l based upon my long torso, but I will often have to tighten the hip belt to its smallest setting in order to achieve a manageable level of comfort.  
I have often thought while using this bag that if the hip belt was smaller, I could achieve a higher level of comfort when carrying the pack, while alleviating some of the pressure from my shoulders when carrying a full pack.  Furthermore, the placement of the sternum belt is quite high as compared with other packs.
The bottom zip is a nice feature for this pack as I am able to access my sleeping bag quickly when setting up my tent and sleep system. It allows easy access to materials I first like to take out while setting up camp. The side pockets have limited capacity when the pack is full. I often will stuff either baselayers or extra socks in these limited capacity side pockets, as they are the only things that fit when my pack is full.
Long-term durability may potentially be an issue since wear marks began to appear only after slight abrasions. However the bottom of the bag is made with tougher material, which aids in the durability of the bag.  I have noticed in other reviews with users that the plastic clips/snaps/closures are somewhat susceptible to damage due to the selection of lightweight materials/options used for the pack.. but so far, I have not had an issue with this.
The AirSpace back panel provides nice ventilation while carrying the pack and helps keep my back relatively cool, depending on weather conditions.  There are hip belt pockets as well as two small pockets on the shoulder straps, which are nice when stowing small energy bars for quick access.  While there are a variety of compression straps to assist adjustment of various loads, the compression straps do impact the side pockets, which are already limited in capacity when the Talon 44 is packed with full loads.
Enclosed is my photo with the pack in Mt San Jacinto: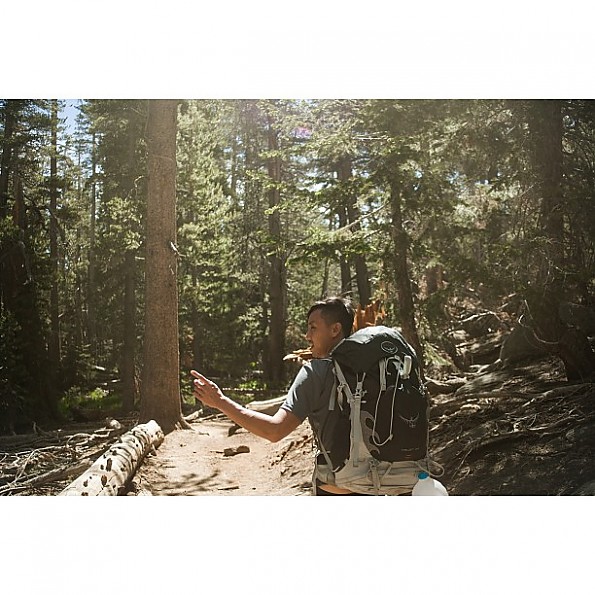 This is the pack along Fall Creek in Three Sisters, Oregon: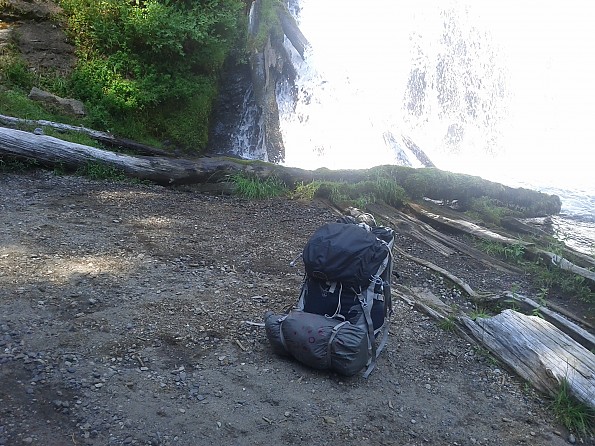 Wearing my pack in Three Sisters, Oregon (I have to cinch the belt VERY tight with my size 30 waist):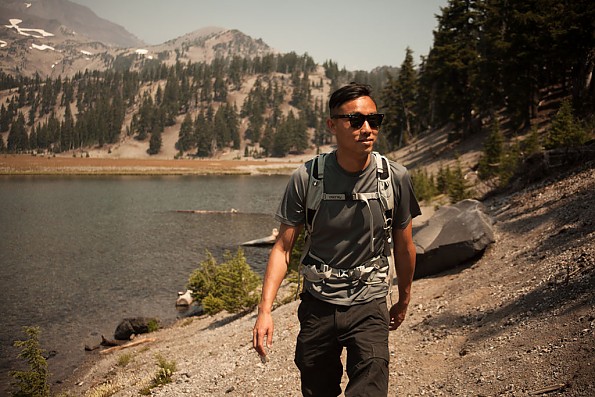 Source: bought it new
Price Paid: $120 at LL Bean

This pack has some great features and is a great size for overnights and weekend backpacking. However, I did not find this pack to be very comfortable, especially with a heavier load.
Pros
Roomy side, shove-it, and hip belt pockets
External hydration compartment for easy refilling
Good compression for smaller loads
Cons
Sleeping pad compartment separated by a small flap
Digs into back/hips when holding a medium load
Hip belt not built for slimmer waists
I bought this pack thinking it would make a great smaller pack when I'm not carrying enough to need my Deuter 60+ pack.  The bag seemed to have great stowing power for a 44 liter.
It has a sleeping bag "compartment" with its own zipper, two deep side pockets, a stretchy front shove-it pocket, and big hip belt pockets on both sides. It also has a detachable top with two big pockets. This does not turn into a hip-pack like some Osprey packs. It's really easy to organize your gear, and fit everything you need.
I did not like the separation between the sleeping bag and main compartment — it's just a flap held in place with a few straps. I like to stuff my sleep sack compartment and I really like it to be fully separated with a zipper so that was a bit of a disappointment.
It does have sleeping pad straps, ice axe loops, and a "Stow on the Go" system for trekking poles. Overall, the organization is pretty good. The air-contact system uses some suspension and mesh to keep your back cool and I found it pretty effective. No sweaty back, even when I was shlepping up a hill.
The compressibility is great. It has several adjustment points where it can be cinched in and keeps everything very close to your body when the bag is less full. When putting in a larger load, it expands comfortably upwards, and doesn't give you that feeling of bumping into the back of your head.  
My problem with this bag came from the fit and comfort. I know this bag is 'male specific' but I have read other reviews, and I'm not the only one with this impression.
The first time I used this bag it was for a day trip, a winter climb up Mt. Washington. The hip belt is pretty wide with big pockets, so I had to tighten it all the way, and I mean pocket to buckle. I'm not really that tiny, either. It definitely won't work for very thin waists.
Other than that it was fine — cinched down for the small load, held all my tools for easy access, and seemed very comfortable. The hip belt. It definitely won't work for very thin waists. However, once spring hit I took it out for a weekend backpacking trip. I had a load of approx. 20 lbs and by 4 or 5 hours into the hike the pack was killing my lower back. It felt like the metal frame was digging right into my love handles and I was really uncomfortable.
This is well within the weight limit of the bag as listed on the website and I was really disappointed. I tried it once more and got the same result.  This wasn't the normal tenderness that comes from pressure over time. It was a sharper, poking pain that I've never got with my Deuter, even with heavier loads.
I can't speak to the durability of the bag because I ended up selling it. It just didn't work out for me. It can have all the features in the world, but if it's not comfortable they don't matter.  
Source: bought it new
Price Paid: $90

The most comfortable backpack I have ever owned, it is lightweight, durable, and roomy.
Pros
Extremely comfortable
Lightweight
Very roomy, actually about 60 litres
The pockets it has are well placed and roomy, except for the ones on the shoulder straps
Showing little wear after 2000 km of hiking.
Cons
Colour (see below)
Could do with more pockets
Needs a rain cover
I have owned this backpack for four years now and it remains the most comfortable backpack I have ever owned. I put it on and it has a really comfortable wrap around feeling. I notice some people saying other things but I guess packs are like boots, some fit some people well but not others. The only way to find out is to try it out under load.
For a framed pack it is quite light, but despite the lightweight materials, mine is showing little sign of wear despite the fact that I have walked around 2000 km with it on a combination of day and overnight hikes in a wide variety of climates including the Southern Alps of New Zealand and bush bashing in Australia. The only hole is a small puncture in the base from a nail which I fixed by gluing a patch over.
As with other Osprey packs I have owned, it is huge for the nominal size. This is supposed to be 44 litres but I have filled it and measured the size as 60 litres with the top drawstring closed. It also weighed less than Osprey advertised. Despite the size I have not had problems taking it as carry-on luggage, though not filled to the max.
Front and side pockets are roomy with stretch materials and located so you can get stuff out of all three without taking the pack off. Top pocket is detachable but tends to flop down when the pack is not full so rain can get in through the zipper. (No big deal—you need a pack cover anyway. Except for purpose-made waterproof packs with roll tops, every one I have owned has let water in somewhere, so I think a cover is a must.)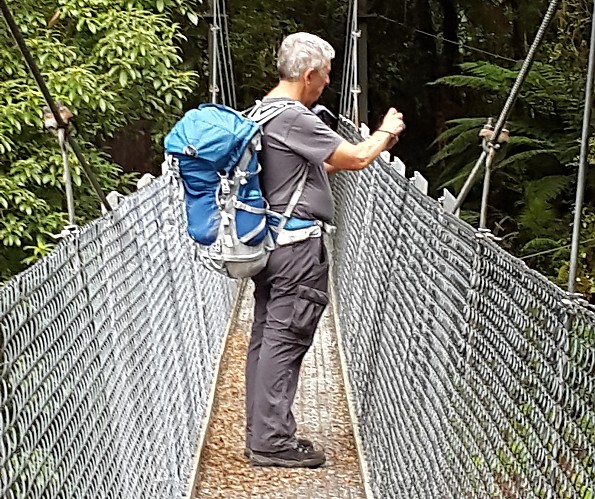 In the Southern Alps of New Zealand with a fair load (about 12 kg/26 Lb) Note the floppy top pocket.
The main pocket is very roomy and straight sided but a few more small pockets for organising things would help. There is a zipper on the bottom of the main compartment but I never use it nor am I likely to use the the hiking pole attachments but they look well thought out.
Colour! Yuk! It comes in blue and black but only the blue was available when I bought mine. It is fairly light sky blue and trim is light grey. For a pack intended for rough conditions they are terrible colours and quickly show the dirt. I also don't like the shade of blue either, but I guess that is a personal thing.
Source: bought it new
Price Paid: $AU 185

Great transitional bag!
Pros
Lightweight
Durable
Loads well
Comfortable
Cons
Exterior pockets could use more stretchiness
Load lifters slip while putting the pack on
Removable lid doesn't convert to waist pack or small Day pack
I'm 5'11" with a slender build @ 162 lbs. I bought the bag at the beginning of the 2014 spring season with the intent of doing lightweight trips up to 5 nights. On a 1-2 night cool-weather trip, I carry 27 lbs of gear (including a full 3 liter hydration bladder and 1 change of clothes), minus food. For longer cool weather trips, an additional change of clothes and larger fuel bottle brings it to 30 lbs of gear, minus food.
The bag handles this very well, is light, quite comfortable for me, and is durable (keep in mind the price of the thing as opposed to a similar sized pack from a cottage industry manufacturer). The straps allow for cinching down and I have no load shifting.
The lid compartment offers quite a bit of space for things you want quick access to but are too large for the belt pockets; it also can be fully removed from the bag if you don't need the space and want to save a couple ounces of weight. The sleeping bag access that unzips at the bottom is handy for any top loading bag, and if your sleeping bag compresses really well, it is handy for more than just access to your sleeping bag.
The outer pockets offer decent additional storage, and is where I keep my rain gear, pack cover, and plastic alcohol fuel bottle (better for any leaks that might occur).
I find the load lifters on the shoulder straps will loosen if I'm not careful about how I pick up the bag when putting it on, but are easy enough to re-tighten. The outer pockets would be better if they had a little more stretch to them so that my travel coffee mug or water bottle fit a little better while the pack was loaded.  They also aren't that easy to access while wearing to make good use as water bottle pockets. These are annoyances, however.
What would make this a 5 star bag is if the removable lid could also double as a waist pack or small day pack for doing some exploring after getting to camp; I suppose with a little ingenuity, that could still be accomplished, but I haven't taken the time to investigate.
I like this bag. A lot. As with any backpack, you must make sure it is adjusted properly for your body -- the first time I had this out on the trail (a dry run) I was certain I was going to return it because I was in a fair amount of pain inside just a couple hours. Realizing it just needed to be re-adjusted properly solved that problem and all 4 trips I've taken in it have been good ones, including a 5-day hike on the Ozark Trail.
Source: bought it new
Price Paid: $100 (on sale)

Amazing pack! LOVE all of its features.
Pros
Lightweight
Lots of storage
Removable top to lighten the load
All the typical straps and places to add more room if needed
Cons
The top can't be used as a daypack
Weight limit is 35/40lbs before the straps start digging into your hips/shoulders
Let me just say that I have put this pack through a lot this year—many many backpacking trips from 1 night to 5 nights. I was originally worried that this pack wouldn't be able to fit everything I need for the variety of nights that I was using it for. But it held up great! I was able to get five nights out of this pack, everything I needed in it, and it held up great.
I get the opportunity to meet with Osprey once a year, and they have been amazing in helping me pick out the right pack for me, and let me tell you. It worked perfect.
For ME: This pack limits at about 40 lbs including water before I get uncomfortable with it. But I was able to work with that on a 5-day trip and didn't have any problems. Please note that I am a lightweight backpacker with a lot of lightweight gear, and I make my own meals that are not bulky or heavy. So this worked for me. If you are a hearty eater and pack a lot of Mountain House meals for five days, this pack will not work for you for long trips.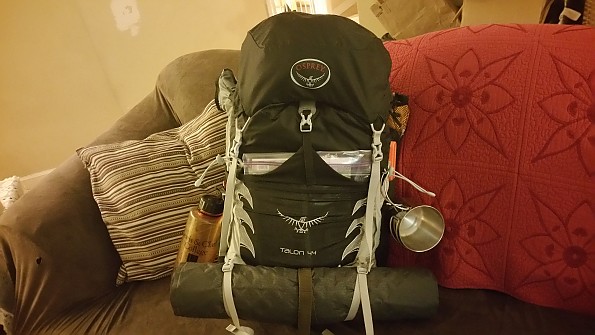 Source: bought it new
Price Paid: $136

It is relatively light and versatile for a wide range of activities. The harness system is comfy and durable. Perfect for ultralight backpacking trips.
Pros
Weight
Harness system
Versatility
Cons
Easily over-weighted with gear
Only two sizes
Fit:  This is the pack that we chose to do a 12 day JMT hike. We decided on this because of weight and most importantly fit. The harness system makes it easy to mold to your body and the hip belt was perfect for the load (36 lbs).  
Comfort: With the fit comes comfort due to its multiple adjustment points. This pack must be tried on first because there are no adjust straps to pull the load closer to the hips. My wife loves this pack for her body too.
Capacity:  The simple structure of the pack makes it easy to store and locate gear. The flexible pouch on the front and the sleeping bag zipper on the bottom are priceless. We fit our gear, including bear kegs, with little to no issues.
Ride:  The load is up to you to fit. The harness provides ample opportunity to fit whatever load within the weight limit.  You must pack according to gear weight though.
Features:  The hipbelt pockets are essential. They make getting a snack easy. I carry a waterproof PAS camera in there during our activities (e.g. hiking, backpacking, canyoneering).  
Durability/Conditions:  My pack has lasted over 6 years. In those 6 years? Over 1300 trail miles, 30 canyon descents, international/domestic travel, school, and many other small adventures. IMO the best pack in its class
Source: bought it new
Price Paid: $150

Durable as everything. I love this bag so much. It has gone through a lot and I've never had a problem. I use it for 3 to 4 day backpacking trips and love it.
Pros
Durable
Strong buckles
Incredible warranty
Adjustable
Cons
Not much padding on waist
I've used this thing on several trips and I love it. I usually bring it on trips 3 to 4 days long. I have stuffed it full of gear and it has never ripped or shown any type of wear.
One feature I love about this bag is that it has a water pouch built into the bag for a Camelbak. Also this pouch has straps everywhere and is incredibly adjustable.
I love just about everything about this bag. Like I said earlier I've used it several times and never seen signs of wear on it. Even if I did the warranty that comes with the bag is incredible. Osprey offers repair of anything that is damaged for the life of the bag.
The only "problem" I've run into is the straps that go around your waist are thin and don't have any padding on them and when you're doing 10+ miles a day it starts to rub. I've made do by putting some padding on my waist when I buckle the strap.
Besides that I'm very happy with the pack and would definitely suggest Osprey to a friend.
Source: bought it new

I bought this pack to hold all of my climbing gear (ropes/quickdraws/caribiners/shoes/harness/gri-gri etc.) it does the job perfectly!!!! Plus enough to room to pack for at least overnight.
I usually end up carrying my wife's gear also (an additional harness/shoes). I also have packed lunch in there and a lot of other goodies!
I love this bag! It is probably my favorite bag that I have. I have also used it for some travel and it has flown fine on a plane.
The internal frame makes it a lot better than better than its little brother the 33 and I am so happy with it.
Update 3/8/13
Almost a year after I purchased this pack, I was riding my motorcycle to work when I got hit by a car. I skid 13 feet across the pavement and when I got up was only a little worse for the wear. I truly believe this backpack was the reason I didn't break any bones.
Also the pack survived with only a minor scratch! That impressed me the most. Great durability, great features, overall this is still my favorite pack both for outdoor adventures and vacations!
Source: bought it new
Price Paid: $140

Just completed a 113 mile trip on the Continental Divide Trail in Colorado in 4 1/2 days. Pack weight on day 1 was 30 lbs. I love everything about this pack but 1 thing, and that is the hydration "pocket". It was difficult for me to get my bladder in the pocket when the bladder was full and the pack was loaded. I was able to get the bladder in but it wasn't easy.
The pockets on the hip belt were perfect for storing many of the food bars I ate during the day. The pockets on the shoulder straps were perfect for more food bars of energy gels.
The stretchy pockets on the back and sides of the pack are nice but the side pockets didn't hold much. They were perfect to store my emergency kit in though. The back pocket was great.
I really liked the hipbelt and the way the belt is designed to be pulled. It is very easy to adjust. I thought the shoulder straps were sufficiently padded. I noticed no sore shoulders until the very last day of the trip when I did 30 miles and 5 passes. But by then my waist had gotten tighter so the hipbelt was slightly too big by then...so every couple if miles or so I would have to hoist the pack back into the proper position. On shorter trips I did not notice that problem.
If the hydration pocket between the shoulder straps was easier to use and if the side pockets could hold a bit more gear I would give this pack a 5 star rating.
Concerning weather proofness. On day 4 of the trip I got hit with s tough Colorado storm and had to hike 3 miles in pouring rain to get off an exposed pass. Since I was going lightweight I had no pack cover. I was amazed at how dry the inside of the pack was after the driving rain pounded it for just over an hour. The fabric dried really quickly once I got out of the rain.
Osprey did good on this pack.
Design: Top loading internal frame.
Size: 44 Liters
Number of Pockets: 3
Max. Load Carried: 30 lbs
Height of Owner: 6 feet

Functional and spacious pack.
Pros
Weight
Cost
Features / easy of use
Cons
Pocket material rips easier than I thought
Bottom is grey. That gets dirty (visibly) way quicker than another color
When empty-ish the top (Brain) is too floppy.
I use this pack most often for day hikes and for day work projects. I had a 3" rip appear near the side pocket. It still holds, but I'm afraid that someday it'll just fall apart. 
I think grey for the base and pockets just invites all the dirt to show. 
I like the weight and fit of this. I'm about a 17" torso length. Even though the pack I have is a men's/unisex, the width of the shoulder straps wasn't an issue. It sometimes can be. 
Great pack!
Just big enough. Lightweight. Durable and comfortable.
Pros
Suspension system allows for a variety of load distributions
Many pockets and straps for gear
Well designed for extended use
Cons
Not suited for rock climbing
I get out a lot all year long. This pack is my go-to overnight pack. It sits well due to the stabilizer straps and load balancing. It carries well on those long long days. It vents well on sweaty days. The pockets are carefully thought out for easy access to what I need through the course of the day.
After five years it has one hole in it from a squirrel after my food. When I need a new pack it will be this one or one just like it.
Source: bought it new
Price Paid: $145

I picked up this pack last year but did not get a chance to use it until this fall. I did a two day trip across the Bigelows in Western Maine. I loved it! It was light and comfortable, I found that the belt fit my body better than other packs I have used in the past (no friction sores on the hips!)
The only downfall that I noticed was that the low number of external pockets makes made it harder for me to organize things the way I like to. Otherwise, the pack preformed great!
I found mine at Epic Sports in Bangor. If you are from the area you can try one on there--they have the only hip belt molder (that I know of) in Maine. They have a website too:
www.epicsportsgear.com
Design: front-loading internal
Size: 2500
Number of Pockets: 5
Max. Load Carried: 30 pounds
Height of Owner: 6 foot
Price Paid: $127.96

I used this pack on what was supposed to be a weekend backpacking trip into the Smokies that turned into an overnight trip due to our pace. The pack is really great. It's super light and versatile and has lots of loading options. It also loads and carries very well up to about 30 pounds; however, the reason I gave it 4/5 stars is because of the minimal padding in the shoulder straps.
I could really feel them on the second day and they left my shoulders a bit sore. I was probably pushing the design load though and believe that had I packed a bit more selectively, I would have had no problems. Overall, I am definitely pleased with the pack and can't wait to use it again!
Design: Top-loading, internal frame
Size: 2500 cu. in.
Number of Pockets: 5
Max. Load Carried: 30+ pounds
Height of Owner: 5' 9"
Price Paid: $135

Love my pack — lightweight, holds everything tight with great size side pockets. I am a small boned women, so it fits me well.
Pros
Good sturdy stretch pack - holds it all
Cons
The belt strap gets under you when you put it on and you have to dig for it, but it's worth it.
The pack adjusts easily to any size. My whole family has Osprey packs and I also have a day pack I love. Volume is good. I can get everything in mine. Very accessible, great design.
Source: bought it new

Best pack I have ever owned. I use the pack every day during the summer for research in the canyon lands of Utah (Zion, Capitol Reef, Cedar Mesa….). Very good in hot environments, but also use it for cross country skiing during the winter. Packs small enough for a day hike or large enough for a few days of light packing. I am 6'4", 180 and love the fit of the m/l adjustable torso.
Best use would be for overnight hikes.
Size: m/l
Max. Load Carried: 30lbs
Height of Owner: 6'4"
Price Paid: $150

I just bought this pack, fits comfortably. Has great side pockets for bars and quick snacks. Plenty of room.
Nice pack with plenty of room. It is lightweight, but will hold lots of gear.
Source: bought it new
Price Paid: $140

What I love most about this pack other than the impeccable construction and great styling is the fact that when I pack my stuff into my kayak's dry bay, I can roll this pack up and stuff it in with ease. Yet, when I fill this pack with a week's worth of supplies, it feels light and straight on my back during hikes.
Size: M/L
Max. Load Carried: 45
Height of Owner: 6'2"
Price Paid: $80

Your Review
Where to Buy
Help support this site by making your next gear purchase through one of the links above. Click a link, buy what you need, and the seller will contribute a portion of the purchase price to support Trailspace's independent gear reviews.
You May Like
Specs
S/M
L/XL
Price
MSRP: $180.00
Current Retail: $219.95-$220.00
Historic Range: $55.73-$248.95
Reviewers Paid: $80.00-$150.00

Load Range
15-30 lbs

Volume
2,563 cu in / 42 L
2,685 cu in / 44 L
Dimensions
27.17 x 12.2 x 10.63 in
27.17 x 12.2 x 10.63 in
Weight
2.95 lbs
3.18 lbs
Main Fabric
bluesign-approved recycled 100D x 210D wave check high-tenacity nylon, PFC-free DWR

Accent Fabric
bluesign-approved recycled 420HD nylon packcloth, PFC-free DWR

Bottom Fabric
bluesign-approved recycled 420HD nylon packcloth, PFC-free DWR