User Review:
REI Flash 18 Pack
Rating:


Source: bought it new

Summary
The Flash 18 is a great little pack for short day hikes or as a summit pack on a backpacking trip. While there are lighter options available, this is a great option in its price range.
Pros
Lighter than many comparable packs
Good size to double duty as stuff sack & summit pack
Cons
But there are lighter options available
No external pockets
Funky fastener on draw string
I wanted a way to go on day hikes from my camp while on backpacking trips without having to empty my main pack & schlepp it along. However I didn't want to add a lot of weight to my already-heavy pack.  So I figured if I could find a light day pack that would serve double-duty as a stuff sack, then that would meet my needs. As it turns out, I use an old Kelty frame pack, and carry my sleeping back in a stuff sack lashed to the frame. This could work!
I found the Flash 18 and it seemed like it would fit the bill.  It happens to be just about the right size, both in width, and length, to serve this purpose. I line the Flash 18 with a plastic bag (see below) to protect the sleeping back against moisture. Then I stuff the sleeping back inside and lash it to the pack frame. It works out great.
I'm 6'0" and the pack fits me just fine. Given that it's a small day pack, I only carry light loads in it (e.g. some extra clothing, a water bladder (3L will fit, but it bulges out, 2L would be better) and a snack).  The pack's capacity is about right for this, but would be too small for much more. There's not a whole lot of organizational ability as it's a small single-compartment pack, with the exception of a sleeve for the water bladder.  
The comfort is fine — after all, it's very light. The shoulder straps are basic but functional. The waist strap is even more basic, but good enough for such a light pack (it's not designed to bear a load, but rather just stabilizes the pack).
I've used this setup on several trips now and the pack has shown no signs of wear so far.  My trips have all been in warm Sierra summer (or cool autumn), so I haven't taken it out in any rainy or snowy weather yet.
BTW, I discovered a bag that's almost the perfect size to protect the Flash 18's contents from moisture.  It's the 2.5 x 20" Loksak by Opsak.  It's actually designed to be odor-proof so I suppose maybe if you seal it then you'd protect your lunch from hungry critters too :).  The Loksak isn't quite long enough to seal though — but still provides a good amount of protection against light rain etc.
I don't have any real gripes with the Flash 18.  I'd prefer that it be lighter, and may someday splurge on one of the more expensive (but lighter) options.  But for now this is working great.  I guess the one thing I'd mention as a potential issue is that the fastener on the closure drawstring is really funky.  I have gotten used to it, but the way it works isn't intuitive.
Here's a shot of the frame pack (late '70s Kelty D4) with the 2011 REI Flash 18 serving as a stuff sack for the sleeping back attached at the bottom: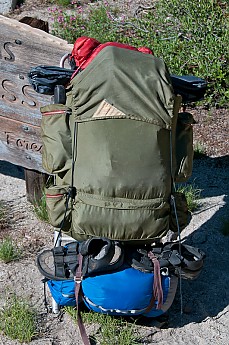 And here's a shot of the Flash 18 being used as intended (as a day pack).  Note the convenient loop fastener to which the SPOT transmitter is attached, and the tube for the water bladder coming out the top.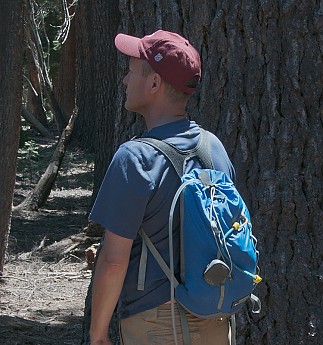 Where to Buy
sponsored links
Help support Trailspace by making your next purchase through one of the links above.