The North Face
Asylum Bivy
3

reviews

5-star:

1

4-star:

2

3-star:

0

2-star:

0

1-star:

0
Specs
Trail Weight
1 lb 10 oz / 0.73 kg

Floor Area
16 sq ft / 1.5 sq m

Drywall Canopy Fabric
50D Polyester Ripstop, 1.9 oz / sq yd (67 g / sq m), 1200 mm Hydrostatic Head, 869 g / sq m

Mesh Fabric
20D Polyester "No-See-Um" Mesh

Floor Fabric
50D 270T Nylon Taffeta, 2.3 oz / sq yd (78 g / sq m), 3000 mm PU Coating, Water-Resistant Finish

Reviews
Good for what it is: a super lightweight shelter;…
Rating:


Source: bought it new
Price Paid: $115

Summary
Good for what it is: a super lightweight shelter; not quite a bivy, not a tent.
Pros
Lightweight
Compact package
I got the Asylum "bivy" for a week-long trip along the JMT. It was between this and a Mountain Hardwear Sprite 1. I went with this because it was lighter and more compact.
They call it a bivy, but I think it's better than a bivy because it's just slightly larger and will keep you safe from the rain. It is VERY close-quarters—barely enough room to sit up. The stuff sack it came with it a lot larger than it needs to be, to accommodate the poles. I got a super small stuff sack from REI and now it packs down to the size of a softball.
The biggest con is there is so much condensation! I had to sleep each night with the door all the way open. The foot-end is all mesh, so if there is a breeze that really helped cut down on the condensation.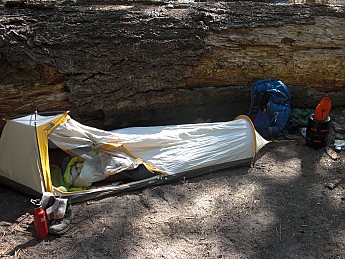 Rivers or mountains it gives protection, comfort,…
Rating:


Source: bought it new
Price Paid: $220

Summary
Rivers or mountains it gives protection, comfort, and a small package to pack.
Pros
Great headroom
Great netting
Easy setup
Cons
If you want something free standing..this is not it.
I've owned a number of bivys over time with favorites being WESTERN MOUNTAINEERING, MOUNTAIN HARDWEAR Conduit SL, and now THE NORTH FACE Asylum Bivy. The other two I use for emergencies and backcountry skiing, but this year I gave my WM old standby to a person homeless on the streets of NYC.  
The TNF Asylum is very easy to set up and as others have noted has a small footprint. I use a MOUNTAINSMITH sub two pound down sleeping bag and have not experienced any notable condensation. I would think that in part it may be due for others on the size of the bag filling and pulling up along the waterproof floor but it has not happened to me with my setup with a THERMAREST NeoAir Trekker full length pad.  
That said, TNF Asylum Bivy is not the smallest packdown like the MOUNTAIN HARDWEAR Conduit SL with about 1/3 more in length, but it's reasonable since I am not doing an ultralight pack. TNF also has not skimped on the storage bag so I expect not to struggle trying to make it fit like I do my Mountain Hardwear just so they can claim it's as small stuffed as a NALGENE liter bottle.  
It does vent well with the long line of the ridge and the foot area mini vent flow of air and did not get that stale air feel with the buildup of your own carbon dioxide. The best features for me however were both the headspace formed by the extra DAC pole that does and extension of the roof line making the space and the extra room above my head due to the overall length.
I'm only 5'8" so it's great for me; someone closer to or over 6' might want to try it out with their full rig before coming to the same conclusion. I also like that it has an interior loop at the roof so I can hang a mini light like the one from EGEAR that I use normally as a spare cheap backup light. 
I expect it will serve me well on trips to the Grand Canyon and Southwest backpacks.
If the added weight is not a concern like in my 17 sea kayak tripping I would then go to a lightweight tent like the one-man BIG AGNES Copper Spur UL1 with another 10 oz added on. That gives me the way extra room and free standing capability and ventilation that only a tent can give and especially if multiday showers or T-storms are in the forecast.
That said, TNF did a fantastic job of providing a mini shelter bivy in a small package. If they ever want someone to test a similar product for a long period of time I am there!
Small footprint, good headspace for a bivy, under…
Rating:


Price Paid: Aust $220

Summary
Small footprint, good headspace for a bivy, under a kilo. Hoop pole at foot end, with ventilation, nice touch.
Pros
Weight
Head space
Sizeable mesh panel for added ventilation in warm weather.
Cons
Condensation in cold, still conditions.
Dampness gets into down bag.
The North Face Asylum Bivy is relatively roomy, particularly in the head end. I've only used it once so far, in damp, cool weather, and the fabric seemed to cope well.
Very quick to set up, the two poles give it structure that most bivies lack. I used a small tarp fly to give me some additional shelter for cooking etc, but the weight of the Asylum is such that you can afford to carry a fly for when the weather is iffy, and it gives you more usable space than the vestibule on any one-man tent.
I won't be giving up using my MSR Zoid for most of my hiking, but when culling weight is crucial, the Asylum will be my shelter of choice. Yet to be tested in heavy rain!  
Update Aug 2012: 
Still happy with the bivy, when you need to save space and weight. Used in conditions where there is some breeze, condensation is not a problem at all. In cold (0° Celcius) but still conditions however, with main side panel zipped up, there was considerable dampness which dampened my down bag. In such conditions, taking a synthetic bag may be a better option.
Where to Buy
sponsored links
Help support Trailspace by making your next purchase through one of the links above.
Manufacturer's Description
Visit The North Face's Asylum Bivy page.
Retailers' Descriptions
Here's what other sites are saying:
The North Face Asylum Bivy Winter Stone Ivory/Weimaraner BrownIf you are looking for a unique one person tent, get the North Face Asylum Bivy Winter Stone Ivory/Weimaraner Brown. This tent is designed to be both comfortable and practical for one person wanting to enjoy time outdoors in any weather condition. It features a DryWall proprietary single skin material on the outside that is designed to be lightweight, water-resistant, and breathable to keep you dry and comfortable while inside. For proper airflow and to reduce the buildup of moisture, the tent features door and footbox venting. This tent is designed to be strong and durable on all terrain with its full seam-taped canopy and floor. If you have been looking for an exclusive one person tent, The North Face Asylum Bivy Winter Stone Ivory/Weimaraner Brown is the ideal choice.
- SunnySports
Free Shipping. The North Face Asylum Bivy FEATURES of The North Face Asylum Bivy DryWall proprietary single skin Door and footbox venting Fully seam-taped canopy and floor Best-in-class construction DAC Ball Cap brow attachment Handy loop for hanging headlamps and accessories DAC stakes SPECIFICATIONS of The North Face Asylum Bivy Capacity: 1 Total Weight: 2 lbs 1 oz / 0.94 kg Trail Weight: 2 lbs 1 oz / 0.94 kg Floor Area: 1.5 square meter / 16 square feet Peak Height: 25in. Stuffsack Dimension: 17 x 7in. / 42 x 18 cm No. of Poles: 2 Pole Diameter: 9 mm, 8.5 mm, 8 mm DryWall canopy: Polyester ripstop, 1200 mm hydrostatic head, 869 g/m2/24h MVTR (ASTM E96B) Mesh: Polyester in.no-see-umin. mesh Floor: Durable nylon taffeta, 3000 mm PU coating, water resistant finish This product can only be shipped within the United States. Please don't hate us.
- Moosejaw
Gossamer poled bivy features ground-breaking DryWall fabric that's flame retardant, breathable, water-resistant, and super lightweight. One-person tent is super skinny, weighing in at just 1 lb 10 oz . DAC Featherlite NSL: Aluminum tent poles were designed with two main objectives: to offer a high strength-to-weight ratio and to slide easily through tight pole sleeves typical of expedition tent construction. The result is an expedition tent pole that has an even higher strength-to-weight ratio than the original Featherlite pole, and one that works well with tent sleeve construction. This design includes an insert tube with a thinner wall than the main tube giving added strength to the sleeve joint. This construction detail eliminates excess weight and is balanced by a small strengthening tube at the joining position.
- Rocky Mountain Trail
Description of The North Face Asylum BivyGossamer poled bivy features ground-breaking DryWall fabric thats flame retardant, breathable, water-resistant, and super lightweight. One-person tent is super skinny, weighing in at just 1 lb 10 oz.FeaturesDryWall proprietary single skin Door and footbox venting Fully seam-taped canopy and floor Best-in-class construction DAC Ball Cap brow attachment Handy loop for hanging headlamps and accessories DAC stakesCapacity 1DryWall canopy 50D polyester ripstop, 1.9 ozyd 67 gm, 1200 mm hydrostatic head, 869 gm 24h MVTR ASTM E96BFloor Area 16 ft 1.5 mFloor 50D 270T nylon taffeta, 2.3 ozyd 78 gm, 3000 mm PU coating, water-resistant finish20D polyester no-see-um meshTrail Weight 1 lb 10 oz 0.73 kgImported
- US Outdoor Store
The North Face Asylum Bivy
currently retails for:
$228.90 - $229.00
MSRP: $199.00

where to buy: