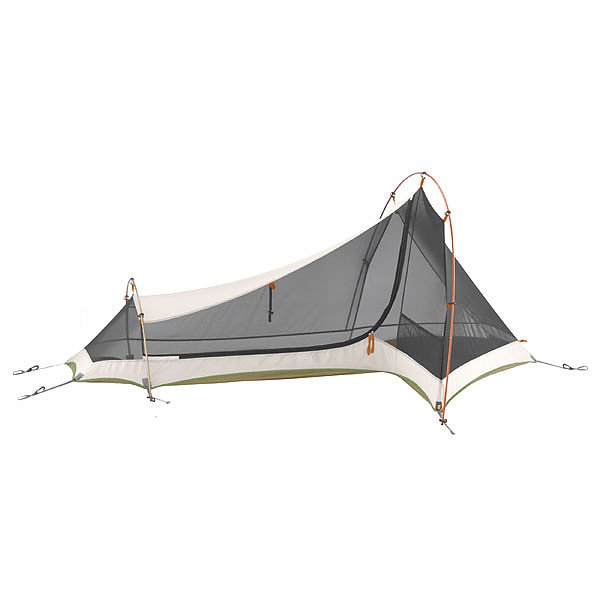 Specs
Price
MSRP: $160.00
Historic Range: $34.95-$190.00
Reviewers Paid: $79.99-$170.00

Capacity; 1

Minimum Weight
2 lb 15 oz / 1.32 kg

Packed Weight
3 lb 6 oz / 1.52 kg

Floor Area
18 sq ft / 1.6 sq m

Number of Doors
1

Number of Poles
2

Number of Vestibules
1

Interior Height
37 in / 94 cm

Packed Diameter
6 in / 15 cm

Packed Length
19 in / 48 cm

Pitch Light Weight
2 lb 6 oz / 1.08 kg

Reviews
8

reviews

5-star:

2

4-star:

5

3-star:

0

2-star:

0

1-star:

1
I bought this tent six years ago, at REI and it was on super sale of $79.99, reg $149.99. I mainly bought it for long backpacking trips in Washington state (the rainy state!), and it has out performed my expectations. I'm always dry, withstands major winds and even held up to 8" of snow accumulation. 
I'm 6'5" tall and can stretch out just fine, but sitting up my head hits the top, but that happens in all backpacking tents for someone my height. All my gear and pack (75L) and boots fit nicely inside the little spur-out area by the head of the tent.
Best thing about this tent is that it only weighs about 2.5 pounds, 2.75 pounds with footprint and packs very small.
I use this tent about 15 time a year for three days at a time, and i am still using this tent to this day and for many more years:) NO doubt best solo tent for the price.
Price Paid: $79.99 new at REI

Tent fly sheet zipper portion and clear rubber/plastic window detached.
Pros
Lightweight
Very waterproof
Roomy for the average SE Asian size
Cons
Seam tape is not durable
Plastic/rubber window is not stitched on (don't know if factory or design flaw, no reply from customer service)
No good customer service
Bought this tent a few years back, checked it and put it in my Bug Out Bag. Used it recently for the first time but lo and behold, the plastic/rubber clear window on the fly is detached, the zipper on the fly sheet used to get in and out of the tent if the fly is on is detached.
Reason: it was only attached with seam tape. No stitches. I sent an email to their customer service to ask if it was a design flaw or factory defect and all I got for a reply is some auto email indicating that they are sorry because they can only send that email, blah, blah, blah.
I didn't have high hopes that I will get a favorable response but come on, auto email? I expected at least more than that from my favorite brand. I did not buy this from the Mountain Hardwear store in Manila so I don't think they'll help me out. I guess this means I have to fix it myself.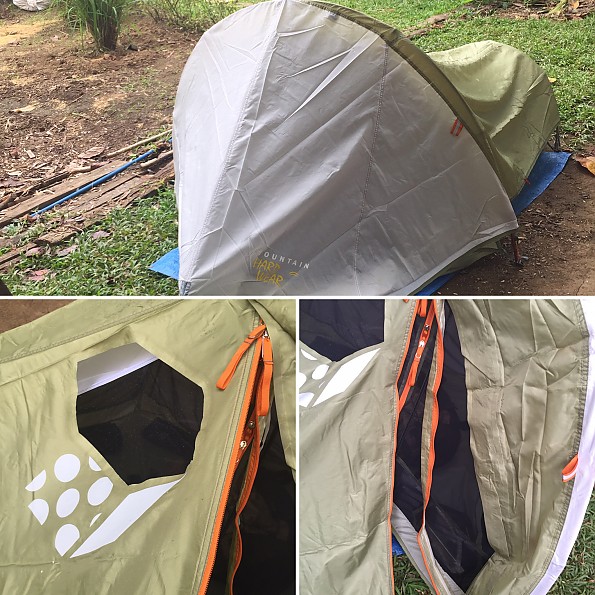 *If you zoom in you will see that there are no stitch marks and only detached seam tape.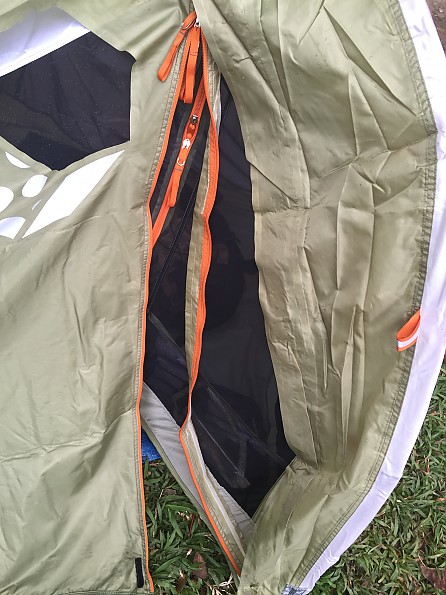 Aside from that, great tent. Lightweight. Very roomy. Had enough room for me and my gear. Waterproofing is great but was not able to fully close the fly, plus there was a big hole, where the window was supposed to go. Easy to pitch, easy to disassemble.
Source: Bought it new from a person. Not a retailer.

When I'm out by myself or sleeping alone on a trip...this is the first piece of gear I chose. I love this tent...so light and has a lot more room than a bivy sack and is just right for a tight campsite. The gear storage pockets are placed in just the right spots...well thought out design and quick to pitch or take down. With the area at the head of the tent I never feel "closed in," seems much roomier. Great for three seasons. Have not had it in any snow so I cannot say how that works, but with all the netting...very airy on still summer nights.
Pros
Light weight
Roomy
Top notch construction
Is very small foot print..great for small campsites
Pitches very clean and taut
Has several configurations
Weather tightness is top notch and the small vestibule is perfect for getting in and out. Love to sleep without the rain fly and be able to see all the stars through the netting....and it has great ventilation without the fly...but need to button down...the rain fly is sized to keep you dry.
I have not been through any tornadoes as I have with my old REI Crest Line Expedition A frame, but have seen enough bad weather to know that I will be dry during the huge thunderstorms we have in Kansas. Sometimes the wind during a thunderstorm gets above 70 MPH and I feel confident that this tent would be still standing. I have been in it during some big storms, but to date none that reach 70 mph but close. At 70 MPH, tree limbs 2" or bigger are usually ripped from the big oaks.
Bottom line...go and do not worry about the weather in this tent. I strongly recommend it for three-season backpacking.
Be safe and get out often.
1/2 mile
Source: bought it new

Awesome shelter for solo explorers.
Pros
Weight
Quality
Rain shedding/wind shedding
Cons
Dry vestibule is not true dry access
This shelter is great for a solo traveler or even one accompanied by a dog. If you're muddy it's getting in the tent unless you're meticulous, there's no dry vestibule to it. It does have a very handy wedge section to keep backpacking gear or even an animal around 40lbs. 
It's very light and the poles are very high quality. The rainfly is very nice and effective. Breathes very well when rainfly is detached. 
I can pack this tent, my TNF Cat's Meow sleeping bag, and my Big Agnes Insulated Sleeping Core all in my 30L hydration pack, just to reinforce how small of a footprint this tent has in your pack.
I've had my Sprite for 3 yrs now and used for 20+ trips, mostly in Queensland with some high winds and very heavy rainfall. Used once on a fall trip to High Sierras in northern Calif.
I'm 6' and fit in just fine. My head hits the mesh roof but not the fly when i sit up... brushing up against the mesh took some getting used to, but i'm quite comfortable (and always dry) in it now.
The little inside 'nook' area is wonderful and holds more than you think - the inside storage pocket is a big plus. What i didn't realise is that you can roll the fly back and sit up with your butt in the tent and feet out and body outside (in good weather)... i spend alot of time cooking and packing up, etc... like this.
No water problems ever - pitches very taut (use all the pegs) and wind won't bother you either.
Mountain Hardwear stuff is always quality - still searching for a better double wall solo tent for my needs, but don't know of any others i'd pick at any price just yet.
Price Paid: $150

I bought this tent because I wanted a light, inexpensive, roomy tent with a vestibule big enough for a medium tent and boots. I got it.
I've slept out in it like 10 times, and it rocks. completely waterproof, compact, and durable. No bugs, drafts, etc...
There is 1 small problem: condensation on the inside of the fly. This leads to you getting a little wet upon exit, but not soaked.
Also, the main pole snapped, but it was probably just a fluke. Another thing: I left the fly rolled back by accident one day, and it rained. The (5 star) ground sheet funneled all the water under the tent. But I dried it right out and no harm was done.
Design: Three season modified hoop style
Sleeps: 1
Ease of Setup: Really easy
Weight: 3 lbs packed, maybe 2 oz. more w/ the footprint(which is worth it)
Price Paid: 170$ + 35$ for groundsheet

I bought the Mountain Hardwear Sprite 1 to replace an aging dome tent I have been hauling around on bike trips and backpacking. I have used it on a three day cycling trip, one backpacking trip and several times just camping before hikes. I'm very happy with the 1.29 kg weight and comfort.
I wish it was a little higher, but especially when backpacking, I'll gladly sacrifice a bit of headroom for less weight. I have learned to get dressed horizontally, as my head comes pretty close to the peak when I sit up straight (I am 178 cm tall).
Thanks to the vestibule and wing of interior space, the tent isn't at all claustrophobic. That extra space also leaves me plenty of room for my 70L backpack, my day bag, boots and other items.
I do recommend a footprint, as the vestibule is otherwise open to the ground. The floor of the tent hasn't seeped through from wet ground, but a footprint will insure that it stays waterproof. Mesh through most of the tent prevents condensation. I haven't noticed any condensation at all so far, partially due to pegging the fly out as far as it will go.
I haven't been out in the pouring rain yet, but the few light sprinkles posed no problem, and the fly dried quickly once it cleared up.
The vestibule is nice for storage, but opening the door all the way uncovers it, so it's only sheltered when the door is closed. I can open, sit inside, close, then take off my boots for sheltered entry. I don't think it will be feasible to do much cooking there on rainy days, although with stored gear at the foot of the tent and the door mostly closed, there might be enough room for some cramped food prep. But hey, I bought this tent so that I didn't have to feel like I was carrying everything but the kitchen sink!
Design: three-season non-freestanding
Sleeps: 1
Ease of Setup: Easy
Weight: 1.29kg, 1.5kg packed
Price Paid: $99.99

Spent a week living in this tent in Denali, Healy, area of Alaska. Rained out EVERY day. Some days it poured. Stayed dry all day. Very well vented and water-tight. Very easy to set-up. Def recommend purchasing this footprint as well for added protection.
Only complaints are that it is not free-standing and the zipper for rain-fly gets stuck in fabric quite a bit. Other than that great tent for the money
Design: three-season, non-freestanding
Sleeps: 1
Ease of Setup: very easy
Price Paid: $150

Your Review
You May Like
Recently on Trailspace