User Review:
Zamberlan Men's 308 Trekker RR
Rating:


Price Paid: $175 on sale at REI

This is my first attempt to write a full review of Zamberlan's Trekker 308. I have been doing very serious hiking now for 2 years. The problem that I have encountered is which boot to use. I will not name other brands, but it has come down for me that leather boots are the best. But which one?
This review will be from a dayhiker point of view, which may not be the same as a multi-day hiker. The main reason I bought these boots is for leather, one year warranty, and no Gore-tex material. I was also influenced by it not being made in China, and reviews from different sites on the Internet.
I was looking for a boot that would not require much break-in time. I would estimate approximately 20 miles was required, and I can also say the boot got more and more comfortable after each hike.
I read the reviews and decided to get the 308, because I day hike and carry approximately a 15 to 25 pound backpack, use a walking stick, and wear only wool socks. I used them on a 3-mile hike the first time to make sure I didn't have any problems. I used liner socks and light wool socks and tied the shoes normal.
They performed well but I had some problems with small rocks — the soles will not give like my other boots and I found that the boot would roll over the rocks, whereas the other boots that I use would bend around the rocks. The heel section feels great, very solid and the laces work perfectly.
I used the boots for 5 more 3-mile hikes and didn't find any hot spots or major problems. The boots are forest green and I did see the dye bleed on the inside from the boot tongue.
Then I went on a 6-mile hike and encountered a small problem with my liner and socks: the socks were pulling my toes and I had to adjust them at the end of the hike because of discomfort. This could have been caused by me not pulling up my liner and socks correctly or by how I tied my laces.
I went on a second 6-miler and this time used medium wool sock only, no liner. I also changed my lacing to allow better heel lock and found that my toes were in great shape after the hike. I did 2 more 6-milers with no problems and did some bushwhacking at the end of the hikes, which didn't affect the boots at all.
The next hike was 2,000-foot ascent, 15 miles with lots of rocks, and the boots performed great. After the hike I found the outer sole had some covering material that came off, but the lugs were not damaged. I also noticed that the paint on the D-ring for the laces had started coming off and exposed the brass or bronze metal. (I'm not sure of the type.)
I did one more hike on the same trail with no effect on the boots. The sole didn't get worse and the D-ring paint seems to be a manufacturing problem. I contacted Zamberlan USA, which is in San Diego, and they told me that they have seen this problem which doesn't affect the boot at all.
I bought the boots in May, and I estimate I have around 350 to 400 miles on them. I use other boots to hike also because of my work around San Diego county allows me to hike after my job is completed. The Zamberlans are used on the weekends and some weekdays.
Pros
Polypropylene midsoles, which I feel is way better than metal or nylon.

Rubber toe rands, which I feel saves the leather in the front of the boot, and is very strong.

Cambrelle nylon lining, not Gore-tex. My feet are cooler and sweat less.

One-year manufacturer's warranty.

Padded ankle, which for a day hiker allows more comfort and longer hikes, but is still strong.

I have been in the mud, and was surprised to see mud coming off the sole in forward and backward motion.

Leather-lined heel.

Made in Italy.
Cons
D-ring paint came off.

Outer sole skin came off, which looks like paint. I know its not, and it didn't affect the sole in any way. One last note, to be fair: this was just a very small section of the sole.

I contacted Zamberlan USA by phone and in person, and found very poor support if you have question about their product performance. But if you want to buy something they're on it. This is the reason I got the boots from REI: they will back up what they sell.

The insoles belong in the trash, and I replaced them with Superfeet Green.
This is now a comment about Vibram rubber soles, which performed great except for the coating problem. I went to Zamberlan's web site which had a link for Vibram; if you go to this site it tells you that it has a China plant now. Zamberlan gets the outer soles from Vibram but I'm not sure if they are made in Italy or China.
Care of the boots: I wash the boots every Sunday after my hike. I remove the insoles to allow the boots to dry. I use a vegetable brush to clean the outside leather with cold water. I also look at the leather to determine if it needs to be treated. The leather will bead the water; if it starts to get wet or soak that's when I use Zamberlan Hydrobloc cream.
If you read the instructions they tell you to apply it each season, they also say put it on in light coats. I found in San Diego it has to be used about every 4 to 6 weeks, but varies were you are located. I use the Hydrobloc cream because of the instructions and warranty. I contacted REI, but they don't sell it. Zamberlan's website had it, but when you order it, you get a popup saying "out of stock." I found it at CC Outdoor Store and ordered it in June time frame, but I got a email a few days after the order from Zamberlan telling me it's in stock now.
They also list a shoe repairman on the Zamberlan and REI websites; I don't feel like giving his name out, all I can tell you is read the comments before you ever send your boots out. The only other thing is I use a dentist pick for removing small rocks that got stuck on the soles, not many but if you remove them it will make you soles last longer. The size is approximately 1 to 2 mm.
The final comment is, will I buy them again? Yes. I plan to buy a second pair. They meet everything I wanted out of a boot. I did have a problem at the beginning on looks of the boot — GREEN and the paint and outer sole problem — but on the trail the sign I used for myself is this: I don't think about the boots at all. They are part of me and my main goal is to get on the trail as fast as I can and stay on it, enjoy what is around me and not worry about equipment failure.
After you treat the boots, the green will start going away: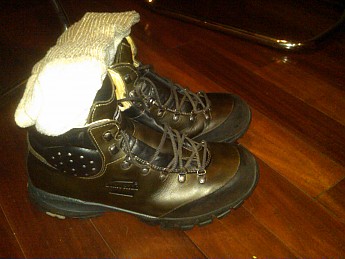 In the field: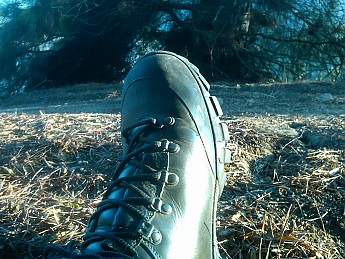 Where to Buy
Buy Online Compare prices from 3 outdoor retailers:

sponsored links

$239.95

$191.96

$240.00
Add your voice
to the world's most comprehensive and useful collection of
independent outdoor gear reviews
.
Review Your Gear