Zamberlan 308 Trekker RR

The 308 Trekker RR has been discontinued. If you're looking for something new, check out the best backpacking boots for 2023.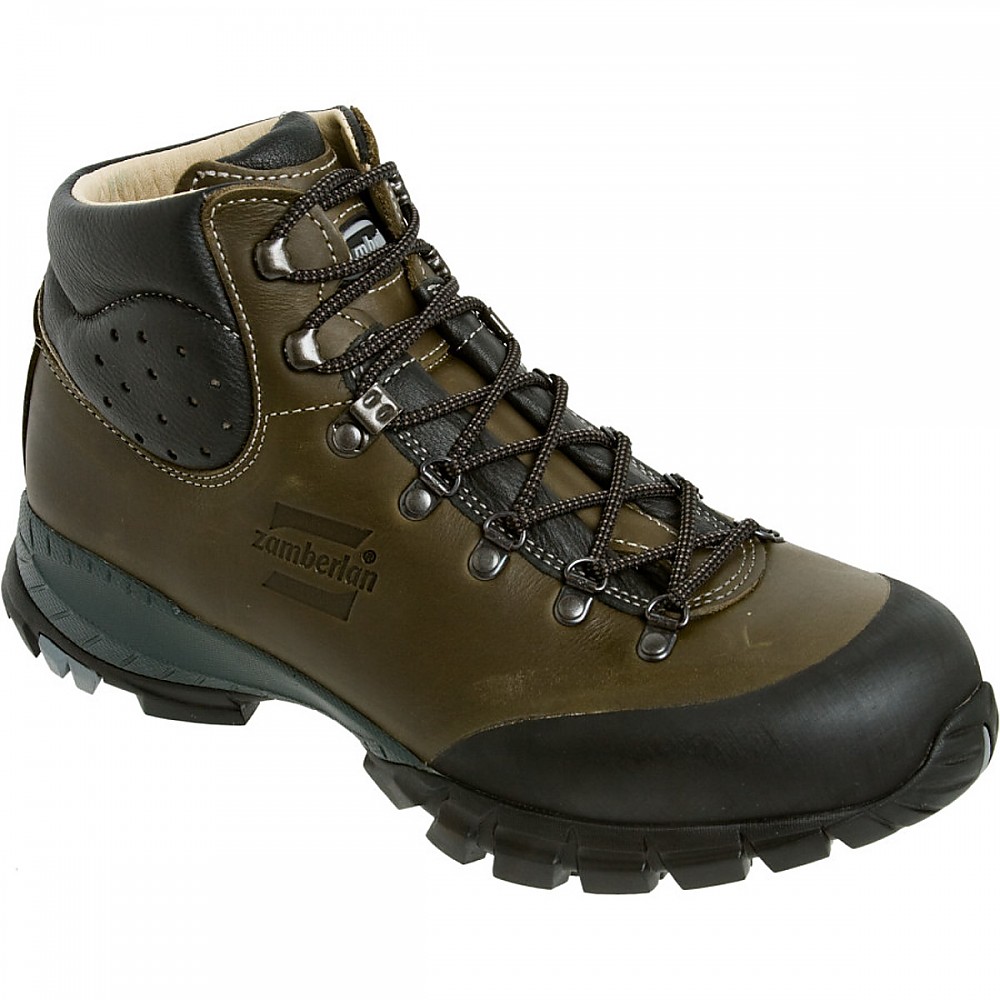 This is my first attempt to write a full review of Zamberlan's Trekker 308. I have been doing very serious hiking now for 2 years. The problem that I have encountered is which boot to use. I will not name other brands, but it has come down for me that leather boots are the best. But which one?
This review will be from a dayhiker point of view, which may not be the same as a multi-day hiker. The main reason I bought these boots is for leather, one year warranty, and no Gore-tex material. I was also influenced by it not being made in China, and reviews from different sites on the Internet.
I was looking for a boot that would not require much break-in time. I would estimate approximately 20 miles was required, and I can also say the boot got more and more comfortable after each hike.
I read the reviews and decided to get the 308, because I day hike and carry approximately a 15 to 25 pound backpack, use a walking stick, and wear only wool socks. I used them on a 3-mile hike the first time to make sure I didn't have any problems. I used liner socks and light wool socks and tied the shoes normal.
They performed well but I had some problems with small rocks — the soles will not give like my other boots and I found that the boot would roll over the rocks, whereas the other boots that I use would bend around the rocks. The heel section feels great, very solid and the laces work perfectly.
I used the boots for 5 more 3-mile hikes and didn't find any hot spots or major problems. The boots are forest green and I did see the dye bleed on the inside from the boot tongue.
Then I went on a 6-mile hike and encountered a small problem with my liner and socks: the socks were pulling my toes and I had to adjust them at the end of the hike because of discomfort. This could have been caused by me not pulling up my liner and socks correctly or by how I tied my laces.
I went on a second 6-miler and this time used medium wool sock only, no liner. I also changed my lacing to allow better heel lock and found that my toes were in great shape after the hike. I did 2 more 6-milers with no problems and did some bushwhacking at the end of the hikes, which didn't affect the boots at all.
The next hike was 2,000-foot ascent, 15 miles with lots of rocks, and the boots performed great. After the hike I found the outer sole had some covering material that came off, but the lugs were not damaged. I also noticed that the paint on the D-ring for the laces had started coming off and exposed the brass or bronze metal. (I'm not sure of the type.)
I did one more hike on the same trail with no effect on the boots. The sole didn't get worse and the D-ring paint seems to be a manufacturing problem. I contacted Zamberlan USA, which is in San Diego, and they told me that they have seen this problem which doesn't affect the boot at all.
I bought the boots in May, and I estimate I have around 350 to 400 miles on them. I use other boots to hike also because of my work around San Diego county allows me to hike after my job is completed. The Zamberlans are used on the weekends and some weekdays.
Pros
Polypropylene midsoles, which I feel is way better than metal or nylon.

Rubber toe rands, which I feel saves the leather in the front of the boot, and is very strong.

Cambrelle nylon lining, not Gore-tex. My feet are cooler and sweat less.

One-year manufacturer's warranty.

Padded ankle, which for a day hiker allows more comfort and longer hikes, but is still strong.

I have been in the mud, and was surprised to see mud coming off the sole in forward and backward motion.

Leather-lined heel.

Made in Italy.
Cons
D-ring paint came off.

Outer sole skin came off, which looks like paint. I know its not, and it didn't affect the sole in any way. One last note, to be fair: this was just a very small section of the sole.

I contacted Zamberlan USA by phone and in person, and found very poor support if you have question about their product performance. But if you want to buy something they're on it. This is the reason I got the boots from REI: they will back up what they sell.

The insoles belong in the trash, and I replaced them with Superfeet Green.
This is now a comment about Vibram rubber soles, which performed great except for the coating problem. I went to Zamberlan's web site which had a link for Vibram; if you go to this site it tells you that it has a China plant now. Zamberlan gets the outer soles from Vibram but I'm not sure if they are made in Italy or China.
Care of the boots: I wash the boots every Sunday after my hike. I remove the insoles to allow the boots to dry. I use a vegetable brush to clean the outside leather with cold water. I also look at the leather to determine if it needs to be treated. The leather will bead the water; if it starts to get wet or soak that's when I use Zamberlan Hydrobloc cream.
If you read the instructions they tell you to apply it each season, they also say put it on in light coats. I found in San Diego it has to be used about every 4 to 6 weeks, but varies were you are located. I use the Hydrobloc cream because of the instructions and warranty. I contacted REI, but they don't sell it. Zamberlan's website had it, but when you order it, you get a popup saying "out of stock." I found it at CC Outdoor Store and ordered it in June time frame, but I got a email a few days after the order from Zamberlan telling me it's in stock now.
They also list a shoe repairman on the Zamberlan and REI websites; I don't feel like giving his name out, all I can tell you is read the comments before you ever send your boots out. The only other thing is I use a dentist pick for removing small rocks that got stuck on the soles, not many but if you remove them it will make you soles last longer. The size is approximately 1 to 2 mm.
The final comment is, will I buy them again? Yes. I plan to buy a second pair. They meet everything I wanted out of a boot. I did have a problem at the beginning on looks of the boot — GREEN and the paint and outer sole problem — but on the trail the sign I used for myself is this: I don't think about the boots at all. They are part of me and my main goal is to get on the trail as fast as I can and stay on it, enjoy what is around me and not worry about equipment failure.
After you treat the boots, the green will start going away: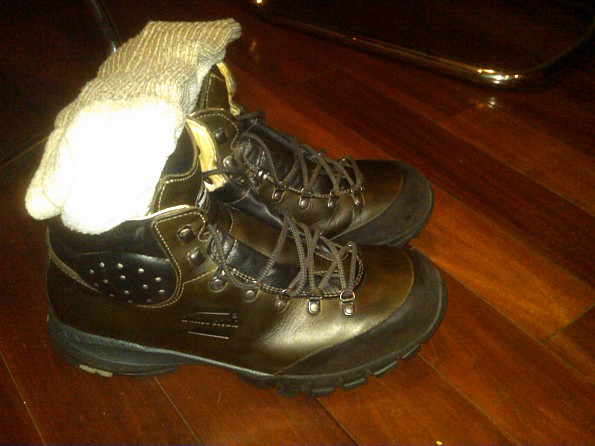 In the field: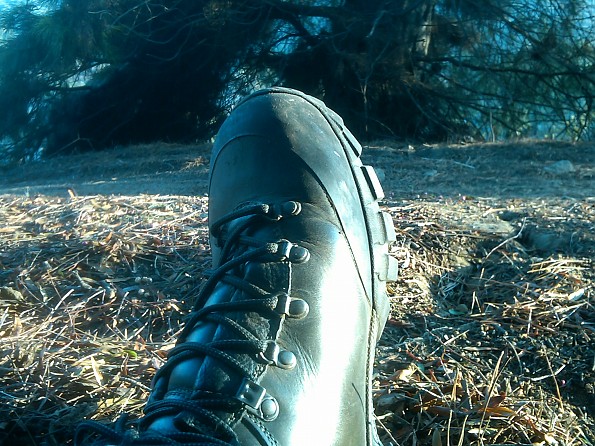 This is an update of Zamberlan Trekker, I still have the boots with a 2nd pair, which I alternate to allow boots to last longer and dry if needed.  These boots have been a joy in the 2 years of having them.  I did go to the dark side and tried other boots but without a doubt these meet about 95% of needs while hiking.  I will break down in section of what I feel make these boots so good for long hiking trips.
The outer sole was a concern at first, I didn't think it would last, the lugs were not large enough and traction was a concern. I feel now that the strongest part of this boot is the outer sole, and will out last the leather itself.

I have put many miles on these boots and if you take care of removing rocks and dirt you'll never have a problem, very few rocks get stuck on the sole, good traction on wet surfaces, gaiters are no problem to put on or crampons.  You don't have to worry about thorns going through your boot or damaging lugs I bushwhack a lot and haven't had any problems.




The leather is very good, but you must be careful of what you use to take care of them. I still use their Zamberlan cream, but remember that these boots are not waterproof, they'll keep most water out but not 100%. Your feet will get damp but if you have a waterproof boot your feet will get wet from your sweat also.

I feel that this is the weak link of the boot, where the D-rings for your shoe laces are, the boot has one attachment point and after time the rings will move a little without you noticing. The rivet that attaches the D-ring is getting larger and after time will elongate and fail at the lower part of your shoe lace system.  This probably could be fix by making the lower D-ring 2 rivet attachment point instead of one.

The leather tongue is outstanding, it will not fold when you lase up your boots, even after time it will not fail, very thick leather which when hiking you'll never have problem with tongue folding up, at the same time you must align the tongue to prevent it from going side to side, it isn't full gusted so alignment is critical when you first buy these boots, if keep align during the break in period you'll will not have a problem later on, and when I broke them in (x2) I used a surgical knot first then a  double knot and you'll be happy after because it will stay in place. 




The inner sole is great, but like before, use Superfeet, your feet will thank you for it. If your used to EVA type sole you maybe shock when putting these boots on for the first time, they don't give.  If you're a day hiker this may be unacceptable to you if you don't go off trail or distances greater than 10 miles. For myself they feel bullet proof and give me confidence down the trail that these boots aren't going to fail. 

I still use only wool socks (medium) but have used light socks also with no effect inside the boot with my foot moving around.  I didn't get blisters, but at the beginning I did have a little heal pain. This problem is long gone.



Padded ankle supports made me wonder at first, but after a while of ascending and descending it gave me enough lateral movement to allow the leather not to dig into my upper foot and gave me flexibility to go around rocks or objects with better control, this was an added bonus which I never thought about until wearing these boots for a few hundred miles. I feel I have enough ankle support without the sacrifice of having a full grain leather support.
Price Paid: $175 on sale at REI

Best hiking boot ever for feet wider in the toe than heel. Amazing comfort, support, and springiness.
Pros
So. Comfortable.
Beautiful
So long lasting
No break in
Mold to your feet
Cons
Weight
They don't make 'em anymore
I should have bought these 10 years ago when I first tried them on at REI. As a woman with size 9D feet, the men's size 8 fit just right, and felt like walking on clouds. But I had this weird idea that the "men's specific last" would cause foot problems down the road. Later I come to find out that the ONLY difference between a "men specific" and a "women specific" last is the WIDTH. Mens lasts are wider. And women have wider feet per length than men on average...go figure.
Anyway, I was delighted to find a pair of these BRAND NEW online—10 years later! And my hiking feet are finally happy again. These boots are extra special because:
1. They're made on the Ananasi last which is wider at the toes--meaning they're shaped like an actual foot. (Altras anyone?) I tried Altras but found them sloppy, lacking support and although nicely lightweight, they don't give more support than my awesome Gabor sandals, which I have climbed mountains and backpacked in. If you have this problem too and can't find yourself an appropriate-sized pair of Zamberlan Trekkers, try Meindl. They make a shoe (also in Italy) with a similar shape.
2. No Gore tex—woohoo! They're a true "European" boot with an all-leather lining. They are ever so much more comfortable and supportive than your average gore tex boot. Yes, they're a little heavier. But that's a non-issue in my book. See next point.
3. Being Zamberlans, they "spring" your foot and make hiking effortless. I broke in my first Zamberlans fresh out of the box hiking to Sykes Hot Springs, which in case you didn't know, is 11 miles up and down, up and down, up and down. I got nary a blister and the boots hiked me. I mean they're so ergonomic that walking feels a bit like bouncing or floating, even with a pack on.
4. Being Zamberlans, they can be resoled indefinitely and last you your whole life. Send them to Dave Page Cobbler in Seattle...no one else I know of can resole a Vibram sole properly and some will even tell you it can't be done. They're EXTREMELY durable and well made. My old Zamberlan Civettas got recycled only because I had a child and my feet grew up and out a size (they used to be 8C which fit the women's last just fine.)
So far, these beauties (having arrived just yesterday) have taken me on a mere 2-mile walk with dog and no pack. But they feel fabulous and they definitely spring/walk me. I am looking forward to taking them on the PCT next summer with full on gear. I'm certain (now that my feet have stopped growing) that these will be my boots for life. Zamberlan if you're reading this, PLEASE PLEASE PLEASE remake the Trekker! And other boots in the Ananasi last. :)
One more note. While most hiking shoes/boots may last you 500 miles (Altras, anyone?), a properly-cared-for pair of Zamberlans may take you up (or down) the entire PCT, CDT and then the AT with a couple of resoles in between.
Experience
I'm a seasoned backpacker experienced with Zamberlans (100 miles or so) and a few inferior other brands of shoes.
Source: bought it new
Price Paid: $120

Good boot overall.
Pros
Lightweight
Water resistant
Comfortable
Well made
Sweet self cleaning tread
Cons
Shape of outsole
Boot height
Large volume
I would like to preface this review by stating that the quality of the boot manufacturing is great. The leather is thick and supportive, but softens where it needs to flex. I got these boots off steepandcheap.com for $150 USD. Break-in was not bad at all. I think I could have gone hiking in them right off the bat without much issue. There was a slight hot spot on my heels at first, but that very quickly resolved. 
I think that my main complaints are too much of an issue with the boots as much as they are with how my anatomy fits the boots. I have skinny ankles, a narrow heel, low to medium volume feet, and my great toes tend to splay when I walk.
The toe box is great in its volume, with the bulk of the boot being tightened over the top of the metatarsals so that my toes can always wiggle. However, it feels like the boot has excess volume compared to my foot. I have a thin odor absorbing insole overtop the factory one and thick wool socks and that handles the excess volume perfectly.
My other complaint about the fit is that the 5 inch height digs into my anterior shins when flexing if the boots are laced tight around my ankles.
I haven't done a "bathtub test", but I have walked through creeks and stayed dry just fine with the leather and all seams. While the boot isn't super tall (5 inch height or so), it is gusseted almost to the top. For such a short boot the support is more than I need. 
The interior of the boot is lined with a cloth material that works fine, and the ankle padding/tongue are fully leather lined and feel great. 
My main gripe about these boots is the curve to the sole on the outside of the boots, which tends to put a twisting pressure on the boot when walking sideways on a hill. It is nice and study on flat ground, but being that I hike in Appalachia that is a moot point.
That said, I love the tread. I have worn various boots in the military and this is the best tread pattern for grip/self cleaning I have ever used hands down. 
Overall an excellent boot that Zamberlan doesn't make anymore, especially if you have a med to high volume foot. Oh, and sizing was pretty true to European sizing. I'm an 11 US in most sneakers, 29 cm, and 45 Euro. These are 45 Euro/10.5 US and run just about right in length. If you're in between sizes I would try them a half size down. 
Source: bought it new
Price Paid: $150

Love the comfort and feel of these boots, it was like they were custom made for me. I would usually slip into my Crocs as soon as I hit camp with these boots I never took them off until bed time.. that should say it all.
Price Paid: REI scratch & dent sale $50

Nice light hiking boot if your foot likes the fit.
I ordered these but returned because I did not like the fit for my foot. This review is just to help others with fit decisions.
Boot runs true to length with a wider toe box than most other brands have today. The boot has a stiff leather heal with kind of a ridge where the leather ends and the ankle padding begins. If you do not mind it than it is really a great boot.
For me I know I would have problems on a long hike (I have always had heel issues). Foot bed is one of the best. If you use orthodics you might have issues as it would push the heel up to the ridge area. Size 12 weighed 1 3/4 lbs per shoe.
Source: bought it new
Price Paid: $155

Didn't fit me.
Pros
Rubber rand protects toe of boot
Good medium weight leather boot
Cons
Rubber rand not breathable
Cut of ankle padding did not suit my feet
Seam down back of heel uncomfortable
My partner has a pair of the men's version and loves them, so I initially ordered a men's version in the smallest available size, but it was still too big for me. It felt comfortable, though, so a local outfitter ordered some women's Trekker RR's in for me even though they don't normally carry them.
I liked that the liners were stuck firmly to the leather on the inside — and no Gore-tex, so felt cool. I was worried that the rubber rand around the toe would make the boots feel stiff and would not allow this area to stretch and give with use, and they did not feel very wide to me (I have high volume, low arched, wide feet), just ok.
The main issue I had was that at the back of the boot, the very top where it sits on your achilles tendon was tight, and the stitching which ran along the top dug into my achilles area at the back of my leg just above the heel. I have had this trouble with a previous pair of boots, and because of the stitching, it never did "give" or stretch, and remained painful especially on descents. (I find this a problem with many boots, and can't wear Asolos, for instance.) (I also find most boots — eg Scarpas — too narrow in the forefoot).
I also found that there was a vertical seam at the back of the heel of the boot which I could feel rubbing, even just walking around the shop. Finally, the cushioning was not what I had felt in the Zamberlan Cristallos. They felt quite hard underfoot — and yet not as stiff as I would like in the sole.
For these reasons, I trialled, but did not buy the boots, and went with the Cristallos instead. But I thought it was worth reviewing them just to share this experience, just in case someone has the same issues as I do and was contemplating buying online or something!
Source: tried it in the store

If they fit you, you will love them!
Pros
Comfortable, wide fit
Leather waterproof
Easy to break in
My partner has a pair of these so I'm relaying his comments! He loved these boots from the moment he put them on, and he had tried on every pair of hiking boots and shoes in Melbourne, I swear! He shopped for weeks and wore out the patience of several shop assistants!
His feet are low volume, low arch, narrow heels, thin ankles, and wide in the forefoot — very strange feet. He has had these boots for over a year now and has around 300 miles on them including a thru hike of about half the JMT last year, carrying around 40lb. He has not had a single sore spot or blister in them. He finds them comfortable and supportive with his Superfeet inside them.
Great traction on wet rock. He did not find them overly hot, compared with his previous hiking footwear (Salomon trail shoes). The sizing is true to size.
Source: bought it new
Price Paid: Approx. $240 USD

Losing half a point for the lack of padding at the very back of the heel.
If these boots fit you, they may well be perfect. I was surprised to find a leather boot, made in Italy, without the standard SheepleTex, sweat-inducing, ever-soaking, waterproofish membrane, which has become standard these days.
Nicely crafted, with a bit of leather inside the tongue and inside the ankle, good thick leather outside with an effective toe rand. Rubber is grippy in the wet, hard wearing. Lacing system is spot-on.
So took me a few months to break in the heels and now they are very comfortable.
Price Paid: GBP 150?

By far the most comfortable boots I have ever worn. Break in period was brief if nonexistant. Good traction, great ankle support, well made, and full leather inside and out! Full leather takes a little more care, but is so much more comfortable in my opinion. Waterproof if treated when needed. After several 40+ mile treks I have no complaints about this boot, I would definitely buy again. Look around online, several retailers carry them for 179.
The picture currently displayed of the boots in incorrect, the upper is not that white/gray leather. It is black.
Materials: full leather, inside and out
Use: rough trail w/ 35-40 lbs pack
Break-in Period: Less than a week, but maybe less, leather lining forms quickly
Price Paid: $179

Your Review
You May Like
Specs
Men's
Price
Historic Range: $119.98-$239.95
Reviewers Paid: $120.00-$240.00

Weight
640 g

Women's
Price
Historic Range: $87.98-$239.95

Weight
580 g

Recently on Trailspace