Zamberlan Cristallo Gore-Tex

The Cristallo Gore-Tex has been discontinued. If you're looking for something new, check out the best backpacking boots for 2023.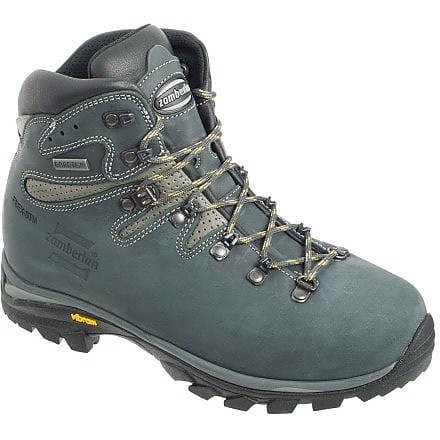 Comfortable, warm, good ankle support, good arch support, nice cushioning in midsole.
Pros
Comfortable
Supportive
Painless break-in so far!
Good traction
Durable
Cons
Fabric lining of ankle collar is wearing through
Update October 2017:
I am not even sure that Zamberlan is still making these boots, so this may not be a helpful update (!) - but I wanted to make a comment about how well these boots have stood up to 5 1/2 years of use.
They still look and feel amazing! The tread underneath is still good, still grippy. The only place they are showing wear really is inside the top of the ankle collar—this area is a soft fabric (similar to that used in running shoes) over foam cushioning, and it is wearing thin and through in some places.
This is a shame, as the rest of the boot is fine and going strong, still supportive and sturdy. My partner has Zamberlan Trekkers which he bought at the same time as I bought the Cristallos, and his have done twice as many miles as mine and are still fine—difference is his are lined in this area with leather, not fabric.
__________________________________________________________________
Original Review:
I have broad, high volume feet with low arches and these fit like a dream!!!
I'm in Australia, and these boots retail here for nearly $400 (around same in U.S. dollars). (I didn't actually pay that, as I got them on sale.) As they are a premium item, as a purchaser you have high expectations. 
I note that the boots I have — bought in Feb 2012 — are slightly different to those pictured, I think they are a previous model. Mine have grey around the top, not black. And the EVA midsole is thicker in mine, which makes the sole thicker and more cushioned. Hopefully those are the only differences, but I can't be sure.
These Zamberlans are the only boots I've tried on that don't put pressure on the back of my leg above the heel, even on steep descents. I tried lots of others — Asolo etc — but they were all too high cut in the Achilles region and pressed in too much here. The Cristallos are roomy enough in the toebox but supportive in in the midfoot, very comfy and soft padding through the instep area and the laces. Very nice arch support. The laces are very long. Very comfy on ascents, heel sits nicely in the heel cup. Feet don't slide forward on descents. Traction is good.
 The EVA midsole is very cushiony and I find them good even on concrete. I feel like these pretty boots are saying to me on each step "I've got you!"
Only concern is that the liners which are fabric/Gore-tex seem to be a bit loose and wrinkled; they are not fully bonded to the leather outer all the way around inside the boot... so far I haven't developed any sore spots of blisters, hope this continues to be the case on multiday hikes.
If not for the liner issue I'd be giving them a four and a half stars at this early point in their career! 
_________
ADD-ON 6/23/12:
After about 100 miles — Still comfy. Little less rigid around the ankles now that they have softened a little, but overall still look and feel much as they did at the start. Waterproofness is good. It's winter now, so they are nice and warm.
The wrinkled liner issue — I followed up with Zamberlan via Australian retailer and they advise that this is just how the boots are made so that the waterproofness is not compromised — the liners are just stuck in one place to the toe and the rest just sits inside the boot like a loose sock.
So far, this has not caused major problems for me, but I've still only done day hikes in them, with a 26lb pack.
Very impressed with the traction of the soles on wet slippy surfaces.
_________
UPDATE 5/23/13:
Hiked half the John Muir Trail in these boots last year (summer) and currently training in them for upcoming season. Maybe 300+ miles on them, and they still look and feel great. I did not get a single blister on our trip.
I would unreservedly recommend these boots, but of course they are not for ultralight backpackers. I have not been in snow in them. The support, traction and waterproofness is fabulous.
I'm changing my rating from 4 to 4 1/2 stars!
Source: bought it new
Price Paid: $280 USD

My backpacking is mostly in the Colorado Rocky mountains in wilderness areas, and I don't stay on the trails a lot. My feet are average volume, size and width and these boots fit my feet very well. I ordered 4 -5 pairs of mostly different brands and tried them all out. These offered excellent stability under 35 lb. pack and very good traction and comfort.
Added Super Feet insoles to make them almost perfect.
The toe box gives plenty of wiggle room and the heels set in nicely. Downhill no toe jamming. I highly recommend these boots.
Materials: Classic leather with Gore-Tex
Use: Rough trail with medium pack
Break-in Period: 1 week
Price Paid: $208

These boots are pretty darn good. Despite the goretex, I treated them with nikwax and even after standing in puddles, water would run off the surface - excellent leather.
One small problem (depending on how you look at it) is that some cuts and scrapes went pretty deep. On the plus side, the leather is thick enough for this not to be a big problem.
If you have REALLY high arches, they might not be good for you, my arches are sorta high, and the boots are a little tight there, but if you lace them properly it's no big deal.
Ankle support is great, vibram soles allowed me to walk up very steep inclines (up to sixty degrees for short stretches + fun!)with a pack on.
Good cushioning - feet were rarely sore, never got blisters even during first hike.
These are available at MEC, and for the price, are excellent. Unless you need leather thicker than 3mm or super stiff soles that won't budge in your hands, I'd recommend these to anybody!
The dry feet at the end of the day are a great feature!
Materials: Nubuck Leather
Use: Moderate off-trail w/ medium-heavy pack
Break-in Period: One 3-day trip!
Weight: Between 2-3 lbs
Price Paid: $240 Cdn

Your Review
You May Like
Specs
Men's
Price
Reviewers Paid: $208.00

Weight
680 g

Women's
Price
Historic Range: $107.98-$249.95
Reviewers Paid: $280.00

Weight
610 g

Recently on Trailspace