LightHeart Gear
SoLong 6
Specs
Weight
1 lb 14.6 oz

Head Room
45 in

Pockets
1

Doors
2

Ridge Vent
2

Floor Area
30 sq ft

Vestibules
two 5.4 sq ft

Reviews
Great lightweight tent. Sets up quickly and dry in…
Rating:


Source: bought it new
Price Paid: $300

Summary
Great lightweight tent. Sets up quickly and dry in the rain. Headroom and floorspace are more than enough for this 6 footer. The awning option works well in most weather. Being a hybrid double-single wall tent, there is a slight condensation issue, but it is manageable.
Pros
Lightweight
Build quality
Roomy
Cons
Condensation
Price
Setup takes a little practice
3/26/15:  Updated a few notes in italics after additional trips.
I bought the Solong 6 after considering tarptents and other excellent choices. Being in N.C. and visiting Judy at the LightHeart shop helped make my decision. This is a quality built tent.  I still haven't used it enough to speak to durability but after several trips it still seems extremely sturdy.  I am not afraid to shake it out, hang it over a line to air out, or stuff it into the pack — doesn't seem to damage easily.
After a few test runs, setting it up is pretty simple with six stakes, and actually quicker than other tents I own. With the one-piece roof you don't get the insides wet setting it up in the rain. To get it taut you do have to restake one end after inserting your trekking poles. The awning gives lots of room to work in adverse weather, and the size allows for all your gear to be in the tent. I used the awning to cook on a couple of rainy nights and it worked well.  Still had room inside for all my gear except the wet stuff, which I hung over the awning.
This is how I set it up on nights when it may rain. Fully staked out but open up and roll back two of the panels to allow for nice views and breeze.  It can be quickly sealed up without getting out of the tent if the rain starts at night.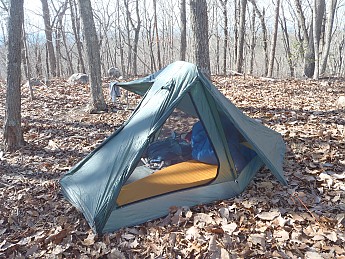 For nights when it looks pretty clear, I like to leave it open on all four sides for a pretty clear view of the sky.

I tested it in 30-plus mile an hour winds on Mt. Rogers and it held up well. In storm mode it was completely stable with the awning folded in. Headroom allowed me to sit up fully and move around without hitting the walls. It did collect condensation on a really moist night when mist was moving through the air, but it was handled with a bandana. On a drier night there was no issue, but I haven't tested it in the warm season much yet. 
Still haven't tested it in the warm season yet, but continue to have a slight condensation issue on damp nights.  It is contained to the narrow strips of single wall along the middle of the tent and is easily handled with a quick wipe of the smallest size packtowel. I don't consider this a major issue considering the light weight and roomy interior, awning, and vestibule.
I really love the design of this tent especially in wet weather. I use the awning side to mess around with cooking etc. I am a die hard Fletcherite and prefer to eat in the cocoon of a sleeping bag when not in real bear country, and can sit up and eat without issue due to the height of the tent in the center. I use the vestibule door opposite the awning door for entering and exiting without tripping over the stove etc.

A couple of notes on adjustments:

I took advice from another reviewer and superglued the PVC pole in place inside the tent.  That way it is always in place when you put your tent poles in, and there is no fussing around with the PVC.

I switched stuff sacks.  I use the nice stuff sack Judy made for clothes or other assorted items, and use my slightly larger Feathered Friends Osprey sleeping bag stuff sack for the tent (I don't use a stuff sack for the bag and just shove it to the bottom of my internal pack liner compactor bag).  I prefer not having stuff sacks packed so tight that they don't flex much and therefore are tougher to pack and don't fill out the corners of the pack.  The Solong is a bit easier to pack in a larger stuff sack and fits better with other items.

Overall, I am very pleased with the quality of this tent, and room inside and out. Mine weighs in right at 2 pounds but has room to squeeze two adults in if necessary. Only has one inside storage pocket, but who needs more when you have ample room for your entire pack to be in the tent?
Awesome tent!! So far I have used the SoLong 6 twice…
Rating:


Price Paid: $275

Awesome tent!!
So far I have used the SoLong 6 twice by myself and once with my 11-yr-old son. I am 6'1" 295# and I have plenty of room to stretch out. Even with my son inside we had plenty of room to sleep through a night of strong NC rainstorms. My Exped 9Dlx 78 x 25 Downmat and my Big Agnes 72 x 20 Mummy Air-Pad both fit in the tent together!
The bathtub sides seem to be higher than other ultralight tents which seems to greatly reduce the water that can splash under a tent in poor weather. When staked out, the sides of the SoLong 6 stayed well separated from the inner no-see-um mesh. Unlike single wall ultralights or other ultralight tents with little or no separation between layers, if you brush against the sides, you won't get soaked.
The ridge pole and its connection to my hiking poles is solid and easy to use after practicing a few times. I changed the velcro slightly and now leave the ridgepole attached to the tent even when putting away to save time.
I used dyneema line with micro line locks on the 4 corners and the main fly tie outs, and dyneema line alone on the additional tie outs. This tent was very solid just using 6 stakes. It would be even better in an exposed location with the additional guy outs used.
BTW even after the seams were sealed it is still showing under 27 oz on my scale!
Update: February 5, 2012
I ended up using the tent about 5-6 times before selling it to purchase the same tent in an even lighter material (cuben fiber), and with the addition of an awning.
This tent is great! Great tent to wait out a storm in. It is bright (in the lighter colors) and the huge amount of mesh on the inner tent walls means that the ventilation and the lack of condensation has been outstanding.
If I was ordering another I would add the zipper on the fly and inner wall opposite from the main entrance. That way you can exit from either side, use both vestibules easily, and roll the fly up completely on both sides.
This tent is available from www.lightheartgear.com
LightHeart Gear SoLong 6
MSRP:
$298.00

The LightHeart Gear SoLong 6 is not available from the stores we monitor.
If you're looking for a new three-season tent, check out the best reviewed current models.