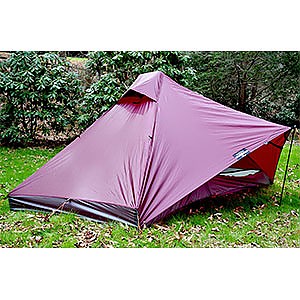 Specs
Price
MSRP: $315.00
Reviewers Paid: $255.00-$345.00

Use
3 Season

Sleeps
2

Weight
2 lb 4 oz

Head Room
45 in

Floor Area
38.2 sq. ft

Floor Dimensions
100 x 55 in

Vestibules
2

Reviews
6

reviews

5-star:

4

4-star:

1

3-star:

0

2-star:

1

1-star:

0
Sweet combination of low weight, durability, storm-worthiness, and room for two large people! I have owned over 20 tents in the last 25 years, and I have my new favorite. All LightHeartGear tents are now made in North Carolina too!!
Pros
Ultra-low weight 2#3oz
Great storm worthiness/ventilation!!!
Room for two large people
Rainfly and tent body are attached, for easier setup.
Great Bug-free views with the sides rolled up!!!!!
Cons
You need to practice setting it up at home a few times! Of course that is all tents!!
You need to use your hiking poles to set it up, or use small folding poles (sold separately).
You need to seam seal the tent(have LightheartGear do it. Well worth the extra fee!!)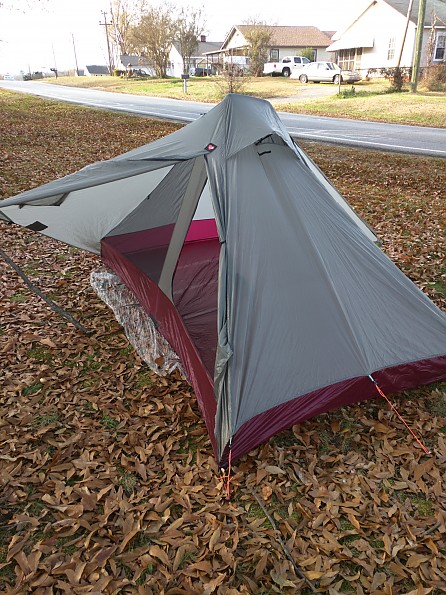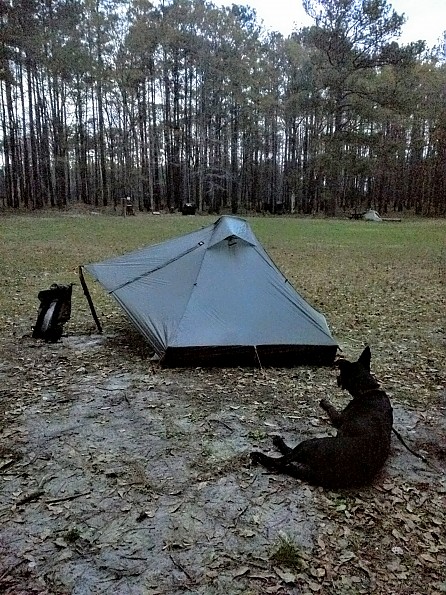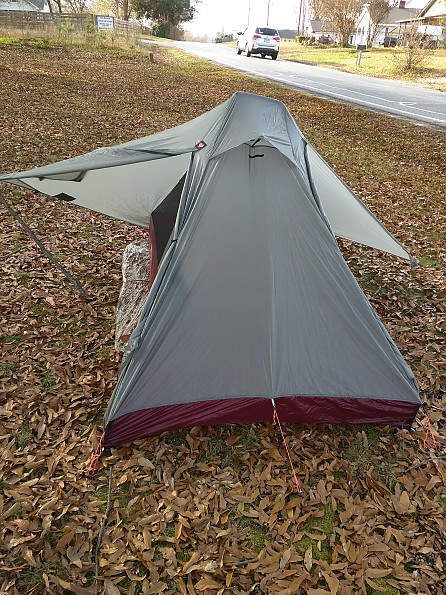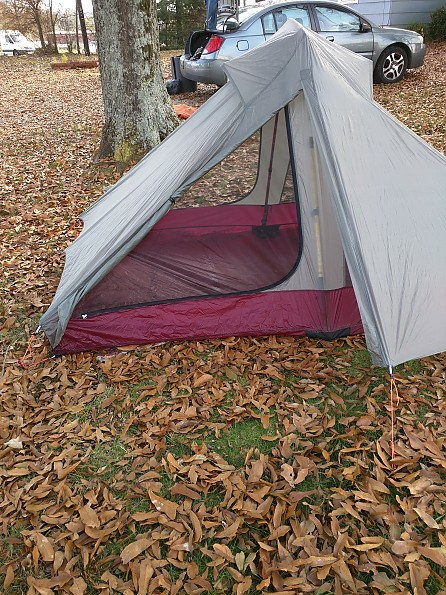 TV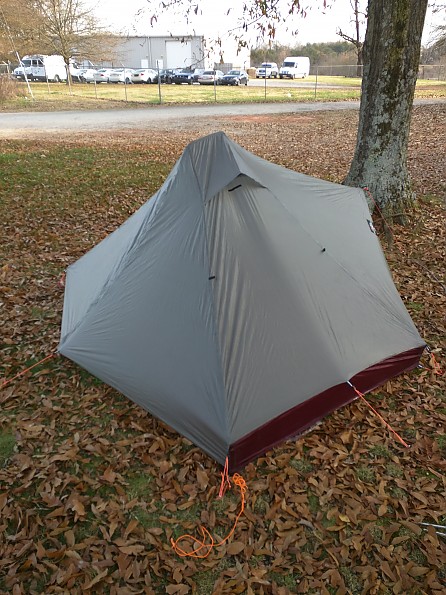 This is not my first tent, but it may be my last!!! I needed to get a true two-person tent, and I decided to sell my LightHeartGear SoLong6, as it is more of a 1 1/2 person tent. I loved it, but I am 6'1" 295# and I like to bring my son, who is 6'4", so we needed a bigger tent.  After looking at all of the new tents out there, I came back to the LightHeartGear Duo.
Setup: It takes a few times before it is easy to do quickly, but it is pretty straightforward.
Stake out the four corners.

Unzip tent door, crawl inside with two collapsed hiking poles.

Put the tip of one pole into one end of the spreader bar, and extend pole until it fits into the patch on the side of the floor.

Repeat for the other side.

Exit the tent and stake out the sides, if you are expecting bad weather, or roll up the sides, if you want awesome bugproof views!

Check tension at each corner to make sure everything is taut. And you are done.
Stability: Tent is very stable in wind and rain. As with any sil-nylon tent, you may need to retension the sides slightly if it gets wet.
Weather Resistance/Ventilation: Solid bathtub floor all around keeps water from splashing in during a deluge. Tons of no-see-um mesh and two huge vents up top keep the condensation to a minimum.
Room and Storage: The floor is 100"x 55" and will fit 2-25"wide pads side by side. The length and headroom (48" tall in the middle). will accommodate adults that are 6'6" easily, with two mesh storage pockets and additional room at the ends to throw odds and ends.
Packability/ Ease of Use: It is easier to pack the tent loosely and then pack other things around it in your backpack. The zippers are small and easier to use once I put small nylon cord pulls on them, but I have big hands.
Construction/ Durability: Top notch sewing, and construction. The silnylon is 3500 mm hydrostatic head waterproof fabric, which is higher than most tents out there, and very tough. 
Overall: A great tent that just does what it is supposed to do! And it only weighs 2# 3oz on my scale!
Source: bought it new
Price Paid: $315

Perfect hiking tent, does not leak, is ultra light and goes up quickly even in the rain. I find the Duo essential for hiking the AT. It serves as either a one-person or two-person tent, allows me to put my gear inside with me, and has enough room for a tall hiker. Love it.
Pros
Water tight, Leakproof
Ultra light
Ridge height high enough for a tall person
Wind resistant.
Easy to set up and repack
Comfortable
Includes floor made in
Cons
Not free standing
Is sometimes difficult to set up on tent pads, unless you carry additional cord
I have carried the Duo for two years on the AT and had zero issues with it. The tent goes up quickly even in the rain, does not get soaked inside while setting up in a down pour, and offers ample room for me and my gear. The vestibule gives me room to set extra stuff or even if need me cook a meal in the dry though this is not a recommended use.
This tent was damaged by a lawnmower, patched and Still keeps me dry and secure. I have had this tent up in wind and thunderstorms, unexpected snow and ice with no issues. While any single wall tent can suffer from condensation (and with all the flaps secured down this one is no exception) I have seldom had an issue with this with the vestibule and side open to vent. It stays dry in all but the most windy rain storms with the vestibule zipped out as well.
I love this tent and have no plans to replace it any time soon. When I do I am sure to purchase another of Lightheart's wonderful tents
The Lightheart Duo tent is a two-person ultralight tent weighing just two pounds. It is rain proof, easy to set up even in a downpour, and allows me to bring my pack inside with me.
I have used my Lightheart Duo tent from Judy Gross at Lightheart Gear for going on three years. It is simply the best tent I have ever had. I even had a neighbor run over it with a lawn mower tearing off one corner of the vestibule and ripping a hole in the vestibule which I had to patch and it Still performs like new!
The tent is nominally a two-person and certainly has room for two. But as it weighs only two pounds, no more than most ultralight one person tents, I have used it as a solo. This allows me to bring all my gear and pack inside at night so, when I sleep all that is outside is my bear bag.
It has ample length for my 6'5" height, enough ridge height that my head does not touch the top when I sit up and has wonderful ventilation when the vestibule is open or may be closed down to keep the wind and chill out.
Overall a most wonderful tent and shelter.
Source: bought it new
Price Paid: $255 in 2010

Easy setup.
Other reviews here suggest this tent is difficult to set up and needs practice. I have to disagree...
I just bought this tent, and set it up for the first time. I had no problem whatsoever (and I am not an engineer). Very self-explanatory. And I am a newby backpacker who hasn't set up a tent in over 10 years. The vestibule space is very roomy compared to others I researched.
Recommend the carbon poles for the vestibule.
Source: bought it new

Lightweight hiking tent for backpackers.
Pros
Very lightweight
Fairly easy to set up
Uses trekking poles for supports
Cons
Expensive
We found it small for 2 adults
Some condensation issues
This past February my husband and I hiked almost 500 miles of the Appalachian Trail. We started at Springer and upon getting over Sassafras Mountain it became very obvious that our current tent wasn't going to cut it. Ended up at an outfitter who sold us a Light Heart Duo. We set the tent up a couple of times along the trail and found it not to our needs.  We had the tent seam sealed at the manufacturers which cost extra and got the the cut-to-size Tyvek groundsheet also for it. 
The tent is very lightweight, easy to set up, and no need for poles as it uses your trekking poles. There is enough room in the tent for two folks and the vestibules will cover your packs, However if you move any at all in your sleep or need to go in and out of the tent at night I at least collapsed the tent on us by knocking the trekking pole out one time and my husband almost did a second time.
The next time we set up was at one of the mountaintop shelters past Neel's Gap. It was a chilly night with the wind howling so we battened down the tent doors, thus giving us some condensation in the tent when we woke up. 
I think this is a fine tent. It just didn't work out well for us, so we sent it home and opted for a larger tent that we now each carry half of.
We purchased a Big Agnes Copper Spur UL 4 and used a cut-to-size Tyvek ground sheet for the footprint resulting in each of us carrying 2 pounds apiece. 
Source: bought it new
Price Paid: $315

Best tent I have ever owned.
Pros
Lightweight
Easy to set up even in the rain
Lots of room
I completed a thru hike of the Appalachian Trail with this tent and was very pleased. Very light tent that packs up small, fit in outer pocket of my backpack.
I slept in this tent for six months almost every night with no problems. I set it up in the rain, sleet, and high wind and never got wet. To say the least I did not treat this tent very kind but it held up great.
Source: bought it new

First the good:
This tent is huge inside, there's tons of room and it's light enough for one person to carry it keeping all of their gear inside the tent. With the tyvek footprint, stakes, and tent the total was under 2-1/2 lbs, not counting my hiking poles which I always have with me so I never count them in the weight.
The bad:
The price ($295) includes nothing but the tent and guy lines, no stakes, footprint, or rain fly.
The setup is difficult especially the first time. Most tents you can learn on the trail but you MUST set this tent up prior to taking it out the first time and never try and set it up in the rain. This tent is NOT free standing at all, which is fine but it's just something people should know before they buy it and....
There is no rain fly... it is a single wall tent. This tent is terrible in the rain, in fact I suggest if there is even the slightest chance of bad weather DO NOT take this tent or any of the LightHeart tents!
The problem is in the design and the material. The very thing that makes this tent so light (sil-nylon) is what ends up biting you in the butt when it rains. The material stretches when it gets wet and with this tent in the corners, then the water starts to pool.
The corner guy lines are a mystery... there's no actual loop for a stake so you just have to guess at the correct way to stake the corners.  I'm guessing that there's a way to make this work but should I have to engineer their tents?  I don't think so. 
I created a loop when I first set the tent up but the weight from the pooling rainwater during the night pulled the stakes out and the tent started to collapse on me. I experienced this on a backpack in the Sierras and it got so bad I ended up packing up and hiking 4 miles out in the middle of the night. 
One more thing I just noticed that they've added to their site... these tents are now being made in China. For some reason I thought these tents were hand made in the USA... this is disappointing.
Is it still a good tent? Yes, but it's a 2-season tent only to be used in good weather. I would have returned it had I not paid for the seam sealing and already used it on a backpack.
At this point I may sell it on ebay. I paid: $295 for the Duo, $35 for seam sealing, & $15 for the tyvek footprint for a total of $345. Luckily I had another tent I could use the stakes from.
Price Paid: $345

You May Like