LightHeart Gear SoLong 6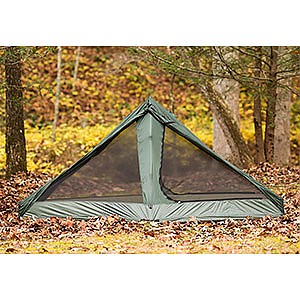 For the weight, this extra-large, one-person tent is HUGE! It is easy to learn how to pitch this tent in under three minutes using your hiking poles and six stakes.
Pros
Lightweight
Quick to pitch
Ventillation/ridge vents
Views
Double doors
8 in. bathtub floor
Huge awning
Vestibule
Cons
Not free standing
Hybrid double wall still has condensation
Floor is slippery
Packs large
I bought this tent secondhand, but the previous owner only used it a few times, so it was still smelling new. I wanted a trekking pole supported tent so I could drop weight by not carrying tent poles. I looked at and tried several tents, including the Tarptent Notch and the Lightheart Gear Solo. Ultimately, I settled on the Solong 6 because I wanted that extra space this tent provides. I'm 6'0", 180 lbs, and this tent has so much space considering it's under 2 lbs, including the seam sealing. 
I watched the how-to pitch videos a few times, and practiced pitching the tent in my yard a few times before setting out on the trail. It's a quick process, and after practice, I'm sure I can get this thing up in under three minutes—and probably faster if it was raining. You basically stake out the four corners, prop up the inside with your trekking poles, and then stake out the vestibule and awning. 
I have the carbon fiber awning pole, and that is a nice addition when you want to have a ton of extra covered space outside your tent.
I haven't had the Solong 6 out in the wind, but I have tested its larger version, the Duo. The Duo is basically the same tent, just larger. It held up in 30 mph winds at the top of a mountain in freezing temps. I'm sure the smaller Solong 6 will be solid as a rock in the same conditions. 
I put the Solong 6 under the yard sprinkler for at least 30 minutes, and it didn't leak at all. On a shake down overnighter, I awoke with some condensation at the head and foot. The good news is the head and foot are so far away from your head and feet, my sleeping bag never touched it. I opened up the fly, wiped down the condensation with my trusty bandanna, and was dried out in 15 minutes.
Overall, I think this tent has less of a condensation issue than other tents for at least three reasons: (1) ridge vents, (2) fly/awning vents, and (3) size.
The large ridge vents are a great way for condensation to find its way out of the tent.

The awning and fly velcro together at the bottom while you can unzip them all the way up to permit air flow while still keeping out a light rain.

The size of this one-person tent is perhaps the biggest factor keeping condensation down. A lot of condensation issues are caused by the moisture in your breath. This tent is larger, so the moisture in your breath has more air space within the tent to dissipate before settling on the walls of the tent. Basically, it takes longer for your breath to "fog up" the tent because the tent is larger. 
Keep in mind this tent is under 2 lbs. But, it is huge. I use a regular length sleeping pad, and I'm 6'0" tall. There's at lease 6 inches of extra space at each end of the tent. You can store your pack, shoes, tablet, phone charger, pillow, etc. in the tent while your sleep. There's room for another person if the need arises. I bet you could even add a medium sized dog as well, if you don't mind being snug. 
There's ample space in the tent for me to sit up and change into my dry/sleeping clothes as I head off to sleep, or back into my wet/stinky clothes in the morning before packing up and hitting the trail. 
The tent packs larger than I would like in the stuff sack it comes with. I suppose I could get a compression sack, but it isn't that big of an issue to me. It still takes up about as much space as a couple Nalgene bottles in the bottom of my pack.
I haven't used this tent enough to comment on durability, but the stitching looks well done, and it is made in the USA. I have seen a story (instagram and on LHG website) about Lightheart Gear driving more than an hour to deliver a replacement tent to a customer in the backcountry — so that's great customer service right there!
I recommend that you add some seam sealing stripes to the interior floor. Otherwise, you'll slip and slide all over the slippery floor. 
I currently own six one-person tents, and if I'm going where I don't need a free standing tent, this is the one-person tent I'm taking for 3-season backpacking trips.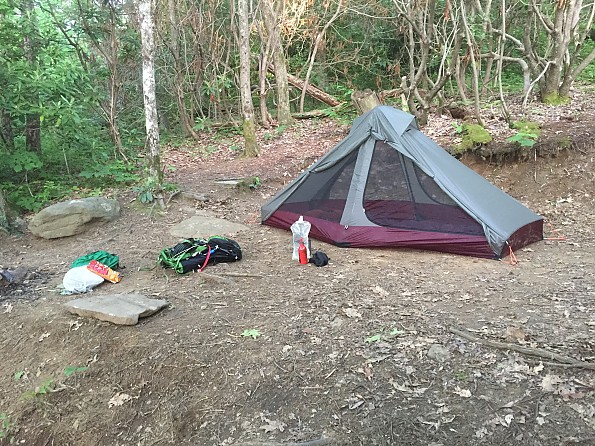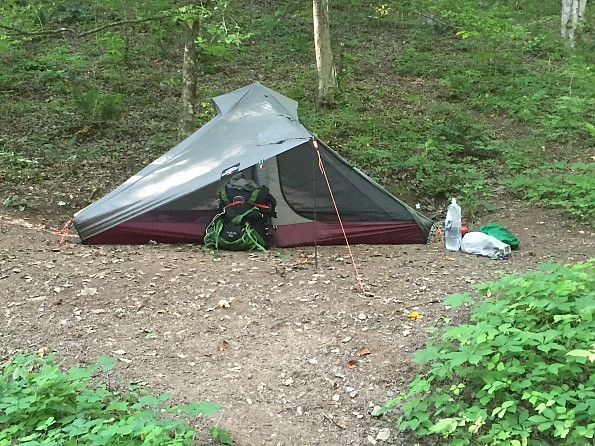 Source: bought it used
Price Paid: $250

Great lightweight tent. Sets up quickly and dry in the rain. Headroom and floorspace are more than enough for this 6 footer. The awning option works well in most weather. Being a hybrid double-single wall tent, there is a slight condensation issue, but it is manageable.
Pros
Lightweight
Build quality
Roomy
Cons
Condensation
Price
Setup takes a little practice
3/26/15:  Updated a few notes in italics after additional trips.
I bought the Solong 6 after considering tarptents and other excellent choices. Being in N.C. and visiting Judy at the LightHeart shop helped make my decision. This is a quality built tent.  I still haven't used it enough to speak to durability but after several trips it still seems extremely sturdy.  I am not afraid to shake it out, hang it over a line to air out, or stuff it into the pack — doesn't seem to damage easily.
After a few test runs, setting it up is pretty simple with six stakes, and actually quicker than other tents I own. With the one-piece roof you don't get the insides wet setting it up in the rain. To get it taut you do have to restake one end after inserting your trekking poles. The awning gives lots of room to work in adverse weather, and the size allows for all your gear to be in the tent. I used the awning to cook on a couple of rainy nights and it worked well.  Still had room inside for all my gear except the wet stuff, which I hung over the awning.
This is how I set it up on nights when it may rain. Fully staked out but open up and roll back two of the panels to allow for nice views and breeze.  It can be quickly sealed up without getting out of the tent if the rain starts at night.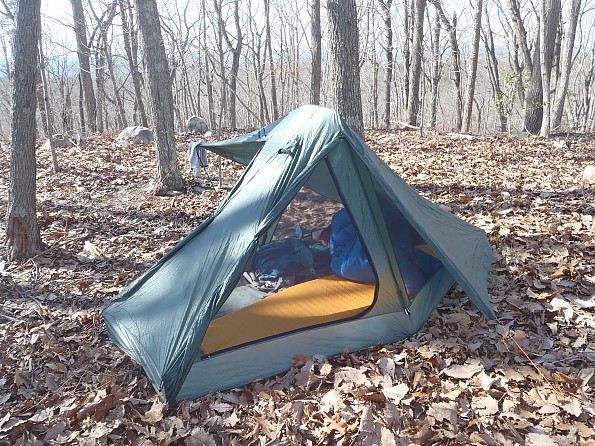 For nights when it looks pretty clear, I like to leave it open on all four sides for a pretty clear view of the sky.

I tested it in 30-plus mile an hour winds on Mt. Rogers and it held up well. In storm mode it was completely stable with the awning folded in. Headroom allowed me to sit up fully and move around without hitting the walls. It did collect condensation on a really moist night when mist was moving through the air, but it was handled with a bandana. On a drier night there was no issue, but I haven't tested it in the warm season much yet. 
Still haven't tested it in the warm season yet, but continue to have a slight condensation issue on damp nights.  It is contained to the narrow strips of single wall along the middle of the tent and is easily handled with a quick wipe of the smallest size packtowel. I don't consider this a major issue considering the light weight and roomy interior, awning, and vestibule.
I really love the design of this tent especially in wet weather. I use the awning side to mess around with cooking etc. I am a die hard Fletcherite and prefer to eat in the cocoon of a sleeping bag when not in real bear country, and can sit up and eat without issue due to the height of the tent in the center. I use the vestibule door opposite the awning door for entering and exiting without tripping over the stove etc.

A couple of notes on adjustments:

I took advice from another reviewer and superglued the PVC pole in place inside the tent.  That way it is always in place when you put your tent poles in, and there is no fussing around with the PVC.

I switched stuff sacks.  I use the nice stuff sack Judy made for clothes or other assorted items, and use my slightly larger Feathered Friends Osprey sleeping bag stuff sack for the tent (I don't use a stuff sack for the bag and just shove it to the bottom of my internal pack liner compactor bag).  I prefer not having stuff sacks packed so tight that they don't flex much and therefore are tougher to pack and don't fill out the corners of the pack.  The Solong is a bit easier to pack in a larger stuff sack and fits better with other items.

Overall, I am very pleased with the quality of this tent, and room inside and out. Mine weighs in right at 2 pounds but has room to squeeze two adults in if necessary. Only has one inside storage pocket, but who needs more when you have ample room for your entire pack to be in the tent?
Source: bought it new
Price Paid: $300

I was on my 82nd day of my thru hike of the Appalachian Trail when I had to leave the trail due to a death in the family. I will return to finish my hike on the Appalachian Trail after trail days in 2019 at mile marker 771. During this time, I learned more about my favourite pieces of gear starting with my tent, the LightHeart SoLong 6.
Pros
Ultralight
10 inch bathtub walls
Ample room for tall people and all of your gear
2 large air vents on top of tent on either side
Less condensation to worry about
Tough tent
Cons
In rough weather use stronger stakes
In high winds use stronger stakes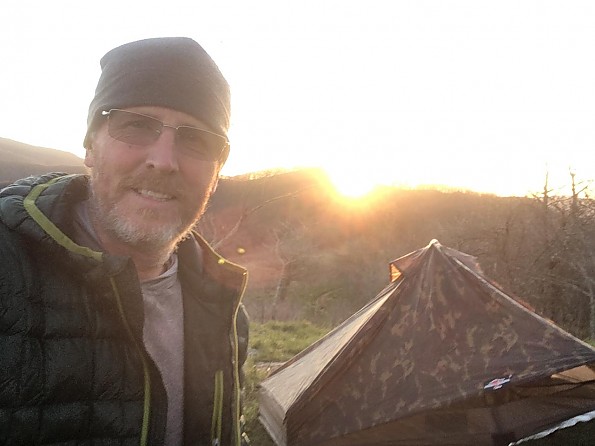 This tent weighs 24oz supported by two 130cm trekking poles, has 10-inch bathtub base walls, two air vents on top of the tent, small and large vestibules with the large side being able to go into storm mode matching the size of the smaller vestibule.
I also purchased a perfectly size tyvek sheet matching this smaller hexagon shape. I am 6'2" so when sitting on my 2-inch airpad, I still had over a foot of spare headroom. When in sleeping mode, I had a foot and a half at either end.
I put my pack against the trekking pole on the small vestibule side so I could use the head and foot space for extra gear. I placed my water and stove on the outside inside the large vestibule and my electronic gear and hygiene gear on the inside of the opposite side of the pack.
Source: bought it new
Price Paid: $290

This tent is a lightweight beast! Completed my AT thru hike and tented well over 120 nights. Easy and quick to set up. Stands up to storms well.
Pros
Lightweight for size
Roomy
Durable
Amazing customer service
Easy/quick setup
Cons
Large footprint makes it tough to shoehorn in to tight camping spots
Slight condensation in cold weather
Almost impossible to set up on platforms
With practice I reached the point I was able to set up the tent in about 5 minutes. My tent came without stakes. I bought MSR Groundhog stakes and felt they were a good choice. One of the "luxury" items I carried was a long shafted cheap screw driver to help find spots to set the stakes and it was soooo worth the extra ounces. The AT is full of rocks and this made placing stakes so much easier. Also, I started the hike with "twist" trekking poles and they were a pain to use with this tent. I switched to the kind that have clips and life was so much easier.
My daughter bought a "Solo" made from sil-poly which at the time was a new fabric for them. She had some issues with leaks early on so we called LightHeart and were blown away with the helpful response. Judy even called later on to follow up. Problem solved easily.
We had lots of rain (one out of every three days) and still tented the majority of nights. One night in NC a tornadic thunderstorm raged and our tents remained rock solid.
I am 6' 2" and the space inside was luxurious even with the pack in the tent. My tent was seam sealed by LightHeart. They put strips of seam sealer across the floor to cut down on the slipperiness of the fabric and I had none of the problems others have expressed.
The AT, especially in the Northeast, is trying to limit tenting to platforms and that simply does not work with these tents. Those platforms are made for dinky, freestanding tents. We were made to feel like eco-criminals in the Whites. That was the tip of the iceberg with AMC issues, though.
This tent was my favorite piece of gear.
Experience
Thru-hiked the Long Trail and the AT with this tent. Have used Big Agnes products in the past but was put off by poor customer service with that company as well as durability problems.
Source: bought it new

Awesome tent!!
So far I have used the SoLong 6 twice by myself and once with my 11-yr-old son. I am 6'1" 295# and I have plenty of room to stretch out. Even with my son inside we had plenty of room to sleep through a night of strong NC rainstorms. My Exped 9Dlx 78 x 25 Downmat and my Big Agnes 72 x 20 Mummy Air-Pad both fit in the tent together!
The bathtub sides seem to be higher than other ultralight tents which seems to greatly reduce the water that can splash under a tent in poor weather. When staked out, the sides of the SoLong 6 stayed well separated from the inner no-see-um mesh. Unlike single wall ultralights or other ultralight tents with little or no separation between layers, if you brush against the sides, you won't get soaked.
The ridge pole and its connection to my hiking poles is solid and easy to use after practicing a few times. I changed the velcro slightly and now leave the ridgepole attached to the tent even when putting away to save time.
I used dyneema line with micro line locks on the 4 corners and the main fly tie outs, and dyneema line alone on the additional tie outs. This tent was very solid just using 6 stakes. It would be even better in an exposed location with the additional guy outs used.
BTW even after the seams were sealed it is still showing under 27 oz on my scale!
Update: February 5, 2012
I ended up using the tent about 5-6 times before selling it to purchase the same tent in an even lighter material (cuben fiber), and with the addition of an awning.
This tent is great! Great tent to wait out a storm in. It is bright (in the lighter colors) and the huge amount of mesh on the inner tent walls means that the ventilation and the lack of condensation has been outstanding.
If I was ordering another I would add the zipper on the fly and inner wall opposite from the main entrance. That way you can exit from either side, use both vestibules easily, and roll the fly up completely on both sides.
This tent is available from www.lightheartgear.com
Price Paid: $275

Your Review
Where to Buy
Help support this site by making your next gear purchase through one of the links above. Click a link, buy what you need, and the seller will contribute a portion of the purchase price to support Trailspace's independent gear reviews.
You May Like
Specs
Price
MSRP: $298.00
Reviewers Paid: $250.00-$300.00

Weight
2 lb

Head Room
45 in

Pockets
1

Doors
2

Ridge Vent
2

Floor Area
30 sq ft

Vestibules
two 5.4 sq ft