LightHeart Gear Solo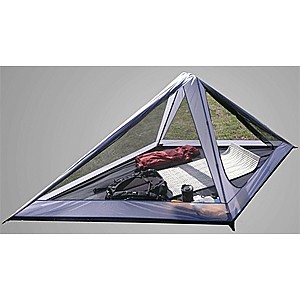 I love this tent. It is the fourth tent I have tried this year, and it combines the best of all worlds-- a double wall tent that is extremely lightweight (27 ounces without stakes). 
The four mesh sides make it feel spacious and light. It feels so much more roomy and light than the other tents I tried (Tarptent, SMD and Big Agnes Seedhouse SL1). Don't get me wrong, the other tents were fine, but this one suits me to a T.
The tent is easy and fast to set up. It requires two trekking poles and stakes. The learning curve on set up was short (two or three times max). The integrated rain fly means I can set up the tent with the fly out of the say and pull the fly down in a moment's notice if it starts to rain. In the meantime, I can star gaze at night.
It has an odd shape-- like a diamond, but the shape leaves plenty of room on all four sides for gear.  There's plenty of headroom for sitting up and changing clothes. The side entrance also adds to the feeling of spaciousness.  It packs down small, not much larger than a nalgene bottle. I can pack it in the side pocket of my pack.
I camp mostly on the AT, where it rains a lot, but I have had no problem with either wetness or condensation.  The only downside is that the elongated shape requires a large footprint.
Design: three-season double wall tent with integrated rain fly
Sleeps: 1
Ease of Setup: easy--short learning curve
Weight: 27 ounces without stakes
Price Paid: $235

Solid lightweight option, price effective. Tent holds great promise, but ultimately falls short of potential. Withstood PCT through hike with minimal signs of wear.
Pros
Lightweight
Room to spread out
Full-arch strength
Durability
Cons
Diamond shape
Pitch struggles to stay taught
Condensation
When I first bought this tent I thought it would be the ultimate shelter with the weight savings of a single-walled tent, and the strength of a double-walled tent. While the tent is full of good ideas, it ultimately falls short of what could be a phenomenal product.
I would recommend this product for anyone who is exploring backpacking and is looking to save some weight without breaking the bank. For those with more experience and increased finances, I would look into other options. 

Setup and Packability: One of the biggest perks of this tent is the ease of pitching it. It can set up with as few as two stakes, and can easily be pitched in under two minutes with practice. The ease of erecting the tent is matched by the simplicity of deconstructing it. The video on the LightHeart website lays out a very efficient system for both setup and takedown. 

Stability: It takes some practice to pitch the tent tautly and maximize ventilation, but experienced backpackers will not find much of an issue with it. However, one of the flaws of this tent is that the pitch loses its rigidity and shape in any rain, snow, or wind. 

Room & Shape: One of the biggest flaws with this tent is the diamond shape. While the shape does allow for increased storage on either side of the tent, the tapered ends of the diamond result in a wet bag any time there is condensation inside the tent. Although the tent is over 11 feet long, really only a maximum of seven feet is usable due height of the remaining two feet on either end. I am only 5'9" and a relatively stationary sleeper, and I still found this to be a consistent issue. 

Ventilation: The tent should really be thought of with four different ventilation options: all sides down, three-quarters of the walls down (perfect for those warm nights with an indecisive sky), half of the walls down, or all of the walls up for maximum ventilation as seen in the pictures below.
When all the walls are down the tent suffers from condensation, in large part due to the lack of space between the inner mesh wall and the outer waterproof layer. Additionally, the tent walls are so low to the ground that there is minimal space for air to escape from the bottom of the tent. 

Condition & Durability: The folks at LightHeart clearly take pride in their product which shows in the quality of the construction. I bought the tent new and used it for the entirety of my 2017 PCT through hike. The tent has no tears or issues that are common from six months of constant use.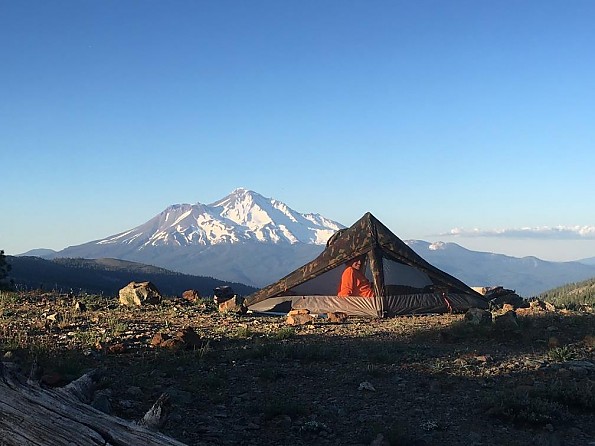 Tent walls rolled up, overlooking Mt. Shasta (July 2017)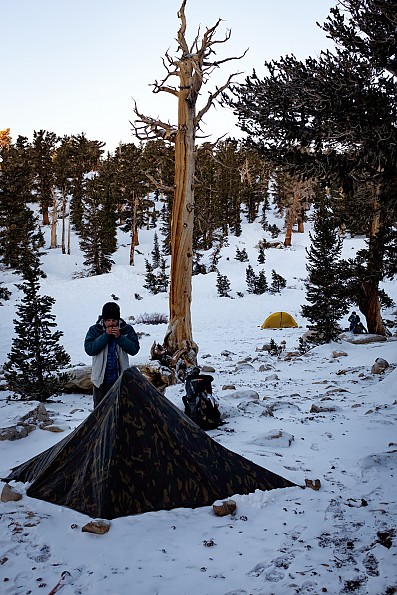 Tent after a night of snow and wind at Chicken Spring Lake (Early June 2017). Pitch loosened dramatically during the night. 
Source: bought it new
Price Paid: $230

This is a great double wall tent. I have used other tents like the MSR Hubba Hubba that weighed way too much. Over the past few years I have learned the value of lightening the load. I had purchased a Tarptent Contrail, and although a good tent, it just wasn't suited to my taste and ease of set up or the front entry being blocked by the trekking pole.
Being a skeptical person, I cautiously approached the next choice. I didn't want to make another mis-judgment. I had seen the tent set up at the April Fools Bash in Franklin, NC, and it planted the seed.
I spoke with 2 other Thru-Hikers that took it all the way on their AT Thru-Hikes and they raved about them. That was partially the reason I went ahead and purchased this awesome tent.
The ease of set-up is a no brainer, the roominess is just what I was looking for, and the weight, unparalleled. This tent is actually a 1.5 person tent in my opinion with lots of room for all my gear.
I usually do my own seam sealing, but in this case, I didn't have enough room to do it at home or a place to let it dry sufficiently, so I let them do it for me. It was well worth the extra money. They know that tent better than I and felt more confident in this decision. They did an excellent job.
Next year I will be Thru-Hiking the AT, and with all the features listed above and the others that have used this tent, it is very reassuring to know that I don't have to worry about staying light in the pack and dry as well.
I purchased the Tyvek footprint and do not have any issues with it. I did make a little modification, but nothing extreme and am satisfied wholeheartedly.
Now to customer service. I had spoken with Judy a few times on the phone and nothing was a problem. All of my concerns and requests were handled cheerfully and honestly. Shipping was free and fast, and she followed up to make sure everything was in order when I got the tent.
Thanks again, Judy for making my hiking a whole lot more pleasurable.
Absolutely, I would recommend this tent.
Design: 1.5 person Double Wall Tent
Sleeps: 1
Ease of Setup: Very easy to set up.Video instructions in the website a plus
Weight: 27 oz.
Price Paid: $245

I'm a repeat customer—wore out one, bought another.
Pros
Quick setup
Roomy for the weight of the tent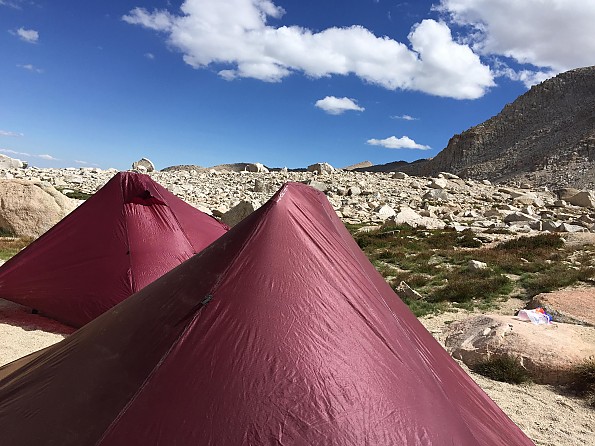 I use this tent primarily in the Sierra Nevada, along the California coast, in state parks that allow backpacking, and on the occasional trips out of state (such as the Ruby Mountains in eastern Nevada). I use it in the alpine as well where rocks are required to hold the stake out points because there are no places to sink stakes.
Generally I am out somewhere every weekend with few exceptions. We do trail crew, we do backpacking trips, we sometimes throw down at trailheads—if I'm using a tent I'm either in this tent, or in my boyfriend's 3-person tarptent. The rest of the time I'm in a hammock.
I use four MSR Groundhog stakes on the ends and on the fly. I use titanium hook stakes on the secondary tie outs to facilitate ventilation.
At times, condensation gathers down in the ends where the fly is close, or on, the mesh. There is less condensation when I stake it out fully. It's a rare occasion that I get lots and lots of condensation—some humid days it happens on both sides of the fly, there's not much to do about that.
As a hammock camper the other half of the time, I've experienced that kind of condensation on an open tarp pitched between trees—both sides of the tarp. Nothing to do with the pitch or the tent. Fact of life for a backpacker, sometimes you will have wet, deal with it. When I pitch the tent again at the end of the day's hiking it dries pretty quick.
This is the fastest setup. Everyone else is still putting together their tent poles. I'm in the tent, put up the trekking poles, out of the tent, staking out the fly and done before they finish getting their inner clipped up to their poles. One of the side benefits of a Lightheart is that you can stake it out, put it up, drag in the pack, and minimize the amount of rain that gets inside with you.
My pack, my full length pad, my 30 lb dog and all my stuff fit inside if they have to.
My second tent has a few modifications over the first one. I appreciate the toggles that let me roll up the fly rather than having to roll them up over the top of the tent. Judy seems to listen to feedback and make little improvements as she goes along.
I blew the zipper out of my first tent and the floor was nearly see through. There were holes in the mesh. After thinking about how much fixing those things would be, I looked around at all the other lightweight cottage-made tents out there, and deduced that I would miss my Lightheart if I went another way—and ordered a second one.
You can get a lighter tent from other makers. I like the side entry, I like the ease of setup, I like not having to fuss with hubbed, aluminum poles and inner tents, I like simplicity and durability. I've worn out a lot of gear over the years because I use it constantly. I anticipate another good run with the current cranberry/pewter model. 
Source: bought it new
Price Paid: $260

I have the LH Solo and absolutely love it. It's light. It's a breeze to set up. Remains sturdy in a storm and provides wonderful ventilation on wet, damp evenings on the AT.
Pros
Lightweight
Packs small
So roomy
Cons
The elongated shape
Perhaps could use more tie out points
I've used my LH Solo for several seasons now along the AT. It's the best tent I've ever owned. Takes up almost no room in my pack and is so quick and easy to set up. I love the integrated fly which allows me to set up in the rain without getting the interior drenched. 
I can easily get my whole pack inside the tent with me, and my boots and all. No need to leave anything outside for scavengers. 
The option of tucking up all the sides on top of the tent, exposing the whole of the night sky, is a wonderful feature. 
Can't imagine setting out in 2018 without my LH Solo. 
Source: bought it new
Price Paid: It was a Christmas sale price

A super-lightweight, sturdy, and very roomy solo tent with great open views when in net-tent mode.
Pros
Lightweight
Spacious
Airy/open
Packs small
Very sturdy
Cons
Hard to keep interior dry during setup in rain
Seam-sealing is a pain
This is a great solo shelter. Especially if you use trekking poles when hiking, this tent is super-lightweight (because you will use your trekking poles to support the tent rather than lugging additional tent poles). Pitching the tent is easy and fast, though might take a little getting used to. Floor is a diamond shape, which provides a lot of space but do keep in mind that as you get to the tips of the diamond floor the space is narrowing down so has limited use. Still this is much roomier than most other solo tents.
The Lightheart is a hybrid double-wall design, meaning it offers the benefits of a double-walled tent (better ventilation and thus less condensation build-up) while the tarp remains attached to the inner tent along the ridgeline. My favorite feature of this tent is the ability to roll the tarp up for a true net tent on warm nights under the stars. There are some other popular solo tarp-tent hybrids out there, and they are good products, but none that offer the 360° open views of the Lightheart with this much space inside.
The geometry of the setup makes this tent extremely sturdy. Trekking poles are stronger and stiffer than tent poles, so you actually have a stronger structural support with the Lightheart than you do with a typical free-standing tent. If you don't have/use trekking poles you can get lightweight tent poles made for the Lightheart. The poles insert into a small plastic ridge pole at the peak inside the tent, and when the trekking/tent poles are extended and pull the tent taut they form a single solid support system that stands up to almost anything.
Eight stakes will completely guy out the tent and tarp -- I use two bigger/stronger (MRS Groundhog) stakes for the ridge line (lots of soggy soil here in Georgia) and little Ti shepherd's hooks for the other 6. I also added 4 guy lines to the tent floor tie-outs, easy to slip those onto the same stakes as the fly uses to give even a little more width inside. The tent seam-sealed, ridge pole, added guy lines, and stuff sack come in a hair under 30 oz. This probably offers the best floorspace-to-weight ratio of any solo tent (unless you look to cuben fiber and price tags of double or more).
Seam-sealing this tent is a bit of a chore because some parts need to be sealed on the inside and some on the outside, and this tent has some deep corners that are hard to get into. You can do it at home but probably will need to do it in phases, letting it dry before turning a corner/pocket inside out to finish just that part. For a fee Lightheart will seam-seal it for you, and I suggest you consider letting them do it.
When setting up this tent in the rain it can be a little tricky to keep the interior completely dry, but as long as you keep the tarp pulled over the tent as it's going up your moisture should be minimal and easy to wipe up with a camp towel.
All in all a great tent, very pleased. Invariably on the trail I have other hikers asking what it is, or who say they have heard of it, and without exception they are all impressed. I am too.
Source: bought it new
Price Paid: $199

Pros
Lightweight
Durable
You can trust your life to this tent in extreme environments
I am a mountaineer that does the Rocky Mountain high peaks multiple times a year. My trips are solo in trail-less true wilderness areas. I generally spend six days at altitudes of up to 13,200 feet. Three primary things are critical to my well being and survival in the challenging environments that I frequent; my orienting skills, my extensive mountaineering knowledge and my equipment. These are all inextricably linked to insure my safety.
Accordingly, my choice of equipment is a critical decision. In effect, I am betting my life on the reliability of the critical items I rely on. For example, a leaky tent could be far more than just an inconvenience. I woke up one morning with my down sleeping bag and my legs wet from a leaky REI tent. The REI tent just wasn't up to the extreme rain, snow and winds that can occur often above 12,000 feet. This was in October, but luckily the temperature was warm enough that hypothermia wasn't an issue. Had it happened on my last trip in November 2012, it might have had a different outcome. The temperature was in the low teens for much of the trip.
Fortunately, I had replaced my REI tent with a Light Heart Solo some time ago. This is an incredible piece of equipment. Replacing my six pound REI with a Light Heart that weighs in at about two pounds certainly helps with the extreme elevation gains that are part of my hike in. However, the ability of the Light Heart Solo to reliably protect me from the extreme weather conditions of a tundra environment is reassuring. The tent has performed flawlessly in high winds, extreme temperature and driving snow and rain. I am almost developing an emotional attachment to my Light Heart Solo. It is that good.
I am busy planning my next trip, at ease in the knowledge that my Light Heart Solo will keep me safe and comfortable, regardless of the extremity of the environment. I am convinced that my Solo will last as long as I am able to do the high peaks of the Rocky Mountains. I have bought my last tent and I continue to be delighted with my purchase.
Source: bought it new

Lightweight, but too prone to condensation.
Pros
Lightweight
Well-constructed
Cons
Insufficient space between fly and walls for circulation
Condensation-prone
Tent material stretches when cold, causing walls to sag
Requires an 11 foot-long tent site to pitch
Not suitable for hikers over 5' 10" tall
I used a new Solo on a six-day trip in the Sierra Nevada in July. I am 6' 4" tall and weigh 200 lbs.
Condensation: This is a major problem and a complete non-starter for me. The weather was wetter than normal for a summer trip in the Sierra but far from extreme. The tent was never pitched in a sheltered area that inhibited air flow.
My companion's Big Agnes Copper Spur 1 remained absolutely dry inside throughout the trip. I had miserable nights on three of the five nights spent in this tent, with rivulets of water dripping down onto my face in the night.
Material: Although this tent is double-walled, the integrated fly and inner wall design along with the tent's geometry mean that the airspace between the two walls—particularly where the walls actually join at the top of the tent—is not adequate to provide the circulation necessary to keep condensation from forming. This is compounded when the fly sags due to cold.
The manufacturer wrote to me and admitted that the material is prone to stretch when cold and suggested tightening the guy lines. I don't know about you, but rising in the middle of a night of cold, rain, or hail to tighten guy lines is not high on my list of fun things to do.
Interior Room: Based on the specified dimensions, a 6' 4" man should have no trouble fitting into the Solo, but I found that this was not the case. While it is possible to sit up comfortably in the middle of the tent, it was hard for me to arise from a prone position without hitting the top of the tent—and on most occasions—raining water from the tent walls onto my head.
This problem is exacerbated when the material stretches. The manufacturer responded to me by saying that they would never recommend the Solo for anybody over 5' 10" tall. This should be included in their tent description on the website.
Door Design: Given that the top of the door openings are near the center of the tent's long axis, when the doors are opened gravity dictates that they hang down over the floor pan of the tent. From the inside, there is no good way to prop the fly door open and out of the way. This is a mild inconvenience when things are dry, but really becomes quite annoying when things are wet: the moisture from the fly door and the condensation moisture from the inner wall door both drop their load onto your body or the floor of the tent.
By the way: offset as it is from the inner door, the fly door is difficult to reach from inside the tent. The zipper is offset from the pull vector of the fly's guy line, so that even when the guy line is taut, it requires the use of two hands—and a bit of contortion—to grasp the base of the fly to start unzipping the zipper.
Source: bought it new
Price Paid: $280 ($245 + seam sealing)

Great tent; good customer service.
Pros
Lightweight
Ease of setup
I just used this tent during an 8-day hike of the PCT. I found it easy to set up and liked the ability to roll up the fly so I could sleep "under the stars".
I found the customer service to be quite good and I was glad to have them do the seam sealing; it was a chore I was glad to delegate.
At 6'2" I had plenty of room in the tent for me and my gear. Finally, the tent is quite light. I highly recommend the tent.
Source: bought it new

Initially I hated this tent.
Initially I hated this tent. The floor was SLICK. I could not keep a Thermarest under me. Terrible sleeping condition. Everyone I ran into who had the Lightheart had the same issue. E-mailed Lightheart. They had no suggestions to help and said that I should have known the floor would be slick despite their application of seam sealer to the floor. Their solution was for me to buy a new and different tent at the outfitters in Franklin. WOW!
Ultimately I added more seam sealer to the floor of the tent (another hiker used a whole tube of seam sealer on her tent floor) and more to the bottom of my Thermarest. I also got much pickier about finding a level area to set up the tent. These helped a great deal.
I used this tent doing 466 miles of the AT in 2013. I mostly tented. The setup is easy if slower than I expected. I used 120cm length on my hiking poles and the tent set up well. I used 8-10 stakes, weather depending. The tent kept me and my gear dry (there was a bunch of rainy days and nights), had plenty of room for all my gear. It held up well to 50mph winds and a bit of snow.
Ultimately I liked the tent, but deducted one star for attitude.
Source: bought it new
Price Paid: $199 plus sealing charge

Your Review
Where to Buy
Help support this site by making your next gear purchase through one of the links above. Click a link, buy what you need, and the seller will contribute a portion of the purchase price to support Trailspace's independent gear reviews.
You May Like
Specs
Price
MSRP: $245.00
Reviewers Paid: $119.00-$280.00

Packed weight
1 lb 11 / 770 g

Seasons
3-season

Sleeping capacity
1

Doors
1

Floor length
133 in / 338 cm

Floor width
65 in / 170 cm

Floor area
30 sq ft / 2.8 sq m

Vestibules
1

Vestibule area
3.7 sq ft / 0.34 sq m

Peak height
43 in / 110 cm

Recently on Trailspace