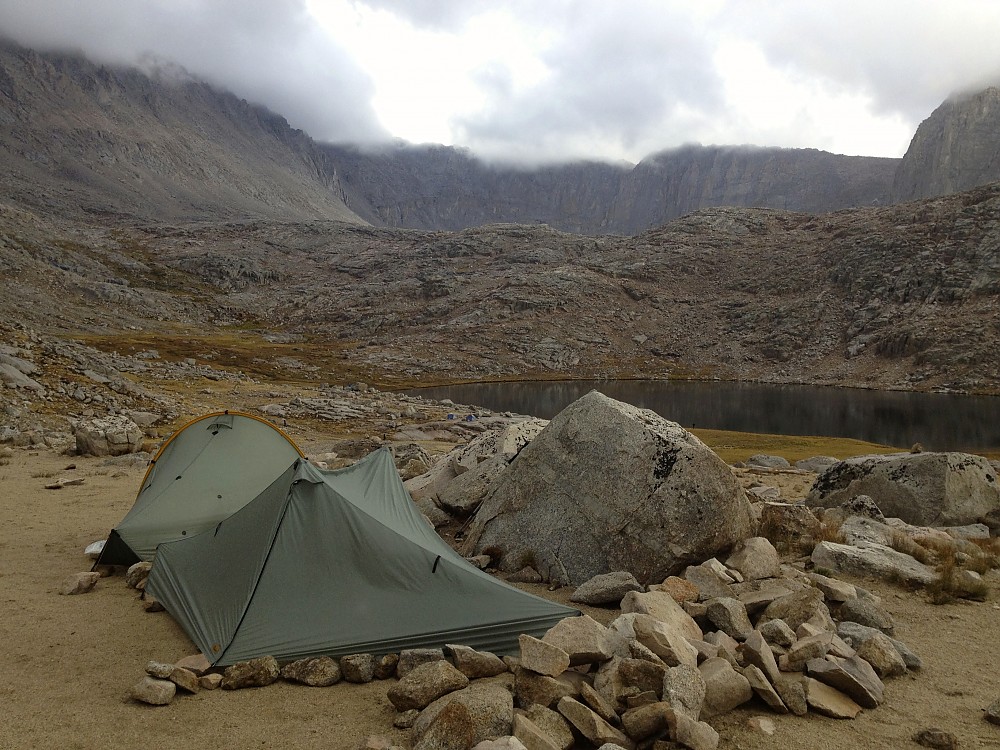 Specs
Price
MSRP: $259.00
Reviewers Paid: $200.00-$300.00

Weight
26 oz / 0.74 kg

Reviews
6

reviews

5-star:

1

4-star:

4

3-star:

0

2-star:

1

1-star:

0
Henry Shires' Tarptent Notch is a solid performing, lightweight, solo shelter. It has two vestibules as well as two doors to enter/exit and access items. It can be used as tarp only, mesh inner only, or both together for rain and bug protection. It sets up quickly and utilizes trekking poles for its structure.
Pros
Lightweight
Packs small
Versatile
Two vestibules
Two doors
Uses trekking poles as support
Decent headroom
Cons
Fairly small footprint of inner mesh
Hard to unclip/clip in inner mesh
This is a review of the Henry Shires' Tarptent Notch. 
The Tarptent Notch is a single-person shelter. It could be classified as a double wall shelter as it has a separate "inner mesh" or "bug net" and a rain fly. It has two vestibules as well as two doors. It uses trekking poles to set up (although you can use "normal tent poles" of correct length or even sticks to set up the shelter).
The Notch has a rain fly and an inner mesh. The rain fly can be set up independently. This is great for trips when bug protection is not needed. It reduces the weight and pack size of the shelter. The inner mesh can also be set up independently. This is great for clear nights, but when bug protection is necessary. And as a unit, the rain fly and inner mesh make for a shelter to escape from rain, wind, and bugs. I like this versatility of the Notch. In colder weather you can bring only the tarp. In warm weather you would bring both, but have the option to only use the inner mesh if it is a nice night and want to really see the stars and get the most ventilation. I must admit that I have not used the inner mesh set up on its own at the time of this writing. 
Two vestibules and two doors really make the Notch very accessible. Two vestibules allow you to store some items on one side and some on the other. They are large enough to store a pack and shoes in one vestibule just fine. This may be handy if you want to leave one door clear to enter and exit. Or if raining sideways or the weather changes you may want to move items from one vestibule to the other.
The interior or inner mesh is small, yet comfortable. I am 6'2" and even on a 2.5" thick inflatable mattress such as the Exped UL 7 I can sit up in the middle of the shelter and not hit my head. It is long enough that my sleeping bag just touches the mesh above my feet and head, but there is still a couple of inches lengthwise on both ends. The footprint of the inner mesh is sort of a rectangle/diamond that widens at the center and narrows at the ends. This matches body shape and is effective. There is slight room on both sides in the middle of the inner mesh for some small items if need be. It is relatively easy to changes clothes, pack/unpack your bag, hang out, etc in the inner mesh. It strikes a good balance of being lightweight, yet allowing room to be comfortable. 
It is lightweight. Tarptent claims 26 ounces for the complete shelter. This includes rain fly, inner mesh, guylines, 4 Easton aluminum stakes, stake sack, and stuff sack. All of these are included when you purchase the shelter, although I bought mine used with the exact same items. 1 pound and 10 ounces for a comfortable, complete shelter with all of its features is pretty decent.    
I have used the Notch in northern Minnesota in spring. I have also used it in spring in the desert of Moab, Utah. So far it has done well. 
I have been happy with this tent and I highly recommend the Tarptent Notch. You can visit the Tarptent website for more photos, details, and even a set up video.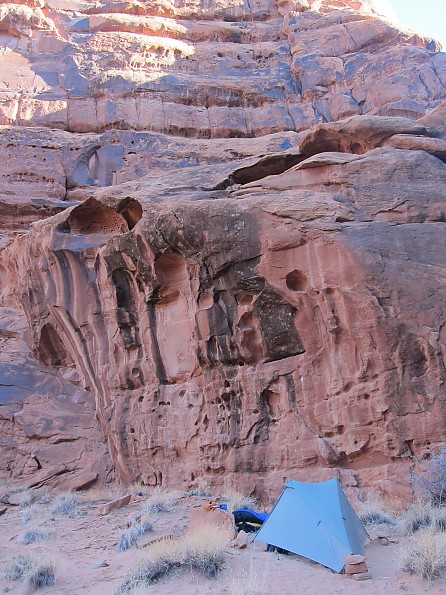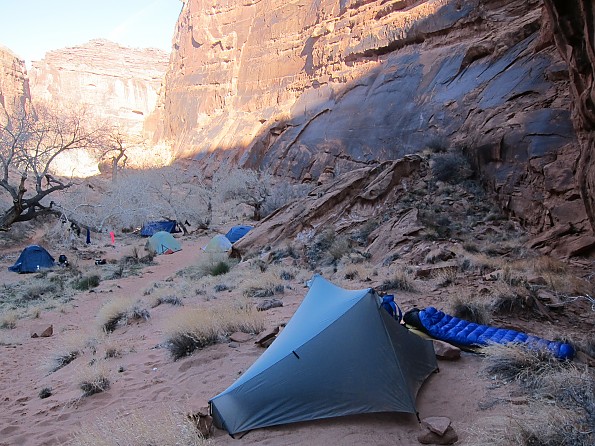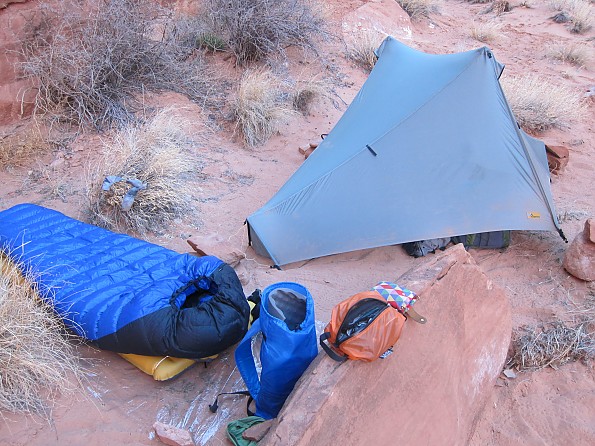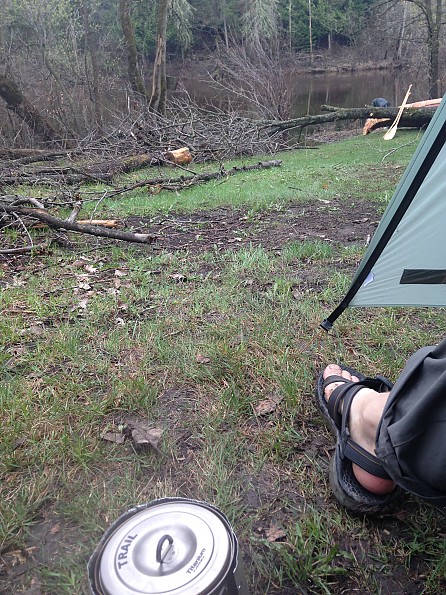 Source: bought it used
Price Paid: $200

I've used my Notch on several backpacking trips in Idaho and on my recent John Muir Trail thru-hike. It provides a good balance of light weight and security. The side-entry with dual doors and vestibules are a real plus. I'd recommend it as a solo shelter for summer/early fall backpacking and thru hikes.
Pros
Two doors and two vestibules
Fairly light at 26 oz
Full screening keeps out the bugs, snakes, etc.
Only requires 4 stakes
Side entry provides easy access
Option to set up as tarp or bug shelter
Reasonable price, great customer service
Cons
Takes practice to set up with a taut pitch
Doubt it would hold up to heavy snow
Integrated struts at each end limit packing options
Although I wouldn't want to brave a snowstorm in this shelter, it has protected me well through extended rain, heavy frost, hail, and 35-40mph wind. It does take some practice to get a taut pitch, and takes longer to set up than a tent with poles, but the weight savings are worth the extra fuss. I put rocks on top of the stakes to make sure they held if it was windy.  It only requires 4 stakes, which is less than many non-freestanding shelters.
I'm small (5'2"/102 lbs), so space was not an issue for me. I was able to stretch out and sit up easily. There was enough room at the head or foot of the Notch for my pack if I wanted to bring it in from the vestibule.  I've even had my border collie in it with me a few times.
I never had a problem with excessive condensation, but admit that I've used it only it low-humidity Western climates.
This shelter requires 2 hiking poles for set-up, which is not an issue for me since I always backpack with poles. On the negative side, I did find that the handle-down position made the tops of my poles very dirty and I needed to wipe them off each morning to avoid grinding dirt into my hands.
The notch doesn't take up much space in my pack, but the integrated struts at each end would not fit into my pack horizontally, so packing options were constrained.
All in all, I'm very happy with the Notch and plan to use it on future summer hikes.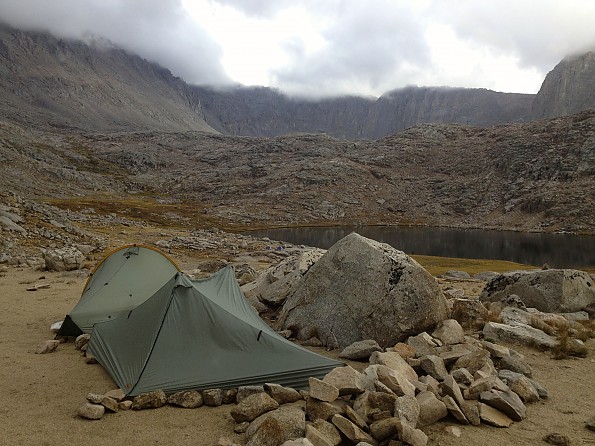 Notch at Guitar Lake, below Mt Whitney on the John Muir Trail
Source: bought it new
Price Paid: $259

Used this for solo backpacking and random short car-camping adventures. Sets up quick, handles wind and rain amazingly well, and you can hardly feel it in your pack it's so light. Would highly recommend it as a single person shelter (as long as you aren't claustrophobic)
Pros
Lightweight
Easy setup
Handles weather well
Cons
Can be awkward to get in and out of
A little small if you're claustrophobic
Ventilation can be a minor problem
I have now camped with this tent for a total of about 20 nights. Some of it backpacking, some of it car camping. In the windy spots on the east side of Glacier to the woods of Wisconsin. It is an amazingly well put together tent, and the use of your hiking poles to prop it up works very well. 
Admittedly, there is a bit of a learning curve to get the tent set up properly (practice at home!) for rough wind/weather, but once you practice a few times, it can be setup in under 5 minutes. 
There is ample room to store your pack in the vestibules.
One tip, if you do the seam sealing yourself (or even if you don't) is to paint some stripes inside the bottom bowl, so your sleeping pad doesn't slide all over the place. 
Source: bought it new
Price Paid: $300

Fly doesn't come close to ground, problem in wind and rain.
Pros
Two vestibules, good headroom
Carry only what you need
Good bug protection
Lightweight
Cons
Rain easily blows under fly
Can't peg fly to ground
I bought the Notch to be a better rain shelter than a flat tarp and because there is a bug tent that fits under it perfectly. But, the fly can't be staked low enough to the ground to use with a little rain and wind.
I believe i could modify the fly by removing the four stiffeners at the ends and adding four stake loops mid panel. I noticed that one of the tents by BearPaw is of similar design but can be staked all the way to the ground if desired. 
Source: bought it new

Very happy.
Pros
Light for double wall
It's cheaper than cuben fibre
Cons
It's heavier than cuben fibre
It prefers the poles to be about 115cm. If you have fixed walking poles a little higher it will cope. Some people dig a hole to sink the pole. I just added a 5cm loop to allow the tent to sit lower (the fly will be a tad higher though.  I have the partial solid inner which keeps me out of any extra breeze.
The walking pole adapters are highly recommended ...maybe not so much to keep the handles clean but more if the handles are up you are not worried about tearing the fly.
It really needs a couple of good tent pegs in to stay happy.  
If you are in dubious ground using longish storm ties from the top of the poles highly recommended. Henry sells guideline and it only "weighs 1 ounce/50 feet."
It comes with 15cm Easton Nano pegs, but I tend to only take a couple of these and a something for gravel (eg titanium shepherd hook) and something for loose dirt (eg MSR Groundhog) so I tend to use 6 pegs for the setup (unless there is a convenient tree).
This is a very lightweight and easy to set up non-freestanding tent. It's best for ultralight backpacking where you are still worried about bugs and privacy.
Pros
Lightweight
Easy setup
Room to sit up
Big vestibules
Cons
Needs to be re-seam sealed occasionally
I used this shelter for seven months on my Appalachian Trail thru hike in 2013. It comes in a small package that easily fits in my internal frame pack, although it has to go in vertically due to the stays, but those could also be removed and kept outside the pack — I keep them attached for easy setup. 
Setup itself requires only four stakes and uses my two trekking poles. The rain fly and tent body can stay clipped together, so once you are used to the setup, it can be done in under a minute, handy in the rain. The two vestibules are huge and I can store my pack and shoes in one while using the other for entry/exit. The interior of the tent body is large enough that I can fit everything except for my pack in the interior with me.  I am 5'10" and still have room to keep stuff sacks at my head or feet.
I seam sealed the tent before taking it on the thru hike, and I did have to redo it once when I was almost halfway through. I needed to be sure I really lowered the rain fly during rain, otherwise the rain would bounce off the ground and splash right back up onto the mesh interior. I never set it up without the rain fly, but that is something that can be done for star gazing. Ventilation was great regardless.
The tent is still in good shape after living in it for 7 months.
Source: bought it new
Price Paid: $259

You May Like
Recently on Trailspace