Exped DownMat 7

The DownMat 7 has been discontinued. If you're looking for something new, check out the best air-filled sleeping pads for 2023.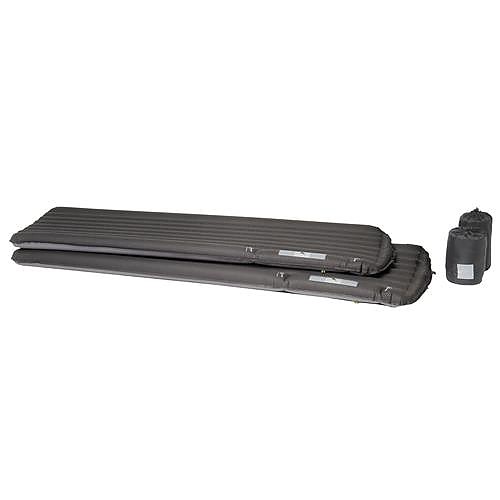 Last September we were headed to the Canadian Rockies for some hut-to-hut hiking.

I don't sleep well, not even at home. Finding items to assist in a better night's rest (amongst 30 strangers) became my mantra. In addition, I wanted all of my gear to fit "inside" my Marmot Eiger 36 for safer air travel. This meant updating my very old Therm-a-Rest sleeping pad.

Through online research, I whittled my candidates down to the Exped DownMat 7 and the Therm-a-Rest ProLite 4 women's. Then off I went to my local REI to go lay on them. After 1.5 hours in the store, I still couldn't decide. There were pluses and minuses to each. The DownMat 7 was $139 (includes stuff sack/pump). The ProLite was $90 (plus $13 stuff sack/self-inflating). I purchased both, the runner-up would be returned. At home I got out my sleeping bag, told my Fella I wouldn't be in the "Big Bed" for the next few nights, and set up camp in the living room.

I chose the DownMat 7.
Pros
It's 4 inches longer in length (I have an extra long sleeping bag, ALL of me fit on the pad)
It's 1.3 inches thicker which made sleeping on my side more comfortable.
It did seem to provide more warmth between me and my wood flooring than the ProLite.
It's 3 oz lighter.
It packed up 1 inch shorter making for a better fit inside my pack.
Cons
Even after practicing, over and over again, I don't get the stuff sack pump to work the first time. Last weekend, after cross-country skiing out to the Bradley Hut in a heavy snow storm, I wished I'd had a self-inflator. It took several attempts to get the DownMat inflated. At one point I even lacked the confidence that I'd succeed. By the time I did, my hands were numb with cold.
I do think it's warmer to sleep on and I know that I've slept better in the huts with it.
Price Paid: $139

Version reviewed: Extra Small
If you are a backpacker and like warmth and comfort no matter the temp, this is a great choice in sleeping pads. It's all the little things they do right with these pads that really make it stand out.
Pros
Very warm
Great design
Quiet
Built-in pump
Schnozzel bag adaptable
Cons
Slightly heavier than some
Blah colors
I have never slept on a more comfortable backpacking mat. I'm a side sleeper so very often with other pads I end up tossing all night because one hip goes to sleep due to resting on the ground even with the pads fully inflated.
Not with this pad. It is a little thicker than some which may be the difference there. With the down insulation it is very warm. Even on frozen ground I never felt the cold coming through my sleeping bag.  
The little extras are things like the top of the pad has a slight material type coating which helps the bag stay on the mat without being "grippy" and also makes the mat much quieter. You don't get that nylon whooshing sound when these two materials meet up.
It also comes with a storage sack that has utility too. There are two loops on the head end of the bag and there are two sets of ties on the inside of the storage bag...fill the bag up with a fleece and tie it to the pad for an instant in place pillow. Not to mention you gain about 6-8 inches of sleeping pad length due to your shoulders now starting at the top of the bag instead of your head. I ended up getting the Extra Small and doing this leaves only the bottom of my calf and feet hanging over the bottom of the pad (I'm 5'8"). This saves me some space and weight in the pack.
There is a built-in pump which utilizes a one-way valve and foam to do its job. There is an opening above the foam, essentially the air intake outlet, and you cover that with your palm and press down, compressing the foam and pushing the air in that chamber through the one-way valve into the mat. You then remove your hand from the intake opening, allowing the foam to expand again filling the chamber with air then repeating.
This works very well, though my wrists get a little sore from this. It is MUCH better than blowing and blowing to get your mat full of air plus it keeps all the bacteria and moisture from your breath from getting into the down mat without having to carry along a separate pump.
Having said that their Schnozzel bag is a much better pump and I wish they would make a version of this pad without the built-in pump to save some weight without having to go to the ultralight model, which is also much thinner and not as durable.  It would be the best of both worlds in my opinion.
This bag requires a small plastic adaptor to use the Schnozzel bag, but that is the only way I inflate mine now. I use the Schnozzel bag as my dry bag for my down sleeping bag as well and it can't weigh more than 1/2 an oz. (though I haven't actually weighed it).
Source: bought it new
Price Paid: $80 USD

I still remember the air mattress I used while camping as a child. It was very bulky, heavy and required a 3rd lung to blow up.
Well, that air mattress is bag with a vengeance! And this time, it's even lighter, smaller and warmer than most self inflating mats.
The Exped 7 inflates to 7cm in height (as opposed to the Exped 9 which inflates to 9cm) and is incredibly comfortable as an air mattress should be. And thanks to its down fill, it's incredibly warm as well with absolutely no cold spots. Inflating the mattress can take some getting used to but once you get the hang of it, it shouldn't take more than 12 pumps with the bag. It may seem like a hassle since it isn't self inflating but it makes up for it with the ease of deflating/packing.
The only negative I can think of is the storage bag. It's fairly bulky due to the padding inside and it's a necessity since you don't want to be blowing moist air into your down filled bag. The bag adds bulk along with another point of failure but at least it can be used as a drybag due to the rubberized interior.
Original Review: December 23, 2006

Great product.
Over the past few years my Therm-a-rest(s) just weren't as comfortable as I'd like for a good night's rest. (Has global warming caused the ground to get harder?)
I'd seen the Expeds over the years and thought they were a gimmick. After a recent backpacking trip where I tossed and turned all night, I read a few reviews on the net and decided that a good night's rest might be worth the price. It was.
Try pumping the mat up a few times at home before you go out and you won't have any problems at all inflating the pad. Inflation is really quite easy and only takes a couple of minutes.
Your hiking buddies may roll their eyes when they see your Exped, but once inflated, let them lie on it for a minute; you'll get the last laugh (and good night's sleep!)
Update: July 7, 2011

(This is an update to my original review from December, 2006)
I've had the DownMat for five years and though it's a great mat, to be honest, I've spent more time in my hammock than on the ground. To me, no mat can compare to the comfort of a hammock (admittedly when the temps aren't absolutely freezing).
As far as sleeping mats go, though, the DownMat is great pad.
I had an interesting experience I wanted to share. On a trip this past May, the availability of trees was questionable (we were cycling on the coast) so I decided to take a tent and DownMat.
The first night in, I inflated my mat and heard a loud, "pop" when I lay down on it. I thought I had punctured the mat, but it held air so I didn't worry about it and got a good night's rest.
The next day, I inflated my mat, lay down on it, and heard another, "pop". This time, I looked at the mat and realized that I had blown three of the longitudinal baffles. Instead of a nice flat mattress, one edge was now about five inches thick (since the baffles were blown) which made if feel like I was sleeping on a hill. Not good.
After the trip, I called the folks at Exped and they were kind enough to replace my mat with a new DownMat. Kudos for backing up their product. 
I must say, though, that I'm not enamored, with the new, integrated pump. I liked, the old, stuff sack inflater. The pad packed smaller; the sack worked fine; why mess up a good thing.
I called Exped up to ask about the new design and the rep told me, in so many words, that folks couldn't figure out how to use the stuff sack inflater so Exped dumbed it down with the integrated pump. 
Bummer.
(I must add that I broke down and bought an Exped air pillow and it's great.)
Bottom line: I'm very pleased with Exped customer service and comfort of the DownMat, but I like the older, simpler design. As the saying goes, if it ain't broke, don't fix it. (And if you can't figure out how to use the stuff sack inflater, read the instructions—or stay at home!)
Pleasant dreams!
Price Paid: free

As an aging camper who has rediscovered mountaineering I needed a warm pad that also supported my frame well so I could sleep easy. I hiked for years w/just a thin ensolite and then a Z-rest. Recently Therm-A-Rest has been great but I needed to sleep better, especially as I got into high altitude and potentially winter adventures.
The Downmat 7 is great! Very comfortable (2.5") and with an r-value twice that of a Therm-A-Rest. It only weighs a teeny bit more and packs down as small. A fast packer might choose something lighter but if you want good sleep in the mountains this will make it possible so you're rested for the next day's adventure.
Also, the pump bag works -- takes a few minutes but the added sleep is well worth it. The mattress itself is non-slip so my bag stayed on it. My next trip will involve 2 downmats and we are thinking of just taking one pumpbag to lighten up a bit. They say you can use the pumpbag as a pillow -- nice idea but it is noisy so I did my usual clothing pile wrapped in polarfleece.
I will not do another cool weather backpack or mountain trip without it and may convince my partner to lighten up on the car camping gear (ditch the Coleman air mattresses!).
Price Paid: $129

Do not buy. Mine completely delaminated and turned into a useless balloon. The company said it must have gotten damp, and it was outside warranty so tough luck.
Cons
Expensive.
I used it for a dozen nights in 5 years, then it completely fell apart. It's a known fault.
Expensive to buy and a bit heavy. I used mine on maybe a dozen nights then on the first night of a 6-day trek it completely delaminated, turning it into a useless ballon. This made for a very uncomfortable trip.
The manufacturer said this happens if the mat gets damp, which is ironic for a mat designed for snow and ice. Because the warranty was up they could not have been less helpful. I've since seen online that it's a known fault with Exped mats.
Experience
I have been trekking for 40 years and have owned a number of sleeping mats.
Source: bought it new
Price Paid: $300

Warm and comfy sleeping mat, but after about 10 years the longitudinal baffles failed and it was like sleeping on a hill.
Pros
Warm
Relatively light and comfortable
Cons
Longitudinal baffles fail
Best sleeping mat I have ever had the pleasure to use. Warm and comfortable. However like my Therm-a-Rest mat it failed after many (about 10) years of use.
The Downmat 7 had the longitudinal baffles fail and the middle three tubes became one big hill to sleep on. Lesson—all inflatable mattresses will eventually fail, think of a backup plan or choose a lightweight solid option.
Experience
Therm-a-Rest before Downmat 7
Source: bought it new
Price Paid: Can't remember

Very expensive for a product that is such poor quality. Don't waste your money.
Pros
Very warm for the first 10 nights
Cons
Extremely delicate
If it leaks it provides no warmth
My family (wife and 4 kids) have been backpacking for years with Therm-a-Rests. I thought I would treat mysefl and buy a more comfortable warmer mat.
What a mistake. If you like to pay a lot of money for a mat that leaks, this product is for you. I have used this mat for about 10 nights in total and have treated it very delicately. I can not find any holes and the mat still looks like new.  
Source: bought it new
Price Paid: Around $200

Decadent.
Cons
Weight
Inflation takes practice
Doubt that I will ever take this pad backpacking, but for canoe camping, it's the shiznit.
Amazing comfort. The insulation properties may also add 10 degrees to your sleeping system (I sleep warm, so not much benefit to me, but YMMV).
It does take some practice inflating (kinda like the pumping one does for CPR) and you need a little bit of room to do it in the tent, but the rewards are well worth it.  
The top has some subtle patterning which helps to keep your nylon sleeping bag from slipping off in the middle of the night.
If you can afford the weight and the cost...go for it...you know you wanna!
Source: bought it new
Price Paid: $190

Great cold weather air mat.
I've had this air pad for three years, I've used it in temps from the high teens to the mid sixties.
This is probably one of the best pads for cold weather. even with my cheap 20-degree bag I've never been cold at night even when the temps dropped below 20 degrees. In higher temps it can be too warm to sleep comfortably. I had many nights when the temps were in the sixties that even just draping my sleeping bag over me I'd start to sweat.
It packs down to a little smaller the size of a football which is much nicer than a foam or a self inflating pad. it took a few tries to get it back into the provided stuff sack the first time I used it. Just needed to figure out how to get all the air out and roll it correctly.
At almost 2 lb, it's not as light as other options but most of them won't keep you as warm. If going out in cold weather it can actually be lighter and smaller than carrying two foam pads.
At first I thought the built-in pump was cool. The best way I can describe using the pump is like doing CPR chest compressions. It takes about five minutes of pumping to get the pad firm enough to lay on, usually more until you get used to pumping. After a long day hiking pumping can be the last thing you feel like doing. One of the quirks of the pump is sometimes when you are laying on it and move around it makes noise. It's not loud, just weird the first few times you hear it.
The surface of the pad is slightly textured to keep you from sliding around. its rough enough to grip the material of a sleeping bag but not enough to be uncomfortable to sleep on. It has a honeycomb pattern of some sort of rubberized paint to help with sliding. After a few trips it started to wear off, haven't notices any issues other then cosmetic.
Source: bought it new
Price Paid: $110

I was very impressed with the Downmat 7 and had used it on several extended ski mountaineering trips.  The insulation worked very well preventing heat loss when sleeping on snow which was the whole point.
My friends were using Thermarests supplemented with closed cell pads (thinsulite), carrying two sleeping pads seemed to ad a fair amount of bulk, however weight was not significantly more. 
Only one problem Downmat only works if inflated and if the valve fails (twice now, both times replaced by d/m) you are going to be sleepless until you get home. I could not figure out a way to repair or rig the broken valves in the field. 
Price Paid: $150

I'm getting older and softer and this pad caught me up 10-15 years. A bit tricky at first to learn how to inflate, then it's GREAT. Light, compact and self contained. You'll love it.
Price Paid: $169

Brilliant. Incredibly warm, incredibly comfortable. Kicks Therm-a-Rest. You can choose to pack it in quarters - incredibly short but fat and dumpy - or in half which makes it longer, but thinner. Handy! Stuffsack makes a good pillow.
Inflation tip. Smash the pump sack hole onto the valve. Push real hard, and it'll sit much further on and not pop off during inflation. Don't bother to roll up the sack fully to pump it, just kind of roll it once and crumple it and pump. Works a treat.

Price Paid: $AUD 174

I bought my Downmat 7 a couple of months ago and have just had the opportunity to use it this past weekend. I decided it was time to update my sad little blue foam pad with something a little more technical and, let's face it, useful.
I spent about two hours deciding between the Exped Downmat 7 short and the Thermarest Women's Prolite 4. Basically they were the same price when you added the cost of a stuffsack to the Prolite, but the Downmat is a lot thicker and supposedly warmer (higher R-value) which is important to me as I always wake up cold in the middle of the night.
The only "downside" of the Downmat is the short length I chose - the long one seemed unnecessary as I am 5'5" and typically sleep while hiking with my feet on my backpack, in addition to the significant added weight of the long mat which is also a lot heavier than the Prolite 4. However, if you can't get past the fact that your feet are not on the pad and weight is not a huge issue, then I would still go for the Downmat.
I did do some test runs at home before taking it out (just in case I wanted to return it for some reason!). All I can say after using it this weekend is that I'm in LOVE. After a tough 6 hour hike with a lot of elevation gain (read: every muscle was sore) I woke up the next day feeling GREAT. This pad feels more like a mattress than a sleeping pad; you will not notice any rock, bump or tree root underneath you. I did not slide off it at all even though the tent was on a bit of a slant (maybe something to do with the "tube" construction?) and I actually slept through the night without getting cold.
A nice feature is a simple thing - two tabs on one end that you can attach a pillow too which effectively lengthens the pad a little. As for pumping it with the stuff sack, it only take about a minute or two but I usually find that the sack pops off the mattress nozzle at least once which sets me back...still working on my technique there. And I have topped it off with a breath or two to fully inflate it although even when I didn't do this I didn't actually notice any loss of comfort.
Maybe I would be enthusiastic about anything better than the blue foam at this point but I stand by my decision and strongly endorse this pad for comfort and warmth.
Price Paid: C$125

It is the most comfortable and durable bed to lay on and own. I don't travel without it.
Never had a bed last me for so long and still work like the first day I bought it.
Source: bought it new

Your Review
You May Like
Specs
7 XS
7 S
7 M
7 LW
Price
Historic Range: $42.18-$229.00
Reviewers Paid: $80.00-$300.00

Size
120 x 52 x 7 cm / 47 x 20 x 2.8 in
163 x 52 x 7 cm / 64 x 20 x 2.8 in
183 x 52 x 7 cm / 72 x 20 x 2.8 in
197 x 65 x 7 cm / 77.5 x 26 x 2.8 in
Weight
620 g / 21.9 oz
780 g / 27.5 oz
880 g / 31 oz
1150 g / 40.6 oz
Packed
23 x 12 cm / 9 x 5 in
23 x 16 cm / 9 x 6 in
23 x 16 cm / 9 x 6 in
27 x 14 cm / 11 x 5 in
Fill Weight
130 g / 5 oz
150 g / 5.3 oz
170 g / 6 oz
220 g / 7.8 oz
Temperature
- 24° C / - 11° F
- 24° C / - 11° F
- 24° C / - 11° F
- 24° C / - 11° F
R-value
5.9
5.9
5.9
5.9
Recently on Trailspace