Limmer
Light-Weight
7

reviews

5-star:

4

4-star:

1

3-star:

2

2-star:

0

1-star:

0
Specs
Average weight per pair
3.5 pounds

Available sizes


Women's sizes 5 - 9.5,10

Men's sizes 5.5 - 11.5,12,13

Men's wide sizes 5.5 - 11.5,12,13

Reviews
This all-leather hiking boot is comfortable, stable,…
Rating:


Materials: leather
Use: day hikes through heavy pack
Break-in Period: depends on use, but take the time to do it right.
Weight: 3-4 pounds per pair
Source: bought it new
Price Paid: $265

Summary
This all-leather hiking boot is comfortable, stable, durable, yet not super-heavy. I love it as an all-around hiking boot. It is well-suited for any kind of walking but particularly at home on bumpy trails and toting a backpack. Highly recommended.
Pros
Extremely well made and durable
All-leather boot waterproofs well and very supportive
Not too heavy
I first reviewed these boots within six months of purchasing them in 2007. This follows up with a great deal more information and experience. I still believe today, as I did back then, that this is one of the best hiking boots available, provided you like all-leather boots.  
BASIC INFORMATION ABOUT THE BOOTS
Weighed after seven years of regular use, the pair weighs 3 pounds, 9 ounces on a hand scale. This is a full grain leather boot that is fully lined with leather. The outer leather is 2.8 mm, which is robust but more forgiving than the heaviest leather boots out there. In thickness, the leather is comparable to the Asolo TPS 520/535, or some of the heavier Scarpa all-leather boots, and slightly lighter than Merrell's Wilderness, but not as stiff or supportive as Limmer's Standard, most Galibier all-leather hiking boots.  
The leather upper/body of the boot is stitched to the midsole, Norwegian welt (leather upper is stitched down to the midsole with the stitching visible). It laces up in the center and has a padded, gusseted tongue (a gusset is a piece of leather attached to the tongue to keep debris and moisture out). Vibram sole that is somewhat less aggressive than the old standard montagna block.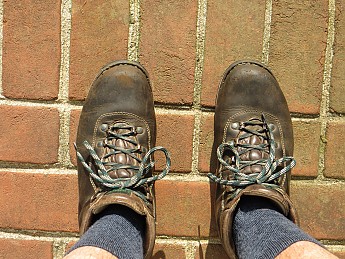 The photo below shows how the tongue is attached to the boot with pieces of leather to keep stuff out. Also, note the hook and eye lacing — the bottom three are round metal loops, the hook above that is a locking hook that prevents the laces from loosening up, and the top 2 hooks are more the normal variety.  
Another interesting part of this boot is the very minimal outer stitching. The leather body of the boot is one piece, with one seam, the one you see below that's on the instep. That helps with waterproofing and durability. You can also see the padded collar around your ankle, pretty typical for most leather boots.
Finally, you can see that between the sole and the boot, there is some very firm foam. As opposed to a full rubber midsole, this makes the boots a little less stiff. The boots have a shank, a stiff piece of nylon along the midsole. Again, not as stiff and inflexible as a steel shank.  
Better view of how the boot laces up.  
The sole is not as aggressive and deep as some. This has quite a bit of wear. Doesn't need to be resoled yet.  
The photo below shows what a Norwegian welt looks like up close. A couple rows of stitching that attach the leather upper directly to a black rubber midsole. As you can see, the firm but slightly cushioned brown rubber runs nearly the length of the boot.  
The way the boot is made contributes to how comfortable they are. Because the heel doesn't have a rigid back, it feels more rounded inside and tends to keep your heel seated. The toe area is rounded — not sleek by any definition, but plenty of room for your toes to wiggle, even when the laces are hauled tight.
Good view of the boot from the back. No seam along the heel.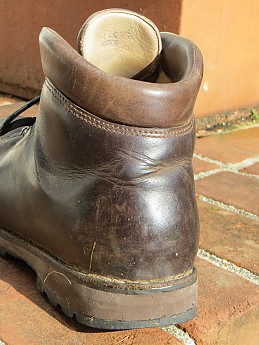 HOW THEY FIT
Limmer sells stock boots that are made in Germany and makes custom boots in the U.S. These are the regular ones. Because the only place you can buy these is the Limmer store in New Hampshire or online, the company provides detailed instructions about how to measure your feet before they recommend a size.
You put on the socks you normally use, trace the outline of your foot on a piece of paper, then use a tape measure to provide the circumference of your foot at several different places. I have bought two pairs of boots from them using this method, and it worked well both times. They could see from the measurements that I needed a wide as opposed to a regular, for example.  
BREAKING THEM IN
Though it says "lightweight," the boot is comparable to some fairly sturdy leather boots. And like any firm leather boot, you need to spend some time breaking them in. Again, follow Limmer Boot's instructions, use their boot grease, and take your time. This is not a boot you should buy a week before a big trip, because it's stiffer than most.
As a means of comparison, however, the Limmer Standard is significantly stiffer, fits higher on your ankle, and requires more break-in. I have had success wearing them to work at first, then graduating to short hikes, then taking them for longer hikes. With steady wear, they will break in after a month or two without blistering your feet.
Once the boots are broken in, they form to your feet, provide outstanding support, have a great sole, and are a pleasure to wear. They are, with the heavier Limmers, the most comfortable shoes I own, hiking or not. Easily stable enough for long treks with 50+ pounds on your back.
FIELD EXPERIENCE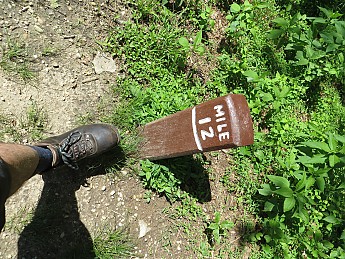 I have used these for walking and hiking for seven years — in the rain, in the snow, four season, on countless day hikes and many backpacking trips. Worn with good merino wool socks, I haven't blistered in them for years. Occasionally, if I don't grease them for a while, they will let some moisture in if i'm on a really wet trail or hiking in the rain.
Considering how much I have used them (I do rotate them with other boots, and the Limmer Standards are what I reach for on the really rugged hikes and trips), they are in great shape. At this point, they have formed to my fit and fit, if not like a glove, close to it.
Highly recommended.  
Out of the box these are beautiful boots. Their quality…
Rating:


Source: bought it new
Price Paid: $325

Summary
Out of the box these are beautiful boots. Their quality construction is immediately evident. But they are not for people with wide feet
Pros
Excellent construction
Very high quality
Cons
Not for wide feet
Limited sole life
Taking these out of the box you'll be amazed at the quality of the materials and construction. They look like they should be on display in a boot museum. It was love at first sight for me. This disillusionment came later.
I bought these for dayhiking, mostly on rough trails, and for backpacking. I've generally had trouble finding boots that fit. I have a wide forefoot, maybe E width but not EE, and a narrow heel. I've learned that all-leather boots in a medium width will eventually (a few weeks) break in to fit my forefoot comfortably, and are narrow enough to keep my heel secure.
I described my fitting concerns to Limmer, and they sent boots a half size longer than my normal size. They were tight in the forefoot, but I assumed they would eventually conform.
Making a long story shorter, it's now eighteen months later and the boots have approximately 350 miles on them. They're wearable, but still not comfortable. I'm still limiting my time with them to no more than four hours at a stretch.  To make matters worse, the soles are getting very thin near the toes and they should probably be resoled soon.  
Otherwise, my initial impressions of quality have been borne out. The stitching is solid, as are the lacing hooks.  I like the fact that there's no so-called waterproof-breathable membrane, and assume the boots are cooler for that reason. I don't get much chance here in Arizona to test the waterproofness. The leather is holding up well, except on the tops of the toes, which are quite scuffed; I speculate that this is due to the extra length — I must be dragging the toes across rocks occasionally. The soles are appropriately grippy.
In summary, these are fine boots, but they're not for people with wide feet. You should also be concerned if your hiking involves rough trails, or be ready for frequent resoling.
Finally, a bit about me:  6', 155 lb., 74 years old.
These are not the custom masterpieces that have made…
Rating:


Source: bought it new
Price Paid: $350

Summary
These are not the custom masterpieces that have made Limmer boots the best in the world. They are very well made, but are imported from Germany. If they fit, then you're going to love them. If they don't fit, then you're SOL.
Pros
Exquisitely made
Highly water resistant
Breathable
Very protective
Cons
Not custom made
Great only if they fit
Far from cheap
I hike almost daily in a pair of Limmer boots that I had custom made for me 35 years ago, and they're still going strong. The off-the-shelf Limmer boots being reviewed here are not made by Limmer, they are imported from Germany under his close supervision. I know this from speaking with Peter Limmer (the son) two years ago when I purchased two pair of these imports: one pair for myself and one for my son.
They are lightweight and exquisitely constructed but, since they're not custom made, the fit has something to be desired. I could not break my pair in — even after 100 plus miles — and eventually returned them for a prorated credit. On the other hand, my son's boots initially fit and broke in very well and are still comfortable after a few years of use.
If you want genuine Limmer boots that are custom made for your feet, then you just have to bite the bullet and spend. You also have to be willing to go to Intervale, N.H., and have them measure you in person. Additionally, you must be willing to wait for these masterpieces to be built for you.
The last time I had my boots resoled I opted for the lighter weight and softer sole (more grip but wears more quickly). It reduced the weight of each boot considerably, yet was still acceptable for day-hiking with a light pack.


Best hiking boot. These boots are far superior to…
Rating:


Source: bought it new
Price Paid: $265

Summary
Best hiking boot.
Pros
One piece upper
Leather lining
Norwegian welt
These boots are far superior to any of the high tech crap (aka low manufacturing cost boots).
One of the only remaining leather lined boots.  All those high tech synthetic wicking linings are BS.  Your feet will overheat and the boot will stink.
With the Limmers your feet stay comfortable and the boots never stink.
Construction is best.
The longer I've had them the more I love them. Nothing…
Rating:


Source: bought it new
Price Paid: $275

Summary
The longer I've had them the more I love them. Nothing compares.
Pros
Sturdy
Supportive
Comfortable
I've been at least a thousand miles in my Limmer Lightweights. They're scarred up pretty good, and been re-soled. But I wouldn't trust any other boot now.
I just received my new Limmer Light Weights. Honestly,…
Rating:


Price Paid: $300

I just received my new Limmer Light Weights. Honestly, I did a lot of research before purchasing.  I don't consider myself an avid backpacker but that will change soon.  
I tried on many boots from REI, Campmor including Danner. I just wasn't sold on the whole made in China experience.  I wanted a boot that would be tough, durable and could be re soled by a cobbler.
I wasn't trying to make a fashion statement (I see where J Crew is now trying to sell the Danners).  I just wanted something that would last for a very long time and that would mold to my foot.  I wanted a boot that years from now I could look at them and say "man, we've been on some adventures together!"  
I emailed Limmer, received an order form, sizing sheet.  I took all my measurements, tried to follow the directions as best I could with the drawing the outlines of my feet. Mailed it back to them. What did I do!?  
Well, they arrived and I have to say they are the nicest boots I've ever had. They're tough, durable and just down right awesome. I'm following the directions that was sent in the package.  Wearing them indoors first and I can't wait to bust them out on the trails.  I foresee me having these boots for a very long time.  
I'm not trying to knock Danner, I just felt the fit was a little sloppy. When I saw them being sold in a local J Crew store that was a turnoff for me.  Thanks, Limmer.
I purchased these at Kittery Trading Post at the beginning…
Rating:


Materials: Leather
Use: Dayhikes to extended weekend excursions
Break-in Period: None, right out of the box to the mountain.
Weight: I think 2.5
Price Paid: $260

I purchased these at Kittery Trading Post at the beginning of last year. I've used them on every hike since then, probably putting 200 miles on them. There is nothing wrong with them yet, just the usual scuff marks. I coat them with the Limmer mink oil before each hike to keep them in good condition and waterproof. I chose to break these in with a hike instead of wearing them around for a while before. I soaked my feet in a river before I started hiking, because I heard that this makes them mold to your feet. I don't know if that had anything to do with it, but I didn't get one blister that hike or any of the rest I've done with these. They fit perfectly and keep my feet protected well. I couldn't be happier with these boots and expect to get great mileage out of them. Thanks, Limmer!

All Light-Weight versions
In addition to the 7 men's reviews above, there are 7 reviews for other versions of the Light-Weight. Read all reviews »
Limmer Men's Light-Weight
reviewers paid:
$260.00 - $350.00

The Limmer Men's Light-Weight is not available from the stores we monitor.
If you're looking for a new backpacking boot, check out the best reviewed current models.