Limmer Boots The Midweight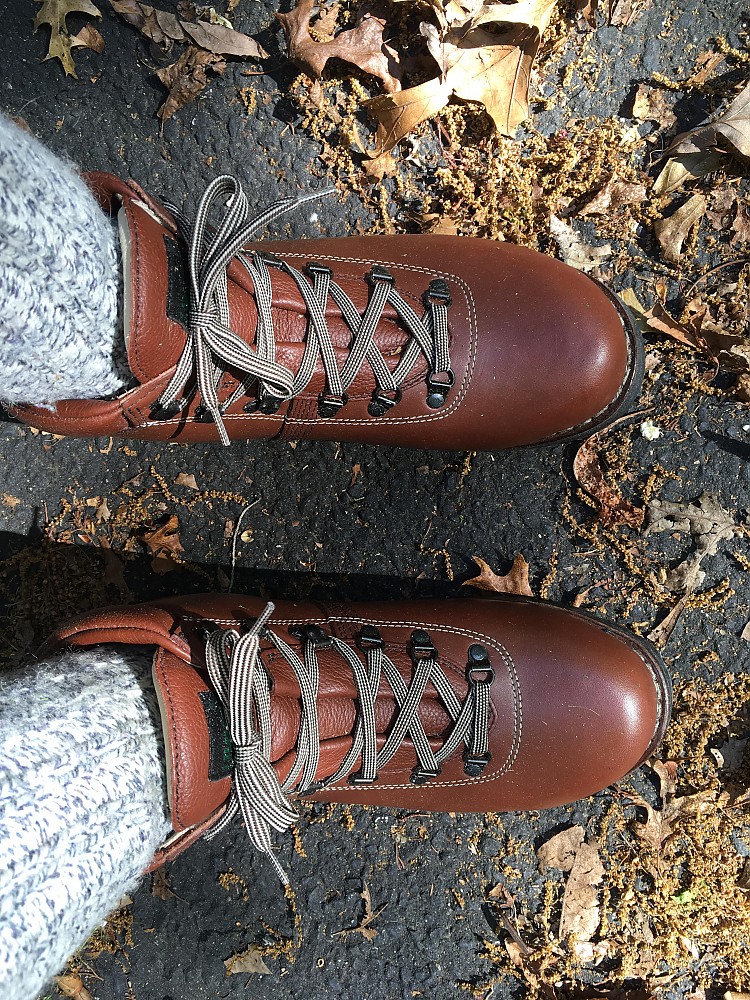 Wonderful leather, clearly well made hiking boots.
Pros
Beautiful leather, what blem's?
Lighter than the Alico Guides
All in all quite comfortable prior to break-in
Cons
Laces turn out to be a little short if I want to use two surgeon's knots while tying them.
Just pulled the trigger on a pair of the overstock or blemished midweights. I had been working through hotspots in my Alico New Guides purchased at STP; took them to a cowboy boot cobbler a few years ago and he said that the left and right boot were constructed by different people. Guess they just weren't up to snuff from his POV.
Am on the second day of breaking in the boots (or my feet); took them off at first ankle soreness yesterday, but today things are progressing nicely. I estimate a month at least of casual wearing before I'll attempt something challenging which is fine as I am landscaping at my mom's house, she lives on a glorified sand bar (old boss' quote).
I will update as the process progresses.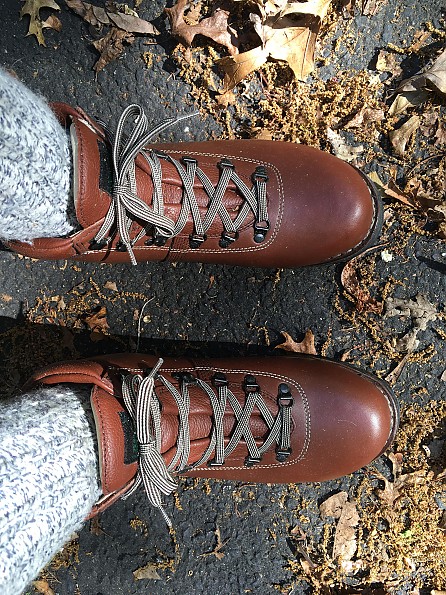 Have another pic after greasing but I guess that this website hasn't kept up with apple picture wise so no new pics can be uploaded. I'm liking them now that my feet have been accustomed to them and am glad that I resisted the urge to get standards, and possibly had a similar experience that I had with the alico guides.
Update, took a pic with an old 5 and low and behold it works. Funny.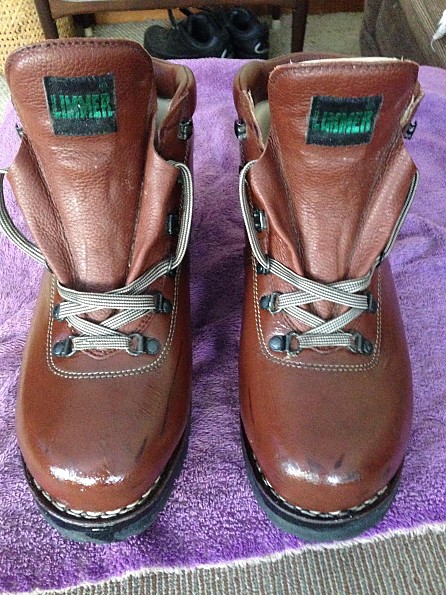 Background
Have been hiking on and off in the Green/White Mountains as well as Rockies and Sierra Nevada.
Source: bought it new
Price Paid: 372 OTD

Heavy duty, will eventually conform to your feet, may outlast the wearer.
Pros
Great support on rocky trails
All leather construction
Rebuildable
Boot stretcher can help with hot spots
Cons
Takes a long time to wear in
They will never get longer...only wider
I have over 500 GPS miles on these boots, including the 110-mile Tour de Mont Blanc. When you are out in the middle of nowhere, you don't want your GoreTex booties to rip, or your glues to unbind, or whatever miracle material du jour letting go.  
I am 61, and old school on many things. If you are going from your Lexus to spend a few hours on the trail all plugged in to your fitbit and iPhone...these are quite heavy, and a bitch to break in if your feet don't fit the standard size.
I am a 11EE in Danner, and had to use a boot stretcher to resolve a hot spot. If you are patient enough, you can eventually get these boots to conform to your foot. But when you do, the organ music will play and the cherubs will flutter about, because now you have the last hiking boots you will ever need.  
They are reasonably waterproof if you have recently greased them up. If your GoreTex bootie tears in your new fancy boot...you now have all that unusable material in your boot. After a day of hiking, these will freeze up if you store them below freezing over night. They will unthaw, but only after they warm up..
Add some SuperFeet insoles and Darn Tough socks, and you are good to go for many, many miles. Don't forget the flat Kevlar shoelaces Limmer sells...much better than anything around.
Source: bought it new

I backpack and day hike mostly solo, and have gimpy knees, so I am concerned about support. I knew Limmers had a great rep so I thought I'd try a pair. Not the custom, but standard-sized line of midweight. Boy I was not disappointed!
I'm 55, maybe a bit of old school, but I love the feel of quality leather on my feet, and I trust that. I actually enjoy the experience of boots breaking into my feet during break-in period. Expert workmanship plus quality leather means a boot I can walk in all day, day after day, and no blisters or discomfort.
They are heavy by many folks' standard today, but I found I got used to that. It's a compromise in getting the stability and incredible fit. The fit is due to the leather that molds on your feet over use/time, and yes there is a break-in required that many of the modern lightweight materials do not have, but you can't beat the fit.
I use gaitors, low for dry day hikes, high for backpack and wet hiking. With those, and keeping my boots treated with Limmers' boot grease, they are absolutely waterproof. I walk through trickling streams and swamp with no problem. The grease treatment doesn't begin to wear off until several rough trips have gone by. They protect my ankles well over talus and loose rock trails, no knee issues at all.
I would agree with other owners, that this "midweight" is a heavy midweight. It will take a lot of punishment! I've no doubt that Limmer lightweights would easily suit most people's needs for a midweight backpacking boot. This was a wise investment.
Materials: leather and leather lined
Use: extended backpack, rough trail, dayhikes
Break-in Period: about 40 miles
Weight: 3 pounds
Price Paid: $300

These fit like a glove right outta the box. The leather is MAGNIFICENT!!! Sorta the Coach bags of hiking boots. The shank is VERY rigid and would seem to provide very good support (I couldn't bend 'em). The kinda boot that you'll have for a generation and they seem like the kinda boot that will become better friends as you grow old together.
ABSOLUTELY worth the investment!!!
Update: June 6, 1999
Just an update on the Limmer Mid-Weights. Just completed a fifteen-mile circuit on CT's Nehantic trail with a 65 lbs. pack. Here's the verdict: The Limmers are the absolutely BEST purchase decision I have ever made and are worth many times their weight in gold!! 'Nuff said.
Materials: Leather hiking
Use: rough trail/heavy pack
Break-in Period: None (Zero!!!)
Weight: 4 lbs.
Price Paid: $250

After a lengthy break-in period I used these beefy boots on a five day bp trip on Isle Royale. They provided excellent ankle support,great traction, and above average protection from wet weather (being all-leather,they are not 100% water proof). Since then, these have been my boots of choice for all my bp trips.The heel fit is the best of any stock boot I've ever worn! These boots are stiff and require a patient break in period. The boot grease sold by Limmer works well for softening and waterproofing the leather.
Materials: One piece leather upper
Use: Off trail, up to 45lb. pack
Break-in Period: 2 months
Weight: 3lb.5oz. mens 9.5
Price Paid: $260

Pros
Unbeleivable fit, comfort, and protection
Had my first pair of Limmers Standards working on the AMC Trail Crew in 1969 and 70. They lasted 21 years and 4 resoles.
After a ~30 year hiatus I purchased the stock Mid-weights. Lov'em, they fit great right out of the box, although they will require a good break-in period.  I'm 64 and certain these will be the last hiking boots I will ever have to purchase.
Source: bought it new
Price Paid: $350

Your Review
Where to Buy
Help support this site by making your next gear purchase through one of the links above. Click a link, buy what you need, and the seller will contribute a portion of the purchase price to support Trailspace's independent gear reviews.
You May Like
Specs
Men's
Price
MSRP: $475.00
Reviewers Paid: $225.00-$372.00

Leather Upper
3 mm Single Piece Chrome Tan Leather

Welt
Norwegian Welt

Upper Lining
Breathable All Leather

Inner Sole
3.5 mm Leather + Leather Heel Pad

Midsole
5.5mm Vibram Comp

Outsole
8 mm Vibram Montagna Yellow Label

Shank
Full Length Nylon, High Torsional Rigidity

Average Weight
4.0 lbs

Reinforcements
Side and Ankle Open Cell Foam

Heel Counter
2.5 mm Leather Fiberboard

Height from Floor
6.0 in

Height from Welt
4.5 in

RESOLE/REPAIR Yes

MANUFACTURING Made in Germany

Women's
Price
MSRP: $475.00

Leather Upper
3 mm Single Piece Chrome Tan Leather

Welt
Norwegian Welt

Upper Lining
Breathable All Leather

Inner Sole
3.5 mm Leather + Leather Heel Pad

Midsole
5.5mm Vibram Comp

Outsole
8 mm Vibram Montagna Yellow Label

Shank
Full Length Nylon, High Torsional Rigidity

Average Weight
4.0 lbs

Reinforcements
Side and Ankle Open Cell Foam

Heel Counter
2.5 mm Leather Fiberboard

Height from Floor
6.0 in

Height from Welt
4.5 in

RESOLE/REPAIR Yes

MANUFACTURING Made in Germany

Recently on Trailspace