Alico New Guide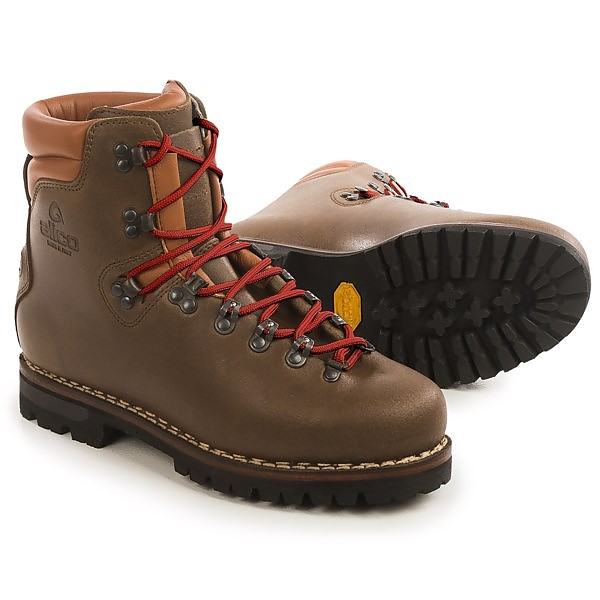 This is my 2nd pair of Alico boots. I have the Summits also. These boots are made in Italy and the sizes run a little narrow. I have a somewhat wide foot so I bought the extra wides and people with a normal width may opt for the medium to D width. I also found that the sizes run large. I normally wear a 9.5-10 and in both pairs of Alicos I use 9's. Sierra Trading company is where I purchased both pairs. This is an excellent company with good customer service and pretty good prices. I highly recommend them.
The Alico Guides are a great looking, classical, old school boot. You may recall the old Raichle leather mountaineering boots from the 60s-80s. Stiff, heavy and those bright red laces. These Alicos are just about the same as those old Raichles. Very few of these old school heavy duty all leather boots are still being sold and you have to look around to find them nowadays. Limmer boots also come to mind but these excellent boots are very expensive.
I have hiked hundreds of miles, done some light mountaineering and backpacked a ton since the late 70s. I would say I am mid-level in experience. I used the old style Raichles till you could no longer get them and then switched to the newer, high tech boots that are sold today. I used these new style boots for around 7 years and I found that they have many short comings. Almost no support, poor waterproofness, they caused me various foot problems, are expensive and I destroy them in a season or two. After going through a half dozen pairs of Salomon, Merrell, Vasqe and the like, I decided to go back to the old style hiking boots 6 years ago and bought a set of Alico's excellent all leather Summits and I have been far happier ever since.
My Summits are still going strong but are down for a re-sole. The sturdiness of Alico's construction and their build quality is second to none. With proper care a set of Alico guides will probably last at least 5 years of hard use. Maybe I am just hard on my boots, but I could never get a pair of the newer high tech boots with their mix of synthetic materials and glued construction to last more than a couple years. I was always having them repaired or replaced. Having to shell out the $'s every time a set went bellyup got real old. My first Raichles lasted 10 and the Alicos have just about the same design and build quality. If these Alicos are anything like my old Raichles I suspect that I will get many years of service out of them. So even though they cost a little more up front, over the longterm I think I will be money ahead.
Another plus is that they can be re-soled for around $60, so you can get even more value out of a pair. The foot and ankle support on the trail is fantastic. There is no comparison to the "tennis shoe" hiking boots sold today. This is an all leather boot. No synthetics, no gore-tex, no plastic. The beautiful white glove leather interior wears good under hard use and does not cause blisters, at least for my foot. These all leather boots also breath surprisingly good. I use a liner sock with a medium to heavy wool sock to help wick moisture away and keep my foot dry and blister free. In contrast I was always getting blisters with the newer boots even though they felt great in the store. I think because the newer boots break down so quickly, your foot starts sliding around inside them. Also despite all the claims of Gore-tex linings and other high tech fabrics, the newer boots I have used just did not seem to breathe as well. I think these two things are what caused all the blister problems.
At nearly 7 in's tall, along with the stiffness of the leather and the heavy lacing, these Alicos provide excellent ankle support. Traction is good in all sorts of conditions. The Vibram soles are hard to beat although they do tend to clog up in muddy conditions. The one piece all leather uppers are very waterproof from the factory and it is easy to keep them that way. I never had any leaks or even dampness from my Raichles or Summits and I hike in the Pacific Northwest in very damp conditions.
I do a maintenance on the boots a couple times a year. First a good cleaning with a mild soap and a stiff brush, then a good quality leather conditioner like Limmer or Obenauf's. Finally seal them with Sno-seal or NikWax. In between major cleanings I may give them a quick cleaning and spray them with a silicon water proofer and I always dry and store them properly after use. These boots are heavy, no doubt about that. But honestly, you get used to the weight and they feel great on the trail. The weight has never really bothered me except on a couple of long hikes of 10 miles plus. The secure planted feel of these boots and knowing your foot is properly supported and protected is worth the extra weight to me. I guess it's a tradeoff.
Do plan for a long break-in period or these boots will hurt you. I wear them around the house at first, then outside doing routine daily activities for a few weeks. I soften them up with a good qualitly leather conditioner. If all else fails there is always the wet sock treatment, getting the boot semi wet inside to help it soften and mold to my foot. The Alico Guides didn't need that and after a couple weeks of normal wear they feel pretty good. I plan a couple 5-mile day hikes with them and will proceed to longer hikes if they seem broken in.
Bottom line: I would have given them a 5 star except for three things, Heavier weight, high initial cost and the long break-in period. I do recommend to anyone looking for a sturdy, well constructed, classically styled boot to take a look at the Alico Guides. If you do get a set, take the time to break them in and learn how to maintain them properly and you will have a "real" set of hiking boots that will serve you well for a decade or more.
Materials: Heavy 3mm leather uppers, Glove leather liner, Vibram soles, Norwegian welt construction.
Use: Day Hikes, Backpacking/40lb pack, Light Mountaineering.
Break-in Period: long, plan for it.
Weight: 3lbs per boot
Price Paid: $180

All leather, Norwegian-welted boot for heavy duty excursions on and off the beaten path.
Pros
Stout boot provides incredible support on all types of terrain.
The overall build quality is very good (except for the one little stitching issue that was easily fixed with a drop of some clear sealant)
Leather lining is supple and breathes extremely well.
Cons
Discovered a small leak caused by an issue on the outer edge of the sole stitching early on in the relationship.
I have had these for about a year now and during that time have absolutely grown to love them. These are by no means lightweight. They are also extremely stiff when you first get them. Therefore, they require some patience when breaking them in.
If you do any research on these boots, you'll soon find out that the only retailer in the US that appears to sell them is Sierra Trading Post (aka Sierra.com now that they have been acquired by the TJMaxx conglomerate). As of this writing, they are currently on "Clearance" for $169. There are limited sizes/widths in stock.
You'll also soon find out that these boots have a very loyal following and some Alico fans are extremely partial to this throwback, waffle-stomper type of non-insulated, waterproof membrane-less, handcrafted boot.
There are also quite a few detractors who seem to rail against this particular model for being the source of much pain, anguish, and discomfort when they attempted to wear them. The fit of these, at least for my high-volume, wide foot, is best described as non-compressed, but supported.
I have found that the fit definitely benefits from some re-lacing or lacing adjustments at different points throughout the day. I wear heavier wool socks from Smartwool and Darn Tough and have yet to incur a blister.
Here are the specs on these Bad Larrys
3mm Perwanger full-grain split leather upper

Gusseted tongue keeps out dirt and debris
Soft glove leather lining
Metal speed-lacing system
Removable, perforated insole
3/4 steel shank for support and stability while carrying heavy loads
Norwegian welt construction is resoleable
Vibram Sass Maor lugged rubber outsole with shock-absorbing heel insert
Made in Italy
I really love the stable and protective feel on the outsoles, whether I am carrying a heavy pack or just a day pack. Early on I discovered one of my feet was damp after a long day in the backcountry where we had crossed multiple streams. Upon examining the inside of the boot, it appeared that water was somehow seeping in through a small irregularity(?)  in the stitching of the welt. This was an easy fix and has not leaked since. 
These will be on my feet whenever we are able to travel up to the White Mountains and put them through the paces on The Rock Pile. 
I will likely continue to update and add to this review.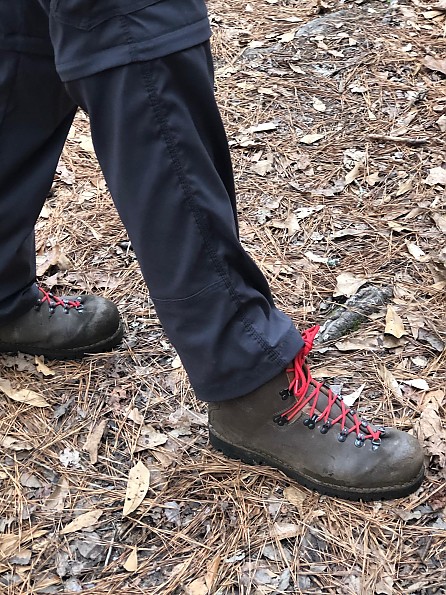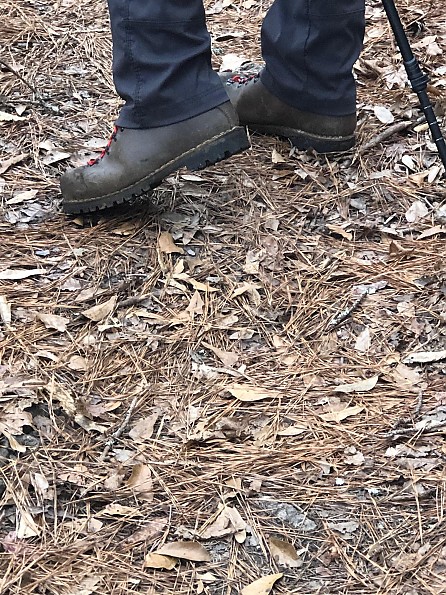 Background
Logged a couple of hundred miles, both on and off trail.
Source: bought it new
Price Paid: $199

As my father used to joke: "It's nice to see you get ahead -- you need one", which is how I felt when I was lucky enough to land these boots. We are talking absolutely top shelf quality Italian leather cobbler craftmanship. I'm not sure, but I believe that these boots may be a discontinued/closeout item, since the only U.S. place I could find them new was @ Sierra Trading. If you are lucky enough to find these either affordably new or even more affordably not too badly abused/used, I say jump on and into them!
They are heavier and stiffer than my '92 Vasque Sundowners (newer models of which are now made in China and I do not recommend those), so I know the Alico New Guide Mounatineering Boots will require a somewhat longer break-in period than other more highly marketed -- as in Madison Ave.'d -- brand names.
Alico's trademark tanning process is called Perwanger -- they claim "Perwa Leather gets waterproofed through a special tan procedure and continues to breathe." I've honestly yet to tramp in a stream with them because I'll wear them indoors during the evenings for a couple/few weeks to set their fit, but when I do get busy in them in my usual digs of the Cascades and Coastal ranges of the PacNW I will step w/the confidence of dry feet and great footing.
They are classified as a crampon beckoning mountaineering boot, but are not limited to those environs, and these days I seldom romp above the tree line favoring the more lush than sparse ecosytems. These boots are constructed to apply themselves like a hybrid (and not like the crappy bikes more dysfunctional than applicable to realities of multi-use). They are heavier than other options, around 3lbs each or 6+lbs for the pair, so you ounce counters will likely pass on them...to each their own, that's better than fine since there will then be more available for us who don't mind building up our lower extremity strength.
So, you may ask, that is if you muster intelligible affect amidst all the salivation, "How the hell did you manage to find them for less than 50 clams?" Well, doubtless I was kissed by the fates; But I can tell you in what nightspots I found the gals:
My Sundowners were seriously scuffed by a dozen years of use, but their leather integrity was still holding up and while their footing had failed me their barrier protection never did -- and I have to put the former slippage on the fact that they've needed a retread for a while now. But after pricing the cost of a new factory approved Vibram cover I began to think more in terms of getting new boots. Re quality my wants always exceed my means, so I decided to begin to research the low use/used boots options.
A few different outbackers used equipment sites can be found by virtually trekking through cyberland. There are good deals to be had, but I have to add sadly, they go fast and too many people seem like they are trying to pass on their poor purchase judgement to someone else, instead of taking more of the loss they deserve and finding a good home for their stuff. So my search broadened to the likes of not so exclusively wilderness enthusiasts sites like ebay and craigslists. Lots of time spent and I ultimately found mine on ebay with description notes like "hubby didn't want his...never used...minor scrapes due to box wear, etc." Looked to me like the boots never touched the ground, so I watched the competion which didn't seem all that hip to the potential promise. Did the research on them, decided to bid for them once @ auctions endgame (that's the trick, friends -- and I'm only sharing it because those who read this deserve to know enough not to bid earlier than that, that only pushes the prices ever upward -- a direction good for summits but not for deals). If the guy who I overbid wasn't kicking himself, he should.
You just have to do the legwork, but if you're looking at this then you already know that.
Good luck and happy trails. -paul

Materials: Perwanger waterproof and breathable leather
Use: mulitple from mountaineering to lighter hikage
Break-in Period: doubless longer than most, but even less doubtful well worth it...isn't that the fun of it?
Weight: 6+lbs per pair...you want great boots or skinny gams?
Price Paid: $48.78 (including shipping) I kid you not

Traditional leather mountaineering boot.

Pros
Nice all-leather boots, no seams
Ball bearing lace guides
Full gusset tongue, keeps water and dirt out
Workmanship is good
Custom VIBRAM dual compound soles—mountaineering
Cons
Heavy
Break in
Laces are too short
Alico New Guide Men's Mountaineering Boot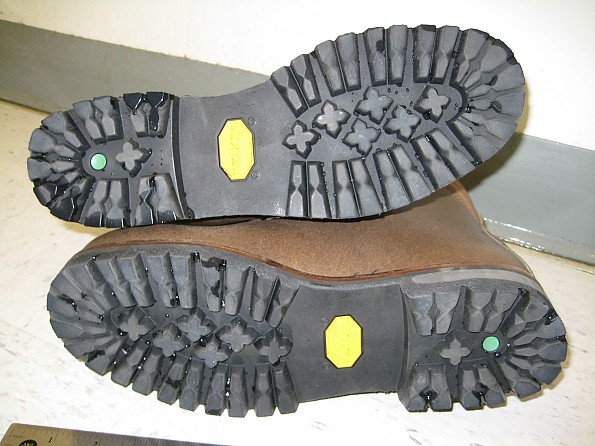 Vibram soles, notice the rare green dot, explain please
Traction- SBR compound -
"Consisting of a compound specially designed for mountaineering footwear which ensures a good grip on different grounds."

"The green dot signifies a dual hardness compound which means the sole
would be more durable and harder and may not grip as well as a single
hardness sole. The red dot signifies fire compound. The Style #100 is
available in our Fire & Ice compound which offers good heat resistance
and slip resistance."

Linda Bradley
Vibram/Quabaug Corporation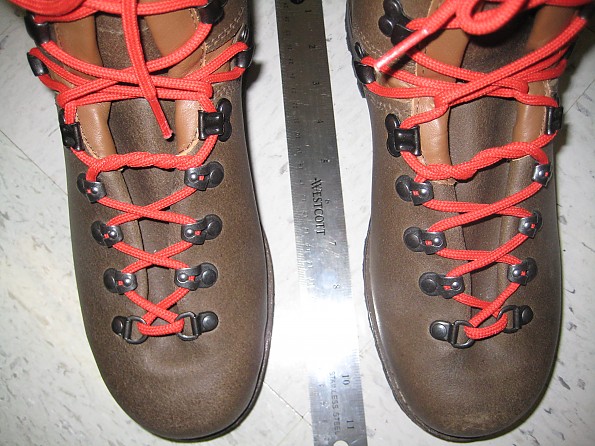 This is the Nov 2016 model. Notice the ballbearing lacing guides.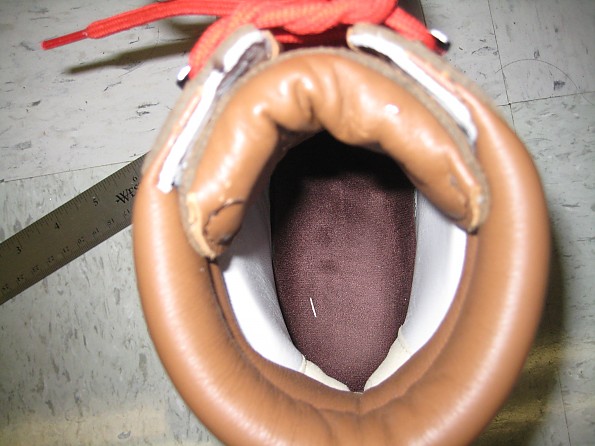 Leather above ankle padding and double Velcroed tongues.
White glove leather inside—the removable insole pads are easily swapped out.

I just bought these boots online from Sierra Trading Post. The laces are too short.
Recommend using OBENAUF'S and SN SEAL.
I tried them on. They are going to need some getting used to.
There's a YouTube video on how to make breaking these in easier using lots of Dr. Scholls pads.
I will edit this review after a while with my progress.
Background
2019: two years worth of hiking—not in summer (boots got some cleaning, put on some OBENAUF'S heavy duty Leather Preservative and SNO SEAL around the treads attaching the leather to the soles. Boots show almost no wear!)

Sierra Trading Post has them in stock Oct 2019 for $199, free S&H.
Source: bought it new
Price Paid: $149.99 with free S&H

Superb quality, hard to break in, but worth it.
Pros
Thick tough leather outer and soft as butter glove leather liner
One superb piece of leather that has had the less cut-resistant epidermis layer removed. So, you get all 3mm of abrasion-resistant leather.
Incredible craftsmanship
Cons
Took a while to break in the top of the toe where the laces bunched the stiff leather.
This is beyond any boot you will encounter at REI.  They are the tin pants, Hope Diamond, and 1,200-pound anvil of boots, and are really more boot than I need.  But, in an effort to deserve them, I hiked my butt off and have enjoyed them more each trip. 
Initially, not knowing how professional leather mountaineering boots were supposed to be filled up with extra thick wool socks, I wore standard backpacking socks and pulled my laces too tight at the toe which bunched up the thick leather to the point where it pushed into my toes and rubbed when I bent up my toes.  I found that someone else had this problem in a review.
Following their advice, I removed the laces and worked the leather (difficult because it was so stiff) until I got it soft enough to fold better.  I also stuffed a couple of baseballs into the toes and pushed down while applying leather balm. This and wearing them an hour a day up to 5 hours a day for a few weeks ultimately worked.
I think at four months out if I had known what it was going to take to break them in I would not have purchased them. But, now that that is all in the past and I enjoy them so much, I am glad I dived in without knowing all the work it would take. Now, I love them more than any other article of clothing or boot that I own.
One piece of advice is not to wax them right away unless you are oiling a specific area to loosen up. They are treated well enough that you'd be better off breaking them in before waxing them up.
Background
I wore lower level Alicos before buying these and loved them—still have them. Alico makes great lesser boots which are more comfortable with a half shank. Those are more than good enough for a few thousand miles. I've worn the New Guides for two years plus and they look like they're just getting started. I mostly hike rocky terrain, limestone hills, Greywacke and granite scree, at low to 5000 feet altitude. I also hike in snow and icy conditions. These Guides are for everything but continuous deep snow where you would want an integrated pant/boot.
Source: bought it new
Price Paid: $230

This is one big, heavy, serious, "old school" boot... and at a bargain price from Sierra Trading Post.
The New Guide is very old-fashioned, similar in design and construction to the old Fabiano mountaineering boots, with 3mm thick waxed Perwanger leather, a double-stitched Norwegian welt and big, thick Vibram Montagna outsole. This boot should not be considered a "hiking" boot, because for most people, this heavy of a boot will be a liability. I'd call it a "light mountaineering" boot, but it's significantly heavier than more up-to-date designs in this category. However, this boot is a thing of beauty, a real classic. For those who want to do some trekking like they used to do it, here's your chance.
If you always hike trails, even rough trails, this boot will probably be overkill. If you are a weekend 3-season backpacker, these boots will also probably be overkill. But if you bushwhack up and down rocky, rugged slopes with ice, snow, mud, swollen streams, thickets, and all manner of other obstacles, toting a large load on your back, you may find the New Guide to be a great budget boot. It's very supportive and protective, and really solid.
Fit-wise, I found that the New Guide runs small and narrow (just like the old Fabiano boots). For my 10-EE feet, I wound up with size 10.5 Wide. The toe-box could be roomier, but I have big toes, so this is unlikely to be a problem for those of you with more normal feet. The boots are still a bit tight when I wear my thickest wool socks, but I'm hoping they'll loosen up over the next year or so.
My pair weigh just a hair less than 6 lbs. That's heavy! The good news is that when I climb a snowy, icy Catskill or Adirondack mountain in winter, these boots keep me warm, dry and in control at all times. My strap-on crampons fit securely and the boots fit well in my MSR Denali snowshoes. I can kick steps in frozen soil or gain leverage on slippery boulders, no problem. I may not be running up the slopes in these heavyweights, but given enough daylight, I'll be sure to get there.
On my last hike, I found that the insides of the boots got a bit moist around the welt area. I wonder if that means the welts are leaking a little? I applied some Welt Seal just in case. In any case, my feet stayed dry and warm, wrapped in the soft leather linings. Maybe the moisture was from sweat?
These boots are breaking in well and becoming more comfortable every time I take them out. They're bombproof rugged, keep me warm, dry and safe, and they certainly do look cool in a retro sort of way. The only reason I'm taking away a star is because the New Guides are technically outmoded by today's lighter mountaineering boots. But I'm happy to wear my little pieces of history.
Materials: 3mm waxed Perwanger leather
Use: rugged backpacking, light mountaineering
Break-in Period: ongoing...
Weight: 6 lbs. for the pair
Price Paid: $180

Pros
Undeniably tough construction
Classic good looking boot
Comfortable and supportive with even the heaviest loads
The first shoe I reach for everyday, no matter what I'm doing.
Cons
High cost
Long...really long break in period
Difficult to source in my size in CONUS
It took me a while to find a pair of new Guides. I've been using Danner Mountain Light boots for many years. I thought I understood what it meant to break in a leather boot...clearly I was wrong. It was obvious to me  from the moment I opened the box—the 7 plus pound box—that these were different.
These boots make my Danners and old Asolos feel like jogging shoes. The quality and durability is unbelievable. I use them for work and play. I basically wear them every day.
But be warned, it took me a month to break them in properly. And the crease above the toe box was digging into the top of my toes to the point of bleeding...a problem I remedied with saddle soap, leather lotion, a tennis ball, and a ratchet strap.
Since then, I've hiked a few hundred miles and work in them everyday. I'm a land surveyor, so my boots are part of my work. I usually walk several miles a day, on tough terrain. 90 days after getting them, I bought a second pair and put them in my office closet. Plan on rotating them when i finally need new soles.
I can't say enough good things about these boots. I carried 70 pounds of gear 70 miles one week, up and down power line trails and my feet never complained. I highly recommend layering your socks.
Source: bought it new
Price Paid: $275

This is an old fashion boot, which explains its classic good styling, extraordinary build quality, and extreme discomfort. I've put over 1000 miles on my feet this year, and I am totally unsatisified with this shoe.
Out of the box the Alico is as stiff as a ski boot. But that is to be expected with a heavy duty boot. I did many short day hikes (around 10 miles) with these boots to loosen them up. After two months (120-150 miles) the boots continued to make my feet utterly sore. I started bringing sneakers in my pack to change into as the pain become unbrearable, still hoping the the boots would eventually break in.
Finally, I realised there must be a defect, so I brought them to my local cobbler. He showed me how the sole of the boot was cut improperly and was forcing me to walk on the outside of my feet, causing the pain I was experiencing. I had the problem corrected for $50.
This correction stopped the pain in the bottoms of my feet, but the boot continued to rub and create blisters on the tops of my toes where the crease in the leather folds into the toe box. The boots remain unwearable.
I have finally given up on these boots. I've spent a pile of money, and I am utterly unimpressed with the final product because as well built and attractive as the boots are, they cause my feet pain. Please note that the other reviewers have not come to the same conclusion as me, and it is possible that I was unlucky enough to get a lemon pair.
Nonetheless, I can't in good faith recommend this product.

These boots are the backpacking boots on the market. Structural superiority and comfort. Old style Italian craftsmanship. A great boot for backpacking and mountaineering.
Pros
3/4 steel shank
Soft leather lining
Norwegian welt
These Alico New Guide Mountaineering boots are a sensational pair of backpacking boots.
I have had them since July 2016. During that time I have hiked the complete JMT and did not have one problem. I did a 50-mile, break-in period and never had a hot spot or blister. On the John Muir Trail they performed outstanding. Great stability on wet rocks as well as scree.  
The boot fits my foot and ankle like a custom made boot worth $1,000. The construction is old school Italian with a Norwegian welt that can be resoled many times. The boot is truly waterproof. If you use a good waterproofing material like Nikwax, then they will stay dry.
These boots have been thru water, snow, mud, and rock. They work great with crampons. I have found the New Guides to be excellent companions for any serious hiker.
Source: bought it new
Price Paid: $200

I purchased the Alico New Guides several years ago and put them away. Now that we have moved to the mountains I have started wearing them for hikes and walks on the dirt roads in our neighborhood. I don't understand the concerns over break in. I left the top a little loose and they have been comfortable from day one. Great boots!
Pros
Great support
Very well made
Just started wearing the Guides, so limited experience with them, but so far no issues and I love them.
Background
Love Alico boots.
Source: bought it new
Price Paid: $140

When I first got these boots in the mail and opened the box the first thing that came to mind was Frankenstein, not because of how they look but because of the size of these boots. The boots in my opinion are beautiful, craftsmanship is wonderful. Unfortunately they are not colorful, besides the red laces, they are definitely not flashy, and chances are good that girls aren't going to be attracted banging on my door because of them. But those aren't reasons to buy these boots.
The first time I laced them up I felt like I was ready to climb the first mountain I could come across. Well that feeling drifted away as soon as I started walking in them. They are stiff, 4x4 board stiff. My feet haven't suffered yet, mainly my shins as the stiff leather tends to not give, but battle my ankle as it tries to move forward. I'm not worried and I know after a few more weeks the leather will give and the problem will cease.
The lower portion is extremely comfortable, and the toe box leaves enough room for my toes to wiggle, well actually almost extend to a fully perpendicular position to my foot. I would definitely recommend these boots.
Materials: Leather
Use: Anything that doesnt involve running or biking
Break-in Period: Ongoing
Weight: about 6lbs
Price Paid: $191 w/shipping

I'd been looking at the ad for these boots at Sierra Trading Post but couldn't decide whether to spend the money for yet another ill-fitting boot that would gather dust in the closet and ultimately wind up at Salvation Army. Then I read Ron G.'s review and sizing recommendations. I too can get by with a 10 EE most of the time so knowing to order a half size larger was good information.
The boots fit well right out of the box and even though they're stiff and a bit heavy I can tell they're going to be my main footgear for the next several years. Much of my hiking is done in very rocky terrain where this level of foot protection really comes in handy.
I am not an ounce-counter so the three pound per boot weight is no big deal. Craftsmanship is important, though, and Alico is right up there with the best. Anyone who wants a long-term relationship with a traditional heavy hiking or light mountaineering boot would do well to spend the money for the Alico New Guide.
Materials: Perwanger leather
Use: Desert hiking and climbing, rocky country
Break-in Period: Perhaps 40-50 hours
Weight: 6 pounds per pair
Price Paid: $180

I am a guy who dislikes polymer guns, 4x4's with independent front axles, work wear that isn't made by Carhartt and plastic boots. I don't care if they are old school, that's what I am, old school. I love leather, nothing in the world wears, looks, or smells like it and these boots are leather.
Just like the clothes I wear, these Alicos will have to be beaten into submission but will give me years of loyal service. Although I am not a mountain climber I still demand footwear that won't leave my feet cripled and isn't made in China (no offense to the Chinese). I wore these boots for hours right out of the box and my dogs never whimpered once. If you're looking for a boot that isn't fancy, doesn't make a fashion statement, but is built like a brick sh_t house, then try on a pair of these Alico boots.
Materials: Leather
Use: Everything, everywhere
Break-in Period: It takes time.
Weight: approx. 3lbs each.
Price Paid: $179.95

I love these boots! I have about 500 miles on them in two years. It takes bout 100 miles to break them in and then there is always traveling sore spots just when you think you are through with that. Have worn them in the cold and they are good to about 20 degrees but not colder. Keep them waxed and they will stay waterproof. Great support and protection from rocks other off trail problems. The edge really well and kick great steps in hard snow without throttling your feet.
I understood they run about a half size small so I got 11 and a halves, unfortunately, I needed 12, so my larger foot big toe tends to hit the end when walking down steep slopes, bummer. Make sure you are sized right and you can't go wrong. Stick to plastic boots in super cold.
Materials: Leather
Use: Heavy pack, dayhikes, everything.
Break-in Period: Ongoing
Weight: 3 lbs each
Price Paid: $180

Your Review
Where to Buy
Help support this site by making your next gear purchase through one of the links above. Click a link, buy what you need, and the seller will contribute a portion of the purchase price to support Trailspace's independent gear reviews.
You May Like
Specs
Price
Historic Range: $199.99-$299.95
Reviewers Paid: $48.78-$275.00

Recently on Trailspace