Danner Mountain Light II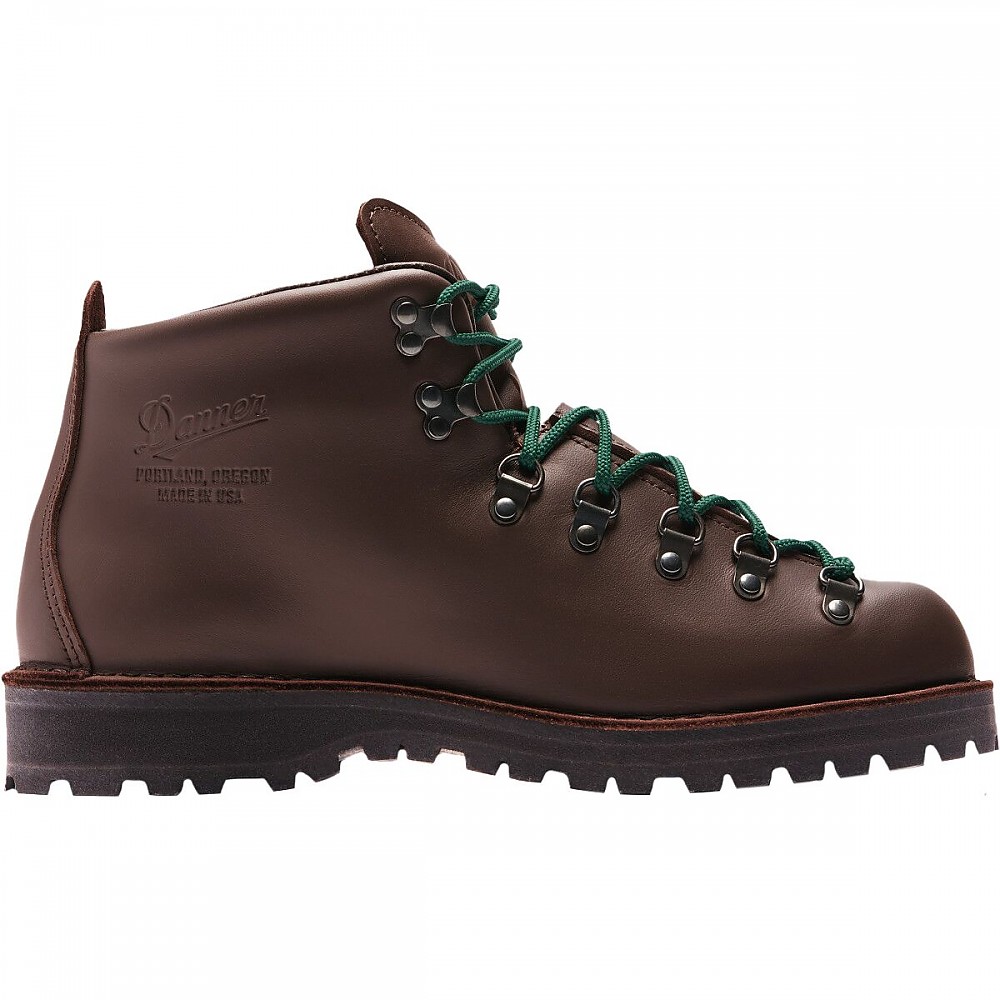 Rugged, supportive with classic styling. No frills, bells, or whistles, just quality boot.
Pros
Support
Quality construction
Classic styling
Quality material
Cons
Long break-in period
Slightly heavier than "modern" hiking boots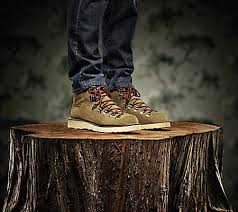 Let me start by saying that I began researching quality hiking boots after becoming very disappointed with the quality and durability of mass production boots from companies like Timberland.  I wanted a pair of boots that didn't start deconstructing after 4 or 5 months of mild wear. 
After a considerable amount of research into brands and styles, I decided that the Danner Mountain Light series would fit my needs. For starters, I was interested in the Danner company, an Oregon-based made-in-America shop and the classic style of the Mountain Light series, a boot that was originally designed in the mid 1970s that, while updated for current technology (GoreTex liner and Vibram outsole), has maintained a classic look. 
While I loved the company and the boots, I was disappointed to see how much they cost. The boots retail for between $300-$350 depending on the leather and sole options. Thankfully I discovered the Danner Breakroom, an online auction site that Danner uses to sell their factory outlet surplus and cosmetic seconds, after talking to a sales associate at the Danner factory outlet store (unfortunately they don't allow for out-of-store orders from their factory store). The Breakroom site operates about two sales a month and the styles and sizing is very hit-or-miss. I was especially pleased when the Mountain Light Overton was one of the styles offered and my size was available after about 6 months of patient waiting.
The boots arrived and I was immediately pleased. These things just ooze quality. They are worth every cent of their retail price. The leather, insole, outer last, eyelets, stitching and construction are better than any shoes or boots I've ever had or seen firsthand before — including other made-in-America shoes like Red Wings, Wolverines and UK brands like Doc Marten's (not trying to step on anyone's toes here, just a personal opinion).
The advice to go down 1/2 size was spot on; a half-size down will be perfect for wearing with all types of socks. The only complaint that I've found on these from reviews is related to the lack of insole. They come with a composite heel/arch support that slips in the footbed and it works well, but I can see how some people would prefer a bit more custom fit with an orthotic or something.
I would definitely not recommend wearing them without either the insole that comes with them or an aftermarket version unless you have the flattest of feet because there is no arch in the footbed. I have found that the ¾ length insole from Pegad provides a nice fit for my feet and fits nicely with the interior of the boot.The suede leather took treatment especially well (Chelsea Leather Food) and the darkened up the way it should.
I can tell that these things are going to last for a very long time. Danner reconditions their boots as well, so, even after these soles wear down, you can send them back for a complete makeover.
I would not consider these boots to be "heavy" in comparison to other hiking boots I've had and that I've tried. The total shipping weight of the package was just under 4lbs, so that's putting each boot at just under 2lbs a piece. That's about medium weight relative to other full leather hiking boots.  
I think what you'll find is that boots that are lighter than 24oz or so will tend to have a more "sport" or "court shoe" design — separate sole and midsole, no or less reinforcement and support and more than likely not full leather coverage. Anything heavier than 32oz a piece more than likely will have a steel toe and/or steel heel or sole reinforcement as opposed to composite reinforcement in the toe and heel and fiberglass in the sole found in the Danner.
These boots do take quite a while to break in, which was a frequent comment I found during my research. The areas where I seemed to get the most discomfort during the break-in period were high on the achilles towards the top of the seal of the boots, about even with the center of my ankles and on the inside of my big toes. It took probably a good 14 hours of wear before these areas broke in and formed to my foot completely.
At one point during the break in period I tried removing the orthotic, using Danner-brand insoles (which they sent me free of charge upon a casual email request — amazing customer service by the way) but have returned to using the Pedag orthodics.
A positive that I have noticed is that my feet don't get nearly as hot in these boots as they would get in any of the Timberland boots that I had before. Part of this could be due to the fact that the Timberland boots were all lined with non-breathing Thinsulate. The Danner boots are lined with GoreTex which vents incredibly well. I haven't noticed a loss in functionality without the heavier insulation either.
The Danners were the only piece of footwear that I took other than my snowboarding boots on a trip to the Alps. The Danners held up to whatever condition I put them in: snow, rain, standing water, ice, slush... Not a drip in the boots and my feet NEVER got wet or cold with standard hiking socks or run-of-the-mill cotton socks. I did treat the leather before leaving with several coats of Chelsea Leather Food and a single coat of Kiwi Saddle Soap (Saddle Soap only on the toe-box), but both are more geared toward drip/rain protection and wouldn't guard against full submersion - which was commonplace on my trip.
Another thing to mention has to do with the sole and the tread. The Mountain Light Overton sole is made by Vibram, but is made of a slightly different material than the standard Mountain Light, which is the classic hiking sole design. The Overton's sole is quite a bit slicker when transitioning from wet outside conditions to a smooth inside surface such as poured concrete like you might have in a garage or linoleum.
If you are considering the Mountain Light, but make numerous transitions from outdoor to indoor, I'd recommend that you go with the Mountain Light traditional hiking sole as opposed to the one on the Overton. However, the traditional sole does catch MUCH more debris than those of the Overton (virtually no debris), so it's a bit of a tradeoff.
I would say that the standard Mountain Lights have deeper traction. If you're going to be doing ascents in rocky terrain, I don't think the traction would make much of a difference, but if you're mostly going to be on hard-pack trail, the standard Mountain Lights might be better suited. The support of the boots is great for reinforcement in all the necessary places and protected against high impact areas and common abrasion zones, such as the toe-box.  
The overall form of the boots has been extremely functional and, while the boots have "loosened up" through break-in, it hasn't impacted their structural integrity or rigidity in all the necessary places.
The Overton are suede leather as opposed to tanned leather of the traditional Mountain Lights. Some people prefer NOT to treat suede as it tends to temporarily (and in some cases permanently) darken and flatten the leather. I chose to treat the suede.  It did temporarily darken and flatten the leather, but after about 3 days of wear, the tone and texture of the suede was as new - a testament to the quality of the leather selected.
I know most footwear that is waterproof use GoreTex linings. I'm not sure how much experience you have with GoreTex, but it is exceptionally lightweight. The difference between a boot with a Gore lining and one without is probably less than 6-10 oz, which is pretty negligible in terms of footwear. The boots don't hold water, and therefore don't get water-logged or heavier when wet. The Overton soles also don't sponge water. I'm not sure if the standard Mountain Lights do or not because they have a different midsole and different tread.
They will be heavier than a hybrid hiking shoes, but they will also be much more supportive and more protective, which generally decreases foot fatigue. A good hiking shoe or hybrid boot is probably going to weigh between 18oz and 24oz depending on the upper material, reinforcement and midsole. The Overtons weigh between 28oz and 32oz a piece. At most you're talking about a pound of extra weight per boot. I know over a long trek that can make a difference on the legs. But at the same time, the additional support and reinforcement can be a positive on foot comfort, so it's a tradeoff.
They were expensive, and I hate to spend money, but these were well worth it. I'm glad I jumped on the deal.  Knowing what I know now, I wouldn't hesitate to pay full price for these same boots.  It's all about the value proposition for me.  
Source: bought it new
Price Paid: $180

High quality, but high maintenance. If you don't plan on being able to maintain the leather regularly, get a cheaper hiking boot that you'll be replacing anyway. Everything wears out eventually, your decision is to figure out which will last the longest for you. I killed mine in just over two years of VERY heavy use.
Pros
Waterproof
Re-sole-able/Repairable
Look great when all cleaned up
Great fit
Durability
Amazing traction on most surfaces
Cons
High maintenance
Cost
Long uncomfortable break-in
Comfort (the "converse chuck taylors" of hiking boots)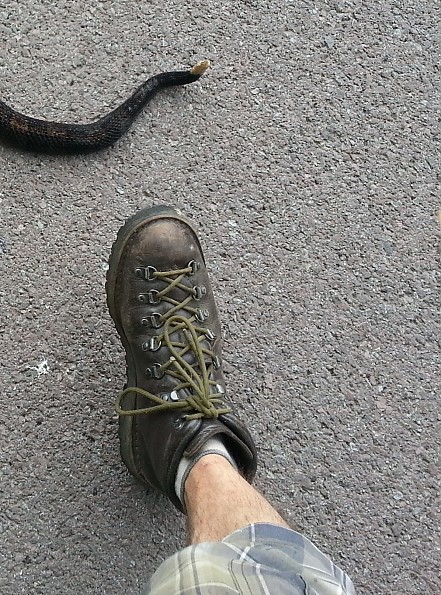 I like these boots. they're as amphibious as hiking boots get. I try to test them every day I wear them, and I wear them pretty much every day. I've had them for a little over a year now, and they've gotten some serious battle scars.
I DO NOT recommend these for stomping through the bryer bushes of northeastern PA in hunting season. It will put a good beating on these shoes, and damn near kill them (I do however recommend Chippewa Super Loggers ar ar ar ar). The leather is too soft for sharp edges, but it does make it hug your foot like a good backpacking boot should (once the month long break-in is finished. Be patient).
They're kind of high maintenance because of the leather. You don't want it to dry out and crack. I like to use saddle soap and mink oil, but who wants to carry these added items on an extended hike?
The weird tongue design, Gore-tex lining, and one-piece leather construction all add up to make this boot very water resistant. I've walked through many creeks and streams testing these boots, and as long as you don't get into water over the tongue fold (roughly 4" of flowing water), you'll stay dry.
The Vibram sole provides a good grip on most surfaces. I love the tread, I feel like I can run up any hill with minimal slipping (like mudders on a jeep). The sure grip is a great feeling. I also like how I can walk along rocky creek beds all day fishing, jumping from round pointy rock to round pointy rock, and the arch of my foot will feel fine. And these shoes are very flat footed by the way.
You will probably want some sort of insole (I use the plastic one that it comes with, but it's starting to break). Overall, if I had the money I'd get these shoes a second time. I destroy other shoes in a matter of months, and these still have plenty of life after a solid year of wear and tear.
Edit 3/15: It's been a solid 2.5 years and the shoes are now a corpse of the hiking boots that they once were. If I had maintained them better earlier in life, I'm sure they'd have more life in them now. But, the soles need replacing, the leather is cracked, scratched, nicked, cut and molested in every way that footwear can be, and now I just keep wearing them because they won't fall apart.
A lesser shoe would be in the trash by now, probably in several pieces. I might get them re-soled at some point, but I have no intentions of retiring these shoes anytime soon. Also, let it be known that they are no longer waterproof after this type of life/abuse. They're just shoes now.
Source: bought it new
Price Paid: $300

It's Danner time!
Pros
Tough as nails
Solid leather
Waterproof
works in winter
Great traction and rubber
Stitch down sole is rebuildable
Easy break-in
MADE IN THE USA!
Cons
Heavy (not for wusses)
Hot (too sexy for most feet)
I paid $310 from the Danner store in Portland.
I have had these boots for about a year and half now. I have worn them hiking, backpacking, working, snowshoeing and pretty much any time between. They are my go to boot for just about everything.
They broke in super easy. I have only got a hot spot twice from them and it was because my socks were wet. The leather stretches to accommodate my wide EE feet. The boots are water tight up to the top of the ankle.
In all my hiking around Oregon (in the rain duh) my feet would emerge dry and toasty. The Vibram sole has good traction and leaves a boot print that looks badass as a bonus. Not one of those sissy curvy girly tread patterns.
The biggest perk is that you can get it resoled for around $60-$100 from Danner. I have worn down the rubber pretty quick. I predict in three years I will send them in to get repaired in Portland. That's right, These things are made in Portland Oregon! That is a huge perk for anyone who has a heart. I am happy to support an awesome American company that looks after me and their employees.
My feet get hot in these in the summer. That is to be expected wearing something so sexy looking though. Two layers of wool socks and these turn into winter boots. I snowshoed and camped for a few days last winter and was toasty the whole time. I also wear them for 8-16 hours on pavement at work without a problem. My feet have gotten pretty attached to these boots, I would say its going to be a long term relationship. 
If you are considering them—I say go for it. If you are considering some Chinese made junk that is held together with glue...well you wouldn't be reading this review anyway.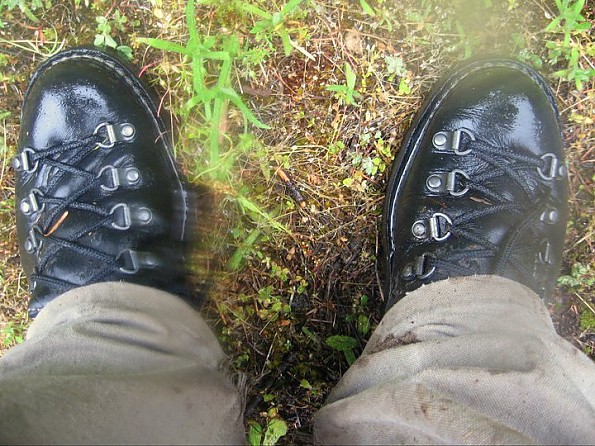 Source: bought it new
Price Paid: $310

Let me say this was my 3rd pair of Danner boots so it was not a brand I just wandered into or was talked into by a helpful sales assistant. I found just as many have the sizing on boots are just crazy these days since so many are imported, a size 10 in China might be a size 8 or 12 here in the States. It was for that reason when I went looking for a heavier pair of hikers I decided to go with the Mountain Lite II versus playing the musical hiking boot game since I knew my sized 13 feet would fit into a size 13 Danner boot.
The quality is what your would expect from Danner, it is not a real heavy boot but if you're used to the newer cordura, gtx light weight hikers they might be little heavy at first. The kletterlift vibram sole will not win you a lot of friends who have tile or hardwood floors as they mark and mud and dirt cling quite well to them LOL. But they are stiff enough to support a good deal of medium duty backpacking but not heavy mountain hiking the boot is too short in ankle support, another inch would have made this boot a little more universal.
They are resoleable which I for one wished more higher end boot makers would get back to, I have nothing against glued soles but after a certain price range is reached I think they could go the extra mile since they want to take a long nap in your wallet at time of purchase.
I've seen where some have taken issue with the leather in these boots I do not, a moderate coating of dressing softens them up enough to break in. Too much will saturate the leather and alter it's natural ability to repel water or moisture and break it down their not a baseball glove, let the gtx do it's job and you should be good to go.
Is this the last boot you will ever need probably not but it's a damn good solid boot that will serve any owner for a long time, sized as indicated, made in the USA and I would recommend it to anyone who needs this type of boot without any regrets.
Materials: Leather/ gore-tex liner
Use: short dayhikes, daily wear, or just kicking it
Break-in Period: 3 days
Weight: 3lb and a few oz's
Price Paid: $172

Great boot for most people looking for a combination of a traditional and more modern hiking boot.
Pros
Timeless design
Lightweight for what it is
Resoleable
Durable
It's a good boot, merging old and new concepts to create a comfortable and durable hiking and trekking boot. One piece of good leather to last possibly a lifetime and stitchdown construction that can be resoled. The kletterlift sole paired with the EVA midsole offers the best shock absorption I have experienced on any footwear except maximalist running shoes.
Unfortunately, a heel counter issue (like mentioned by Caoimhin Suilleabhain) will rub some people the wrong way. I have flat feet that cause my ankles to roll inward, rubbing against the inner edges of the heel counter. These boots gave me almost instant blisters on any incline.
The Gore-Tex fabric bunches up on the top of the foot as well, creating uncomfortable wrinkles.
For the majority of people, this is an exceptional boot that will be serviceable for decades. For a small minority of people whose ankles are angled differently, this probably won't work. This is a good boot, but because the heel counter is not padded and only covered by a sheet of Gore-tex, I will give this three stars. 
Update 7/2018. I have been out of the country for almost a year. Here is my update. I applied pieces of faux wool in the heel area with Shoe Goo and it seemed to do the trick. This is not a permanent solution but it is the best I can do for this expensive pair of boots.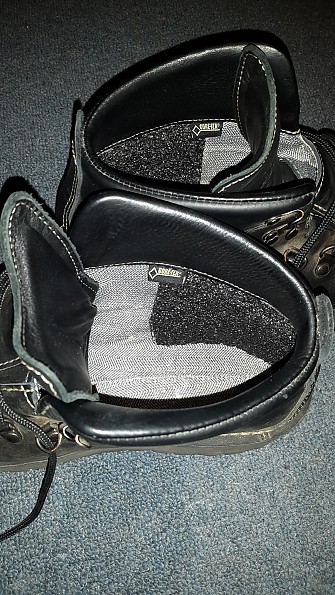 Source: bought it new
Price Paid: $250

Danner Mountain Light II's (made in the USA) rock and can handle rocks.
Pros
Norwegan welted Vibram sole
Quality leather
All one piece to improve waterproofness
Seriously old school
Cons
Your Achilles tendon will form to the boot, not the other way around
I hadn't worn Danner boots in years. My last pair was purchased ~1991, but lasted ~15 years of light use. Recently needed a new hiker. The Mountain Light's traction is excellent. The rear top of the scree collar is the most painful experience I've had in a shoe in a long time, but I think my foot will break in soon :)
Leather quality is great, but not quite as good as my Horween Predator leather boots from Wolverine. But the Danners are hands down more comfortable. I got the wide and it was a great choice. The design of the boot wants them to be snug. I ended up using a surgeon's knot to keep the bottom two eyelets loose and around the scree collar loose while keeping the shoe tight across the arch / top of my foot.  
They have a Gore-tex liner so I'm not worried about waterproofness. If they leak, Gore-tex is fantastic about honoring their lifetime warranty. For a full leather boot, the Mountain Lights don't seem excessively hot.
Update 10/28/13:
Now having the shoes for a couple of weeks, the back of the shoe is breaking in nicely. I purchased the wide to have a little more room in the toes. I'm using this as a casual shoe as well as a hiker. But as they broke in, I developed a little more heel slip, so I purchased a pair of 3/4 insoles and so far they seem to have done the trick.
Source: bought it new
Price Paid: $315

I love my Danners. I've had the same pair since the mid 90s--they're on the third (maybe fourth) set of soles, with boot structure and Gore-tex still holding up well. Even the laces are original.
I've used them for rugged multi-day backpacking, carrying as much as 50 lb (tho' I never carry that much these days); off-trail peak-bagging; day-hiking; snowshoeing; and occasional around-town or light construction (although I try to save them for hiking).
I broke the boots in carefully (which includes "training" the tongue to lie the right way), and have never had a single blister. For hiking (all seasons) I wear high-quality merino wool socks without liners, and my feet have stayed warm hiking across snowfields in the Cascades, cool while hiking a section of the AT in July, and dry on muddy trails, in the rain, and on late season, slushy snow.
A couple times a year, I treat the boots with Obernauf's leather preservative, a beeswax formula approved for Gore-tex that my local Danner dealer recommends. I warm the boots, then scrub the preservative into the stitching and leather with an old toothbrush.
I've had just one problem with the boots--after one of the resoles, a separation developed in the midsole around the shank, causing an annoying popping sensation with every step. The repair shop I use (a Danner dealer) was able to strip the sole back down and fix the problem, which has never returned. As this problem was easily fixed, and didn't happen during the life of the factory soles, I don't consider it a strike against Danner.
As with any full-grain, traditionally-built boot, Mountain Lights will not fit everyone. My Danners are size 10 "D", and my feet must be a near match to the lasts Danner uses to build these--they fit me perfectly, using the Airthotic inserts that came with the boots. However, I know people who cannot wear Danners, usually because their heels slip. A person really has to try boots on to find the brand/model that is perfect for them.
Mountain Lights are also heavy compared to suede and mesh boots or trail runners. I've been transitioning to a lightweight/ultralight backpacking style, and just bought a pair of trail shoes that may replace my Danners. I don't like the idea that trail shoes are basically disposable, and thus more expensive over the long haul (my Danners, including resoling, have cost me less than $30/year) but with a multi-day base weight of 10-15 lbs, boots that weigh almost 2 lbs each don't make much sense. If the trail shoes work out, I'll be sorry to leave my Danners behind.
Materials: full grain leather w/ gore-tex
Use: Everything
Break-in Period: ~2 weeks
Weight: 59 oz/pair
Price Paid: $200

I read a scathingly bad review of these boots on another site, which made me hesitate to buy them. But I'm glad I went ahead and got them anyway.
I have wide feet with pronounced bony areas at my fifth metatarsal joints (outsides of the balls of my feet), so most boots just don't fit me right, even some EE-width boots. The Mountain Light II's have been comfy right from the start, and with heavy wool socks and the Airthotic insoles, I've been able to get a great fit. (Note: These boots should be used with liner socks and heavy wool outer socks to provide cushioning and volume. Fans of a single-layer sock should probably look at more modern boot designs, unless you have very high-volume feet.) Break-in was quick and pretty much painless. I've even spent several long days in snowshoes with them, and haven't had so much as a hot spot...
I can see how some might complain that these boots don't provide enough ankle support, and it's true that good modern designs are more supportive, but the Mountain Light II's lateral support is excellent and the relatively stiff Vibram sole is great. While I quickly make mincemeat out of modern light hikers (most of which are really just "sneaker boots"), I expect these Mountain Light II's to hold up for a good long time.
The leather looks great, and the old-school stitchdown construction should make re-soling cheap and easy. I like the classic 'retro' styling (the Mtn Light II's are essentially unchanged from the original 1957 design), although I'm sure many would prefer the more high-tech looks of the modern designs.
The only reason I didn't give these boots a '5' is because of the lack of ankle support. But if you are looking for a better-made, more durable lightweight hiking boot than today's typical "trail sneakers" -- and you (like me) prefer old-school style -- I don't think you'll do any better than the Danner Mountain Light II. They're workin' out great for me.

Materials: leather, Vibram outsole
Use: rugged day hikes, weekend backpacks
Break-in Period: 1 week
Weight: 3.6 lbs. for the pair
Price Paid: $175

It's been seven months since I bought these boots, and I'm now confident I can put in my final word on them.
I've done a weekend backpack in these things, worn them with snowshoes, hiked some rocky, steep trails and even bushwhacked a bit in them.
Unfortunately, these boots are now mushy-soft. The cambrelle lining has bunched up inside, making lots of uncomfortable folds. The leather has gone completely soft and is all stretched out. There's not much ankle support left. The only thing keeping these boots waterproofed at all is the Gore-Tex liner, because the leather gets soaked in wet conditions, even after treatment with Nikwax.
On the bright side, the Vibram Kletterlift sole is acceptably stiff, but not stiff enough to be worth the relatively heavy weight of these boots (3 lbs. 10 oz. for size 9.5EE). For that kind of weight, the boots should be stiffer and more supportive. The sole is very grippy and has worn well. Vibram soles are great.
My biggest problem with these boots is the fit. These Danner boots are narrow and have a small toe-box. I did try the next size up (10EE), but the crease at the ball of the foot was right over my toes, rubbing them. Size 9.5EE fits better, but is too narrow in the big-toe area, even though the boot seems long enough.
I really wanted to like these boots, because of their classic, 'old school' looks and the stitchdown construction. But I'm sorry to say that they just haven't worked out. Oh well... They do make good (if expensive) workboots, and I can use them for walks and short hikes. They're well-made enough that they'll last for years of that kind of use.
If you're looking at these boots and you want my advice, I'd say look for something else unless you're completely captivated by their looks (they do look very 'retro-classic') and you mostly take day-hikes on maintained trails. I would not recommend these boots for heavy backpacking or serious off-trail stuff.
Materials: 2.2mm leather, Gore-Tex liner
Use: rocky trails, weekend backpacks
Break-in Period: short
Weight: 3.6 lbs.
Price Paid: $180

I like these boots very much because they feel good and fit my feet better than other boots do. I just received my third pair. I will always have a pair of these boots in my closet. They are very high quality boots. Very tough. They are just right for me, but I could see how you would want more ankle support or a stiffer sole. The longer you have them the better they fit and the more supportive they are because you can strap them on tighter.
When you first get them it is a trick to figure out the tongue, but you get used to it and the padding actually does you some good. You need to pull the top of the tongue towards the inside of the boot to keep it from making a ridge in the leather that will irritate the top of your foot. It folds together fairly well that way. Once you figure that out and wear them around a little they feel good.
Try to get the gussets lined up right the first few times so you can start "setting" the shape of the folds from the start. The gussets could be a little higher too because water gets in if you step in ankle deep water. It's not a big problem because the materials they make them of are pretty good and the boots dry well. They get a little hot on the achilles the first few times out. I think that this would not happen if they were a little higher or lower, but I like them just as high as they are and wouldn't want them to change. It doesn't last long.
Aside from that I just love 'em. I have walked places in my Danners where I wouldn't wear anything else, to some extent because they are so comfortable. Its good to have comfy boots when the walk home is so long. And, of course, they look good. Very traditional styling.
Materials: Leather
Break-in Period: rough trails and outdoor work
Weight: 6.5 lbs.

I've had these boots for about a year and I have hiked a few hundred miles in them and I feel I can finally put in a review. First the good stuff. They have very heavy duty hardwear. They look very cool and elicit compliments all the time. They will last a long time. Quality construction is there. For me this is where it ends.
The problems really lie in the design of the boot. It took me a long time to break them in. And they still don't fit well. They have a narrow toe box and in the heel the area where the leather meets the lining gets bunched up and causes irritation. The tongue design is not very good. The leather bunches up on the top of the boot and presses down on the toes. Also because the tongue fold is so low they are not waterproof to the top of the boot. Water can leak in about 2/3rds of the way up the boot. Forget about wearing them in the snow without gaiters.
Also the sole seems a bit soft but offers little padding. The soles are already staring to wear a bit thin so they will have to be resoled soon. Finally they don't offer great ankle support because they are low (5 inches) when carrying even a medium sized pack over uneven terrain or scree.
I have other boots I like more and I don't hate these, they are still great for work and for short hikes but not good for any heavy stuff. My other boots (LL Bean Cresta Hikers are Much better in my opinion for heavier duty). I also thought that I might have weird shaped feet but I have never had a problem with any other footwear I have ever bought so ...
Materials: Leather, Gore-Tex
Use: Backpacking, Day Hiking
Break-in Period: A few months to get them to not leave hotspots
Weight: about 4 Lbs
Price Paid: $219

Tough as nails, very comfortable.
Pros
Durable
No heel catching sole
Comfortable
Customer service
Resoleable
Made in the USA
Cons
Heavy
Difficult to use crampon/gaiters
Can be a little hot
My father bought me these 14 years ago. I recently had them resoled. They are very comfortable and give great stability. I have worn them for all levels of activity.
I recently sent them back to the Danner factory in Portland, Oregon, and had them resoled for the first time. They really did a nice job and it's like having a new pair of boots (except already broken in).
These are not for the ultralight minimalists. They are a very traditional style and very durable and dependable. I do think they can be a little warm, but the cambrell/Goretex lining with the leather upper does manage sweat well and I have worn them comfortably in all seasons.
While you can attach to the laces, the sole style does not support gaiters that wrap under boot, thus somewhat limiting their appropriateness for light mountaineering.
Aside from wearing through the soles and then through the stitching, no part of this boot has ever failed in terms of materials or construction.
Source: bought it new
Price Paid: $200

Just a dam good boot.
Bought my 1st pair in the early 90s. I've had them resoled 4 times and am in the process of a 5th resole. But finally needed to retire my Mountain Lite 2s for around the house. I used a thin coat of Danner's "Clear Boot Dressing" several times a year and believe the helped the longevity of the boot's upper.
When shopping for a new pair of boots I looked at a variety of brands in the $200 range. But went with another pair of Danner Mt Light 2s.
The boot is a basic full grain leather with only seams on back, a gore-tex lining and vibram sole. The shoes broke in quickly like a pair of favorite slippers with plenty of support. The initial break in was minimal.
The boots do run a bit narrow. Danner agrees, so I went with an EE width. The boots were already very comfortable, but even more so when I started using after market insoles by Super Feet.
During the Fall through Spring, I use them as my primary backpacking boot for typical hikes of 1-4 days with 20-30 lbs. During these hikes I typically don't think about my feet much! The boots are very comfortable and keep my feet dry and warm. In addition when I am in between hikes, the boots are comfortable enough to wear to work and around town.
Materials: Full Grain Leather with Gore tex liner
Use: everything
Break-in Period: couple weeks around the house and work
Weight: 190
Price Paid: $189 + tax

So far so good. After reading all the reviews and doing a fair bit of research (and not wanting to spend $1500 on a hand made pair) I bought a pair.
The only complaint I have is the laces. I could not get them to lace up tight enough with the supplied green laces and when pulled tight so many times they actually started to cut into my fingers a bit. So off they came and were replaced with a slightly thicker pair.
I have been lacing them with a second twist on an overhand knot just above the rings and then another extra twist just above the top hooks. This extra twist I find holds the tension better than just a straight overhand knot and allows me to get the boot laced up nice and snug. The only other minor thing is the dark brown finish starts peeling off with the first little scuffs, so if you like exactly how they looked in the box, don't kick the dirt.
And I did call Danner and they are not making any more until they get a new shipment of leather. So if you can find them somewhere, get them now, or wait until they start production again. I got one of the last 2 pairs of my size from Campmor.
Materials: leather and gore-tex
Use: all year at work in State Parks in all terrains
Break-in Period: 2 weeks
Weight: not too bad.
Price Paid: 237

I have spent several hundred dollars trying to find boots that were comfortable and appropriate for my hard-to-fit-foot.  They had to be stiff, voluminous enough to accommodate my heavy-duty orthotics, but comfortable enough to not cause blisters.
While looking into hand-built boots I started reading about Danner boots.The boots had several qualities I wanted in boots. They had features including Norwegian welt stitching, stiffened shank, full grain leather, gore-tex liner, classic waffle-stomper sole.
Since I live within comfortable driving distance to Portland, Oregon, I figured I could give the factory seconds from the Danner Factory Store a go. If I liked the boot, I saved a bunch from full retail price. If I didn't like them, I knew I would not be out too much in the resale.
 I can tell you now that after wearing the boots for a while, ranging from day hiking in downpours, to backpacking through thick volcanic sand, to snowshoeing in heavy slog,  I would pay full retail price for these boots.
I have had few blisters from these boots; I have been very happy with the support these boots provide; I have been pleased with the performance.
Bottom line, I would buy these boots again. These are likely the last pair of boots I will ever need.
Materials: Leather
Use: Dayhikes, backpacking, snowshoeing
Break-in Period: Two weeks
Weight: 3 1/3 pounds per pair; 1 2/3 pound per boot
Price Paid: 50$

Typical Danner quality, and they look like a million bucks.
I normally wear a 9R for dress and "tennis" shoes, and normally go a half size bigger for boots. I went with the 9.5W after reading that the boots run narrow.
I could have got away with getting 9.5R instead of the 9.5W, but they still fit just fine. I have to wear thick socks, but that is just as well. They do stretch after break-in.
These are "Old School" boots and will tear your feet up the first 25 miles or so, my heels were fried until mile 22, then they broke in perfectly. If you are looking for comfort right out of the box, then look elsewhere, these are traditional hikers...and I wouldn't have it any other way!
Crossed many streams, and just got back from the snow. They worked perfectly. I also like that they are a "low" cut boot, so you don't get all that shin pressure from "taller" boots. As to ankle support, they have plenty, and I pack heavy (40-50 pounds).
I waited to write this review until I had worn the boots about 150 miles, and so far, so good!
Did I mention that they are pretty? Even non hikers have complimented me on how "expensive" they look.
Price Paid: $260

I will have to say that this is the best boot I have ever owned. It have been on multiple hiking trips from Colorado to Arkansas and the get better every time.
My first trip was in a pair of Vasque Sundowners, and needless to say I GAVE them away after a trip to the mountains (and yes they were already broken in). I am talking massive blisters. A friend on the same hiking trip had a pair of Danner Mtn. Lights and could not say enough about how they performed.
After I got home, I went and purchased a pair and the rest is history. Oh, a pair of SuperFeet insoles work perfect for me. I have a small foot with a fairly wide toe box (sz.7D)and I could not ask for a better fit. I have NEVER even come close to having a blister in these boots, and I have beat them up continuously.
I know every foot is different, but if you like an old school type boot and can sacrifice a little weight for the perfect fit and dry feet, no questions asked, buy them...you won't be disappointed!
Materials: Leather/Gore-Tex
Use: Everything from town to hiking trail
Break-in Period: Solid Leather....Of Course! But not very long!
Weight: light enough to log some miles!
Price Paid: $179 + tax

I agree with the other reviewer. The Danner Mountain Lights are like a cadillac for the feet. They form to your feet and are oh so comfortable.. The Vibram Ketterling sole holds up well and the Goretex booty makes them all but impervious to water. I only have two words of advice and they are minor and my just be due to my feet.
Make sure to break them in as they are thick leather and take some time in the heal cup to get used to. After blistering once i switched to liner socks and now have no problems.. Also the Airthotic insole that comes with the boot is a bit plastic for my taste. All i did was switch it with a pair of superfeet inserts and Jumanji!!!-- magic happy feet.
While they may seem a bit heavy the weight pays off at the end of the day when your feet are not all bruised on the soles. Besides that they are so darn pretty.. What a beautiful boot. I sometimes hate getting them dirty, but that's what boot polish is for.
James
Materials: full gain leather and gortex lined
Use: rough trail and backpacking
Break-in Period: 2 weeks and a day hike
Weight: 3.3
Price Paid: $210

I have owned two (2) pairs of Danner Mountain Light II hiking boots in the past 15 years. They have taken me through the most extreme climatic conditions on four (4) continents. I am impressed by how well they have served me in my travels through burning deserts, soggy and muddy rain forests, snowy and icy mountain treks (including several up to 18,000 feet in the Nepali Himalayas), etc. I have been thinking about buying another pair because I was beginning to worry that, with the continuing trend in "ultra light weight" hiking boots, Danner might discontinue making them. My Internet search for them, in fact, is how I ran across this site.
In any case, these boots are the very best I have ever owned. My extreme confidence in their performance has obviated any potential fears in facing difficult situations (i.e., extreme challenges in the field).
Use: Extreme World Travels

The heel cup can cause severe problems.
My first pair of MLIIs (vintage early 1990s) never gave me a problem and I wore them out, so I recently bought a new pair directly from the Danner store in Portland, where they're made.
After about 150 miles, they began to cause painful agony and I can no longer wear them. The internal heel cup inside the liner digs into the back of my left, outside ankle bone making every step extremely painful. The plastic cup is now thicker, higher and harder than in the older boot.
Buyer beware. This is a poor design change on an otherwise fine boot. I'll be taking them in to see what they can possibly do about it, but I imagine not much can be done.
Because I live in Portland, I get my boots from the person who made them. This is not a crappy boot made in Indonesia; it is the real deal. I have two pairs, and got the first pair for only $35! I have been wearing them for 6 years and finally had them resoled for another $35. I bought this new pair for wearing around town. They are the most beautiful boots I have ever seen. They are so comfortable, that my feet cry then I take them off. I can wear them with a 65lb pack hiking 18 miles and not have a single problem. Good socks are a must or the boots are useless! The boots are no doubt worth $200+. Go get yourself a pair, or come to Portland and see the factory!
Materials: fullgrain leather gore-tex
Use: every day use / serious backpacking
Break-in Period: wear them to work for a few weeks
Weight: What the boots?
Price Paid: Get this! $75

I bought 1/2 size larger than my regular shoe size, put in Dr. Scholl gel inserts, went straightaway to Big Bend for 6 days of hiking, 4 with 40-50 pound pack. 
Only breakin issue was it took a couple of days to keep the laces tight at the lowest eyelets, once they stayed snug, it was great. 
They were fine on the rocky trails, good traction even on gravel, nice wide footprint.  My hikers wouldn't have been good boots. Sure glad I got them out of layaway at Cabelas before I went.  Price at the Bargain Cave was $100.  
Maybe some other boots are better for strictly mountain boots, but in my mind these will work for good all around mountain/hiking/hunting boots without breaking the bank.
Price Paid: $100

Most uncomfortable boot I ever owned.
Cons
Heavy
Stiff
Loose in the heel and tight in toe box
I am 70 years old and have been hiking most of my life. I bought these boots for a hiking trip to New Zealand.  I heard these were a premier hiking boot and are waterproof.
I have put 60 miles on them and they are still stiff and clunky. The heel pocket is too loose and the toe box is tight. It is difficult to get the laces tight enough around the ankle, so you don't get enough support.  
Source: bought it new
Price Paid: $284

When I first bought these boots I had no idea what I was buying, I simply thought they looked tough. After years of hiking and working in the worst conditions I am glad I ended up with these as I am sure no other boot would have lasted this long.
They did take a significant time to break in, but once I found the right socks, they rocked. I have abused these boots and not maintained them (resoling and oiling) and am extremely sad to see these go. They have torn at the stitching and yet have still kept my feet dry for a year. I think I may cry when I must retire these friends.
Materials: leather outer, gore-tex lining
Use: backpacking in the sierras, backpacking the rockies, and work in chemicals
Break-in Period: 3 months due to wrong socks
Price Paid: $210

Light, comfortable, waterproof, supportive and with a real Vibram sole, what's not to like?
I fall between a 8 1/2 and 9 in shoes/boots. I ordered a size 9 first and they were too big. Exchanged them for  8 1/2 and they are perfect. So I say they are true to size with a middle weight sock.
Hiking with 30# is easy and there is plenty of boot for the job. I hike on a lot of rock and don't feel them through the Vibram sole.
This is my second pair of Danners. The first pair lasted decades. I'm thinking these will too. And it's really nice to know that Danner has a recrafting service available.
Price Paid: $150

First thing I did was buy Superfeet insoles for these boots. These are the most comfortable, dry, not too hot, plenty tough, great quality, on and on and on...boots I've yet had. And I've had Salomons, Vasques, La Sportivas, Montrails and others. Granted, these Danners aren't ice/snow mountain boots, but they don't claim to be. But for on and off trail work with any resonable pack weight, they're awesome. No plastic in these babies! Leather, leather, and more leather. I can't say enough. Check them out at www.danner.com
Materials: Leather
Use: All trails, rough and otherwise...no crampons though. Heavy pack okay.
Break-in Period: Maybe one hour.
Weight: 3.5 lbs. per pair
Price Paid: $179

These boots are the best boots I have purchased. If you have considered buying a pair or these boots, stop considering and go out and buy a pair. You will not regret it. They are some of the most comfortable boots right out of the box that I have ever worn. I wore them around the house for a couple weeks and have since gone on hikes to the Pictured Rocks National Lakeshore Trail in the upper peninsula of Michigan. They performed excellently in all situations. I'm extremely pleased with them.
Materials: Full Grain Leather
Use: Hiking and Backpacking
Break-in Period: Not Much
Price Paid: $175

I've owned this pair of boots for greater than 12 years. They are by far the most comfortable footwear I have ever owned. I just had them resoled.
It did take a little time to break the boots in though. However, since broken in they have been incredible. Extremely rugged and durable.
Materials: leather
Use: daily wear, day hikes, backpacking, rugged trials
Break-in Period: 2 weeks
Price Paid: $225

These boots are what they are. Nothing more than an overpriced LIGHT hiking boot. The design is average at best. The way the tongue folds causes the leather to bunch uncomfortably on top of the foot. The leather is extremely soft out of the box and after just a little wear has almost no structure left to it. If you have anything other than a flat foot you'll need a pair of good insoles because these boots offer little to no arch support.
Finally, the vibram outsole is very thin and soft. it's like trying to hike in tennis shoes. Even with a good insole you'll feel every rock you step on.
If you plan on doing anything other than light trail walks without a pack, buy something else. I'm not sure how different the newest model of these boots has changed from the time of the older reviews. I bought these boots based on my reading of this site's reviews and a few others. Buyer beware.
Materials: leather with gore-tex liner
Use: LIGHT trail hikes, around camp
Break-in Period: none
Weight: way too heavy for their use
Price Paid: $210

Your Review
Where to Buy
Help support this site by making your next gear purchase through one of the links above. Click a link, buy what you need, and the seller will contribute a portion of the purchase price to support Trailspace's independent gear reviews.
You May Like
Specs
Men's
Price
MSRP: $380.00
Current Retail: $329.96-$439.95
Historic Range: $130.32-$439.95
Reviewers Paid: $50.00-$315.00

Weight
62 oz per pair

Height
5 in

Footbed
Danner Airthotic

Shank
Fiberglass

Last Type
650 EE

Lining
Waterproof

Liner
GORE-TEX

Outsole
VIbram Kletterlift

Recraftable
Yes

Women's
Price
MSRP: $380.00
Current Retail: $439.95
Historic Range: $284.95-$439.95

Weight
49 oz per pair

Height
5 in

Footbed
Danner Airthotic

Shank
Fiberglass

Last Type
650

Lining
Waterproof

Liner
GORE-TEX

Outsole
VIbram Kletterlift

Recraftable
Yes

Recently on Trailspace