Limmer Boots The Standard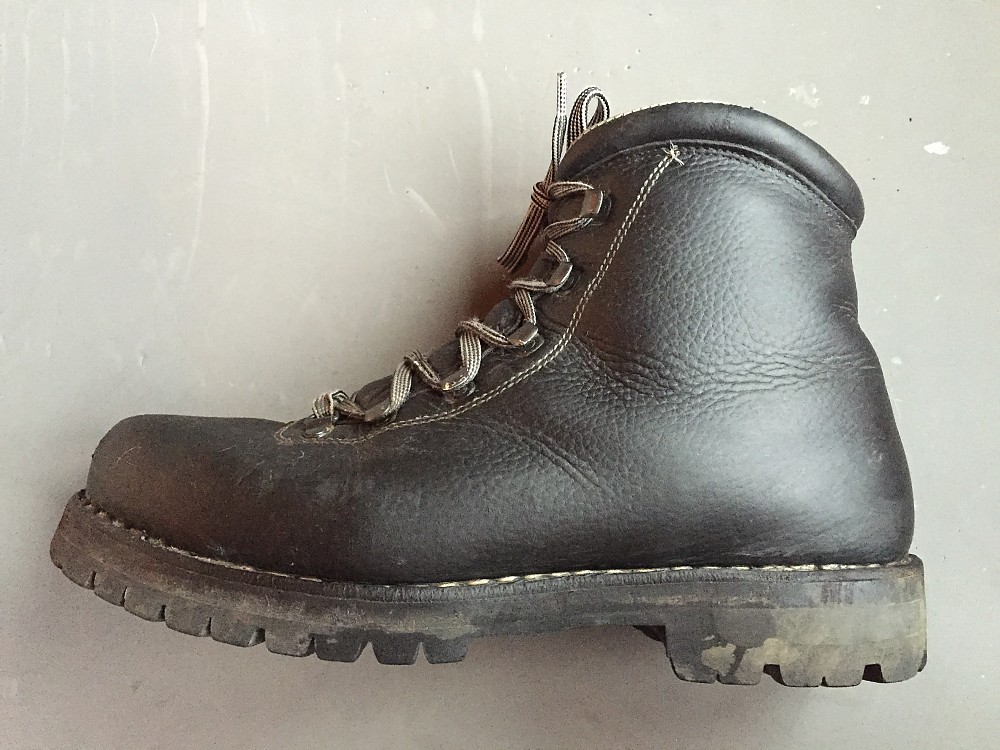 A solid, full leather boot built to handle rugged terrain. German made from the original Limmer lasts. Heavy duty construction along with amazing comfort. Great for off trail or trails that don't look like trails.
Pros
Comfort
Stable on rugged terrain
Solid upper molds to feet
Vibram yellow label sole
Norwegian welt
Cons
Weight
Investment
Long break in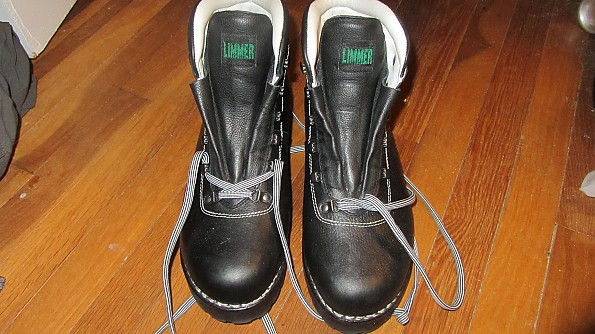 Fresh out of the box! Wonderful to the nose, but a horror to the feet.
A Little History:
The Limmers have been making boots for generations, starting in Germany. Peter Limmer Sr learned the skill there and then moved to the Boston area. Later he moved to New Hampshire and his sons learned the trade as well. Leather ski boots went out of fashion so they focused on hiking boots. Today they still make custom boots to order in their N.H. shop, but the off-the-shelf boots are made in Germany now from the original Limmer welts.
I visited the shop in Intervale, N.H., and was fitted by Peter Limmer Jr. He took his time, having me try several different boots in the same size to get the best fit. The total fitting took about an hour with about half of it spent pacing the wooden floor and kicking the door jam to test the fit. While I wasn't investing in custom boots, I certainly felt well taken care of.
Comfort & Fit: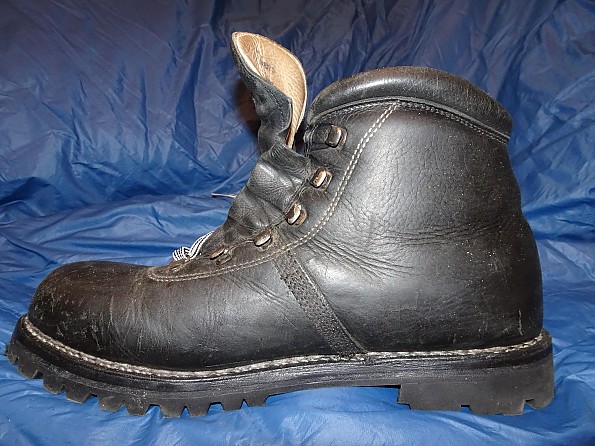 Freshly resoled three years later.


Comfort and fit really go together in this boot. When new, the stiff leather upper is painfully unyielding. I've heard tell they are concerned about the boot not hurting when you first put it on because it needs to form around your foot during break in. The Standard is designed to eventually conform to the shape of your feet to hold them snugly in place.
I still cringe to think of the break-in period, but I followed instructions despite the pain and was rewarded for my efforts. The first few days I did nothing more than wear them while sitting down. It was hard to do for more than half an hour at first. Eventually I wore them for a few hours at a time and began walking around the house. That led to progressively longer walks on pavement for a couple of weeks before they were ready to start working uneven terrain. The total break-in period before taking them backpacking was over two months. On that first trip I found they were not ready as I had heel lift issues when climbing, but on the next trip they did fine.
There may have been pain to start, but after that it was nothing but comfort. The 11.5 Wide size is my usual for most brands of boots, but the footbox felt especially roomy. There is enough room there to wiggle the toes inside while just a bit farther up the foot the leather is skin tight. Adding to the comfort is the thick cushioned leather of the ankle collar. It provides reassuring support without being restrictive and gives with the motion of the lower leg.
Where the Limmer Standards really shone in terms of comfort was on long days. In previous boots my feet would usually start to hurt long before my legs gave out. Dragging a heavy pack up and down rocky New England mountains is hard on the feet, but the solid feeling shank combined with the form fitted leather inner footbed let me hike long days with happy feet. The real testament to the comfort of these boots is the smile on my face when I put them back on, even after a week on trail. Most folks grimace putting the boots back on in the morning, but these always feel good going on.
Support: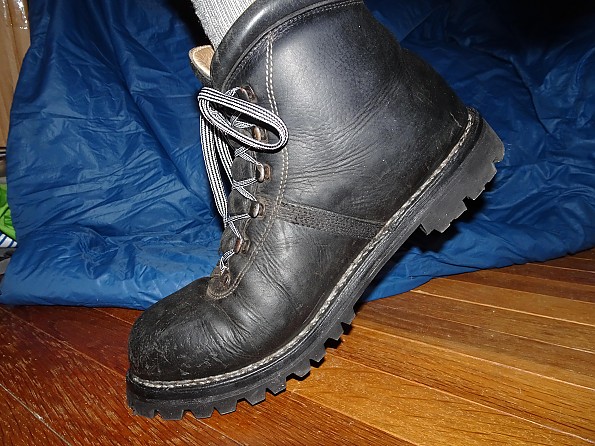 Just a little flex in the toe of the otherwise stiff sole.
You pay the price in weight, but the Standards provide all the support you'd expect from a full leather boot. Coming above the ball of my ankle there is leather wrapped well around the joint, but then the very top of the collar leaves a bit of room. This gives full support in all directions without restricting motion or pinching the leg.
Under the feet, the solid feeling when stepping on a jagged rock is a joy. While discussing Limmers with a ranger in the Whites a few years back we both agreed that that stable footbed, no matter the terrain, was what made them perfect for New England mountains. This support is a big part of what keeps the feet happy on long days as it means they don't have to work as hard.
Water Resistance & Moisture Management:
One big advantage of full leather boots is that they can be waterproofed pretty well. The single piece upper of the Standards, with a single seam on the instep leaves the welt as the weak spot as far as keeping water out. At time of purchase Peter advised that it would take some time, but repeated applications of grease to the stitching would eventually result in a waterproof seal. My experience was that it sealed well enough, but was never fully water tight. I could walk through a stream for a few steps without issue. Extended exposure to water would result in a small amount of wetness along the inside of the seam.
All that water resistance means wetness inside has a hard time getting out too. A good sock strategy was helpful in managing sweat. I used a thin liner sock to keep my feet dry as it wicked moisture to a thicker, "hiking" weight sock. When the boots became soaked after extended water exposure swapping out dry socks helped pull moisture from the leather. Managing sweat moisture was definitely possible, but even when days of rain soaked the boots thoroughly, the leather remained solid enough to provide support.
Traction: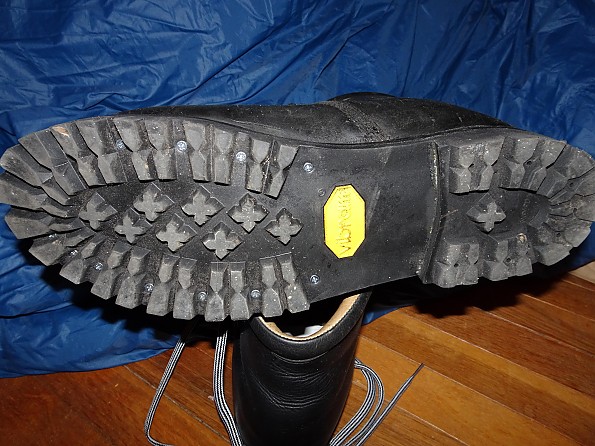 Freshly resoled with the custom Limmer soles attached to the midsole with tiny screws.
The Standards come with an 8mm Vibram sole which sticks to pretty much anything, wet or dry. Traction is exceptional and really shines in rocky terrain where the full boot never touches the ground all at once. Slippery bog boards also were easily navigated, though shiny ice was too much and the time to break out spikes. The sole sheds mud and snow pretty well and I don't ever recall needing to scrape them clean.
Construction & Durability: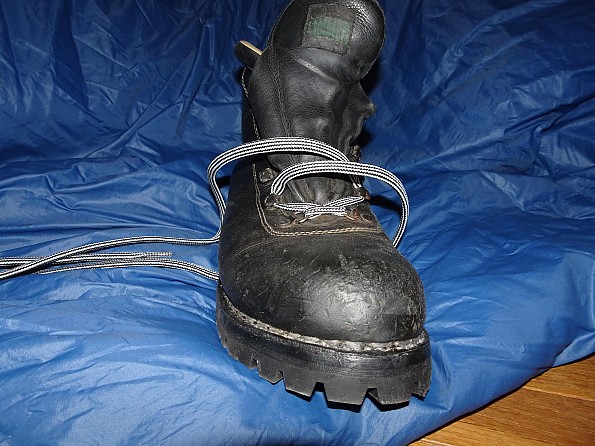 The upper is a single piece of 3.2mm top grain, chrome tanned leather, with a fully gusseted, sewn in tongue. There is a set of eyelets at the base of the lacing and then five sets of speed hooks.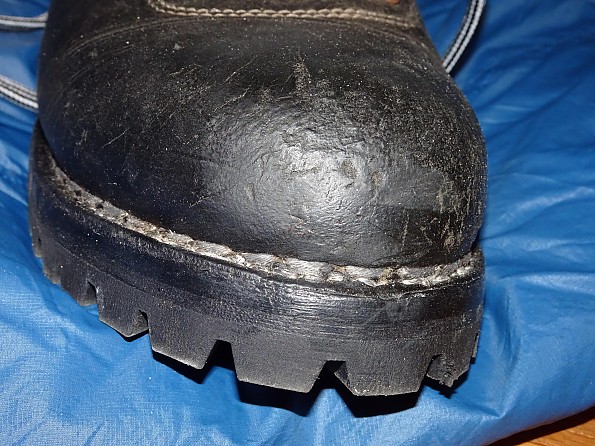 The upper is joined to the midsole with a Norwegian welt (which oddly enough originates from Italy). This double stitch technique is used to help keep water from seeping through, but also adds a distinctive look to the Limmer boots.
The midsole is a 5.5mm layer of partially expanded rubber called Aviaflex. This foam layer provides a small amount of cushion, but feels solid to the touch. The 8mm Vibram sole is attached to the midsole with nails originally, though screws were used during the resole.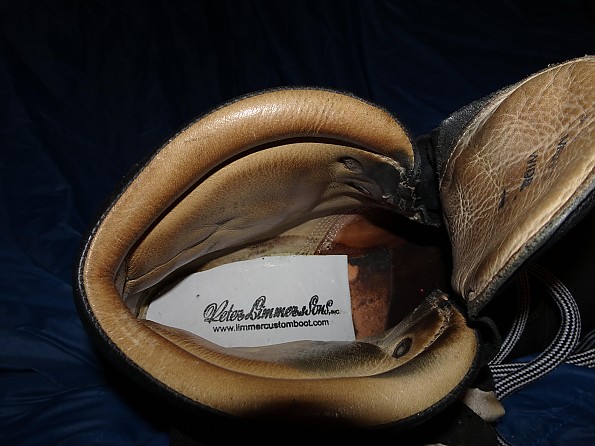 The soft cushioned leather of the ankle collar feels great wrapped around the legs.
When I was purchasing these boots Peter mentioned that to his mind they wouldn't be fully broken in until about the time I brought them in to be resoled. These boots are designed to last long, long after you wear off the tread. After almost three years of stomping up and down mountains with more than a few muddy swamps in between, I noticed that the welt was starting to come apart—just a few stitches on the right boot at the flex point. Given that I wore the boots all the time during those years it is very hard to estimate the number of miles I had on them. Besides wearing them on trail I also wore them on my motorcycle to and from trips.
While that seems like a good amount of use to get from a pair of boots I was happy to be able to take them in to be resoled. I certainly didn't want to start out breaking in a new pair, heh. There was a bit of a wait to get them back, but it is like having a new pair of boots, except they are broken in already.
       Heading up Mt Mansfield in Vermont on the last hike before taking them to the cobbler.
I used these boots a lot during the first three years I had them. Backpacking, day hikes, motorcycle riding, grocery shopping...I wore them all the time. Maine, New Hampshire, and Vermont were the primary stomping grounds though there was some use on a trip out West. Terrain included lots of rocks balanced with plenty of mud. Check my trip reports for the last few years and unless it was a winter trip, these boots went along. They went along on some winter trips too, heh, just not all.
Conclusions:
I love these boots, but I love full leather boots. There is no getting around the fact that these bad boys weigh a ton. Well, close to 5lbs for the pair stock, a shade over 5lbs for the pair after the custom resole which adds about 4oz to each boot compared with a standard resole. For a lot of folks that weight is a deal killer and that is fine. For the rest of us, these boots offer comfort and support no matter what the trail throws our way.
The feeling of walking over rugged, rocky terrain in these boots is hard to describe. They stick to the ground, my feet stick to the boots and so I feel attached to the ground on every step. On flat land that might not seem important, but on rocky ledges that confidence is comforting.
The all day comfort is also hard to imagine until you've felt it. I've walked until my legs gave out with feet still feeling good, then did it again the next day. Being able to carry a heavy pack, day after day, without worrying about my feet coming apart has enabled me to go farther and climb more. The Limmer Standards were an investment that I hesitated to make at the time. Looking back now I'm glad I took a chance on them.
Again, if you don't like heavy, leather boots, these are not for you. If you're the sort who appreciates what a solid boot like this can do for you then the Limmer line is worth a look, even if the Standards are more than you need, as they make several lighter models too.
Source: bought it new
Price Paid: $370 in Feb 2016

Well constructed full leather boot for anyone willing to make an investment in a boot that will last decades. Perfect for hiking, backpacking, snowshoeing, or any activity in which support and traction are important.
Pros
Well constructed
Waterproof
Comfortable
Durable
I received my Limmer Standards as a gift towards the end of 2013 and have had them on my feet for most of the time since then.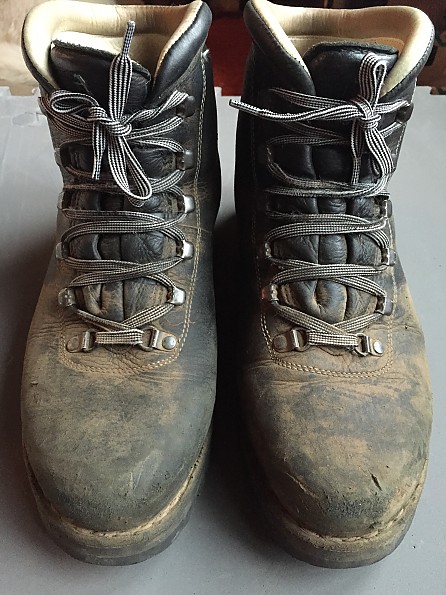 Comfort and Fit:
Like any New Hampshire relationship, it takes a long time for Limmers to become comfortable with your feet. But with steady determination and patience the boots quietly accept you and the bond that is formed is one that lasts. My wording there was intentional since the running joke among Limmer owners in my area is that you don't break in Limmers, the Limmers break in you. 
The break-in period for Limmer Standards is intense and long. When I picked them up, Peter Limmer gave me some sound advice about how to break in the boots. He said to not take them on long trips for a few weeks and even after that to bring an extra pair of shoes. This was because he wanted to make sure that as soon as I started to feel discomfort and hot spots I took them off and let my feet rest. This was great advice. The stiff outer leather takes a long time to become relaxed enough to allow for it to bend with your foot. 
During the break-in period you can see the leather starting to crease and form to your foot and once your feet and boots have formed a bond with each other these boots become incredibly comfortable. 
The inside of the Standard is made of a soft glove leather that eventually conforms to your ankle and heel. 

A great feature of Limmer boots is the seam design. Unlike most other boots that run the seam up the back of the heel. Limmer boots have the seam along the inside arch. This removes a common problem area since there is no longer any heel rubbing along a threaded seam.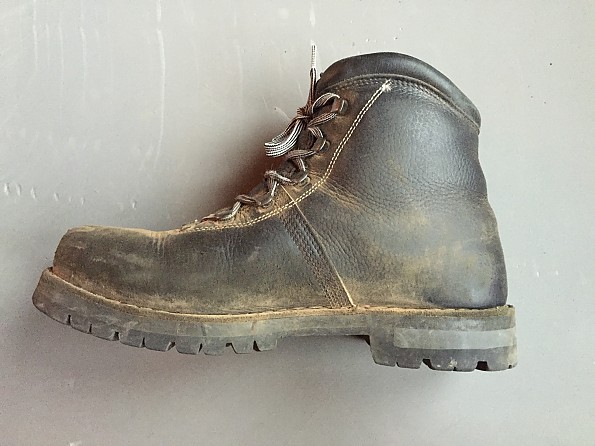 The lacing system is made up of all hook eyelets with the exception of two set eyelets at the toe. This allows for complete customization of fit.

Support and Traction:
The sturdy leather and construction of the Limmer Standard provide excellent support during a wide range of activities. I have worn these boots while carrying heavy loads and never was concerned about stability or lack of support. The one piece leather outer does not buckle under sideways pressure and has shown no signs of breaking down.
The sole is a classic Vibram design that provides traction in all conditions from mud and rock, to snow and ice. I have used these boots across the White Mountains of New Hampshire and have been confident in my footing at every step. Surfaces have included snow, wet rocks, and roots, wet and dry granite, and many others.
Water Resistance and Temperature Control:

Limmer Standards are full leather boots without any Goretex (or similar) liner. This means that they need to be maintained and treated periodically in order to keep their water resistance.  
When properly maintained with boot grease the Standards are completely waterproof. The tongue is stitched to the boot so that it forms a seal from toe to ankle and water will not enter the boot even when submerged to just below the top.
It is worth noting that if you do completely submerge the boot over the top and water gets in it will take a little while for these boots to dry since they are full leather. Recently I wore these boots while on a carry out with the search and rescue team I volunteer with and the stayed completely dry up until the point I went knee deep in water. Luckily we were close to the end, but it did take a day and a half of drying before the boots were ready to go again.
To keep the boots repelling water it is important to keep them clean and well greased. I use the boot grease developed by Limmer every few weeks to keep them in good condition.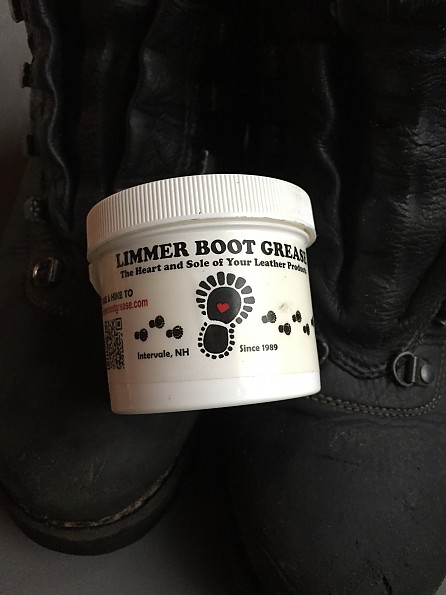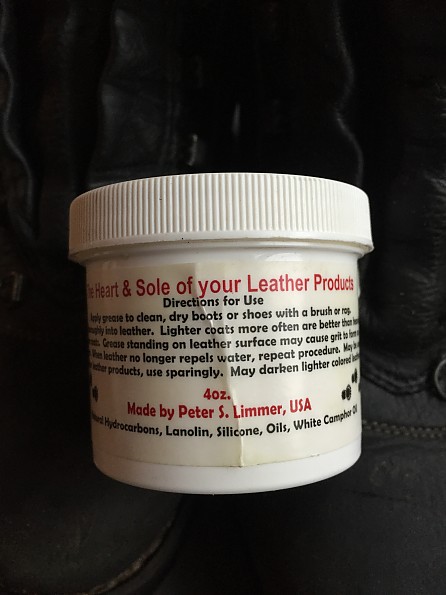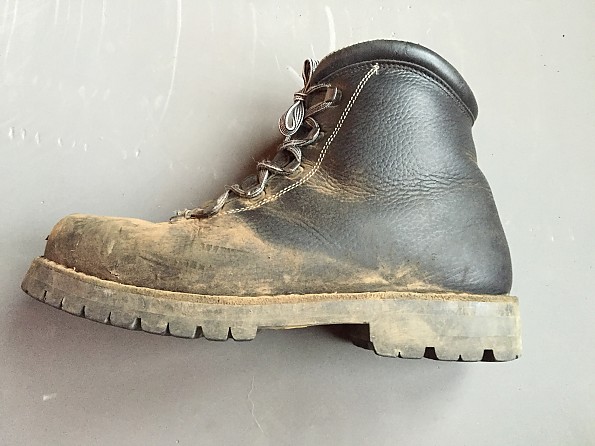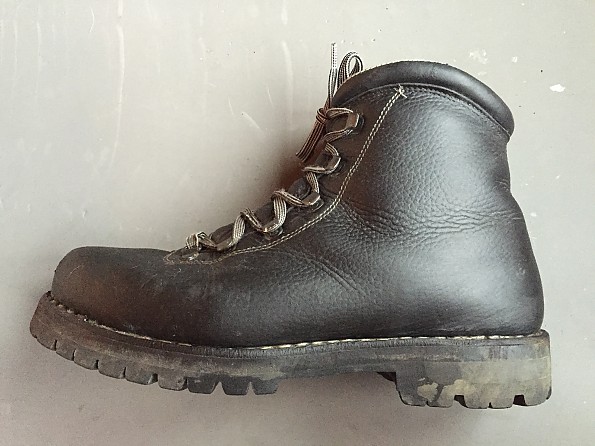 One of the main reasons I prefer full leather boots, regardless of added maintenance, is that non-Goretex lined boots breathe better. This allows for better temperature regulation and a more enjoyable experience. During the summer months when my feet generate a lot of heat and perspiration the leather construction allows for a level of heat dumping. I have had Goretex-lined boots in the past that make it feel as though I am wearing a plastic bag. The way I look at is that I don't wear my rain jacket every time I go hiking, so why should my feet?

As I mentioned, during the summer my feet stay as cool as possible in these boots. However, the winter requires a thicker pair of socks because these boots are not insulated. I have found that if I am standing in snow for an extended period of time my feet do get cold faster than if I was wearing a thick winter boot. The reality is that I'm not often in a position where I am not on the move when I'm outside in the cold and if I think I might be in a situation like that I just put on a thick pair of socks and the problem is solved. 
Construction and Durability:

There are two ways to purchase a pair of Limmer Standards. The first is to have them custom built to your foot and the second is to buy a stock boot. The custom boots cost a little more than the stock version and they take up to three years to produce due to their popularity and the fact they are being hand-built by a small team of boot makers in New Hampshire. The stock boots are made at a factory in Germany using Limmer lasts and materials hand picked by Peter and his team. There is no difference in the quality between the two versions of the Standard. 
Regardless of the version, the Standard is built to last. My pair is approaching three years of near constant use under rather harsh conditions and they still look practically new. I have friends in the area that have Limmers that are between 15 and 20 years old that are still going strong. An added bonus is that if the shoe starts to wear out, Limmer will work with you to make repairs. They are able to resole, replace eyelets, tongues, etc. In many ways I feel that my three-year-old pair is just getting out of its infancy and I look forward to decades of further use.
Conditions:

I have worn my Limmer Standards during all types of conditions. From Labor Day to Memorial Day they are the only thing I put on my feet. They are worn hiking, backpacking, snowshoeing, on search and rescue missions, while cutting fireword, and clearing the driveway of snow. I'm also able to dress them up and wear them out to dinner and to social engagements, though this might say a little bit more about where I live than the style of the boot.
During the summer I typically switch over to lighter sneakers for hiking but I wear the Limmers while working around the house and on search and rescue missions or longer trips that require me to carry a lot of weight.
Conclusions:

The Limmer Standard is a worthwhile investment for anyone looking for a well made full leather boot that can be worn at anytime of the year in any condition. They are by far the best boot I have ever worn and I do not foresee wearing any other boot. 
It is also worth noting that Limmer Boot is a small family run operation surviving in a highly competitive market. They take customer service seriously and are great to work with. The boots I received are from their stock collection so they are not custom boots hand-built in New Hampshire, but the service I received from Peter and his team made me feel as if I was buying a custom pair. They worked with me to make sure the fit was perfect and were willing to make adjustments to the boot to ensure a custom fit.
I am fortunate in that I live within a short drive of their location so I am able to deal with them in person when needed. However, after I got home when I first received my boots I had questions about fit and called them and was given them same great service and reassurance over the phone as I did in person. Family businesses are becoming fewer and farther between, so it is important to note and support the ones that are great.
Source: received it as a personal gift

Hi Matthew,
This comment is a review written as a response to comments about Limmer delamination in a prior review.
I read your review of the Limmer boots. I've been in Limmer stds for years and have tried all different kinds of boots. For a number of reasons, I always end up back in my Limmers. I could go on and on about my affection for the materials, design, and fit, and they would echo the highest praise of others. I have purchased an additional pair of Limmers for future use in case my unusual (10.5 W) size is not available.
Limmer's are truly outstanding—clearly best in class—but they are not perfect. The lower hook laces bend if used for really rough terrain and/or technical climbing and mountaineering. The solution is simple: to have Limmer or the local shoe guy put D-Rings for the lower eight hooks.
Overall, I think I'm a Limmer fan for life—though more a result of having worn at least a dozen other brands than as a matter of blind allegiance. They just work better, look better, and feel better. They are a premium product that can relied upon to function perfectly for very long periods of time under very adverse condition.
From a sheer technical/design perspective, they are, in my opinion, the most effective general-purpose backpacking/mountaineering boot available. From a planning perspective, when you choose Limmers as mountain footwear, then your footwear becomes one less issue to worry about.
And given recent surges in the prices of comparable boots, they are hardly more costly, thus making them a superb value for the money. And aside for all that, they are works of art that say something about the wearer in terms of being elegant and distinctive.
As far as your comments about delamination issues, I cannot say for sure, but it *seems* like yours were not in fact delaminating from your description. You did not mention the Vibram sole physically falling off from the rubber midsole, but simply said:
"...my big gripe is that they began to delaminate after only... get this, 200 miles. The delamination occurred in the sandwhiches of leather and rubber below the welt."
In a Norwegian welted boot, those "sandwiches" are THROUGH-STICHTED together and do not rely on glue. The leather edges of virtually 100% of this type of boot in field use (particulary in the wet) will appear to "delaminate" when small cracks appear between the layers. I fretted about the years ago with several other boots until I studied boot construction a bit.
The rubber midsole is the layer used to attach the outer vibram sole using a lamination process. The vibram sole is "laminated" to the rubber midsole only. And the rubber midsole is THROUGH-STICHTED as part of that "sandwich" you described. Thus, for the Vibram sole to fall off, they would have to delaminate from the rubber midsole, not from crack in the sandwich. The sandwich is really a sewn stack of layers that could only separate by physically cutting the welt stitching away between the layers with knife.
In 25 years of hiking, I've seen hundreds if not thousands of Limmer boots and never seen a single sole falling off or even looking like it was starting to. Perhaps your issue was more one of misunderstanding the construction of the boot, thereby leading you to believe that the minute fissures between the leather in the midsoles were in any way a problem.
Prior to Limmers, I had two pairs of Fabiano Mountain boots. I purchased the second pair when the Vibram sole wore down to nil on the first set rather than resole a beat up old boot (that I loved). They developed these cracks in the first 200 miles too. And I wore the soles off both pairs over years with never the slightest delamination of the other sole. My Habler/Kastinger Superlight and Galibier Superguide moutaineering boots all did the same thing and never delaminated at the outer sole.
In summary, what I believe you were seeing was inconsequential delamination of through-stiched midsoles, as is common to most every boot of this construction. This not a problem. On the other hand, maybe the soles were physically falling off, in which case you have a real legitimate gripe and I support you.
One more point....Limmer boots are not particularly heavy compared to similar models. Unless you have a size 18 foot, they do not weigh 3.5 pounds each. Size 9 of the Limmer standard weighs 4 lbs and 12oz. Go to the REI boot section on their web page and you will find that Limmers are within ounces of similar boots designed for backpacking and light mountaineering. For example, the Asolo 650 weighs 4 lbs and 3 ozs, and is full of light padding and and made of very mediocre suede leather. Asolo's are a good product, but they are not Limmers!
Materials: Full Grain Smooth-Out Leather
Use: Backpacking/Light Mountaineering
Break-in Period: 50 Miles
Weight: 4lb 12oz
Price Paid: $290

If you want long lasting, rugged, durable and repairable boots, for hardcore hiking, construction, etc. Limmers are probably the best!
Pros
Rugged
Durable
Stable
Quite waterproof
Repairable
They'll outlast most any other boot
If they fit you well, you may turn them into your everyday boot.
Cons
Cost, if you need custom boots
Long waiting list for most folks
They are heavier than fabric boots
Break-in time
In 1971 I had some new Dunhams, as a rookie hiker. When I got to the White Mts. where I was starting a summer job on a Trail Crew, I learned after two weeks that my Dunhams were done. I ordered custom Limmers and got them several weeks later (Trail Crew members were taken care of quickly by the Limmer family, thank goodness) and I soon understood why.
Some fellow crew members, after a hard week of work, wanted to do a weekend hike to Carter Hut....via Lost Pond Trail and Wildcat Ridge. I had to first pick up my boots, which fit like a glove, and off we went. None of us had been up the rugged, steep Wildcat Ridge Trail, part of the AT. We cruised up, took in the views and headed down to the hut. We made it just in time for dinner. The next day we hiked up the Carter Dome Trail, saw Mt. Height and went out via the 19 Mile Brook Trail, to meet our pickup. No blisters or even hot spots. I was impressed....and lucky. Having silk liner socks and good wool socks, plus a good fit, made all the difference.
Since then (over the past 50 years) I've owned 5 or 6 pair, mostly custom and some off the shelf. I worked them all hard, doing trails, hiking, construction, landscaping, often wearing them all the time. I had each pair maybe 5-10 years, depending upon what I was doing and typically had them resoled once or twice. Had a few liners and some eyelets replaced too.
My current and probably last pair, a larger brown pair made it Austria (to accommodate orthotics), have saved my feet recently when I work boots, some Timberland Pros with a steel toe, had the heal implode and thin (compared to Limmers) sole break under my left arch. I badly strained the tenons in the arch which also created some instability in the ankle. After 2-3 weeks of light activity I put my Limmers on and they felt good within a few days. My arch and ankle are now stable, with a wrap and orthotics and the boots.
The Limmer family told many of us decades ago that one trick was to soak the boots overnight in the tub and put them on and wear them until they are dry, to get a good fit. They also can use stretchers to help with minor fit problems.
Use their recommended boot grease to prevent damage to the leather and stitching. Greasing them early and often will lead to a good fit and a long boot life, as well as drier feet.
Experience
Excellent! Love Limmer boots. Have owned many pair.
I do have some lighter fabric boots for day hikes and light duty, but Limmers have been my go-to heavy duty boots for 50+ years.
Source: bought it new
Price Paid: $39-400 over the past 50+ years for the pairs that I bought

My most comfortable pair of shoes. I bought these in 2005 and have worn them steadily since then. I have taken them hiking in tropical storms and up the Presidential Range in New Hampshire in January, carrying up to 70 pounds on my back. The support, fit, and construction are as good as I have found.
See my previous review of the Limmer Lightweight—the features are very similar; this has thicker, stiffer leather outers, fits higher on the ankle, and has a thicker sole than the lightweight.
These boots are very different from most hiking boots on the market today. Most hiking boots and shoes are lighter-weight, mixing leather and nylon, often with waterproof liners. Even most leather boots are not nearly as supportive or well-made as these boots, but they won't need to be replaced nearly as often, and they are much more secure with a heavy pack or on uneven trails.
A few thoughts about these boots:
They are heavy, and the leather is unforgivingly stiff out of the box, so take the time to break them in gradually. Purchase them at least two months out from any significant hike, and having more time would be better. Be diligent about wearing them and applying shoe grease consistent with Limmer's guidelines.
Find a sock combination that works for you and stick with it, especially during the initial break-in. For me, a thin wicking liner under Smartwool mountaineering socks minimized blisters and has become the norm for winter and summer hikes.
Take care of the leather without using too much grease.
For winter hiking, waterproof them before you head out, and strongly consider vapor barrier sock liners. Once the leather outer or lining gets damp, they are very tough to dry out in cold weather.
This is not a great boot to use with crampons. If you use them in winter, make absolutely certain you have a rock-solid fit with your crampon bindings. I have worn these for winter hikes, with vapor barrier socks and overboots, in really cold, awful weather. They did fine with snowshoe bindings, but I have had trouble with crampons popping off. I have switched to double boots for winter hiking and climbing.
Materials: leather
Use: walking, hiking, heavy pack, winter mountaineering
Break-in Period: at least two months
Weight: 4.5 pounds
Source: bought it new
Price Paid: $300

I bought my Limmer Standards in about 1985. They state they were made in Bavaria, West Germany. This comports with the fact that the reunification of Germany took place after my purchase.
I am 6' 2" tall and bought the boots for backpacking with a heavy pack -- 50 LBS+ -- in very rocky terrain in the Weminuche Wilderness of Colorado. The boots suited that purpose very well, providing an absolute sense of security and support to my feet and ankles in very bad terrain. While I have not used these boots extensively over the years, I have continued to use them for my occasional hiking and hunting activities.
I used them again last week for another long backpacking trip (6 days, 35 miles) under a heavy pack in the Weminuche Wilderness. On this trip the right front sole delaminated and flopped loosely from the boot on the right foot. I had actually been forewarned by Carl Limmer, when I called to purchase new shoelaces, that these boots had been known to delaminate after 20 years of life.
Since my boots were 23 years old, I should have listened to his warning. I was very attached to the idea of using these prized boots on this prime trip however. In my view this was not a fault of my boots but rather a known and entirely reasonable limitation.
Everything else about the boots—leather strength, stitching, etc.—remained entirely sound. How many boots have you owned that are holding together after 23 years and take a real pounding? I simply tied the front of the sole onto the boot with nylon string—a 5-minute repair—which I replaced as needed about every day or every other day as the string frayed on the trail. This allowed me to complete the trip without any further trouble.
I have sent an email to Limmer to inquire about ordering a new pair. I'm completely sold on these boots. I love them and want a new pair so I can get them broken in before next summer when I intend to do some more backpacking.
I also want my old pair repaired and will continue to use them in limited uses (translate—maybe not relying upon them at 12,000' 15 miles from the nearest road). I wonder how long the repaired boots will continue to serve me?
Materials: Leather
Use: Rough trail w/heavy pack
Break-in Period: 20 miles
Weight: Me: 200 LBS, pack: 50 LBS+
Price Paid: $180

Excellent boots, like any long-term relationship, they take a lot of work.
Pros
Tradition
Support
Foot protection
Warm
Waterproof
When Peter fit these for me he grabbed my forefoot and lightly squeezed. This is how the boots should fit, "like a firm handshake". His remark turned me from the larger size that I thought would be the right fit, to the next smaller, against my better judgement. For two years at least I was convinced he was wrong. But umpteen miles and several rounds with a shoe stretcher I bought, has probably proved him right. In his opinion you want these a little snug at first.
As you age, or at least as I have, your feet spread, sometimes into not so elegant bunions. Those prominence became hot spots for me at age 68 and I really had to tune the boots around them rather deliberately. The boots are perfect now, four years later, and the work was worth it.
Another product of age is the loss of fat padding on the feet. once upon a time it did not matter what I wore on New England's rock and root trails, but not any more. I need the protection and support these boots give.
Even in winter I have never had cold feet, not wet feet with, and I find them fine for the usual outing with strap-on crampons. Not technical ice, mind you, but the usual trail stuff including water ice on slopes.
Unlike any boot I have ever owned, including some nice leather boots, my feet are never sore at the end of the day. I am in no rush to take them off and am happy to put them on the next day, and the day after.
I can no longer wear them to most weddings, but if I had only one pair of shoes, it would be these.
Source: bought it new
Price Paid: 3 something??? I don't remember

I purchased my Standard Limmers this spring and initially thought that I had made a mistake. The boots were more uncomfortable than any boot I'd ever tried, but I decided to stick with the break-in. The people at Limmer recommend a long break-in prior to hiking. This is very sound advice.
During the course of several weeks, I walked around the house, then the yard and neighborhood. Being impatient, I then took the boots on several 15+ mile days in the White Mountains of New Hampshire. My duct tape and moleskin usage skyrocketed. Being stubborn as well as impatient, I continued to hike with the boots during most weekends throughout the summer.
Around Labor Day, I began to see significant signs of movement in the previously rock-hard leather and my foot-care supply usage began to diminish. After 4+ months, they were beginning to break in.
During my last visit to Limmer's facility in Intervale, I was informed that my boots were 60% broken-in.
During the last few years, I've hiked in running shoes and many other boots (Treksta, Asolo, Merrill etc). Upon arrival at the trailhead, I've always rushed to change my footwear. With the Limmers now conforming perfectly to my feet, I drive home wearing them.
I am very pleased with these boots and look forward to wearing them for many years. I would highly recommend them for hiking or as work boots, but they are not for those who desire instant gratification. If you would like a fantastic hiking boot next summer, start wearing your new Limmers now.
Use: peakbagging
Break-in Period: very long
Price Paid: approx $360

Very very well made, but will probably take some time and pain to break in.
Pros
Very very well made, should be very comfortable after break in.
Cons
Long and uncomfortable break-in period, Kinda heavy.
Just received my non-custom Limmer Standard boots so I can't comment on the break-in period or longevity (update to come). I do have a pair of custom White's boots, Salomon Quest 4D GTX hiking boots and several pairs of Allen Edmonds goodyear welt dress shoes; all of which are fantastic and very well made.
In comparison the Limmer's are equally well made and built like a tank. I have no doubt in my mind that these will last 20 years with proper care. They fit very well out of the box but are very stiff. They are heavier than my other hiking boots, but I really don't think they are that heavy overall, but I am a big guy so that might by why (6'1", 230 lbs).
I have had some tenderness on the inside edge of my big toe and ball of the foot after wearing them a short time, but I'm not sure if that is a fit issue or a break-in issue. These will take several weeks if not months to break in probably. I plan on maintaining them using regular applications of Obenauf's HD and applications of Atsko Sno-Seal before/during winter.
Side note, Carl Limmer called me himself when I initially inquired about buying a pair of boots. I highly doubt I will ever buy boots from anyone other than Limmer or White's going forward. I will order the customs next time when/if these boots wear out.
Source: bought it new
Price Paid: $360

I cannot say enough good things about Limmers. My first pair were Standards, purchased new at the NOLS outfitting store in preparation for my Instructors course in 1993. I could not find a rental boot that fit, so I was forced to begin my course by wearing a new pair of boots into the field. I generally wear a size 9.5 hiking boot but the folks in outfitting sized me in a 10 and required the boot to fit over two pair of VERY thick socks. The boots worked great on the course and I suffered no blisters. They were the first hiking boot I have experienced that offered the support to carry a 85 lb. pack but were not rigid and stiff to wear. They feature a deep notch at the back of the ankle that relieves all pressure at that point, and offer the best heel fit I have ever experienced. I bought the boots after the course but with the sock combination that I normally wear, I found them too big. I also wanted a little lighter weight boot because I refuse to ever carry a NOLS type load again! I decided to purchase the "Lightweight" model.
The name Lightweight is not accurate in terms of the boot's durability. They are light compared to Limmer Standards, but are heavier duty than most backpacking boots on the market and are better made than any other brand of boot. I like the "rocker" sole that is used on the Lightweights better than the sole on the Standard and I like the lighter weight. I again ignored the Limmer instructions and wore the new Lightweights on a backpacking trip straight out of the box. They were superb and I suffered no blisters or discomfort of any kind. I don't believe that you could do that with any other brand of heavy-duty boot.
As far as choosing a particular model, I believe that you should:
Choose the Standards if you are of average build but carry a very heavy load (65 lbs and up), or are large and carry a medium to heavy load, and hike in really rugged terrain or often go off-trail.
Choose the Midweights if you are of average to large build, carry a medium to heavy load (45 to 75 lbs), and hike in really rugged terrain but generally stay on trails.
Choose the Lightweights if you are female, or a small-to-average built male, carry a average load (40 to 65 lbs.), and hike in rugged terrain but generally stay on trails.
I have been so impressed by Limmers that I purchased the Limmer "Walker" (a tyrolean walking shoe) and wear them all during the fall, winter and spring as my every day shoes.
You simply cannot purchase a better boot.
Materials: Full Grain Leather
Use: general backpacking w/moderately heavy pack
Break-in Period: One NOLS Instructors course
Weight: 4 lbs. 6 oz. per pair
Price Paid: $295

I recently retired my Standards after 5 years of trail work. During this time they stood up to days and weeks of dirt pushing, rock kicking, submersion in mud and water, getting knicked by pulaskis, a couple of close calls with chainsaws, and hiking on all manner of surfaces. The maintenance they received was negligible. Despite this, they have outlasted any other boot I have worn. My White's Smoke Jumpers are a close second, but the Limmers take it and are more comfortable to hike in.
Though I would agree with other reviewers that these boots get more comfortable the longer you wear them, I would never suggest them for backpacking. Go with a lightweight trail runner. However, as an outdoor work boot, they're my favorites.
Materials: leather
Use: trail work
Break-in Period: 1 solid trip
Weight: real heavy lbs. (real heavy kg)
Price Paid: $275

First off this is not a mountaineering boot! This is a heavy or, if you like, super duty backpacking boot. After several weeks of pounding these unruly beasts into submisssion I must say they are the most comfortable boots in their class.
The reason I purchased these was because I have spent entirely too much on boots over the last five years. Nothing seems to last longer than 350 miles. These are name brand boots I am speaking of. Anyway this boot is old school, heavy and painful during break-in, but appear as though they might outlast me.
The fit makes up for the weight. Yes, they really do mold to your feet. During break-in I think the Limmer grease is great, but not as waterproof as Obernaufs which I now use due to living in the Pacific Northwest.
This is what I consider a niche boot—"works great for some people but not most." I don't give 5 stars to anything!
Materials: leather
Use: backpacking/heavy duty
Break-in Period: LOOOONG
Weight: 4.5 lbs
Price Paid: $160

Very, very heavy boot. Even though it's mighty stiff, it is still pretty comfy. I wouldn't recommend to hike in it right out of the box though like some other people have done. I wore them around the house for limited times until they started to break in, which was only about three days before I felt them starting to give a little. They have so much support it's unreal. They are bombproof and it's really amazing how quickly they start to mold to your foot.
I can only ditto the other reviews. I have nothing bad to say. I can say that where I bought them, The Mountaineer in Keene Valley, N.Y., was extremely helpful in fitting me and giving me info in general.
I was so frustrated after going to many different stores and having kids guess at what to tell me about boots. They were unable to give advice and good info on fit. When you are spending in excess of $200 for a boot, you really need someone to tell you the in's and out's. Especially if you may go tumbling down a mountain! I didn't get that until I spoke to Jeremy.
There are not many places that sell Limmers. You won't be displeased. They are well worth the investment. I love them so much I was thinking of putting myself on the custom waiting list. Jeremy, at the Mountaineer, said I'd really have no need since the boots last around 15 years!
So far the boot is great. Will update after a few more trips.
Materials: Leather
Use: backpacking/hiking
Break-in Period: 2-3 weeks
Weight: ? 3.5 pounds, not sure
Price Paid: $325

I needed boots for my body to hike my hike.
Pros
Well built
Supportive
Correctly fitted to each customer
Outstanding customer service
Built old school way
Yes, they are heavy. Yes, those blessed with good body structure can hike with minimalist footwear. But it ain't me, babe. I have had foot, leg, lower back, and posture issues for years. (I tried trail runners, and to push my old boots into a new century with limited success.)
Put me into Limmer Standards and those issues go away. As a grandson of a shoemaker, I should have paid attention to his scorn of my Cuban heeled pointy black shoes from the mid 1960's: "Why are you wearing junk on your feet. Those shoes will hurt your body." ( What did he know about chicks?)
I am now on the list for a pair of Limmer Customs.
Source: bought it new
Price Paid: About $425

I would honestly try to persuade anybody from buying a pair of Limmer Standards. They are German made on Limmer lasts and while I think the quality is there I didn't find the comfort to be even close to what one should expect. These long break-in periods Limmer speaks of in my opinion is maybe due to the lasts or something as I see no reason for a boot that's so well constructed to be so uncomfortable.
I ordered these boots after much research as the Vasque and Dolomite boots I'm used to have both turned into trash. I wanted something rugged and sturdy as I'm fairly hard on my boots. When I first opened the box I was VERY impressed however after putting them on I couldn't have walked to my mailbox in them. I've NEVER had this issue with any other foot product and my feet are fairly well built for out of the box boots and shoes. In any event, the right boot felt far worse and with my feet both measuring the same in the places these hurt I couldn't understand.
I called them up and this is when I got concerned! The man I spoke with at Limmer (not Karl) actually told me it was the "boot that didn't hurt he was concerned about". I felt like I was in a Steve Martin cruel shoes story line and at that point decided to return them. My feeling was that if it was the boot that felt comfortable causing trouble it wasn't an issue I wanted Limmer to fix for me. I have since switched to the Meindl Guffort and in my view this is a far superior boot. Out of the box they fit me like a glove. As a matter of fact I put them on, walked 10 feet to the car and drove to do a 1-mile hike without any discomfort!
Materials: Leather
Use: Hiking
Break-in Period: Long time..
Weight: Nothing outside of the norm..
Price Paid: $335

Fit is generous.
Pros
Durable
Wide toe box
Comfy
There are some excellent reviews, no need to repeat. Just wanted to add one thing—the fit is generous.
I have about 6 pair of hiking boots, from Italian to Chinese made, and my Limmer size 12 are by far the most generous fit. So I wear extra thick socks with them. For example, I have some Asolo size 12 hiking boots that only fit with a very thin sock.
8/2023 : Sold the Limmers. Favorite boot now is an Oboz Bridger in 12 wide. Limmers had too much heel slip for my tastes. 
Experience
Lots of backpacking and hiking miles.
Source: bought it used
Price Paid: $75

Version reviewed: Custom
I got my first pair of Limmers custom made in 1965. They were made by the grandfather of Carl Limmer...who was there when I ordered a new pair in 1995...assuming that they would finally wear out.
I have both pairs today. For me the best boot on the trail, very supportive, absolutely waterproof...bomb proof construction...have never suffered a foot injury/blister ever.
I recommend them highly...especially if you backpack for three days or more and if trails are wet/rocky.
John
Materials: Leather
Use: dayhikes, 2 week trips, Mt. Whitney, etc
Break-in Period: 2 to 4 weeks...start slowly
Weight: 3.5
Price Paid: $28.50 and $495

I've used my Standards for about 200 miles and have fitted into them really well. The uppers are full leather, inside and out, so they will tend to mold to your foot and ankle structure over the break-in. One review talks about experiencing delamination between the sole and the upper, but I don't see how that could be possible, as they are stitched. After my 200 miles, I have one stitch, of which there are many, many, that is very slightly frayed. So I'm not sure I understand those comments. The uppers are like armor, and very protective in rocky terrain. I have suffered no foot injuries from banging and slipping. It is really the thickness of the leather and lack of seams that make them so strong and durable.
The only negative is that they do take a lot of break-in, but the end result is an excellent form fit. The most important point is to start with a pair that fits well per the last and volume. If you notice anything that doesn't feel right, return them and get the right size. I have no doubt that these will be the last boots I will buy. I have heard that resoling, which costs about $60, is necessary after 2,000 to 3,000 miles.
Materials: Leather
Use: mountaineering
Break-in Period: 100 miles
Weight: 5 lbs the pair
Price Paid: $280

The flogging of Limmer Standards will continue until the rest of you come around.
Pros
Stable, comfortable and more reliable than most people you hike with.
Cons
They wear out too infrequently to warrant the purchase of a new pair.
I wore a pair of Limmer Standards for years as a SAR dog handler in New Hampshire. Prior to that I wore Pivetta 8s and Raichle Montagnas in Washington and Alaska, so now you know my disdain for lighter boots when it comes to rough terrain and heavy loads.
Having moved back to Minnesota a few years ago, I haven't had much use for the Standards. Yesterday I hauled a tree stand into terrain that I knew from prior scouting would require stable footwear.
Out came the Standards. They did their job, and at the end of the day I unlaced them happy in the knowledge that I wasn't lying on the ground with some lower limb injury.
Source: bought via a "pro deal"
Price Paid: < $300

Version reviewed: custom
I have used a variety of boots over the years, and nothing was ever quite right. My main heavy-use boots for hiking and scrambling in places where the boots better perform reliably, the NorthWest Territorries, Nunavut, Patagonia and Antarctica were my Scarpa SL's and Fabiano Rio's. especially if you're a clumsy zombie like me. Great boots, good support, but there was always a problem with the fit. Bad, old, tired, battered feet. I waited four years for these custom Limmers, hoping they'd give this tired old zombie a new lease on outdoor life; and I expected to be disappointed. I wasn't. Absolutely superb! The fit is incredible, the support unequalled and they actually feel lighter than my old boots, although they are a bit heavier. After two weeks of light use they were fairly well broken in! It isn't hype. These are by far the best boots I've ever used. Well worth the wait, and the price.
Materials: leather
Use: rough trail w/ heavy pack - or not
Break-in Period: short
Weight: about 5 lbs
Price Paid: alot

my first pair of limmers; first pair of heavy boots that fit and were not hand-me-downs. at size 9 these have been the only boot i've worn that did not give me a blister. not one. my break in period was still unfinished when i left for a month in some mountains- after the first five days they were considerably softer and began to shape themselves to my feet. a break in breeze after that; still no blisters then or now. some cracking in the midsole layers, but that will fix easily enough. great big beautiful boots!
Materials: leather
Use: off-trail, backpacking
Break-in Period: two months
Price Paid: $180

These boots are like wearing bulldozers on your feet. They do take a long time before they break in. Three weeks of wearing them around the house. Then a few weeks outside. A trip up Mount Washinton with no pain and no blisters.
They are now the most comfortable footwear I own. There was some pain when breaking them in. You have to follow the instructions given by the Limmer folk to break them in properly.
I went to the Limmer shop to buy mine. They do make custom boots. Mine are off the shelf.
Materials: Leather
Use: Hiking
Break-in Period: 4 weeks
Weight: 4.5 pounds
Price Paid: $335

Your Review
Where to Buy
Help support this site by making your next gear purchase through one of the links above. Click a link, buy what you need, and the seller will contribute a portion of the purchase price to support Trailspace's independent gear reviews.
You May Like
Specs
Men's
Price
MSRP: $505.00
Reviewers Paid: $75.00-$495.00

Leather Upper
3.2 mm Single Piece Chrome Tan Leather

Welt
Norwegian Welt

Upper Lining
Breathable All Leather

Inner Sole
3.5 mm Leather + Leather Heel Pad

Midsole
7.5 mm Vibram Comp

Outsole
8 mm Vibram Montagna Yellow Label

Shank
Full Length Nylon, High Torsional Rigidity

Average Weight
4.5 lbs

Reinforcements
Side and Ankle Open Cell Foam

Heel Counter
2.5 mm Leather Fiberboard

Height from Floor
7.0 in

Height from Welt
5.5 in

Resole/Repair
Yes

Manufacturing
Made in Germany

Women's
Price
MSRP: $505.00

Leather Upper
3.2 mm Single Piece Chrome Tan Leather

Welt
Norwegian Welt

Upper Lining
Breathable All Leather

Inner Sole
3.5 mm Leather + Leather Heel Pad

Midsole
7.5 mm Vibram Comp

Outsole
8 mm Vibram Montagna Yellow Label

Shank
Full Length Nylon, High Torsional Rigidity

Average Weight
4.5 lbs

Reinforcements
Side and Ankle Open Cell Foam

Heel Counter
2.5 mm Leather Fiberboard

Height from Floor
7.0 in

Height from Welt
5.5 in

Resole/Repair
Yes

Manufacturing
Made in Germany

Recently on Trailspace