Oboz Bridger Mid Waterproof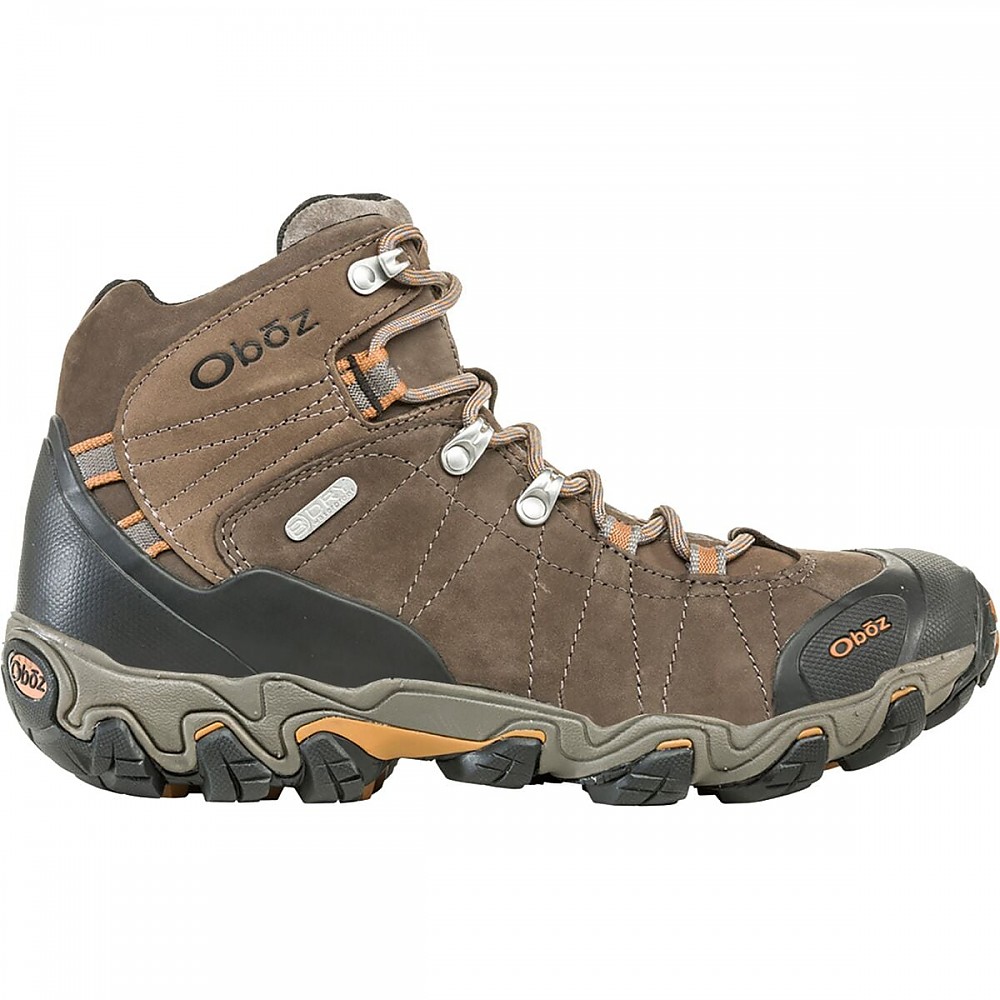 A really comfortable mid that can overlap into four seasons. The leather upper is soft and needs little break-in but provides some support, and the sole and midsole do a nice job protecting your feet - but I wouldn't call the midsole cushy. The lacing hardware is sturdier than most. Waterproof membrane makes them a good choice for rain and mud. Overall, a nice boot.
Pros
Comfort
Waterproof
Deep sole treads
Well made, should be durable
Insoles
With five months of hiking and walking under the treads, it's time to review the Bridger. This is a mid-high boot, all leather, but soft on the outside—nubuck. My size 11.5 pair weighs 2 pounds 13 ounces. I have been using them everywhere but got them as a change of pace for my heavier Limmer boots when I train with 40-60 pounds on my back. I used a discount at REI, so they set me back about $115.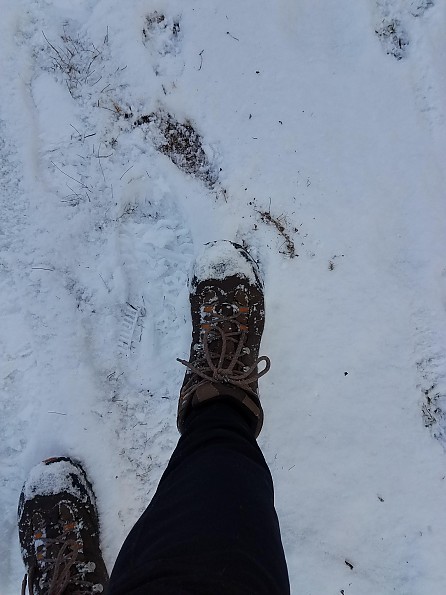 These fit true to size. My feet are pretty wide in the front, and the toe box works well with a reasonably thick sock. Oboz shoes all come with a great insole—thicker padding under the sole and heel along with a hard plastic arch support. Much better than most stock insoles. The inside of the shoe is lined with some sort of fabric—not a leather lining.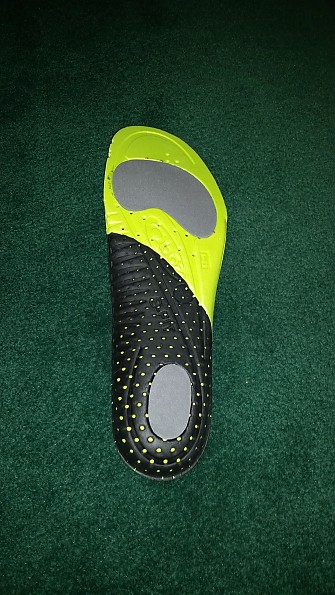 Unfortunately, I can't use these because I have custom orthotics. The laces easily secure your feet snugly; I suggest double-knotting them, because the laces are slippery and have a habit of untying.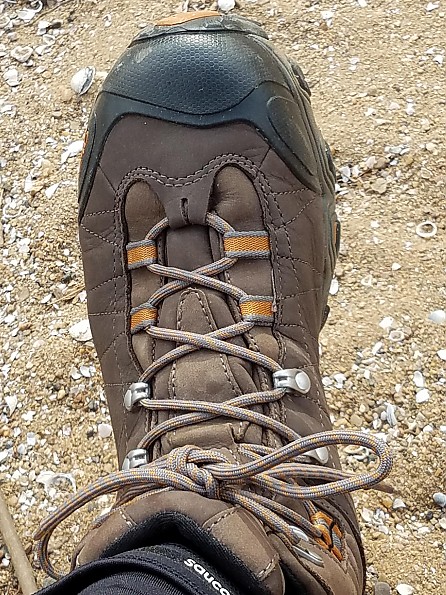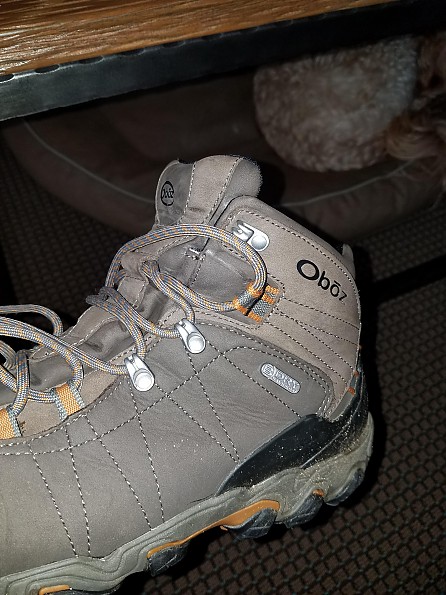 Check out the metal lacing hardware near the ankle—very robust, better than most for a boot at this price point.  
Support/Traction
The midsole seems to be firm EVA, and the shoe has a 3/4 length plastic shank. The combination has shielded my feet well on the rocky trails nearby. This is not a particularly soft sole/midsole combination—the leather didn't need any significant break-in, but the sole/midsole under your feet feels pretty hard. Under your feet, these feel a lot more firm than Oboz's Sawtooth or a couple of different Merrell low shoes I have worn over the years.
I read somewhere that there is a plastic plate under the forefoot—I believe it. Though not as supportive as a full-grain all leather boot with a hard midsole, they provide more ankle support and protection from pointy rocks underfoot than my son's Merrell mids (we now wear the same size, so I compared).  
The sole has a fairly deep tread and is quite hard, again a lot harder than Oboz's mids. That translates into a sole that wears extremely well. It also sacrifices some grip on hard rocks compared to softer or stickier rubber soles. I'm a fan of approach shoes that generally have great grip on rocks.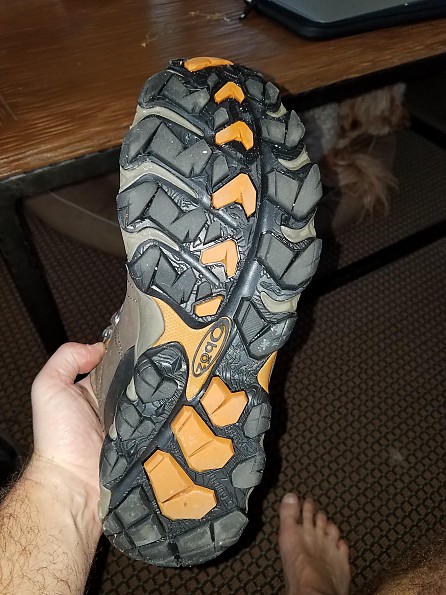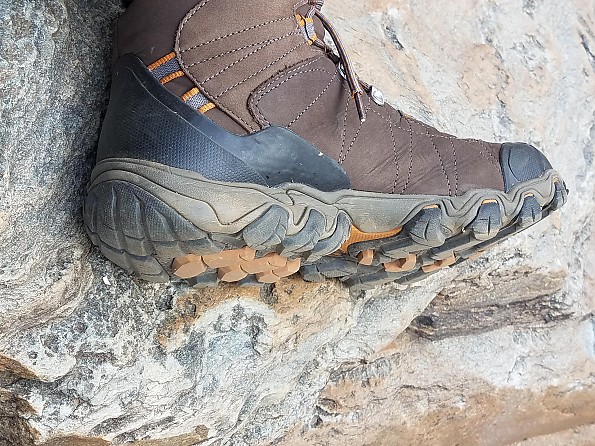 Waterproofness/Moisture Handling
These have a waterproof/breathable membrane, and it works. They kept my feet dry on a couple of rainy hikes and some slogging in the mud. No leaks yet. The membrane and leather outer does make them warmer than a non-waterproof boot, but they are not as warm as my thicker all leather boots. Pretty average for this kind of boot. I have to admit, my feet don't tend to overheat. Because they have a membrane, I haven't treated the leather.
Durability
So far, so good, and they should prove to be long-lasting for a shoe you can't resole. As I already noted, the sole is fairly hard rubber and wears slowly, the metal hardware is excellent, and this is an all leather boot. It also has a very durable toe cap, something Oboz does on a number of their shoes.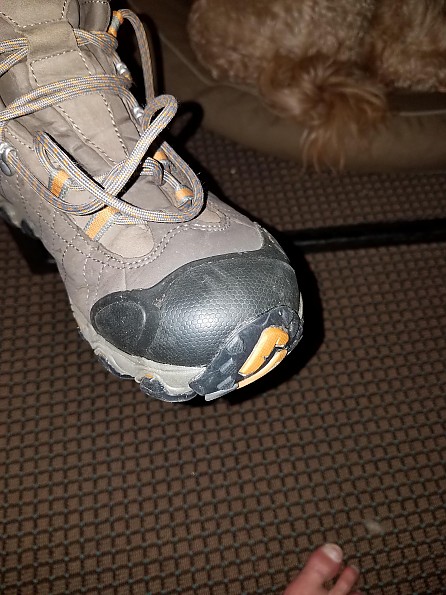 I have walked maybe 75-100 miles in these boots, and so far, nothing is pulling loose, tearing, ripping, or really showing much wear at all—just in some spots on the sole.
Where I Have Used Them
Pretty varied.  Local dirt trails, rocky trails by the Potomac River, pavement, and a couple of times recently in the snow. I have been using them for training with a larger backpack, the goal being to avoid an inopportune ankle twist with a lower shoe while providing a change of pace from my very sturdy and heavier leather boots. They have also been my choice in the rain because they have the waterproof membrane.  
I used them a little less during the summer when it was really hot, as I have a few pair of hiking shoes that are better-ventilated, better choices for our normally hot and humid summers. On the other hand, they have been great hiking in the teens and twenties with a decent pair of wool socks.  
Conclusion
I like this brand. They do a decent job fitting wider feet—a plus or a shortcoming, I guess. I already wore out a pair of their low shoes and reviewed a low shoe of theirs that is more of an approach shoe. This is a lot more boot than either of those, and it is very well-executed. I highly recommend them. Put a different pair of laces on these, make them available with a no-membrane option, I might give them five stars.  
Source: bought it new
Price Paid: $115

I bought these boot just about a year ago and I'm quite pleased.

Out of the box fit was good and a trip to REI got me into a size that was best. It took a week or so for my upper ankle to adjust to the padding, but I'm happy as a clam now. They really are waterproof, very comfortable, and seem to be lasting after a year of constant use.

I wear these for about 50% of my daily footwear and for trail hiking in New England. I'd buy another pair in a heartbeat.
Pros
Waterproof
Comfortable
Great traction
Look nice (IMHO)
Designed in Montana
Cons
Soles can slip on smooth/polished floor
Made in China
I shopped around for a new boot for quite some time. I wanted a hiking boot that I could wear in the city without looking like a hipster lumberjack, something that would keep my feet dry and warm, a product that supports folks that live around me and something that would last.
I found Oboz during my search and they satisfied most of my criteria. Because they were from Montana I decided to take a chance on the "local guy", give them a bit of money for their effort and see what they make.
Out of the box they are an attractive boot. Mine are brown and black with subtle orange accents on the lugs and trim. They slip on easily enough and snug up to my ankles with confidence. The size was a bit off so I exchanged then for a pair 1/2 size different (larger, I think). Perfect fit. 
There were some uncomfortable pressure points on the front of my upper ankle, but I loosened the laces for about a week to give my body time to adjust. Now I lace them all the way up, tighter for more support, if needed. There is just enough padding in the upper collar for a comfortable, snug fit.
I hadn't thought of it until now but I've never had to empty ANYTHNG out of my boots! I wear them in snow, gravel... all sorts of terrain. 
These boots seem to have a waterproof bootie layer. I constantly walk through water with total confidence. The outer leather gets wet (of course), but my feet always stay dry. I splash through 3-inch deep puddles as they come up, but I think what I most appreciate is walking through wet grass or brush all day and not getting my feet wet.
These are my winter boots. Because my feet are dry they stay as warm as I'm prepared to stay. Winter wool socks make these boots great for tromping through snow and slush, lighter socks make for a nice summer hike.
So how did the experiment go? I like to make sure that my hard earned dollars are well spent and given to folks that deserve it. These folks at Oboz have proven themselves with this boot. They seem to have a strong, ethical, well run business and I wouldn't hesitate giving them more of my money.
I tried them out based on a few things I read and I'll stay with them because they made a damn nice boot.
Source: bought it new

Good boot that after breaking in has been very comfortable for both general hiking and backpacking. The waterproofing has held up over the last year and has continued to keep my feet dry. These have been used in everything from 95 degrees and humid to 25 degrees with some snow on the ground and they have been comfortable through all of it.
Pros
Comfortable
Stable
Waterproof
Sturdy build
Cons
Laces that come with them
After a full year with these boots I feel comfortable saying that I'd buy them again. I've taken them through mud, water, over rocks and snow covered paths and have had dry warm feet the whole time. Initially they were stiff, which is to be expected with the leather construction but they broke in very nicely. I did replace the laces that came with them as they like others have said are "slippery". The rubber toe cap on the front is rather thick and means and rock or root you accidentally kick won't hurt you, you probably won't even feel it.
As a basic leather hiking boot I have been very happy with them. I have no concern about their durability as the build quality feels very good and the soles seem to be holding up well.
Comfort/Fit/Support: Once broken in they are a very comfortable boot. Break in time was very short. The toebox seems to be a bit wider than some other boots I have tried and lets me use a thicker sock when it gets cold. The insoles work well for me however they definitely are not for everyone as your arch may not agree with the design. These are not a tall boot but they do provide some ankle support and the leather construction is sturdy. 
Water Resistance: I have stood in moving water in these boots after 12 months of use and still had dry feet. I have not applied any coatings or any special cleaners to my boots that would affect this. 
Temperature: These boots can get a bit warm in the summer especially when getting up into the 90 F range but I did not feel like my feet were overly hot at any point, good socks help with this. On the other side, once I used a thicker sock I had no problem being in 30 F weather for a couple hour hike. 
Traction: They do not have the stickiest rubber but I have not had any issues with traction in these boots. I have been on a lot of smooth rock, dirt and gravel trails and I feel confident with them. On slick wet rock or moving through creek beds I take a bit of precaution but have not had any issues with slipping.
Experience
A couple hundred miles hiking, and backpacking. They have been my boot for both trips and regular local hiking trails and get used multiple times a week.
Source: bought it new
Price Paid: $180

Rugged boot with a solid, stiff feel. Minimal break-in time, solid ankle support, handles a wide foot well. Not light, but not heavy—does all from multi-day hikes to day trips or a walk about town. After a year of hard use, I predict at least two to three more years of service from this boot.
Pros
Stiff sole
Durable construction
Long-wearing comfort
Wide toe-box
Cons
Mid-height seems short
Stock laces are rugged but slippery
Slippery on ice
Fit: Great for average to wide feet. I have wide feet, can't comment on a narrow foot.
Comfort: Boot is fairly stiff, needs a short break in, but the stiffness doesn't really go away—perfect for rough terrain and comfortable despite stiffness. No noticeable hot spots, no blister points. Make sure they fit!
Support: Good ankle support, rugged stiff sole is great for sharp rocks and roots.
Water resistance: Decent at first, I didn't maintain them well so no longer 100 percent waterproof. They still hold up for quick dips in puddles and shallow stream crossings, as well as pushing a canoe out. Warm day snowshoeing will get them wet. A real deluge or complete immersion will soak them. That being said, they're not overly uncomfortable when wet (with good socks).
Traction: Solid on all terrains, leaves something to desire on ice and wet, slick rocks (algae covered).
Temp control: It's a mid, waterproof boot. If it's 30°C they will feel a little hot, but aren't too bad. I wasn't dying to get them off even after long hot days. Decent warmth in winter with a good sock.
Ease of use: One set of hook eyelets at the top seem unnecessary.
Construction and durability: Can't be more impressed—no signs of failing after hundreds of miles.
Conditions: Dry and wet trails, these are great. Not so great for snowshoeing without gaiters. I've had them soaked and they dry relatively quickly.
I'm just a regular guy. I hike/paddle/snowshoe a lot in the Northeast. These have been excellent hiking shoes, and portage shoes. Price was steep at first but I think they'll outlast two pairs of a competitors boots...time will tell.
Experience
A few hundred miles in all weather conditions. Hiking, snowshoeing, portaging. I've worn a few other pairs of hiking boots but nothing of this quality. Rocks, sand, soil, bogs, beaches, wet rooty trails, pavement, cycling, showshoeing, mud. Good boot.
Source: bought it new
Price Paid: 220 CAD

Great three-season hiking boots. These boots are comfortable on long hikes, up tough trails, through mud and water. Awesome grip on rocks and boulders. Look great, feel great. After a year I have no complaints.
Pros
True to size
Warm
Dry
Comfortable with no breaking-in period
High enough for ankle support, but not too high to be stiff
Great grip on rocks and logs and do not bog down in mud
Work great with Microspikes
Light
Cons
A little too snug for heavyweight socks
Pricey
I have worn these Oboz boots through summer, fall, early and late winter, and spring. They are comfortable in the summer with lightweight socks, no sweating, no blisters. Cooler weather they are great with midweight socks, warm and dry. I do not wear them in the dead of winter because they are a bit snug with heavy weight socks.
My first hike with these boots was a full 8 miles in the Adirondacks and they needed no breaking in. Waterproof kept my feet dry and comfortable. They are high enough to offer great ankle support in tough terrain, but not too high. They work great with gaiters and Microspikes.
They are lightweight to make hiking easy but durable leather construction. After climbing for miles you do not even think about them being on your feet. And they look great.
Love these boots. I got the red and will be getting another pair in the neutral brown (a girl likes to coordinate her outfit sometimes—even on the trails)...
Source: bought it new
Price Paid: $134

Best backpacking boot yet.
Pros
Fit
Execution (made well)
Looks
Support
Traction
Comfort
Cons
No loop on heel
Cannot resole
Crampons/spikes etc. are problematic with the EE toe box. Probably have to buy XL spikes, my old ones do not fit.
12 wide fits me perfectly. Which means might not fit you because I have an unusual foot. FYI, Asics running shoe in a 12 wide also fit me great.
These are supportive boots, which I need cause I have ankle issues past. Very comfortable, stock footbed works well. The laces do slip, fixed with new laces, I like 63-inch Deleles but might get by with 59-inch. Use Nikwax spray for the leather. No issues with moisture or water or heat.
Here is why these are great boots. They fit so well that my toes never touch the end or sides of the boot despite steep downhills, and the heel locks in so well that even if my laces become loose it does not slip. It is a weird feeling carrying a 37-pound backpack 10 miles in the Sierras and having absolutely no discomfort at all below the ankles.
Easy to put on, traction is acceptable. 
Experience
I have five Oboz boots: a Windriver 2, two Bridgers, and two Sawtooths. Also a Lowa and Alico and Asolo and Altra. In the past a Limmer, MOAB, Scarpa, Zamberlan, La Sportiva, Beartooth.
Source: bought it used
Price Paid: $75

Not a backpacking boot. Soft sole for walking on rocks. Blister creator, and toenail abuser.
Pros
Cult following if you like that stuff.
They look cool.
Cons
Soft sole, not heavy duty enough for a 40-50lb pack.
I bought these boots for a long backpacking trip in the Grand Canyon. People were falling all over themselves talking these up, so I figured they must be a decent boot. After getting them broke in months before the trip I figured my feet would be comfortable and happy, not so much.
I don't understand this cult-like following people have for these boots. The boots felt really decent until we hiked into the bottom of the canyon and the trail became a dry creek bed. We were hiking on small rocks, and I could feel every slightly large rock through the sole. Needless to say, this fatigued my arches significantly.
I then switched from the Oboz to a Merrell hiking shoe and the pain went away, then I switched back to the Oboz and the pain started again. I had a 50-lb pack on, and these boots couldn't handle the load, they seem to have a weak shank, if any shank, in the sole to prevent you from feeling the rocks you walk on.
I've had Asolo, La Sportiva, Lowa, and Merrell boots and never encountered this issue. I also ended up with blisters on both feet in the same location and will lose a couple toenails on the same toes on both feet as well. I could call this an isolated incident or bad lacing, but my wife has the women's version of this boot and had the exact same issues including blisters and toenail loss in the same toes and blisters in the same areas as my feet. Not a coincidence.
I am in the process of selling these, but I just really wanted to burn these, and I wasn't even halfway through the trip. In total we hiked 60 miles, and these never got any better. The first and last Oboz I will own; looking for some Asolo boots as I write this.
Source: bought it new
Price Paid: $200 from Scheels

Excellent winter hiking boots.
Pros
Warm
Waterproof
Good support vs average winter boots
Cons
Not one I can think of
Insole may not be everyone's cup of tea
Bought for winter hiking and they do not disappoint.
Personally, the provided EVA insoles don't work for my feet, which is too bad because the boots actually came with two sets. I almost didn't buy them, but tried them with some aftermarket insoles and they were perfect.
The boots have great winter grip and work very well with Microspikes and even crampons. They somehow strike a balance of not being too tight or rigid, but still having good support. My feet have never been cold or wet in them, down to -30°c.
Experience
I was using some Merrell Thermo 6 boots for a number of years before they wore out; they are also a pretty good boot, but the Oboz are way better in terms of comfort and support.
Source: bought it new
Price Paid: $190

I bought these boots based upon recommendations from the staff at REI. I used them during a weekend camp out with the Boy Scouts and cannot be happier with them.

They felt broken in from the moment I put them on and stayed comfortable over the next 36 hours. My feet stayed dry and the arch support was excellent. Definitely recommend them.
Pros
Comfortable
Great support
No break-in time required
Quality craftsmenship
Source: bought it new
Price Paid: $160

I am a birds hunter. In the first 10 minutes walking in wet grass my feet were soaked. They are almost brand new. Other than that I love them. Second set in two years
Pros
Comfortable and work well
Cons
Absolutely not waterproof at all. Can't even handle wet grass.
Great boot. Rugged and good traction. I can be on my feet all day on concrete for work or in the grouse woods of norther Michigan.
Only con I have is that they are not water resistant let alone waterproof. Had to drive 70 miles home to get a different set of boots to finish a weekend hunting trip.
Experience
Second set. First set lasted two years and the leather failed. This set brand new and wet grass was too much for the "waterproofing"
Source: bought it new
Price Paid: $180

Your Review
Where to Buy
Help support this site by making your next gear purchase through one of the links above. Click a link, buy what you need, and the seller will contribute a portion of the purchase price to support Trailspace's independent gear reviews.
You May Like
Specs
Men's
Price
MSRP: $190.00
Current Retail: $180.00-$200.00
Historic Range: $38.00-$200.00
Reviewers Paid: $75.00-$190.00

Weight
19.0 oz / 538 g

Upper Material
Waterproof Nubuck leather / Oboz B-DRY waterproof/breathable membrane / Molded rubber toe cap and heel counter

Women's
Price
MSRP: $190.00
Current Retail: $190.00-$200.00
Historic Range: $71.98-$200.00
Reviewers Paid: $134.00

Weight
17.7 oz / 502 g

Upper Material
Waterproof Nubuck leather / Oboz B-DRY waterproof/breathable membrane / Molded rubber toe cap and heel counter