Oboz Sawtooth Low

The Sawtooth Low has been discontinued. It was replaced by the Oboz Sawtooth X Low.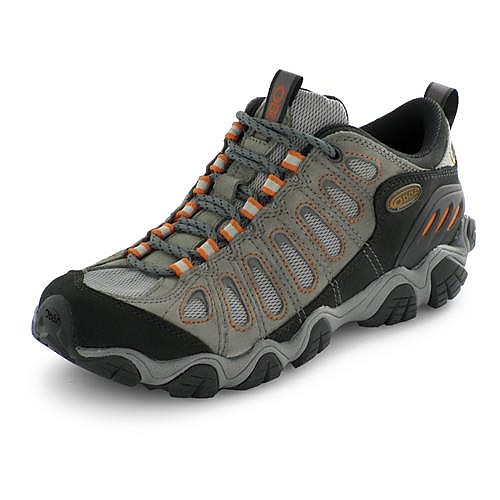 Original Review: July 30, 2017

An expensive shoe at full recommended retail, but after a couple of months wear in appalling winter weather and on waterlogged trails an excellent purchase. I walk 4/5 days per week on average on a variety of tracks and trails from river flats to steep hill country and except in clay muds (I use the term in advisedly) they are exceedingly good.
Pros
Very comfortable from the box
Solid construction
Good quality materials and components
Excellent heavy duty sole
Good footbed
Very breathable
Cons
Clay muds clog the soles
Hard to clean
Quite heavy
Once really wet can take two days to dry
This purchase was after much research and examination of the shoes available. I wanted a solid reliable quality shoe which would give long trail life on a variety of terrain that fitted my broad feet. These Oboz Sawtooth Low hiking shoes came with glowing reports from a variety of practical walkers and trampers and seeing nothing better I bought a pair. 
Comfort from the outset was really good and I felt happy with the support and protection provided. The sole gripped well on all terrain both wet and dry with one exception, clay mud! Did I mention the rain? We are in the wettest winter for over 50 years and there are constant floods and flat land is an absolute quagmire when the water recedes. Constant water and mud is death to most footwear except rubber boots, but there is no sign of deterioration or distortion whatsoever in two months of almost daily wear. These are real tough puppies!
Though lacking any waterproofing membrane and being highly breathable and therefore filling with water there is no discomfort as sufficient moisture is retained to keep my feet at an acceptable temperature even though it is winter. Saying that I do wonder what they will be like in summer. Time will tell. In these winter conditions I wear them with ankle gravel guards made from polar fleece which I find make a big difference in keeping feet warm.
These are not at all a cheap option and are at the top end of the range price wise, but to date having really abused them unmercifully I believe that they will prove well worth the extra expense. Time of course will tell.
Update: 2nd Nov 2017
Time has passed and while very pleased with the shoes, having just completed a trip on the Lewis Pass in the South Island of New Zealand which has over 3 meters of rain per year, have found that the shoes have one problem. 
The hike was through rainforest and underfoot was, as one would expect, wet; very wet so much so that 50% of the route was deep mud, sphagnum moss, and water either fast flowing streams or bogs with a maze of tree roots. Once wet, the shoes never had a chance to dry and were soaked right through.
At home they are just about dry having been out in the shade in day temperatures of 20 deg. C. On this trip the surfaces are very slick and overall the grip on the soles is far in excess of what I expected. Yes, a very good all round shoe, which I am very pleased to have purchased.
Update: 27th Dec 2018
Now, these shoes have had a real thrashing and are only half worn on the soles, which is really very good when it is considered what I have put them through. The tops are definitely showing signs of a hard life; the mesh is misshapen and some minor stitching is coming apart at the toe, but the leather is still good although stained to such a degree it doesn't wash out. Cosmetically they look terrible but at a guess I shall get at least another year of hiking and fly fishing and wading out of them.
The one horrible thing that has happened is the inside of the heel cup wore out just after last year's November hike. This was cured with a trip to our local cobbler who replaces the lining with leather which solves the problem for the life of the shoe. The picture below shows the repair which costs NZ$20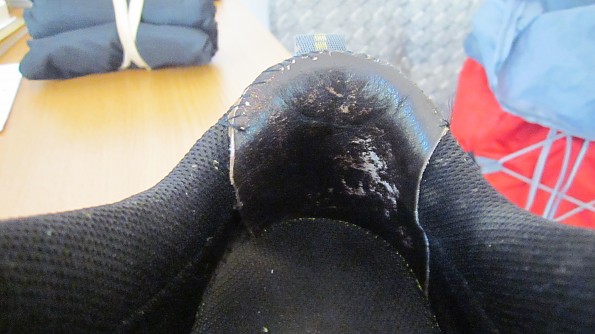 Our cobbler tells me that this is a very common repair with hard shell heel cups so perhaps manufacturers could take note and either use soft heel cups or use leather inside to prevent this problem. I might add this is not solely with Oboz but applies to all hard shell heel cup shoes.


UPDATE 11th April, 2119
My retailer (Kathmandu NZ) has just replaced these shoes as after a river crossing and rugged bank climb as they burst out at the outside of the toe caps, both shoes at the very same time. This happened in January of this year on the last but one day of a multi-day hike. The soles showed wear equating to half life as they had only been used for hiking on trails.
I contacted Oboz for their information as I thought it possible that the manufacturers in Viet Nam might have taken shortcuts in construction. The answer stunned me as Oboz told me that the adhesive used would break down in water! New Zealand West Coast has four plus meters of rain annually and can have 300 mm in any one day, wet river crossings are normal and footwear has to deal with that. I guess that my new shoes will just have to be used on fine weather trips only from now on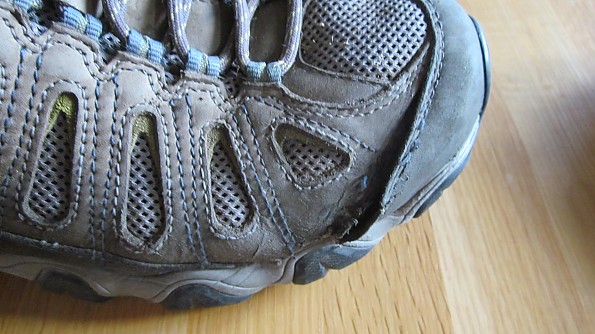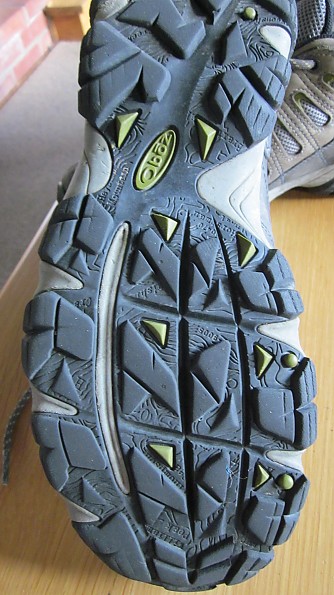 Background
This is yet another update on the Oboz Sawtooth shoes and apparently many other brands. Enquiries re the cause of the breaking down of the shoes revealed that the glues used in the construction were, as Oboz tech services informed me, WATER SOLUBLE!

It now transpires after research that the adhesives most often used are acrylic-based and though environmentally much to be prefered, break down in prolonged contact in a wet environment. Theses adhesives in conjunction with a PU midsole which absorbs water is a serious problem and one that needs to be addressed promptly by all manufacturers.

The New Zealand Wilderness Magazine has in the past few issues detailed many cases of soles parting company with the uppers (some within two weeks of purchase) often putting the user in jeopardy high in the mountains far from assistance. To date "Duct Tape" and paracord have held soles in position long enough for the user to successfully reach a safety. How long before someone loses their life we wonder.

The consensus opinion is vering towards a hoped-for legal opinion that the shoes and boots made with these problems be deemed, "Unfit For Purpose" and therefor the retailer is liable to replace, repair or refund the purchaser at the purchasers choice.

For me, this is a lesson learned and I have found a source of footwear made the old fashioned way from leather with a sewn welt and sole construction that has stood the test of time; they are a little heavier and a comparable price and made here in New Zealand but they will not fall apart in the middle of nowhere in the middle of a long trek.


Update: March 30, 2022

Fall apart too soon with only moderate wear.
Pros
Great fit
Sturdy upper construction
Superb outsole
Cons
They fall apart as the adhesives used are not up to the job
Expensive
Two replacements in just 1 year say it all! My retailer was great at replacing these shoes. The whole problem was that they fell apart with an adhesive breakdown plus the stitching is not all that abrasion-proof either. There is little warning that this is going to happen so I ended up carrying duct tape and Ados cement to get me through.
I walk up to 10 km each day on hills and mountain country so my footwear is important. OBOZ just does not cut the mustard and I cannot recommend this product. I shall not consider this manufacturer in the future.
The shoes bought were the old style low not the Mk 2 and this hopefully for future buyers will find a substantial difference. As I understand the problem is that Acrylic adhesives are not waterproof but water soluble. So if shoes or boots cannot completely dry out (think spongy midsole here) the adhesive will break down and the sole will part company with upper layers. This is a problem becoming apparent with many well-known and expensive brands. 
Here in New Zealand, we are privileged to have a consumers government guarentee act that says a product must be fit for purpose and have a reasonable life expectancy. The retailer is responsible for what they sell, and the act says that the purchaser has the right to a replacement, repair, or total refund. In this particular case it would appear my retailer has stopped stocking this brand. Previously it was a totem brand for the chain store.
Background
Many years of outdoor experience
Source: bought it new
Price Paid: $200

Oboz's Sawtooth Low hiking shoe is a comfortable, not-too-heavy shoe that's great for trails. The midsole provides plenty of cushioning and has an aggressive, mud-shedding tread that's grippy but appears to wear fairly quickly. They provide a medium amount of support and ventilate sweat quite well.

I think this is a great shoe for day hikers or backpackers who prefer a lower, lighter shoe.
Pros
Solid cushioning and support
Mud-shedding yet aggressive sole
Better than average insole
Easy to lace up
Lightweight
Cons
Sole seems to be wearing more quickly than average
The Basics: Details and Fit
The Sawtooth (mine are a year-old model, purchased on sale) weighs in at a hair above 2 pounds per pair for my size 11 1/2 - 12 feet. These are the low version and don't have a waterproof/breathable membrane, though you can buy them with Oboz's BDry membrane if you prefer. I'll address how they ventilate below.
For such a light shoe, it has a lot of leather in areas you might expect to get banged around, and it feels much more firm and cushioned and solid than any trail running shoe I have worn recently. This shoe fits my feet well. I'm somewhat wide in the forefoot and average at the heel. No shifting around, no sliding forward or lateral movement. I wear them with custom orthotics (more on that in a minute).  
These are a relatively new purchase, but I have walked 50-60 miles in them and feel like I can provide a good review.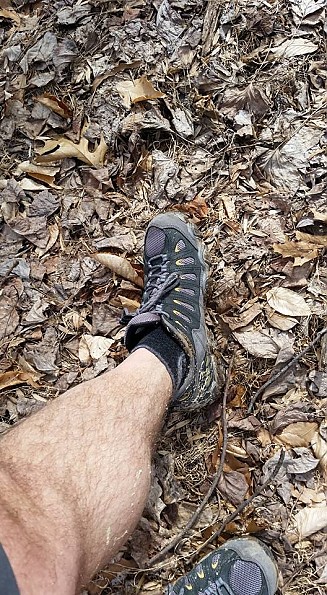 As you can see, lacing them up is easy due to fabric speed lacing. The laces slide more easily through than with small eyes. The laces themselves are a little thicker than most. So far, they have stayed tied without having to double knot them. I have been wearing them with low, medium-weight merino wool socks.  (Point 6 Hiking Tech Light Mini Crew and Darn Tough Hiker Micro Crew Cushion.....could the sock companies come up with easier names? imagine asking for this at your local outdoors store!)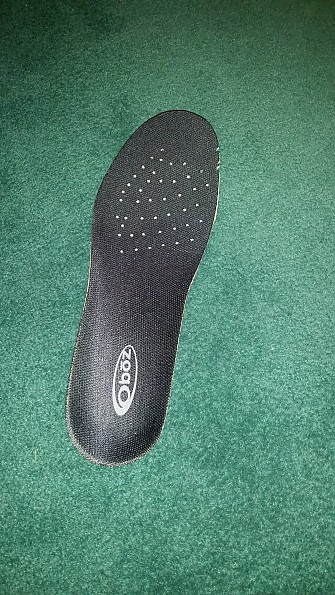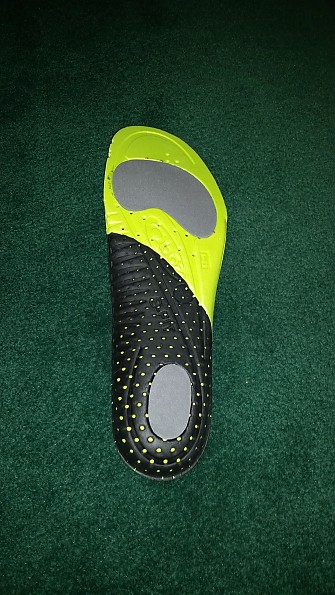 Oboz provides an unusually supportive and cushioned midsole. You can see, with the insole flipped over, the grey parts that provide extra cushioning and the black perforated heel cup that is made of out fairly hard plastic. The black plastic provides much better than average arch support.  
Because I wear custom orthotics, I had to remove these insoles and replace them with something pretty flat and thin, similar to a running shoe insole, so they would fit. To me, though, the fit is one of the advantages of this shoe. It's worth noting that I bought these a half-size larger than normal to leave a little extra room for my toes on downhills. Definitely worth considering if you check this shoe out.
Support and Traction
Another strength for this shoe is the well-cushioned midsole and the sole itself. My feet feel pretty well-shielded from rocks and roots, and the midsole is firm but not overly hard. It's not so easy to see here, but the outside of the heel is reinforced, which adds to the solid feel of this shoe.  
The sole is aggressive, deep channels in the rubber, so they do pretty well on mucky or slippery trails. As you can see, the shoes have already seen their share of mud. The soles shed mud particularly well. The rubber is very grippy on rocks. This is my second pair of Oboz shoes, and both appear to place a premium on the grippiness of the rubber sole.  
"Breathability"
Also, despite all the leather, there are nylon sections on both sides of your feet. These let moisture out really well. That said, a no-membrane pair of trail runners, with larger nylon panels, breathes the sweat out a little better than these, and conversely, the Sawtooth will keep your feet more dry/less sweaty than any all-leather shoe or boot.  
I haven't yet stumbled into any puddles but assume water would get in; if you need more water resistance, Oboz makes the shoe in a mid-height and with a waterproof/breathable membrane.  
Durability
The generous use of leather on this shoe should make the uppers very durable, though I have found recently that nylon panels on most trail runners stand up pretty well to abuse too. The firm feel of the midsole, heel counter and toe box suggest that these shoes will take a beating. But, the excellent grip I experienced with the soles appears to come at a cost, as I have already noticed some visible wear on parts of the sole at the heel and near the ball of my foot. I expect these soles to wear more quickly than average.
A close-up of the toe shows wear both on the left and right sides, where some of the small channels in the sole have already worn away.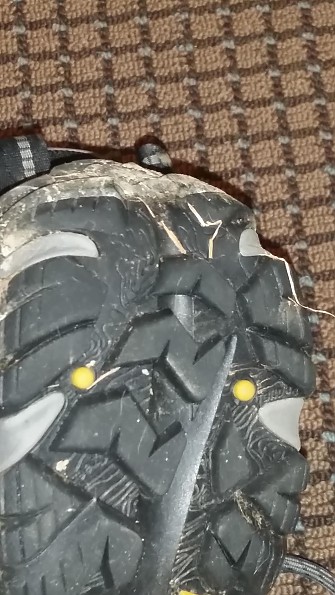 This is the heel - note the left side, where the small channels visible at the bottom left have already disappeared on the inside edge of the heel.  




Where I have Used Them
I have walked 50-60 miles in these shoes on dirt trails, rocky trails, and pavement. I'm wearing them here, overlooking the Potomac River last weekend. About 60 degrees in February! All day hiking, carrying packs less than 20 pounds, so I really haven't tested the shoes in terms of supporting a heavier load. I would probably opt for an all-leather boot if I were carrying much more weight, anyway.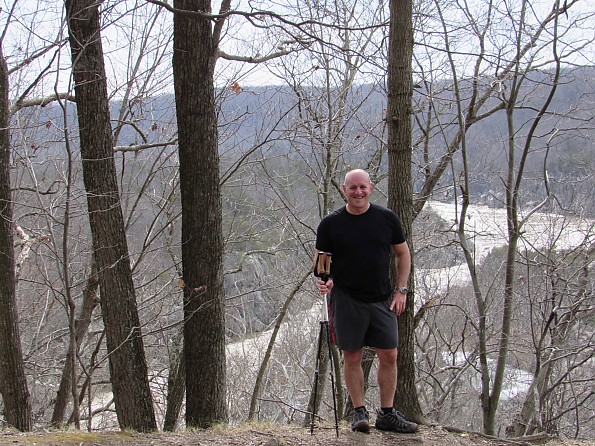 This has been a weird winter — at times very warm, other times very cold and snowy. Two weekends ago, a light snowfall stuck around because the temperatures dropped into the teens when we did a local day hike, Sugarloaf in Dickerson, Md. The shoes felt great on a mostly-rocky and dirt parts of the trail; they slipped around a bit on the snowy parts, where a harder, heavier sole might have been a better choice.  
Low hiking shoes are worth considering if you don't carry tons of weight and are looking for a lighter-weight shoe for hiking. I think these could extend to light backpacking (30 pounds or less.  I might want an ankle-height shoe with a more robust shank if i were carrying a larger backpack), and it's great that they offer a mid and a waterproof/breathable version.  
This particular low hiker has a lot to recommend it, a nice combination of comfort, cushioning, traction and durability. It's a shoe that won't last forever, but should give you plenty of happy miles.  
Source: bought it new
Price Paid: $78

About me:
55-ish year old, 5' 10" tall, overweight (190 lb and all in the beer belly), upper-intermediately experienced backpacker. Been backpacking all my life since before Boy Scouts in the early '70s to present.
Due to injuries and some physical issues (read: fat, old and lazy, mostly) I don't get out as much as I used to or would like to and have been transitioning from "Old Style" backpacking where I'd carry between 40 and 60 pounds (sometimes more) for a 3-7 day trip to "lightweight" backpacking. My 4-day, summertime pack, which includes a complete tent (not just a tarp) and food, is now down to just about 20 lbs and I'm hoping to get that down by another 3-4 pounds in the next year or two.
Most of my backpacking is done between late-April and late-October in the high Sierras in central to northern California between Yosemite and Tahoe.
After over 10 years and more than 1100 miles, my old Hi-Tec Magnum Tundra boots finally let me down. I'd been expecting it for a few years, but was in denial that the day would ever come.
While backpacking with my son in the high Sierras late last summer, trying to get out of the open on a 45 degree granite face during a thunderstorm (yikes), I lost traction with one of my old worn out boots and started sliding down to the edge and my doom. I lucked out and was able to jam one of my trekking poles into a horizontal seam that arrested my slide just a few feet from what would have ended up a 40+ foot fall onto a pile of large and jagged boulders. Almost pulled my shoulder out of its socket, but at least I stopped and my son and I were able to continue our trip. Remind me to never skimp on trekking poles.
My poor old comfortable boots with the Shoe Goo patches had to go.
After doing some online research I had come to the conclusion that I needed to try out a brand of shoe that I'd never heard of before...Oboz. Reviews I'd read mostly stressed the fit, support, traction, and grip, but what really caught my attention were the reviews that seemed to indicate that the Oboz shoes are constructed with a wider toe box... something important to me as my feet are pretty messed up from years of abuse after being badly broken more than once. Ya, I kinda abused my feet as a kid and now I'm paying for it.
I have thin heels, but my toes tend to splay out really wide. Ya, they're ugly! In an effort to overcome my funky feet I usually leave the laces pretty loose from the toes to the arch where I tie a second knot to keep the fit loose in the toe box and then tighten them the rest of the way from the arch to the ankle (or, in the case of boots, as far up as they go) to ensure my heels are locked into the heel cup.
3/19/16
So, I've put a few miles walking the dog (road, sidewalk and trail — equal parts of each. Uphill, downhill, flat and even side-hill for a short distance) on a couple of occasions on the new shoes just to ensure there'll be no problem on the trail with them.
The first time out I cinched the laces down tight from toe to ankle, which I NEVER do with my hiking shoes and boots, and was amazed at how comfortable the shoes were even after a couple of miles even though they felt a little tight all around at first. No movement in the heel cup, no pinching feeling in the toes and arch and no rubbing anywhere.
The next time, I left the laces a little loose and found the overall feel was more comfortable (read: "less tight"). On the couple of mile walk (same as before) with the dog, there was some minimal sliding inside the shoe, but no hotspots developed. I rarely have hotspots develop with any footwear, though as I'm extremely picky about my socks if I know I'm going to walk/hike with purpose, but it was nice to know that, even loose, I'd have no problems with these shoes.
The next time Belle (the pup) and I went out, I tied the shoes the way I usually do when backpacking (as described above). No movement anywhere, no sliding, no hotspots, room in the toe box to wiggle my toes and they felt great. Definitely the way to go for me.
If I had anything even slightly negative to say about these shoes, it would be that the soles, being thick like a proper hiking boot should be, don't seem quite as wide as other sneaker type shoes I've worn and, for the first couple of times wearing them, gave me the feeling like I was standing on a 2x4 and that I might roll an ankle.
Now, that could just be me, but when comparing the soles of the Oboz to my everyday New Balance walkers, there was a noticeable difference in the width of the soles. That being said, I have yet to actually have any issues with rolling my ankles in them, but that may also be due to the fact that I am constantly conscious of the lack of sole width in the Oboz and am being more cautious in them. Something I should be doing any way!
As comfortable and lightweight as these shoes are, I'm really looking forward to getting out for some extended backpacking with them and will update this review as I gain more time on the trail with them.
5/17/16
FINALLY got out on the trail for a quick little overnighter...kind of a shake down of a few different pieces of equipment.
Too much snow in the high-country, so my backpacking buddy of 40+ years and I just headed out for a spot in the lower Mokelumne Wilderness. The trail starts at about 4400' in elevation and gains about 10' (ya, ten feet) over ~3.5 miles. Many stretches of the trail lead up a few hundred feet, then back down, then back up, then back down again, so there's probably about 1500'-1700' of actual rise and fall each way to and from where we made camp. My pack weight started out at 21lb including fishing gear, food for both of us and all the "common camp gear" (water filtration, kitchen kit, food).
We were in camp and completely set up before I even remembered that I was in a shoe and not my usual boots. No hotspots, no stone bruising and not footsore in the least. So far so good.
After setting up our tents and getting our gear stowed (thunderheads were rolling in), we decided to take a little day hike upstream to see what Blue Hole looked like this year. As the crow flies, that would be about 3.5 miles each way. As the trail meanders, it's more like 5-5.5 miles each way. Carrying just our water filters, some snacks and a first aid kit, we were basically just out for a walk. The trail, similar to that on the way into camp, wanders uphill, downhill and all over the place on it's way to Blue Hole and, toward the end, requires some scrambling up and down granite.
I was impressed with the way the Oboz Sawtooth shoes felt and handled the hike. Good traction, good grip and comfortable the whole way. One of the reasons for purchasing these shoes was because of the reviews about the combination of traction AND grip...even when wet. My experience with the wet part of that seemed to differ from most other reviewers as I found them to have no more grip when wet than any other shoes. They slipped readily on fairly smooth granite when wet.
We finished the trip after covering ~17 miles total (~6-7 of that with backpacks on) and I have to say that I'm pretty impressed with these shoes. Yes, I did end up with a slight hotspot on the bottom of one big toe, but in all fairness, I grabbed the wrong socks when I left the house originally and they were kinda thin there. That and the fact that I haven't really gotten any REAL walking in other than the dog walking...  All in all, I'd have to say that one small beginning of a hotspot over ~17 miles is pretty darned good!
The issue with the not-so-wide sole didn't seem to be a problem as, without even thinking about being careful about it and despite the varied terrain from duff to swamp to granite faces, no ankle roll.
Pros:
Comfortable: they hold my heel in place solidly while allowing some wiggle room in the toe box and that without any rubbing.

Good traction: Uphill, downhill, mud, swamps, rock, duff were all handled well.

Wear: With the dog walking miles and this trip, they probably have 60-70 miles on them and are showing virtually no wear on the soles. There are a couple of scuffs on the heels and toes from the granite, but the soles, unbelievably, look almost brand new. The insoles are showing just the slightest amount of wear, but that could just be dirt, too.
Cons:
Just as slick on rock when wet as any other shoe. I'm not sure that's a con if ALL shoes are like that.
So far, I'm liking these shoes for their comfort and apparent durability.
*****8/18/16 UPDATE*****
OK, so the more I wear them, the more I like them. I now have over 140 trail miles with a pack and have noticed that the grip on wet surfaces seems to have improved! I don't know how that can be, but it IS the case.
Other than a couple of blisters due mostly to bad feet (and partially due to worn out socks on one occasion), I've had no problems with them and even on the "blister trip" we covered over 30 miles in 2.5 days with a peak summit off trail on one of those, so I'd say that's pretty darned good. And, they're still only showing minimal wear.
At this point, I'm feeling that the time and miles spent in these shoes along with the widely varied terrain we've covered gives me a pretty good feel for these shoes and I'm feeling pretty good about them.
Source: bought it new
Price Paid: $110 (full price)

Great lightweight trail shoes for day or overnight trips.
Pros
Nice look
Lightweight
Good price
Cons
Difficult to break in
Poor fit
I was excited about this shoe. For one, it is made in the USA and wanted to encourage a USA-based company.
Two, I really liked the way it looked. I have always used stiff backpacking boots for day or mutli-day trips but was ready to convert to using lighter shoes for my backpacking trips. I thought this would do it.
However, I gave it many trials and I kept getting blisters after blisters, and so I finally gave up trying to break the shoes. My arch also started hurting so I got worried about getting permanent arch inflammation. I returned them even though I had great hopes.
Overall, I think it is designed for warmer weather. It has a great grip, especially for rock scrambling which is what I tend to do a lot of. I think it fits true to size, but once again, since I never was able to break through, perhaps I didn't have the right fit for me foot size.  
Source: bought it new
Price Paid: $130

These shoes are fantastic and fit perfectly from the start. I immediately forget I have them on and I can walk for days and not get sore feet. I have a tendency for plantar fasciitis, and these provide great arch support and have generous room for toes. Solid under my feet, I will be buying these again when they wear out...but I don't expect that to be for a few years.
Pros
Look great
Supportive, fit well
Comfortable
Cons
Nothing I can think of...the price?
Fit — perfect from the start, good arch support, room for wide feet. Lacing system easy to tighten and adjust. No break in needed for me. No chaffing or friction. Feel very supportive, bit still lighter than a boot...great for warmer weather and casual wear.
I'm not sure if it would naturally keep moisture and rain out, but I gave my shoes a waterproofing treatment when new. Great grip...good tread. I'm basically a day walker, including carrying a pack, but also use these for casual use. I'm relatively lightweight, so not a lot of load on the shoes, but I expect them to last me for years.
I also have Oboz BDry boots and can say the same for them...and they have been to snowy mountains and rainforest walks, to working outdoors.
Source: bought it new
Price Paid: $135

Rock solid gripping sole. Just feel the give in a Merrell sole compared to these and you will never go back. They offer the quick drying Oboz Sawtooth Low and the BDry version with more waterproofing. I opted for the former and am truly a happy hiker.
Pros
Solid tread with great grip
Stable platform for backpacking
Quick drying when wet
Cons
Shoelaces tend to come untied easily.
These shoes are an excellent backpacking or trail shoe. They are tremendously supportive from the tank tread like sole up. As an ultralight backpacker I can appreciate a shoe which dries quick. I figured when I got wet my shoes needed to dry quick when the rain stopped. With the BDry version of this shoe you tend to be a bit warmer in the shoe and dryer. However, when you get wet it takes longer to dry them out.
As far as sizing them with thicker socks I would recommend going a size or at least a half larger. I typically wear a 10 and a half. I bumped it to 11.5 and the fit and have wore great for the past few months. Compared to the softer soled Merrell hiking shoes I previously wore, through which you could feel every twig and pebble, these shoes are incredibly comfortable for long distances.
Give them a try. I know I will be buying another pair.
Source: bought it new
Price Paid: $110

The best long distance hiking shoe made
Pros
Comfort
Traction
Don't have to replace insole
Took a Big chance on the shoe just five days before the 125-mile long North Country Trail. I was not disappointed. The shoe does it all—great traction, supreme comfort, and very lightweight, all in one package. What more can you ask for in a long distance hiking shoe? I went and bought another pair after my hike I liked it so much.
It needs very little break in and breathes great.
Source: bought it new
Price Paid: $120

I've been thru about three different types of various Oboz hiking shoes, these being the most recent, and likely the last. I keep running into markdowns which propelled me into trying yet another pair.

Unfortunately there is always some defect that leaves me just happy I did get them on "markdown." Every pair seemed to wear exceedingly fast. On one pair the grommets, which were really sewn straps, gave way. All are fairly technical looking but just reek of low cost manufacturing problems.
Pros
Cool and technical looking
Cons
Shoddy materials and poor construction
Wear quick
Used three different Oboz pairs, finishing with these. All over, different terrain, wet-dry. Everyday use as well.
Source: bought it new
Price Paid: $75

Used them for hiking in very rough hot terrain of North West Australia. Initially great, but once they got wet they seemed to shrink to where I could not wear them.
Pros
Initial great fit
Good traction
Cons
Shrunk in either the heat or after getting wet
Purchased on line after a review of the boots. I used them in the northwest of Australia where the ground gets very hot—65 degrees Celsius. Mainly used hiking on large loose boulders as well as grassed surfaces when paragliding. Great traction!
Were not waterproof at all, but gave very good ventilation and kept my feet cool which suited my environment.
Fitted initially well, looked good and did up well. After 7 months they started to shrink noticeably and were very uncomfortable. Initially very pleased, but did not last. Still look reasonably good but did not live up to expectations
Source: Purchased on line after reviewing

Excellent shoe. Lighter than most boots, yet sturdier than trail runners. Great underfoot protection, arch support and heel cup. I've never had a blister from these.
Pros
Fit
weight-protection ratio
Cons
Laces are too long and prone to untie
Excellent shoe. I've had them for over a year, taken them backpacking and up multiple 14ers - heavy loads and long days. Lighter than boots, yet sturdier than trail runners. Great underfoot protection, arch support and heel cup.  I've never had a blister from these. No break in required.  Not the waterproof model, but this helps keep my feet cooler. Super grippy, very burly treads. loops at top of heel and tongue make it easier to slip on. Fairly durable - some wear to the nubuck leather and exposed foam, but nothing of substance, purely cosmetic. 
Source: bought it new
Price Paid: $75

Really comfortable, but dangerous on wet tracks, tiles, granite, or cobblestones as they slip just like wearing ice skates on ice!
Pros
Comfort
OK on dry surfaces
Cons
Slips on wet surfaces—dirt paths, stone paths
Dry weather only
Really comfortable but lethal on wet tracks, tiles, granite, or cobblestones as they slip just like wearing ice skates on ice! Have witnessed another person slip and fall and noticed she was wearing the same Oboz hikers. Very disappointed as was on a nine-week overseas walking holiday in Italy, Croatia, France, and Great Britain where surfaces and weather conditions vary and was not expecting my new Oboz shoe to be so dangerous. 
Source: bought it new
Price Paid: $150 approx

Good shoe. Could of been better.
Pros
Looks
Soles/grip
Breathable
Rigid
Had them for about a year. I wanted a shoe that would take place of my heavy boots. Unfortunately, these were not it.
I have a narrow, low volume foot with moderate arch. At first these seemed slimmer than Merrell and Krebs, but after an overnight hike, I noticed a good amount of slipping. Also take forever to break in.
Although they are comfortable and supportive, they are not "The One".
Source: bought it new
Price Paid: ???

Good fit, poor wear.

Cons
Extremely poor quality soles
The fit is perfect, no break in required. My first pair lasted three years and approximately 700 miles. The soles on my second pair wore out in a few months and less than 100 miles! REI exchanged them.
The new pair performed just as poorly. The soles are of inferior quality. I wear them almost daily and work at a desk with carpeted floors. Back to my Asolos. 
Source: bought it new
Price Paid: on sale $115

Pros
Comfortable
Warm, good for hiking in cold weather
Cons
A little too heavy if you do long distance hiking.
I do not understand why I purchased a waterproof shoe and they are slick, as if they are a sled, on wet concrete or wood. Also step on ice on sidewalk and they are dangerous in that situation. I have to make sure if rainy or icy I wear other shoes. This should not be. Because of this I will not buy another pair.
Not happy with the shoe being slick on wet concrete and wood. Dangerous on a sidewalk or pavement with a little bit of ice. Comfortable and warm, but if rainy or icy I have to wear different shoes, therefore rate 3 stars and will not buy again.
Background
Not good on wet concrete or wood, very slick on a walk on pavement on ice.
Source: bought it new
Price Paid: $150

Your Review
You May Like
Specs
Men's
Price
MSRP: $110.00
Historic Range: $32.97-$110.00
Reviewers Paid: $75.00-$150.00

Women's
Price
MSRP: $110.00
Historic Range: $54.83-$110.00
Reviewers Paid: $130.00-$150.00

Recently on Trailspace