Salomon Quest 4D GTX

The Quest 4D GTX has been discontinued. It was replaced by the Salomon Quest 4D 3 GTX.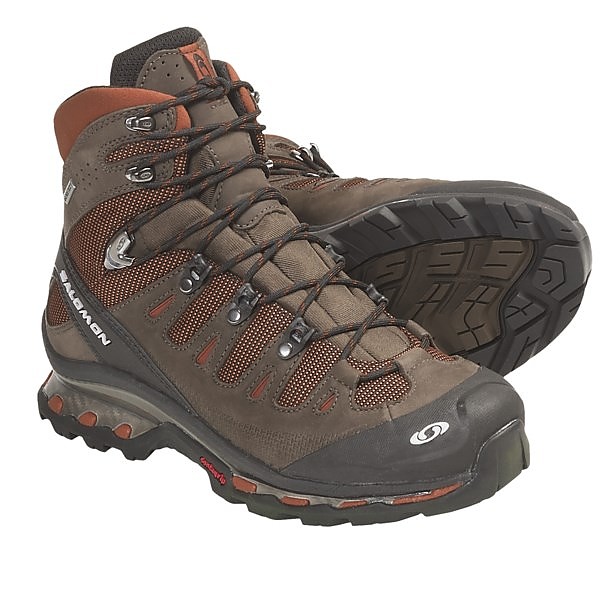 This is a very good boot for day hiking and/or backpacking up to 30 to 40 pounds. There are a few problems, but I have a work-around that should help everyone.
Pros
Lightweight
Waterproof
Warranty (2 years)
Very comfortable
Cons
Cost
Durability issues
Insole problems; not boot defect
As a solo hiker I love the freedom to hike where I want as long as I want. The disadvantage is a larger group can help you make more informed purchases and not spend countless hours or hikes with equipment failure.
I read the reviews and went to Adventure 16 and REI to try these boots. They fit perfect. They are light and the lace system is great. This was correct for all the reviews I read.
They had a few that claim the boot comes apart at the sole. They were correct. I put about 400 miles and the exact thing happened to me. I have been carrying approximately 25 pounds and bushwhacking when I started to feel the boots coming apart.
The other thing, which bothered me was on my very first hike I stepped on a cactus thorn and it went about 1 inch into the sole. I tested for leaks and it was OK; the soles are soft so I feel the rubber just closed upon itself.
The following is pictures of the boot failure.
Now for the good news about the failure. I did buy these boots from Adventure 16, but didn't have my receipt. I knew I had the boots for less than two years, but no way to prove it. I contacted Salomon Company and asked what type of glue should I use to repair my boots. They told me to look inside the boot for size sticker; this also has the date of manufacture and what factory made the boot. 
I gave the information and in one week I had a new pair of boots. This is outstanding service and without the phone call I would have never known about this. While the boot may have a durability issue, this is not a problem because they will replace them.
I also need to add that the new boots had a different toe cover and the sole was a solid color from a different factory. I have put another 400 to 500 miles on the new set with no problems.
I put Superfeet Green into these boots when I bought them. I always start with just a few miles hike and work my way up. No problems until I went over 6 miles. I had knee problems and major pain on my arches of both feet.  I tried another hike, same problem. This went on for a while until I realized it was my insoles. I changed to Orange and this helped, but I still had some problems.
I thought I was getting weak and/or some underlying problems. Then I checked my feet and found out they are flat. I now use the ones that were provided with the boots and I went 10 miles with no problems. It took me two months to find this out; I guess I am slow.
The other thing that should be noted is with Superfeet and this type of boot, I feel this restricts the movement of the boot and could cause sole failure; this is only my feeling. I am not an expert on boot designs.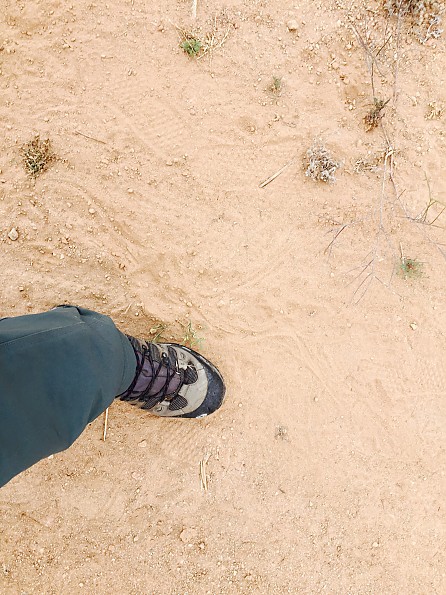 The reason I bought these boots is for wet grass and some protection from the rain, also the weight of the boots influenced me. The bottom line is I would buy these boots again, and use them almost all the time.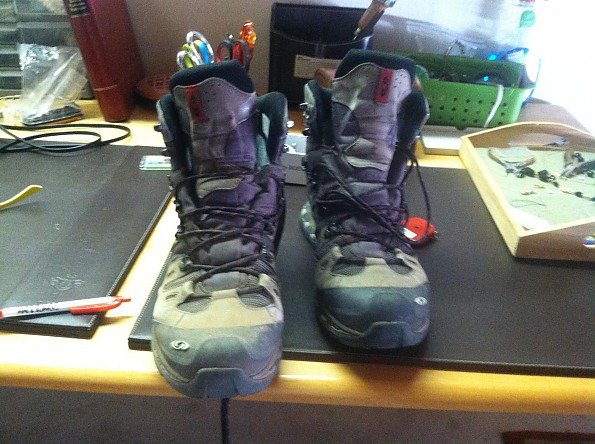 Experience
I have now had the second set for more than three years. They gave me the last set for free and I thank them. I plan to buy new pair in a few months. They have been in heavy rain this year in California and mountains. I still use around a 40-pound pack. They have started to leak, but I have abused them and sorry to tell every one, waited a few days to clean them. They are a good boot at great price.
Source: bought it new
Price Paid: $189

With hiking boots it's truly a case of to each his/her own. In my case these Salomons are heaven-sent. Comfortable and supportive and minimal durability issues.
Pros
Comfortable out of the box and they keep getting better.
For my money, the perfect blend of sole stiffness/ankle support.
Locking lacing system
Cons
Sole/tread could be grippier
I'm in my 60s and my ankles feel like they are in their 80s. Both have been sprained, twisted, and turned more times than I can count. I can — and have — turned them badly on cracks in the sidewalk. In the 4+ years I've worn the Salomon Quest 4Ds I have not experienced a single major ankle incident, which is little short of amazing given that most of my hiking is in Western PA/WVA where — on many of the rock piles that masquerade as trails — every step is a potential twisted ankle. Have also worn them on a week-long backpack trip in the Unitas (40-45 lb pack) and my feet, ankles and legs were fine. Zero problems.
Before the Salomons I tried a variety of other boots, including the theoretically supportive Asolo 520s, and nothing came close to the Salomons. IMO, the ultra-stiff soles of the Asolos and other full-on leather boots exacerbated my ankle issues for this reason: the soles are so unyielding that the "torque" of a misstep on a rock or root is transferred to the weakest link in the chain which, in my case, were those creaky ankles.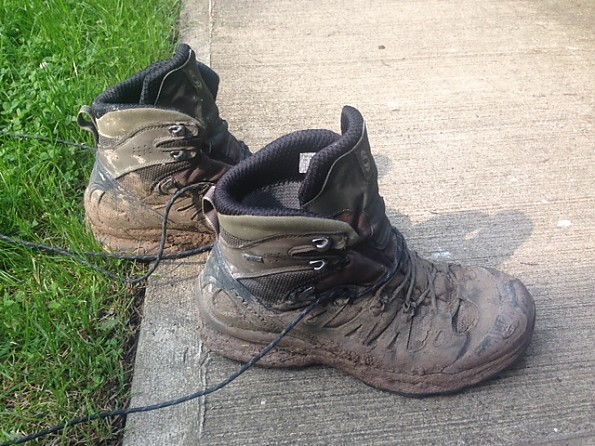 Badlands clay + Western PA mud
 
OK, enough about ankles. The Salomons are instantly comfortable although, as others have noted, you have to try different sizes to find the right fit. Don't assume because you wear 9.5s that the Salomon 9.5s will be just right. 
The lacing system works like a charm and, IMO, the boots are as waterproof as they come, although I have also experienced the issue mentioned above where the sweat from the previous day's hike lingers and makes them feel damp when you first put them on the next morning. Not ideal but no big deal as my socks easily absorb that small bit of moisture without my feet feeling wet or leading to blister issues.
Speaking of which, knock on wood, in what I would guess is 300+ miles of hiking, have never had a blister. However, the boots do take forever to dry if they do get soaked, as I found out the hard way when I took a bath during a stream crossing (was wearing sandals and had my boots hung around my neck). Think it took the best part of 36 hours — including a good 4-5 hours baking in the direct sunlight — before they were dry.
I did take a bad fall once when I slipped on some wet rocks. Not just because of that experience, I would say tread/soles are not the "grippiest." And yes, after one particularly rough day in Cranberry Wilderness in WVA with a couple of hiking partners who never saw an established trail they liked, I needed to take some Tylenol to dull the throbbing pain in my feet to get to sleep. But that was a one time deal; have never experienced a repeat and, left to my own devices, I keep the bushwhacking to a minimum.
Durability? Could be better I suppose. One of the lace eyelets pulled through on my first pair of boots. I took them to a cobbler who did a half-assed repair that lasted about a day and half on the trail; when I got home I found a deal on a new pair and bought them. The first pair is still quite serviceable and I have no doubt they'd be fine if I got a "proper" fix. I'm on my second year with the second pair and they show no unusual signs of wear.
Do I wish they would last 10-15 years? Sure. Do I also wish I could find full-on leather boots that are as good a "fit" for me as the Salomons? You bet. But in an imperfect world, the Salomons are orders of magnitude better boots FOR ME than anything else I've tried. And if that means shelling out some dough every few years for a new pair of boots that work fine for me, well that's a small price to pay.    
Source: bought it new
Price Paid: $165

Minimal break-in time, great support and grip with non-clunky feel.
Pros
Comfort
Traction
Lacing doesn't press ankle bones
Cons
Sizing (Salomon runs bigger than your other shoes)
Toe bumper started peeling after 8 days
Tread probably won't last as long as other boots
I got this boot because my nubuck/leather trail work boots are on the out, as are my backup pair of "comfy"/sturdy hikers. I wanted a boot for the days I have more hiking and less trail work. 
Sizing:
I've loved and been a devotee of the Women's Salomon XA Pro GTX trail runners as hikers and runners. So I thought I'd give these a try. Remembering that this brand tends to run larger, I ordered an 8. When I first bought Salomon's I bought a 9. Huge! I sometimes take an 8.5 in the XA Pro 3D, but I'm debating sizing down to an 8 in that as well. 
The 8's in these, compared to the 9's in my other hiking boots, fits great. I didn't put my thin Downunders (amazing) insole in for the first hike. However, the heel cup was deep enough to fit this insole in, and I hiked in blissful comfort most of my hikes.  
Comfort:
Hiking in the White Mountains of N.H. is a lot of up and down on rocks. I'd say my forefoot did fatigue in these boots by the end of the day, but who's wouldn't?  I wore gaiters half the time, but when I didn't, I did not get much debris in the boots.
I liked the grip and tension you could put on the laces. There were no pressure spots on my ankle bones or nerves (some boots are horrible in these areas). 
Construction: 
The toe bumper started peeling on the inside before I even got two weeks of wear into the boot. I haven't shoe-gooed them yet, but I may contact the company.

Traction-wise, I felt comfortable walking down and up slick rocks to loose cobble. I hiked all types of conditions in these boots so far, and the traction handled it all. 
If you are in a bog for an hour, they may take 4 days to dry out... like most boots. But after a typical day of use, they dry overnight if inserted with newspaper/swap out newspaper often enough, and put somewhere that isn't super damp.
Source: bought it new

Quality, waterproof hiking boot with short break-in period. Unique Salomon locking lace system. Best for backpacking and those needing a boot with a wider toe box.
Pros
Short break-in period
Wider toe box
Great locking lace system
Cons
Need break in for traction on wet surfaces
I have about 150 miles with these boots and they still feel great, no irritation or loss of comfort/durability. This is waterproof boot and as with most, breathability can be an issue. I feel these are on the more breathable side than others I have worn. As mentioned in the cons, I needed some time to have better traction on wet surfaces, mainly rocks, but now the shoes grip fine.  
The design includes a wider toe box which is tough to find in other boots. Once tightened my heel and ankle feel supported and comfortable resting in the boot, no toe issues. I am wearing a 1/2 size up from my normal everyday shoe to avoid having any black toe problems. For me it's a perfect fit, not too much wiggle within the boot, but not overly tight.  
The Salomon lace locking system can help you if you want a loose bottom but tighter at the top of the boot. I prefer a little looser at the bottom (locks in the middle) then tighter to support my ankle and bring my heel/ankle to the back of the boot.
I haven't had any problem with debris entering the boot while wearing my merino wool socks and while walking over rocky terrain, it feels fantastic.  I don't use any type of insert, the one included is fine for me. 
I tried on these in the store, but purchased online. No issues.
Overall, if these happen to wear out after several hundred more miles, I'll definitely be back to buy another pair.
EDIT: Included close up shot of unique Salomon locking mechanism on boot. Great feature!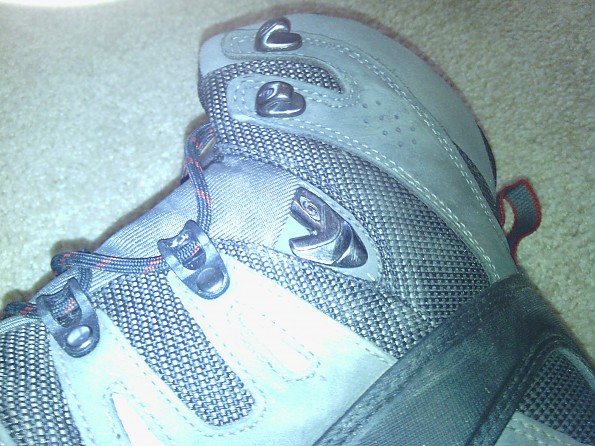 Source: bought it new
Price Paid: $170 - Amazon

Overall, a great boot for rugged day hikes and light backpacking.
Pros
Comfortable
Supportive
Grippy
Cons
Possible durability issues
The fit of the Quest is very comfortable. It has a wide toe box to accommodate a lot of expansion throughout the day, but is slim throughout the foot and heel to keep your foot in place. Their lacing system really locks the foot in for minimal movement. The ankle support is very nice, and though the boot is quite high it does not feel restrictive in any way. 
It's comfortable right out of the box, with lots of cushion. The midsole is quite stiff without being heavy, giving lots of support underfoot. A great choice for long day hikes and light backpacking. My personal use has ranged from 10km lowland hikes with no elevation change (I could have gone with a lighter or less supportive option here but the Quest was still comfortable), day hikes including summits, ridge walks, and scrambling, and multi-day backpacking trips. I don't think the boot would be suitable if the user's pack was very heavy, given that the sole does still have some give in it and the boot itself is quite light, but for most consumers it covers a wide range of potential uses. 
Completely waterproof up to the bottom of the ankle. Throw on some gaiters for crossing streams and you'll be super-dry! Not super breathable, of course, given the Gore in it, but not too bad. Throw on some Merino hiking socks and you'll be right as rain all day. 
Kudos to Salomon for their ContaGrip. I've used Vibram, of course and there is no comparison. Contagrip kept me safe on sheer slanted wet rock. I was extremely impressed.
The only issue that I have is not an issue with my boots, but my boyfriend's pair have started to wear significantly where the upper meets the midsole after two years of use. Mine have shown no such wear, so it could be the fact that his feet are much wider than mine and creating some pressure from the inside of the boot. I've talked to many people with the Quests and nobody else has had this issue, but it's something to consider if you have very wide feet. 
Salomons in general do fit quite large. Most people go down a half size in the Quests, and up to a full size in other models, such as the X Ultra. If you've never tried the Quests or something similar, such as the Comets, on, consider ordering a half size smaller than you normally take.
Overall, a great boot choice for most consumers. It'll keep you comfortable and safe on day hikes and multi-day trips.
BONUS: Salomon uses a women's-specific mold for their lady line. This means that we get extra room for our feet to expand during the day, because ours expand more than mens' do.
Source: bought via a "pro deal"

Very comfortable boot. Fits like a glove. Great traction and very water resistant. Highly recommended.
Pros
Comfortable
Rugged
Great traction
Great support
I live on the Southwest coast of Oregon between the PCT and the Oregon Coast Trail. I spend most of my time in the Siskiyous and Kalmiopsis Wilderness areas. I have gone through countless boots in search of the Holy Grail of hiking boots. From cheap to expensive. Trail runners to full out heavy hikers. These are the best boots I've ever owned.
I have to say though that when I first wore them, I was about to return them. My left foot was terribly uncomfortable and there seemed to be a few bad pressure points. I went for a hike though, and within the first mile they settled in. They fit like a glove and provide a lot more ankle support than I thought they would. I'm glad I didn't return them!
I am not one of those hikers than weighs things in grams and drills holes in my cut off titanium spork. I carry real gear. Ultra light hiking to me is ridiculous and should be called walking and not hiking. So all you ultra lighters may not like the weight of these because they don't float away when you unlace them. But they didn't tire me out on a 1 day 35 mile hike in the Siskiyous with a 40 pound load.
Traction was great even on wet rock. And you can't feel the rough rock on your feet. Tough soles. No boot is waterproof. No matter what they say. But these are very water resistant. They don't dry too quickly though. But not a problem to me.
I would recommend these to anybody intetested in a tough and extremely comfortable hiking boot.
Source: bought it new
Price Paid: $200

Let me start by saying that my foot is a bit wider than normal in the front, and tapers to a narrow heel. I don't have any arch issues. This shoe in a EU42 fit me very well. I would recommend people, if they have to order, to go off their European sizes, as it seems much more consistent.
I bought these boots for an upcoming trip to Tibet, and have worn them a few times to break them in. So this is an early review. A full review will be in order if I decide to come back from Tibet.
These boots were very comfortable right out of the box. I am very lean, at 130 pounds, and found these shoes to be very supportive and comfortable. The traction of the shoes are great. Uneven surfaces are not a problem thanks to the traction, and the solid ankle support this boot offers.
I have two minor issues with the boots however. Breathability from the Gore-Tex liner isn't as good as the Helly Tech XP liner. And if you are walking over a hard surface and there's a film of water between the boots and the hard surface, get ready to slip. I have noticed that this is a common issue with a lot of Salomon's footwear. And again, my Helly Hansen shoes and boots seem to do a better job of not sliding out on me when crossing a stream bed of smooth stones.
Oh, and I guess the useless carbon fiber just above the midsoles are kinda annoying. But I guess they need something as a feature to sell to Dentists who wear them around the city on the weekends.
Materials: Synthetics
Use: Dayhikes and extended backcountry
Break-in Period: A couple hours of light walking/hiking
Weight: The shoes felt light, less than 3 pounds for the pair in a 42.
Price Paid: Pro-Deal

Great all round boot, used almost daily.
Pros
Light
Comfortable
Stylish
Waterproof (expected)
Bought these boots about 18 months ago, and while I am by no means a serious hiker, I do Snowdon several times a year and camp often.
I use my boots for almost all tasks, literally—I sometimes ride motorcycles in them (in all weathers due to the wonderful climate we have in the UK), at work on a building site (no one has yet questioned whether they are steel toe caps or not) and while running around a boggy site they keep my feet dry, camped in all weathers, and used them for casual wear in the evening with a pair of jeans and a shirt to go out in. I wear walking boots a lot due to their comfort, waterproofness, and "smarter than trainers" look.
I will happily buy another pair of these boots. Having gone through most of the popular brands in walking boots, this is one brand I now look for when perusing the shelves. These boots have kept me dry, warm, and comfortable in all temperatures and wetness and I would not hesitate to recommend them to anyone.
Source: bought it new
Price Paid: 130

Good fit, comfortable right out of the box.
I bought a pair of these last year and did a few local hikes with them. I replaced the insoles with my custom orthotics, but other than that used my regular setup of double layered socks with a sock liner.
Perfect right out of the box. Very light, and quite comfortable.I figured I'd found the Holy Grail—a perfect hiking boot!
At the beginning of June I wore them on an overnight camping trip. It was drizzling when I left,  but it was supposed to clear up. Sat around in the rain until dusk, then it began to snow! My feet were warm, so I went for a short walk, them went to bed. I noticed at the time that my feet were a bit damp, but I didn't worry about it.
I woke up the next morning to an inch or two of snow. I put on dry socks but checked the inside of the boots and discovered they were damp! Did a nice hike anyway after breaking camp, and by the end my feet were soggy again!
I headed straight back to Mountain Equipment Co-op. Like REI it has a 100% guarantee, and I complained the my cool new boots weren't actually waterproof! Their return policy is TOO liberal—they took them back without question and refunded my money.
I figured out later that when the fabric on the outside of the boot gets wet, it forms an airtight barrier that doesn't let the Gore-tex breathe. The moisture was sweat, not leakage. I guess I didn't really give the boots a fair chance.
I went and bought another pair of boots (leather Salomons) but also bought a second pair of Quest 4D in the trunk of my car while breaking them in, just in case the new ones didn't work out. When they turned out to be okay, I returned the Quest 4Ds to the store. However, if I have to grab a new pair, I will be looking at them again.
Comment: I have yet to meet someone who was unhappy with their Quest 4D boots. Women especially like them because of the light weight.
Source: bought it new
Price Paid: $219

Good boots for the cost...waiting to see how they hold up.
Pros
Feel great
EXC support
Comfortable after many miles
Very good dry traction
Cons
Waterproofing
Slip a little on wet surfaces
I am 51 and needless to say I have gone through quite a few pairs of boots! I purchased these about three months ago. 
THE GOOD: I really like the way these fit, feel, look, and support. On most trails these seem to "push" you along while walking and REALLY help if running. Keeps ankle VERY secure in all conditions.
The waterproofing is above average (having some dampness after a few trips) and should be fine if you keep using your favorite sealers. I am curious to see how the waterproofing stands up to time because there are a lot of reviews saying there are issues... I have had none YET.
Materials are top notch, laces are good and tighten down well. Look and feel like they will hold up to some abuse (a little so far and they look new). These are just as good if not better than some very expensive "tactical" boots that I have owned and are much more comfortable!
THE NOT SO GOOD: On smooth or wet surfaces (granite, fallen trees, and river rocks) these do not grip so good. I slipped a few times in places where other boots (Vibram soles) didn't. The waterproofing needs treatment more than other brands because there are several areas where different materials are joined together.
OVERALL: One of the best boots I have ever had. Very comfortable and supportive in most conditions. Just get used to smooth or wet surfaces. I can't believe some people complain about these slipping on wet or moss covered rocks... USE COMMON SENSE PEOPLE!!! OF COURSE THEY WILL SLIP!!! NO boot will ever be perfect everywhere you go.
From my experiences, they all have some downfalls, but these are high on my list and close to, if not on, the top from a LOT of hiking in my years.
Source: bought it new
Price Paid: $189 on sale

Great boots so far. One season in, 10 days in the Winds, 10 days in the Sawtooths, and every weekend in Montana and they are spotless. Solid boots. Broke in really fast. 
This is my second pair of Salomons and I've loved them both. Really, after owning other brands, if I get one good year out of 200 dollar boots I'm content. I can see getting at least another solid season out of these. Good boots are one of the few things in life that actually seem worth the money, even to a broke dude such as myself.  
I have high arches and wide feet and none of the euro brands were worth a shit. I tried quite a few other brands before finding these (Scarpa, Kayland, Zamberlan, Asolo, New Balance, Vasque) and these were hands down the best fit for my weird feet.  
Oh yeah, I wear Montrail moldable insoles in these dogs. With other boots, I found that the insole lifted my heel too high and created hot spots. Not so with these. Buy them from REI and if you think they suck you can return them. Sweeeeeeeeet!
Price Paid: $200

Great right out of the box.
Let's start out by saying I have hiked in Salomon boots for 10 years plus because they are one of the few companies that have a wide toe box. They are comfortable boots and have been extremely consistent in design over the years.
This year was the first time I have noticed a major design change in the boots and was very concerned I would have to go on a search for a new boot. This boot still incorporates many of the solid proven design features that have made these boots a great hiking boot with, as hard as I found it to believe, improvements on a great boot for hiking.
This model is extremely comfortable right out of the box, little break-in time, and has been great on short 5- to 6-mile hikes without any issues at all. Have used in training sessions for search and rescue in some less then favorable conditions for people to be walking in. The real test will be on a the new section of the IAT in Newfoundland where some of the trail is still just on the map not yet finished.
Some of the things that make this boot real nice is the lace lock which adds to the comfortable fit. The toe guard is already paying off as in the past I have had to retire boots because the toe has been destroyed. These little things make the investment a little better and make this a good all round hiker.
Update on this boot: So after a week in the back country of Newfoundland the boot far exceeded my expectations for comfort, support, and durability. The claim of being waterproof held up as some of the terrain was wet and marshy, kept my feet dry. The breathability of the boot kept my feet comfortable. The ankle support was great!
This is an overall great boot well worth the money spent.
Source: Recommended by store

I was searching for as pair of boots that would be comfortable, waterproof, and with little to no break-in period. Salomon Quest answers it all. I have used them on light packing for 6-8 hours at a time with no problems.
Pros
Waterproof
Light
Comfortable
Cons
Nonw so far, possibly price if full retail is paid
The Salomon boot is waterproof and very comfortable. I have used them in wet and snowy conditions and have felt very secure with them. In rocky / gravel situations my feet felt comfortable and well supported. Although I have not tried them with a heavy pack yet (I intend to in near future ) they seem to support my feet very well.
I have used Meindl leather boots in the past and although they were very comfortable after a break-in period, they were not very waterproof regardless of how much waterproofing I did to the boot. With the Salomon I can stand in water up to my ankles and stay dry.
I have used these boots for approx 500 miles and they are still in very good shape. Seem to take the wear and tear test very well. I would recommend these boots to anyone who is interested in a waterproof, comfortable boot. I now have three pair and have bought a pair for my daughter and wife.
The only downside is the price, but with Craigslist and Bbay you can can get them at a much better price .Saying that though, I remember paying over 150 for my Meindles 30 years ago and although they were very comfortable after a break-in period they were not very waterproof. I suppose you get what you pay for.
Source: bought it used
Price Paid: $100

Extremely comfortable right out of the box. Great support for my hiking, backpacking and mild scrambling. In the PNW, trail conditions are unpredictable, and this boot can handle it all.
Cons
A tad heavier than some other options I looked into.
Fit: These boots fit my feet to a tee.
Comfort: Break-in period was nil. I literally took them out of the box and hit the trail for a two-day pack trip. No issues with blisters or sore spots. After seven months of weekly hiking, they are as comfortable as they were on day one.
Support: The lacing system allows me to increase/decrease the support my feet need in order to address varying trail conditions and terrain (steep ascents/descents, rocky terrain, etc). The sole gives just enough flex to be comfortable without losing the stability I need to address rougher terrain.
Water Resistance: The only time my feet got wet was when I missed a crossing stone and ended up in 10 inches of water. I hike in the Cascade and Olympic ranges of the Pacific Northwest, so trail conditions are unpredictable at best. I'm able to slog through water and mud on the trail with no fear of wet feet.
Traction: They grip great! I ascended Mt St Helens in September, which required 2-1/2 miles of scrambling boulders covered in ash and scree, and my Salomons never once made me question my footing.
Temp Control: My feet get a little warm in them, but that's what wicking socks are for, right?
Construction & Durability: My sister has an older pair of this boot that she has mercilessly abused for three years and they have held up remarkably well. I fully expect my pair to hold up as well for as long.
Source: bought it new
Price Paid: $230

Fits well. Very, very comfortable. Bought for day hiking when carrying a light pack (Osprey Stratos 36) with 20 lbs or so. Good traction. Very good closure with good lacing system (keeps the stones out). Will be trying it later on multi-day backpacks carrying a Deuter 70 + 15-live near bear country, so must carry a bear box-garcia).
Pros
Good fit
Stays laced
Very good ankle support
Have worn it only on day hikes so far. That is what I bought them for (to replace a 10-year-old pair of Salomon dayhikers that wore out).  Looking forward to a long and enjoyable time with them.
The fit was very good (I wear Men's 11 medium and they fit like a glove).
Very, very comfortable.
Good support, although I have fitted them with orthotics as I am a serious pronator.
No chance yet to check water resistance in the field (live in Southern California which this year is more desert-like than usual).  Have washed them off to remove dirt and grime and noticed no water inside.
Have climbed several very steep and dusty hills and always felt like I had a good grip on the slope.
Have not used them under cold weather conditions but they appear to breathe well.
Only tall boot I could find to really give me good ankle support. A twisted ankle on mountain trails is no fun.
Source: bought it new
Price Paid: $196 with REI 20% off members coupon

Right out of the box without a break-in period, these boots have been awesome. Lightweight, yet can stand up to a heavier pack and still be comfortable and supportive. Allows my feet to breathe, yet keeps water out.
Pros
Comfortable
Good sole
Good support
Waterproof
I usually carry a 40lb pack (I'm no ultralight backpacker), and right out of the box without a break-in period, these boots have made each of my hikes in the Sierra Nevadas that much more enjoyable.  
They fit my foot perfectly (normal arch) and have good room in the toe box and "lock" my heel in. I've walked through nearly ankle deep water, wet grasses, mud, and have not had one bit of water in my boot. Lightweight, yet can stand up to a heavier pack and still be comfortable and supportive. The traction of the soles has been great on loose gravel and wet rock.  
I've had them for two years now and they are still going strong.  
Source: bought it new
Price Paid: $200

A good solid day hiker usable for short multi-day trips. Completely waterproof due to gore-tex lining, relatively breathable and cool despite this. Deep lugs on Salomon's proprietary outsole material provide good traction on most surfaces, slippery on wet wood but all outsoles are. Cut is a bit high, but dips in the back to accommodate the achilles heel. Good ankle support.
Overall volume is low to medium, those with a high instep and high volume foot will not enjoy this. A deep medium to narrow heel-cup grips your foot well, and a wider toe-box accommodates toes well. Poor arch support - an aftermarket arch support insole is necessary for those with arch problems. In the end I should have gone up half a size, after a summer of heavy use they seem a little tighter than at first, especially when adding a thicker superfeet orange insole.
EVA midsole support is a little weak, Salmon should have used a polyurethane midsole instead for longevity and better support, especially under the forefoot which is thin. Especially at this price range - I consider this a significant flaw on an otherwise good piece of footwear.
Strongly recommend you spend at least 4-5 hours walking in these boots before taking them on a hike - some break-in is important, but these boots require very little break-in overall.

Materials: suede, nylon fabric
Break-in Period: 2 days
Weight: 1.3 kg
Price Paid: $220 CAD

Best fitting boots I've ever owned.
Pros
Great fit
Light
Waterproof
Great support
Cons
Goretex liners can make for some hot feet
I'm on my second pair of these and love them. For how light they are, they offer great support—good enough for when packing heavy loads.
The Goretex is great in cooler, wetter conditions, but I don't like it when it's warm and dry outside. The boots don't breathe well enough to keep up with sweating and my feet get damp and hot (I hike with extra socks to swap out). The newer version has a slightly narrower toe box than the older model, but even so the toe box is definitely not narrow.
Traction is awesome, fit is great, construction is top notch and they last me several years of year-round use. When my current pair wears out, I'll be buying this model again. Just wish they made a version without Goretex for hot weather hiking.
My feet have high arches, average heel width, are wide in the forefoot, and these fit perfectly in my regular shoe size (10m).
Source: bought it new
Price Paid: $189

I bought these boots for a trip to Kilimanjaro. So I needed a very sturdy boot with good ankle support and water resistance. I have fairly wide feet, and prefer a roomy toe box. 
I did some warm up hikes in Colorado the summer before, and summited Kilimanjaro on the 7-day Machame trek in January. I experienced very rugged and sometimes very wet conditions. These boots did a very nice job, and are still in battered but serviceable condition. 
The boots kept the water out and kept my feet safe from any injury during my travels. The boots felt good right out of the box, and I never had any problems with blisters or any other problems. 
The footbeds were not that great (normal) so I replaced them with a new set of Green Superfeet. As a single criticism, the tread could be a bit 'grippier,' which caused a problem from time to time. However I am still very satisfied with my boots. 
After the trek was over, one of the guides actually asked for my boots. And he was very persistent! So they still look good, even after all of the rain and abuse.
Price Paid: $169

After searching for a new waterproof boot for about 6 months I finally settled on the Quest which I've been using for two months now. The boot has all of the features which I find important: a decent toe protector, mid-sole support, waterproof, relatively low weight, excellent sole with hard wearing rubber compound and good ankle support.
The last around which the boot is manufactured suits a narrow/medium width low volume foot which suits me perfectly. I've found that the boot requires virtually no break-in period. I literally took them out of the box at the trailhead and did a shortish but steep 5-mile hike with a 33-pound pack...not a single hotspot, no chafing anywhere.
Subsequently I've done a number of short 2-day backpacking trips of varying lengths from very steep, muddy, slippery routes off-trail to regular trail hiking with no problems.
This is the best boot I've owned thus far and rate it highly. Check the fit of the boot as this is the most important aspect of any trekking shoe.
Materials: synthetic/leather
Use: Trekking
Break-in Period: none
Weight: 1.3kg
Price Paid: $250

Great pair of boots, very comfortable.
Pros
Lightweight
Comfortable
Gore-tex liners
I have owned these boots for two years. They have been worn on numerous weekends, training hikes, and a week-long backpacking trip. These boots are lightweight and comfortable. Had very little break-in time prior to my first weekend trip and not a single hot spot. The boots have plenty support for up to 45-lb pack load, which I was a little concerned about when I purchased the boots, due to their light weight.
The only thing that I could knock are the soles. Traction is good, but they seem to be wearing fairly quick. Would love to see them with Vibram soles.
Source: bought it new
Price Paid: $180

My Quest boots started collapsing in the heel construction and popped out this sharp tooth of some sort of composite material from the sole. It is sharp and has cut me on hikes, and sliced my Goretex pants. Beware!
Cons
Design flaw in the sole can be harmful.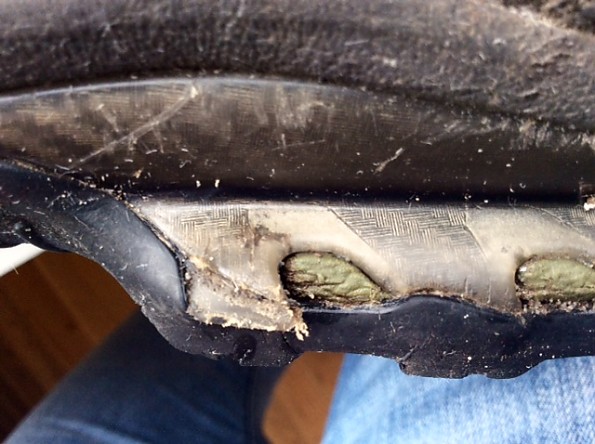 I don't like bleeding on hikes due to the risk this creates with bears. Beware!
Source: bought it new
Price Paid: $200

Lightweight, comfortable, minimal maintenance in comparison to all-leather boots.
Pros
Lightweight
No break-in time
Good traction
Lacing system locks in my toes and heels quite nicely
Minimal maintenance in comparision to my all-leather boots
Purchased a pair from a local outdoor dealer in Kent, Ohio. Tried on a half dozen brands and models. The Salomon Quest 4D GTX fit wonderfully right out the box. Have worn them for a year now. Nice ankle support, quick lace and looks.  
No complaints whatsoever in comparison to my past high-dollar boot purchases (Vasque Sundowners, Raichele Spirit III, Asolo 525's).
By far, these are the best boots I've had so far.
Source: bought it new
Price Paid: $139

Recently returned from hiking to Phantom Ranch in the Grand Canyon. Purchased boots 1/2 size larger as suggested due to the downward slope of the canyon. Very comfortable and supportive and zero hot spots. I also purchased Superfeet for insoles as well.
Pros
Great quality fit
Locking laces allow absolute perfect fit
Roomy toe box
Cons
Could not find any issues
Source: bought it new
Price Paid: $220

Perfect backpacking boot.
Purchased in 2013 as my first backpacking boot. Lots of research done. Though quite expensive, $230 at the time, they have proved to be well worth the money.
First of all, given the sturdiness and protection, they are very lightweight. Many have ditched the boot for trail runners to cut weight, but this is the solution. Great ankle support with important sole protection.
Will buy another pair once these have worn down.
Source: bought it new
Price Paid: $230

Most comfortable shoe I've ever worn!
Pros
Comfortable right out of the box, no break-in period
Dual locking lace system
I have been wearing these shoes every day for over a year now and they are the most comfortable shoes I have ever owned. I don't even care for the way these look, but bought them based on reviews. I like the way other shoes look, but when these wear out I will buy another pair.
Just hiked the 41 km grueling Fundy Footpath in New Brunswick with these on my feet for the first time. The fit like a glove, are very light, provide good ankle support and kept the water out. 
After three straight days of hills and gorges,  I never had one blister and had no hot spots. I could not imagine a better hiking boot.
Price Paid: $175

Extremely happy with boot. Broke in just couple hours walking around the hood. Hiked Swiss Alps this summer and Half Dome last week.
Great over the ankle support. Kept cool in the heat and dry in the rain. After 16-mile round trip up from Yosemite Valley, no complaints.
Price Paid: $165

Your Review
You May Like
Specs
Men's
Price
Historic Range: $56.83-$230.00
Reviewers Paid: $100.00-$250.00

Women's
Price
Historic Range: $56.83-$229.95
Reviewers Paid: $230.00

Recently on Trailspace