Merrell Wilderness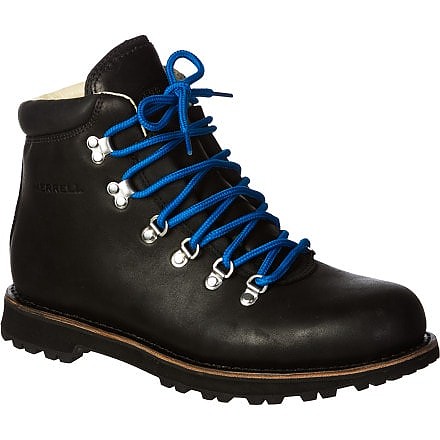 Excellent boot! [Revised Below.]
Pros
Long lasting
Supportive
Comfortable
Cons
I love this boot.
Unreasonable emotional attachment
I have been a backpacker since the early 1970s. I also grew up in the country and wore hiking boots every day. I walked to and from grade school and hiked around with my friends after school. I was in 8th grade when I took my first backpack trip into the Yosemite backcountry behind Half Dome.
I have owned and worn out Pivetta, Lowa, Vasque, Asolo Sport Yukon, and Raichle boots. All old school leather boots with (Norwegian Welt Stitching) with the exception of my Pivettas, which did not have Norwegian Welt.
I have Merrell Wilderness (THE ORIGINAL) on order right now. I am compelled to contribute to this thread because I have owned Merrell Wilderness in the past and they served me extremely well. I wore the Vibram soles off that pair of boots.
Revision:
I received a new pair of Merrell Wilderness "The Original" boots. I wore them around the house for a day and returned them. When Merrell first started selling boots they were called the Wilderness. Now with the change of name to "The Original" I suspect the new boots are not as original as the name would imply. The new boot is much softer and breaks down much faster. In one day the boot was already starting to feel like a tennis shoe.
The new boot has a cushioned "microporous rubber" mid sole. I doubt the old boots I owned in the '80s had a rubber midsole. In my mind this "Original" is not comparable to its predecessor, however, it may be a good boot for someone. It is light and they seem to use good leather. I would not choose this boot for the extended trips. I would consider this boot for day hiking.
I looked up the Merrell company on Wikipedia. We know that anyone can write and edit on Wikipedia so the information may or may-not be accurate, like this forum. It makes sense that the company started with the success of the Wilderness Boot and grew from that seed. The company has grown like bacteria in a dirty refrigerator. It has changed hands multiple times. I believe the founding principals of Randy Merrell, Clark Matis, and John Schwizer of Rosignal Ski, where left behind as the company changed hands.

After resoling my boots from the '80s I found that my arches had dropped.When the boots came back from the cobbler they were too small. As the arch dropped in my foot, my foot became a whole shoe size larger in length. I am buying them again because I believe the old world boot is far superior to what is available from new materials and construction.
It is important to point out in this tread that The Original Merrell Wilderness Boot is still being made with Norwegian Welt Stitching. Merrell has also made boots called Wilderness that are not in this league of quality. The Merrell Wilderness Canyon is one such model.
I also saw an advertisement for a Merrell Wilderness boot that looked very much like The Original but it did not have Norwegian Welt Stitching. The boot seemed well made but they were not nearly as supportive as The Original. If you are considering buying this boot, you know what to look for; Norwegian Welt Stitching!
I believe it is possible that those who have offered negative reviews of this boot may not have experienced The Original. I will be receiving my new pair of boots soon. After some break-in time I will have the opportunity to compare the new Merrell Wilderness boot with the pair I fell in love with over 20 years ago. I suspect it is still the same quality boot from Italy that I remember.
I also believe that even Merrell doesn't know how good this boot is because if you look for it on Merrell's home web site they have it listed in the casual boot section. All the crap is listed in the hiking boot section. Go figure?
Happy Trails!  
Source: bought it new

Great old school backpacking boot. Will outlast most boots.
Pros
Generally excellent, durable materials
Comfortable after break in
Very good construction quality
Handsome boot
Cons
The lining is the stuff of house slippers
Heavy
I purchased a pair of Wilderness just under 3 years ago. They are the type of boot that will never again be produced. A modest change from the original model has a goodyear welt construction, not a Norwegian. To it's credit the gemming is stitched to the leather insole, creating a good stoutly built boot, with thick (~3mm by my estimation) leather uppers. The uppers are welted to a double thick rubber midsole and a vibram Roccia is glued onto the bottom. They are heavy. They took a while to break in. They fit well and they are comfortable to walk in.
They are heavy, so you'll definitely get a good workout when walking in them. The uppers are made of 1 piece of seamless leather. They are actually very handsome boots, in the same vein as the old Pivetta P7's ( a boot that absolutely should be revived).
The beef that I have: the lining material is a skimpy synthetic that does not hold up very well. At the very least the rear quarter of the boot/shaft should be leather lined. Given the price of about $400, the whole boot should have been lined in leather. I went for a morning hike up Camelback Mountain with my son. We're both long distance runners, given to wearing track shoes most of the time. I'll say it again, the Wilderness is heavy. But they helped to provide an excellent exercise experience. I'll likely have this old-school boot for a long time. Most of the other boots reviewed here will have been replaced 2, 3, maybe even 4 times before mine will be ready to retire. So, keep that in mind.
Source: bought it new
Price Paid: 225 on sale

After reading all the mixed reviews on this boot, allow me to set the record straight. I've had mine for 7+ years, over 5000 miles (mostly with heavy backpack), and am on my third set of Vibram soles. I've had excellent success in snow, rain, steep climbs (more important, steep descents with no blisters). they're the best waterproof boot I've ever owned.
These boots have met or exceeded all of my expectations. The soles have been replaced without any problems of delamination (might be the local cobbler's glue that fails on the re-soles). They are cool in warm climes, warm in cold climes.
As to the concerns of the Vibram soles not lasting (re: other reviews), that's Vitale Bramani's problem, not Merrell's. Soft rubber = good grip, but quick wear.
Of course the caveat that must be tossed into any review is the concern of match between foot and shoe. I have narrow feet, bought a narrow version of the Wilderness. No problem. Some people forget about width variations in models. Also, some boots, in general, just don't work for some people's feet (no matter how close they try to match length and width). To wit, the reviewer(s) who complained that the synthetic interior quickly deteriorated. My old pair are unscaithed inside.
Care is another issue. Clean all boots after every heavy use (at least remove the dirt). Oils, such as neatsfoot will provided excellent treatment, but too much use WILL provoke overstretching (try twice per year). Waxy proofing (Snowseal) protects, but does not "treat" the leather sufficiently. Nikwax in the tube is a good all-around product, but ya still gotta clean 'em.
To the bitchers and moaners, sorry they didn't work for you. For the rest of us... ah, bliss.
Materials: Full grain leather
Use: backpacking, rough trail, light mountaineering
Break-in Period: 1 month
Weight: 160 lbs (me, not boots)
Price Paid: so long ago I forget

I've had my pair for about a year-and-a-half, and I guess I'll probably have them for another 20 or 30. It is an absolute wonder to me that anyone still produces something of such simple and perfect craftsmanship! The uppers are nearly one solid piece of leather and, with proper care, probably won't tear or rupture without the encouragement of a land mine.
I do not find the soles ideal; incredibly stiff, flat vibram leaves my feet throbbing if I spend too long walking on hard surfaces (like rocks). They are also h-e-a-v-y. In fact, these Merrells converted me to shoes for almost all longer-range hiking. Still, they're amazing boots and I expect to have them for many years.
Lastly, I have a wide toe, and would suggest that any prospective buyer with the same search out a wide fit for these (mine are medium...).
Materials: leather, vibram, more leather
Use: dayhikes, day-to-day use
Break-in Period: a month
Weight: around 3.5 lbs/pair
Price Paid: maybe $150?

I have worn my boots for everything from hiking to riding dirt bikes for almost thirteen years. They were waterproof for about half that time. They have been resoled once. I found a pair in Portland at a boot store for 325 5 yrs. ago and could not bring myself to pay that much. I will definitely get another pair if I see them on sale for 200.
Materials: gore tex
Use: everything
Break-in Period: they are getting more comfortable everyday
Price Paid: $125 on sale

These boots looked good and felt great when I put them on. There was no need for a break-in period. I started packing in them as soon as I got them which was in the spring of the year. In July I wore them for a week in Rockie Mountain NP. They were very comfortable but started looking like they might be coming apart. In August I wore them on a one week backpacking trip on Isle Royale. While there, the boots started coming apart at the sole. The leather between the sole and the uppers was coming apart like wet paper. The piece of leather that covers the back of the heal was doing the same.
I returned the boots and got another pair, they were as bad as the first. I exchanged this pair for a third, also bad. I gave up the chase... Later that year I was telling a fellow I met about my problems and as it turns out he had met the same problems with his Wilderness boots.. So to date I have not met anyone with a good pair of these boots. Its really sad though, they look good and are very comfortable, but the quality just the pits,,,, stay away from these things!!
Materials: leather
Use: heavy pack
Break-in Period: none
Weight: 5 lbs
Price Paid: approx $200

You can take my pack, my ice axe, my tent, or my sleeping bag, but DON'T TOUCH MY MERRELLS.
I bought these 8 years ago and use them about 20-30 days per year. They are currently being resoled the second time. These boots conformed to my feet the moment I put them on. I don't know if it's just that my foot matches the pattern, or whether the leather is very adaptable, but there was no break-in.
Other reviewers have spoken of their tendency to delaminate. Yes, they do. But you'll get a lot of use till then, and the Norwegian welt construction makes resoling very easy.
The great thing about these boots is that they feel like running shoes, but can take both step-in and strap-on crampons. Since the uppers are not too rigid (good for comfort) I wouldn't use them for anything requiring extreme stresses, like front-poining with crampons on ice faces. But they're great for lighter uses.
P.S. -- When I had them resoled, I asked the boot maker to replace the Merrell shank with a full length steel shank. If you plan on using them as a mountaineering boot, rather than just for backpacking, I recommend this.
Materials: Leather
Use: Medium to Heavy Packing, Light Mountaineering
Break-in Period: none (really!)
Weight: 3+ lbs
Price Paid: $225

Don't be shocked at the price. I bought mine more than 20 years ago, and while they have seen some shelf time while I got into sailing rather than hiking, I've still logged over 500 miles with them.
Aside from the laces giving out and the insoles wearing thin, they are in great shape, with only a minimum of care on my part (occasional cleaning, snow seal and avoiding salt water like the plague). They've gotten me through some rough country in New York, California, Nevada, Maine, Michigan, Ontario, Tennessee and North Carolina ranging from old lava outcrops near Mono Lake, to mucky swamps and boggs in Michigan and beach sand in North Carolina.
After all this traveling, I'm back in the hills of central New York and the Merrells are still helping me trek along with great comfort and 'retrospective' style. I'm heading toward 60, spend most of my time day tripping now, and think this pair will last me the rest of my life. Who knows, maybe I'll be buried wearing them (in another 25 years)!
Materials: leather
Use: all conditions from day hikes to heavy pack
Break-in Period: 40 miles
Weight: 200
Price Paid: $95

I've had a pair of Merrell Wilderness boots for 23 years, bought for $200. I've put a lot of miles on them. Sadly, I now have bone spurs and can't wear them anymore. Best boots ever. I don't know if this boot is the same as mine; they look the same.
Pros
Durability
Comfort
Functionality
Amazing boots. I bit the bullet and spent a huge wad of cash ($200) in about 1998 and I'm super glad I did. 
Background
Hike a lot, including rough terrain.
Source: bought it new
Price Paid: $200

Got a pro-deal on a pair when I worked for REI - the sole de-laminated while I was in the backcountry of Iceland, in very wet weather. I'd used them seldomly for 2 years prior to this trip - but they began de-laminating at the toes almost immediately after acquisition. I used an industrial adhesive to re-attach the soles for another 3 weeks, while very messy, it worked.
Sent them to David Page, a cobbler out of Seattle, after I came home. He reattached the soles with the standard glue treatment, and with a few nails in the toe. Do not be deceived by thinking "Norwegian welts" imply sole - immortality - the soles of these boots are not sewn into the boot- they are glued on. They are not "old school" welted. I recommend David to anyone with issues. He offers a lifetime guarantee, and no "shoe repair" place will put in the crucial toe nails.
Price Paid: pro-deal

I used one pair for my AT thru hike. Over 2000 miles. They are totally trashed (the weather in Maine sucked) and smell funky (actually, borderline toxic).
Mine may have lasted longer due to the fact that I weight 145 lbs and carried a 35 lb pack. The insides eventually ripped out. The insoles also wore out (this was to be expected though). I replaced them with superfeet and once again my Merrells were comfy.
Merrell has an excellent customer service department. They really took care of the thru hikers (not everyone had good luck with these boots). I've found that hiking style (kicking rocks, etc) and weight (heavy packs) effects the life of boots, as does the weather.
Currently I'm breaking in a pair of Makalus (If I have any skin left on my feet, I'll report back on their finer qualities).
Materials: leather
Use: High mile backpacking
Break-in Period: none
Weight: ???
Price Paid: $200

I have very narrow low volume feet so my search for a good hiking boot was an exhausting one. I tried on Vasque, Fabiono, and Scarpa all in narrows. None fit. Finally after about a month wait my special ordered Merrell Wilderness arrived. These boots were pretty comfy right out of the box but felt even better after about 10 miles of trail hiking.
I read some reviews in which people say that they will fall apart after about a year and I hope this is not true because this was the ONLY boot I could find that fit me. A friend of mine has had his for several years and many hundreds of miles and has only had them resoled once. So I'm optimistic and I would recommend to anyone with a narrow foot that they check these out.
Materials: Leather
Use: Backpacking
Break-in Period: 5-10 miles
Weight: 3+
Price Paid: $235

I purchased these for my wife and myself as a replacement for our aging Sundowners. They were a fairly comfortable boot and performed satisfactorily for a couple hundred miles. Then, at about the same time, the soles began to delaminate on both hers and my own boots. I had them repaired a few times but finally decided it just wasn't worth the trouble anymore after one of hers came apart on a hike many miles from anywhere - a major inconvenience to say the least.
I've since read many accounts of the soles on these boots separating from the uppers. There are many hiking boots being sold for far less money, that are of much higher quality. I own, and have owned, many brands and models of hiking boots. These just don't measure up.
Don't let the price put you off. Worth every penny.
Pros
Long wear
Comfortable
Excellent ankle support
I have had two pairs over the past 20+ years, which I wear daily (love the ankle support).
While the initial investment is rather steep, amortized over 10+ years, $40 per year is about what I would pay for everyday shoes anyway.
Seal the sole/shoe interface with snow seal; use Lexol leather cleaner and conditioner to maintain the boots.
The Wilderness boot far exceeds my expectations. I will buy yet another pair this year.
Source: bought it new

I purchased these at the REI sale because they had the Norwegian Welt style and felt good in the shop. I really liked these boots. They had a very short break in period and are good even as a light hiker for me. I've used them going up to Camp Muir (Mt. Rainier) and various areas in the Cascades with a moderate pack. It's has a really good quality leather that seems really waterproof once you treat it.
The only design change that I'd make is that the cuff is not high enough and it doesn't have a snug collar to keep debris out. Also, it has a vibram sole, but it doesn't have very deep lugs. When it wears down, I'd suggest getting it resoled with a deeper lug sole.
Materials: Leather (Norwegian Welt)
Use: Mid-Hvy Wt. Trail & Off Trail
Break-in Period: No Break In Period for Me
Price Paid: $164 on sale

These are decent boots, but I've had a few problems. They are lighter compared to some other all-leather boots. The tread has held up well and the soles aren't slippery when wet. I bought these boots because they ran wide and had plenty of toe room.
They are very waterproof (I use snoseal), but remember to treat them or the leather turns BLUE! The construction is Norwegian welt... good for crampons. (either 1/2 or 3/4 steel shank)
Also, the soles tend to delaminate. The soles from my boots started to seperate from the uppers after about 3 1/2 years of use. I brought them back to REI and they were repaired by Merrell for free.
I'd recommend them on the sizing and the weight savings vs. other leather boots.
Materials: leather
Use: rough trails, heavy pack
Break-in Period: 3 weeks (at least)
Weight: kinda heavy
Price Paid: $220

Comfortable, bulletproof and top quality construction that will last for years and years of abuse.
Couldn't pass up the $79 price. I own a pair of Merrell Traverse and a pair of Merrell Outbound so the need to have them was not there, but I wanted them. I could not bring myself to pay ~$300 as they usually are priced but for $79 I couldn't resist.
They are comfortable and feel to me to be a solid pair of boots that will last me forever!
Source: bought it new
Price Paid: $79

I purchased a pair in 1989 and hiked over one half of the AT and 400 miles on other trails before they required new soles. I didn't have good luck with the resole work. I had them resoled with the original Vibram type soles, the leather between the soles and the uppers seemed to separate. I think the boots were just wornout. The boots were good in wet weather and very comfortable. I feel I got very good service from these boots and would have to recommend them to anyone interested in a purchase. I am trying another brand at this time, which may be a mistake. The Merrells did a super job.
Materials: Leather
Use: Appalachian Trail
Break-in Period: 20 to 50 Mile
Price Paid: $180 approx.

awesome boots! very little break-in time for such a stiff boot. easy to break-in across the toes--the only place your boot should bend. there is no torsional flex. i've had mine for about seven years and they were re-soled in year six. they're as good as new. those who prefer a lower cut boot and need a heavy duty backpacking boot should consider this one. my only complaint (and it is minor) is that the inner liner is not leather. the synthetic liner dries quickly, but i have worn holes in the heels of both boots. oh well, that's we have duct tape. it solved the problem well.
Materials: leather
Use: heavy pack
Break-in Period: min
Weight: 225
Price Paid: $225

I thought I was buying a great boot. They were comfortable but wore out quickly. I wore them out in eleven months. The soles were shot. The leather on the inside that touches the back of the ankle completly shreaded, and one of the gromets that the laces go through pulled out leaving a gaping whole in the boot. Also, the piece of leather that covers the back seam was coming off. The stitching simply failed. The worst part of it was that Merrel is unwilling to fullfil thier one year waranty. DO NOT BUY MERREL! They make a shabby boot and have lousy customer service.
Materials: leather
Use: heavy use
Break-in Period: 2 months
Weight: ?
Price Paid: $235 USD

I like everything about these boots except for the fact that they leak like a sieve through the tongue seam on the top of the boot. When I first got them I noticed this leak and returned, unfortunately, the next pair did the same. I have had them for about 5 years and resoled them once. The heal patch of leather is starting to come off on one. I don't think I will buy them again, they leak too much. Oh yeah, I have treated the leather and applied the silicon "glue" that they came with-still leak. Maybe I need a Gore-tex sock?
Materials: Leather
Use: Hiking with and w/o pack and fieldwork
Break-in Period: 1 week?
Weight: 3 lbs?
Price Paid: $220

After 1000 miles of North Country Trail hiking in Michigan, Wisconsin, and Pennsylvania, two resoles, countless laces, I finally blew a hole in the side during a very wet trip in Pennsylvania.
These boots dry out remarkably fast if you just set them in the sun.
Extremely comfortable and durable, I am buying another pair. This time, I am going with wide.
Used snowseal constantly. I also started in the later life of the boots putting silicone over the threads/sole.
The Cambrielle lining wears away quickly, but isnt that why we have duct tape?
Materials: Full Grain Leather. Stitched Sole
Use: 100 mile plus trips over rough trail with heavy pack
Break-in Period: one month of walking 5 miles day
Weight: 4 ish
Price Paid: $225

I bought mine from a guy who used them once. The fist time I used them I did a Presidental Traverse in NH. This is some of the roughest terrain in the Northeast. After 23 miles in a single day I fell in love with the boots. Not a single blister. The only recommendation that I have is to buy a good pair of custom insoles. The ones that come with them are really thin and don't provide that much support. Besides that they are a great boot!
Materials: Leather
Use: Rough Trail, long day hikes, backpacking
Break-in Period: none
Weight: ?
Price Paid: $240 new

I was disappointed when the sole on one boot delaminated after less than a year of wear. But the company resoled them, and the boots proceeded to give me 15 years of good service. They were resoled twice more, and the uppers had to be restitched here and there. That is the great thing about these old school boots. Find a good shoe repair guy, and they will last just about forever. If my dog hadn't eaten one of them last year, I'd still be wearing them.
Materials: leather
Use: extensive rough trail with heavy pack
Break-in Period: a few months
Weight: 3 lbs, 12 oz.
Price Paid: $200

The most comfortable leather boot I ever wore, right out of the box. Strong enough for the AT. But, they won't last. I've had many pair, and although the soles can be replaced (Norwegian welt), rarely does the interior (cheap cambrelle lining - not leather) last longer than the soles. The little leather used inside is thin and abrades easily. The boots are not rugged enough for the price, and should only be purchased from a store that will replace them free.
Materials: leather
Use: backpacking, off-trail, light mountaineering
Break-in Period: none needed
Weight: 3.75
Price Paid: $220-240

I really have enjoyed the quality of these boots, but they will only last a year if you hike moderately. My pair has a separated sole after 13 months of use.
Pros
High quality craftsmanship with better materials.
Cons
They only last 13 months or 500 miles
Source: bought it new
Price Paid: $350

I wore these for six years, from 1987-93. They were a Littleway welted boot with an all-leather lining at the time. Very comfortable, easy to break in. Reasonably easy to waterproof. Wear was the main problem -- the lining wore out and tore near the heel counter, and the sole separated from the midsole more than once. Also, the boots softened a lot over time -- they were not truly sturdy enough for a large hiker with a large pack.
Price Paid: $225

Very comfortable boots. My brother and I each had a pair for our hike on PCT through Washington. It took us about 35 days to hike the state and we had 28 days of rain. Both of us had problems with the stiching keeping the soles on rotting and the soles falling off. This allowed mud and dirt to get inbetween. We both returned our boots to REI at the end of the trip.
Materials: all leather
Use: PCT hike through WA
Break-in Period: short, broke in easlily
Weight: not too heavy
Price Paid: ??

I originally liked the boots quite a bit. They broke in quickly and were fairly comfortable both on and off trail. However, they are only a year old and the vibram outer sole is pulling away from the leather mid sole. I am going to have them resoled with a full shank, but I think that it's pretty bogus that they are shucking the original soles after only a year of use.
Materials: Leather
Use: rough trail w/ heavy pack
Break-in Period: week or two
Weight: 185
Price Paid: don't remember

Best fitting boot I've owned in 30+ years of backpacking. Never required any break-in period. Used for extended backpacking cross country trips off trail in the Sierra Nevada Mountains of California. After three years, soles need replacement and are beginning to delaminate from the midsole, but otherwise no problems. Excellent for people with wide feet ( I have an EE width and the wide is perfect)
Materials: Leather
Use: Heavy off trail Sierra Nevada Backpacking
Break-in Period: None
Weight: 3.5lb
Price Paid: $185

I tore these boots apart. Perhaps I got a dud pair, but after a few hundred miles (granted, they were wretched miles with a wretched pack in Nepal) the soles decided to peel off. The leather streched more than I wanted too, compromising fit -- use softening grease (i.e. Limmer's) with care. Overall, I was shocked with the flimsy sole.
Materials: Leather
Use: Backpacking, Rough Trail Med-Heavy Pack
Break-in Period: 30 Miles
Weight: ??

I bought these to replace my beloved Pivettas eight years ago. I have had nothing but blisters and wet feet with them. The removable footbed slips backward, creating ridges that blister both heel and toe. The sole separated from the welt on both toes. The tongue leaks. They are now officially reserved for splitting wood and digging holes.
Materials: full grain leather
Use: rough trail with heavy pack; dayhikes
Break-in Period: 8 years
Weight: heavy
Price Paid: $220

Best Damn boot anywhere! I have had this boot since 1992.
They need to be resoled and I can get another 15 years out of them. I thought they were discontinued but a salesman at REI told me to go to their website. I will definitely order another pair.
Materials: Leather w/ classic blue strings
Break-in Period: 6mths
Weight: heavy at first
Price Paid: $235

These boots have been with me for four years now and have performed beyond my expectations. Resoled once, I wear them all the time and will buy another pair this year. From the Great Smokey Mountains to Montana's Bob Marshall Wilderness my feet stayed dry and comfortable.
Materials: leather
Use: extended backpacking trips
Break-in Period: 10-15 miles
Weight: 3 lbs.
Price Paid: $275

I love my Merrell Wilderness boot. I just bought mine last December, and they have been great and upheld many rocky mountains... I think they have improved this year... they also have a one year warranty. I love mine, and have bought my co-leaders the same.
Materials: waterproof leather
Use: heavy pack
Break-in Period: 1 month
Weight: 3
Price Paid: $245

- 4 Season wear in New England with VBL
- Work well with strap on crampons
- Very waterproof, Have tried Sno-Seal, Biwell and
straight beeswax, prefer beeswax with no additives
- Extremely satisfied, getting ready for resole after
2.5 Years
Materials: Leather
Use: Mountaineering, Heavy Load, 4 Season
Break-in Period: Several days with reasonable load
Weight: mildly heavy
Price Paid: $220 - $250

These bad boys are old fashioned, heavy duty, leather Norwegian welt (stitched on soles) hiking boots. Be advised that they will therefore take a considerable amount of breaking in prior to an extended hike.
Materials: Leather
Use: Rough trail with heavy pack
Break-in Period: Lengthy
Weight: 3 lbs 8 oz
Price Paid: $200

Bad boot.
They broke after 1 week of use in treeplanting. The sole separated completely from the boot after a week.
Useless.
Price Paid: 200 C$

Your Review
Where to Buy
Help support this site by making your next gear purchase through one of the links above. Click a link, buy what you need, and the seller will contribute a portion of the purchase price to support Trailspace's independent gear reviews.
You May Like
Specs
Men's
Price
MSRP: $300.00
Historic Range: $89.98-$400.00
Reviewers Paid: $79.00-$350.00

Weight
3 lb 8 oz

Sizes
7 - 12 (Half Sizes) 13, 14, 15

Materials
Full Grain Leather Upper

Women's
Price
MSRP: $300.00
Historic Range: $124.95-$274.95

Weight
3 lb 8 oz

Sizes
5 - 11 (Half Sizes)

Materials
Full Grain Leather Upper

Recently on Trailspace