Smartwool
Mountaineering Extra Heavy Crew
Reviews
Outstanding comfort and function, to protect my most…
Rating:


Source: bought it new
Price Paid: $23 minus 20%, REI sale. Was suggested to me over their own Expedition sock!

Summary
Outstanding comfort and function, to protect my most critical of trail gear -- those size 12 feet! Makes a great stocking stuffer anytime of the year ... it's the sock that I like getting stuffed into most! If foot comfort is important to you, this is a must try sock.

(Durability looks great so far for me and in other online reviews. I need another minimum 30 more hikes before I can better judge durability. I'll adjust rating accordingly when I am 100% sure of durability.)
Pros
Exceptional compressible loft and softness without feeling bulky
Goose down like huge temperature comfort range, magically feeling warm on cool days and not hot on warm days!
Lofty curly fibers allow awesome air circulation, breathes well and does not feel "muggy"
Wicks, sheds and reacts to water very well, as gets wet does not feel water soaked
In spite of thickness does not feel bulky or constrictive within my boots
Cons
More expensive than some other popular options e.g., REI Expedition
Red color foot area makes it hard to tell if you are bleeding ... just kidding, the point of these is to prevent damage to feet
-- Titles have changed a little for the sock.  I purchased "Mountaineering Extra Heavy Cushion".  I think it is the same as "Mountaineering Extra Heavy Crew". --
Sock Description by Smartwool for "Mountaineering Extra Heavy Crew"

Made just for high-altitude, low-temperature excursions, the Mountaineering Extra Heavy Crew sock by Smartwool is the top choice for mountaineering, ice climbing, or peak bagging in the snow. PRODUCT FEATURES: Extra heavy, full cushioning all around your foot Superior moisture control and ventilation regulates your foot temperature to keep you comfortable in the harshest conditions Reinforced arch provides support and keeps the sock in place all day Materials: 83% Merino Wool, 16% Nylon, 1% Elastic
The Review
Why would anyone want a warm cushy comfortable sock anyway? 

The photo above is a deluxe snow cafe like location is the cushy-ist part of a typical group snowshoe trek (last year to Artist Point, Mt Baker -- I'm in the rust brown Marmot fleece hoody, as nearly part of that deadwood). It's nicer, and even more enjoyable, when one's feet are not cold and killing them, from their sock choice. (Future review hint:  look closely at everyone's feet, MxxR snowshoes RULE out here, in our dense, re-frozen icy snow climate ... oh yes steep hills and rocks too..  Why are my snowshoes metal (not mellow) yellow? Wait for the review to see.)
What to look for to get the right sock, there are so many brands and styles at those big box stores!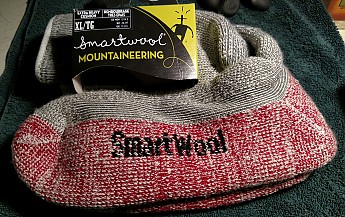 Lable disclosure of fabric types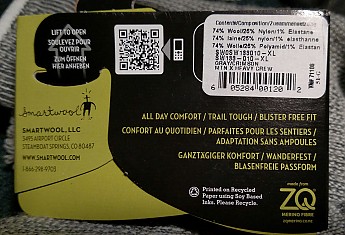 I have other Smartwool socks, and try as I may, so far they often are not my "go to" socks. Their mounteering sock feels to be in a fully different class! These are much softer, less restrictive, feeling less hot ... but still winter warm quality.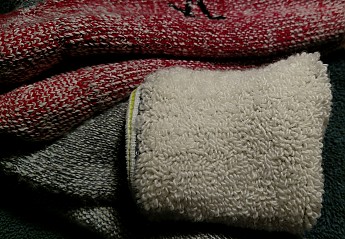 Closeup view shows why the sock feeling like walking on clouds ... the curly loops of soft fibers look like a collection of little clouds, floating in and mostly consisting of air. The structure is not bubbles, but open spaces where the air can circulate and not trap heat or moisture. And these are much better than walking on clouds ... they are right there in your boots, so you don't fall through.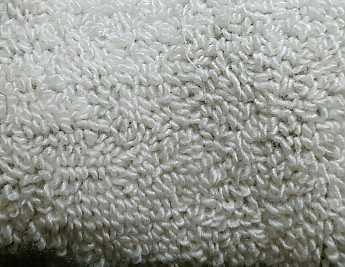 I understand why they wanted shading to hide boot staining and, dare I say, add some style to hide in my boots. Is the red to hint at medical grade protection or to have some joy in shocking others with what might look like bloody stumps emerging?  Or is it to hide the bloody result of wearing them?  
I'm at a loss explaining this, because of all the trails socks I've used over the years, these feel the least capable of hurting me. I actually went in the day I got them to buy Darn Tough socks, because a much trusted hiker friend raves about them. I couldn't find a well cushioned Darn Tough. And I'm sorry, but they felt 'Darn Rough' to me for aggressive rocky and other mountaineering like uses.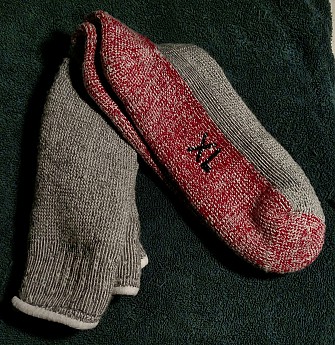 The extended crew height of the socks is enough to protect me in my mountaineering boots. The elastic top is pilable enough to make it easy to get the socks on. The marked sock softness hides seams, which are minimal anyway.  The socks are tube like and can be rolled on if your feet get wet/sticky after wading.
I roll ...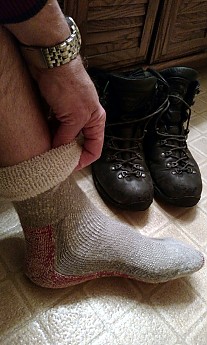 What's not to like about these highly functional socks?  I love mine, more than any other sock I have gotten yet. I could have purchased a Large, instead of Extra Large. But this choice allows layering when I want to get crazy thick for mountain snowshoeing. And it makes it less likely to grab my socks, if she packs her backpack first ... the best gear has a curious way of hiking out on others.
OK, about time for the rubber to hit the road ... then trails.
It's quite early Saturday AM (4:13 AM) and I'm up final sorting out for two day hikes for this weekend! The mountaineering sock shown will be at the foot foundation for both. Tucked into my old Asolo Power Matic 200 boots, the long crew legs can be lengthened or rolled over depending on where i want padding, extra localized warmth, upper boot block for debris, or upper boot lace cover to keep cleaner lace area. This weekend heavy rains and marked winds are predicted. So I'll use the small Outdoor Research low gaiters, kept tidy with that green rubber band. The gaiters will help keep the socks, upper boots, pant bottoms AND me clean.
This is a sock review, so why do I mention so much other gear? In outdoor activities you have to take a practical systems approach to select and carry the right gear for the intended use. And it should all work well together. At a minimum your comfort thus enjoyment is at risk. If you are in the outback away from help, try then your safety, and potentially life, are also considerations.
Too much talk ... about time for some action!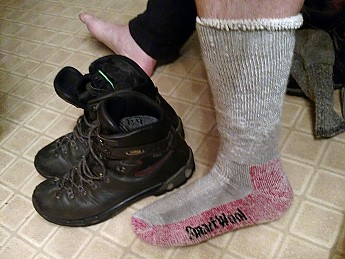 The socks' insulating ability, combined with goose down like comfort range, will keep my ankles and lower legs toasty warm, so that the muscles/tendons stay warm and pliable (if mine get cold for extended periods when hiking, they can otherwise feel stiff and tight over time). The wickability and breathability of the soaks, pants, boots and gaiters will manage moisture.  
If I layer too warm and they soak out I have backup socks that I can change into during a break. Since it would be a warmth issue then, these are the standard (thus less insulative) standard Smartwool hiking crew sock.  I have a couple other tricks to manage heat and aeration here. If not raining, gaiters can come off. If I still need cooling, a zipper on my gusseted Outdoor Research Cirque Pants can turn them into a bell bottom. And if I need open legs, but a gaiter like effect, the Cirque cuffs have grommets so that a cord can be used to make the cuffs into a gaiter, with bell open or not.  
This all sounds complicated, but it is not. All adjustments can, and will be made on the fly, as I hike to get pinpoint accuracy in adjusting desired comfort and function. A huge part of what makes this work, is the design of that foundation sock.
Second hike will be Heather Lake ... this is last year about this time with my daughter. Microspikes will be with me just in case.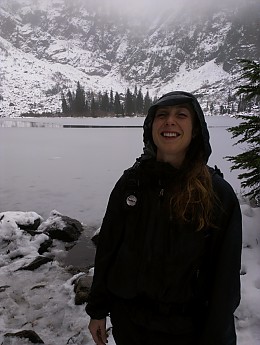 Proper socks for cold weather activities. They offer…
Rating:


Source: bought it new

Summary
Proper socks for cold weather activities.
They offer good insulation and comfort. In case of very low temperatures, a very thin liner can be used.
They are bulky so make sure they fit in your boots without restricting your blood circulation.
The only complaint is they really get loose after some usage, but that's a natural feature of wool.
Smartwool Mountaineering Extra Heavy Crew
currently retails for:
$23.95
MSRP: $22.95

Recently on Trailspace