Asolo Power Matic 200 GV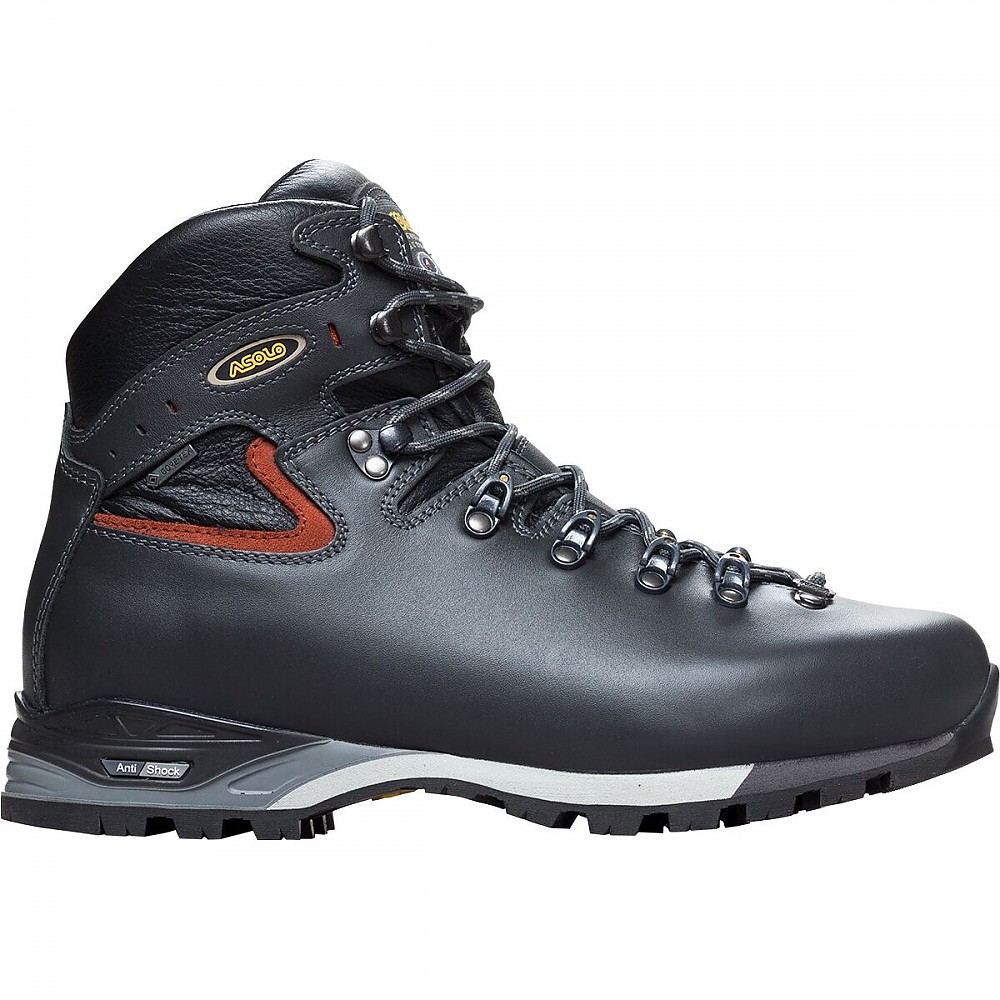 Amazing, heavy duty, functional design. Great grip, stability, support, durability, and waterproofing. Suitable for 3+ season use. Best boots I've used yet.
Pros
Amazing grip, support and shock absorption
Flawless waterproofing
Very comfortable with no break-in needed
No blisters, hot spots, foot abrasion w them
Best lacing system yet
Highly durable on rough terrain
Amazing attention to detail in design and construction
Design has definitely helped keep me safe on the trail
Feel like Batman wearing them!
Cons
Wish had rubber toe cap so don't scuff toes
Warm if hiking in hot climates
Only come in one color ... and I like it!
Look like Batman wearing them ... just kidding, I like the look
One can just 'get by'.  Why invest in protective footwear?
Besides appreciating the gear, what also drives my sharing about the importance of safe boots is an experience three years ago. On a short 1.5 mile Mora Beach, Wash., approach hike we came across a ~50 yr old lady laying on the ground with son-in-law hovering over her to comfort. Her foot was BROKEN OFF INTERNALLY the end of her ankle and was laying to the side at an odd angle! (I didn't know that this was even possible!).
There was no skin breakage or blood, just the horrible realization that she was in shock and badly hurt. They were awaiting a rescue team. This happened on a flat wide easy trail. You just have to step over big roots like this in a few places. She tripped on a root wearing tennis shoes.  Lucky that she was near a road and easily accessible.
My 2.5-year-old boots have 900+ miles of year round hiking on them, on the hiking trails as as those shown below.  My boots look the same as in these photos, taken with 700+ miles on them.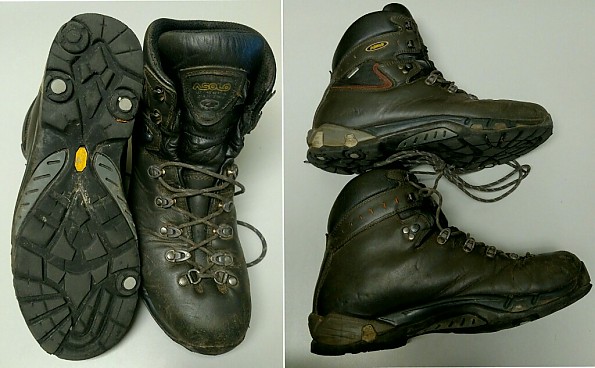 They have simple, functional, quality styling, with a flair of style and color.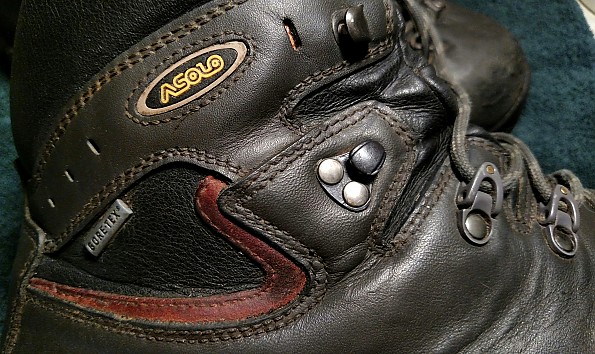 Original laces at 1000+ miles with no wear or fraying, due to pulley and eye design and fine finishing.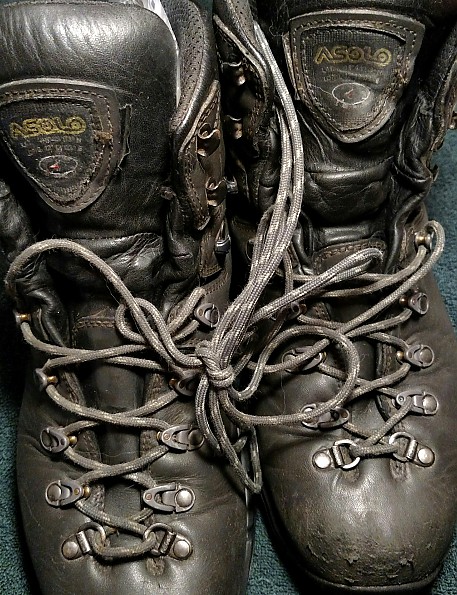 Example of where these boots have takening me in the Pacific Northwest, Washingtion State, USA.  Our weather is oven wet, snowy, equipment challenging conditions. Typical rooty Heather Lake trail section near Old Growth Cedar stump in WA State.  It gets much denser too out here too!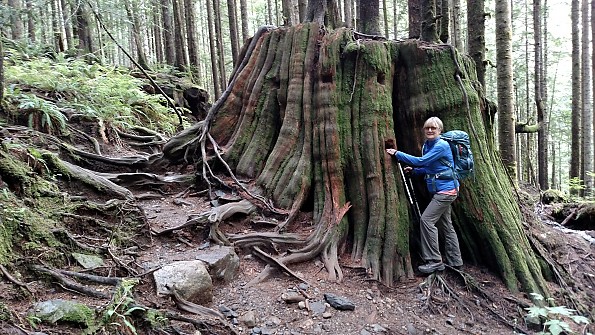 Rooty trail approach to Bridal Falls WA.
Typical Mt Pilchuck WA rocky trail section. Every step needs correct placement. Solid boot support and fit is critical. I could run this section with confidence in these boots!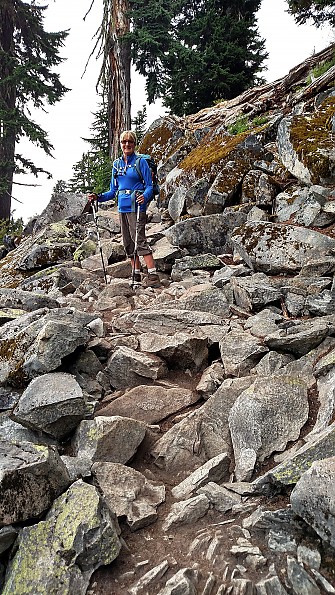 Falls off just off the Spray Park trail on Mt Rainier. This huge amazing rocky falls has a trailess talus (tumbled fractured) rocky slope approach. This is the water flow during this very long dry summer.  See the two hikers to the lower right side of the falls.  It's an ankle killer to get here in the wrong shoes!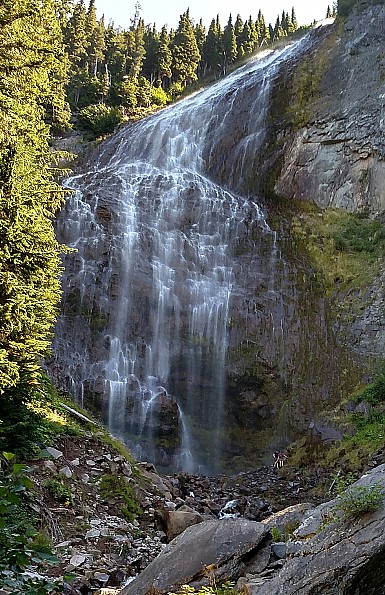 Wallace Falls near Goldbar WA on Halloween Day 2015, after some recent rain ... was amazing!  367' drop total and about 30' wide!  There are upper (265'), middle (81'), and lower (25') falls sections.  In the video is the upper falls, which has the longest expanse.
Typical WA State trail with trail built along talus slope.   Mt Baker area.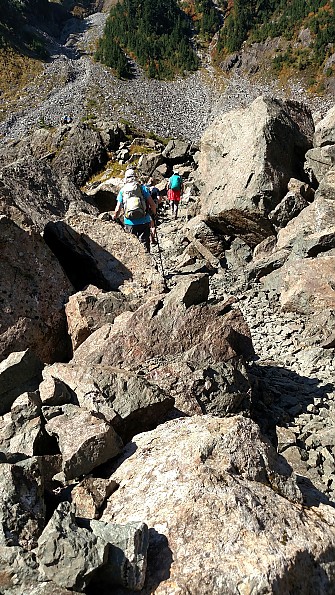 Rocky trail section along Chain Lakes Loop trail.  Mt Baker WA.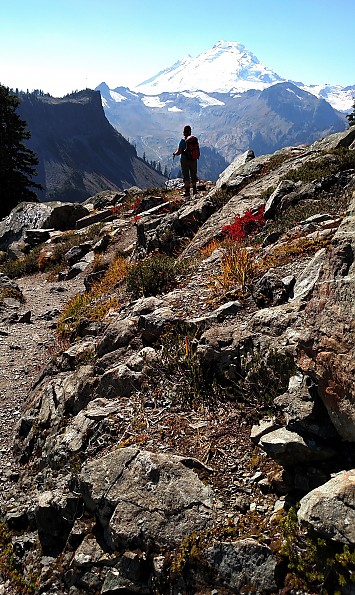 Lake Ann along the Heather Pass, Maple Pass Loop.  North Cascades Highway area.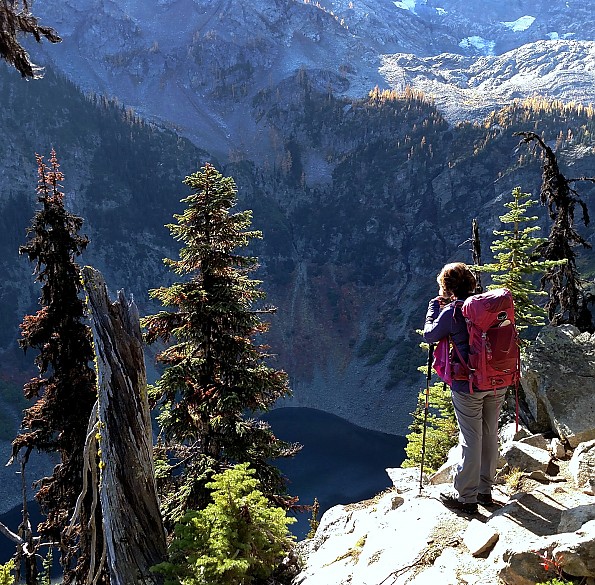 Amazing "can do" boots!
I'm a big guy at 250 lbs, 6'1", wearing size 12 boots, and have slightly narrow feet. I have higher arches needing support and tend to turn my ankles easily, unless supported correctly. I purchased these boots two years ago, after painstakingly trying on everything that I could, at the flagship Seattle REI store.
My wife and I venture out year round, nearly every weekend, no matter what the weather is, often with different hiking clubs, using 40L backpacks. I have at least 700 miles now on these boots of moderate to difficult hiking and snowshoeing, in all weather conditions imaginable.  The boots still work as good as new, and I feel that 80% of the wear potential is left.
Our hiking is primarily day treks in western WA State, at different locations on Mt Rainier, Mt Baker, Granite Falls Loop Highway (eg Gothic Basin, Mt Dickerman, Mt Pilchuck, Lake Twenty-Two, Heather Lake, etc), Snoqualmie Pass (Kendall Katwalk, Snow Lake, Ira Springs, Mt Si, etc), Stevens Pass (Skyline Lake area), Tiger Mt, Issaquah Alps, in the Central Cascades (eg Maple and Heather Pass Loop), and sometimes in Eastern WA too.  We've also hiked Black Butte in northern CA. 
I find that these boots do EVERYTHING GREAT. They have amazing traction on just about every surface that I've tested, except slick, bark-less, rounded, lightly mossy logs (does anything grip this stuff?).  The boots grip and bridge rocks well, grab well then shed mud, and somehow stay amazingly clean.  We have A LOT of wet weather in the PNW and they never let me down.  I often walk right through or stand in streams, nearly to the top of the boots, without any leaking or moisture seepage. Being well padded they are warm but breathe well enough with the Gore-Tex. Using a Smartwool sock they are never cold for me snowshoeing. 
I've never had a blister or hotspot with these boots or needed to tape feet to protect against abrasion. 
After all the miles, the boots still act much like the first week that I got them. They feel like a burly, heavy-duty hiking friend, with almost a mountaineering boot feel, but with ample flex at the foot ball and around the ankles. The boots took no time to break in or get used to wearing. They were immediately comfortable.  When I first tried them the first few days in the office I found that they were the most comfortable shoes that I wear!
After all the outdoor use, they still show little tread or leather wear, except for little rock nicks on the bare leather toes. There's still no sign of loose stitching or stretched seams. The ankle and foot support is wonderful on tough rocky and root covered terrain. When landing land flat footed or towards the heel, while stepping or jumping down onto rocks and boulders, the shock absorbing ability of these boots is astounding (those internal lower density cylinders really work). This really reduces fatigue on tough terrain. 
These boots have wonderful lateral stability, pointing your feet right down the trail or rocky slope on a direct path, and I really can move quickly with confidence on difficult terrain. (Spiderman anyone?)  I really like using them in very rocky trail areas, such as climbing fractured talus boulders, because they are so sure footed and accurate for foot placement, brace, and support.  I feel Batman invincible and secure in wearing them (such as on the rocky trails, above Paradise, towards Camp Muir on Mt Rainier last weekend, with sideways rain and yesterday at Comet Falls and Van Trump Meadows).  Unlike others that I hike with, using other boots, I've not fallen once yet on the trail with these. 
I really need a shoe/boot with good arch support, so I wear Superfeet or similar inserts in all my footwear. I've tried many different inserts during different hikes and was quite surprised to find that these boots worked best with the thin functional inserts that they come with.
Everything is still intact on my boots, except for one missing lace pulley pin (but it's still easy to lace through the eyelet hole).  Those micro-pulleys are fantastic at balancing lace tension and getting the boots on and off quickly. It's so easy to QUICKLY balance and get the tension perfect, separately in the lower and upper foot sections. This really helps mid hike to tighten before I head back downhill and to readjust on the fly (liking my boots tight, I tend to over tighten). These boots are very easy on laces.  I'm still using the original laces with no fraying, just needed to fire seal the ends where a couple of the plastic lace caps cracked off.  
Micro Asolo lace pulleys of amazing strength and functional design balance lace tension across the foot area of the boot. They also allow quick readjustment on the fly as you hike.  Also note their strong recessed grommet attachment design.  The base metal eyelets of the micro pulleys and bottom D-eyelets is thicker than typically seen on boots, especially for those more exposed pulleys.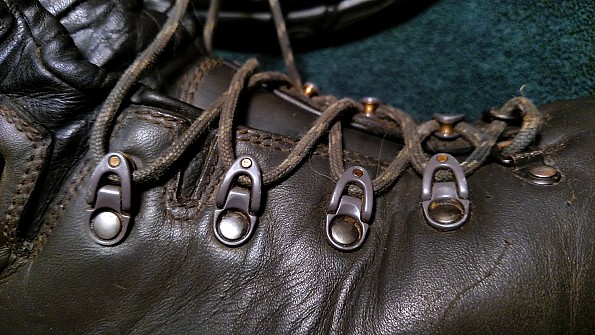 Any complicated feature with multiple parts causes experienced hikers due concern until proven reliable.  Any complicated marginally designed features could give a higher chance of failure in use.  If failure occurs, is their a way to compensate for it (other than an massive duct tape wrapping episode?  I must have hit the micro pulley on right on a rock just right to expand the wheel housing just enough to pop out and lose the pulley wheel.  The housing did not remain bent.  Close examination shows that a set screw can be removed with a special tool and the pulley wheel replaced.  In the interim, this design allows me to still use the upper micro pulley housing arm as a functional eyelet while still on the trail!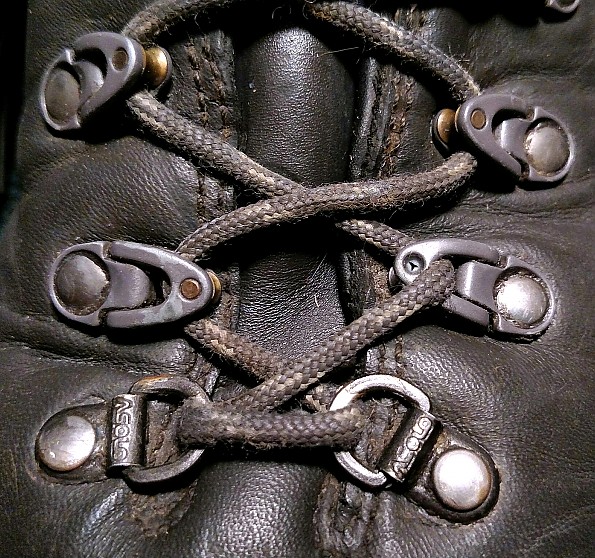 Should the rock have snapped off the top housing arm, there would still be the backup arm under it.  The base area and attachment pin where the micro pulley housing attaches to the boot grommet eyelet looks very strong and oriented to have little likelihood of rock damage.  The base of the pulley housing and attachment eyelet also have thicker than typical metal and the attachment rivet is recessed. Clearly Asolo designers have clearly done though a lot about their design.  I like how they stamped the Asolo name on the lowest eyelet D-ring housing.  This further supports my overall impression of designer attention to details.
I lace my boots VERY tight, and carry a lot of weight (even without a pack) which is hard on lace survival with most boots.   Notice in the photos here that, despite 1000+ miles of use, their is no fraying on these original boot laces.  The outer kermantle woven protective layer is intact.  There is just a tiny bit of surface fuzzing.  The plastic ends cracked off a couple of the laces long ago, but this was fixed by melting the lace ends with a match flame, twisting it to make a hard fused end cap.  I anticipate getting 2000 - 3000+ miles on these laces.  I've owned other designs of boots where I was was lucky to get 100 - 200 miles!  The laces supplied are soft surfaced and nice , but their survival is due to the pulley wheel design and fine finish on the entire lace eyelet and hook system.  
There is only one thing I'd like see upgraded on this boot design. They do not have toe cap protectors.  Rocks scuff the toes. This is not a functional but rather a cosmetic issue.  Unless their thick leather outlives synthetic material caps, given a choice, I prefer to have my battle scars hidden. Note that sole on the right boot is not separating.  The dark line was caused by the light angle better showing a design notch.  Photo taken with 700+ miles on them.  No sole layer seperation has occurred anywhere in the boots.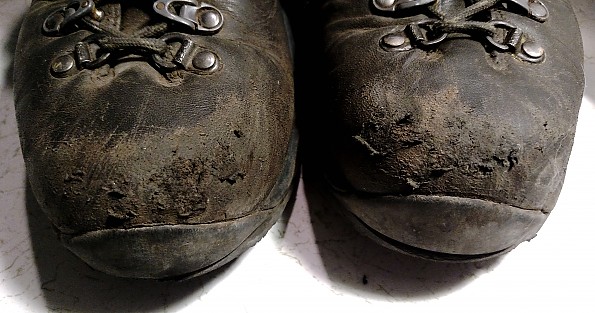 The only care that I've given my boots is rinsing them off in the sink with cold water with gentle brushing after each hike and taking the inserts out. I've filled them up inside a couple of times with water to rinse out and protect against long term salt buildup. I always make sure the boots have enough ventilation to dry overnight, so they have not built up any foot or microbial odors. And I've used Nikwax leather conditioner and wax a couple of times, when they looked like they could benefit from it.  Waxing also will hide much of the toe scuffing.
Nikwax paste wax or Condition for Leather application works well to help clean, restore and waterproof protect the leather in these boots.  Conditioner used here on the left boot has overnight re-sealed and improved the leather condition.  It also cosmetically improved the appearance of the rock nicked toe!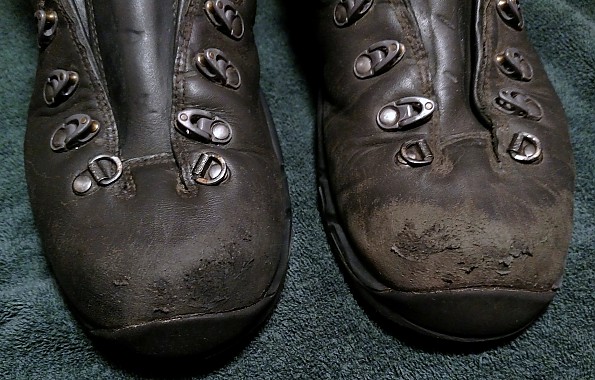 SUMMARY:  My Asolo Power Matic 200 boots have been amazing highly functional boots, have got me to many stunning locations, while helping keep me injury free.  Only way I see to improve the boots would be to add protective toe caps so that they look cosmetically better after heavy use on rocky terrain. 
So glad that I picked these boots!  They would likely be my first choice again.  All I need to add to my boot system now is a cape and hooded mask, with bat like ears for Halloween party use.  Let's try this out on a trail hike ....
Source: bought it new
Price Paid: $315 list price minus REI member rebate

The out-of-the-box comfort praises are true, and these things give me grip on rock faces and ledges like Spiderman! You can plow through the brush like an elephant with their support, or scramble up rock like a mountain goat with their grip.
Pros
Comfort, minimal break-in
Lacing
Traction
Lateral stability/support
Cons
No built-in GPS
No trail-lighting mechanism
Note on my "cons" above ... I was just joking to underscore how little I could find deficient. See sizing/foot-type notes below.
I did a lot of research, and mostly made my choice based on the comments here. They really are comfortable out of the box. I'm a paramedic and chose to do a basic fit test before taking them on the trail during my 24hr 911 shift Saturday. My partner remarked how after 8 hours in my well-broken-in and well-liked duty boots, I'm always swapping into base slippers for comfort. I did 16 hours on the truck out of the box, no problems.  
Then I took them for their virgin hike on about 14 miles climbing Whiteface and Passaconaway ... when I lost the Blueberry Ledge Cutoff, I loved their stability for bushwhacking and managing surprise rocks under leaves.  
On the ledge, as noted in my summary above, grip was like Spiderman ... could not believe to what and how well they held. I got no blisters though felt a little heel rub to be expected ... and, because of getting lost, I was hiking very fast and aggressive to make up lost time so they got a very aggressive blister-test (used thick hiking socks with thin liner socks).
Once again, the Asolo's helped there with their strong lateral stability and strategic flexibility.
No water testing yet, but Goretex is Goretex.
I'll keep my eye out for wear issues such as I've seen in reviews, but no signs of anything but dirt on these. Oh, and the folks whining about scuffs ... REALLY?? It's a HIKING boot ... not pimpin' wear. I'll report back on this after a few months more climbing.  
A note about sizing and my feet, since everyone is different:
SIZING: In distance running shoes, I wear a 10.5, and the 11s for Asolo fit perfect — with room for winter socks and lace-tightability for thinner summer ones.  
FEET: Mine are a trainwreck of past injuries from playing way too hard in too many sports, and having flat feet to start with. I have collapsed arches, have destroyed the cartilage on a medial malleosis, and cracked both large tarsals, as well as pulled both plantars.  I used my Green Superfeet on top of the Asolo insole and they were awesome for support and comfort.
Source: bought it new
Price Paid: $250

I've had these boots for a week now and I needed them immediately for my hobby (outdoor photography). Now, we do not have the Sierras here in Indiana but we have miles of trails, some rocky areas and lots of mud, water run-off and general brack to trip through and in the last week I've put these boots through all of it and covered about 20 miles of trail and off trail hiking right out of the box. (I also do need to get them ready for my Southwest trip coming soon--Arches National Park, Utah.)
They were comfortable in the store while wearing them for 20 minutes and I was pretty sold right there. The "pully" lacing system in the lowers is sweet and the hardware is top notch, none of that cheap bent metal for the laces.
One other thing I like about these boots is that they are light and narrow vs. the large blocky boots that feel like sandbags. They are strong yet allow me to feel nimble getting up rocky faces and have great tracktion and good edges.
I went from shop to the trails and they were great. Initially I had a little leather binding on my right foot just above the big toe area (why not on the left as well I have not idea). However that passed after about the first mile. I got them wet and muddy by mile three and my feet were dry and warm and the boots loved the wet mud and broke in even more and felt great from there out. Once home, I just rinsed them off and let them dry and I have not had any binding problems again. I did about five miles that first day and have done about 15 since then.
Another great thing about these boots is the comfort around the ankle, great padding and very nice support forward and side to side for those with weaker ankles. I lace the top a little loose usually just for comfort, but I tightened the heck out of them (like I would for rocky terrain) and they were still comfortable. All in all a great boot and I am not a full-grain leather guy. I had a pair of full-grain Vasque boots that took forever to break in and they still left my feet sore daily. When I hit camp, I could not wait to get them off.
Enjoy, hope my opinion helps. By the way, I ordered several boots from differing makers online trying to find the right boot and sent all 5 pairs back after wearing them in my kitchen. Indiana is not what you would call the hiking boot capital of the world, so it is not easy finding anything great here outside of Timberland:). Low and behold there is an independant shop here called Extreem Outfitter that had these in stock and a great price.
Take care and happy hiking.
Materials: Leather/Gore-Tex
Use: hiking, walking, rocky approach hiking
Break-in Period: 1 day (get the wet, it helps)
Weight: Very light and narrow
Price Paid: $195

Boots were true to size and width. Very comfy out of the box, but I did not have enough time to break them in before hitting the trail.
1st day out with a 50 lb pack we basically went straight up hill for 1200 feet of vert. Noticed that my heels were rubbing a bit, so I put on liners and put a piece of duct tape on the sock liners over the hot spot forming. This helped a lot. Not necessarily the fault of the boot as I was going uphill with a pack on and my heels were jammed in the back of the boot.
2nd day was up and down and kept the same liner/sock/duct tape configuration and had no hot spot issues. Most of the day was spent walking on snow.
3rd day was all snow and mud and wet alpine bogs. No problems with same setup and absolutely no leaks in the boots. Dried out quick at the end of the day. Put 9 miles on em that day.
4th day the boots seemed a bit more broken in and I considered not using a liner, but kept it in. Probably could have ditched the tape. Walked in a ton of mud that day, still no leaks and the boots cleaned up easy.
So after 20 miles, mostly with a heavy pack over snow, rock, mud and water, these boots were fantastic and had no leaks. I am to blame for not breaking them in. I do have sensitive feet and really need some better footbeds as I got some nerve shocks in my toes. Good grip in all conditions, even snow traverses. I scuffed the toes up, but that is what it is, doing stuff a mountaineering boot is better suited for, but this is a great all around boot and not all that heavy really.
Boot always dried quickly and I am anxious to see if I have now truly broken them in. May be a bit pricey, but I'd say my feet are worth it and I never felt like I had a heavy cumbersome boot on. No toe smash going down hill either. 4 days in mud, snow, rock, etc with dry happy feet. Great lacing system as well. Add a set of nice gators and you have a great boot to take on a lot of conditions.
Materials: Leather with Gore Tex
Use: Backpacking
Break-in Period: 2 days
Weight: I weigh 225 lbs, not sure what the boots weigh
Price Paid: $248

Very solid boot bought for a 2-week Philmont Scout Ranch trek. Probably overkill for that use as these boots are pretty heavy-duty, but I was often very glad I had these because we had some very rough and rocky terrain to cover.
A friend's boot blew out on the same trip and Philmont replaced them with lighter weight Vasque Wasatches, which he was happy with (he asked for minimal break-in boots since we were already halfway thru our trek). I had fewer foot problems than others. Note that 3 of 4 people on the trek had issues with REI branded boots (hardware failures and/or severe blistering).
I found the sizing challenging. I normally wear size 9. I bought these in 8.5 because I felt I was sliding around too much in 9's, but I think they were too small after changing out the wimpy footbeds that come with the boot. My advice is to bring along the footbeds and socks you'll wear with these when trying them on.
These boots are stiff, as they're designed to be. They soften as body heat warms them up, but they never become flimsy. Weight is about 3.75lbs. Not light, but not ridiculously heavy, either.
Break-in was minimal. I never had blister issues during five months of training, but on steep trails with 3500' elevation change and 50 lb pack at Philmont I did get some hot spots and rubbing on the heels, I believe this was due to the coarse internal heel stitching. Nothing major, but it was there.
The rubber toe cap should be bigger. The leather toes on mine are scraped and peeling from rocky Philmont terrain, but some might think that lasting sign of hard effort is kind of cool.
Waterproofing was flawless and highly valued as we had a very wet trek and had to cross a lot of streams.
I got these at REI with my 20% member discount in March for about $225. I will continue to use these as an all-around work boot and on hiking/camping trips. They are a solid boot that will probably last me to my grave.

Materials: leather
Use: rough trail with heavy pack
Break-in Period: little or none
Weight: 3.75 lbs
Price Paid: $225

I loved these boots. They were everything I was looking for in a full leather option for rough ground. In the end both the boot and the company let me down badly.
Pros
Strong robust footing on rough ground
Never let water in even after days on wet ground
The leather grew into the mold of your foot for incredible comfort
Cons
The sole fell off on both boots
Asolo gave me a cobblers address to get them fixed at my cost of $100.


I paid top dollar for these boots that I expected to be with me for a long time. The previous pair of good mountain boots I had lasted for 12 years. I ordered the boots from the internet and they fitted well which pleased me as I am a 1/2 size and normally need to be tried before I would part with this sort of money.
Everything went well for three years. I only used them when I was doing proper hill walking so as they lasted.  There was about half wear on the tread when I started to feel a slight movement in one of the soles, especially on the occasional boulder. When I looked at the boot I was horrified to see the Vibram sole was starting to separate from the mid-sole.  I thought if one is going I should check the other which was also starting to separate.
After a few more walks it became so bad I could not wear the boots in the hills for fear of total failure. I emailed Asolo who promptly asked for photographs making me hopeful of their recognition of an obvious manufacturing defect in the boot. Wrong! Asolo replied with the website for a third party cobbler that could fix the sole at my own expense of £80. I put them in the bin and will now look for a reliable make.
Source: bought it new
Price Paid: £180

These boots are about to embark upon their third summer with me, and since 2007 I have put them through most conditions that British Mountains can throw at them.
As a three season hillwalking boot they are superb. It is no boast for me to say that mine have probably got more than 1000 miles on them, including hard scrambles and winter walking. I have used them day in and day out for up to a fortnight at a stretch in absolutely foul conditions, and never had wet feet, even when the paths turn into waterfalls.
The traction and ankle support are first class on all rock types I have experienced, wet or dry and on soft ground too, although very slimy clay does present a slight weak point, although that can be expected. As long as you accept that you are confined to walking, they are tough enough to deal with the abuse that snowy winter conditions can throw at them as well.
I have never experienced any discomfort in these boots, the soft leather ankle cuff eliminating any rubbing on the lower leg. I have walked up to 30 miles in one go wearing these boots-in total comfort.
These have taken me to hundreds of wonderful places and I have enjoyed every moment of our time together thus-so-far.
Materials: 3mm Full grain leather uppers with a sealed gore-tex lining. Triple density midsole, Vibram dual density outsole.
Use: Mountaineerig and hillwalking mainly in the UK, moderate pack weights most of the time, occaisonally heavy. Everything from easy paths to grade 2 and 3 scrambles to moving cross country over bog and moorland
Break-in Period: negligible
Weight: 950g / half pair
Price Paid: 120 GBP (RRP 140)

Full leather boot maintains waterproof with minimal maintenance, even after two years and over 100 miles of use. Rollerguide lacing supports even lacing pressure and the firm sole is great for heavy loads and rough terrain.
Pros
Full leather boot
Rollerguide lacing
Stuff insole
Cons
Factory insoles are poor
No coating or wear cover on toe
I purchased these boots two years ago after retiring another set of Asolo boots. I tried every boot I could find, light, heavy, soft, stiff etc. I liked these the best. Yes, boots are particular to each person's feet, but there are a few things on this boot that I really enjoy. 
The full leather boot can be hot, but it's always waterproof. Fewer seams and no membrane means it's easy to maintain and keep waterproof. I've used them year round in Minnesota and elk hunting out west more than 25 days and the boots look used, but perform like new. 
I find the rollerguide lacing has reduced the cut laces I get in other boots. I haven't had to replace laces yet after more than 100 miles of use. 
My only gripe is the factory insole. It is wafer cardboard with tiny holes meant to breathe. They easily clogged with sock lint and provided no cushioning. I added Superfeet insoles and they are amazing in this boot. 
Source: bought it new
Price Paid: $300

Fresh out of the box, I used these boots to climb up the "hardest trail" on Mt Washington in NH - the Huntington Ravine Trail. The entire up and down resulted in about 9 miles and I was carrying a pack weighing 22 pounds.
At first, I was wearing Smartwool light hiking socks. I started developing hotspots on my heels after about 4 miles, which actually was expected of the new boots. However, after putting on liner socks under the Smartwools, that issue was completely neutralized, and I did not have any further problems.
Other than that, these boots were extremely comfortable through the entire trip, and scrambled very well up the wet, nearly 50 degree slabs.
Price Paid: $168 (thanks REI Sale and dividend combo)

If you want a waterproof, full grain leather boot that is comfortable with a capital C, then this is your boot. I searched far and wide and did lots of homework before I got these. This is one of those times when I got what I paid for, which is a highly versatile great looking boot that performs. This boot is true to size and only took one day to break in. The power-matic lace system is also an added bonus. Some say this a wide foot boot, but I have very narrow high arched feet and have no problems. Highly recommend.
Materials: full grain leather with gore-tex liner.
Use: hiking backpacking
Break-in Period: 1 day.
Weight: 3.5 lbs
Price Paid: $219

These boot work well and are comfortable for my feet. I've only had them a couple weeks, therefore can't give data on how well they'll wear over time.
Pros
Comfortable on first hike
Cons
sole may not maintain aggressive bite with wear
These boots fit my foot perfectly on my first hikes of just a couple miles off trail; steep loose rocky terrain with lots of debris and brush to tangle around the laces and toe of boot, they worked well.  
I recently had to stop wearing my Whites fire boots, which I used for most all outdoor activities, the logger heel was becoming to much for my knees to handle. Though I miss the stability the logger heel provides the Asolo boots work well and provided the relief I needed in my knees.  
I am concerned the these boots will have a relatively short life as the soles are not very thick or aggressive compared to what I'm use to (the Whites and a well worn pair of Asolo Yukons).  Both of which have been resoled more that 8 times combined.  
If the Power Matic boots last half as well as the Yukons and the Whites I'll be happy.  So far they provide the adaptations I need to keep on hiking.
Source: bought it new
Price Paid: $300

This is probably the best all-around boot I have ever owned. I have hiked the West Coast Trail, a wet, insanely muddy trek on the west coast of Vancouver Island to the high Rockies doing fourteeners.
While my friends have to worry about hot-spots and blisters after we make camp, my feet were happy as they could be! My GTX 520's are great...but these are the best I have ever had...
Happy hiking folks!
Clint McPhee
Price Paid: $250

These boot are an excellent value if they could make a pair that would fit my feet. I have a 7.5 EEE. I purchased a pair of their wide boots thinking they would stretch out over time. They did not. I bought boot stretchers and tried to stretch them myself. Still didn't get the room I need.
Pros
Solid waterproof boot
Stiff sole
Beefy
Cons
Too narrow even in wide
Expensive
No customer support. Very rude
15% restocking fee
I really like the boot and know it is a great boot. I purchased another pair thinking it was just a tight boot set and got the exact same boot.
I returned the second pair and got charged a 15% restocking fee. I sent the first pair out to professional boot stretcher and can't wait to try them out.
Source: bought it new
Price Paid: $300

Training for upcoming elk hunt. Training consists of 3-mile hikes daily with 56-lb pack. I purchased Asolo boots and they are solid and provide good support. I leave Tennessee Sept 8th for Arizona. Upon returning I will cast my second review.
Materials: leather
Use: rough trail with heavy pack
Price Paid: $280

GREAT BOOTS!!
I have had these boots for 3 years now and they are still going strong even after putting a gash in the toe of my left boot with a chainsaw (OOPS).
These boots were perfect right out of the box. One day of wearing and off to the trails with no soars or any other problems. I carry from 50-80 pounds when I hike and the boots have held up great. I wear these boots just about every day, summer and winter, for both work and play. I like the good ankle support and well formed foot beds, very supportive.
I like the roller eyelets, I am still on the original laces with a couple of minor fixes. The Gore-tex is still keeping my feet dry, (after repairing the gash). All and all GREAT BOOTS.
My only quibble, the soles are a bit slippery on wet surfaces and icy surfaces. I would imagine this to be the rubber compound because it wears like iron.
5 stars, highly recommended!
Materials: Leather and Gore-tex
Use: Everything, Every Day
Break-in Period: 1 Day
Weight: ??
Price Paid: $230

I love these boots. I got them for a 14-day NOLS trip. The break-in time for this boot is little to none. Immediately they were comfortable. They are also durable as ever, mine have been through it all, rivers, rock fields, etc... and they are still kicking. They are also super stable when hiking through lose terrain with 50+ packs. The lacing system is great and makes putting on the boot fast and easy when you are in a rush. The only problem, if one, is the insole. Possibly look for an aftermarket one if you want more cushion.
Materials: full leather
Use: heavy packs; extend trips
Break-in Period: none
Price Paid: $200

Excellent for what they're made for, medium load all around hiking. They are not beefy enough to handle heavy loads or really ruff terrain, but everything up to that they are sick. Extremely comfortable, little or no break in period, very durable, great traction.
Materials: leather w/gore-tex liner
Use: Medium weight hiking
Break-in Period: little or none
Weight: 785 gram = 1.7 pounds
Price Paid: $225

These are awesome hiking boots. I have had mine going on two months now. They have seen about 65 miles of the App Trail and five miles or so of street use. They have great support and feel good. The pulley system for the laces works very well.
The only complaint I have with these boots was the break-in period. I had to wear these for over 20 miles! before I stopped getting blisters. I have had numerous Asolo hiking boots. I will say that these perform the best. The tread although very sticky on rocks ... seems to be wearing fast as well.
Materials: full leather Gore-tex
Use: rough trail with 20lb pack
Break-in Period: too long
Weight: 3lbs ? size 12
Price Paid: $230

This may be the most sturdy and immediately comfortable boot I have ever owned. However, the rigid heel cup resulted in severe blisters on every trip over 4 miles even after 50 miles of break-in and expensive leather treatment. I tried lots of stretching and pounding to get the heel cup to retreat so it didn't rub my achilles tendon area. No luck. Finally went back to the store and traded them in for Vasque Sundowner Summit (so far so good on those!). Hated to trade in the Asolos, but had no choice, the just wouldn't work for my 11 medium width feet.
Materials: leather
Use: backpack, rough trails
Break-in Period: tried for two months
Weight: 190 lbs
Price Paid: $229

Your Review
Where to Buy
Help support this site by making your next gear purchase through one of the links above. Click a link, buy what you need, and the seller will contribute a portion of the purchase price to support Trailspace's independent gear reviews.
You May Like
Specs
Men's
Price
MSRP: $290.00
Current Retail: $389.95-$400.00
Historic Range: $112.21-$400.00
Reviewers Paid: $68.00-$315.00

Women's
Price
MSRP: $290.00
Historic Range: $179.99-$344.95

Recently on Trailspace