User Review:
Solo Stove
Rating:


Source: bought it new (Disclosure: Solo Stove rebates consumers in exchange for product reviews.)
Price Paid: $70 CAD including shipping to Canada

Summary
The stove burns solid fuel like small wood chips, twigs etc. that can readily be found in most environments efficiently and clean.The impact on the environment is minimal.The weight of your pack can be greatly reduced by not having to carry heavy fuel canisters.
Pros
Sturdy construction
efficient burning
independence from fuel that is heavy to carry and sometimes hard to get
light weight and easy to pack
Cons
needs a little practice to achieve optimal performance
soot on cooking gear considerably more than on gas burning stoves
hard to regulate temperature for simmering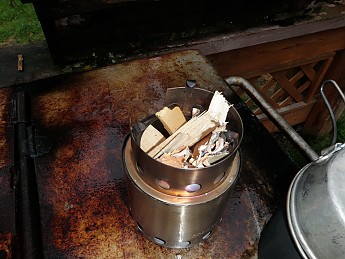 When my solo stove arrived I was positively surprised how small and lightweight it was.
The construction is very sturdy and the stove is easy to set up.I decided to give it a try right away in my back yard,even though it was a rainy day.The stove is extremely easy to set up and is very stable.
I gathered some dry wood chips and a bit of birch bark (which is my favourite fire starter).In next to no time I had a fire going. Kind of like in a miniature camp fire ring.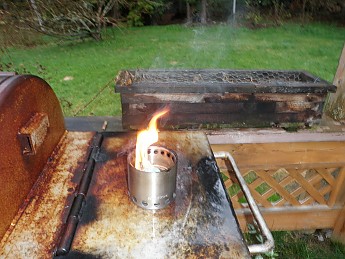 I had a pot with exactly 1 litre of cold water ready to see how long it takes to bring that to a boil.I can not support the 8 min. water boiling claim, but if one is that pressed for time on what is supposed to be a relaxing trip,may be camping is not the right past time. So really,who cares!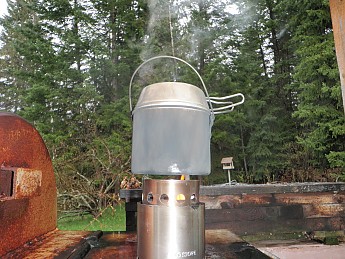 The flames were quite high to start with and I made the mistake to wait until the fire had calmed down before I put the pot on the stove, but this is not necessary.
Consequently I had to refeed the fire, which can be easily done, but slowed down the boiling process.
The stove is quite fuel efficient in that respect, but it is a challenge to maintain a simmer, or regulate the temperature at all.
For my style of backpacking kitchen, this will be just fine.Most of my meals only require hot water, but this might not be everybodies game. May be with some practicing time spent one could refine the burning technique.
As I found out even on my first try the stove works well in rain and wind,just as is, without a screen.
I love the simplicity of this stove,no parts that can break down, no maintenance required.The impact on the
environment is minimal,the impact on my budget is not very big either seeing as I won't have to buy fuel
and the initial investment of appr.$70 is not bad compared to a lot of other products out there.
A major advantage is the independence from fuel canisters that are heavy to carry and sometimes hard to find.
In case there should be an absolute fire ban on, I plan to bring one tube of fondue fuel and a little aluminum cover of a tea light,which works very well with this stove as well.
The solo packs away nicely in a small sized cooking pot,so does not eat up extra space in your pack.
Overall I am very pleased with my new solo stove. I will bring it on my PCT trip and I am sure it will serve me well.
[Disclosure: Solo Stove rebates consumers in exchange for product reviews. Compensating for reviews without disclosure of material connections is a violation of FTC endorsement guidelines.]

Where to Buy
sponsored links
Help support Trailspace by making your next purchase through one of the links above.