Snow Peak Ti-Mini Solo Combo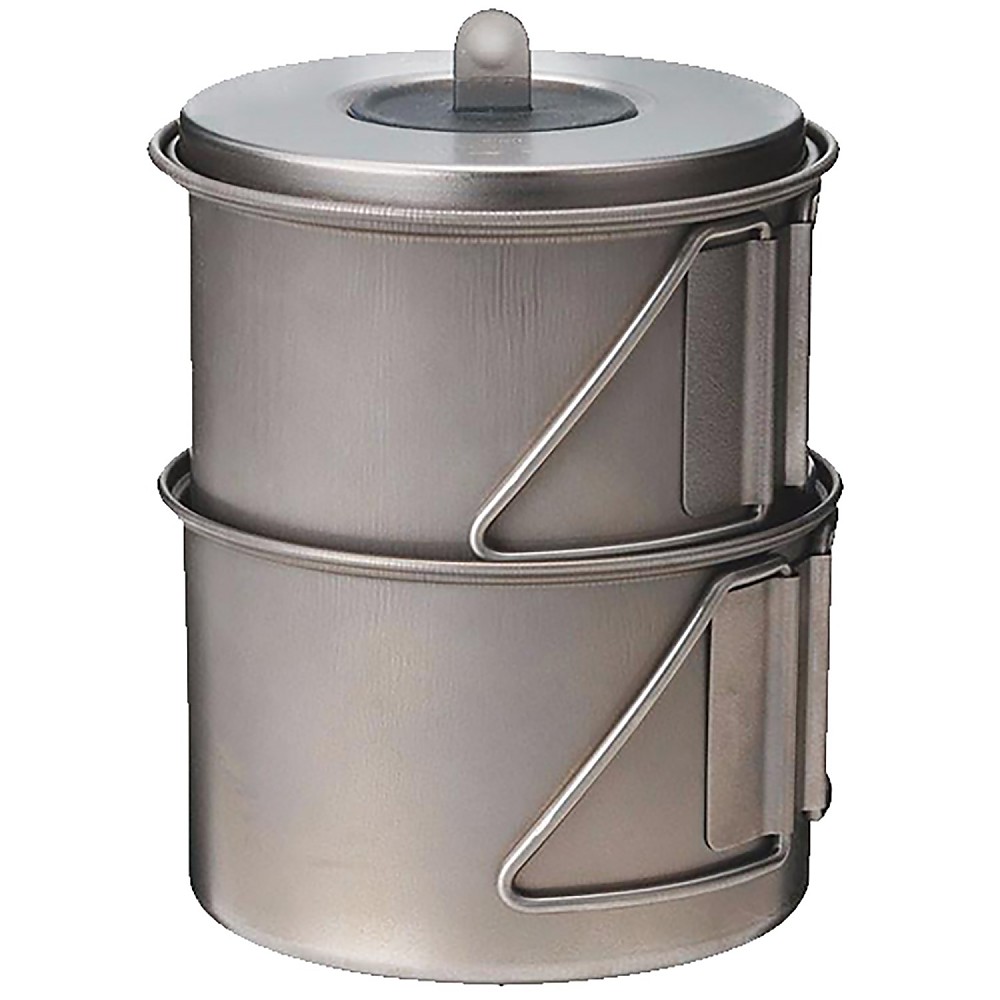 If you build it...coffee drinkers will buy it...but will they stick with it?
As I found myself doing more and more backpacking a few years ago...I quickly realized that my cookware was too bulky and heavy for my purposes on the trail. When backpacking over several days I enjoy big and fast miles more often than not...and this leaves very little energy for cooking complex meals. So when I was looking for new cookware I wanted something that could boil water and make coffee.
The Snowpeak Mini-Solo is a great kit if coffee or hot beverages is important to you...for a little extra weight and almost no additional space (pot nest in mug) the Mini-Solo cook-set can boil up enough water to rehydrate a meal and make that first 8oz cup of coffee for the day.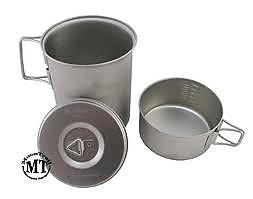 When backpacking big and fast miles I try to cut down on weight...and one of the ways I do that is by building fires to heat water and cook my food as often as possible...if the weather forecast reasonably clear weather I bring almost no fuel relying heavily on my skill to build a fire...or eat my meals cold. The Mini-Solo kit has stood up to more fires than I can count and I have never had a problem with the pot or mug warping or otherwise suffering in its performance due to exposure to high heat...if anything I really enjoyed watching the the colors change before becoming blackened by soot.
Speaking of soot (writing?)...a related issue I have with the Mini-Solo is insulation (the connection will become clear below)! While the Mini-Solo is all you need to boil water and have hot beverages...your beverages and food are not going to stay warm very long. So for this reason...I constructed a cozy made of reflective bubble-wrap for the pot (removed handles).
Why not the mug?...because the pot wrapped in bubble-wrap was unable to nest into the mug. I wanted to continue to use the bubble-wrap for insulation...since it allowed my food to continue cooking away from a direct heat source + made eating from the pot easier + kept soot from mucking everything up (told you I'd make the connection)...so ultimately I did away with the mug (I have it somewhere).
I could of course just used foil-bag cooking and used the pot as a HUGE coffe mug...and I might at some point. But for the moment...I still mainly cook in my pot (I find that food gets properly cooked more often that way)...so I purchased a chap 450 ml single walled mug by TOAKS that wrapped in the same reflective bubble-wrap nest neatly inside the 820 ml pot (removed handles on 450 ml mug too). With this set-up I have both a mug and a pot for boiling water...both are insulated...and everything (including stove and a small amount of fuel) nest neatly (also cleanly) inside the 820 ml pot.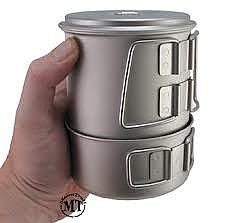 In the end the 820 ml pot turned out to be just what I needed...but the mug is no longer a regular part of my fast and light backpacking kit. If having an insulated mug and pot were not as important to me as they are...the Mini-Solo would be absolutely perfect for my needs...but ultimatly I found the mug and pot combo unworkable without an ability to insulate both...and would probably purchase the 820 ml pot separately if I had it to do all over again.
Source: bought it new
Price Paid: $50

If you freezer bag cook, re-hydrate, or make one pot meals, this could be exactly what you're looking for. I've used the Mini Solo as my go-to cook set for over a year now and highly recommend it for a lightweight pot and cup set.

It works great on my alcohol stove, twig stove, and Jetboil and can be used over a fire with caution. It packs well and performs great when freezer bag cooking or for one-pot meals.
Pros
Lightweight
Size and capacity
Durability
Volume measurements
Cons
Non-insulated handles
Lid handle does not lock upright
Only 1 lid
Size & Weight
The Mini Solo cook set in its stuff sack weighs in at 5.6 oz. and measures 5.25" tall and 4" in diameter. The pot weighs 3 oz., the cup weighs 1.6 oz., and the lid weighs it at .8 oz. and the stuff sack weighs .4 oz. My scale is not precise on the low end of the spectrum
What's in the box?
One 830 ml/29 oz. pot with no volume markings.
One 330 ml/11 oz. cup with volume markings of 100, 200, & 300 ml and 4, 6, 8, & 10 ozs.
One lid that fits in the lip of the pot and sits atop the cup.
One stuff sack is black mesh with a bright yellow cinch cord and small cordlock.
Field Use
I've used the cook set in all four seasons here in the southeastern U.S. I primarily freezer bag cook or re-hydrate meals in the pot in a cozy. This pot excels at that. My primary stove for the pot is a Fancee Feest with built-in pot stand with a fiberglass wick. This makes for a clean pot with no soot, which works best for the mesh stuff sack. I did use it over a fire a few times but haven't made a bail for it yet to do so more safely. I have used it over a twig stove and a Jetboil.
The cup is marked with volume measurements and stamped so they are read from the interior of the container. Other than the measurements I like that I can use the cup to warm my water for tea or coffee while my breakfast re-hydrates or heat up a second cup while I'm eating. The lid for my cozy is sized to also be a cozy for the cup.
The pot is ideally suited for those who re-hydrate meals in cozy's or in bags. The tallish pot does work for simmering meals where actual cooking is taking place but this is best done over low heat to minimize sticking on the bottom.
The lid works well and if it had a slot for the handle it would be perfect, but there are sticks where I hike and camp, so it's great for me. I would prefer another lid for the cup for drinking and heat retention.
The stuff sack is mesh and works for me since I do not use the pot over the fire often. I take another stiff sack when I plan to use it over the fire. The tiny cordlock is my preferred size but can be difficult with gloves.
Both the pot and the cups handles are not insulated and this makes them more versatile for various heat sources. The handles are too free in my experience though and do not have enough friction to stay or lock in the open position as the Snow Peak 450 ml cup does.
Baking
I have baked muffins in this pot using a Snow Peak 450 ml cup with good results over a twig stove and a remote fed alcohol stove. I also found I like carrying the 450 cup over the included cup at times. The sip top for the 450 is a weight penalty, but muffins and the familiar cup feel are bonuses I can embrace.
Bottom line for me is this set is a keeper and about as good of a cook set as there is for solo use. I simply love the pot, its light weight and for my minimalist approach a great fit.
Source: bought it new
Price Paid: retail

Well built and light (5.5 oz) cook set that can be used for one or even two people. Works great for boiling water for dehydrated meals.
Pros
Very light and sturdy
Transfers heat well
Works for two MH meals
Cons
A little narrow for my MicroRocket stove
Opening the package the set comes with:
28oz Main Pot (3oz, 85g)

10oz Cup (1.7oz, 48g)

Stove Lid (0.7oz, 20g)

Mesh Stuff Sack (0.4oz, 11g)
Total Weight = 5.8oz, 164g
I use this set with just the pot with lid on solo trips to boil water for dehydrated meals and the whole set if someone else is coming along in case they want to make some tea in the cup. The pot holds can just hold 28oz with a bit of room to spare which is enough water to rehydrate two Mountain House meals. This is nice because then I don't have to boil water twice which takes time and fuel. 
The one thing bothers me though is that the pot only just stands on top of my MicroRocket stove. It rests right on the inside of the stoves legs (but is fairly stable with water in it). While I have not had this tip over on me because I have not used the pot extensively I suspect that it might one day if I get a strong wind.
It would be nice if the stove was wider at the base but the stove is so perfect in every other aspect that I will probably end up replacing my stove with a FireMaple FMS-300T Hornet which has a tighter support arrangement and would better support the pot.
Overall it is a perfect stove it you want the lightest possible pot for a mix of solo and duo outings and just need to rehydrate some meals of make tea.
Source: bought it new
Price Paid: $60

Lightweight one- to two-person cooking set. Good for the weight conscious backpackers, mountaineers, and adventures who are looking for a cooking set for 1 or a freeze dried cooking set for 2.
Pros
Lightweight
Can put Snow Peak canister inside or canister + stove
Compact
Comes with stuff sack
Perfect pot size for freeze dried meals
Comes with measuring cup/ bowl
Cons
Small handles
Hard to grasp lid tab
Bowl is more of a measuring cup
The Snow Peak Titanium Mini Solo "Cook Set" is a great piece of gear for the weight conscious adventurer for one or two people. It holds enough water for 2 freeze dried meals or cooking for one.
I have used this product multiple times in weather ranging minus 12 to 10 Celsius. I have used it to melt snow, boil water, make soup, and hot chocolate on an MSR PocketRocket and alcohol stove. It has worked well to cook a Mountain House meal for me and a friend in our winter backpacking expedition. Overall it is a good cook set for any type of small meals.
The few problems I have with this cook set are minor but keep it from being an amazing cook set for its intended purpose. For starters, the pot lid is almost impossible to remove with gloves on, which can make it difficult in colder rejoins or when mountaineering. The handles don't lock also. So if they are in the closed position it can be hard to grab the pot while it's on the stove without burning yourself. When it closed the flame also directly touches it heating it up very much. The last gimp I have with this cook set is that the "bowl" doesn't function very well as a bowl. However the cup is a great cup for hot chocolate and I have used it many times in this role.
Now for the positives. The stove is perfect for two freeze dried meals and or 1 person cooking. The titanium is very thin and light and the measuring cup is the most useful thing when melting snow and is practically weightless. It is so light it can be carried on all trips and I can fit my stove in its case with a spice missile (this usually doesn't come along), lighter, candle, and eating utensil in the pot with a Light My Fire Spork on the outside when it in its stuff sack.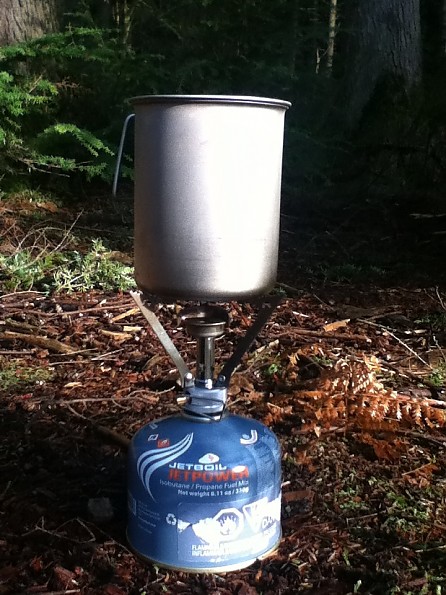 Here is the pot on a msr pocket rocket stove 
Here is the cook set in its stuff sack with a jetboil canister beside it
The metal cools very quickly and the thinness of it allows water to boil very fast. It has all the good features of a pot also and the benefits far outweight the negatives. I recommend every adventurer buy this cook set if they don't have a huge family. I would like to add that all stuff said in the positive reviews on this site also are true.
Apart from being a tad expensive this pot is, I believe, the one spot shop for outdoors lightweight cooking and hey, you get what you pay for.  
PS: Did I mention how how light it is!
Source: bought it new
Price Paid: 57 (can) dollars

I carry it because my entire cooking kit weighs 5.6 oz with it (stove, cup, lid, heat shield, Reflectix cozy, and SS mesh scrubber), and every ounce counts.
Pros
Made of titanium
Lightweight
2 cups to use (the smaller has units of measuring pressed into the metal)
Heats up quickly
The big cup is a great size for anything 1 person could need
I hook the little cup to the outside of my pack and use it for gathering barely flowing water, as a whiskey glass, or any other misc need. I use to leave it at home, but it's a nice extra for minimal weight, and gives my bag a little bit of a homeless look
The big cup is designed to sit inside the little cup for storage (but the bottom of my big cup is dirty from heavy use)
Cons
The handles. They flop around loosely, which is constantly LOUD, and they often get hot from not staying where you put them
The titanium folds over at the lip of the cup, giving it a nice rounded edge for your mouth, but food and debris gather in that fold. I wish you good luck keeping it clean
Titanium gets very hot, very fast, and food can burn to the bottom VERY easily. More for boiling water than cooking (a warning, not a con)
No cozy. Titanium cools very fast, along with the contents of the cup. For this price, and its intended use, I shouldn't have to make my own cozy.
The handles, again. They're oddly sized so that it's too small for three fingers to fit into, but a full cup is too heavy for just two (bad handle geometry).
Price, compared to other competetors (is it higher quality Ti?)
This is my go-to cup when I feel like being a gram weenie. I can get my base weight down to 12.5 oz with the help of this fella.
I've learned to avoid any real cooking in titanium. It gets very hot very fast, and is no fun at all to clean when your food scorches to the bottom. That being said, it's great for boiling water quick.
The handles are a bad design. I'm sorry, there's no other way to put it. They're very loose fitting and made of uncomfortable thin titanium rods. It "clanks" loudly with every movement of the cup, and when placed over a stove, the handles often swing in and get hot.
They're also too small for three fingers to fit into, but a full cup is too heavy for two fingers to hold comfortably.  It's just not a good design.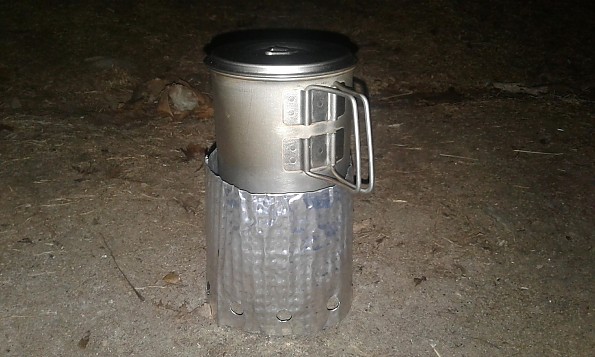 I also wish that it came with an ultralight cozy of some sort since titanium cools so fast while sitting around with food/beverage in it (especially in colder temps when you want hot food/drink the most). I made my own out of reflectix and duct tape for a couple bucks. I'm sure they could've done the same for minimal cost, but ended up with a much more refined product. Part of purchasing a complete cooking setup is having a COMPLETE cooking setup (it's almost like selling a pot with no lid. But to be fair, I don't think any Ti cup manufacturers offer insulated sleeves for their cups for some reason).   
Cup vs cup, I like my GSI Halulite Minimalist better for casual camping, despite the significant weight difference. The features of the snug fitting lid, cozy, and pot gripper (it has no handles) steal the show for me. I just wish it was made of titanium instead of anodized aluminum (I see they now make a slightly heavier stainless steel version, but sadly still no titanium).
Source: bought it new
Price Paid: $60 +/-

A lightweight pot/cup set that will withstand years of abuse. Titanium set heats quickly and nests for storage. Handles can get too hot to touch.
Pros
Titanium is very lightweight
Nested design also stores a fuel canister and small stove
Cup has liquid measurement lines
Titanium construction stands up to abuse
Titanium cools quickly
Cons
Lid and handles quickly get too hot to touch
Mesh storage sack allows soot to get all over your gear
I have been using this set for the past five years. In that time, I have taken it up and down the Appalachian Trail, taken it cycling cross-country, and used it as an emergency cook set during a particularly bad ice storm. This little pot/cup set has stood up to everything I have been able to throw at it and still looks like it has a few more years of life.
PACKING
The nested design of this set is particularly nice since the entire inside of the pot remains empty. This leaves exactly enough room for a fuel canister and a small stove (I have one of the Snow Peak GigaPower stoves in there now). Everything then sits nicely inside the mesh stuff-sac for an easy-to-pack cook set.
WEIGHT
At 5.5oz, this one beats everything I have used in the past. Going from older steel, aluminum, and plastic sets to this is a noticeable decrease in weight.
CONSTRUCTION
The titanium construction is quite durable. It has stood up to several years of hard use / abuse. Over the years, I have used it on liquid-fuel stoves, in campfires, on alcohol stoves, over esbit tabs, dropped it, packed it, and scrubbed it with gravel. This little cook set has endured everything I could throw at it and still looks to have a few years of life left!  
The one downside to the all-titanium construction is the handles. Having bare handles does decrease weight slightly, but it also makes for burned fingertips. The pot-lid has a small titanium handle that heats up as quickly as your meal. I usually just use a small stick to hook this handle in order to lift the lid and check if my water is boiling.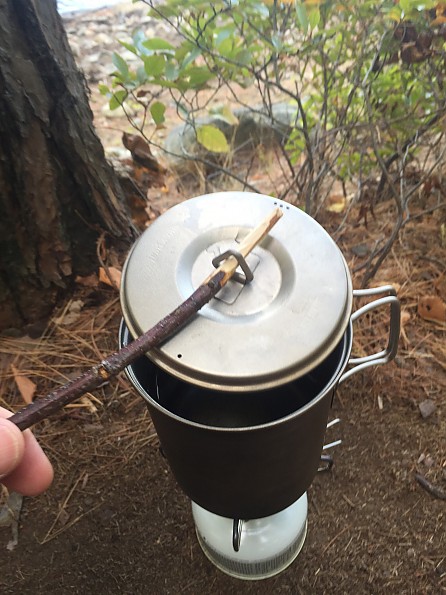 The handles on the pot and cup are a little more of an issue, but titanium cools quickly, so they'll come back to a reasonable temperature within a minute or two. I have used everything from gloves to bandanas to folded leaves in my attempts to come up with a decent pot holder for those first few moments. A longer or insulated handle would be most welcome, but it certainly hasn't been a deal breaker for me.
Over time, the pot has developed a unique coloring.  This happens frequently to heated titanium, but can be a little disconcerting if you aren't expecting it.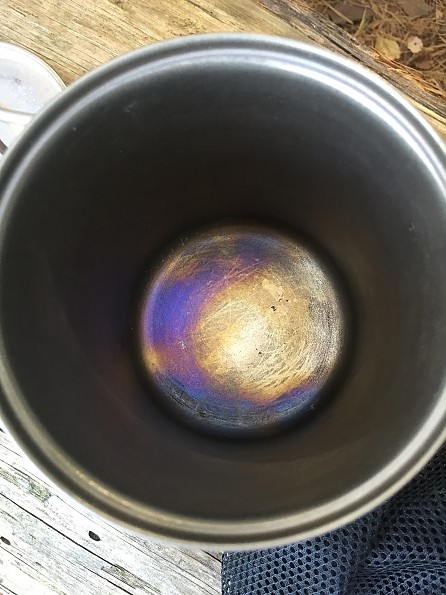 FEATURES: This set is fairly basic, but has a few nice features.  
The pot and cup are nested for better packability.  

The cup comes with raised measurement lines on the inside. This makes it easy to quickly measure out your meals before cooking.  

The handles fold flat for easy storage.

The pot easily boils enough water for most prepared hiking meals. It will readily feed one person and can be used for two in a pinch.
NOTES:
The one thing this cook set was missing for me was drainage holes in the lid.  I used a drill to put a few small holes in the lid for this purpose.
If you intend to use this cook set with a wood stove, I would recommend replacing the mesh storage sack with a silnylon or cuben fiber sack.  These will better protect the rest of your gear from the soot you'll be sure to accumulate on the bottom of your pot.
Source: bought it new
Price Paid: $75

Excellent set for solo adventuring. The pot has enough room to store a SnowPeak brand fuel cannister plus my Brunton Talon stove. As with all Ti, the walls are thin and it can be bent easily, so care is necessary when packing it in your pack. The 27oz water capacity of the pot is great for boiling enough water for a meal for one person plus a couple cups of coffee. The small triangle for lifting the lid requires that you make sure to put it up before you boil, as it will burn you to try and lift it after the water comes to a boil (or use the pliers of your multi tool).
I did not find that the handles on the pot conduct heat, although someone with small hands may have a problem with coming into contact with the side of the pot when lifting from stove. The pot allows water to come to a boil pretty quick.
The coffee cup is one of my favorite parts of this set. The cup is a bit small for me (I like a lot of coffee), but the way it hugs the bottom of the pot is great. The handles are once again small for big handed folks. The Ti does not conduct heat well, so the rim of the cup stays cool enough to drink from.
I got this set on clearance, so it will likely cost you more. Snow Peak makes an aluminum version of this set, but I find aluminum conducts heat too well. That's okay for the pot, not good for the coffee cup.
In short, this set is a great set for one person, or it will boil enough water for two people on a summer trip (when hot drinks are not wanted).
Price Paid: $36

Very light, compact, and durable cookset.
Pros
Lightweight
Compact size
Durable
I bought this set to replace a set with a nylon lid which melted in the campfire (surprise surprise). 
I used an REI dividend to purchase this item with a 20% off coupon. I probably would not have shelled out the $$ otherwise to purchase this item. 
It's titanium, so it is light and strong. I have manged to keep it dent free so far. Survives campfires no problem, though retrieving it can be a little dicey due to the short handles.
If you sit on it, you'll crush it. if you drop it on a rock , you'll dent it. Considering what it costs, you'll probably be careful with it.
I carry the cup despite the weight penalty; I enjoy coffee along with and while cooking breakfast. 
TLDR—light but expensive.
Source: bought it new
Price Paid: $52.69

Bought it in a REI garage sale for half price off. I have a Jetboil Sol cook set but use Snow Peak for additional container. Works great for noodles and rice. Fit for someone who loves outdoor but dislike eating instant noodles all the time.
Cons
Doesn't seal well
Gets dirty once cooked with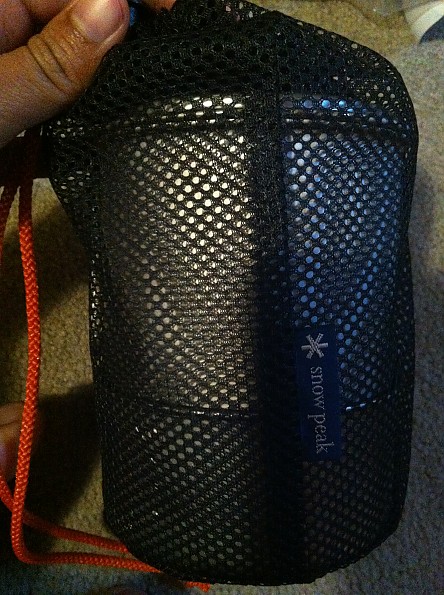 Bought it in a REI garage sale for half price off. I have a Jetboil Sol cook set but use Snow Peak for additional container. Works great for noodles and rice. Storage is nice for 2x 100gm gas tank.
I use it for noodles or fragile food ingredient just for the sake of sustaining the outdoor eating experience. Fit for someone who loves outdoor but dislike eating instant noodles all the time. 
Source: bought it used
Price Paid: $30

This is by far the greatest solo set I have come across. Light, durable, compact, fits on my Optimus Nova. Perfect for one, way to small to cook for two, unless you don't mind wasting fuel and waiting. I can hold a salt and pepper shaker, sponge, cheese grater, jay cloth and my Optimus folding titanium spork inside the pot.
I also love the fact that titanium does not hold heat; after boiling a pot of water you can dump it and the pot is cool to the touch.
Price Paid: $59

Great product! Used recently during a 3 day hike on Mt. Whitney. Items were light and small for easy packing. Heated enough water for a two serving dry food pack and a good cup of coffee. One thing to note! the small triangle handle in the lid can be tricky to grab with big hands. and the handles in the side always heated up during the cooking so watch out! Ouch the 1st time.
Overall, I would recommend this cookset to anyone looking to a light and small cookset for their backpacking adventures.
Price Paid: $39

Your Review
Where to Buy
Help support this site by making your next gear purchase through one of the links above. Click a link, buy what you need, and the seller will contribute a portion of the purchase price to support Trailspace's independent gear reviews.
You May Like
Specs
pot
cup
Price
MSRP: $79.95
Current Retail: $75.95-$79.95
Historic Range: $49.45-$79.95
Reviewers Paid: $30.00-$75.00

Weight
6.7 oz / 190 g

Material
Titanium

Capacity
28 fl oz
10 fl oz
Dimensions
4.25 x 5.1 in
4.3 x 2.8 in
Recently on Trailspace