Therm-a-Rest
NeoAir XLite
2

reviews

5-star:

2

4-star:

0

3-star:

0

2-star:

0

1-star:

0
Man, this thing sure is light...and comfortable! I…
Rating:


Source: bought it new
Price Paid: $115

Summary
Man, this thing sure is light...and comfortable!
Cons
not self-inflating
pricey
I recently upgraded from an old Thermarest self-inflating pad, which at the time I bought it, it was the bomb. But I've been seeing people with these newer, trimmer, thicker, and lighter (did I mention lighter?) pads and started feeling envious. Given Cascade Design's track record (excellent), I decided to splurge for the best again, counting on another 15 years of service from this pad.
It sure is a different experience from my old Thermarest. For one, you have to blow it up. I always used to put additional puffs into my old mattress to give it the max 'cushyness' but you do have to huff and puff with this a lot more. It's not that bad though. I've found that you can open the value, go make dinner, and come back to find that it has self-inflated somewhat, so this helps.
Oh, but all those extra breaths are worth it when you lay down on this sucker! I have slept so comfortably, on my sides and stomach even, not bottoming out like I used to. I've never gotten a better night's sleep out in the wilderness, in fact.
And although I haven't really needed it down here in Florida, the pad is very insulative (almost too hot in fact). I also love the contoured shape...why carry around a square pad if you don't need it? Leaves more room in the tent and can be used inside a sleeping bag or bivy.
Also, this thing rolls up into the size of a Nalgene 1 L bottle...amazing. Just be sure to unroll it when you get home and let it breathe...you can actually see through the fabric to see all the condensation from your sweaty breaths, and in Florida, there is a lot of humidity too...don't want mold becoming a problem in there.
Some reviewers had a problem with the pad being noisy...due to the built in metallic material, kind of like a space blanket...but I don't find this to be a problem. The other concern is durability. Mine has had no holes yet but they will undoubtedly come with use...my old one got a few pin-pricks too, easily fixed if you have the skills to fix a flat on a bike. It comes with patches, the same glue-less type you can get at a bike store for tubes. Carry a few of these and you will be fine.
If you get a major rip, well, I'd be willing to bet that the company would replace it for free. They have repeatedly serviced or replaced my Platypus bladders when they went bad, all for free. So I feel confident they will stand behind this product too. Which is why I felt justified in spending so much on this pad. Wait for the 30% REI member discount as I did and the pain won't be so much. The lack of pain in your back will be worth it!
One final note, this pad is very temperature sensitive...keep in mind the scientific principles of gases and temps. On my first trip with this pad, I inflated it in the late afternoon while the Florida sun was beating down on my tent. The temp dropped about 20 degrees by the time I went to bed and the pad shrunk too...thought it already had a hole but no, was just the temp difference. A few more breaths and it stayed firm throughout the night. You may need to adjust accordingly.
UPDATE:
A few more nights using this pad and I am upgrading my rating to a full 5 stars. I have never been so comfortable sleeping outdoors...it truly is a revolutionary product.
The pad has also been invaluable during some freezing nights with an insufficient sleeping bag. I would have been very cold with any other pad. The space/weight savings, thermal properties, and comfort level are well worth the price of this pad. And so far, no problems with durability.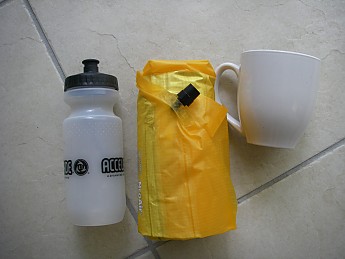 The real benefit is the warmth it adds. This is true…
Rating:


Source: bought it new
Price Paid: $149

Summary
The real benefit is the warmth it adds.
Pros
Light weight
Weight-to-warmth ratio
Ease of use
Comfort
This is true space age gift....light weight, rugged, and warm.
I am a big guy...250 lbs and a side sleeper. I do not have any issues with hard spots. I've been backpacking since 1971, and this by far is the best pad ever. I use a quilt and this pad keeps me comfortable well into the 20s.
This is a must buy addition in my humble opinion and extended experience.

All NeoAir XLite versions
In addition to the 2 men's reviews above, there are 2 reviews for other versions of the NeoAir XLite. Read all reviews »
Where to Buy
sponsored links
Help support Trailspace by making your next purchase through one of the links above.
Manufacturer's Description
Visit Therm-a-Rest's NeoAir XLite page.
Retailers' Descriptions
Here's what other sites are saying:
Lighter and warmer than the original award winning NeoAir mattress, the Therm-A-Rest XLite mattress is the ultimate in outdoor comfort and compactness. The next generation of NeoAir technology delivers ultralight support, warmth and comfort. The Womens XLite uses additional reflective barriers for greater warmth. Stuff sack and repair kit included.
- CampSaver.com
The newly updated, ultra-light Thermarest NeoAir XLite looks like it might be out of an infomercial. When compressed, the NeoAir XLite is smaller than a water bottle and weighs no more than your nylon hiking pants. Yet, schazam! It inflates to a luxurious 2.5 inches for supportive, warm comfort. The verdict? We've retired our 3/4 length closed cell foam pad (10 oz) in favor of the NeoAir XLite (8 oz in S, 12 in Regular). 2012 NeoAir XLite is 2 oz lighter! Three season performance Low-bulk materials allow the NeoAir(TM) XLite mattress to deflate easily and compact down to the size of a water bottle Improved reflective layer recycles body heat and creates dual air pockets that conserve warmth 2.5-inches of cushioning supports hips and elbows for a good night's sleep Patent-pending Triangular Core Matrix(TM) construction provides unrivaled stability and support Ultra-lightweight 30D High Tenacity Nylon top is highly packable and reliable Tapered shape is designed for minimalist tapered tents Lightweight repair kit and stuff sack included Made in Seattle, USA
- OMCgear
Lighter and warmer than the original Therm-A-Rest NeoAir mattress, the XLite keeps pack weight down and comfort high.
- EMS
Once again shattering the ceiling of low weight, surprising warmth and packability, the Therm-a-Rest NeoAir XLite sleeping pad sets a new standard for gram-counting backpackers and adventure racers. Therm-a-Rest combines advanced, patent-pending technology and material with decades of experience to offer a virtually weightless, warm and incredibly compactible sleeping pad. New streamlined shaped and advanced fabrics reduce the weight-almost 15% lighter than the original. Therm-a-Rest NeoAir XLite incorporates a patent-pending reflective layer that returns heat back to your body and creates dual air pockets that conserve warmth. Pad incorporates a patent-pending welded-nylon grid of chambers for high warmth and low weight. Working together with the reflective layer, the innovative construction creates over 100 internal cells that trap warm air and return heat to your body for year-round warmth. Innovative baffling creates an internal truss system that minimizes the movement of air. Shift less and rest better! Therm-a-Rest NeoAir XLite sleeping pad includes a stuff sack and repair kit.
- REI
Therm-a-Rest Men's NeoAir XLite
currently retails for:
$129.95 - $179.95
MSRP: $179.95

where to buy: