User Review:
Therm-a-Rest NeoAir Trekker
Rating:


Source: received it as a personal gift

Summary
A minimalist approach to the inflatable mattress, making sleeping on the ground a lot more comfortable than I remember it. By no means the biggest, warmest, or most comfortable sleeping pad there is, I find this the best compromise that provides me with "just enough." For how small it packs down, heck, that's something I'm willing to live with.
Pros
Comfortable
VERY packable small size
Adjustable firmness
Lightweight
Cons
Narrow 20" width [for "regular" size]
Noisy against tent floors
Labor-intensive to manually inflate
Expensive retail price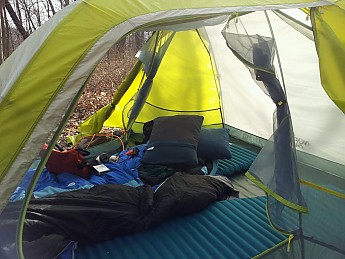 I couldn't write this review without pointing out the obvious first flaw, and that's the barrier-to-entry retail price of this sleeping pad.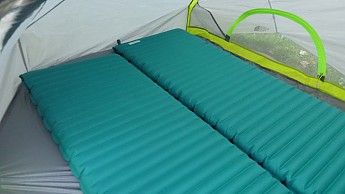 Luckily my birthday falls close enough to Christmas, and I was fortunate enough to receive a pair of these as gifts. First bit of advice: ask Santa for this one, or a loved one the next time a holiday rolls around. Your checking account will thank me.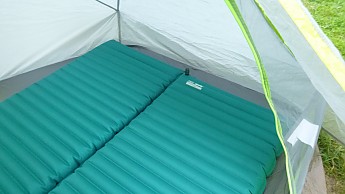 First impression?
Holy crap, these pack down small.
4" x 9" packed,  19 ounces each.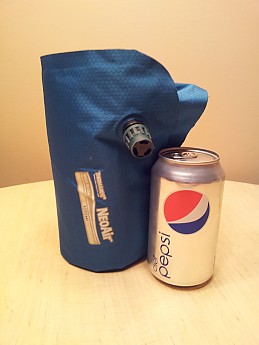 When I was opening gifts, it wasn't until I opened the box and read the package that I knew what I was getting. Deflated, folded into thirds, and rolled up, they take up less space than a Nalgene bottle. More than a soda can, but less than a Nalgene bottle. 
Here's the pad in the included stuff sack (note I've also packed my battery-operated Camp-Tek Microburst Pump in with it):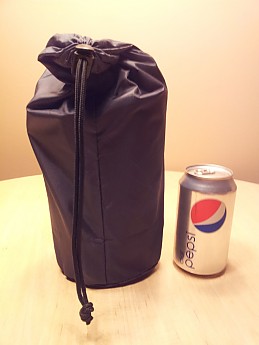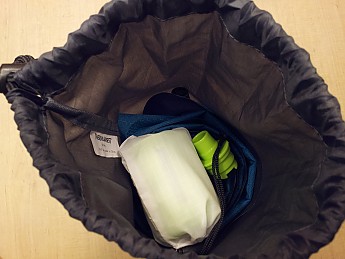 Setup is simple, but labor-intensive. It takes — easily — a couple dozen FULL lung-fulls of air to get these pads inflated. After an exhausting day on the trail, this is right up there with tick removal when it comes to the "fun chores" category. 
Untwist the valve counterclockwise to open it.
Blow like you're trying to put out the Great Chicago Fire.
And tighten it back up clockwise when you've reached your desired firmness.
I usually keep my mouth over the valve until I'm COMPLETELY done inflating it, so I don't lose any firmness at all.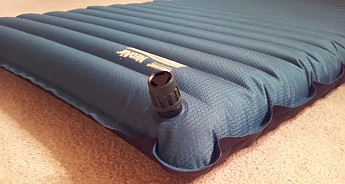 Luckily, battery-operate pumps are available. I bought a Microburst from Camp-Tek and it does the work for me in about five minutes or so. Nice, too, in that I can let the pads inflate while I set up the rest of camp. Let's hear it for multitasking, folks.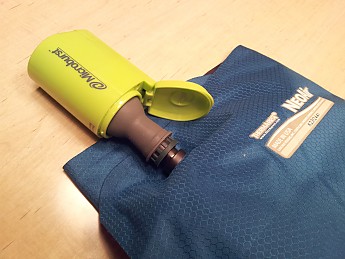 I have a set of the regular-size pads, which measure 20" W x 72" L x 2.5" T when fully inflated.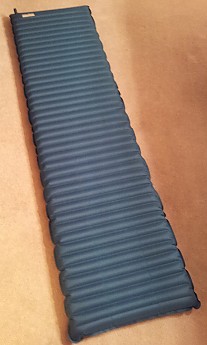 Luckily I'm an even six feet tall, and am a skinny guy, so this size works just fine for me.
For reference, here's the pad with a Marmot Trestles 15-Degree Sleeping Bag (Women's Regular, which fits a maximum height of 6' - 0") on top of it: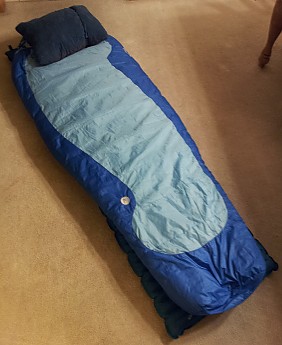 No, there's not a lot of room to roll around, and no, it's not the longest pad, but it fits into my tent and provides me just enough sleeping space without taking up unnecessary room in my tent.
Some folks prefer vertical baffles, opposed to the horizontal ones seen here. I'm not much of one to roll around in my sleep, and I've certainly never rolled off my sleeping pad entirely in the night, so this feature comes down to personal preference.
Before using these, I would sacrifice 4/5ths of my tent floor space (in a 4-person tent) by sleeping on cots. I got so irritated with losing all the valuable square footage that I resolved to find a more space-efficient way of sleeping, and sleeping comfortably.
These pads are the best possible compromise, taking up no more room than they have to, and still allowing me a comfortable night's rest without eating up the square footage (or headroom) in my tent.
Sure, I could have bought the longer version of the pad, but that would not only negate the packability and weight of the regular size, but run the risk of touching my tent walls and being a magnet for condensation.
Where insulating value and warmth are concerned, a 2.0 R value makes this no more than a 3-season pad. Being a spring-through-fall camper, this is more than enough for me. 
Biggest complaint I wish they did something about, like others mentioned, is the noise.
These things swish against a tent floor more than an overzealous jogger in a windbreaker. I know you can bring an extra sheet to keep them from sliding around, or use your flannel bag liner. Already using the bag liner, well, in my bag, this doesn't exactly work for me. Something about the material on the bottom being non-textured seems to encourage it (100D poly, top is a 75D textured poly).
This isn't the perfect solution for my sleeping needs, but like I said, it is the best compromise. 
Where to Buy
sponsored links
Help support Trailspace by making your next purchase through one of the links above.